"One. Two. Three. Action! 'Hello my beautiful people! Let's get this day poppin'!' I hold in my laugh, careful to not make any background noise, as my camera records this adorable, spunky girl. Today, she chose to wear her rainbow, cheetah print headband to hold back her long blonde hair for the video. As she sits so confidently in her bright pink power wheelchair (filled with stickers of her travels and favorite cartoon characters), she proudly says to the camera, 'Hi, I'm Dallas. I'm seven years old. I have cerebral palsy, and welcome to my channel.' It's at this time I usually pause for a brief moment and just admire her. I think to myself – how did we get here? Just 6 months ago, I was consumed with my college studies, working, and raising four girls. Now, my life turned into becoming an almost full-time video content creator for Discover with Dallas, which spreads awareness and advocates for the disability community. And it all happened because my little girl asked me one day, 'Mom, can I please make a YouTube channel to show people about my wheelchair?'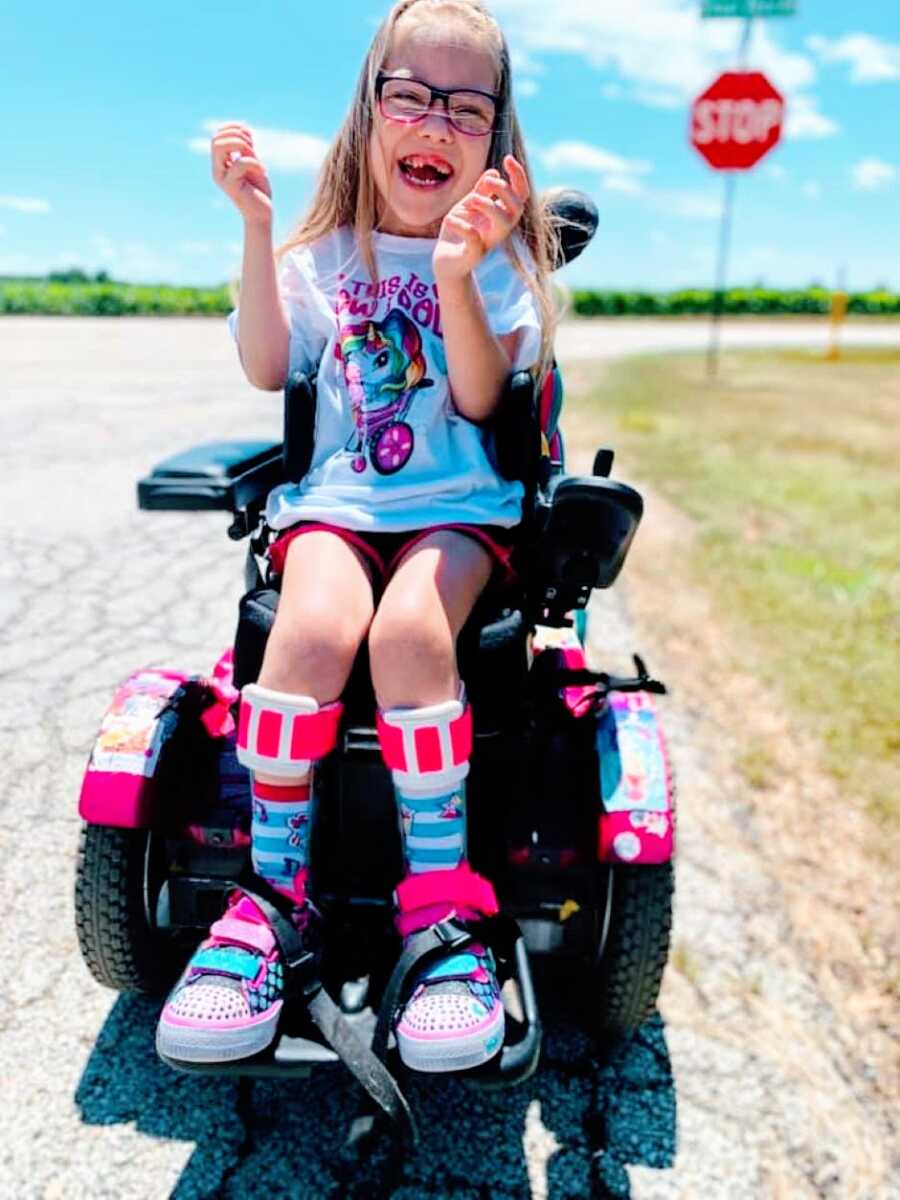 I will never forget the day when I realized Dallas was going to live her life disabled. I remember this moment like it was yesterday. Dallas, who was only one at the time, was laying on her back on a play mat while her physical therapist was stretching her feet. Karen had been coming to the house for a long time now, since Dallas was released from the NICU at 3 and half months. I remember the NICU doctors uttering the words, 'There will be a high chance that your daughter will have cerebral palsy.' To be honest, it went in one ear and out the other. I remember thinking in my head, 'My daughter isn't going to have whatever that is.'
Now as I am sitting on the floor next to Dallas, her therapist Karen begins to pull out a large pamphlet out of her big, black bag next to her. Karen gets really quiet and I can tell she is feeling uneasy. She opens the pamphlet and shows it to me. My eyes get big and I look at her in disbelief. She said something along the lines of, 'I think we should start looking at some equipment to help Dallas.' I stared at the little girl smiling in the picture while she holds on to her walker. It hit me in that moment. All the times Karen would say, 'I really don't like the way her legs look' make total sense to me now. She knew before I did that Dallas would be disabled. Karen knew the doctors would officially diagnose Dallas with quadriplegia spastic cerebral palsy in just a few months after that visit. It was in that moment it all came crashing down on me.
I remember looking at the piece of paper with the smiling kids holding their mobility aids and crying. I couldn't stop the tears from rolling down my face, never having cried before in front of this woman who had been coming to the house twice a week for months and months. I remember looking at Dallas giggling on the floor with my eyes all blurry from the tears as Karen tried calming me down. How did I not see this? How could a baby who had so much intense medical intervention in her first months of life come out of that okay? I mean, I was in the hospital so much, the nurses were becoming my close friends.
The things I saw happen to my fragile baby haunts me to this day. I can't hear the clicking sound of someone getting their finger pricked at the doctor's office without automatically going back to the NICU. I picture the bottom of Dallas' foot, all black and blue from the countless amount of needle pricks used to test her blood's oxygen levels. The clicking noise of the needle. I hate it. Or the time I held Dallas' little hand as the neurosurgeon used a huge syringe to drain out excess cerebral spinal fluid from her brain because the pressure from having hydrocephalus was getting too bad but she was still too little for a shunt. I remember looking like a deer in headlights as the doctor was sucking out the fluid from Dallas' brain and the fluid filling up in the large, plastic syringe. I remember thinking – I know this may be normal for a neurosurgeon, but I think this is not normal for a parent to see their child's brain fluid. I still think it wasn't normal. And it will forever be imprinted in my memories. The memories I wish did not exist.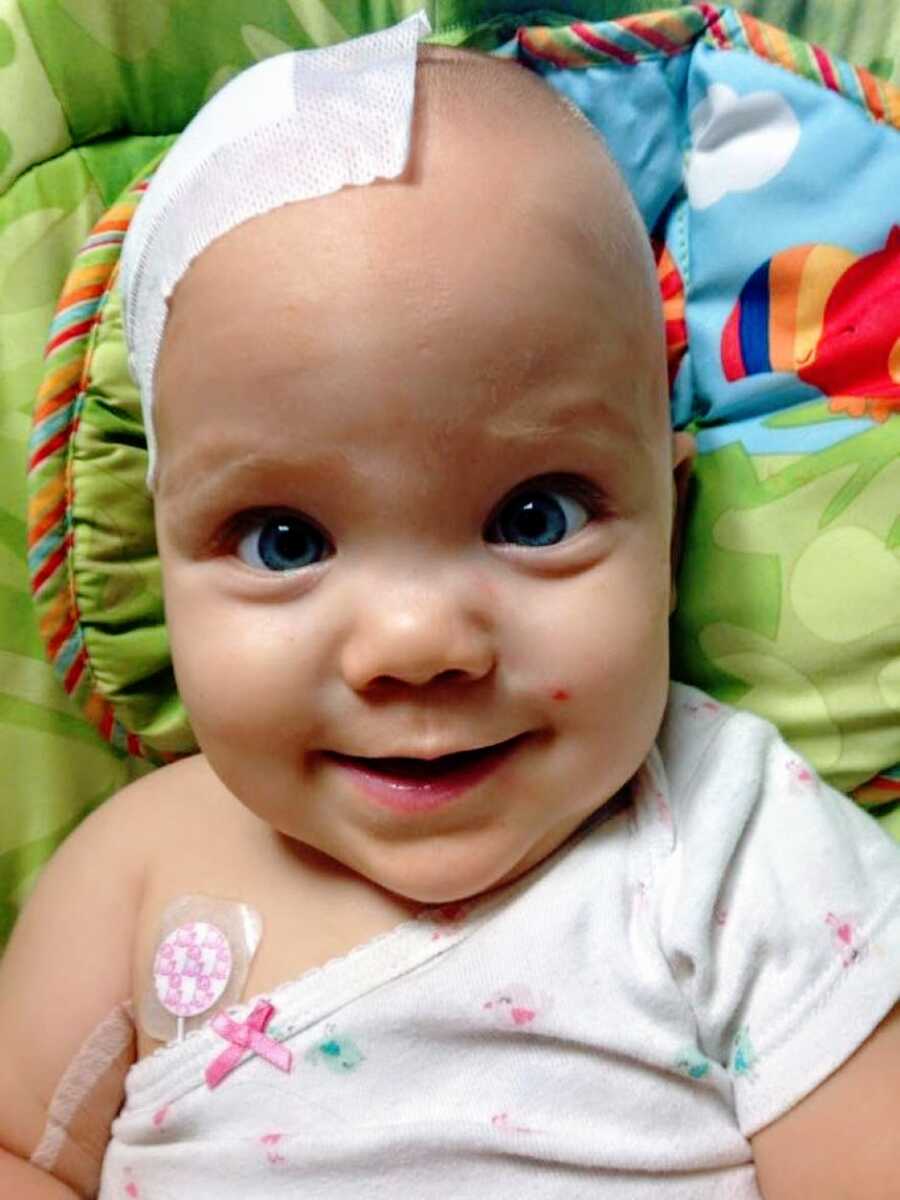 The day I realized Dallas was going to live her life disabled, I remember asking myself a million questions: What is cerebral palsy? Will she be happy? Will she live a long and prosperous life as I had hoped? Will Dallas be able to talk and communicate with me? Will Dallas be able to ever walk like we had expected? Will she be accepted by her peers if she needed a walker? What if she was bullied? The wondering questions flooded my thoughts for weeks. I have to admit, I was scared. I didn't know what the future was going to look like for my precious baby that fought so hard to live in her premature NICU days. I felt upset.
I blamed myself for what has happened to Dallas. I thought I had caused her disability – it had to be something I did wrong during pregnancy, right? Maybe I should have said, 'Let's wait and see if the baby will start moving around more before we do an emergency C-section.' After all, she would be okay if she wasn't born prematurely. She wouldn't have had the brain bleed that caused this mess if she was just born full term. But the doctor's didn't want to wait. The wait could mean the possibility of giving birth to, yet again, another still born. I would possibly give birth to a baby with no heartbeat, if I wait. The kind of baby that is born where you hear cries come from within you that you have never heard before. The kind of baby you carry inside of you for 32 weeks but never get to hear his voice. I didn't want that kind of baby again. I don't think my heart could survive it twice.
A year later after the shocking news with Karen, I remember looking at Dallas' two older sisters, Izzy and Savannah. The two girls are running around the house, trying to find a new toy to play with together. Dallas lays on her belly while she plays on the floor, which she does a lot because at two years old, she still cannot sit. Her doctor keeps saying if she cannot sit unassisted by two years old, the chances of her ever walking are statistically slim. I am discouraged a lot at her doctor's appointments, but as I look at my girls playing together, I think of something that I must do. As their mother, if I can give my children one gift, it would be to give them pride. Give them confidence. Show them all the reasons you should love yourself. And in Dallas' case, I knew this would be a little bit more challenging.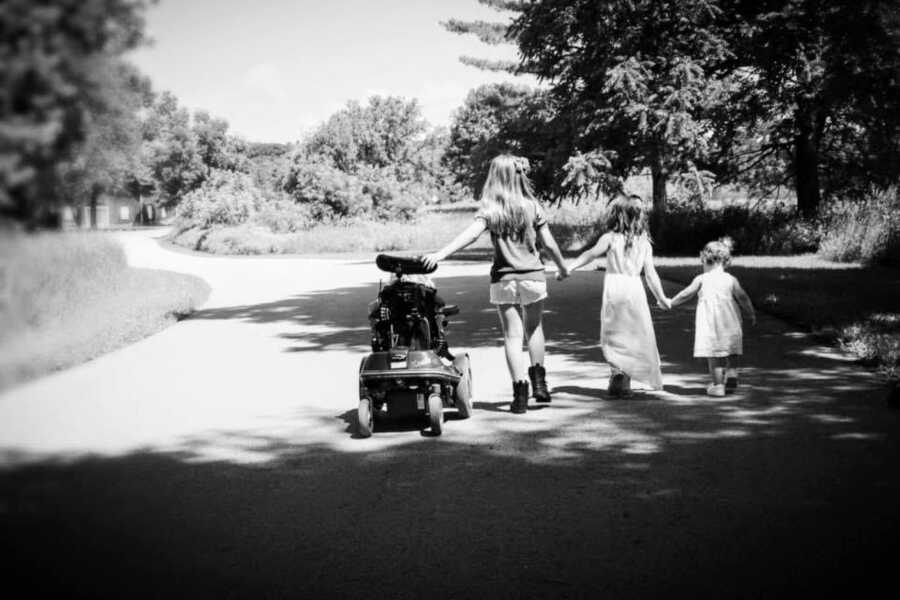 It was quite obvious since Dallas was three years old and got her first pink power wheelchair that she was going to stick out from the crowd. I mean, I couldn't blame people for staring. How could you not stare at this adorable little girl, always smiling ear to ear, speeding through the room like a race car driver in an almost 300-pound, hot pink wheelchair? She was loud. She was fast. And she was being seen. For a lot of people, being noticed all the time can give you insecurities in itself. Here she is with this huge 300-pound visible difference. But I quickly realized Dallas didn't need to feel more secure with herself, but other people needed to feel more comfortable with disabled people.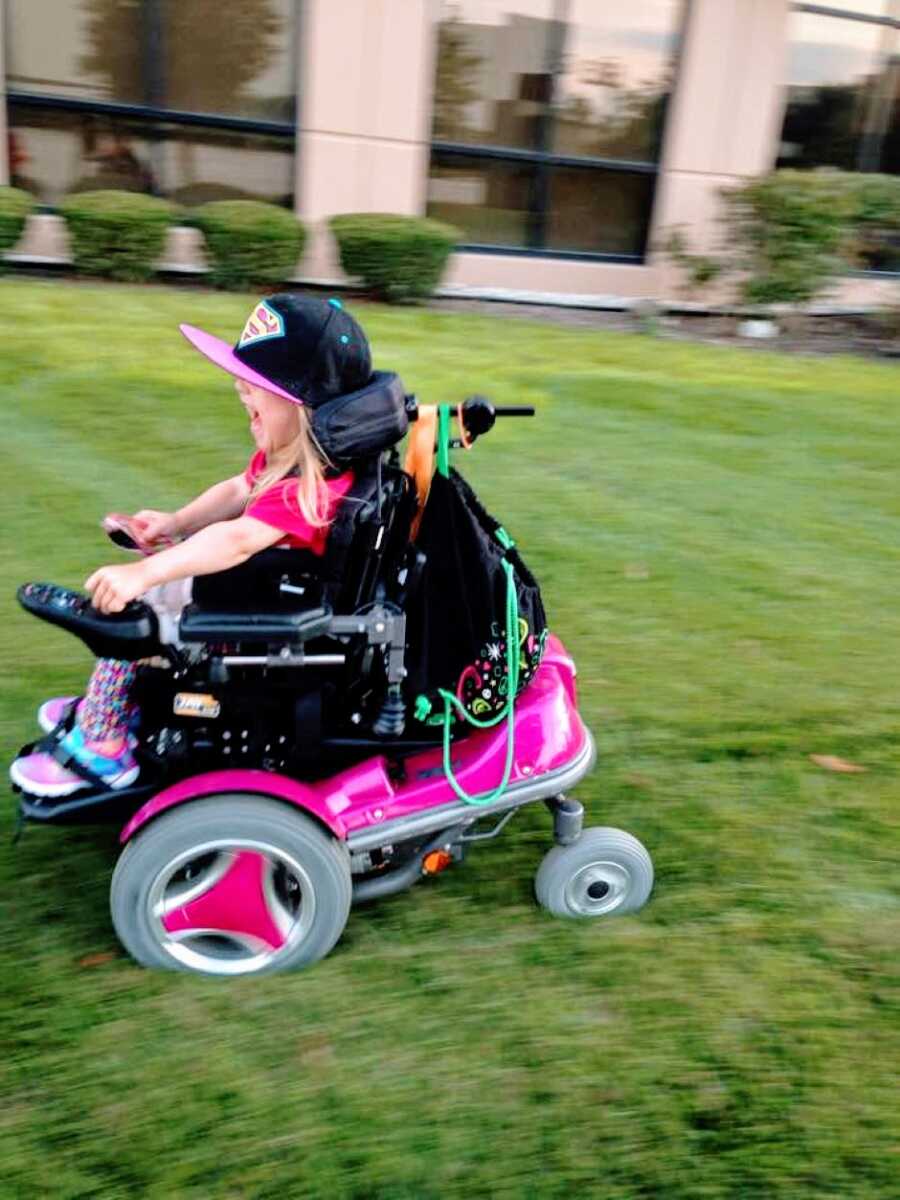 I can't tell you how many times a parent would quickly hush their child after their son or daughter pointed at Dallas and asked about her wheelchair. I know these parents may think they are being respectful, but they are actually creating a sense of shame around her wheelchair. We understand children are just curious, and when this usually happens Dallas drives up and says, 'Hi!' Or the amount of times I've heard adults say, 'Wow! What a cool car you are driving!' Usually when this happens, Dallas looks at me confused. Why do people say this? When Dallas got her wheelchair, we called it what it was – a wheelchair. A lot of people are afraid to say the word 'wheelchair.' We felt so blessed Dallas had access to this beautiful piece of machinery. It gave her more freedom than what she was born with, and we won't disguise it by calling it a car.
In addition to becoming more comfortable with disabled people, other people also need to understand the disabled person's family as well. I'm shocked by the pats on the back I would get from strangers for simply parenting her like a normal person. As if I am so amazing because I stuck around? As if she is some huge burden to me? Absolutely not. Do you pat the parents with typical kids on the back? I am not a great mother just because I have a disabled child. We can't create a more inclusive world without understanding the people who are different from you.
With all this being said, I knew Dallas was living in a world where people would make her feel ashamed and pitied for being disabled. She will be living in a world that is mainly not designed for her. Most children go play at the park, but for her, she gets to look at it. So, when she came to me one day and asked to create a YouTube channel so she can show people about her wheelchair, I saw the proud, disabled girl I hoped for. Dallas' story does come with a happy ending. I would like to think it was from all the 'I love you's' or the words of affirmation she recites every night. I'd like to think it was from a mom who never stopped advocating for her medical and educational rights to show her worth. I'd like to think it was from all the compliments I give her daily, but it's not from all of that. It's from her.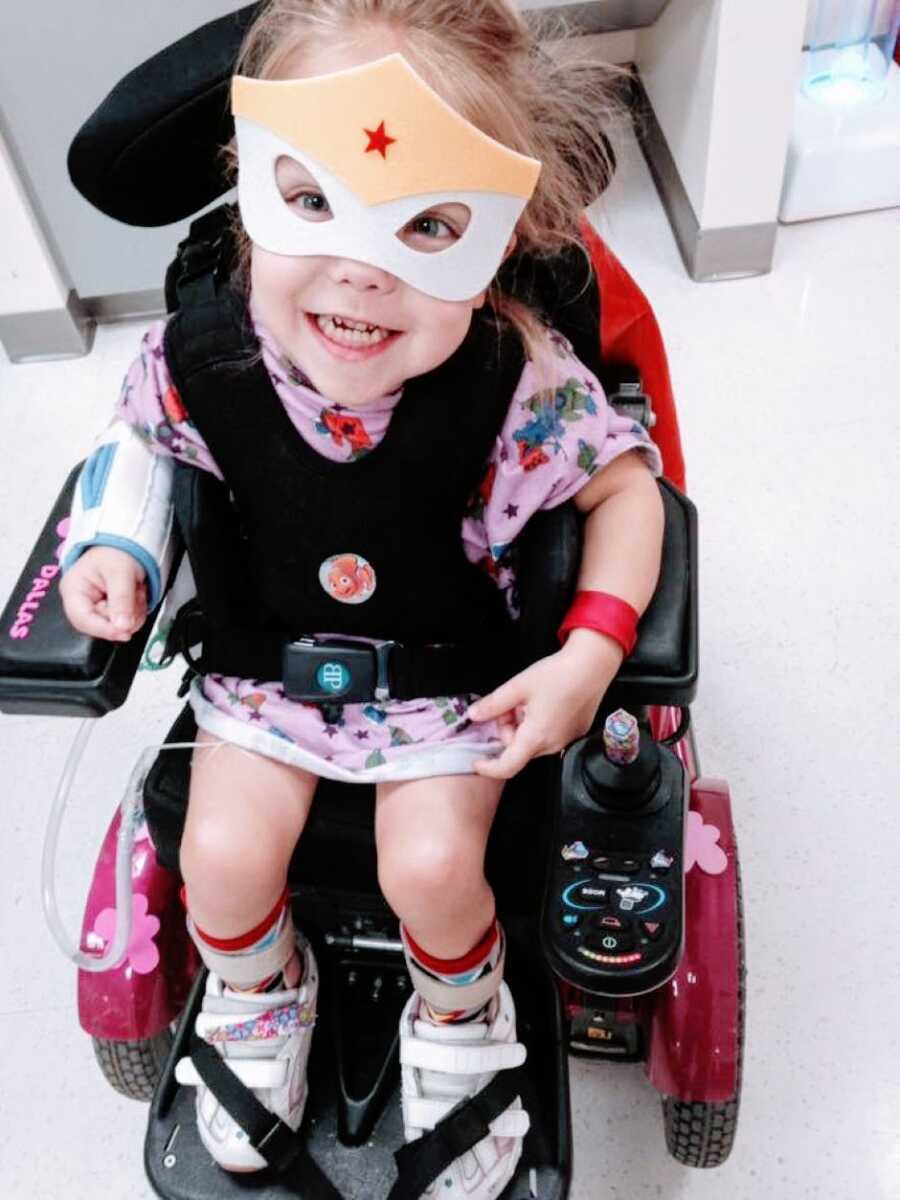 It's an incredible gift of always finding the good. Even when things are really bad. Like the time she had to have tendon lengthening surgery, which required slicing her hip flexor, adductors, hamstrings, and calf muscles to give them more range. It was a necessary surgery to hopefully prevent some more invasive ones in the future, like hip replacements. Afterwards, she had to be completely bed ridden for 3 weeks, laying on her back in a full body splint. I will never forget the anxiety I felt about how this was going to happen. How will she be content with this for three weeks?! She found the good. The only time she screamed was when her muscles spasmed from the trauma of lengthening. She smiled every time a visitor came and filled the room with laughter. She loved playing with her little basketball hoop we hung above her head, decorated with all the fun jewelry we could find to entertain her. She loved snuggling with us on her rented hospital bed that was in our living room for those three weeks. Her smile never faded during that time. Her spirit remained the same. It always does.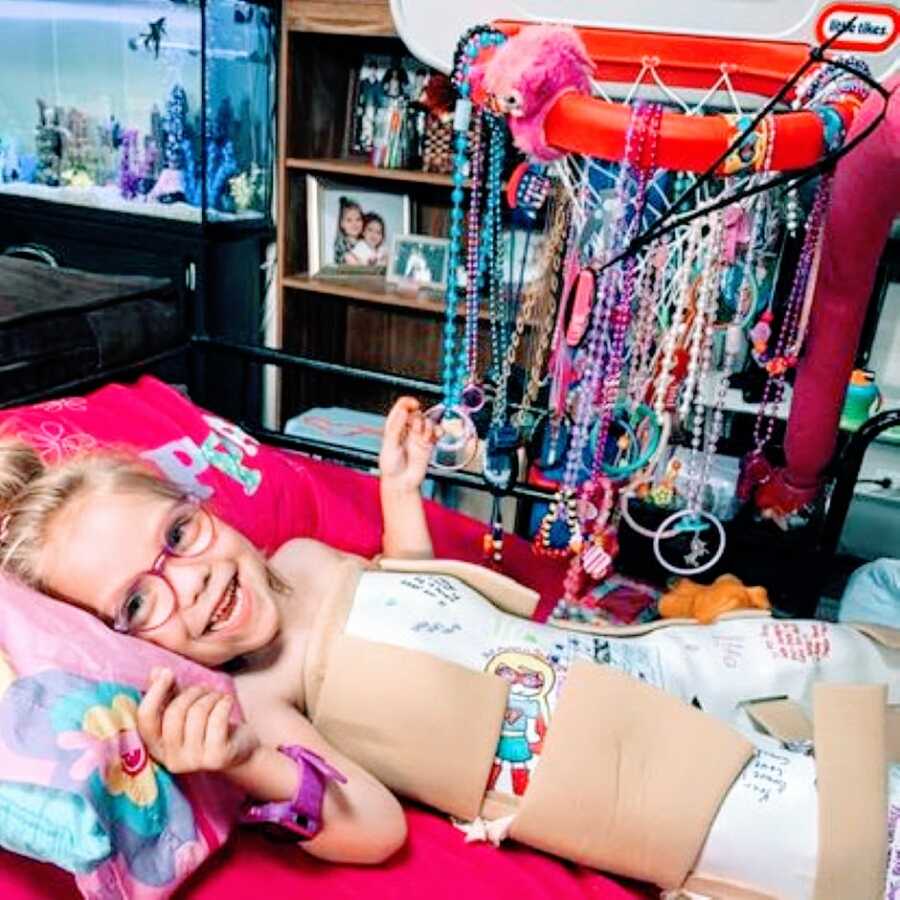 She has this incredible gift of finding the good in people, including herself. And I feel honored to be the mother of this vivacious and spunky seven-year-old. Nothing brings me more joy than being a part of her journey on this ride with her. When she sits proudly in front of that camera in her pink power wheelchair and tells the world, 'Hi. I'm Dallas. I'm seven years old. I have cerebral palsy, and welcome to my channel.' I am in awe. What she is saying is, this is me. I am here. I am valid. Welcome to my world, where you all you have to do is be you."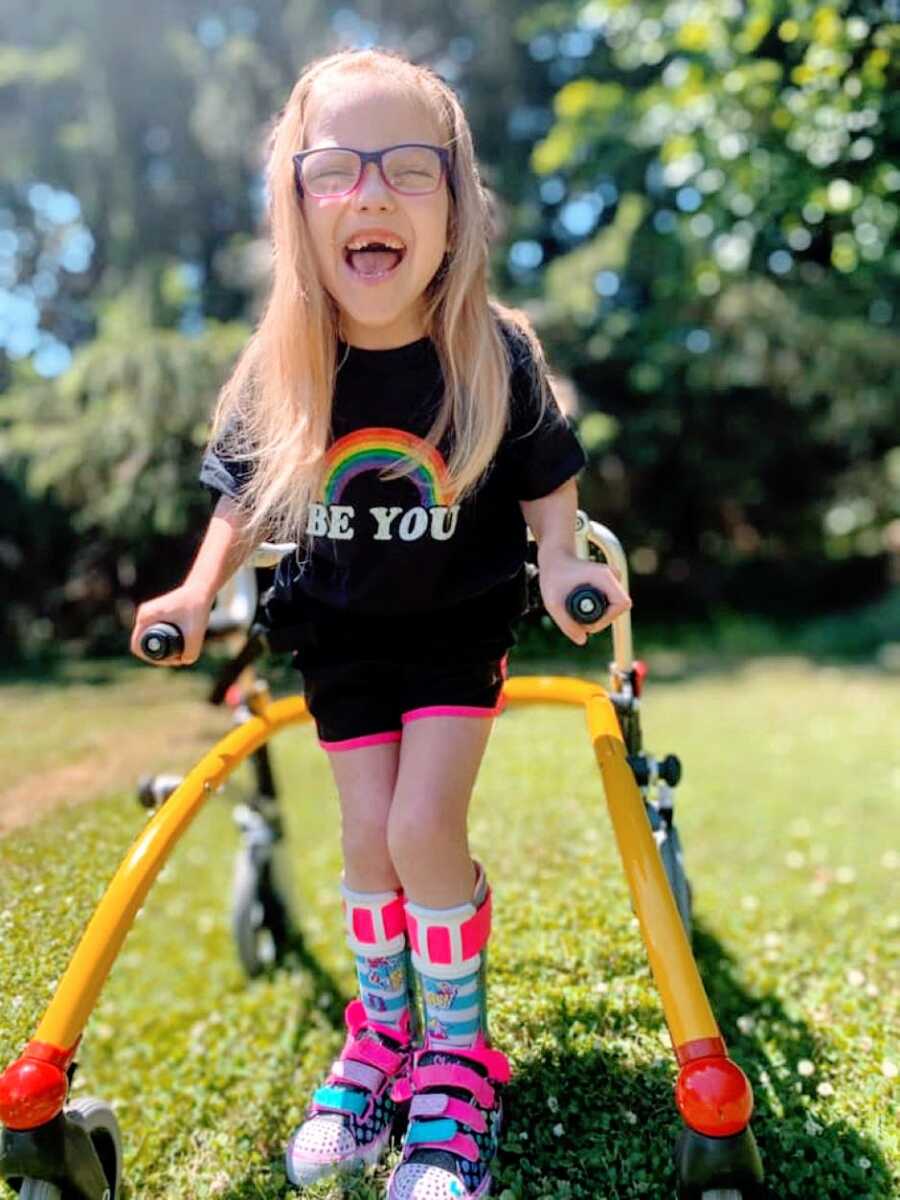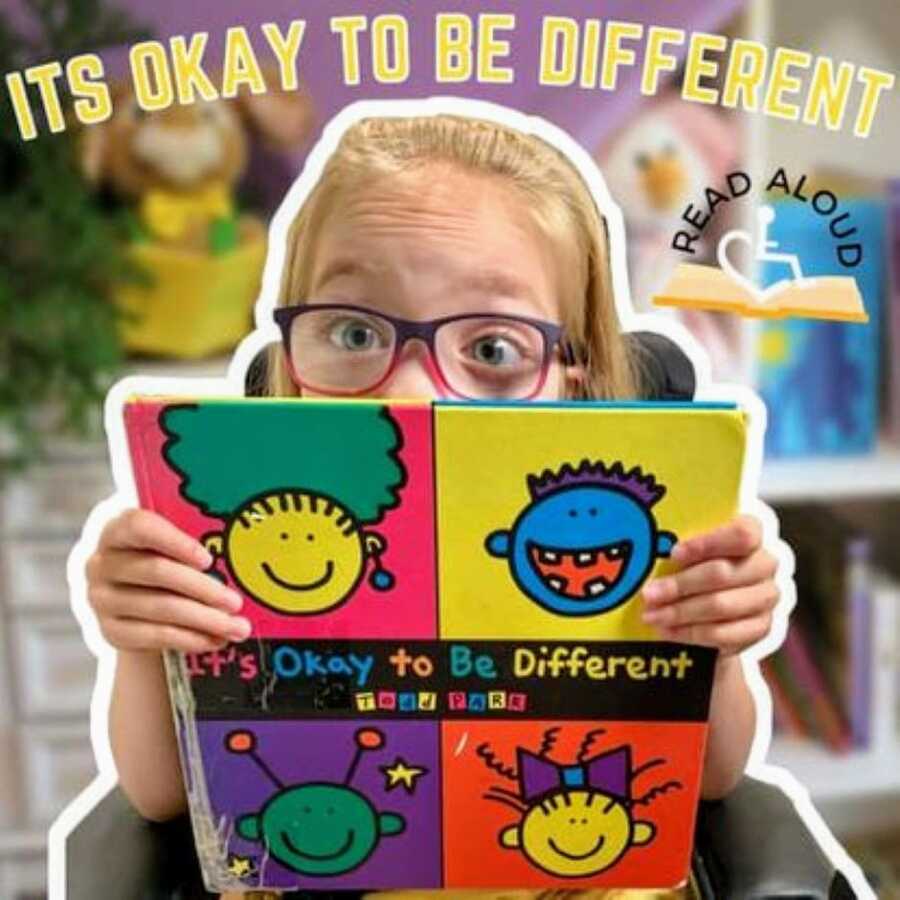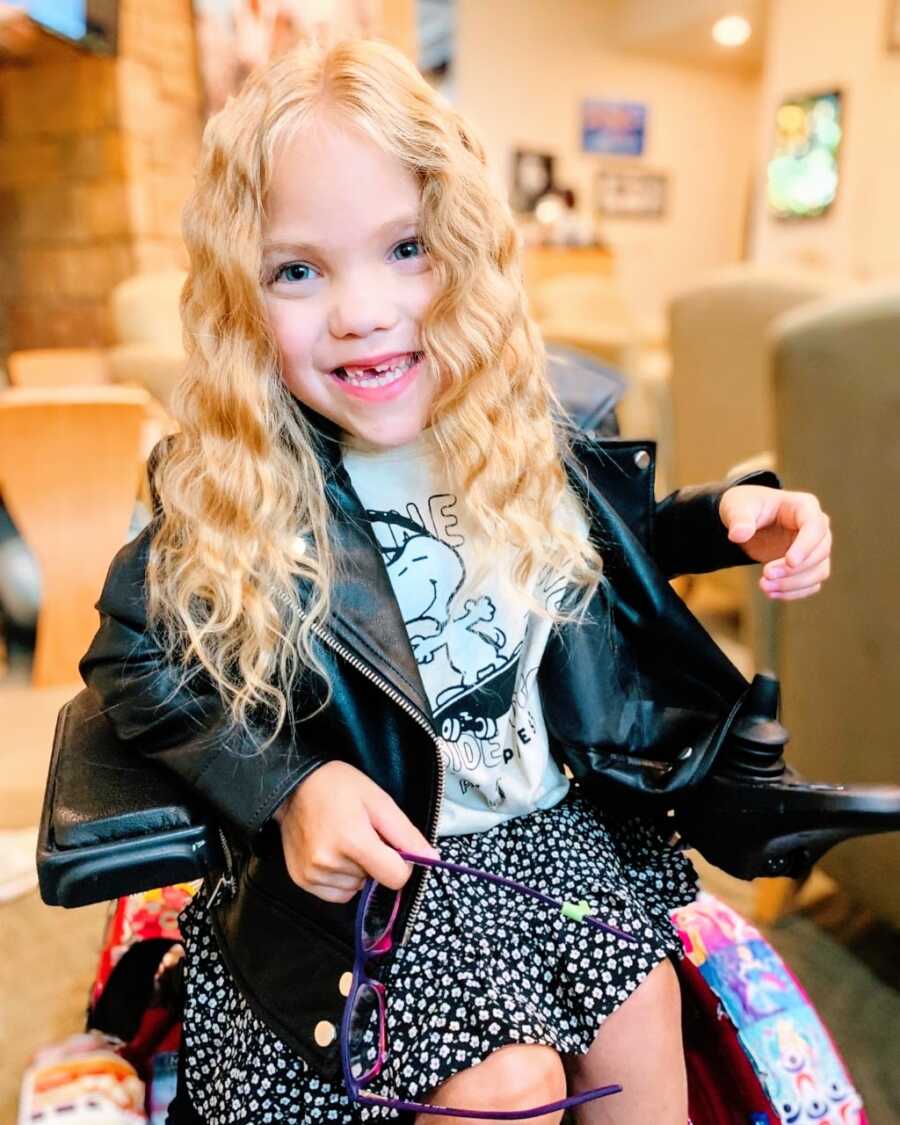 This story was submitted to Love What Matters by Dallas Placzek's mother, Katrina Placzek, of St. Charles, IL. You can follow Dallas' journey on Facebook, Instagram, and YouTube. Submit your own story here and be sure to subscribe to our free email newsletter for our best stories.

Read more stories like this here:
'College is NOT an option for you.' It was a defining moment. My body gave up, but I was ARMED with newfound determination.': Young woman shares journey with Cerebral Palsy, 'I had to learn to embrace myself'
'She's alive. I should be grateful.' But I wasn't. I was angry. I did everything in my power to 'fix' her.': Mom to daughter with Cerebral Palsy shares journey, 'I focus on what she CAN do'
'My husband divorced me after my baby was born. At 28, I had to move back in with my parents as a single, special needs mom.': Mom to daughter with Cerebral Palsy finds new perspective on 'true happiness'
'He went pale, stuttered and said, 'Ma'am, one of your baby's is in your birth canal, feet first.' People started flying in. I begged him to give them more time.': Mom's son diagnosed with cerebral palsy is her 'fighter'
SHARE this story on Facebook to help celebrate unique and beautiful differences!