UTI Symptoms
"It all started last year around the beginning of June. My teenage sister was staying with us at the time. She was in and out of the bathroom, getting ready for work, along with my daughter Emma who adores her aunt.
When I needed to go in there, I saw some blood in the toilet. I knew it wasn't me, but didn't know if it was my sister or not because, well, as a female you know that happens around your time of the month. 'Can you flush?' I asked her.
She looked at me, confused. It wasn't her time of the month. 'That didn't come from me.' That's when little Emma spoke up and said, 'Mommy, I did that.'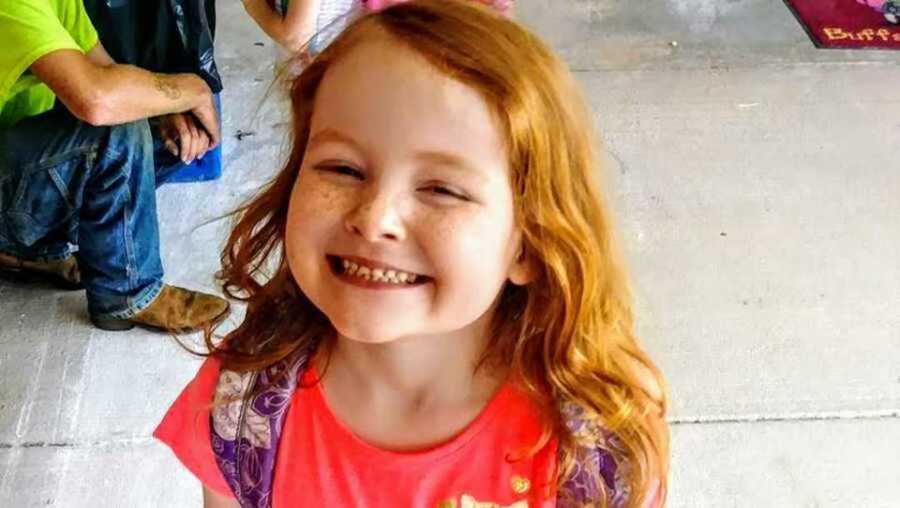 Of course, I started to worry. I was asking her everything from, 'Did you fall and hit yourself down there?' to 'Has someone touched you?' All to which the answer was no.
It was getting later into the night. Around bedtime we always use the bathroom before we lay down. Once again, Emma peed blood and clots. At that point, we decided to take her to the ER.
They checked her out and decided it was a really bad UTI and gave her Tylenol and antibiotics. During the week, she was still peeing blood here and there, but by Friday it seemed like it was completely gone.
That day, we had a birthday party to attend. There was lots of running and jumping due to the family having a bouncy house. For the rest of the day, Emma seemed fine. A little tired, but fine.
Later that night, she went to bed early and didn't think nothing of it. After all, she had been playing a good bit.
Hospital Visit
On Sunday morning, I woke up to get ready to go to church. When I woke my daughter, she was sweating but cold.
Suddenly, she began screaming and crying in pain. At this point, she was also showing signs of a fever. So, we rushed her back to the ER.
We told them about the past week and that she had just finished the antibiotics. They checked her belly the doctor had a clear look of concern on her face.
She then told us, 'Our ultrasound tech isn't here, so you have 2 options. Drive her to Spartanburg (next county over) or she can go by ambulance. She needs an ultrasound ASAP.' Things started to get seriously. Her dad and I just looked at each other and said, 'We'll drive her.'
We wanted to both be by her side. The doctor wrote up the papers and called the other hospital to let them know we were on the way.
Finding A Tumor
We waited for what seemed like forever for the doctors and the ultrasound. Finally, we were in the back and getting the test done. I could tell something was off, but wasn't sure what.
Jokingly, I said, 'Emma, looks like you have alien monsters in there.' That got a little smile from her.
We went back to the room to wait for the doctor to read the ultrasound. Once again, it seemed like forever. Emma was still in pain and crying. When your baby hurts like that, it hurts your soul.
I was laying with her, holding her, when the doctor came in to tell us, 'We see something on the ultrasound. A mass. We want you to go to Greenville. We're calling the doctor and making you an appointment now.'
It was after hours so it took long, but we eventually had our appointment for Tuesday morning. The doctor at the ER gave her something for pain to get her through until then. This is where the whirlwind really started.
First, we took her to have a CT scan in the morning. When we went for lunch, Emma didn't really want much. My Emma, the kid who loves to eat, didn't want food. After lunch, they took a urine sample, which was found to still have blood in it.
We figured it was still from the UTI. The urologist quickly corrected us. 'We need to send you to an even more specialized doctor.' It was clear this was something much worse.
By the time we were walking out of the door, another doctor called and said for us to, 'Come there.' We got there, still not knowing what in the world to think about what was going on. We go to the back.
That's when they said it: 'Your daughter has something called a Wilms tumor. It needs to come out. And at this point, we are not sure if it's cancerous.'
But we knew in our hearts that it was. And we were right.
Undergoing Surgery
The doctor told us to go home and pack our bags for a week or so. The surgery would be Friday morning. We, of course, got on the phone with family and friends to let them know what was going on. We also made a post on Facebook.
Needless to say, we had lots of calls and texts and visits. And, as you can imagine, we were at a loss of words.
We were being asked what we needed, how we were emotionally. We just didn't have the answers. We were numb.
We also told her brother at this time and he didn't take the news well. As Friday got closer, we didn't know where we would all sleep, or how we were going to eat.
We had family come up to the hospital as Emma had her surgery. Letting your baby go in for a major surgery was rough. I had to keep on my super mom face for her as she cried when they pulled her into the OR.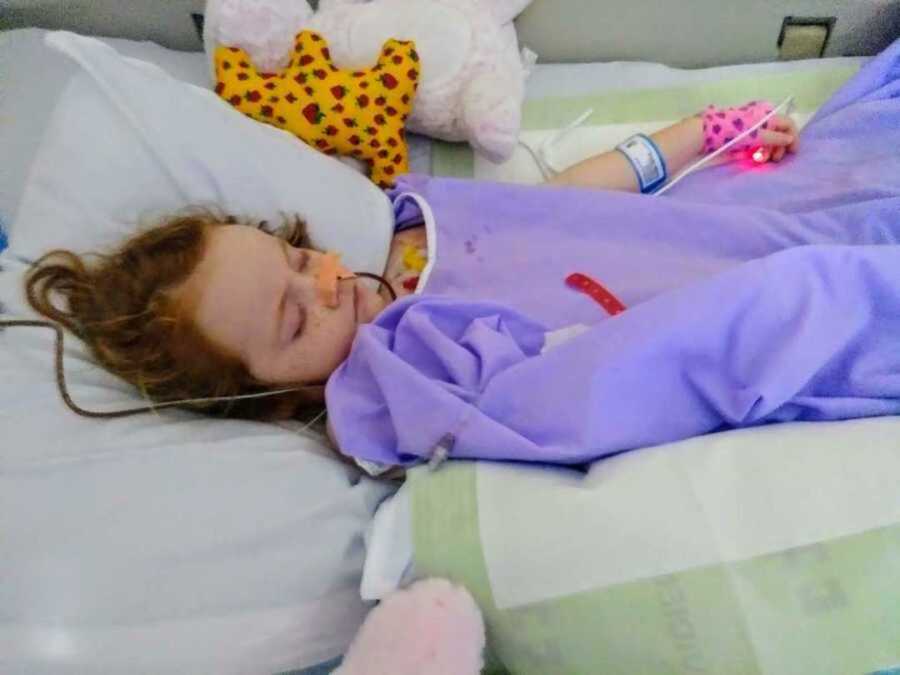 The Ronald McDonald House was full, but little did we know our town came together for our Emma and had booked and paid for a hotel room for us close to the hospital. So, me and her daddy took turns staying at the hotel with our son and my sister. That week was rough, from not being able to sleep to knowing what our daughter was facing in the days and months ahead.
Allergic To Antibiotics
Finally, once home, we were able to breathe and rest a little better. The next week, she started chemotherapy and some antibiotics for the weekend. This was a weekly thing.
The first dose, she did good. But with each, she got a little sicker the next day, but she was powering through.
Come the weekend, we gave her antibiotics and she would spike a fever ending up in weekend hospital stays. This went on for the first month.
To me, it seemed like she was having an allergic reaction to something. Her body would be red all over and her heart would be racing.
She would spike a fever like clock work after chemo on Fridays after we would give her the antibiotics. Sure enough, that's what it was. She was allergic to the antibiotics! So, we changed over to a different kind.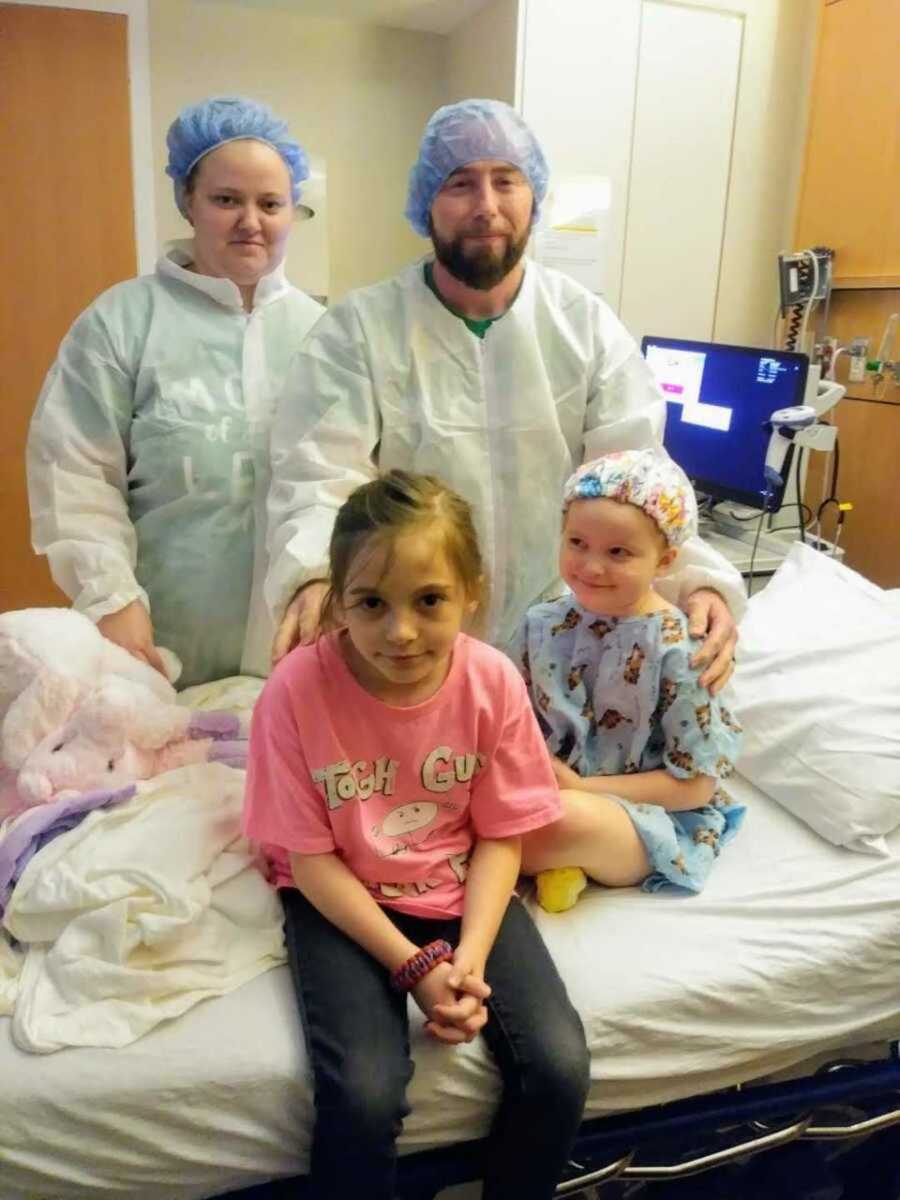 Losing Hair From Chemotherapy
Around the beginning of month 2 of chemo, her beautiful red, curly hair started to fall out as I was brushing it. I cried. She noticed and told me, 'Mommy, it's just hair. It will grow back.'
She then started to wear floppy Sunday hats for her balding head. She absolutely loved getting to go shopping with her great grandma for those hats.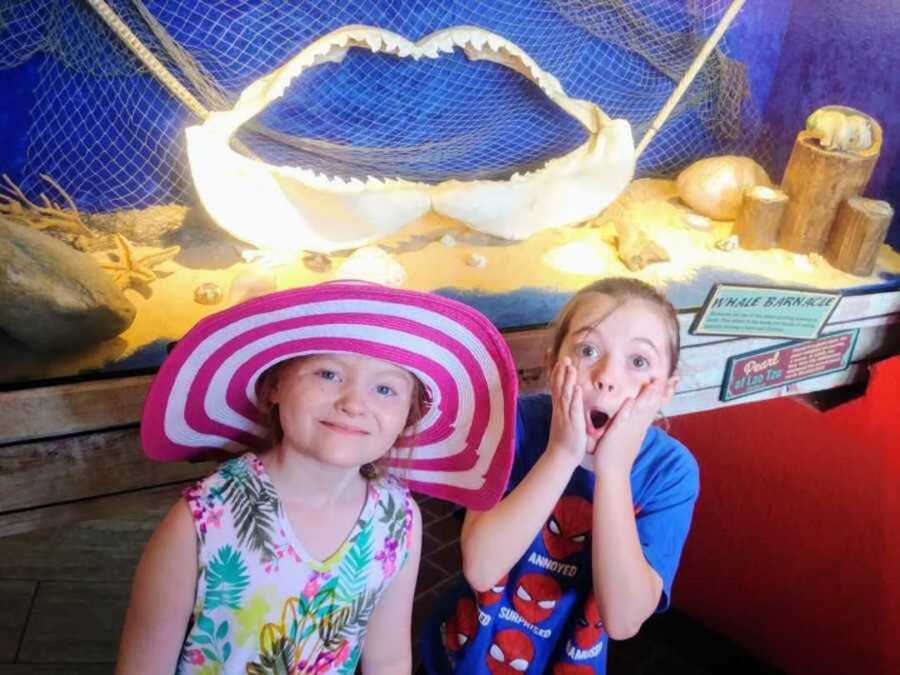 Recovery
Those few months were rough. She was getting spoiled from everyone, but we wouldn't have had it any other way. Unfortunately, she was having to miss a lot, from swimming during the summer to not being able to trick or treat, to missing a lot of school.
But she did give and get lots of cuddles! On her good days, she was able to go out in public and do small things. She did do a few photos shoots and said she felt like a princess those days.
Come December of 2018, it was her birthday. Sadly, she didn't get to have a party, but she did get to ring the bell! We didn't have a big group to go with us like most because during that time we also found out about some spots on her lungs.
They are keeping a close eye on them to make sure they don't change and so far they haven't. Because of those spots, she has to go every month for blood work and scans instead of every 3 months.
Her last scans still looked the same, so that's a plus! But her urine had blood cells in it, which of course put us in panic mode. We go at the end of October for her next scans and testing and we will be going from there. She is currently in remission.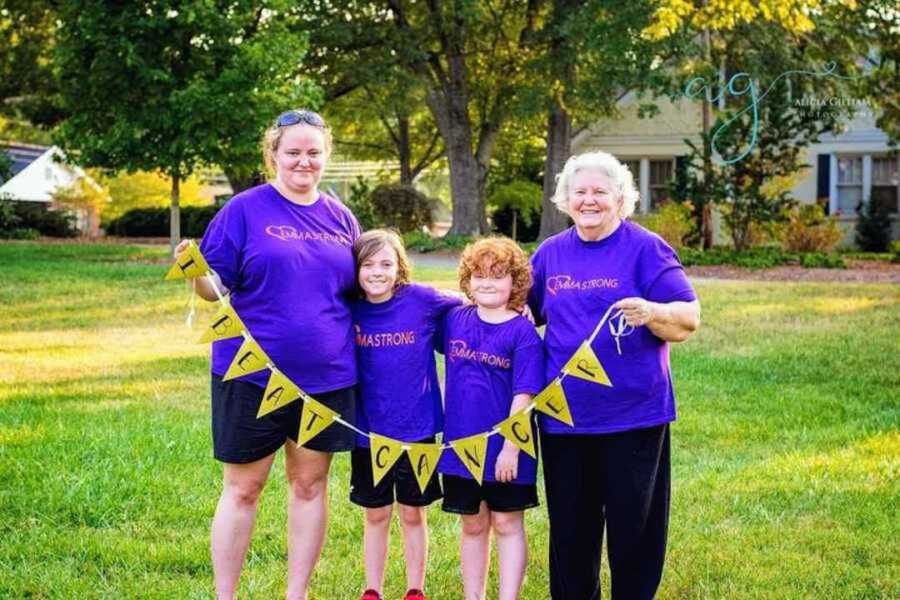 We all still go through the emotional part of it all. Depression and anxiety has hit me hard, but I've had a few other medical families help us through it. All the prayers have been greatly felt and appreciated. Emma has shown us what it is to be brave and strong, not only physically but faithfully and mentally.
Childhood cancer is heartbreaking.
Childhood cancer is a monster.
Childhood cancer steals childhood.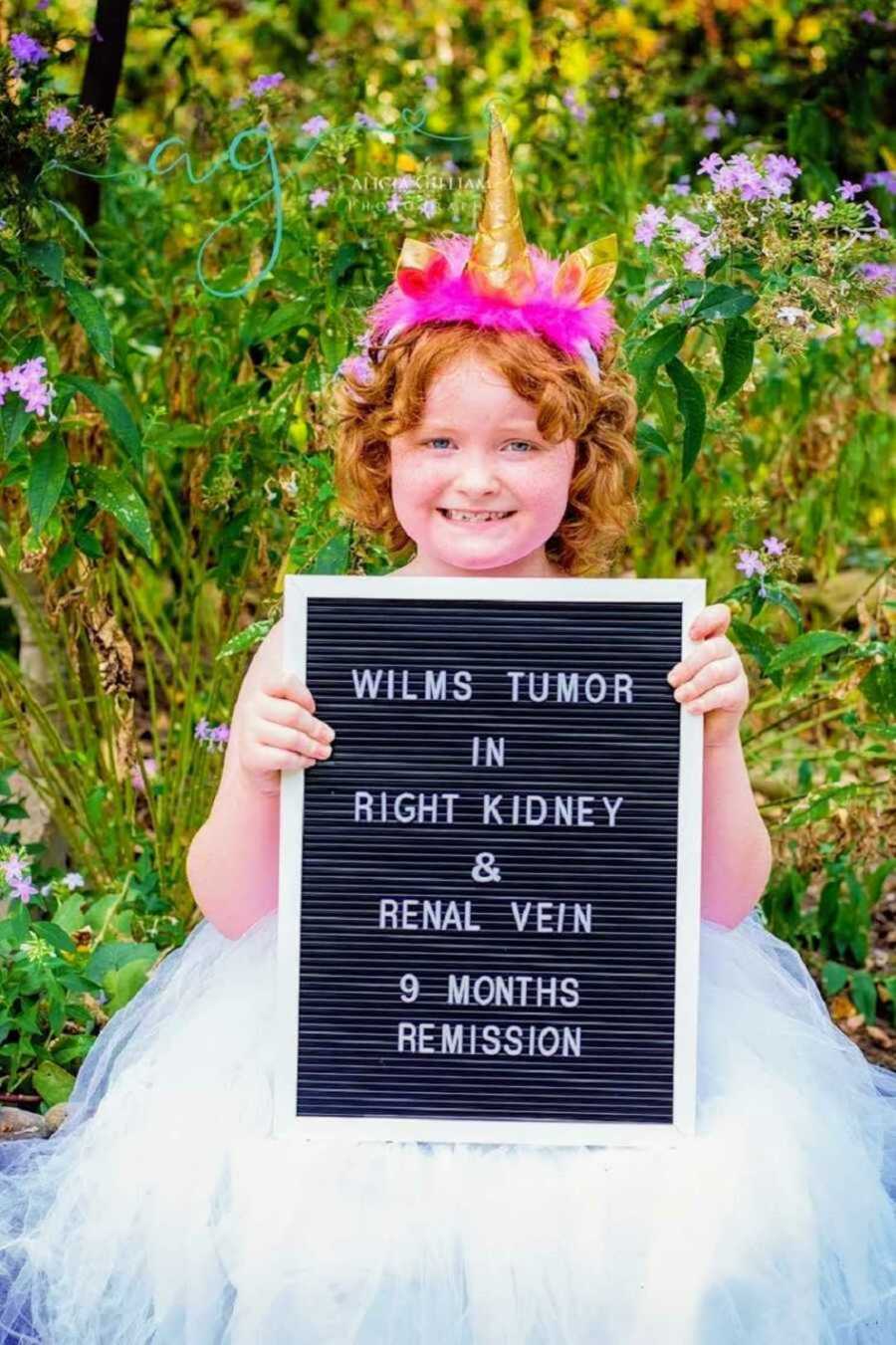 When you can, please donate to local charities for childhood cancer. These charities help families like mine in so many ways, on so many levels. The local charities give back more than the big commercialized ones and they take the time to get to know us on a deeper level."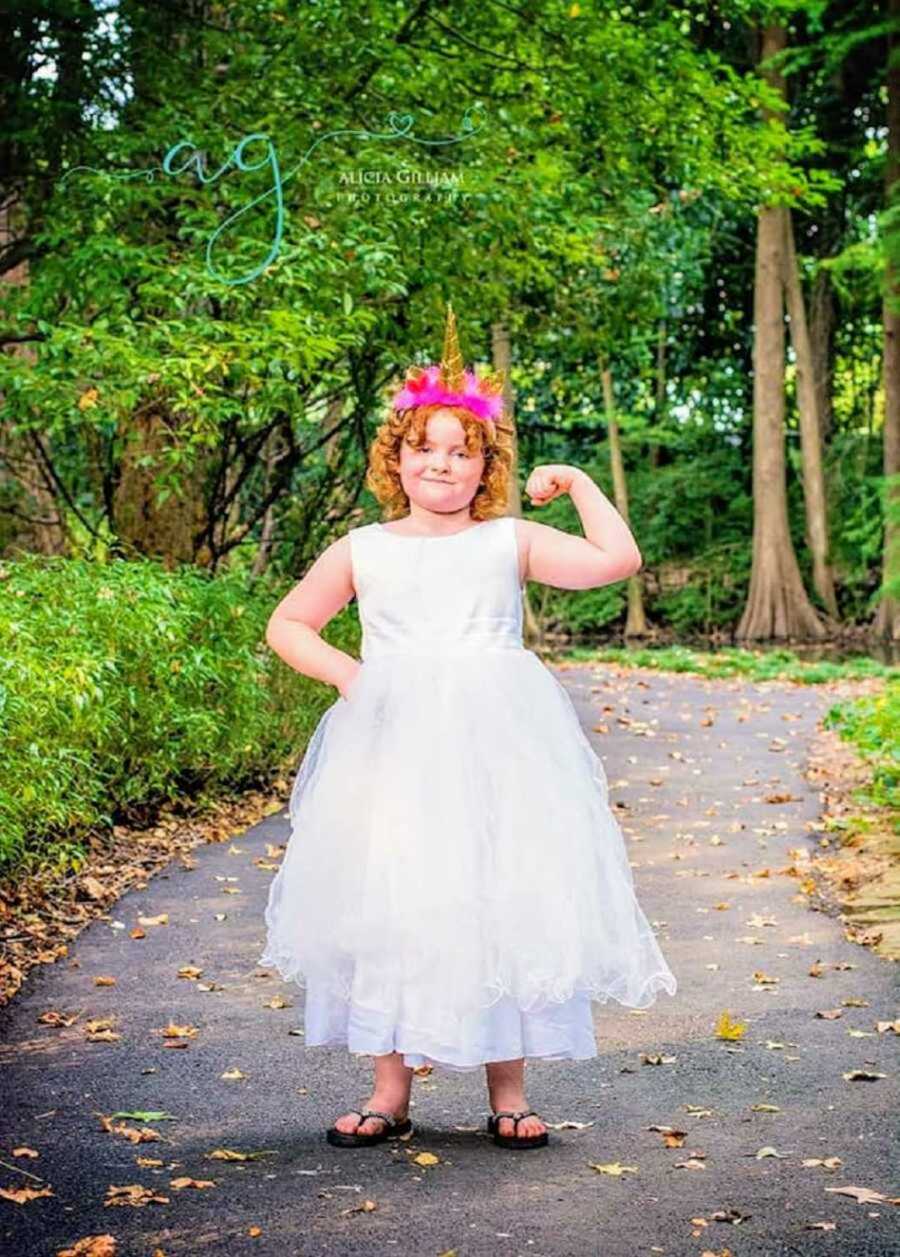 This story was submitted to Love What Matters by Lauren Ouzts. You can follow their journey on Facebook. Be sure to subscribe to our free email newsletter for our best stories.
Read more stories like this:
'She's so beautiful'. 'Yeah, but she has cancer.': Newborn daughter diagnosed with Neuroblastoma 9 days after she was born
'In tears, my husband handed me a small paper. 'Please don't take my baby!' My stomach twisted into a giant knot. Our world totally flipped upside down.'
Spread beauty and strength for others. SHARE this story on Facebook with friends and family.