"We first learned we were pregnant with Elliot in August 2017. The day I found out I was pregnant, I ran my first 5k. We had just started trying and weren't expecting to be pregnant right away. I just had a feeling I was, and we were so excited when we found out. We were ready for our oldest son, Pacer, to have a little playmate, a sister or brother he could have fun with.
I was pretty sick in the first trimester. I didn't want to eat anything but expensive steaks from expensive restaurants. Elliot had exquisite taste. After the first trimester, I started feeling better. I was able to keep up with my daily walking and playing with my toddler, Pacer. My pregnancy journey with Elliot was perfect. He and I were both healthy, and we were so happy.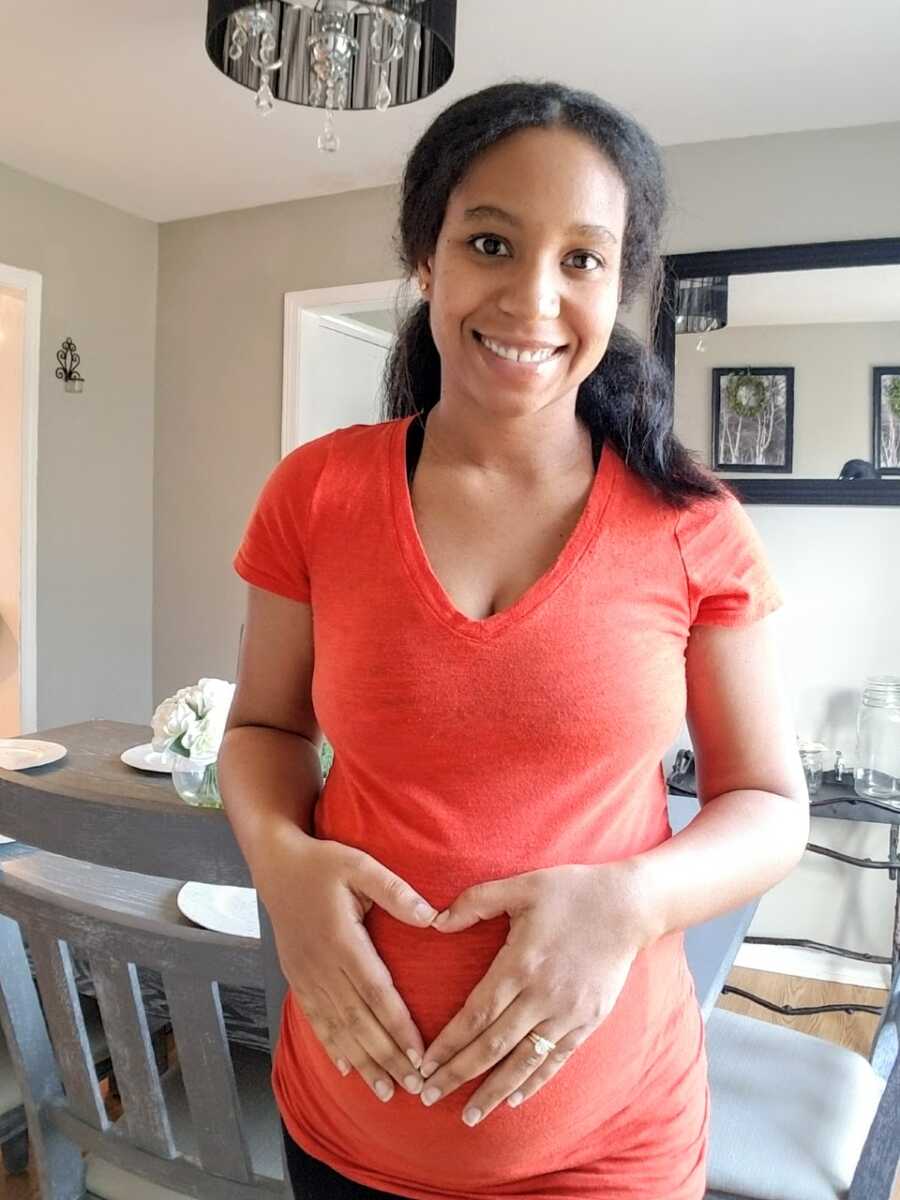 My delivery with Elliot was perfect, too. I was in labor for about 13 or 14 hours before he came. He was born on April 18, 2018. He weighed 7 pounds 14 ounces. Once I saw Elliot, I knew my world was complete. I remember the nurse saying, 'Look at those hands.' His hands were outstretched, reaching out to be held by me.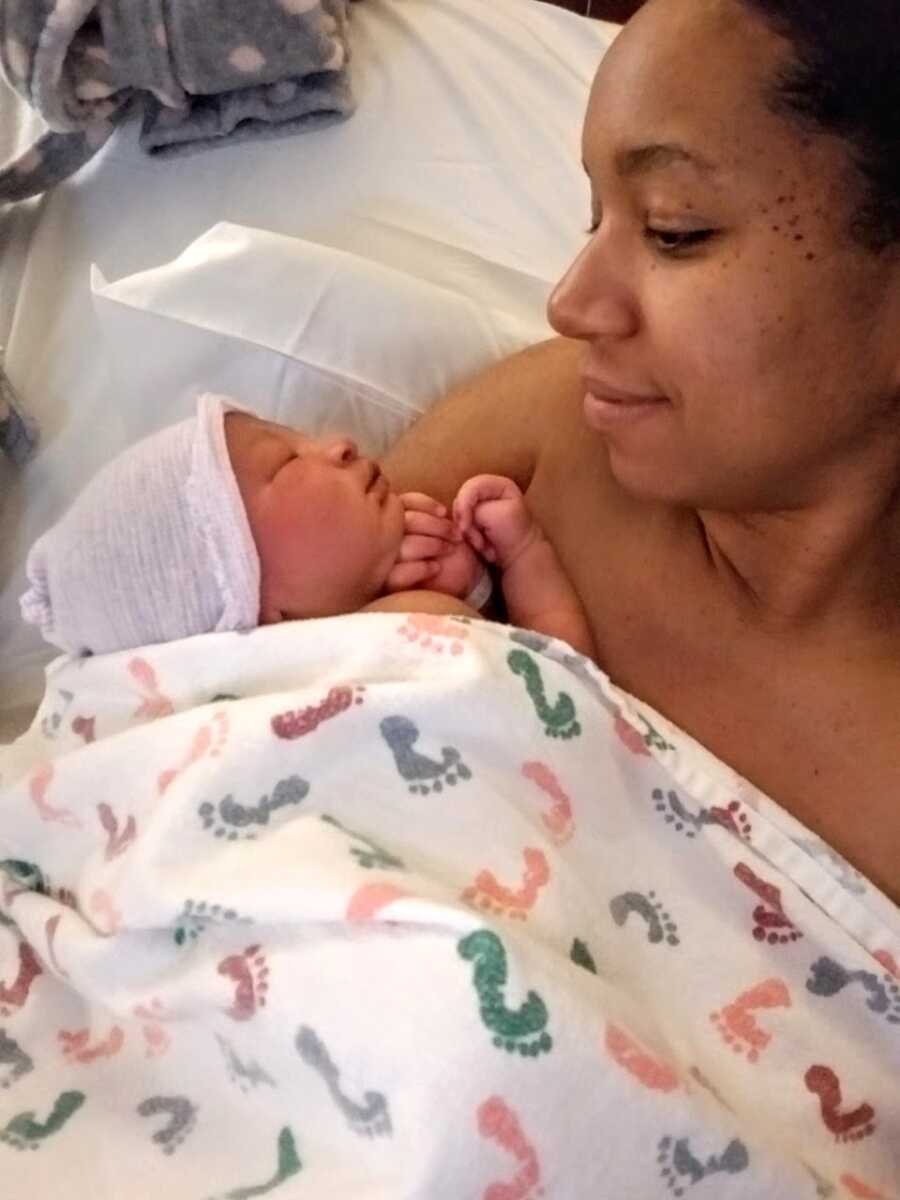 Elliot was a sweet baby; he was very gentle and loved to smile big. The one thing that was hard for me was Elliot had difficulty sleeping. I always thought he wasn't getting enough milk because I was breastfeeding him at the time. It seemed like Elliot could never get comfortable enough to fall asleep deeply. Anytime he took naps for an hour or two, I would take a picture to remember it.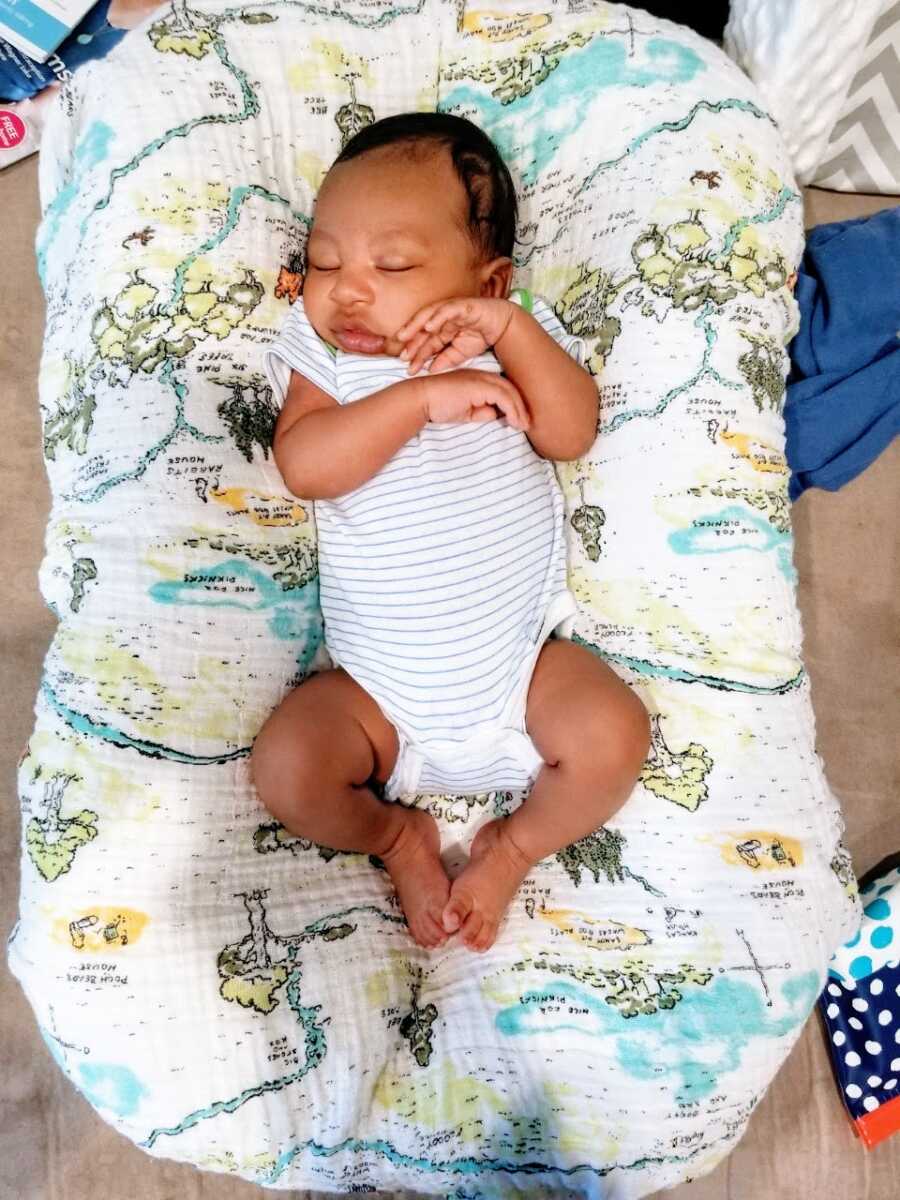 When Elliot was three months old, I was playing with him on my lap, and I noticed a lump on the left side of his abdomen. I hadn't seen it before, so I called over my husband, Sterling, to look at it too. We both agreed it wasn't there before and he needed to see the doctor the next day. Honestly, I did not think anything of it. Because of constipation, I thought his belly might be a little hard and big.
The next day we brought Elliot to the doctor to be checked out. The doctor examined him and asked if she could call another doctor from the clinic to look at him. I still felt positive even when she recommended another doctor. Still, I started to panic when this doctor turned the lights off and pulled out a flashlight to shine on Elliot's belly.
After they checked him out, they went outside of the room to talk. Our doctor came back into the room to tell us Elliot had a mass in his belly. They weren't sure exactly what kind of mass and where it was coming from, so they were sending us to the Pediatric Unit at the hospital to do some tests. The hospital already had a room ready and waiting for us.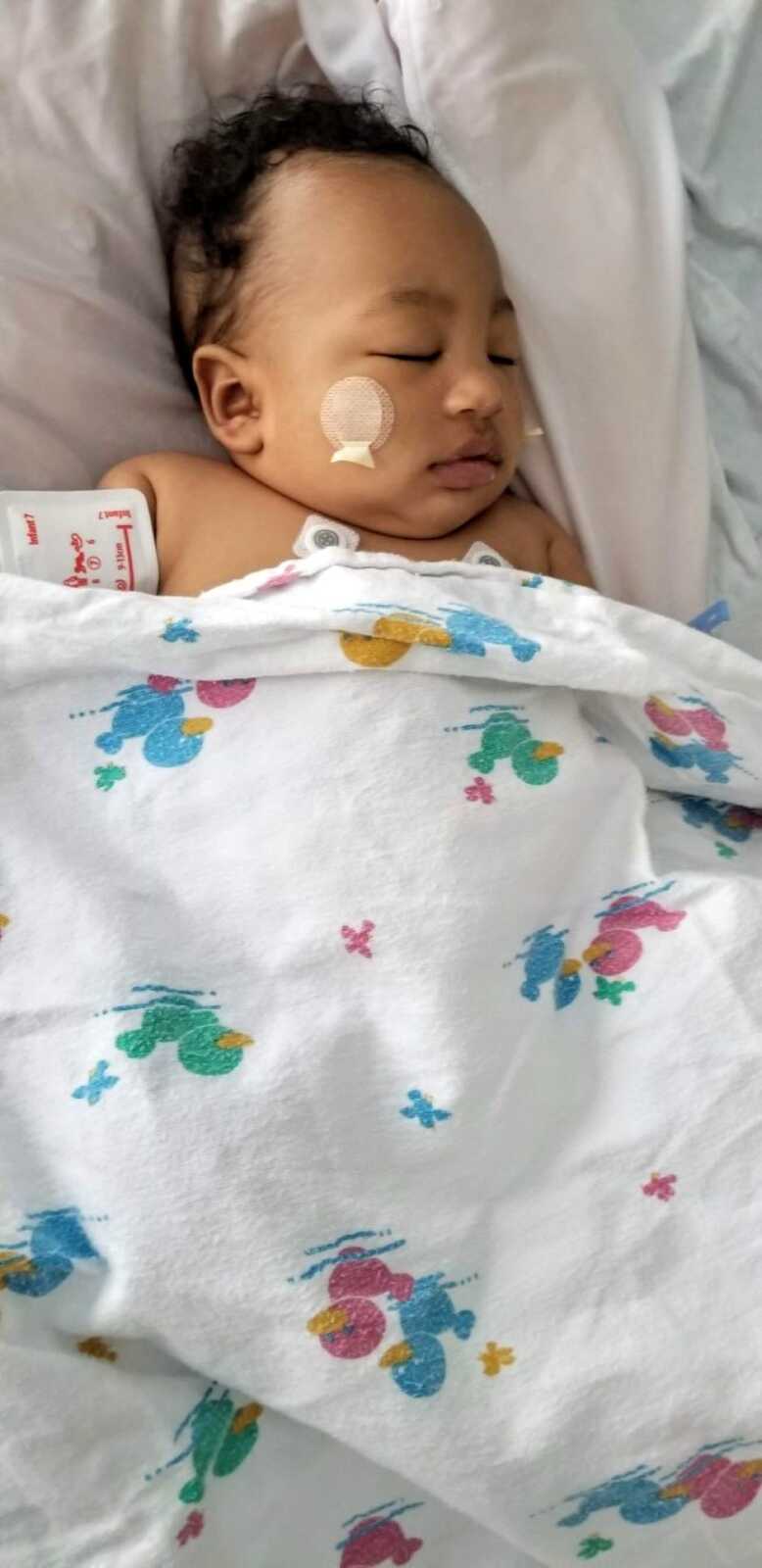 The short drive to the hospital was filled with anxiety and confusion. Our oldest son, Pacer, kept asking us where we were going because all he wanted to do was play and have fun. I held my tears and started to pray, but I had a gut feeling this was the beginning of a long and terrifying journey for us.
When we got to the Pediatric Unit, the nurses welcomed us warmly. They made Elliot feel comfortable and got him plugged into the machines to monitor his vitals. They gave Pacer toys and books to play with so my husband and I could focus all our attention on the doctors and Elliot.
The ultrasound was the first test they did to look inside his abdomen. The results returned stating Elliot had a big mass coming from his left kidney. The mass was so big they couldn't even see his left kidney. When we heard the results from the doctors, we were still confused. We had so many questions. We just wanted our baby boy to be okay.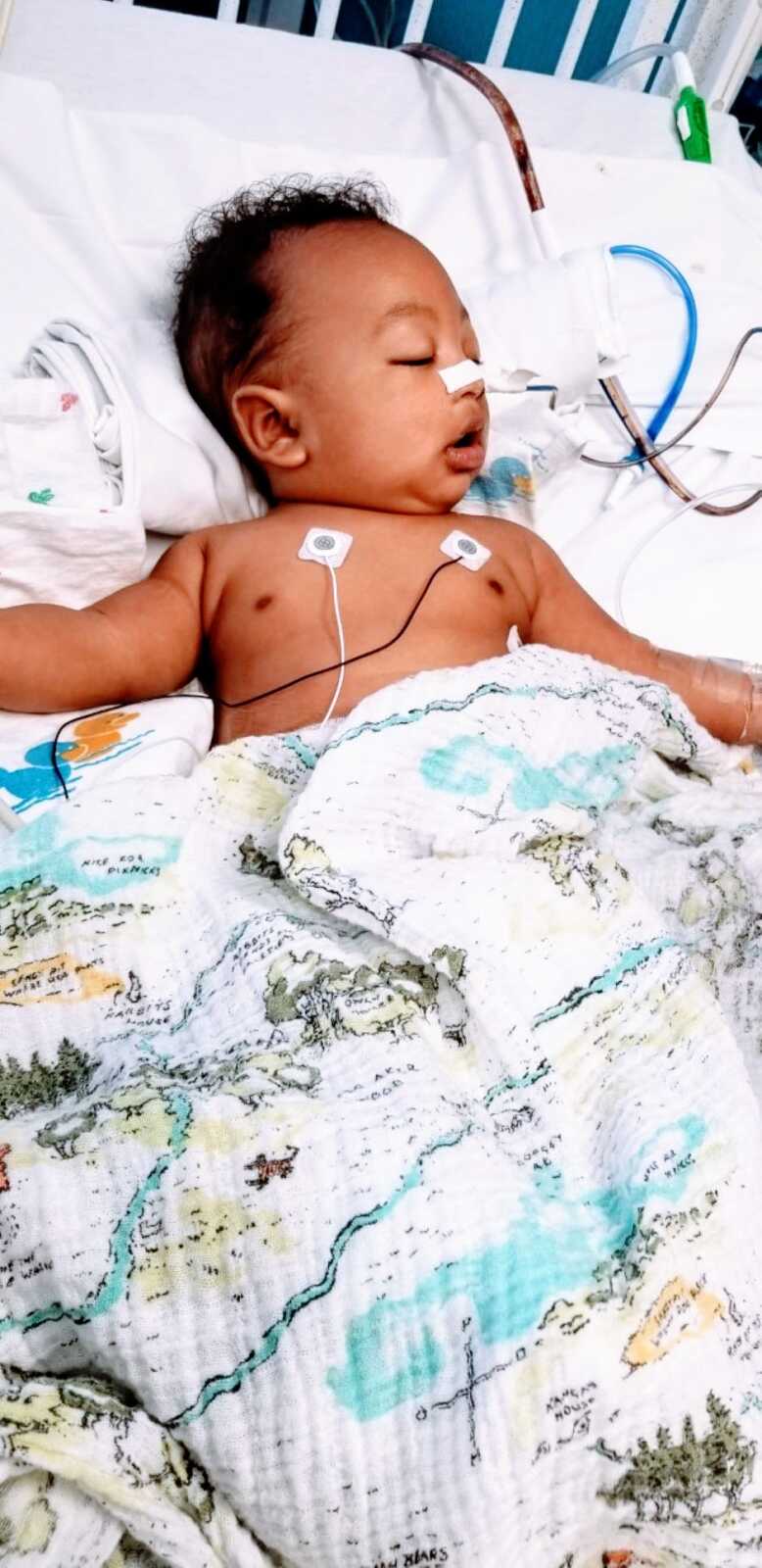 Later, after being at the hospital for hours, a doctor walks in with her nurse. She greets herself and goes straight to Pacer. She says, 'Would you like to play with many toys in the playroom?' Pacer said yes and went with the nurse to the playroom. My heart sank because I knew it wouldn't be good news if they had to make Pacer leave. When the doctor walked in, the first thing I did was read her name badge, and I saw in bold 'Pediatric Oncologist.' I felt like I was about to have a panic attack. My heart would not stop racing.
When Pacer was out of the room, the doctor turned her attention to us and introduced herself. She told us she believed Elliot had Wilms Tumor, a tumor that comes from the kidney. 'It's common in toddlers,' she said. 'It's rare he has it at three months of age.' After telling us what she thought the diagnosis was, she said, 'Now you can cry and have a fit before I continue with the next steps because I need you both to be strong for Elliot.' Sterling and I looked at each other and started to weep. We were so devastated this was happening to our baby.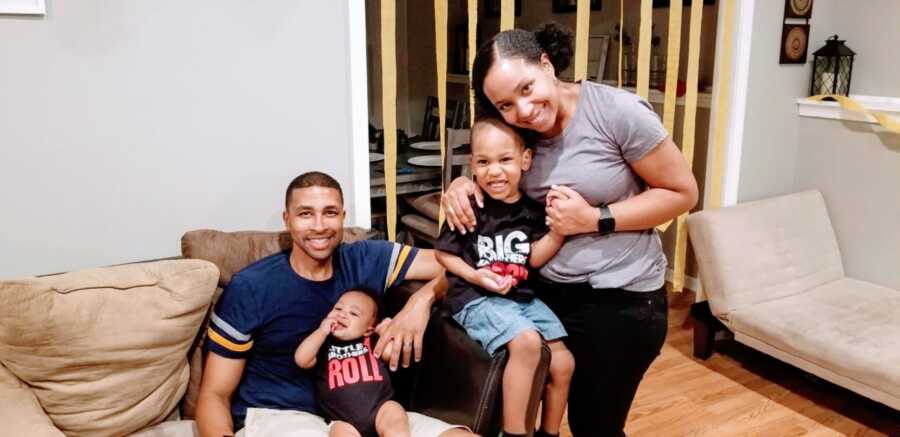 After we cried together, Elliot's doctor got right to what we needed to get done to make sure Elliot had a chance to survive. The first thing was for Elliot to get a CT scan done. The CT scan would show a better picture of the tumor and if it had spread anywhere else than the left kidney. Elliot would have to be sedated for the CT scan as well.
The second thing Elliot needed was surgery. Elliot's doctor did not want to wait too long because this tumor was getting bigger every minute, and we did not want it to spread. So, surgery was being scheduled for three days later. After these two steps, we would wait to see if the tumor was cancerous.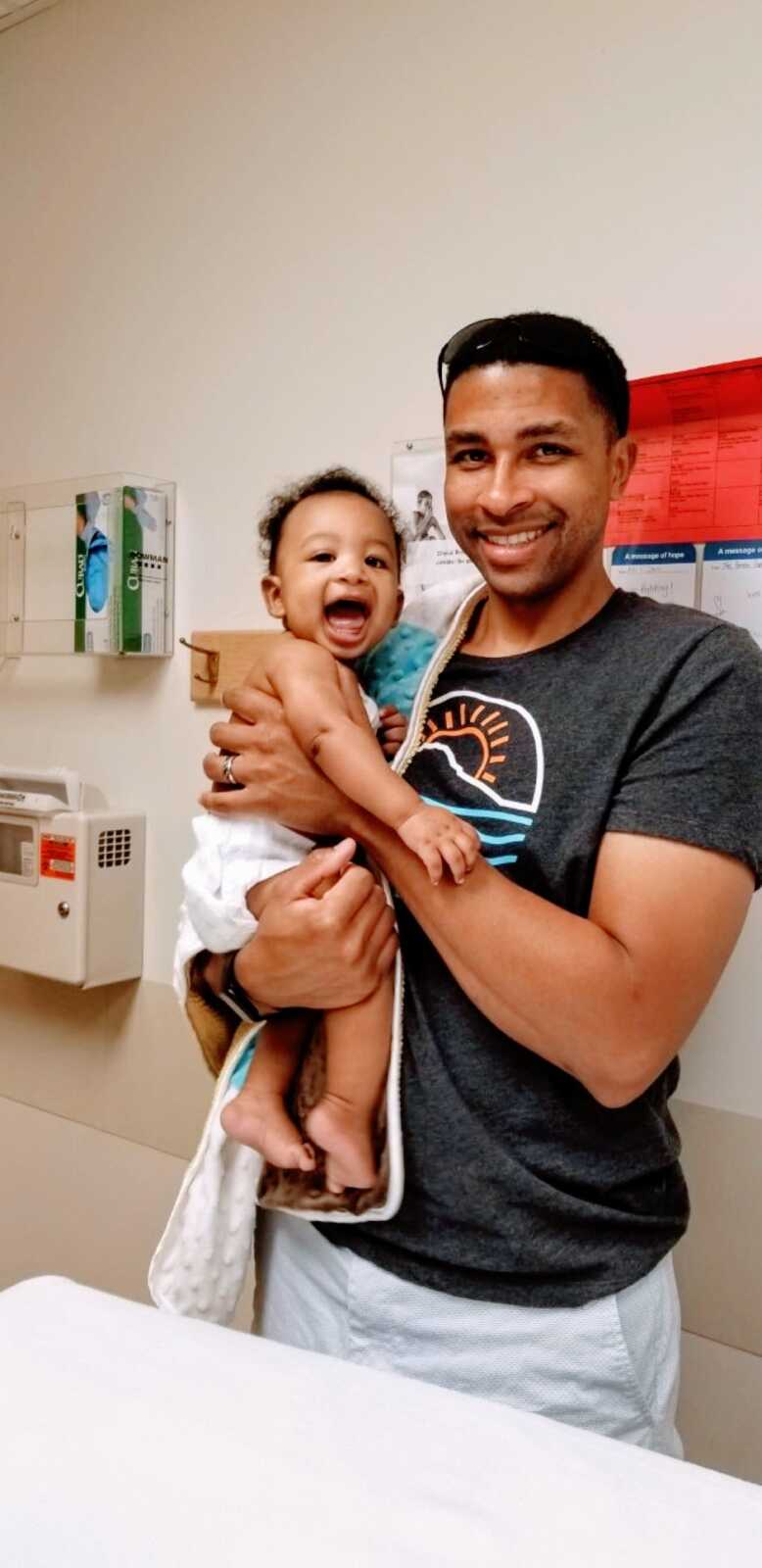 We got the CT scan done that night, and to our delight, the tumor did not spread anywhere else in Elliot's tiny body. The next three days were chaotic. We had to schedule the surgery with the hospital, celebrate Pacer's third birthday, and make travel arrangements with Ronald McDonald House. We did not know how long Elliot would need to recover, so Ronald McDonald House was a blessing. My sister-in-law and mom were able to drop everything in their lives to come to help us with Pacer and traveling. We will always be grateful for them.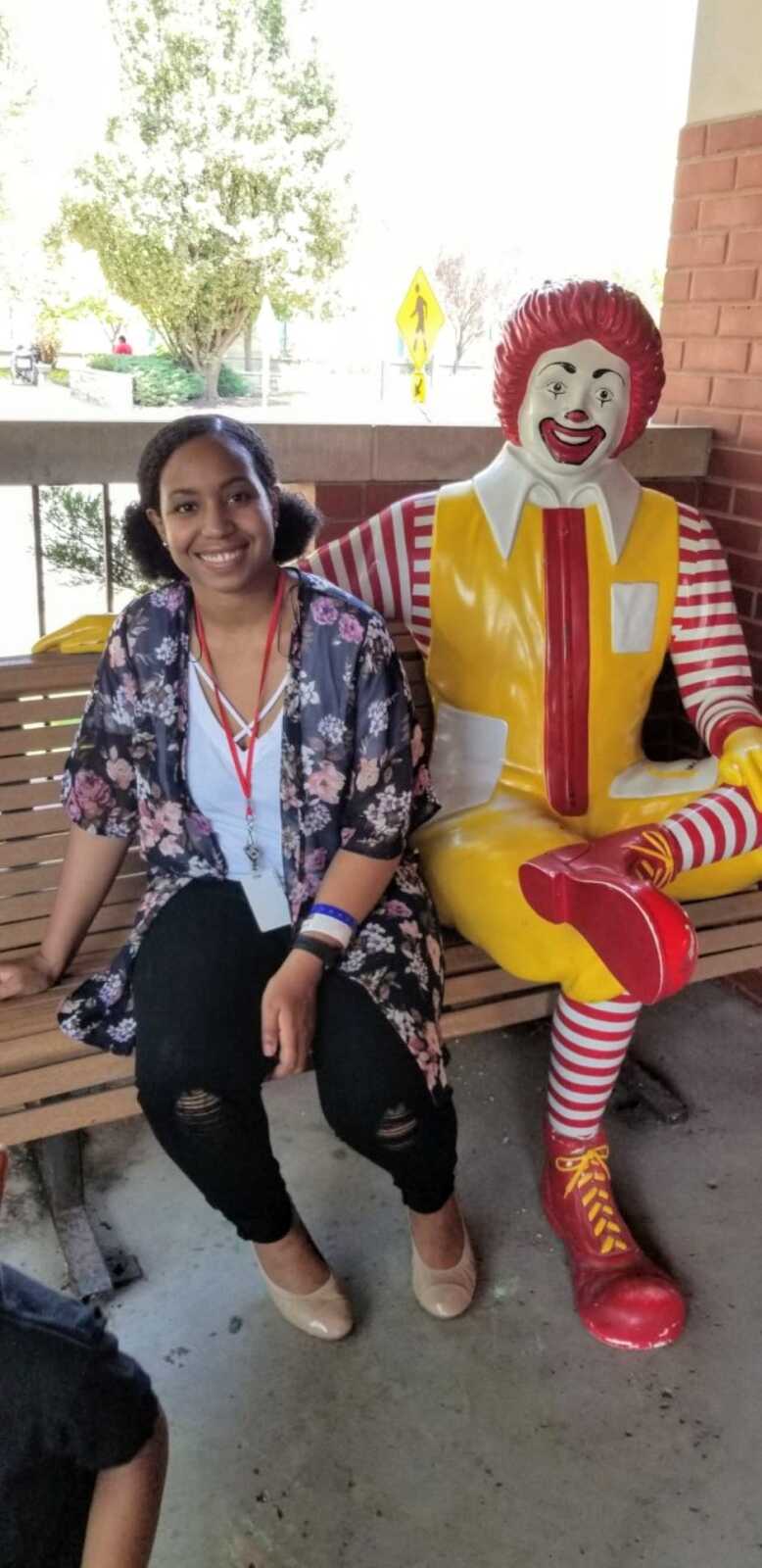 The day of the surgery had to be one of the hardest days of my life. Elliot was four months old, and he was about to have major abdominal surgery. I could not wrap my mind around this fact. I just had Elliot a few months back, and now these nurses and doctors would take him away for surgery. What if I never got to see him again?
Before it was time for the nurses to take him into surgery, we kissed him all over his sweet face and took a picture of him. Elliot smiled the biggest smile. He was saying, 'I'll be okay, mom and dad. Don't you worry.' After taking the picture, the nurses took his bed and strolled him away. Sterling and I stood in the empty. cold room holding each other's hands tightly until we couldn't see Elliot's bed anymore. Sterling and I hugged each other and cried. We cried for Elliot, for ourselves and Pacer, and for the way things were supposed to be.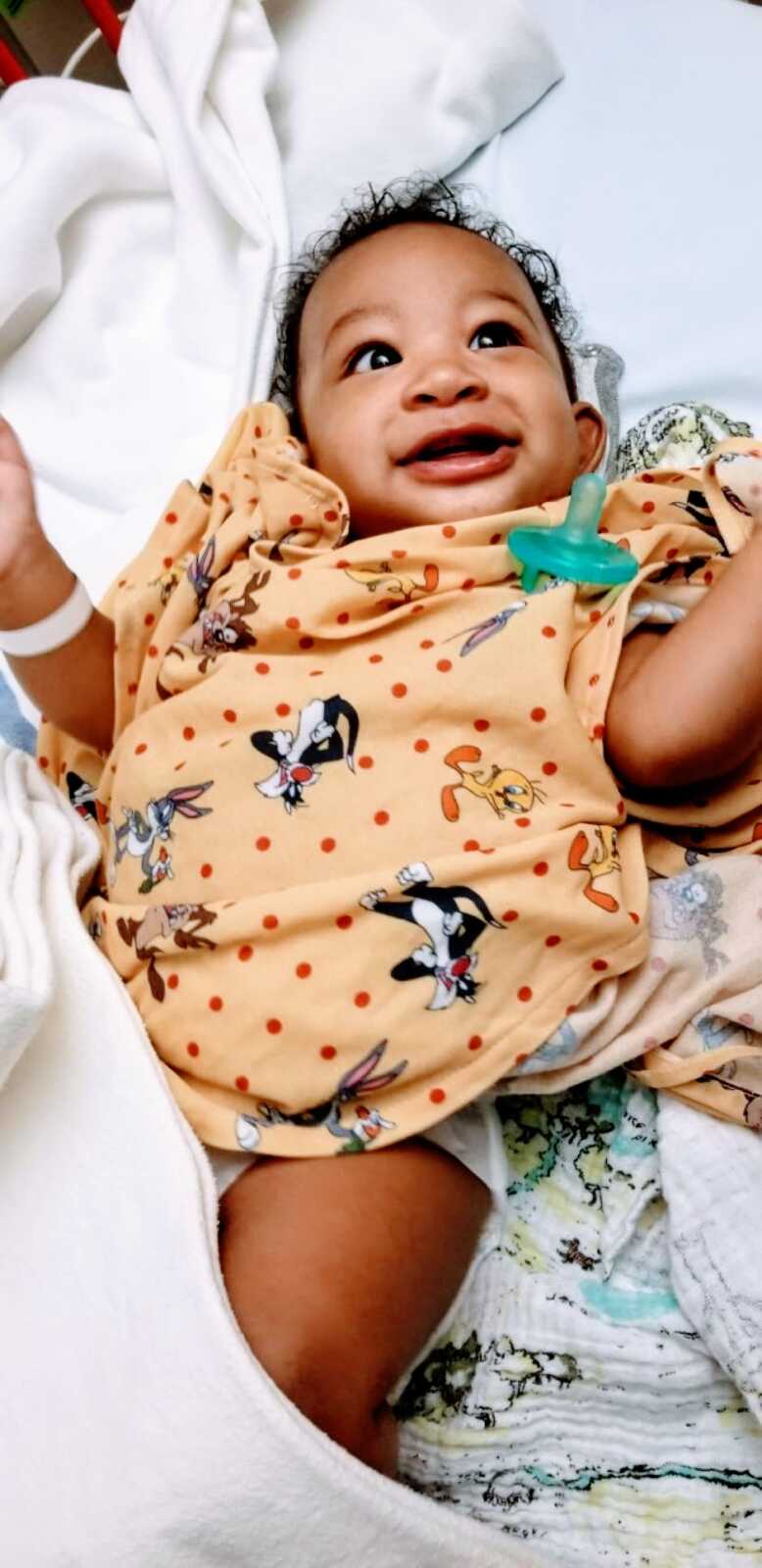 We waited 8 hours for the surgery to be over. I could not stop walking back and forth down the hallways. I just wanted to hold Elliot in my arms again. Whenever I got anxious, I would look at the picture on my phone, see Elliot's smile, and know it would all be okay. When the nurse walked in and told us Elliot was out of surgery and the surgeon would talk to us, I felt like I could breathe again. We met with the surgeon in a meeting room and he told us what happened in the surgery. Elliot had a tumor the size of a cantaloupe and had a lot of pressure in his belly, which makes sense why he could never get comfortable enough to sleep.
We were at the hospital for seven days for Elliot's recovery. Sterling and I alternated between who would stay with Elliot and with Pacer. We waited anxiously for the pathology report. Finally, on day 7, we got the report back. The surgeon examined Elliot and told us he was ready to be discharged. The pathology report came back stating the tumor was cancerous. So, the surgeon diagnosed Elliot with stage 3 Wilms Tumor.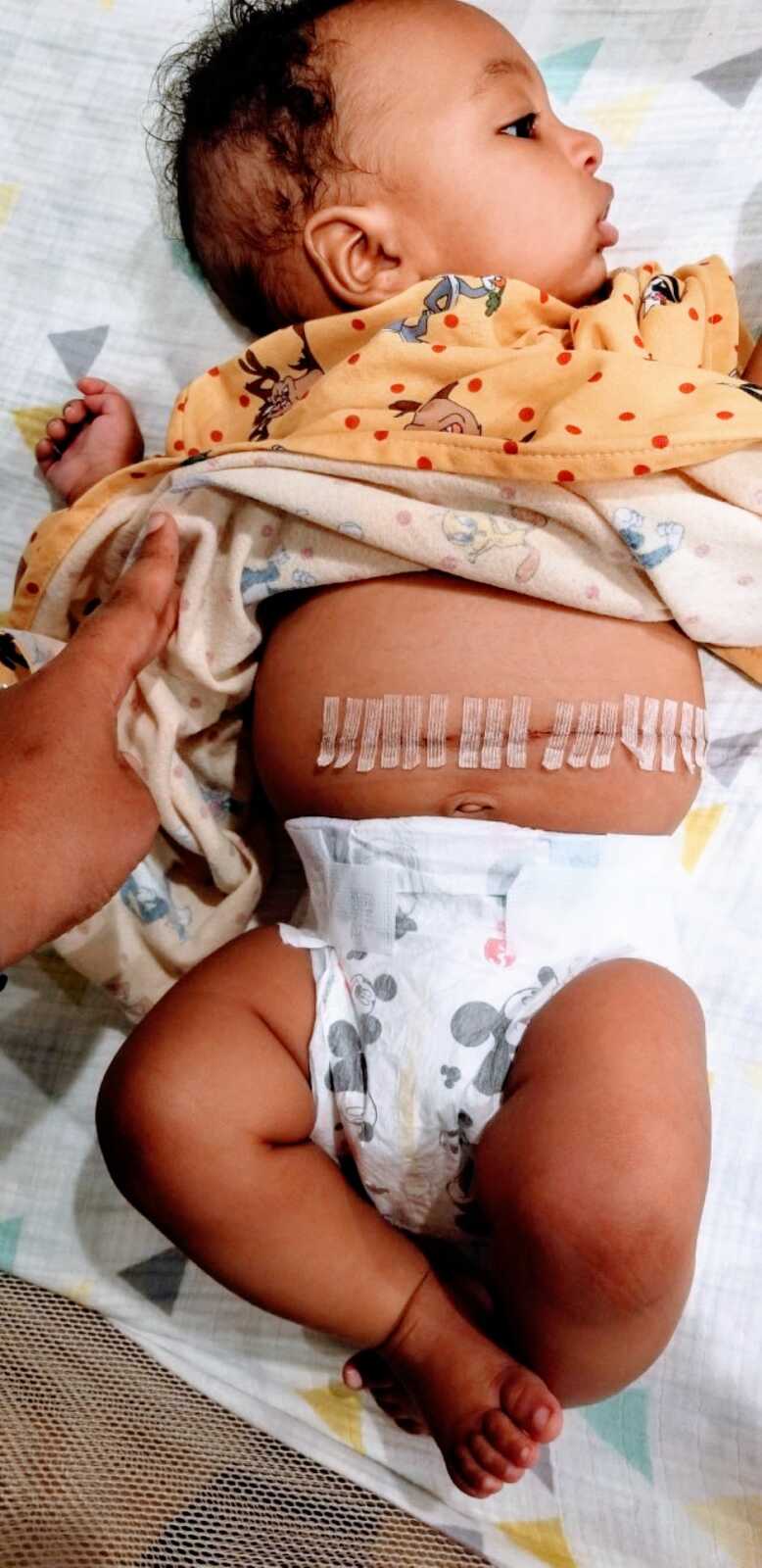 Elliot's oncologist called us while we were getting our things ready to head back home from the hospital. She told us Elliot would start radiation and chemo right away. Once we got back home, we headed to our doctor's office, and she gave us all the information we needed to get started on this journey. Elliot had to do seven rounds of radiation. They sedated Elliot for each radiation session, which meant there needed to be a team of nurses and an anesthesiologist.
The day of Elliot's chemo I can remember like it was yesterday. We were in his hospital room, and the nurse started to connect all the wires, and I felt like my legs weren't my own. I ran from the room so fast and started to cry. The hospital social worker and some other nurses held me and told me it was okay to cry, that this wasn't okay. I didn't have the strength to watch the nurses give my son poison that would help him but hurt him at the same time. My heart hurt so much for my little boy.
As the weeks went by, chemo became our new normal. We started to know what toys and snacks Elliot needed to calm him. We quickly became friends with a lot of the nurses. They became like family to us, and we will be forever grateful to every single one of them.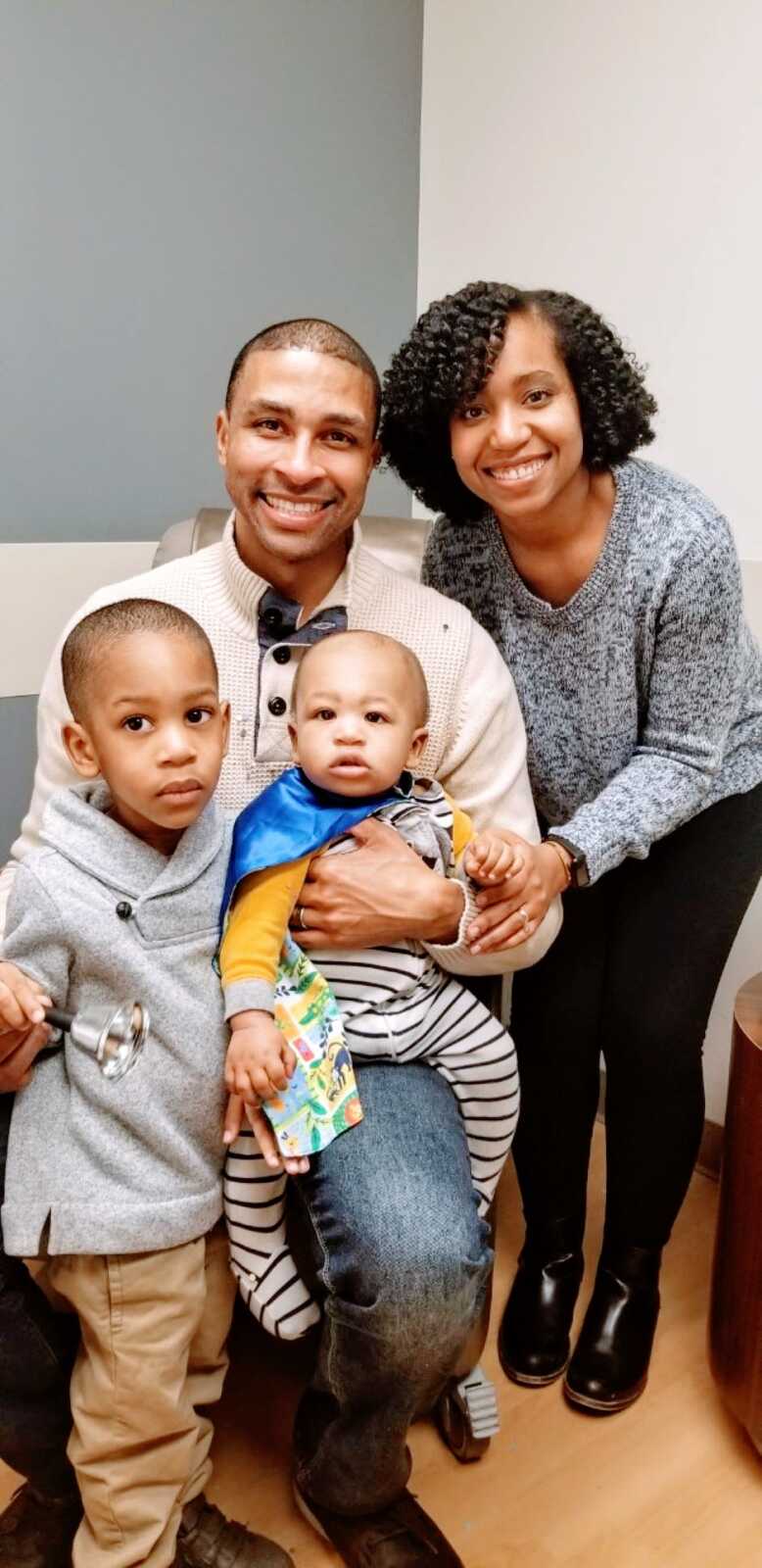 The day Elliot got to ring the bell, we were so filled with joy. It was a hard and long journey, but we made it to the end of chemotherapy for Elliot. Many people don't realize once chemo and radiation are over, it doesn't mean the fight stops. Elliot had to do CT scans every three months for a year, and then it's now every six months. The anxiety is always there. Our perspective has changed, though; every moment with Elliot is a blessing, and we will have a blast with him each and every day.
Today Elliot is three and half years old. He is charming, sweet, and strong-willed. He's a fighter for sure. We love seeing Elliot and Pacer play together. It's a dream come true. Elliot loves giving hugs and smiling. I know in my heart Elliot is here on this earth to do something special. He's already making a difference, and he doesn't even know it yet."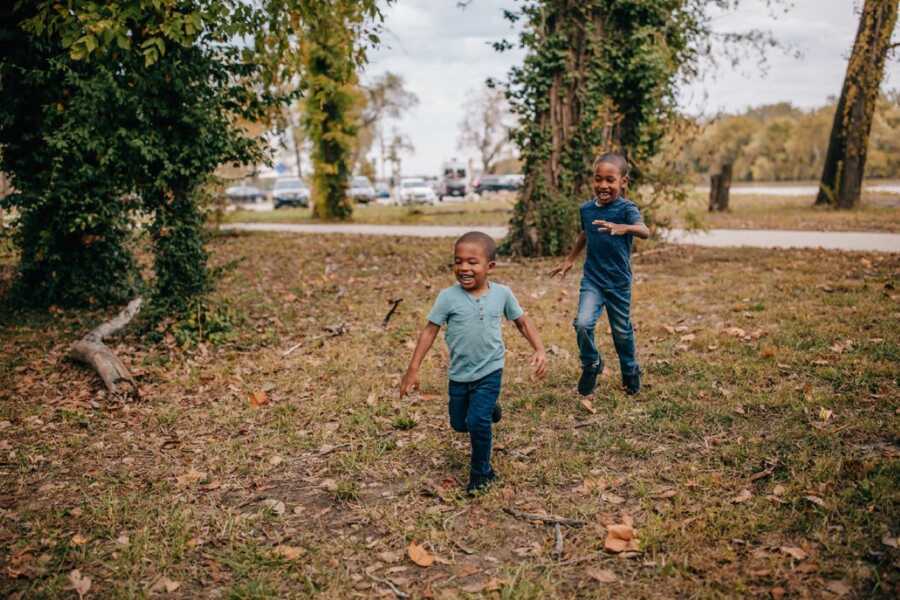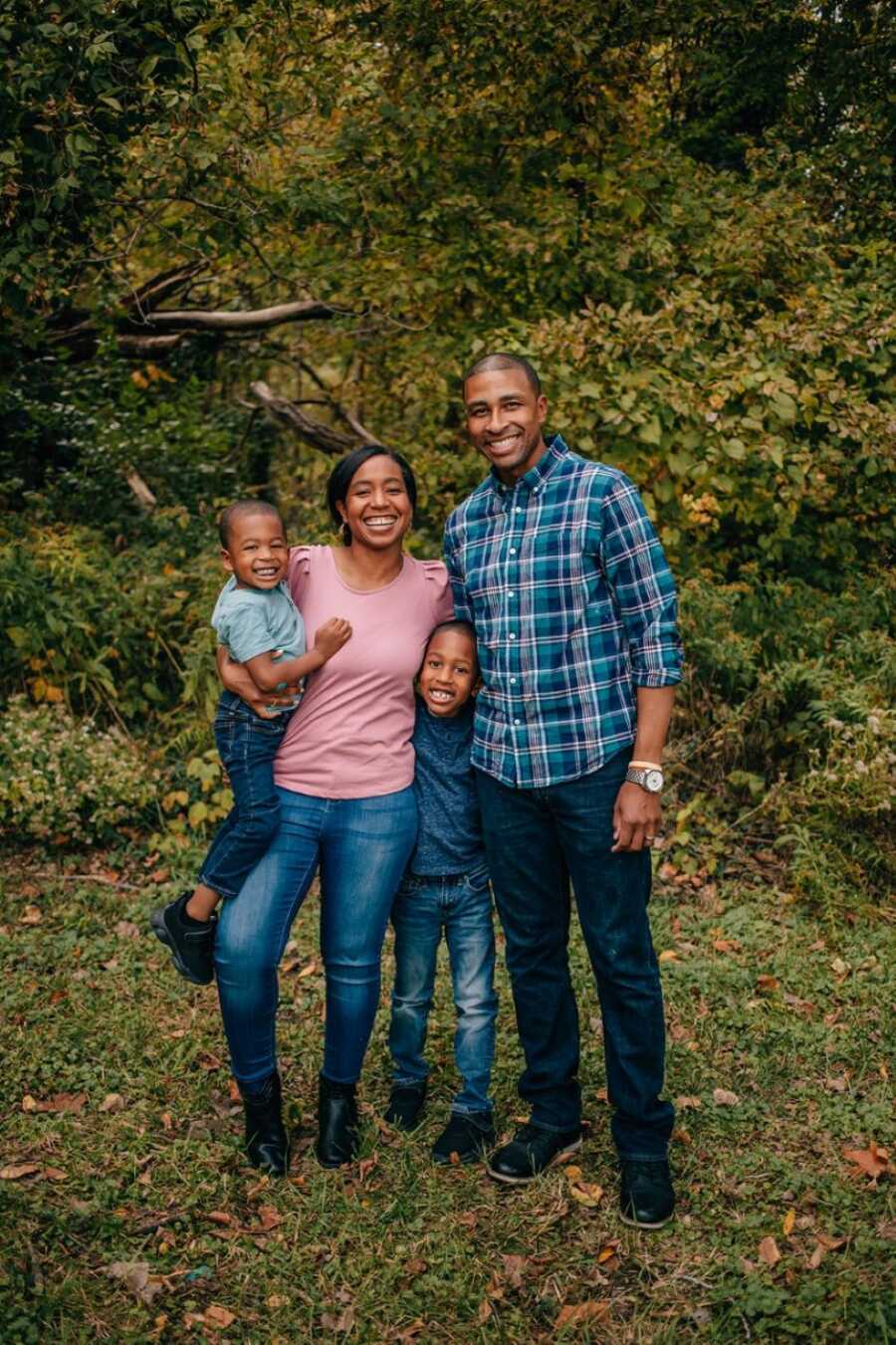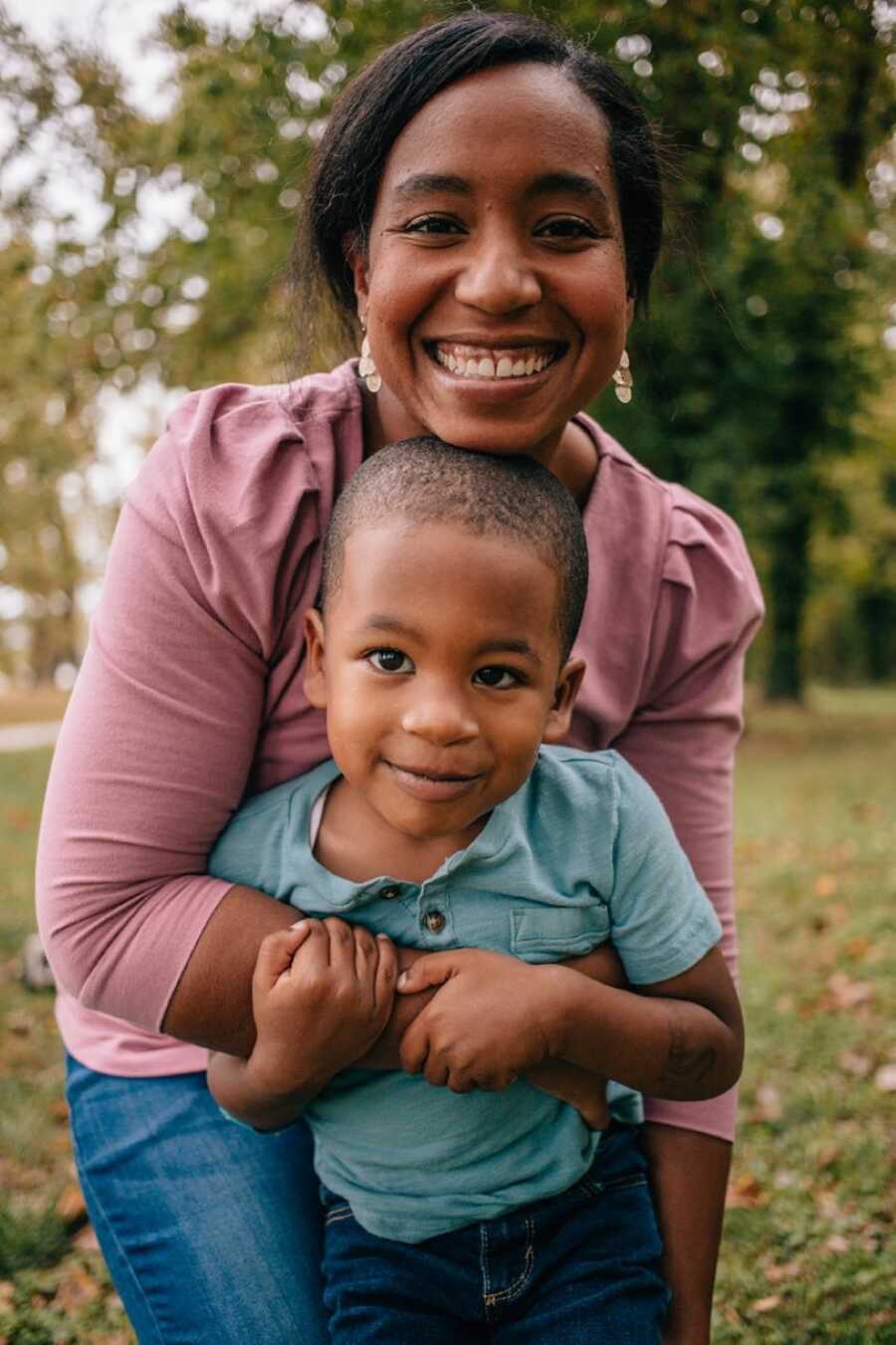 This story was submitted to Love What Matters  by Myrna Scales of Topeka, KS. You can follow their journey on Instagram. Submit your own story  here, and be sure to  subscribe to our free email newsletter for our best stories, and  YouTube for our best videos.
Read more stories like this here:
'Mommy, I did that.' There was blood in the toilet. 'Has someone touched you?' Suddenly, she's screaming in pain.': Mom mistakes daughter's cancer symptoms for 'abuse, menstruation,' says she's taught her 'bravery, strength'
'Come feel this,' the doctor said. I put my hand on her belly. My heart sank.': Mom recalls daughter's rare cancer diagnosis after thinking it was just an 'umbilical cord hernia'
'He held up his sign: 'Cancer is hard. Being black is hard… I want to survive both.' Just then, a police officer turned back around.': Police officers touched by childhood cancer fighter
'She knew something was wrong with her best friend. Her brother was now a quiet, sick little boy. He never wanted to play.': Sister dotes on her once 'lively, energetic' little brother now suffering from childhood cancer
Do you know someone who could benefit from this story? Please SHARE to let them know a community of support is available.