"My family has a long line of members with a hereditary, rare disease—Familial Adenomatous Polyposis (FAP)—including my mother and grandfather. Due to this, my parents knew there was a 50/50 chance I would also inherit this disease.
FAP is a genetic mutation causing 100s to 1000s of precancerous polyps to develop in the colon that will inevitably become cancerous. The standard treatment is to have the colon removed before the polyps turn cancerous. Most individuals will also have an ileostomy as a result, either temporarily or permanently. These precancerous polyps may also develop anywhere along the GI tract. FAP can also cause extracolonic manifestations such as Desmoid tumors, bone growths, and supernumerary teeth, as well as an elevated risk for other cancers.
Around the age of 8, I began having chronic abdominal pain. Due to insurance requirements, my parents required a referral from my PCP in order for me to see a GI specialist referral. However, my PCP refused to refer me to a specialist, stating that I was 'just a whiny child' therefore delaying my ability to receive treatment. My parents changed insurance plans as soon as possible in order to have me evaluated by a GI specialist. During my first appointment with my pediatric GI specialist, she ordered immediate medical and genetic testing upon learning of my family history of FAP. Through these tests, it was discovered that my abdominal pain was caused by my stomach being pre-ulcerous from stress; I had precancerous colon polyps, and I did in fact have FAP.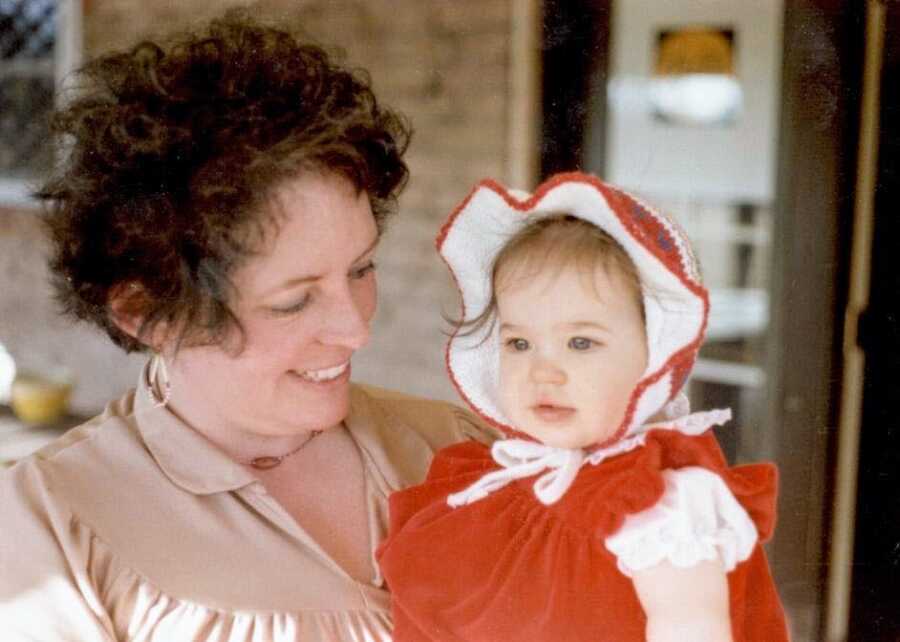 By age 9, I was required to have my colon removed as my precancerous polyps were starting to turn cancerous. The plan was to have a two-step surgery of colon removal with a temporary ileostomy and then have the ostomy reversed into a Jpouch a few months later. I was familiar with ostomies as my mother and grandfather both had ostomies due to FAP. My diagnosis and surgery plan was explained to me, and as I had the same disease as my mother and grandfather, I would also have an ostomy just like them. This wasn't overly concerning to me at the time.
My first surgery was completed as planned at the local children's hospital, however, I suffered complications that would be life-threatening. First, my incision became infected a couple of weeks after surgery resulting in my incision being surgically reopened for cleaning and packing in the ER. I was not provided any anesthesia or effective pain management for this, and it was by far the most painful experience I have encountered yet. Soon after, my small intestine twisted around itself and my surrounding organs, resulting in severe pain and cutting off my blood circulation to my lower small intestine. When my parents took me to the ER, the doctor did an X-ray and sent me home with pain medication, stating there wasn't anything wrong with me and I was 'just a whiny child.'
The next morning my parents returned me to the ER and a different doctor did more testing to discover my twisted intestine and scheduled emergency surgery. My parents were told it was a miracle I had survived through the night. Due to the lack of blood circulation, part of my small intestine died including the Jpouch. I underwent 2 additional surgeries during this year for adhesions removal and to start a Straight Pull-Thru to reverse my ostomy. However, my surgeon at the time didn't complete the ostomy reversal, and I lived with an ostomy for 6 years before finding another surgeon to complete the reversal. Due to my colon and portion of my small intestine being removed, I developed another rare disease—Short Bowel Syndrome (SBS). SBS causes frequent diarrhea resulting in dehydration and malnutrition from malabsorption of nutrients. Some individuals require artificial nutrition and hydration due to its severity.
I developed PTSD during this year from the medical trauma I endured, and as a result, I block out a lot of my memories as a coping mechanism. I do remember one nurse at the children's hospital who I bonded with as he was kind to me whereas the other nurses were not very kind. My parents and I even attended his wedding. During one of my hospitalizations, I bonded with the other child in our shared room, and we remained friends for several years. During another hospitalization, I met Reba McEntire and the cast of the Mighty Ducks as part of a contest the hospital was having among the admitted children for a chance to be featured on a billboard for the hospital. I was less than enthused about this, as I didn't feel well and I just wanted to be left alone. I was given a copy of the photo they took with me, but I threw it away.
Medical procedures, even a simple blood lab draw, became psychologically torturous due to my PTSD. At times, I would have to be restrained for medical procedures to be performed. I developed an extreme distrust of doctors, which I continue to struggle with to this day. During middle school, due to my medical PTSD, my ostomy, and the bullying I experienced, I became severely depressed and angry to the point that I was suicidal and homicidal. I hated having an ostomy, and I blamed the hospital, doctors, and my parents for the trauma I experienced, and I hated the bullies at school.
In high school, I started counseling to help me process my medical trauma. This was extremely beneficial as I also learned healthy coping mechanisms when undergoing medical tests and treatments. I also stopped blaming my GI specialist and parents for my health issues, and I came to realize just how much my GI specialist and my parents cared for me. In fact, the first time I hugged my GI specialist, she cried. Regardless of how I treated her, she always did everything in her power to make my life the best she could. I continue to experience triggers of my PTSD resulting in panic attacks, nightmares, flashbacks, and depressive episodes. However, I am better equipped now to cope with these triggers, and I seek help when needed whether from loved ones or professionals.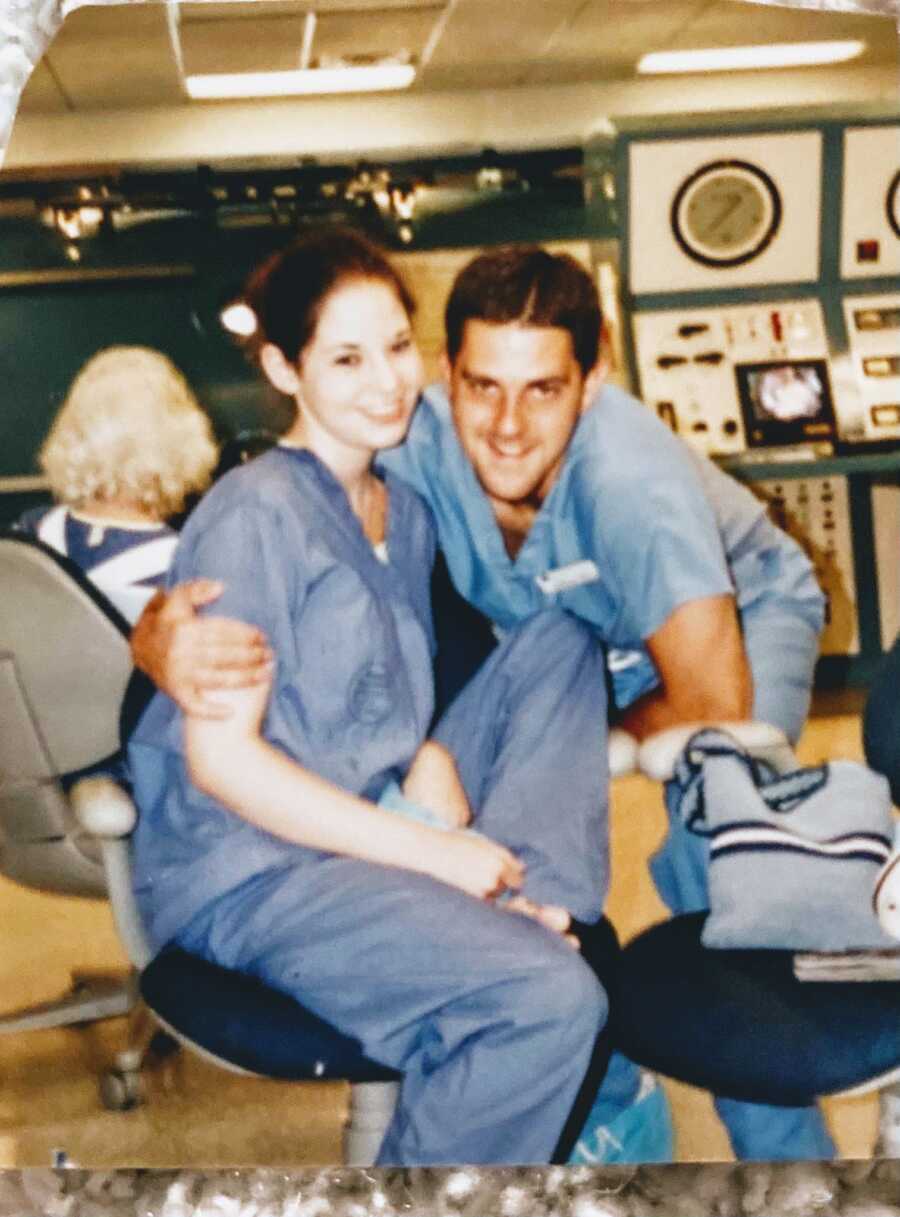 At age 15, I was able to have my ostomy reversed at a different hospital with a different surgeon. However, I suffered life-threatening complications again. I started to experience chronic vomiting and excessive diarrhea resulting in severe dehydration, weight loss, and imbalance of my electrolytes. My GI specialist monitored my lab values on a weekly basis as I required frequent hospitalizations for IV fluids and blood transfusions. During this time, my excessive diarrhea created an ulcer in my small intestine that eventually created a hole in my small intestine. In order to treat this, I received TPN for several months and wasn't allowed to eat or drink anything by mouth for an extended period. I also underwent hyperbaric treatments to quicken my healing process. I bonded with the technicians performing my hyperbaric treatments, and often they would come to visit me in my hospital room on their breaks.
Later, my doctor told me she never knew if I would survive through the week to see her at my next appointment. At one point, I instinctively knew I was near death, and I said my goodbyes to my mother while my father was at work. I underwent months of extensive medical testing to determine the cause of my chronic vomiting and excessive diarrhea. Without any answers from the medical tests, the last resort was exploratory surgery during which it was discovered that my adhesions had created a stricture around my small intestine requiring removal of adhesions once again.
My experiences at this hospital have been completely different from those at the local children's hospital. To this day, I continue to receive all my medical care through this hospital, and I receive exemplary and kind care with every hospitalization and surgery there. The surgeon who completed my surgeries in high school was incredible. He went out of his way to try to reduce my fear and exposure to any physical or emotional experience. For my exploratory surgery, I asked my surgeon if he would prescribe me medication to 'knock me out' for the NG tube removal. He agreed, and when it came time for the NG removal, the nurses told me there wasn't a medication order on file for it. I was livid and distraught as I felt betrayed by my surgeon, especially when he knew my medical past and my mistrust of doctors. I agreed to proceed with my NG tube removal without any medication rather than wait for him to be contacted for medication orders.
He soon came to visit me after the NG tube removal. Before he could even speak, I bluntly told him what I thought about him and felt about this betrayal, I cursed and yelled at him profusely. He remained calm and patiently waited silently until I said everything I wanted to say. Once I finished, he apologized to me and explained that he did order medication for me as I requested, but it wasn't available through the hospital pharmacy, which didn't notify him of this, or he would have ordered me something else. Between his efforts and his reaction to my meltdown, I accepted his apology knowing that he truly did care and understand me. Unfortunately, he was a pediatric surgeon and was not able to follow me into adulthood.
My GI specialist would pre-admit me to the hospital throughout my high school and college years so I wouldn't have to wait in the ER and always requested the pediatric floor for me, despite my age as she knew I would get the best loving care there. The nurses knew my voice so well that when I paged for a nurse, they immediately knew I had been readmitted without looking for my name on the patient list. One nurse's daughter volunteered to help me wash my hair while I was unable to undergo a full shower. My GI specialist and surgeon arranged all of my procedures or surgeries requiring anesthesia with a particular anesthesiologist to reduce my anxiety as I trusted this anesthesiologist. He was dating one of my hospital nurses, and they would send messages to each other through me whenever I was undergoing another procedure. This became an inside joke between the 3 of us and helped me focus on something other than my anxiety and the procedures.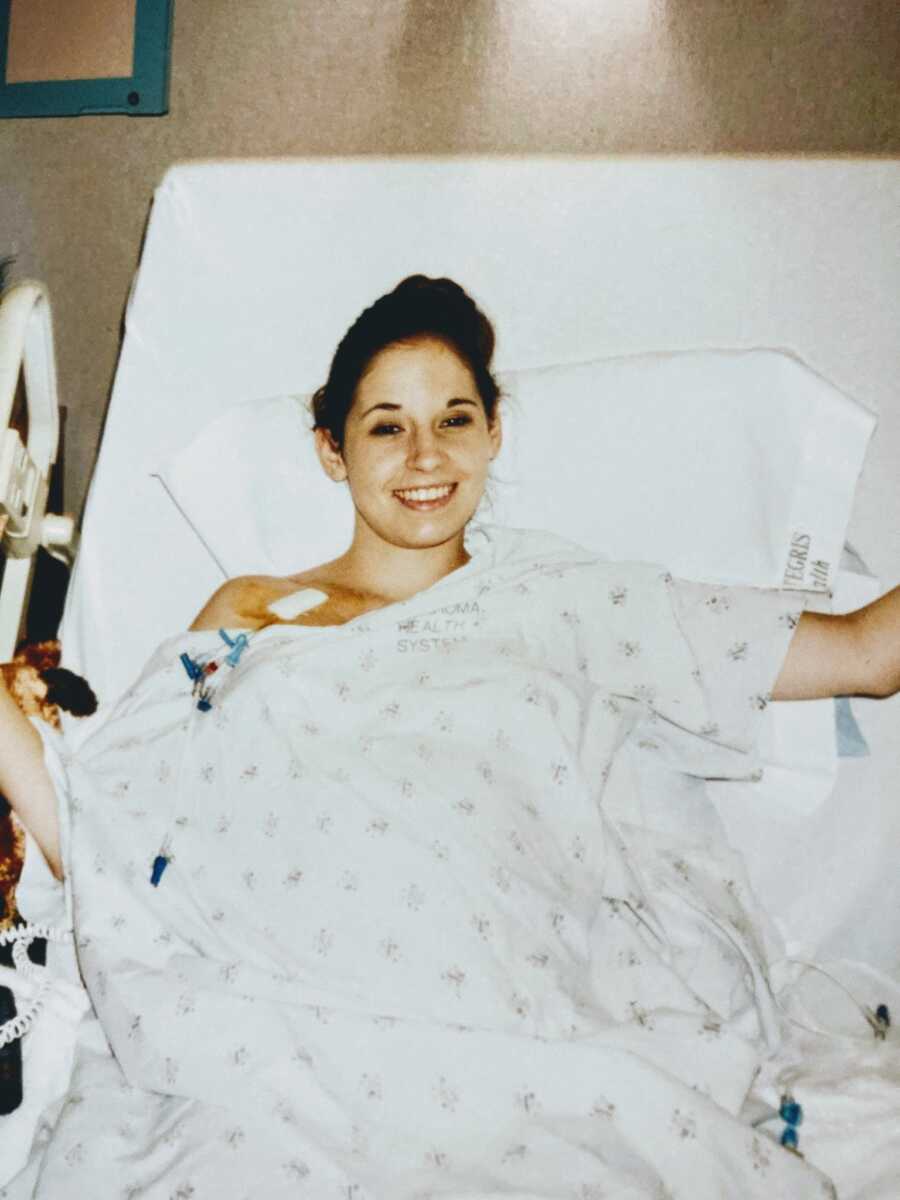 Despite my health obstacles, I managed to not only graduate from high school on time, but I also earned a master's degree. All my schools and teachers wonderfully collaborated with me to accommodate my medical needs. In high school, I required home-based learning during the months of extensive medical testing and frequent hospitalizations. During this time, one teacher volunteered to tutor me so I wouldn't fall behind. My parents would obtain my school assignments for me to complete at home or in the hospital. I continued to have frequent hospitalizations in undergrad and my professors worked with me around my health.
Since graduating from college, my health has significantly stabilized in spite of changes in doctors, occasional hospitalizations, additional surgery, and changes in symptoms. I have been able to maintain full-time employment and found a company that is able to accommodate my health needs.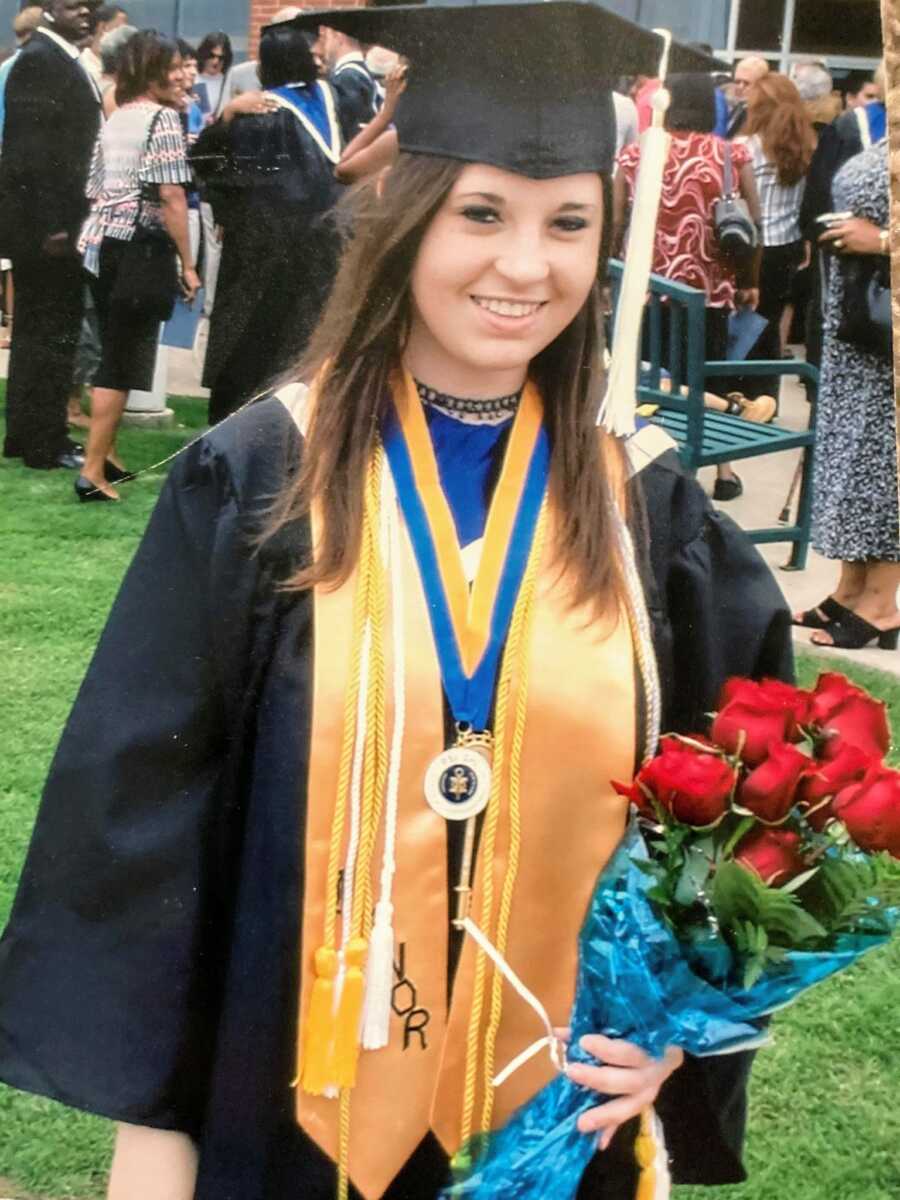 Chronic illness has become my life's focus as I work in the medical field and raise awareness about FAP and SBS through my Life's a Polyp blog, YouTube, and social media. I created Life's a Polyp Shop featuring designs to highlight FAP, rare disease, and chronic illness and am publishing a children's book about FAP to be released on Rare Disease Day 2022. In 2015, I started the NORD FAP Research Fund and I donate all profits from Life's a Polyp Shop and will also donate a portion of profits from my children's book to this fund."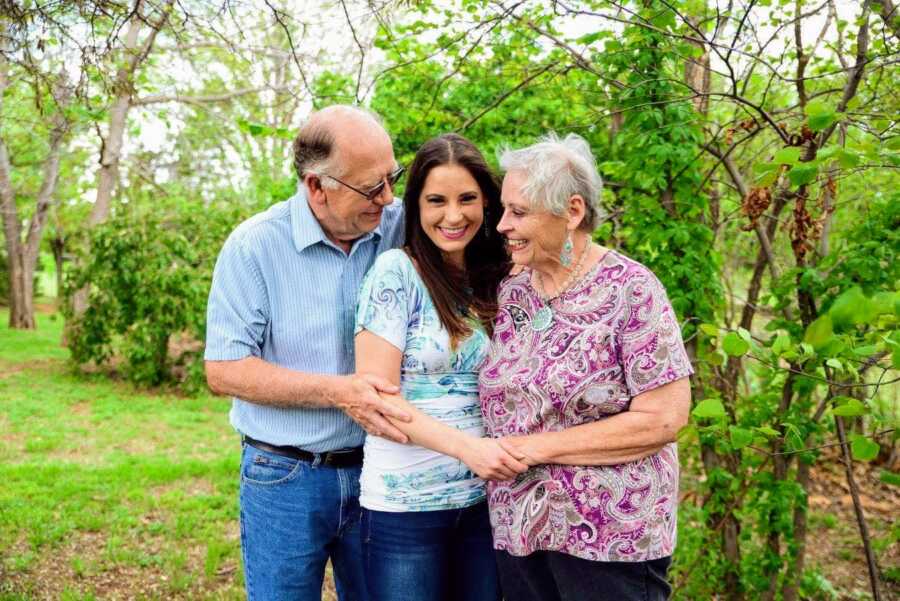 This story was submitted to Love What Matters by Jenny of the United States. You can follow her journey on Facebook, Youtube, her website, and her online shop. Submit your own story here, and be sure to subscribe to our free email newsletter for our best stories, and YouTube for our best videos.
Read more stories like this:
'I found something unusual during the colonoscopy. I don't know what it is.' My life flashed before my eyes.': Colorectal cancer survivor shares journey
'Surgery will leave you with a colostomy bag.' A bag on my stomach I poop into for the rest of my life?': Mom of three conquers colorectal cancer, 'I was going to beat this, there was no other option'
'I feel like I'm dying.' He started going downhill. He was diagnosed with the flu, and sent home to rest.': Woman loses young husband to incurable colon cancer, 'I know how much he loved me'
'I watched as my mom was zipped up in a body bag and carried away. This is the end of us.': Woman loses mom to Stage 4 colon cancer, 'My mom would be angry if I didn't make a beautiful life for myself'
Do you know someone who could benefit from this story? SHARE this story on Facebook to let others know a community of support is available.