"I'm about to share a story that will make you feel great about your parenting skills.
(Gird your loins, sanctimommies. This one is not for the faint of heart.)
Today I decided to give my children a 1980s style Sunday. They've been playing outside for the entire day, and I've been working on the porch watching.
(I don't think 80s moms actually did the watching part, but I like not being in jail, and these are different times, so I made do.)
Anyways, the kids painted their clubhouse. Then they painted their bodies. Then they went skinny dipping in the pool with popsicles.
It was glorious and I was really quite proud of myself.
This is where I tell you that Holland, my sweet, angelic, perfect 3 year old, is potty training.
So, when the kids were painting the club house I asked if she needed to go potty.
'No, Mommy! I don't need a potty!'
Then, when they were painting their bodies.
'No, Mommy! I don't need a potty!'
Then, when they were swimming in the pool.
'No, Mommy! I don't need a potty!'
And this is when the kids erupted in giggles.
The truth is, I should've been suspicious LONG before the giggles. Toddlers have peanut-sized bladders, and Holland had been consuming juice boxes and popsicles for hours.
HOURS, y'all.
So, I go full-fledged panic mode. Something is amiss. I can smell it.
Me: 'Holland. Get out of the pool. You need to go potty.'
Holland: 'I DONT NEED A POTTY!'
Ben: 'BAHAHAHAHAHHAA!'
Me: 'WHY ARE YOU LAUGHING???'
Ben: 'She doesn't need a potty, Mom! Because our clubhouse ALREADY HAD a potty!'
Me: ….
Kids: ….
Me: ….
Kids: ….
Golden Retriever: *whimpering slightly*
Me: 'Okay. Kids. Show me the potty.'
We walk across the yard.
The kids are buck naked, except for Holland, who is wearing floaties.
They march ahead of me like this is some kind of fantastic pride parade. The dog is behind us. Still looking sad.
I climb up the ladder, where my two children are laughing hysterically and pointing to…
A dog bowl.
CHARLOTTES FOOD BOWL OMG.
…with a gigantic turd in it.
That's right, friends.
While I was posting adorable pictures of my children in matching church clothes. While I was busy writing my novel on the back porch enjoying the shade while my children laughed in their swing set.
While I thought I was being an amazing 1980s style mom, bucking societal pressure to constantly hover over my children
MY CHILDREN WERE DEFECATING IN TIN DISHES IN THE SECOND STORY OF A FREAKING TREE HOUSE.
I have nothing to say for myself. Nothing.
2019 has resumed in the Backstrom household. The children are safe on the couch, all domestic/like, watching Disney Junior and using porcelain commodes.
The end.
P.S. It took me a second to realize and appreciate that she did, in fact, use toilet paper. I guess that's something?"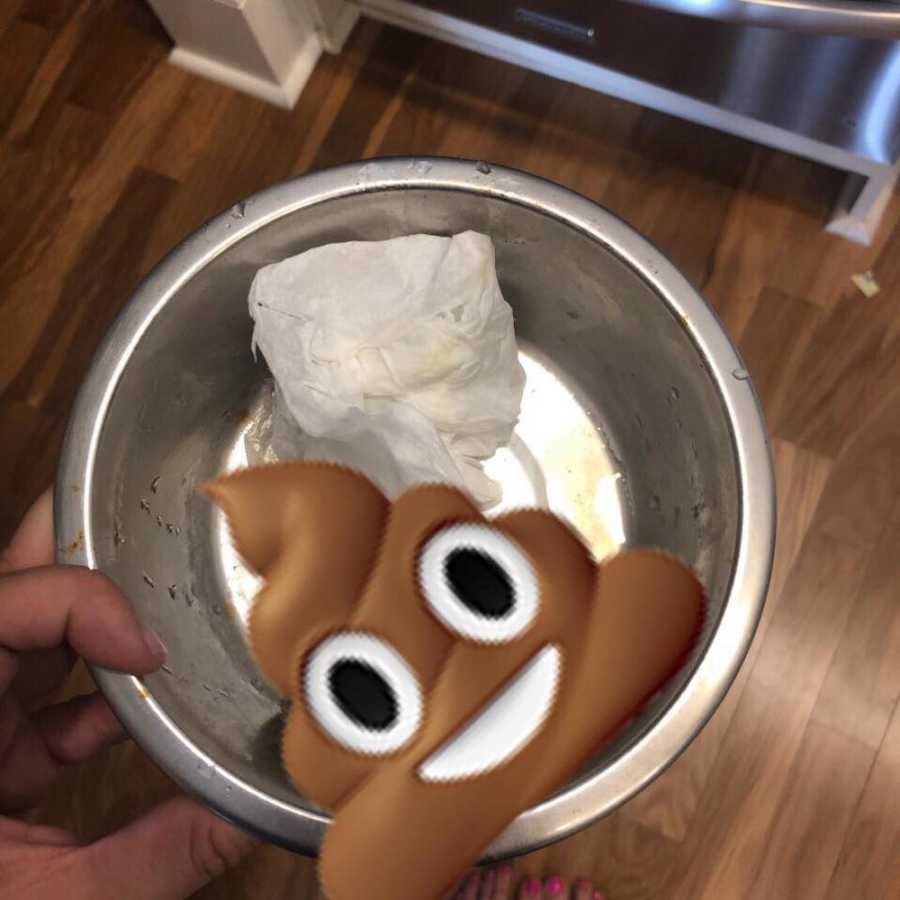 This story was submitted to Love What Matters by Mary Katherine Backstrom. Follow Mary on Instagram here.  Submit your story here, and be sure to subscribe to our best love stories here.
SHARE this hilarious story to give others a good laugh!