"My son, Dillon Hooley, was the sweetest and most caring little boy growing up. His smile and bright blue eyes always lit up a room. As a child, he was brimming with energy. Whenever he met someone, he was full of kindness.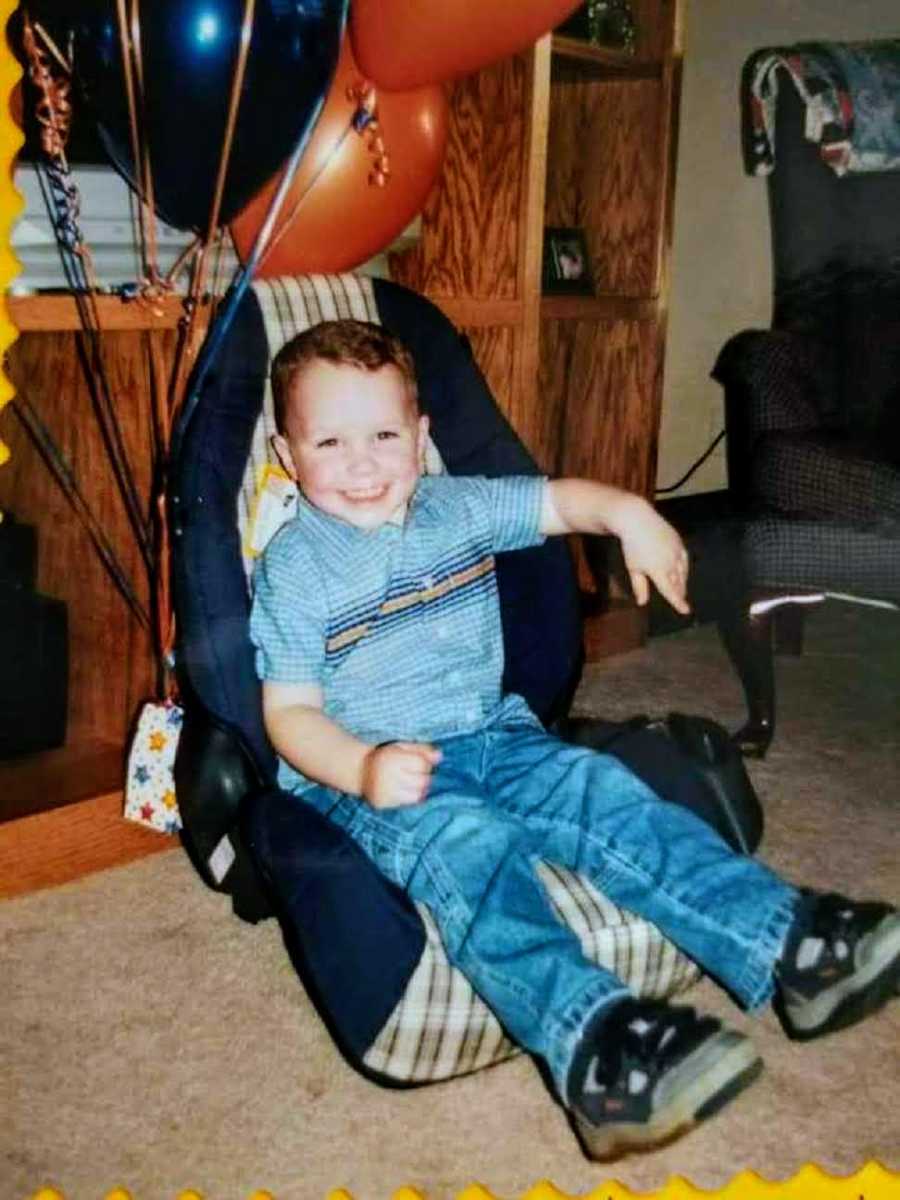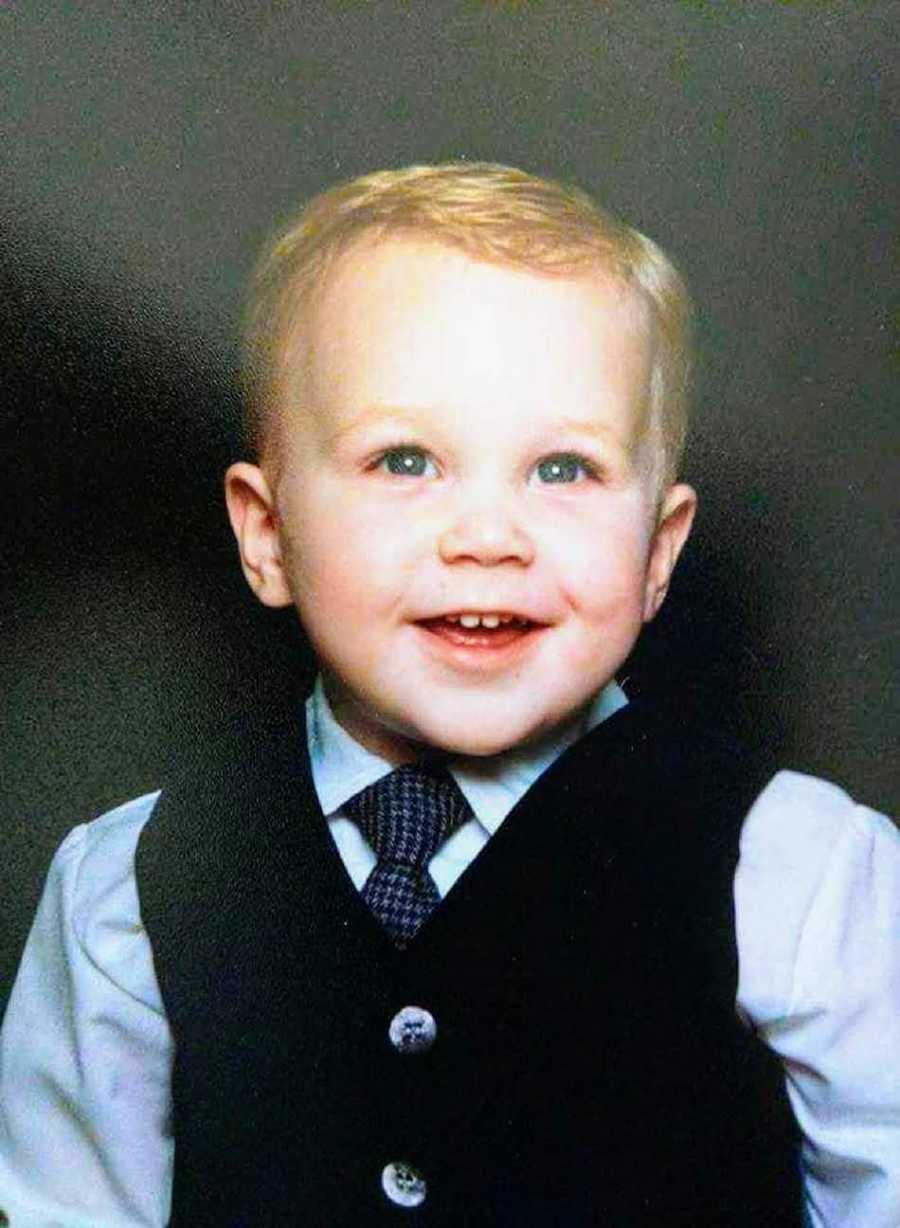 In fact, I was often stopped by people in public who would praise Dillon for how kind he was to their son or daughter. They'd often tell me, 'He is so mature too!' Everyone who knew Dillon wanted to be his friend. When Dillon was still a baby, I remember my own mother telling me, 'The world would be a better place if more people were like him.' This still holds true today.
Dillon was a very healthy child growing up. He was hardly ever sick. If he fell and scraped his knee and blood was gushing everywhere, he would never complain. He just got up and wiped off his knee and went on playing like nothing had happened. He always kept a big, bright smile on his face through everything.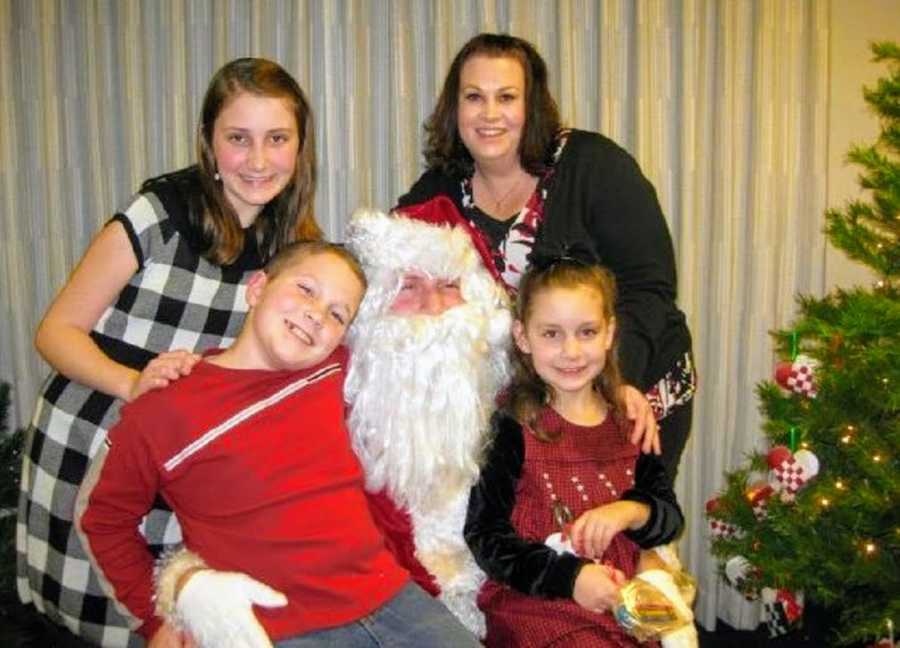 Sadly, Dillon's life was turned upside down when he was 15 years old. It was a very hot month in August and the Californian temperatures were above average. For a couple of weeks, it reached over 100 degrees daily. Dillon had just started his sophomore year in high school.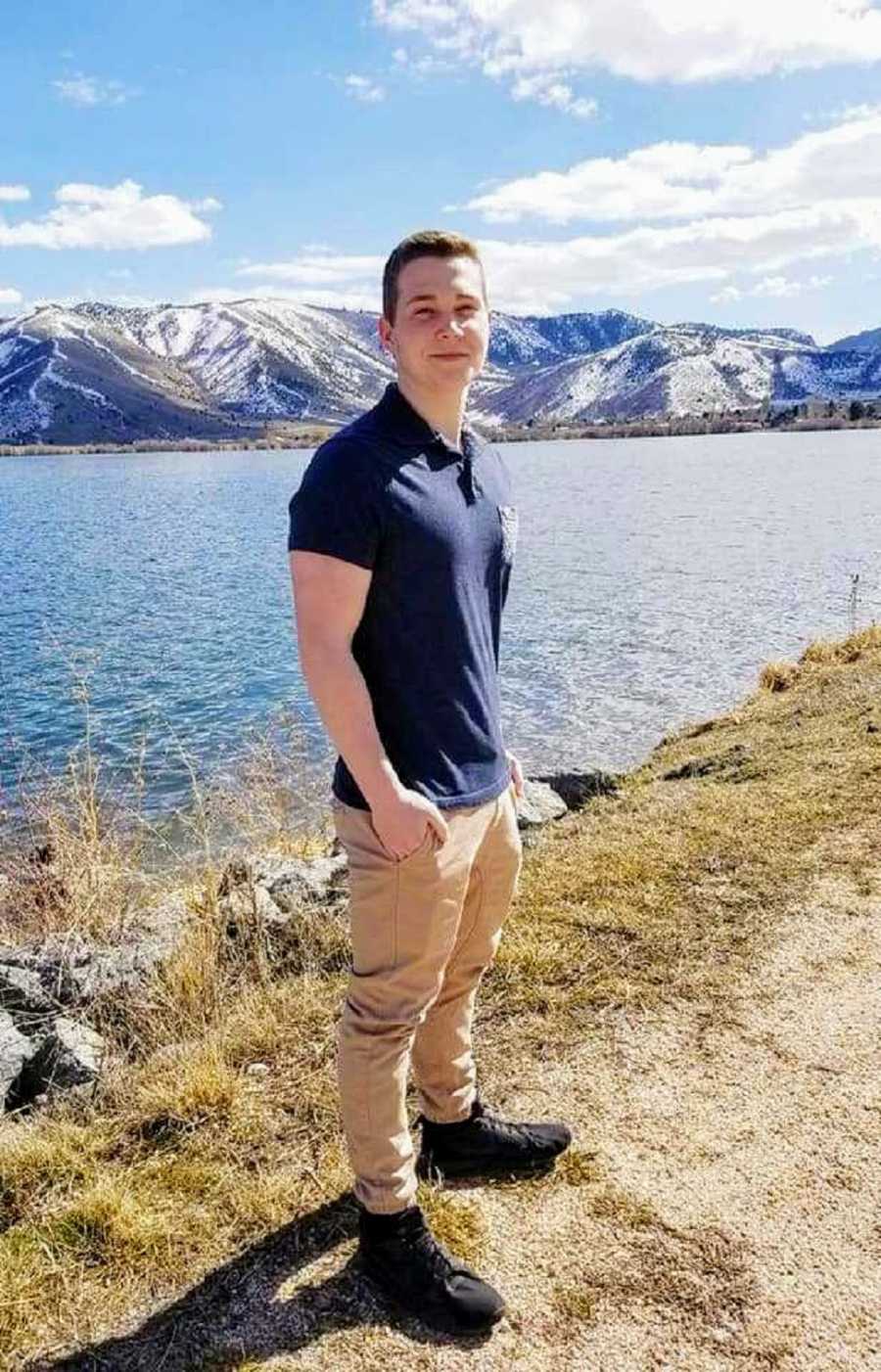 When I picked him up for the first few days of school, his immediate words when he'd get in the car were, 'Mom, I'm so thirsty. My tongue feels like sandpaper! I REALLY need a drink.' I thought he was just thirsty from being at school all day without drinking much water. After all, his last period was gym class and they had been running a mile all week, even as the sun beamed down in the 100-degree heat. But in the back of my mind, I thought it was weird to hear him complain so much about this.
Another two weeks passed and I noticed Dillon had lost some weight. I thought to myself, 'He's going through a growth spurt. This is normal.' He was also being health conscious about his nutrition and staying hydrated, so the weight loss wasn't a big concern. During this time, my husband found out the facility he worked at was shutting down. Along with 500 other employees, he was going to lose his job. My husband began applying to jobs in Utah, which we thought would be a better place to raise our children. Soon after submitting his applications, he landed a job interview. I decided to make the 12-hour drive with him to Utah.
I took my son along for a week to give him a break from the hot temperatures and see if he'd start feeling any better. Uprooting to a new state in the middle of the school year certainly isn't always easy for teenagers. I wanted him to travel and get a taste of Utah. His siblings tagged along as well.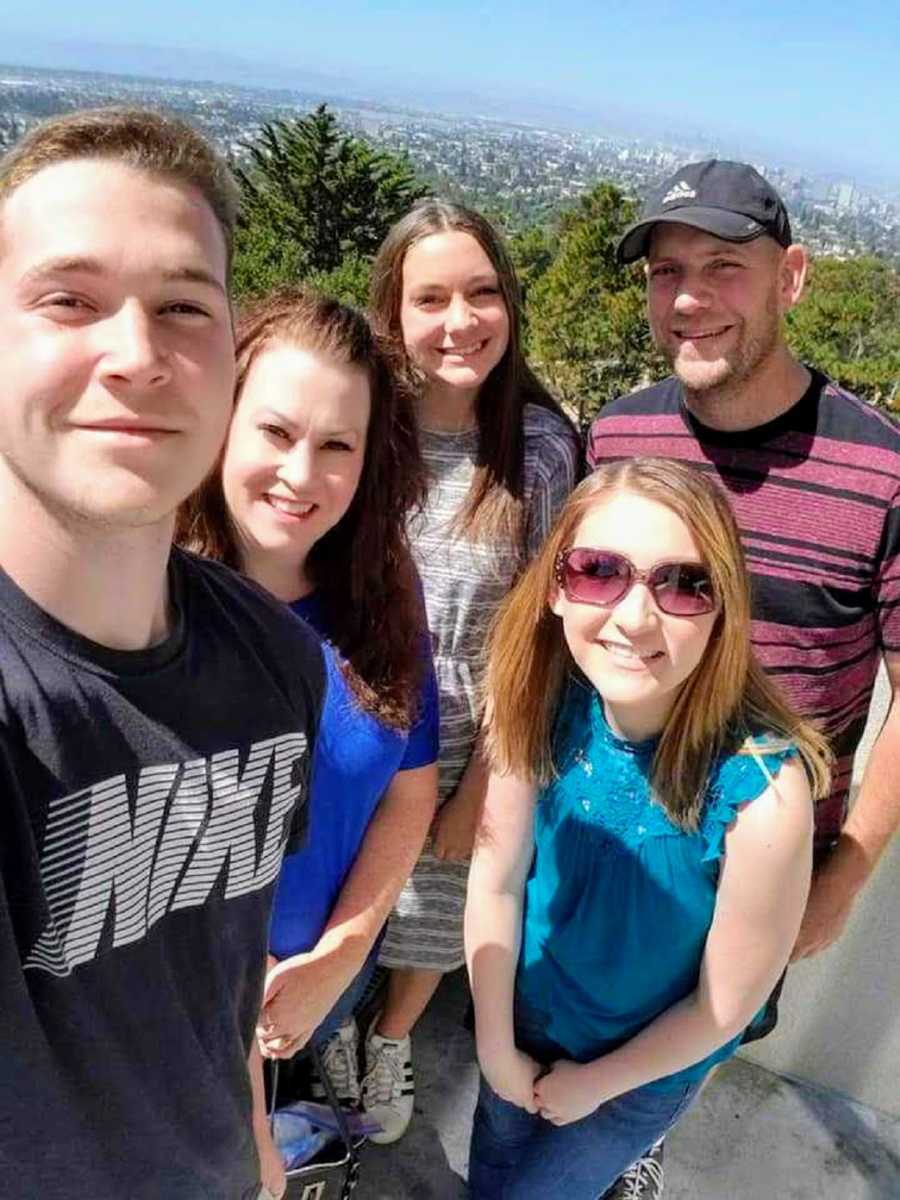 On day 5 of our 7-day trip, Dillon started throwing up in the middle of the night. I thought, 'Well, it's August. Maybe he's just getting an early flu from traveling or he ate something bad.' After all, my daughter wasn't feeling well either. By the next day, he was feeling even worse. I asked, 'Would you like to start heading back home?' He nodded. 'I think I'd feel better in my own bed.'
It was late at night, but my husband and I agreed to just drive throughout the night and get him home. About 3 hours into our trip, things took a turn for the worst. My son started to complain of pain in his abdomen. It got to the point where he had to reach both arms above his head to feel like he could get some air into his lungs. 'Please help me, mom!' He was begging for help.
We were in the middle of the Nevada desert with no sign of life for hours. His complaints persisted for about 2 hours until we could reach the next available hospital, even with me speeding. When we pulled up to the hospital entrance, my son was too weak to walk to the ER. My husband ran to get him a wheelchair. Dillon was gray in color and his cheeks were sunken in. My heart dropped. I couldn't believe my healthy 15-year-old son looked like that.
I parked the car as my husband checked him in. When I walked into the ER, my son looked even more like death under bright hospital lights. Before we could finish checking him in, an ER doctor passing by took one look at him and yelled, 'Get this young man back here right now!'
Ten minutes passed and the ER doctor bombarded me with questions. 'Does your son have diabetes?' My response was, 'No, he's a very healthy kid. Something is really wrong though and I need you to help him be able to breathe and take the pain away.' He looked at me and said, 'Your son's breath smells sweet. Vomiting and Gatorade?' I shook my head to say yes. 'I am 100% sure your son has Type 1 diabetes.' Those words hit me, but I was still in denial.
I was thinking we had some quack doctor in the middle of the desert trying to diagnose my son by smelling his breath. We had no family history of any diabetes in either of our families. I kept thinking, 'How could my son be diabetic?' But sure enough, after a simple finger prick, my son was diagnosed with Type 1 diabetes. I was told he was in DKA (Diabetic Ketoacidosis), which is a serious, life-threatening complication of diabetes. He was then admitted into the ICU for 3 days. The doctor informed me, 'If you had waited 3 hours, your son would've died in the car.'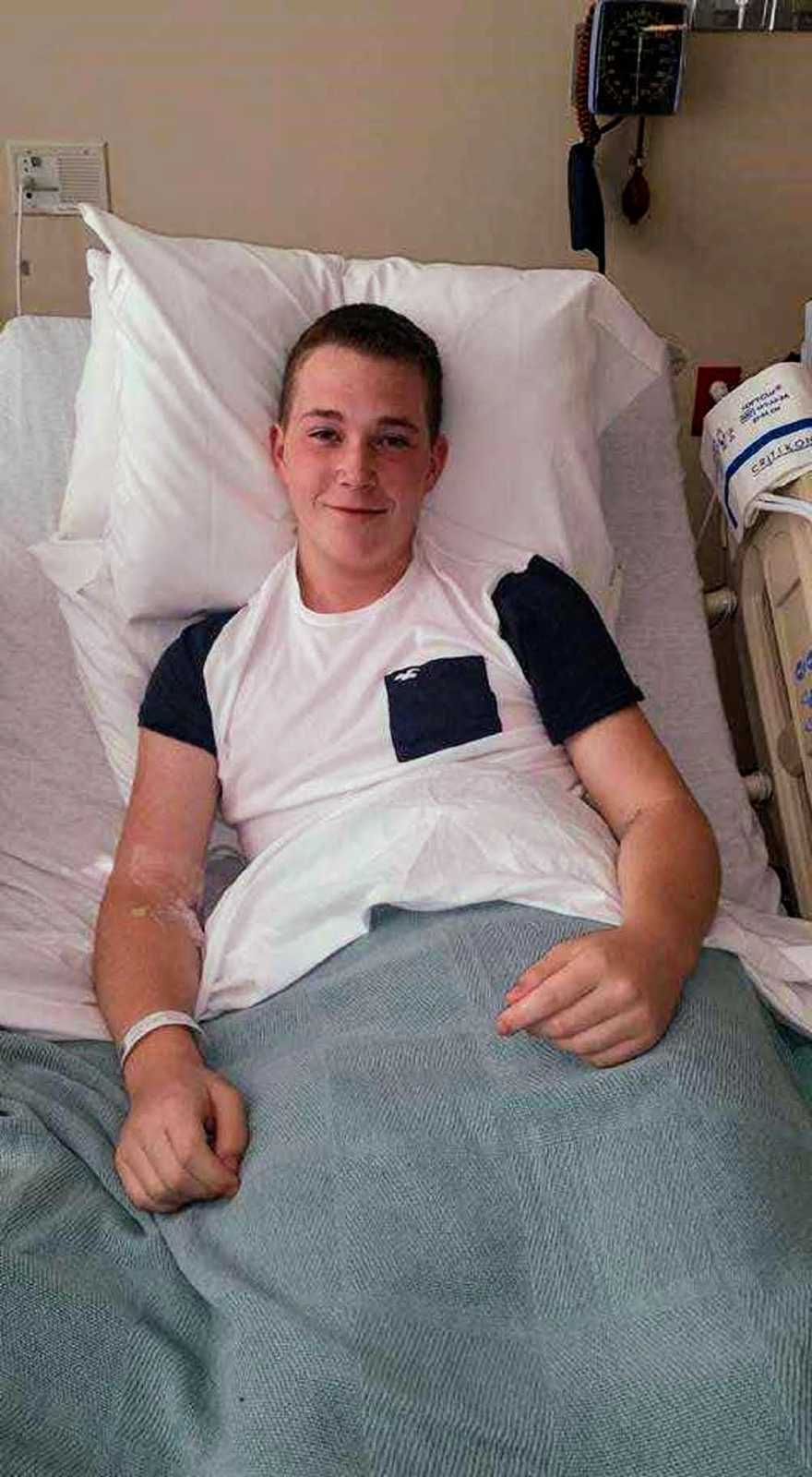 My son had all the symptoms of diabetes: excessive thirst, rapid weight loss, increased appetite, fatigue, weakness, stomach pain, nausea, vomiting, fruity breath odor, and rapid heavy breathing. These symptoms are often mistaken for the stomach flu or virus, strep throat, growth spurt, or a urinary tract infection. I couldn't believe I had numerous excuses for all of my son's symptoms…
We were 6 hours from home. Because of insurance reasons from being out of state, the doctor released my son so we could drive the rest of our trip home. We were told, 'Your son has to see a doctor as soon as you get home.' The next morning, I was able to get my son in for an appointment with his Pediatrician. That appointment didn't go well. The doctor said my son was back in DKA and he was sent immediately to the hospital. He stayed there another 3 days in the ICU.
When my son found out he was diagnosed with diabetes, his only words were, 'It's okay, mom. You know I can handle this. I'm just glad it's me who has diabetes and not my sisters. It's going to be okay.' I should have been the only one doing the comforting, but yet he was comforting me. If you know my son, this is just his sweet, selfless personality. He still to this day has never complained once about his diagnosis. He just makes sure everyone around him is okay and he lives life to the fullest.
Three months after his diagnosis, my husband got a job and we moved to Utah. It was scary to leave our family in California, as well as my son's endocrinologist following his new diagnosis. When we arrived in Utah, we were faced with many financial hardships because of my son's diabetes. We had the worst insurance and in January of 2018, we got new insurance from my husband's employer. That month, I went to our local pharmacy and was told my son's insulin was $800 out of pocket. It was only three vials, a month's supply to keep him alive. Unfortunately, without the money to afford his medicine, we left the pharmacy that day empty handed.
How can anyone pay $800 a month for insulin? That alone does not include all of the other diabetic supplies. There was a $500 premium, co-pays for appointments, and hospital bills. The cost to keep him alive for a month was thousands and thousands of dollars. Not to mention, my husband got hurt at work this same month and his checks were $300 less than his average check because he wasn't able to work as much due to his injury.
After leaving the pharmacy that day, I went home and researched every possible way to afford his insulin. I came across numerous stories online where children and adults had died simply because they couldn't afford insulin costs. I called my son's doctor and inquired about financial assistance programs, but we didn't qualify for any. Believe me, we tried every program under the sun and we either made $100 or $500 too much to qualify for them.
In the three years we have lived in Utah, my husband has had 5 different jobs. He left each job trying to find better insurance packages so our son could have affordable insulin, but still we haven't found one that's affordable yet. That day we left the pharmacy without insulin, I reached out to every news station and member of Congress and told my story in hopes someone would listen. I couldn't believe we live in a country that has unaffordable life-saving medications.
In March of 2018, just three months after we discovered the cost of insulin, I took my son to his routine checkup. Every visit, he is given a blood test to check his A1C. On this particular day, the results indicated that his A1C was VERY high. The highest it had been since his diagnosis. When the doctor questioned him for answers, my son said, 'I started rationing my insulin because we are having financial struggles.' He was trying to help with financial costs. 'I've been using a third less insulin than I should.' My heart broke into a million pieces.
He put his life on the line to protect us from the stress of medical bills. There had been times where we've had to choose between buying insulin, buying food, and paying bills. We have been blessed enough to see him graduate high school.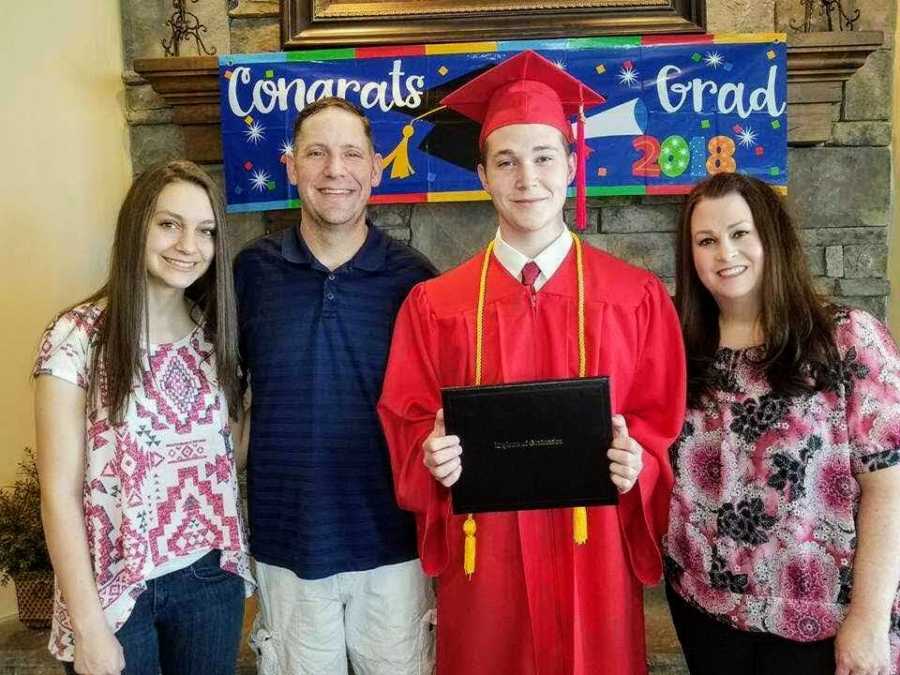 Unfortunately, he couldn't start college this year due to the cost of medical supplies. Rationing insulin is very bad for his organs, let alone deadly. I looked him in the eyes and said, 'Promise me you'll never take matters into your own hands again. We will always find a way to get your insulin. I don't know how, but we will.'
In January of 2019, I woke up one morning to a message from a producer willing to share my story. Finally, after a full year, someone wanted to listen. I was so happy! I knew once our story was out for the world to see, there would be more awareness about my son's condition. This was the moment I had been waiting for. No human being deserves to live with the worry of not being able to afford medication. My heart broke for my son every single day.
The story about my family came out from CNN on January 30, 2019. Since then, many wonderful opportunities have come our way. We have been written about numerous times, including by Beyond Type 1, a non-profit organization dedicated to spreading awareness about Type 1 diabetes. Two Presidential candidates have reposted our CNN article on social media. I had the opportunity to be in a video segment on the Dr. Oz show, too.
Sadly, my story is not unique. Many households across the country, and across the world, deal with similar struggles. In the last 3 months, many wonderful and kind people have reached out to me from all over the world. These complete strangers asked us to make a GoFundMe account. 'No one should live without life-saving medication. That's not living. That's waiting to die.' Because of these nice people, we were able to buy a CGM (Continuous Glucose Monitor) for my son that has saved his life.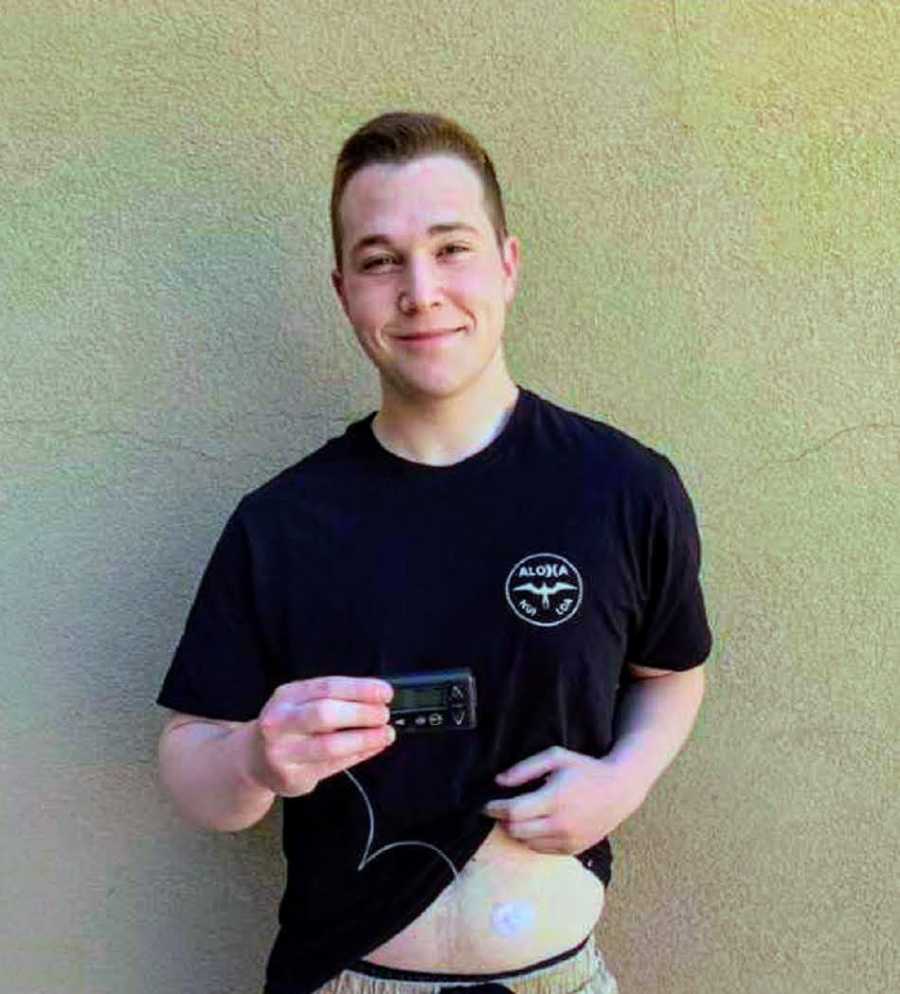 My heart is overwhelmed with the amount of love that has been shown to my son, and he deserves every minute of it. He is the most selfless and kindhearted person anyone could meet.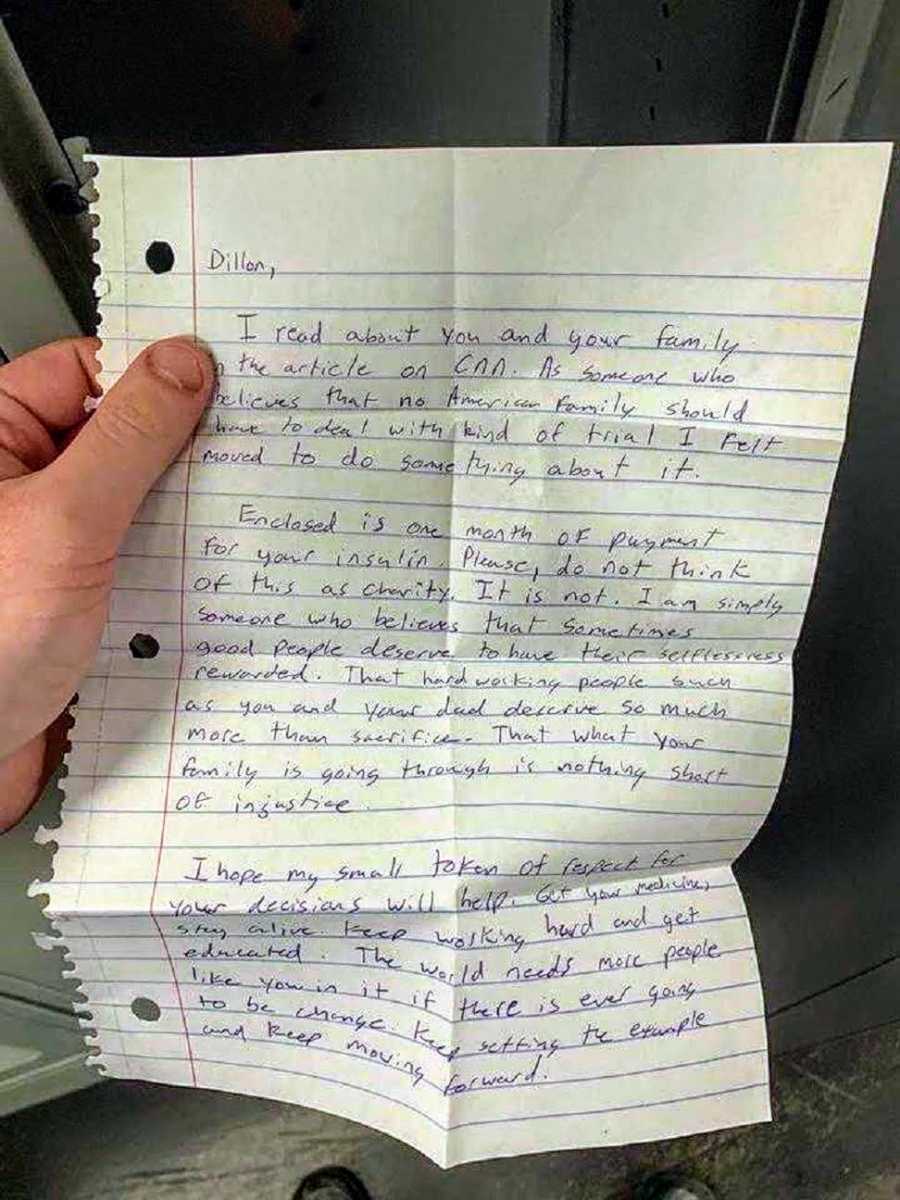 On February 19, 2019, I started the first T1International #insulin4all chapter in Utah. T1International is the UK based registered charity that started the #insulin4all movement and has been leading in patient advocacy since 2013. We are a non-profit run by people with Type 1 diabetes for people with Type 1 diabetes. We support local communities around the world by giving them the tools they need to stand up for their rights. Our aim is to empower advocates to ensure that access to insulin and diabetes supplies becomes a reality for all. I will never end my fight for affordable insulin, not just for my son, but for all.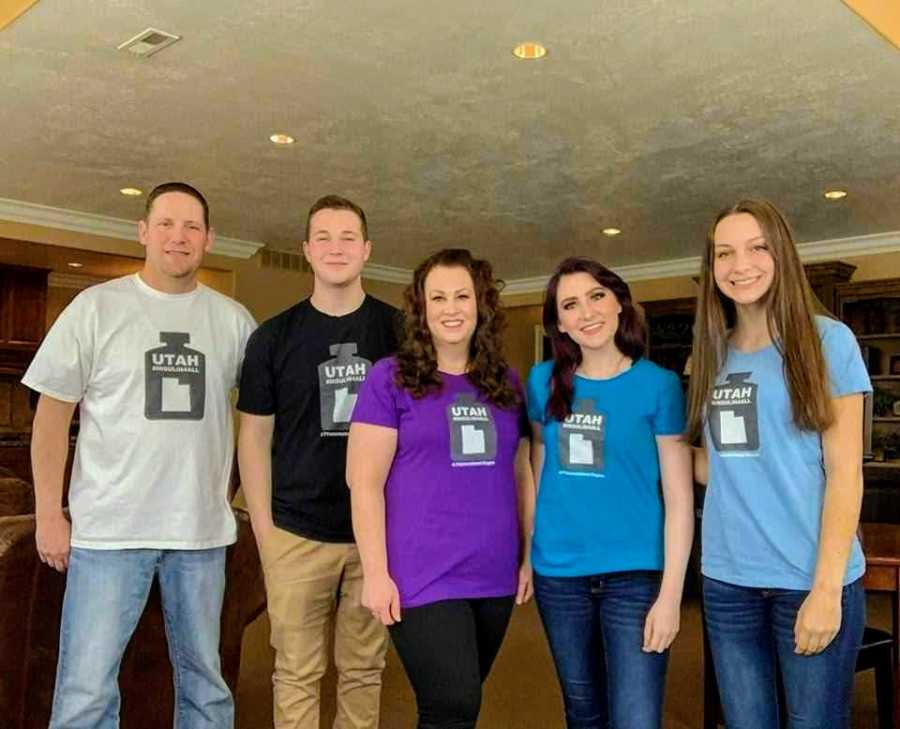 People often ask me how I can devote so much time and energy to this cause. My answer is simple. 'How can I not?' I started fighting for my son the very day I heard the words, 'That'll be $800.' What mom wouldn't? This situation is life or death and pharmaceutical companies don't care. But I will keep fighting, no matter how many doors are slammed in my face. My son is the most selfless, kind young man there is. He has a long, difficult life ahead of him because of this awful disease. Forever and always, I'll be right by his side."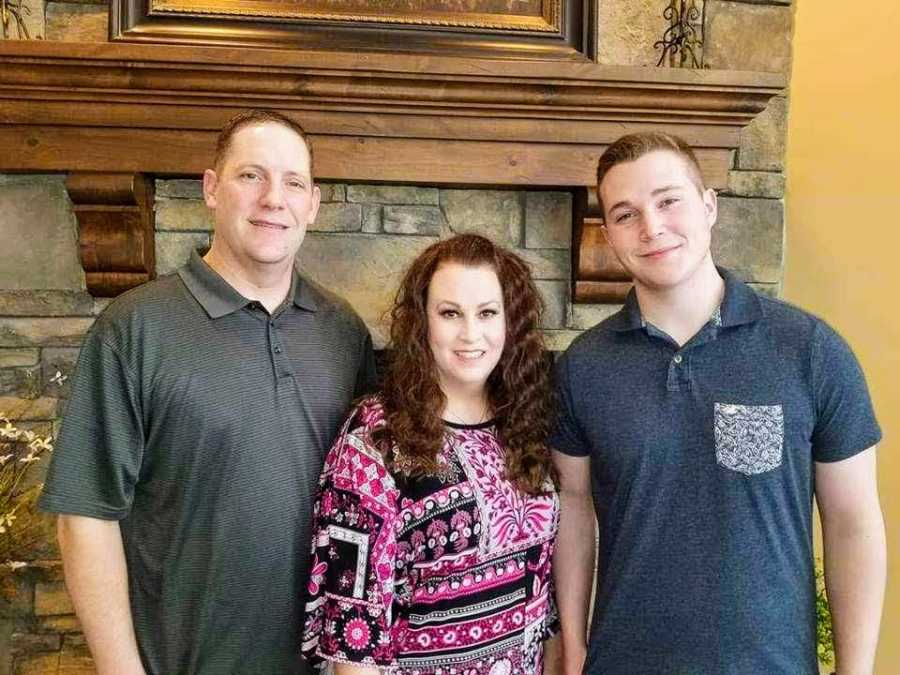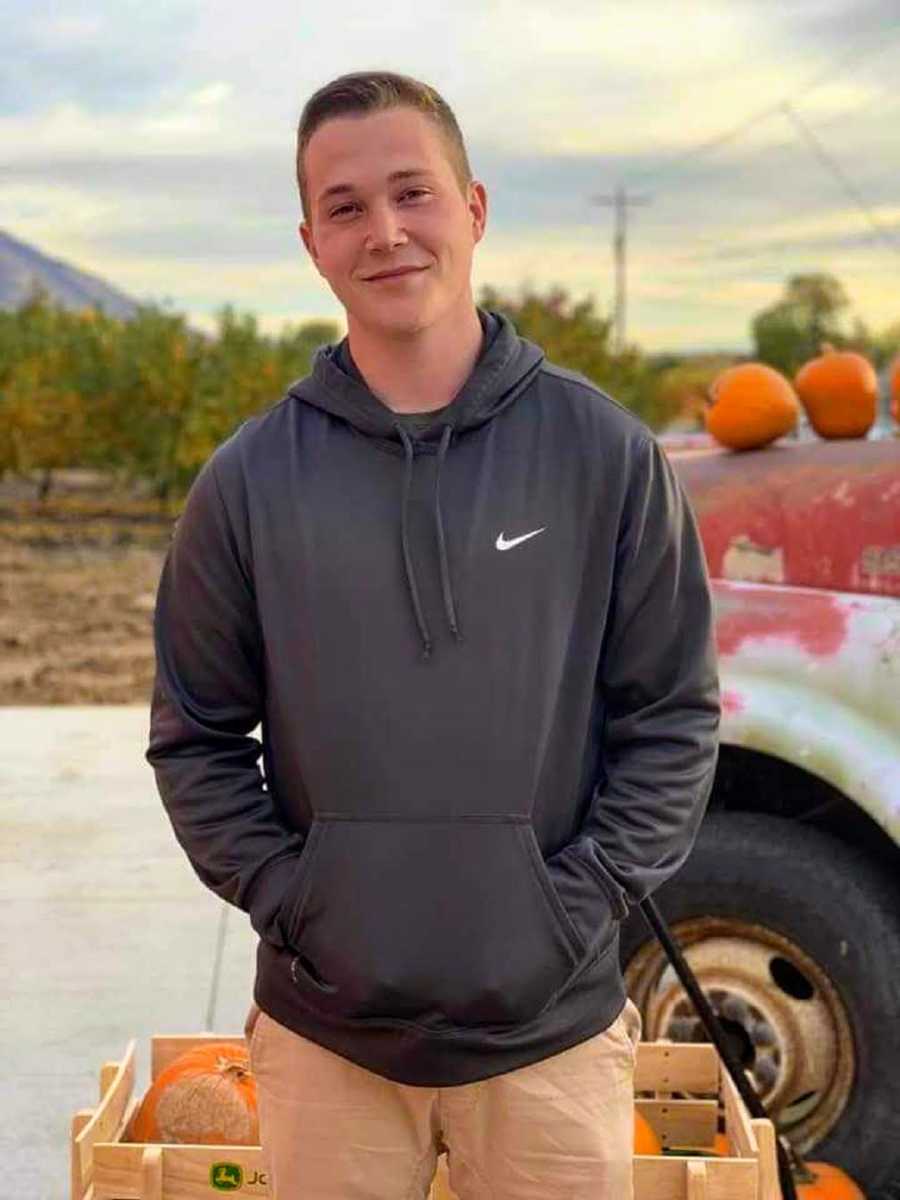 This story was submitted to Love What Matters by Mindie Hooley of Brigham City, Utah. You can follow her journey on Facebook here and donate to her son's diabetic expenses here. Submit your own story here, and be sure to subscribe to our free email newsletter for our best stories.
Provide hope for someone struggling. SHARE this story on Facebook with family and friends.