"He would've been 96 today. He was such a good man, and I'm so proud he was mine for so long.
What I learned about life from my grandpa's death:
1. WHEN YOU SEE A NEED, FILL IT – Live the Nike slogan, and just do it. Don't wait around for someone else to do it, don't wait around for someone else to hold your tiny little, fragile hand and tell you exactly what to do and how to do it and when to do it. Don't hold your breath for someone to hand you a detailed to-do list that you can check off. Be proactive in finding a need in your home, in your work, in your friendships, in your church and then filling it. Don't do it for praise or accolades, just do it because it needs to be done, because it fills a void, because others will benefit from your vision and from your work. You are capable. You are equipped. You have the tools. Put them in action and just do it.
2. READ THE BIBLE, BE THE BIBLE – My grandfather was like a walking encyclopedia of wisdom. He just knew things. Lots of things. About how to live, how to love, how to treat others. Now I think he was pretty special, but the truth is, he wasn't born with some otherworldly knowledge. His wisdom came from walking with God, seeking God, and by reading God's word. He'd read the Bible 21 times cover to cover, and at the age of 93, was working on his 22nd. It would be amazing if that was all he did, read. But he didn't stop there. He was one of the rare ones who actually lived what he read, who practiced what he preached, who built his house upon the rock.
3. BE CONTENT – He wasn't rich. He never tried to be. He never even wanted to be as far as I know. He never wanted a big house, or a fancy car. Most of his clothes (which consisted mostly of bright sports coats and loud ties with bold colors and funky prints) came from the local Goodwill. The only extravagant thing he ever bought in his life was a college education for his daughter. And he was content. He was content with his circumstance. He was content with his situation. He was content with the life God gave him. He had everything he needed. His family had everything they needed. He had this deep understanding that things were just things, that stuff was just stuff, but that the one and only part of life that truly mattered, the only 'thing' that meant anything at all, was possessing a heart that pursued God.
4. KNOW WHAT YOU ARE TRAINING FOR – As we sat in those church pews yesterday, holding hands and wiping away a few tears, chuckling at a few inside jokes, it was honestly hard to be THAT sad. It was hard to even wear black. Because for my grandfather, death wasn't a sad moment. It wasn't something to fear, or something to whine and cry about. It wasn't a time for regrets or wondering about 'what if's' and worrying about 'but only's.' For my grandfather, death was a finish line, and he had won the race. Death was his gold medal moment. Watch the Olympics. Watch the face of Simone Biles as she completes her final vault. Watch Phelps as he finishes the 200M butterfly. They aren't sad. They aren't worried about what's next, or where they're going after Rio. They are relieved. They are at peace. They are happy, because they did the job they had come here to do. They worked. They trained. They sweated. All for this moment, all to say, 'I have fought the good fight.' And for my grandfather, he worked, he trained, he sweated, he prayed, he worshipped, he read, and he loved all for the beautiful moment he would meet Jesus, to hear those glorious words 'Well done.'
5. LEAVE A LEGACY – I've heard this technique for success and goal-setting many times. Start with the end and work backwards. Start with the place you want to end up and then, make a plan to help you get there. It works in business, of course, but it also works with life. What do you want people to say about you in the end? That you worked hard? Then work hard today. That you were giving? Then be giving today. That you helped others? Then help others today. That you were happy and positive and joyful? Then be happy and positive and joyful today. That you spent time with the people you loved? Then spend time with the people you loved. What do you want your kids to say you taught them? Then teach them those things today. Do you see where I'm going here? They will never ever ever say it about you when you're gone if you don't live it out while you are alive. Sorry, but they just won't. And if they do…well it's because they're lying right through their teeth. Work to become the person you want them to remember. Don't leave it to chance. Don't wait for later. Don't put it off for someday. Legacies don't happen by accident. They are intentionally built. Start laying the bricks today.
6. CREATIVITY MATTERS.
7. YOU'RE NEVER TOO OLD TO LEARN SOMETHING NEW.
8. EDUCATION SHOULD NEVER STOP.
9. HAVE A SENSE OF HUMOR.
10. LIVE SIMPLY.
11. YOU CAN BE RICH WITHOUT HAVING A BUNCH OF MONEY IN THE BANK.
12. COMPLAINING DOESN'T DO ANY GOOD.
13. KNOW WHERE YOU COME FROM.
14. BUT DON'T BE LIMITED BY YOUR PAST.
15. YOU DON'T NEED PEOPLE TO MAKE A FUSS OVER YOU TO LIKE WHO YOU ARE.
16. BE GOOD TO PEOPLE.
17. DON'T EVER THINK YOU'RE MORE IMPORTANT THAN YOU REALLY ARE.
18. BE OKAY WITH CHANGE.
I wrote this tribute to my grandfather two years ago, and honestly, I was filled with so much regret afterwards that I'd waited until after he was gone. Why do we wait? Why do we have such a hard time telling people what they mean to us? We do we save all this stuff up for ourselves?
So, the final thing I learned about life from my grandfather's death didn't actually come directly from him, but it still came because of him nonetheless: SAY IT RIGHT NOW – Say the nice stuff, the uplifting stuff, the encouraging stuff, the emotional stuff, the kind words for someone's funeral. Pick up the phone. Start texting. Drive to their house.
Everyone. Every grandparent, every friend, every teacher, every pastor, every neighbor, every checkout lady, every overly-tired momma, every over-worked daddy, ev-er-y-one needs to hear that they are loved, that they are valued, that they make a difference. Today, let's practice giving the gift of telling others how much they matter."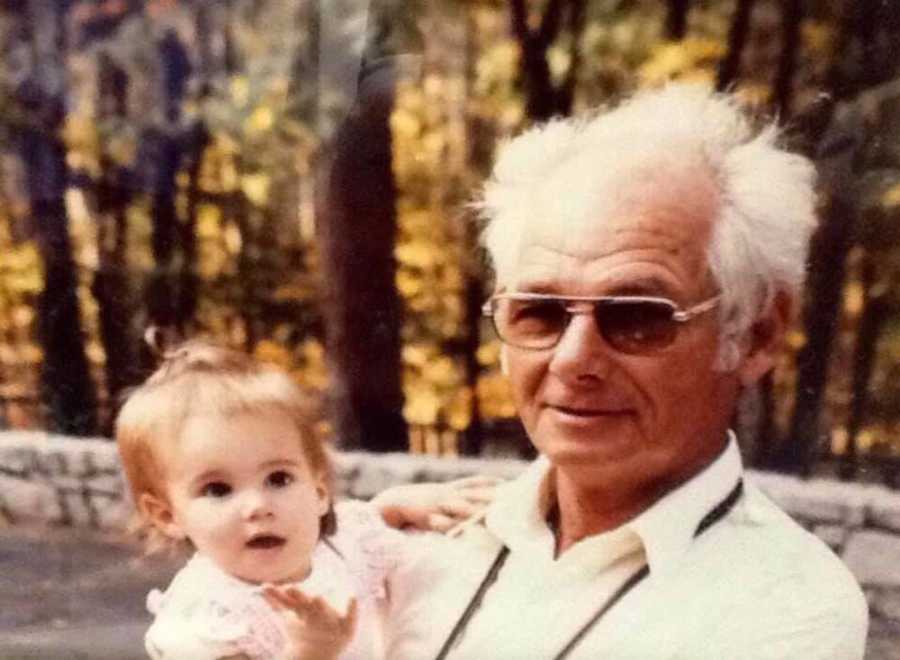 This story was submitted to Love What Matters by Amy Weatherly. Submit your story here.
Provide beauty and strength for others. SHARE this story with your friends and family.