"My name is Helma Wardenaar. I teach at the Academy for Global Citizenship, a unique public charter school in Chicago. I was part of the founding team for this school and from day one, we had a different idea of what was possible in public school. We brought our ideas from visiting schools all over the world. I'm from the Netherlands, and I love researching school types. I have experienced some amazing schools, especially in Scandinavia. We strove for our school to be a community that cares for each other, and the earth.
Maggie Vazquez came into our school in Kindergarten. It has been inspiring to watch her grow. She has cerebral palsy, which affects her muscles, so it is hard for her to walk, it affects her coordination and motor planning. We try not to let that get in the way more than it needs to. The Vazquez family and I work together to find solutions. We need to be very creative sometimes. We are a public school in a low-income community. The reality of our special education program is that it costs more than what we receive from the district, and we rely on donations to support the specialists and equipment. There have been moments that I didn't know what to do anymore, but Maggie's mom and I would have long conversations to find solutions.
Nature education is a big part of our mission – we are developing stewards who will care for their communities and the earth. We have gardens, chickens, bees. Maggie used to read to the chickens when she was first learning. We take the students on field trips, including lots of service learning. Every year, the 4th graders go on a camping trip. Maggie and her classmates were really looking forward to it. We knew we would have to put our heads together to make sure she was able to enjoy the time in nature just like her friends. I was determined to bring Maggie along. It was never the question if she could go, but rather how she could go.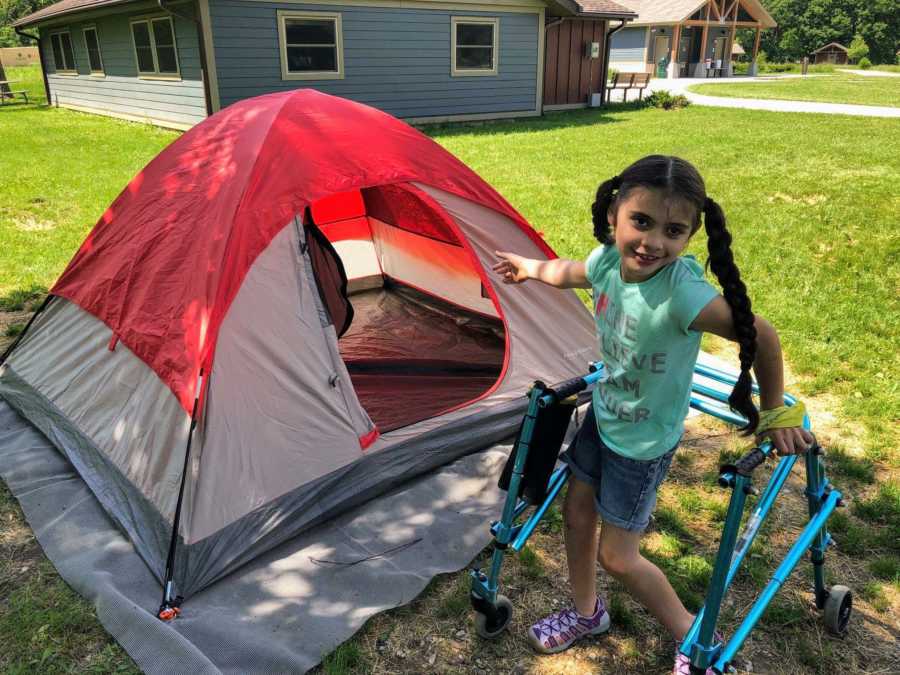 The big challenge was this hike. We talked to the park rangers to understand the terrain. Her general ed teacher was also able to give good insight. The hike was along a deer path – quite narrow and rocky – Maggie's walker or wheelchair weren't going to work. We looked into renting a pony, making a fancy chair out of a wheelbarrow from the school's garden, but nothing was working. There was an accessible alternative route, but it would miss the view and we thought that just would not do.
We then realized we were going to have to carry her.  Greg from REI helped find the Free Loader. It is a safe backpack with a harness, so Maggie would sit safely.
Thankfully, Maggie and I are both strong women and we made it work. For me, working out is how I stay balanced. For Maggie, her strength is how she stays independent. She's got amazing upper body strength from working with the walker and our physical therapist. She always wins our pull-up contests.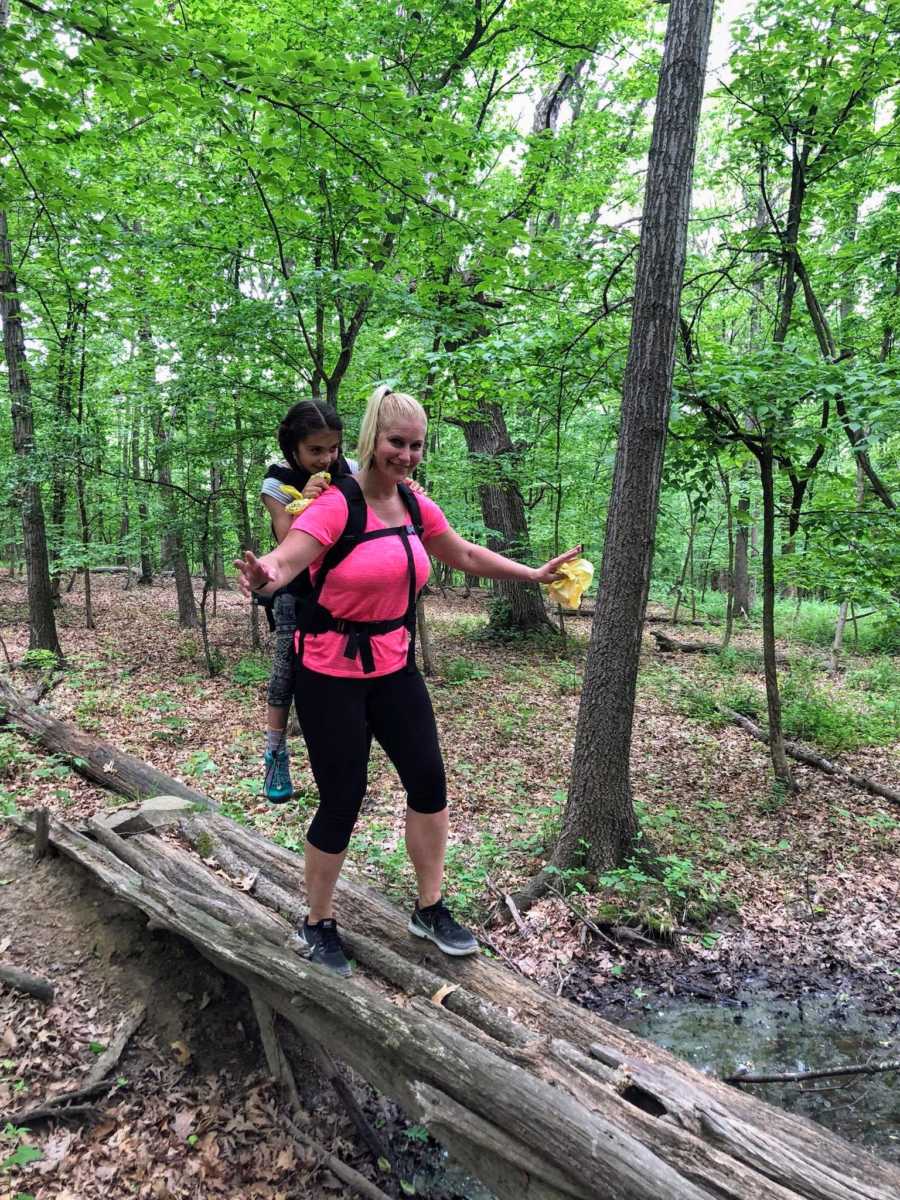 Maggie was a great teammate on the hike. She was encouraging me! Giving me little neck massages when she saw I was struggling. She made up songs for us to sing. She sang a song when I was really sweating. She kept saying: Come on Ms. Helma! You can do it!
Maggie just is such an example for others. She never gives up, and she keeps smiling! It's funny, we didn't think twice about doing this for Maggie. This is just what we do. It's ingrained in the culture of our school to help each other and to help make the world a better place. We teach our students to be global citizens and to come up with creative solutions for the problems they see in the world.
Maggie's such an amazing example of a global citizen. She never lets her disability keep her from being a great member of her community or caring for her earth. Maggie a strong, smart, funny, sweet girl. She's a very talented singer. She loves Taylor swift and Selena Gomez! She's so capable. That's what I want to share about Maggie more than anything, and why I'm excited that this story is spreading. Disabilities create barriers and challenges, but we can overcome them together.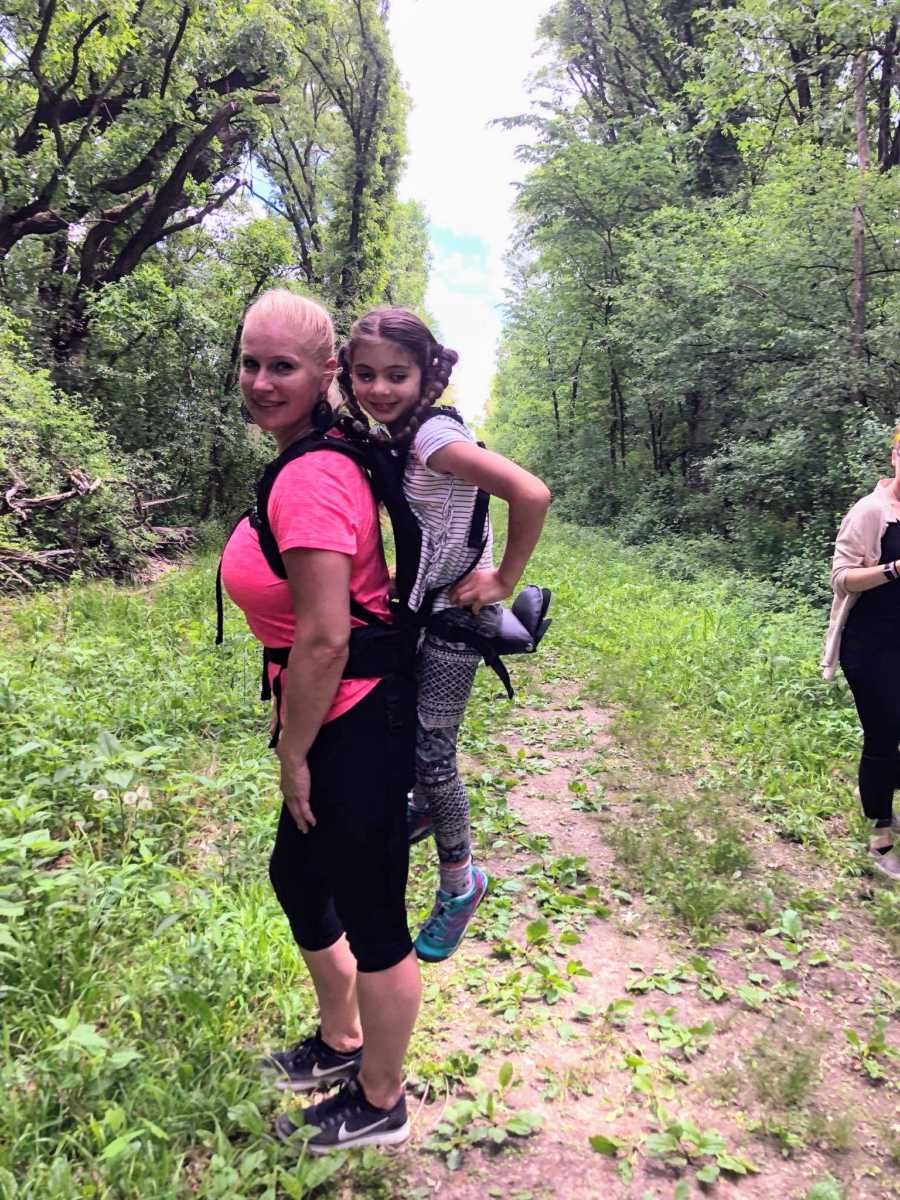 We always say, someday Maggie will be grown, she'll be going on dates and going to work, and we won't be there next to her. Just like any other student, we work to connect her to the power and potential she has inside.
It takes hard work, and an investment from the whole community. I hope this story can help build Maggie's support community.  We are more capable together, and, with our program growing and demanding more, we're going to need all hands-on deck, from parents, donors, and teachers."
This story was written by Helma Wardenaar of Chicago, Illinois. Find out more about the Academy for Global Citizenship here. Submit your own story here, and subscribe to our best stories in our free newsletter here.
Read more stories like this here:
Teacher Buys New Outfit To 'Twin' With Boy Hurt Over SpongeBob Shoes
'I walked to her desk, my belly in knots, and proceeded to tell her all my son's problems, faults, and the things she might struggle with.': Mom thanks 'hero' teacher for helping son blossom
'Today my daughter's teacher expressed concern over her progress report. My compliant, perfect little girl got a 72 in math.': Mom shows grace for teacher, 'Their eyes see things ours don't'
'I am smart!' 'I am a good person!': Teacher boosts students' confidence with heartwarming daily affirmations
Help us show compassion is contagious. SHARE this beautiful story on Facebook with your friends and family.