"Since we were in middle school, my sister and I planned on getting matching tattoos.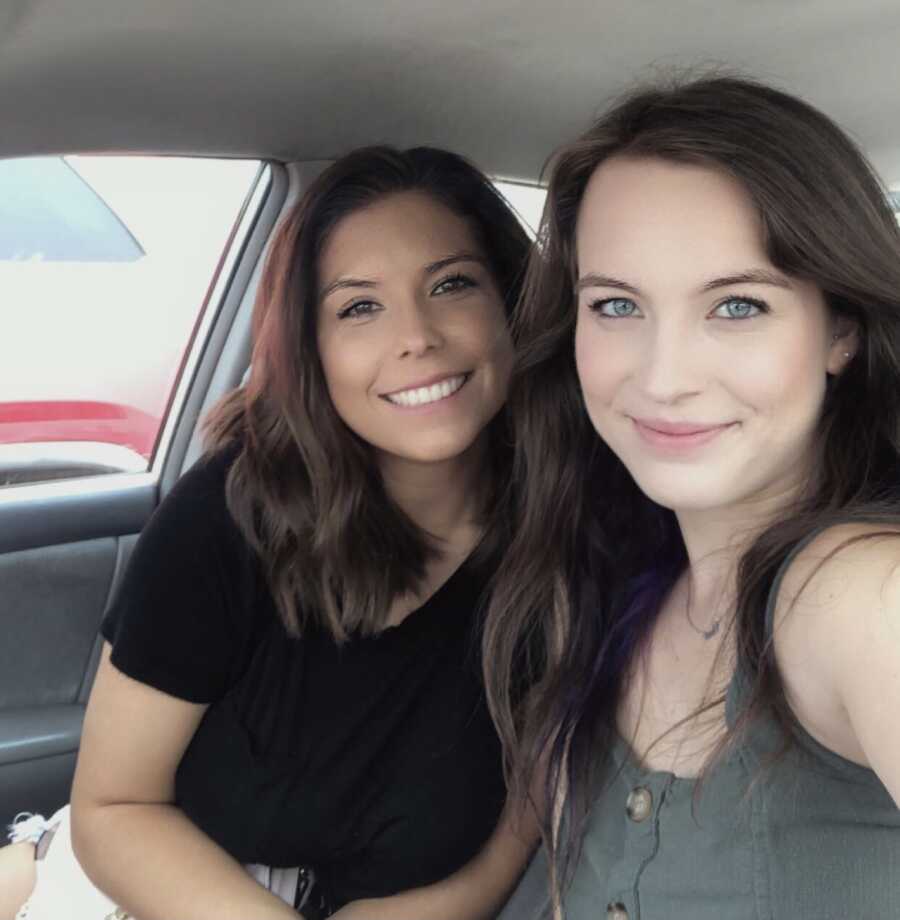 It was just a matter of what to get.
As the years went on and we kept bringing it up, I came across a world map tattoo on the ankle.
I showed it to my sister, Anastasia, and I said, 'It's perfect! We could get a tiny dot in SC and one in Ukraine.'
Anastasia and her biological sister were adopted from Ukraine in 2009.
I was nine years old, just like her biological sister.
Anastasia was almost eleven.
In 2013, my parents adopted my eleven-year-old brother, Dennis, from Odesa, Ukraine.
A few months later, they brought home my three-year-old sister, Lily Faith, from Donetsk, close to where Anastasia grew up.
For Anastasia's adoption, my family and I lived in Ukraine for a month.
We landed in Kyiv and stayed for a few days.
Then, we rode an overnight train to Slovyansk, Ukraine, to stay for the next few weeks.
Slovyansk was a poorer city, with only one hotel with a total of five bedrooms.
My family took up two.
I don't remember much from that trip, but the little I do remember will always have a special place in my heart.
Sadly, as most of us know, Kyiv along with much of Ukraine is currently under attack.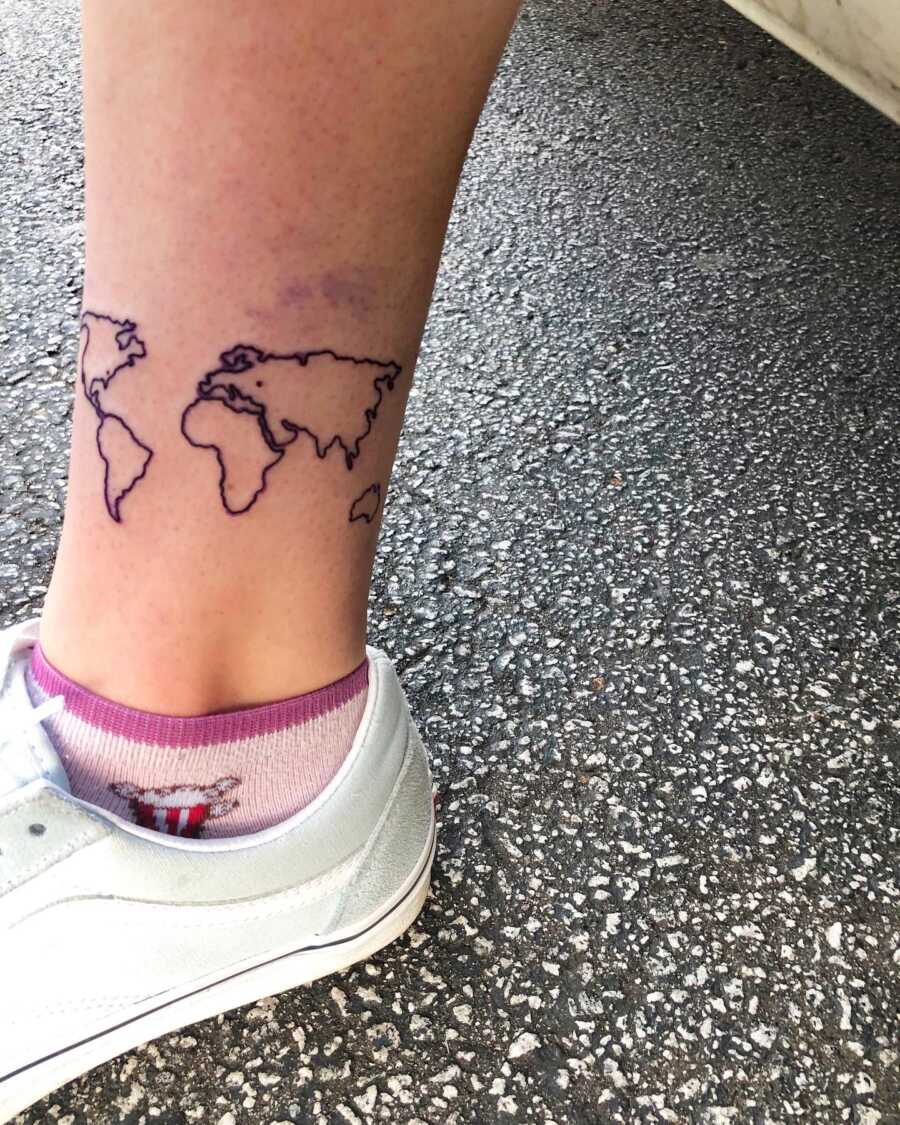 Russia has stormed the country, and the people of Ukraine are left with no choice but to fight to maintain their sovereignty.
As I watch the news, I see a country that gave me so many of my siblings being ripped apart.
People are fleeing under fire while others are forced to stay.
I can't help but think about what would have happened to my sisters and brother if they hadn't joined our family in the US.
They all lived in areas that are under assault.
I am so very grateful that they are here.
The first bit of permanent ink to ever be put on my body is in honor of Anastasia's adoption along with my other siblings' adoptions from Ukraine.
I see the dot in South Carolina, and I remember to be thankful to be in the safe part of the world.
I look at the dot in Ukraine and pray that those who were left to fight are able to stand strong and defend their country from Russia.
For now, my tattoo serves as a reminder of what to praise God for and what to ask of Him.
'I have told you these things, so that in me you may have peace. In this world, you will have trouble. But take heart! I have overcome the world.' —John 16:33″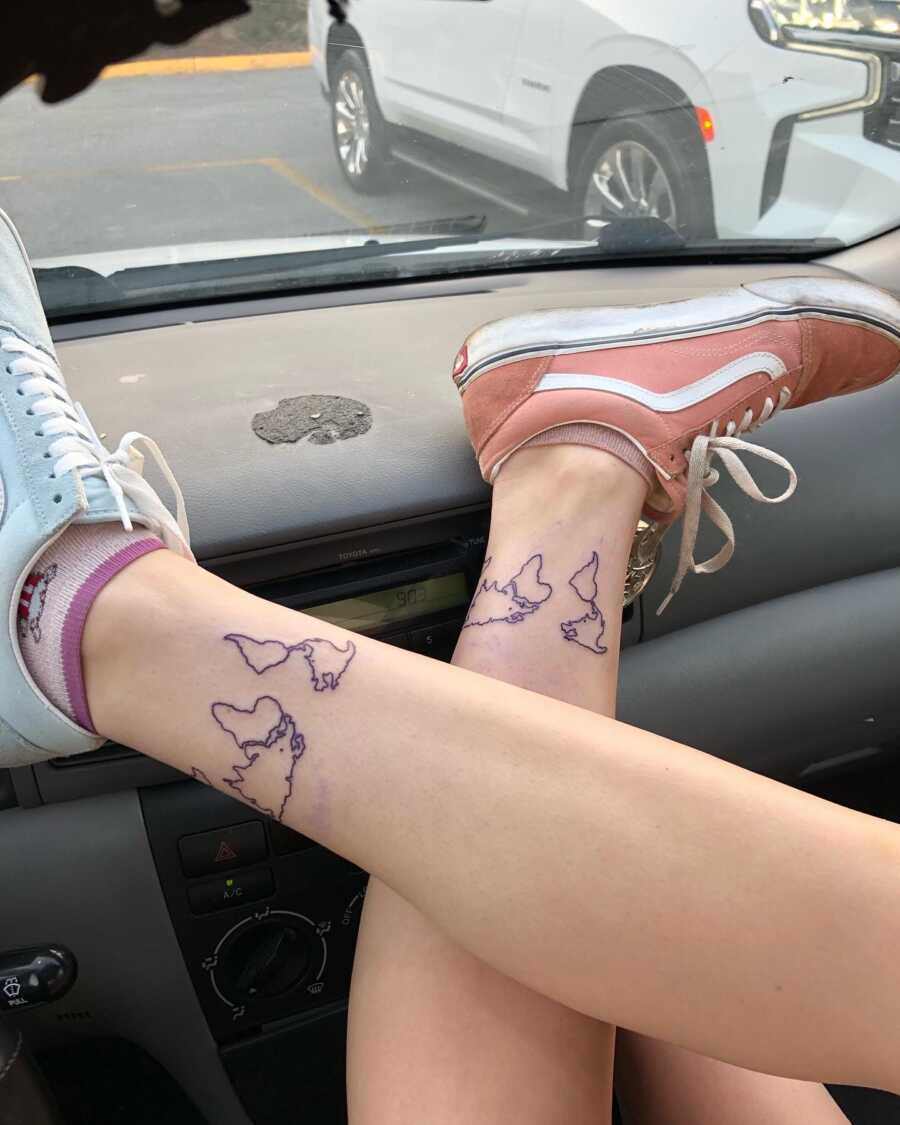 This story was submitted to Love What Matters by Grace Kathryn Bianco from Duncan, SC. You can follow her journey on Instagram, her website, and her book. Submit your own story here, and be sure to subscribe to our free email newsletter for our best stories.

Read more stories from Grace here:
'Grace, who do you want us to adopt?' My eyes burned with tears. I could hardly look at them.': Sister of adoptees shares perspective, 'I wouldn't change our story'
Read more stories like this here:
'How lucky are we to tuck them in under blankets instead of underground tonight.': Mom urges prayers for Ukraine and Russia, 'If you are breathing, humankind is your business'
'Tonight, like every night, I got to kiss my boys goodnight and tuck them in. My heart breaks for the families who don't get to.': Mom reacts to recent attacks on Ukraine
'He died as he lived, a hero in every sense of the word.': Ukrainian-American man dies defending Kyiv from Russian attacks after lifetime of uniting forgotten kids with loving adoptive families
When The World Feels Heavy, Look For Hope In The Tiniest Of Places And Hold On