"Betsey's Point of View
My husband and I adopted our daughter Rylyn from Taiwan when she was just 8 months old. She made me a mommy. This is my story.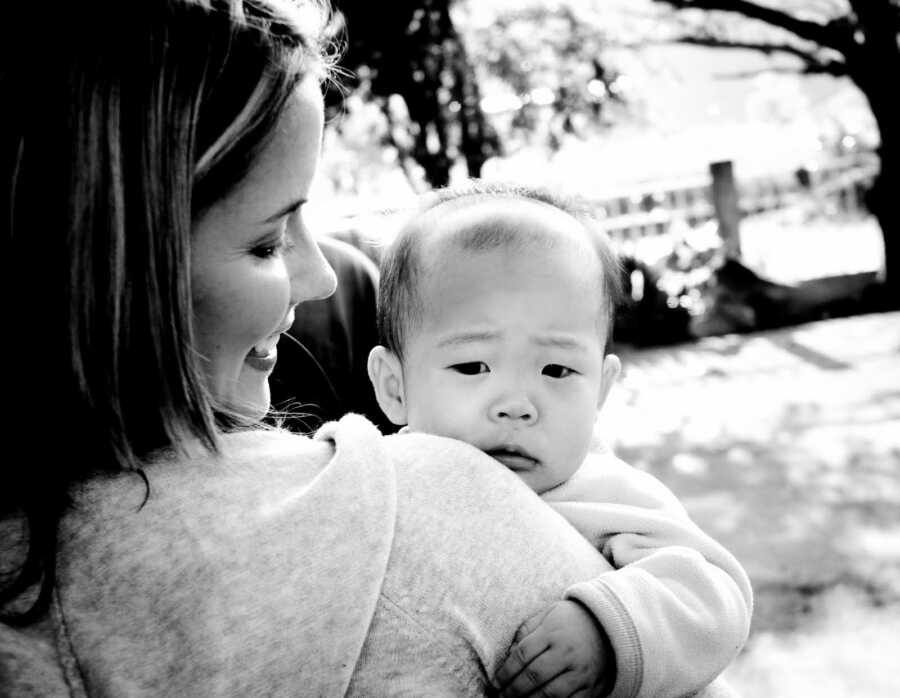 There are very few things I feel like I was called to do. Adoption was one of them. This was something that had been on my heart for many years. I still remember the conversation my husband and I had by Reedy River Falls in Greenville, SC, after many conversations, where he told me he was on board and also wanted to adopt. Let's do this! We had a neighbor who worked with an adoption agency in Greenville, SC, and she connected us with a few families who had adopted from Taiwan.
At the time, we were not yet 30 so many countries would not allow parents to adopt unless they were 30 and older. At the time, the country of Taiwan required parents to be at least 20 years older than the child they were adopting. After we completed our home study, we worked directly with a small orphanage in Taiwan that prayed over all the children and matched us with our daughter Rylyn. I still remember the day we finally got the call saying we were matched with our daughter. I was teaching 1st grade, and during my lunch break, I checked my voicemail from Taiwan. I tried getting ahold of my husband no less than 20 times only to be sent to voicemail. After school that day, I rushed home and opened the door to our daughter's nursery that we had been preparing to find my husband in there with happy tears and a picture of our beautiful baby girl.
As our travel date to Taiwan grew closer, I reached out to my sister who lived in Charlotte, who, at the time, already had 4 kids, and asked if she would consider coming to Taiwan with us to help us newbie parents figure out what we were doing. She immediately said yes because she really is that amazing. Not being a mom at the time and looking back, I realize even more how incredible she is, leaving her 4 young kids to fly halfway around the world to help us for two whole weeks.
A week before traveling to Taiwan, I found out I was pregnant with our son. Traveling to and from Taiwan was a bit of a whirlwind, but finally meeting our daughter for the first time after a year of waiting, praying, paperwork, emotions, unknowns, was a moment I will remember always. After almost 24 hours of plane rides, transfers, morning sickness, I was finally able to walk in the Home of God's Love and see her sleeping sweetly in her crib and touch her tiny little fingers. My life changed at that moment.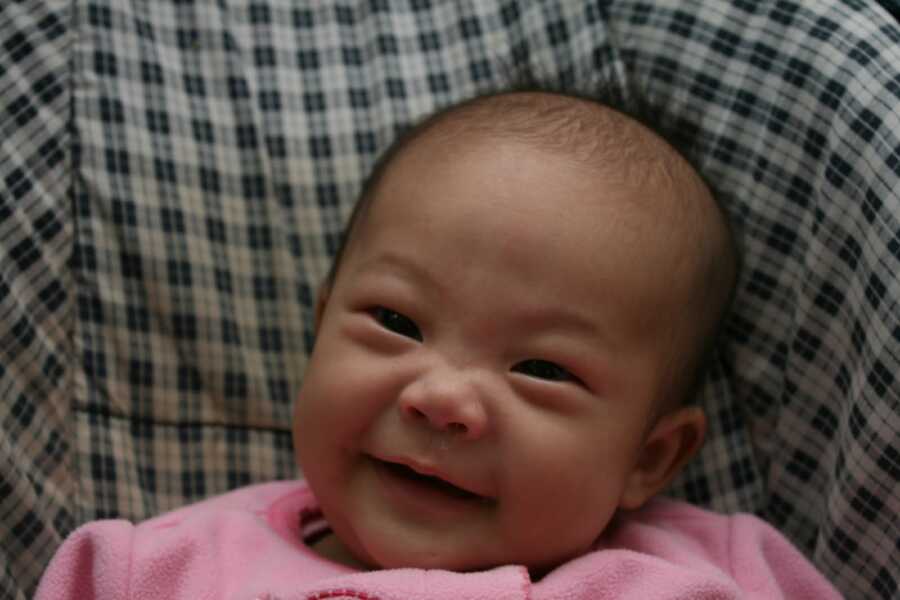 Ever since she was very young, she has been one of the most thoughtful, generous, and empathetic people I have ever known. She has taught me so much about how to love, challenge myself, and give to others.
Our son was born later that year, and we went from zero to 2 babies in the same year, which was very unexpected but a blessing.
About 4 years later, I remember sitting in bed Christmas afternoon, and I got an email from the Home of God's Love…I just remember thinking to myself before opening it that it was going to tell me that Rylyn had a sibling. It did not. It was simply an update and a request for our new updated address, but I remember that moment well.
In 2015, we got pregnant again unexpectedly, and I remember having very mixed emotions. I felt deeply in my heart we were supposed to adopt again, finding out we were pregnant was very exciting, but also, I had a twinge of sadness thinking this may mean we would not pursue adoption again. We ended up losing the baby around 11 weeks, and it was very difficult for our family. We had gotten excited about welcoming another little one in the family again. However, this ended up helping my husband and me move forward with the adoption process again.
A few months later, we started the adoption process for our daughter in China. The day we were matched with her and given approval from China, we got an email from the Home of God's Love saying our daughter's birth parents from Taiwan had another child 3 years earlier and wanted to ask us if we would adopt him. This was a big surprise, as we were matched with our soon-to-be daughter from China that day as well. Later that day, we emailed back saying YES. Although navigating to adopting two children from two different countries at the same time would be challenging, we were up for the challenge. We waited and waited and heard nothing back. We were told the birth parents changed their minds. After raising your child for over 3 years, I could imagine how incredibly difficult this decision was, and I asked them to please contact us if anything changed.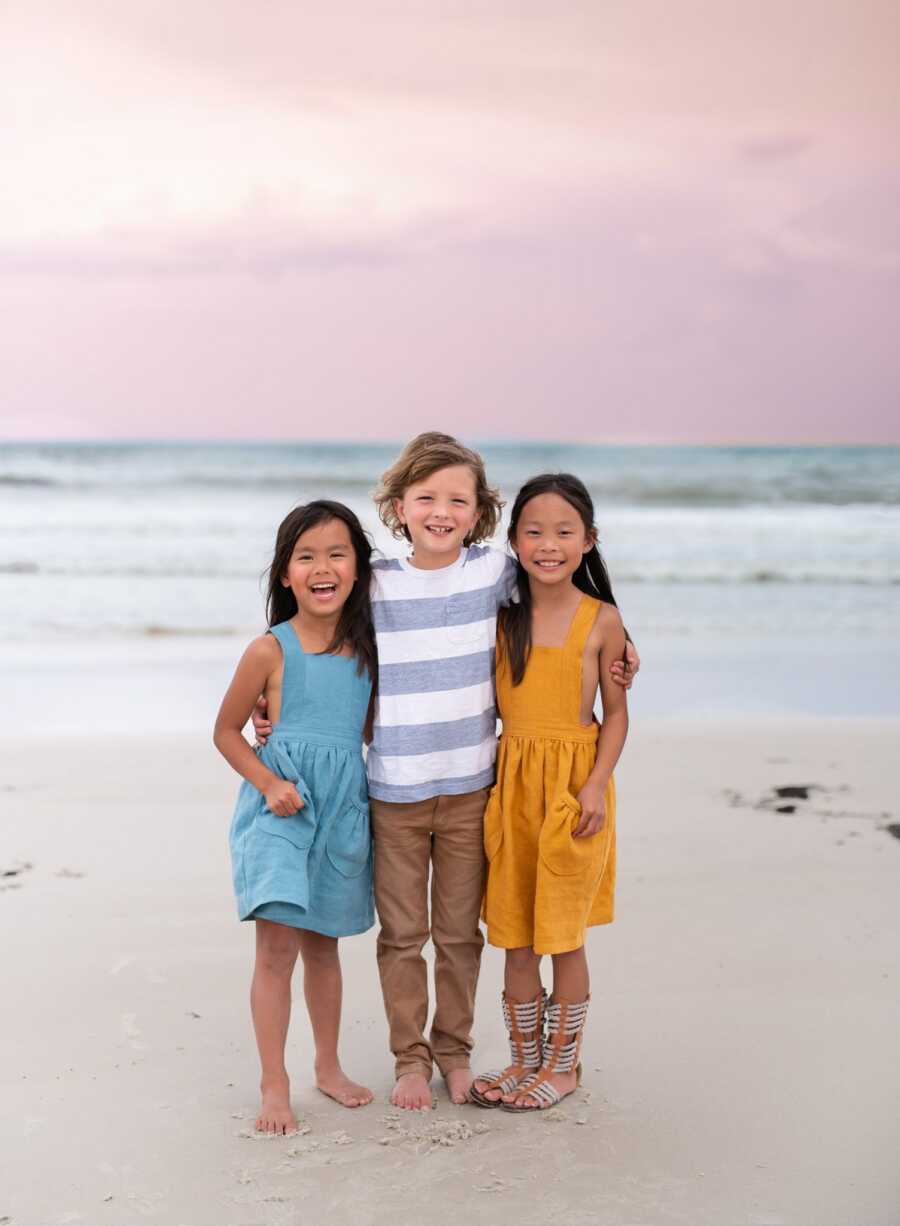 We adopted our 2.5-year-old daughter, Brooklyn, from China in 2017 and went through a whirlwind of job loss for my husband, finding out I had BRCA2, a gene mutation that greatly increases chances of breast/ovarian cancer, and selling our home. I had preventative double mastectomy surgery, we sold our home in northern Virginia and decided to travel Europe for 2.5 months with 3 young kids while we did not have a mortgage/jobs. It was the trip of a lifetime but was challenging in many ways with all the unknowns of where we would live, find jobs, and find schooling for the kids. We ended up heading back to the US and finding a home in Georgia.
Every few months for the next few years, I emailed the HOGL to follow up and see how her brother was doing but received no response. I remember the evening our daughter told us how when she wished on a dandelion, she always made the same wish…she wished for another brother. The evening she told me her wish, I reached out again to follow up to see how her Taiwanese brother was doing. I found out a few months later that he was actually placed with a foster family in Taiwan. I broke. I was mixed with emotions of sadness, confusion, and hurt. How could this have happened? Why? I did not understand. I had prayed for this little boy for so long…for so many years…for his heart, his mind, his protection. I dreamed of him becoming part of our family. For Rylyn and her bio brother to be reunited someday.
Fast forward to 2019…my sister announced they would be adopting again. They had originally gotten their home study for Bulgaria. Deep down in my heart, I felt I had to ask her if they would be open to adopting from Taiwan. I didn't even know if Rylyn's bio-brother was able to be adopted at this time. I knew it was a big ask, but I had to ask. I asked her and also reached out to find out if adopting from Taiwan and already having 6 kids was allowed and found out it was. I tried not to get my hopes up, as this process had been the biggest roller coaster of emotions I had ever experienced.
By God's grace, we were able to find the adoption agency that had his file, and my sister's family were able to switch adoption agencies, and after almost 9 months, be matched with him. The day they were matched, we sat down on the back porch with our daughter and told her about her bio-brother and how my sister's family was going to adopt him. With the world shutting down due to Covid, their adoption process took almost 2 years.
However, in November 2021 for a month, my sister and her husband traveled to Taiwan for 2 weeks of quarantine, 1 week of medical appointments, and 1 week in the country to meet and connect with our daughter's brother. Almost 6 years after we found out about him…Z became part of our extended family. Although it's a bit different than we all ever imagined, we realize more and more that families come in lots of different ways. We are so thankful to meet Z. He is kind, silly, and so thoughtful. I am very lucky and thankful for a chance to finally meet our daughter's brother, my new nephew after all these years. I hope this story inspires people to pursue adoption and teaches them that it's love that makes a family.
Rylyn's Point of View
My name is Rylyn. I am adopted. I have a biological brother, which I never knew until this night…here is my story.
One night, my Mom and Dad asked me to meet them on the screened-in porch. I wondered why, since I could not think of anything I had done wrong that they would want to talk to me about. With confusion, I walked out to the screened-in porch. I sat with them, and they went into full detail. They told me how I had a full biological brother, and how they had not told me about him earlier since they weren't sure I would ever be able to meet him, and they didn't want to make me sad. Then they told me how my aunt and uncle, who live in Charlotte, NC, with their 6 kids, would be adopting him.
We must have a deep connection because, a few months ago, when my family and I were on vacation, I kept calling my brother, Brennen, who I grew up with, 'En-Chen' since I like nicknaming people. My Mom thought it was crazy since 'En-Chen' is my bio brother's actual Taiwanese name and she had never told me his name! I told my mom a few years ago whenever I pick dandelions and blow on them to make a wish, I always wish the same wish. I always wish for a brother. My mom told me I already have a brother, but I told her I want another brother. I was a bit shocked but excited to find out I did have another brother living in Taiwan whom my aunt and uncle would be adopting.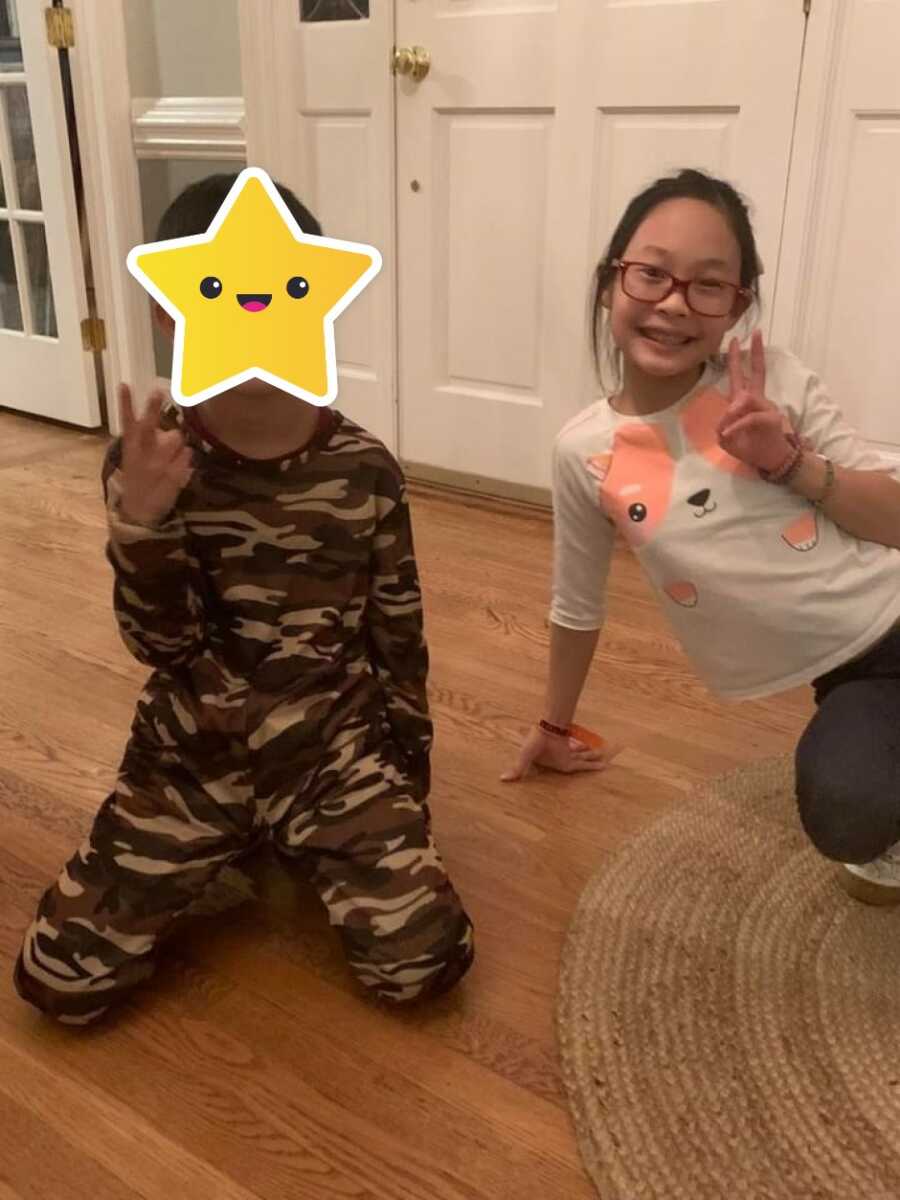 I had lots of feelings about this, with everyone asking, 'How is it going to be meeting your brother?' and all that. Not that it was a mean question, it was just kind of constant hearing it from people. Having him join their family was cool since I would get to see him, but also really different since normally siblings live with you. I wasn't sure I loved the idea of him having new siblings who were my cousins, and to be honest, it's taking a lot of time to get used to.
In December 2021, my mom asked me if I would like to drive with her to Charlotte to meet Z. My aunt and uncle had completed the adoption process in Taiwan, and Z had arrived in Charlotte, NC, and been in his new forever home for 6 days. It would just be me and Mom, since there was a lot of drama going on in Charlotte, with the 7 kids they have now and only 2 parents watching over them. My mom picked me up early from school, and we made our way to Charlotte. It was about a two-hour drive, so I read some, took a nap, and talked with Mom for a bit.
When we finally got there, I was so excited to see my cousins. It was SO STRANGE to finally meet Z but so cool at the same time. He was fun to watch since you would never know what he would do next, and he was funny and helpful. He looks a lot like me. When we were leaving, he even helped me take my suitcase to the car. It would be hard to adjust to a new place and a new language after 9 years of living in Taiwan, and I feel his frustration.
I am very lucky and thankful for a chance to finally meet my brother after all these years. I hope this story inspires people to pursue adoption and teaches them that it's love that makes a family."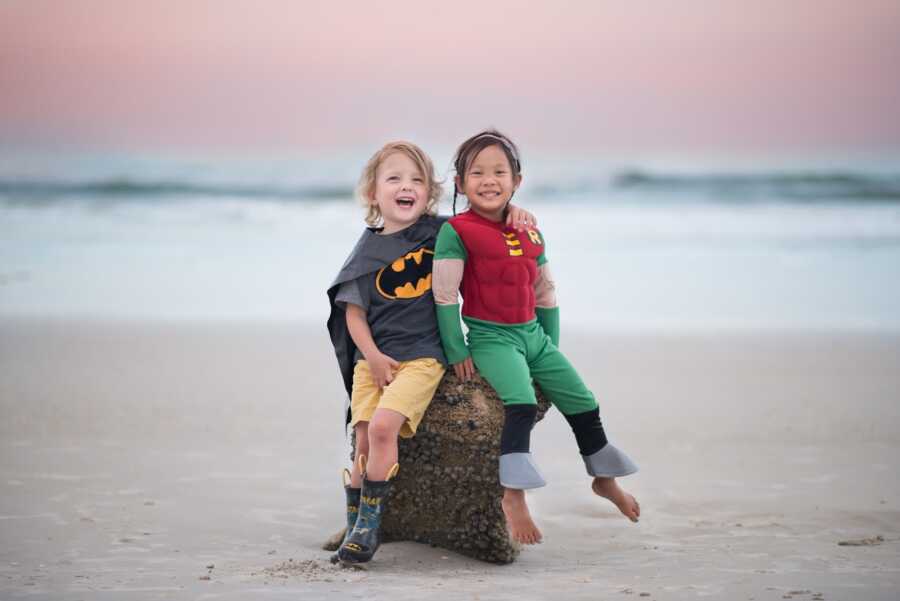 This story was submitted to Love What Matters by Betsey from Cumming, GA. Follow her journey on her website. Submit your own story here, and be sure to subscribe to our free email newsletter for our best stories, and YouTube for our best videos.
Read more stories like this:
'Weighing just 2 pounds, we tested positive for crack cocaine.': Twins adopted by abusive family overcome childhood trauma to advocate for kids in 'broken' foster care system
'We have a 3-year-old boy. His mother is homeless. No one will take him.' Our jaws fell open. 'We'll be at your house in 30 minutes!': Couple adopt 4 children from foster care, co-parent with birth mom
'I won't sugar coat it. Having a baby is like having 15 shots of espresso. Parenthood is the wildest ride you could imagine.': LGBTQ adoptive dad shares parenting advice
'When the social worker left, he didn't even know my name. Today, he shares mine. I could not be more proud to hear him call me dad.': Single dad shares adoption journey, 'We're both better people because of it'
Do you know someone who could benefit from reading this? SHARE this story on Facebook with family and friends.