"A little over three years ago, I endured the toughest trial of my adult life. There's not a birth or baby class detailed enough to prepare someone for the mental health challenges I was about to come up against. I wasn't even slightly aware of the possibility something like this could happen to me! Why doesn't someone tell you you could end up in the psych ward after having a baby?
A little backstory: We had the assistance of a reproductive endocrinologist to get pregnant with our first. It was an emotionally draining and exhausting process. Considering our difficulties the first time around, we were shocked when we got pregnant with our second, when our first born was just a little over one year old. Now I recognize the medical issues I had likely contributed to my mental health, due to the stress I was under. In retrospect, I probably had postpartum depression and anxiety after my first was born.
Despite my suspicions, at no point during my pregnancy did someone suggest I might have anxiety. Instead, I was sent to a cardiologist to rule out the possibility of cardiac related issues, after I had (what I suspected was) an anxiety attack. Additionally, I was hospitalized around eight months into the pregnancy for pyelonephritis, which is inflammation of the kidney, typically caused from a bacterial infection.
My second birth was a scheduled c-section. It was a wonderful experience and went much better than my first, which lasted for 22 hours and wound up leading to an emergency c-section. The second time around, we were able to have skin-to-skin contact with minimal interruption, and it was a phenomenal experience! And, after a typical two night stay, we went home.
I felt blessed to have two beautiful little girls, and the transition wasn't a terrible one. However, as time passed, I found myself beginning to struggle with issues such as rage, anger, and intrusive thoughts. I never reached out for help, despite talking to my husband about my concerns. I didn't want to be thought of as weak, or less of a person. I assume most people looked at me and thought I had it all together. Boy, were they wrong!
I was a ticking time bomb, ready to explode if anyone so much as thought of looking at me the wrong way! I was overwhelmed, and consequently, quit breastfeeding around four months postpartum. I'll admit, it was a relief to be done nursing, due to how stressful it all became. Plus, I was dealing with a lot of stress at work, which was interfering with my sleep. There was one week in particular that stands out most.
It was all very much out-of-character for me. I remember feeling unusually compassionate towards others, and I felt as though I was 'on cloud nine.' There were even moments where I experienced being hyper-religious. Since my family and I were actively involved with our local church, part of it felt normal. Looking back, it was quite difficult to pick up on, and no one seemed tipped off by my unusual behavior or thoughts. I remember being at church during a prayer meeting and saying aloud, 'This is a dark place.' I was feeling some paranoia the devil was out to get me. No one seemed too concerned, which made me wonder whether or not my feelings were justified.
It was the Friday before Memorial Day when things really began to fall apart. I thank God my husband was off that day to help take care of me and our children. Thankfully, I wasn't alone as things began to take a turn for the worse. I've heard the saying, 'It's okay, not to be okay.' However, in this particular instance, things were far from being okay.
I began doing things completely outside of my norm, like spontaneously quitting my job one morning. I have zero memory of that. There was even a time when I chose to check in on my pastor, which I never did. I was also speaking about grandiose ideas to my best friend. Alarms were going off everywhere! My husband said, at one point, I started quoting scripture he never realized I had memorized.
It's amazing what your subconscious will do when your brain goes into overdrive and has control of the wheel! Things kept getting more strange and concerning. I thought Jesus was returning, and I remember grabbing my kids and begging God to save us all. During that episode, my husband had just come inside and found me extremely pale. I suddenly 'passed out,' and he immediately called 9-1-1.
At that time, we were living in a townhouse. Not only were all of our neighbors outside witnessing my breakdown, they were trying to figure out what was going on. And when you call because of a psychiatric emergency, all first responders are mandated to arrive on the scene. It was a three ring circus, and my mind had become the ringmaster!
I literally thought I was dying! I demanded the EMS responders perform compressions on my chest and intubate me. Once I was in the ER, my memory began to fail. I was incredibly mentally ill, and my dear husband had no idea what was going on! I stayed two nights in their psych ward and was then transferred to an inpatient psychiatric unit, where they were better equipped to deal with the severity of my condition. How does a 30-year-old mom of two, with no previous history of mental illness, get admitted to the psych ward? I'll tell you how: with the shocking, and very much unexpected, diagnosis of postpartum psychosis!
Once I was in the psychiatric unit, there was someone responsible for staying with me 24/7 to assure I wouldn't harm myself or anyone else. I stayed in the unit for nearly two weeks! Two weeks without my babies. Two long weeks that I did not get to exercise or go outside. Things we often take for granted. I ate all of my meals in my room, and even as I showered, someone was outside of my bathroom door waiting.
Since I had to be observed around the clock, I couldn't leave the floor. There are still moments I can't recall, and I have to rely on my family to fill in the blanks. My sister informed me, at one moment, I believed I was Tina Turner. Another time, I thought I was pregnant with baby Jesus. I remember thinking I was on the set of Grey's Anatomy with Bradley Cooper and Mandisa. Doesn't sound like a terrible place to be, right? Wrong! It was a very, very scary place to be! A place I wanted no part of!
Most days, my only goal was to get out of the hospital! There was even a time I made a desperate attempt to escape. Instead, I ended up getting my finger caught in the door! That earned me a painful injection, in an attempt to calm me down. By this time, my paranoia was at an all time high. As a result, I was being treated with a multitude of drugs — an anti-psychotic, an antidepressant, and an occasional shot to keep me from being overly agitated.
Slowly over time, I began to feel like myself again. During my final 24 hours in the psych unit, I was no longer required to have someone with me at all times. It felt freeing. And for the first time in a long time, I had a slight sense of hope, despite still struggling with living in reality. I was even able to participate in Thursday night karaoke with the other inpatient psychiatric patients — a welcomed distraction and much needed change of pace. After two weeks in the psychiatric unit, I was finally being discharged to go home. I could not wait to get back to see my precious girls! I never had ill thoughts towards my children during this whole endeavor, and for that I'm thankful.
After my hospitalization, I was still paranoid, and my mind was slightly not right. I had to follow many restrictions set forth by my care team, including not caring for my children independently, not working, not driving, and even having someone with me around the clock. I thought I had escaped being watched so closely, but at least it was a familiar and comfortable environment. I also went to an intensive outpatient program, which was three hours of group therapy everyday. I did not like it. There was a point I couldn't handle much more, and I got very angry and tried to jump out of my husband's truck. The good news is, I'm still here to fight for more awareness, support, education, and resources for moms and families. I graduated the program, went onto individual therapy, and continued anti-psychotics for a year, along with antidepressants.
After my psychotic episode, my anxiety had increased exponentially, and having both girls by myself became quite a job! Now, more than ever, I applaud stay at home moms! It's a full-time job unto itself! Because of my own mental health needs, we chose to place our children in daycare three days a week. The other two days, I had them to myself. However, this was gradual, and only once all restrictions were fully lifted.
Even after being back home for a bit, I still continued to experience a fair amount of anxiety when I had to care for both of my girls on my own. There was even a weekend when I had to call on my parents to help out. My husband had to work, and I just couldn't do it by myself. I was okay with that. Moms, it's alright to ask for help! We can't do it all by ourselves! It's too much for a person to take on alone!
Many of you are probably wondering how I got through such a horrific experience. Had it not been for my faith, the amazing support of my family, and all of the people praying for me, I'm not sure I would have fared as well as I did. I'm so thankful for each and every prayer! I'm certain they were heard. God's grace carried and comforted my family and I, and still continues to see me through this journey. During those days I felt like I couldn't make it through, I am grateful for my loving husband for reassuring me. My physicians, medications, and psychotherapy continue to make my recovery successful.
Because of my experience, I now have a new found, God-given passion to share my story. I've made it my mission to let women everywhere know they are not alone. It is my hope, that by sharing my personal account, it will help shed light on perinatal mood disorders such as postpartum depression, postpartum anxiety, postpartum OCD, and postpartum psychosis.
Life is going great, and I'm doing as well as can be expected. My psychiatrist explained I was like a soldier who had just returned home from battle. I can't help but to agree. I am proud to consider myself a fighter and a warrior! I beat postpartum psychosis. I am a survivor.
For far too long, I went around worrying others would think I was less of a mom because I was on meds. Now I know that can't be further from the truth! My husband and I, on numerous occasions, discussed I may need to consider getting on an antidepressant. I failed to do so, although I'm not exactly sure why. Perhaps, I felt like I could fight through it on my own. Looking back, if I knew taking action might have prevented my psychotic episode, I definitely would have asked for help sooner! Now that I've been consistently taking meds, I have no issue telling the whole world I take medication for me, for my family, and for my overall well-being!
One in seven women are diagnosed with postpartum depression. Postpartum psychosis is seen in approximately one in 1,000 women and is a rare occurrence. In fact, my doctor shared he hadn't seen a case in over six years! It's so uncommon in fact, when I followed up with my doctor and told him I knew nothing about postpartum psychosis prior to my diagnosis, he responded by saying, 'That's a hell of a way to find out about it!' It most certainly was! I was never screened after either of my pregnancies, or educated about the possibility of postpartum psychosis. That should not be the case. Changes need to be made."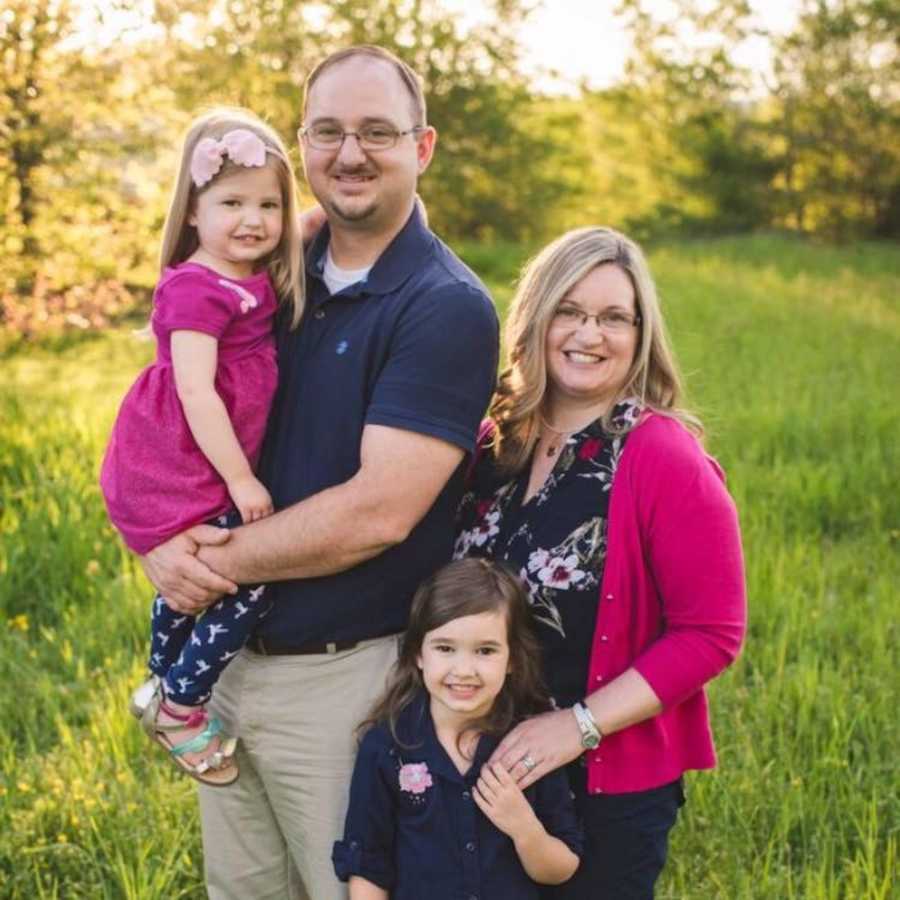 This story was submitted to Love What Matters by Kristina Dulaney. Submit your own story here and be sure to subscribe to our free email newsletter for our best stories.
Read more stories like this: 
'Don't say, 'When can I see the baby?' Say, 'Let me know when you're ready for visitors.': Post-labor mom reminds us 'there is nothing more vulnerable than a freshly postpartum momma'
'I lost all my pregnancy weight by 8 days postpartum because I was so sad. I don't feel worthy of them at all.': Mom's severe struggle with postpartum depression
'Is it normal to hate your baby?' I was desperately begging for God to kill her. What's wrong with me? I was terrified of what I would do to her.': Woman overcomes 'debilitating' postpartum depression
Do you know someone who could benefit from reading this? SHARE this story on Facebook with family and friends.