"I really debated about writing this but felt like it was important to share to spread the word about breastfeeding/pumping moms and what they go through in order to provide for their child.
Here is my experience that I recently had at Little Caesar's Arena to see Ariana Grande on Friday April 6, 2019.
I'm a full-time working momma who pumps milk for my 7-month-old and breastfeeds when I am with her.
Ariana Grande announced her tour would only be allowing clear plastic bags in order to keep it safer and more efficient for everyone. I'm not against this by any means, I understand she was attacked, and her clear plastic bag rule makes sense. BUT….as a breastfeeding mom, I immediately thought, how am I going to fit my breast pump (I had to be able to pump since I was not bringing my baby with me to the concert) in a clear plastic bag and was this even an allowable device.
So, the Wednesday before the concert I called Guest Services at LCA and they verified that I was a medical device and I would be allowed to bring it in, but it would be searched. I was absolutely okay with this and so I planned to bring my pump. (look in all honesty it's not my favorite thing to bring with me places but I gotta do what I gotta do to keep my baby fed and myself from getting engorged which can cause a whole lot of other medical problems.)
Friday comes along (day of concert) and I work all day, so I get home get to get toddler and baby ready to go to grandparents, feed baby one more time before we leave to meet our group going to the concert on a party bus at 5:30 p.m. We live about an hour outside of Detroit and knew I would need to pump at least once from the time I last fed baby to the time we got back home which was 8 hours (5 p.m.- 1 a.m.). 
Time to head In to concert, bus parks about 3/4 mile away from arena and we walk as a group to the gates, with my pump bag in tow. I get up to security and I explain that my bag is a breast pump and I start emptying it out for them to search. The security guard says, 'Nope you can't come in with that.'
I explained that I had called ahead and was told this was an approved medical item and would not have any issues. They search everything, all my parts etc. and then proceed to tell me no it's not a medical device and refused to let me in. Mind you all our group has now gone through security and had their tickets scanned so they were not allowed to come and see what the holdup was.
I asked for a manager and an older gentleman comes and I explain the whole thing again, and his response to me was that I was not allowed to bring this device in unless I had my baby with me. Are you kidding me? The whole reason I have to bring my pump is because I don't have my baby. After going around and explaining that it's important for me to be able to express milk when I am not with my baby, he still was not having it and refused to let me in with my pump. Again, I asked for his supervisor and same thing this supervisor would not allow me in with my pump.
I was livid and so were several other people from my group that this was happening once they realized what the holdup was. They told me my only option was to check my pump into Guest Service over at another venue (commercia park) and that if I left to use my pump I would not be readmitted into the venue. Again, are you kidding me?
Eventually I left and walked back to the bus at dusk where thankfully our bus was still parked there. I pumped and then walked back to the arena in the dark and was then able to go in. 
Honestly if I would have known ahead of time that I would not be allowed to bring my pump I would have made other arrangements to pump – maybe before going in and leaving my pump on the bus. Either way with being away from my baby for 8 hours I was going to need to pump. BUT the fact that I called a head to verify that it was an approved item and was still not allowed in is what mad me upset. It wasn't right that I was turned away with my pump, it's something that I need to carry with me when I am not with my baby. 
I want to advocate for ALL the pumping/breastfeeding moms. I am so sad that there are uneducated people in this world who do not understand the uses of a breast pump. I hope no one ever gets treated or turned away like I did for wanted to ensure my baby has milk. I was trying to have a fun night with my husband and friends (which as a parent happens not often) only to have to endure someone telling me that I can't bring my pump because I don't have my baby with me.
Update – Little Caesar's Arena reached out to me and felt terrible that this was my experience. They were embarrassed and their facility is equipped for nursing/pumping mothers. They offered to make it right and bring me back but for me it wasn't about that. All I asked is that they have better communication between all staff members and to be educate on breastfeeding and pumping so another fellow momma doesn't have to go through this."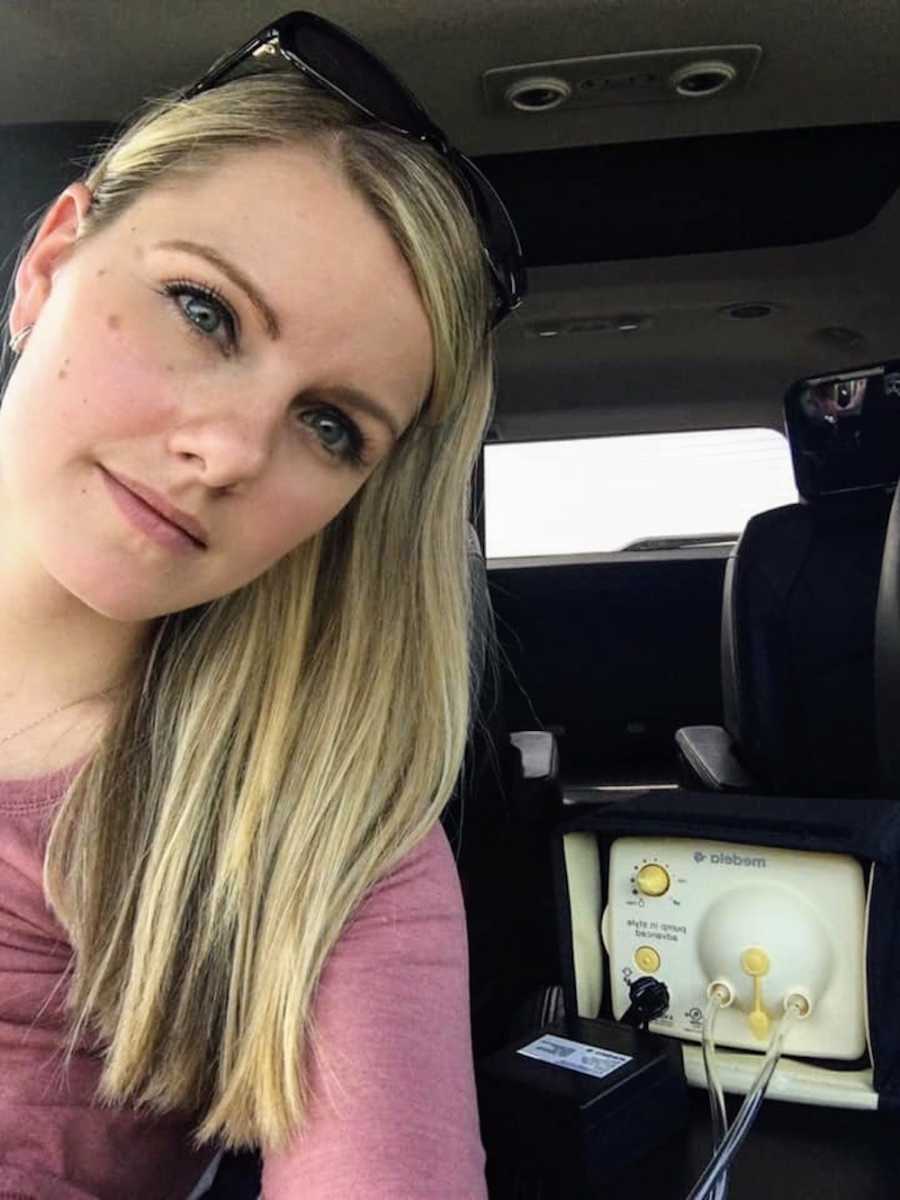 This story was submitted to Love What Matters by Kate Aulette, 31, of Howell, Michigan. Submit your own story here, and subscribe to our free newsletter for our best stories.
Read more stories like this: 
'They'd remind me, 'You're doing everything right, it gets better!' But the words haunted my soul': Mom 'angry' over urgency to breast feed, says son 'became a baby I did not yet know' after formula
'I fed him the F word. Yes, formula. To some, feeding your baby the F word is worse than putting them forward-facing in a car seat.': Mother admits she 'hated breastfeeding' after trying every remedy for newborn diagnosed with failure to thrive
Provide beauty and strength for others. SHARE this story on Facebook with your friends and family.