Disclaimer: This story contains details of miscarriage which may be upsetting to some.
"March 1, 2020, I woke up in excruciating pain. Sweating profusely, I told my husband, 'We have to go to the ER.' Me being someone who is incredibly stubborn and will downright refuse to go to the ER due to knowing the abuse of its system, he knew it was serious. Little did we know at the time how serious. I could barely walk from the bedroom to the car, which wasn't too far. As my husband and I were driving to the ER in the middle of the night, I started vomiting due to the pain in my abdomen. A million different things were racing through my head of what was going on. When we got to the ER, 30 minutes away, my husband had to get a wheelchair because I could barely hold my head up.
When we got into the registration desk, they asked the usual questions: name, birthday, and what was going on. I barely got out the answers, then the whole room started turning black. I couldn't hold my head up any longer and slumped over in the wheelchair. I thought this was it—I was dying. They rushed me back to a room and somehow got me undressed, put a gown on, and got me into the bed. The nurses and doctors kept asking me questions, and I was barely able to put together what exactly was going on. They asked if I could be pregnant. We had been trying for 5 months and had our first positive test 2 days prior. I said yes, but it couldn't be far along since I had not missed a cycle yet.
They said for urine tests to come back, you're usually farther than you think. They started doing ultrasounds on my abdomen. Nothing. They had to call in an ultrasound technician to do an internal ultrasound. When she wheeled me down to a separate part of the hospital, the glass bottle of Tylenol IV they gave me to relieve the pain shattered on the floor. I stared in disbelief. There was no way this was happening. My glasses were back in my room and without them…yikes. She then asked me to walk over to the ultrasound bed because the bed I was on couldn't go through the doorway. With no glasses I'm extremely nearsighted, but I made my way over while trying to dodge glass shards in my socked feet.
I remember she told me in kind of a cold way, 'You will not be able to see the screen. I cannot show you, and I cannot tell you what is going on.' Silently, I nodded and squeaked out an okay through tears. The pain was bearable but still there. When she was finished, she had me walk back to the original bed and said the words I will never forget, 'I think you're having an ectopic pregnancy and this is serious. I think it ruptured.' I was terrified and started to shake. She wheeled me back down to the ER where my husband was. She barely made it out of the room before I burst into tears and started hyperventilating. I could barely get out what was going on.
I told him, 'I'm having a ruptured ectopic pregnancy. There's a baby in my tube and the tube ruptured.' My husband doesn't have any medical background and was very confused. I tried my best to explain, but it probably didn't make much sense. I was still losing quite a bit of blood. I wasn't thinking straight. From there, things were pretty rushed. They called in an OB since I hadn't even thought about making an appointment yet. She came in and talked to us. She said I was about 8 weeks along and my left fallopian tube was ruptured and would need to come out. They were going to try to save the ovary, but it was just a call they would make once they got in there.
I called my mom and dad. Who else was I going to call? I explained what was going on and what had happened so far. They both came rushing to the hospital, walked in, and burst into tears too. Around 4:30 in the morning, they took me down for emergency surgery, took out my baby, and my left fallopian tube as well as all the blood I had lost, which was around 500ml. When I woke up, I was in excruciating pain again. The large amount of blood I had lost after the rupture had pooled right under my right lung. When they used gas for the surgery, it pooled in the same spot, making it extremely hard to breathe. I couldn't take in air. I felt like I was dying—again.
Normally they send you straight home after surgery, but since they could barely keep an IV in me (the anesthesiologist had to get the latest one using ultrasound and a different kind of needle), they decided to keep me overnight to make sure I was going to be okay. Thank goodness because we live about 30 minutes from the hospital. Also, thankfully this was the start of COVID, so partners and families were still allowed to visit and stay. My family stayed with me, as well as my husband, who never left my side. The next day I was able to function. They released me to go home.
The ride home was rough. Every bump in the road was a reminder of what had happened. The pain was immense, both physically and emotionally. After being off for two and a half weeks, COVID was in full swing and my job shut down for two weeks, hoping we could slow the spread. When I went back to work for two days, I was then permanently laid off from the job I had for a year and a half. So, the job search began. I applied for what seemed like a million jobs, but for most I was overqualified and they didn't pay nearly enough, since COVID had pretty much stopped the hiring for most places.
My husband had ACL surgery at the beginning of June and could barely walk. I was there to take care of him and the house because thankfully I hadn't found a job yet. The end of June was a different story. I sent a friend my resume and hoped for the best. Not too long after, they called and wanted to do an interview. I finally had a job! The crazy thing is it was at a fertility specialist with reproductive endocrinologists. I thought if I needed help, this would be a good place to be.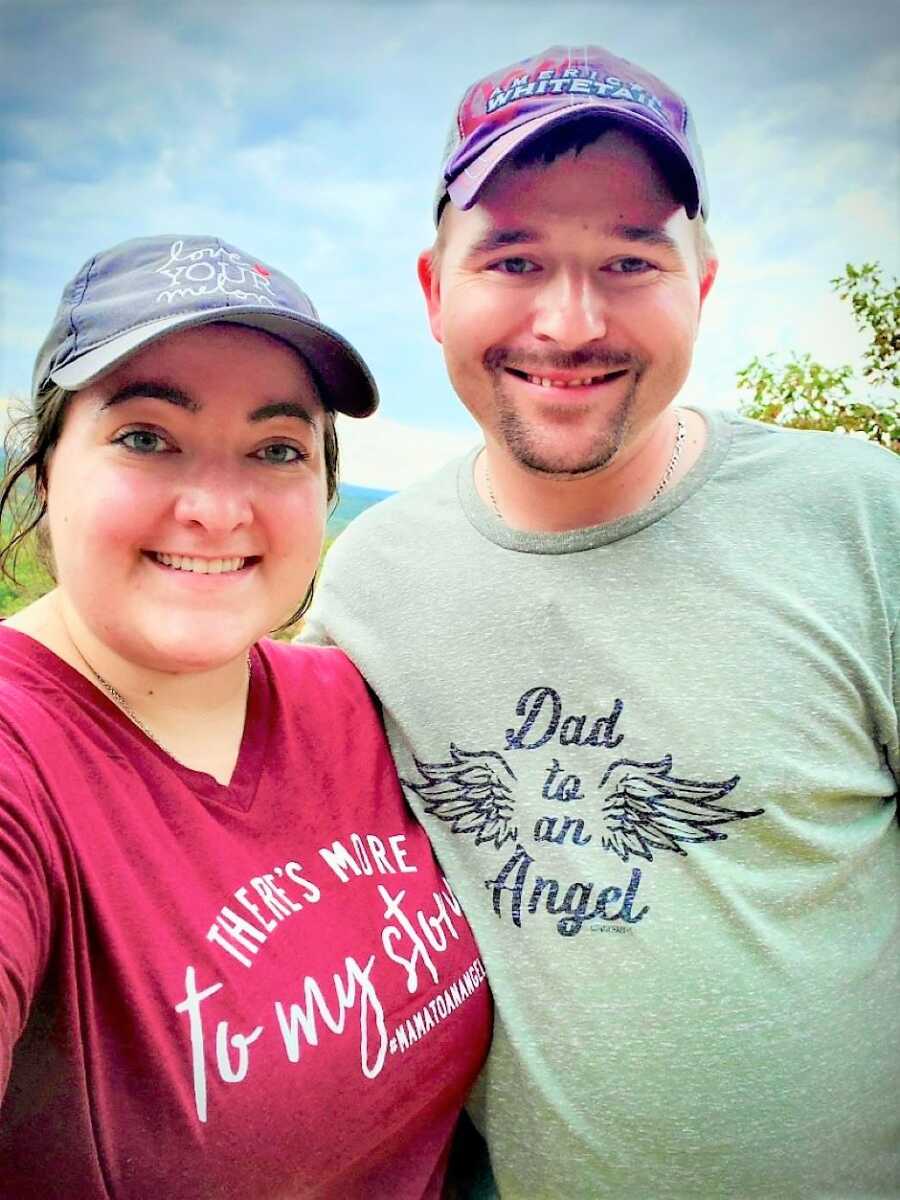 Later on, in October, many nurses and doctors recommended a hysterosalpingogram, where they put dye in to check the fallopian tubes, or in my case, just one tube. They had to do the procedure twice since the first time didn't work and the answer wasn't very clear. After the second round, we had some answers! The tube was clear and we were good to go. I got an ultrasound to make sure I was ovulating on the correct side since the left didn't have a tube. I was ovulating on the right side! The excitement faded because they found a fibroid. Fibroids are common; they kind of show up and can hinder a pregnancy.
The next steps were to do a saline ultrasound to see how my uterus would expand and make sure all was good for the future baby. Well, these are cycle-dependent and my cycle never started—I was pregnant again! We were thrilled and told our families right away. We scheduled a doctor's appointment to make sure everything was good this time. They did an early ultrasound and confirmed the correct placement in the uterus. We waited until we were about 7 weeks, talked to the doctor, and did another ultrasound. They told us they did not see the fetal pole but could see a yolk sack. We were told it could go either way—either the baby would show up next week, or it was a blighted ovum.
We were devastated. How was this happening? We had already lost one baby this year and we did not want to lose two! We had to wait one week. Two days after the ultrasound, I passed a large clot while at work and was sure I was miscarrying. All those memories flooded back and I was a bawling mess. The OB had me come in for blood work the same day and again two days later. They said my levels had risen, just not quite to the extent they hoped. Again, devastation. We waited the dreaded week to confirm what we knew. Little did we know they would quickly say, 'There's your baby.' My husband and I looked at each other and burst into tears.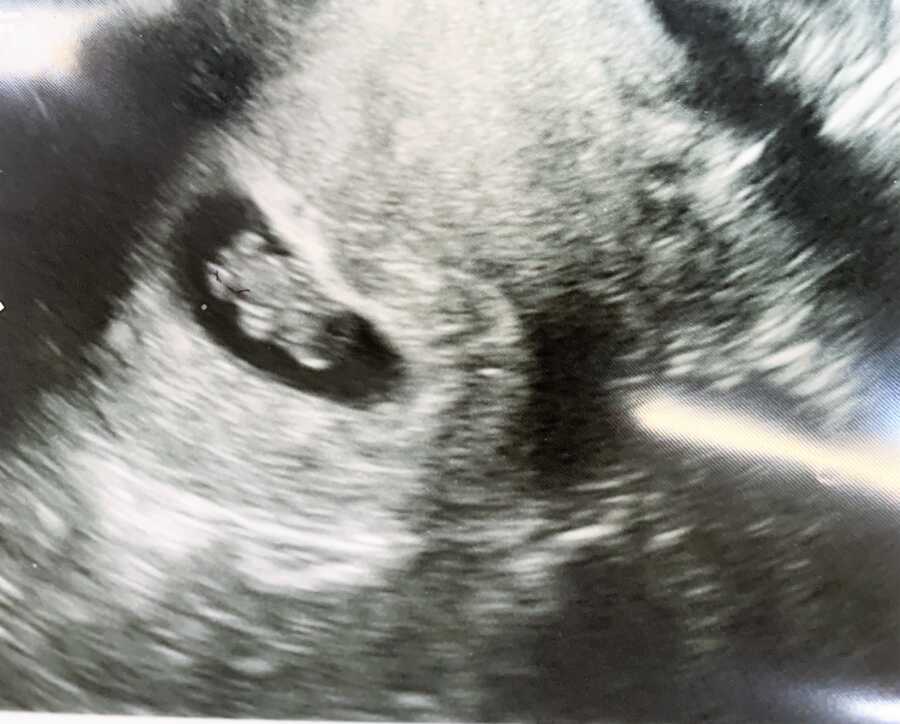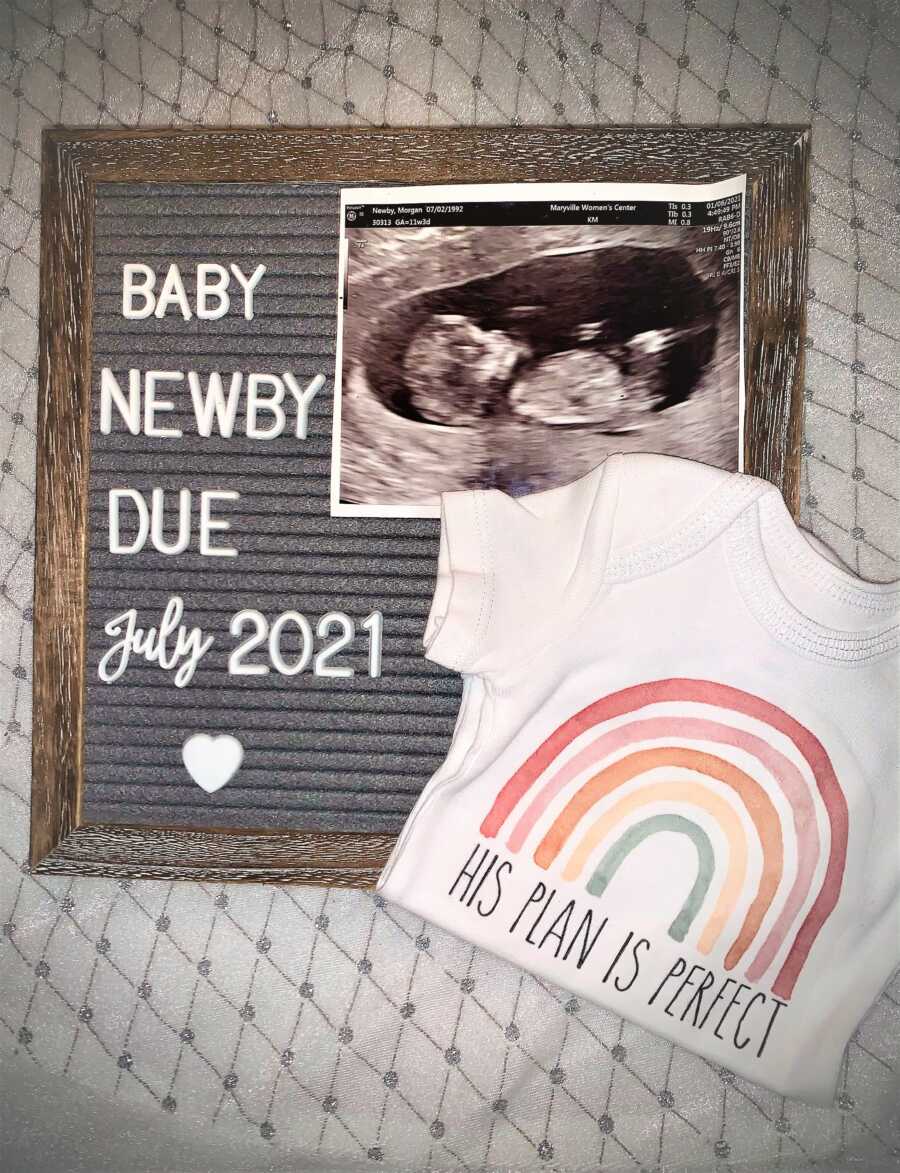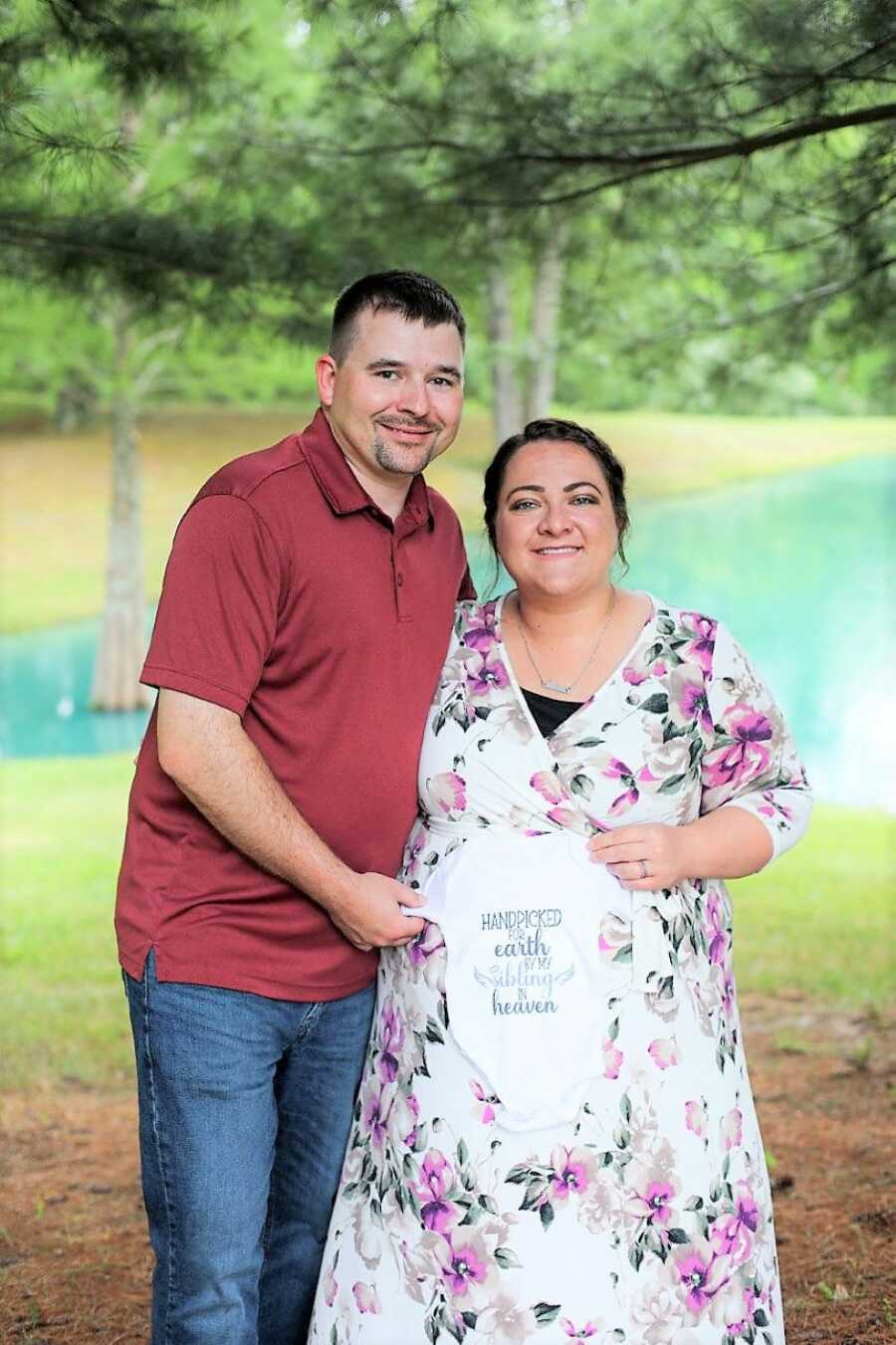 There was our baby with no problems at all. They pushed my due date back one week and had me schedule a few more appointments. But as far as they could tell, it was a healthy pregnancy! July 6, 2021, at 6 p.m., weighing 6 pounds and 6 oz. and 18 inches long, our sweet rainbow was born.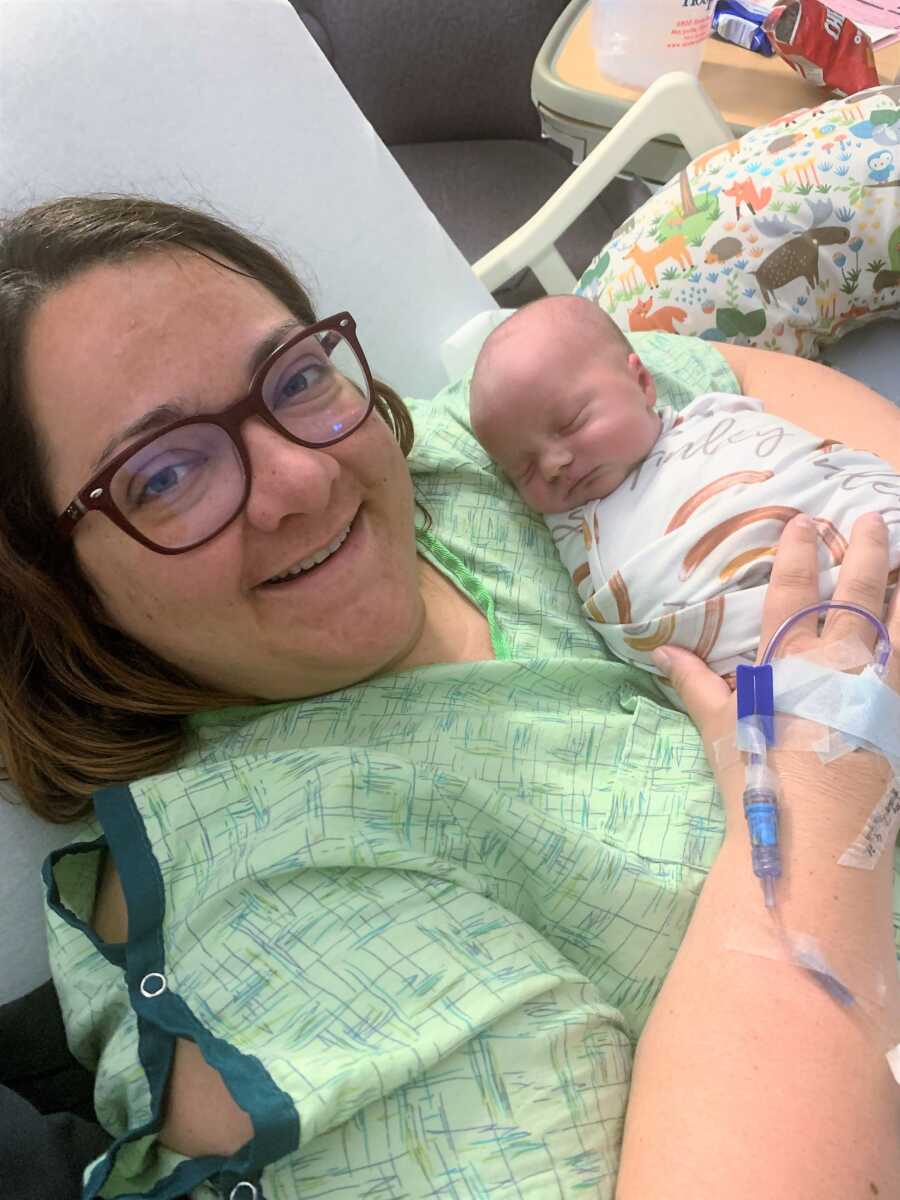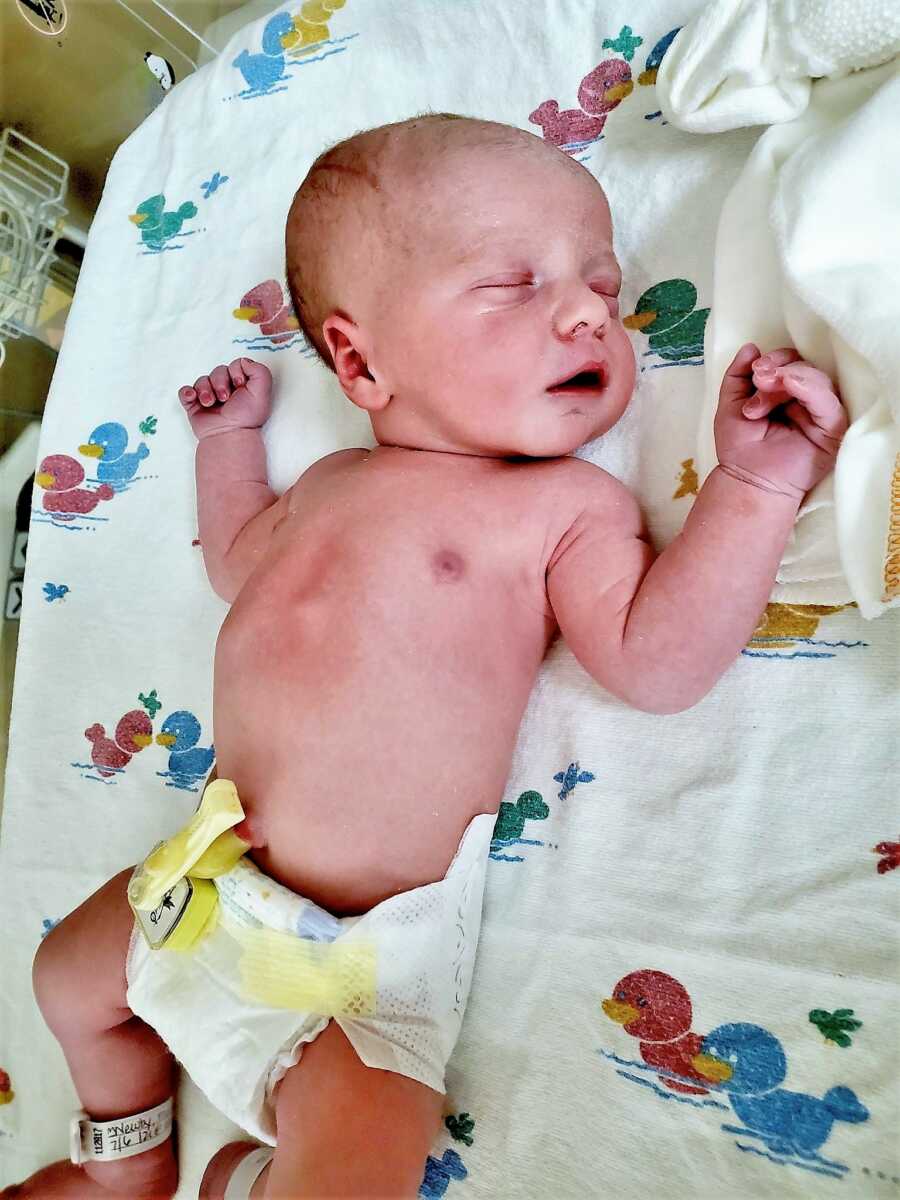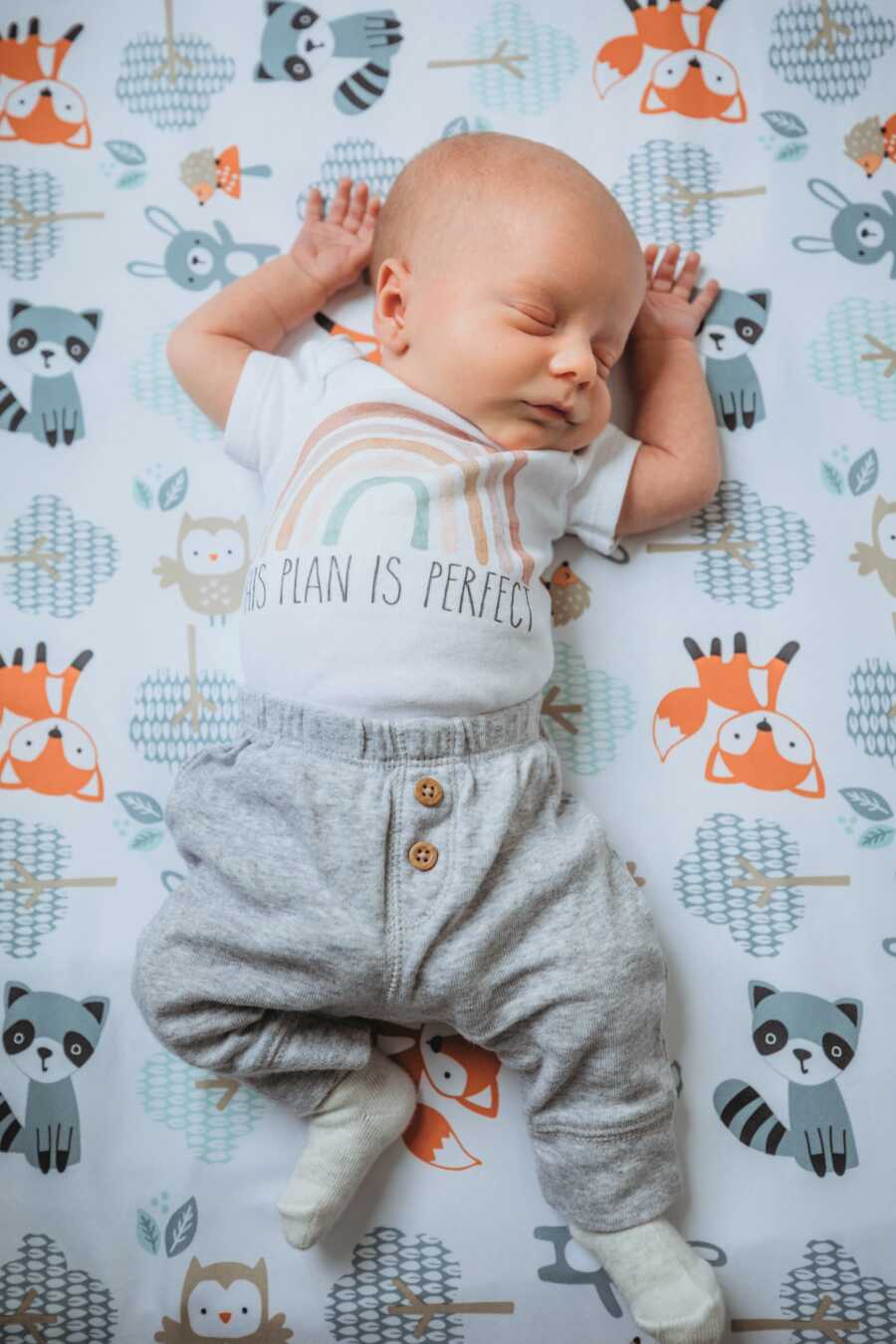 We have come so far in this journey of love and loss. I would not have it any other way. Through so many tears and heartache came the sweetest blessings. We have an angel baby Carter and a sweet rainbow baby, our son Finley. If I have any advice to give it would be to find your people and keep them close, and also to keep your faith. Bad things may happen but there will always be rainbows."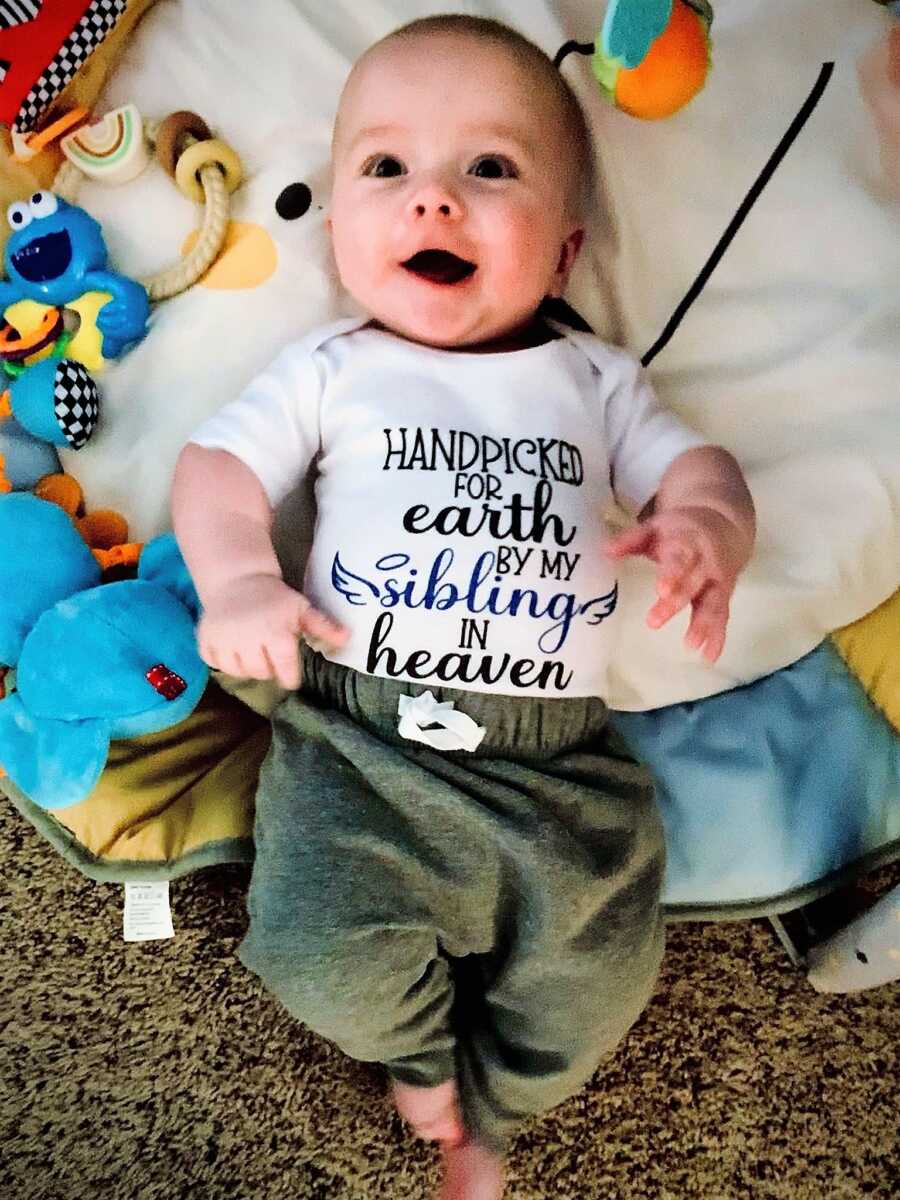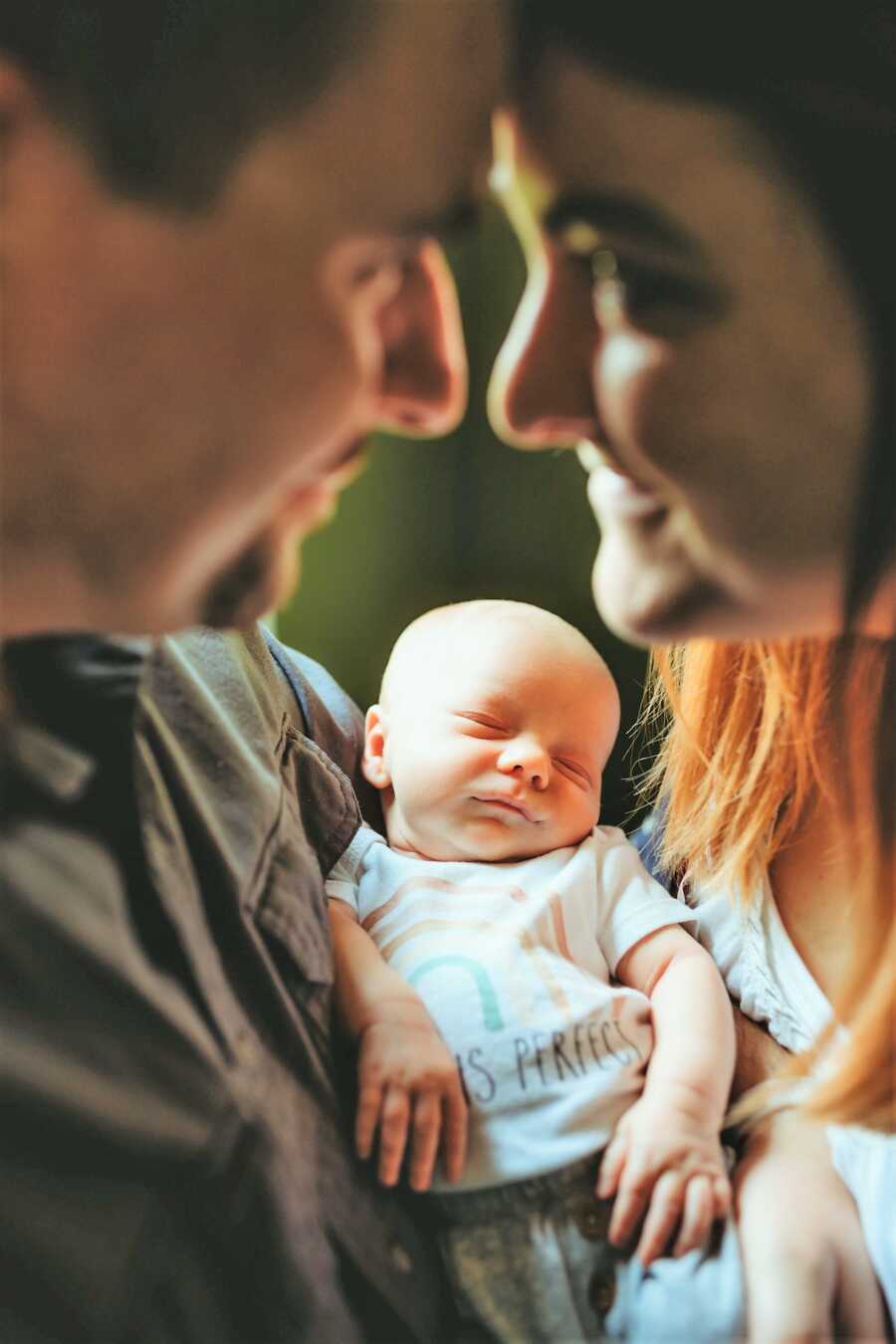 This story was submitted to Love What Matters by Morgan Newby from Illinois. You can follow her journey on Facebook. Submit your own story here, and be sure to subscribe to our free email newsletter for our best stories, and YouTube for our best videos.
Read more stories like this:
'Ummm there are 3,' the nurse said. 'Three what?' Babies! 'One embryo splitting twice is a one in a million chance. We do not see this…ever.': Woman battling infertility, early menopause conceives miracle triplets via IVF
'I told myself, 'If I'm strong enough to make it to the top of Africa's tallest peak, I'm strong enough to take on another round.': Woman gives IVF one 'last shot,' welcomes miracle baby
'After miscarriage 3, all the doctor said was, 'Have you tried Adipex to lose weight? I sell it at my spa.': Woman delivers rainbow baby on cusp of giving up, raises infertility awareness
'There must be a mistake.' Our fling turned into something more. My parents claimed they did something 'wrong' in raising me.': LGBT couple marry, conceive baby through IVF, 'Our hearts couldn't be fuller!'
Do you know someone struggling with infertility? Please SHARE this story on Facebook to help give them hope that miracles can and do happen.