"October 10th, 2017. The day that turned my world upside down. I was scheduled to go to a job interview after being out of the workforce for nearly 2 years. It was scheduled for 9 a.m. My alarm was set for 6:30 a.m. At 6:07 a m. my Facebook messenger dinged and woke me. Still a little groggy, I figured it was a random message from a Facebook friend, the usual 2017 version of some corny chain letter I normally ignore.
Instead, it was a message that read: 'My name is Ashley Motter, and this is going to seem very random. My fiancée just got his results back from Ancestry.com and you were his top match with first cousin or closer. His mother had a daughter that she put up for adoption and your age is right on. If maybe you could shed a little light on this new development, that would be great. Looking forward to hearing from you.' My heart sank, my hands were trembling. I reread the message several times while my mind began to race. Could it be??
In truth, I was adopted. At the age of 3 months I was taken in by the most extraordinary couple. Being adopted was never hidden from me, I knew as early as I can remember I grew in my mom's heart, just not her belly. I went on to have the best childhood anyone could imagine. A childhood filled with happiness and unconditional love. Family vacations and happy memories to last a lifetime. The purest, most blessed upbringing one could fathom.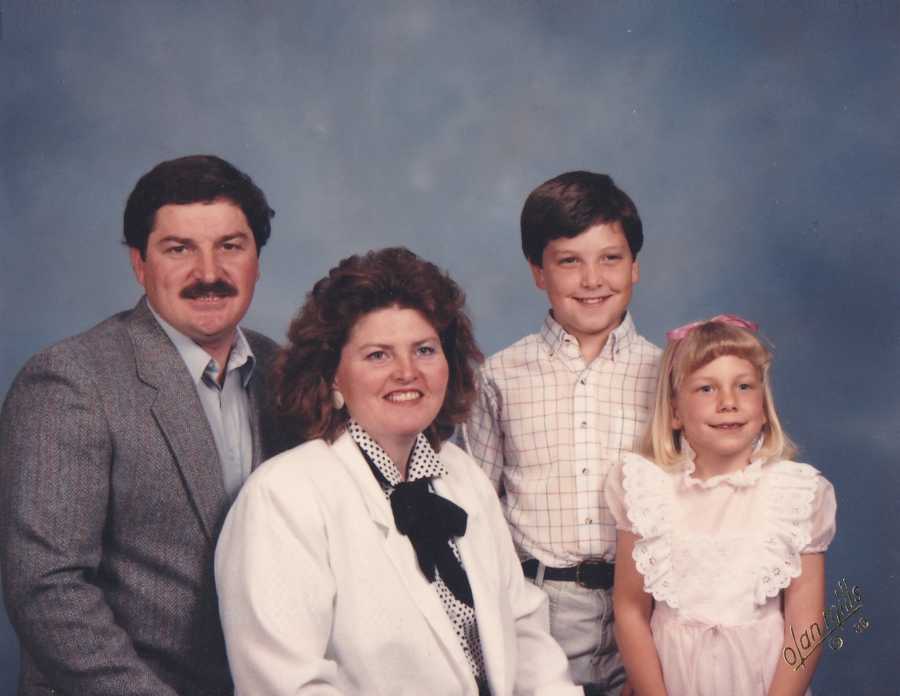 I have a bond with my adoptive family that many people who were raised by their biological parents' envy. I have an older brother that my parents adopted a few years before me from a different birth family. Our bond too, is impenetrable. Polar opposites in so many ways but we share a genuine understanding and appreciation for one another.
I was raised in the home where my parents still reside, in a suburb outside of Minneapolis, MN. My mother and I are as close as any mother and daughter could be. She has been there through thick and thin, to say the least. We have tested every boundary imaginable, yet she always remained steadfast in her love for my brother and myself. I grew up convinced she was perfect. She made motherhood her top priority and couldn't have done a better job. My only complaint is that she never gave herself the credit she so deserves. We share many uncanny similarities that most are legitimately surprised when I share I was adopted.
On top of this, I have a father who I am truly blessed to call 'Dad'. He was beloved by all the kids in the neighborhood and always made time for us kids. The man who I look up to more than any man in my life. He makes always doing the right thing look easy. He made an honest living as a truck driver and providing for his family was a duty he never took lightly. He has always selflessly provided for his family without a single complaint. He never missed a special event and was always there to guide me the best way he knew how.
I honestly could not have asked for a better upbringing and will always cherish them as my family.
Through the years, my biological mother and father were always in the back of my mind. Why do I look the way I do? Where did I get some of my deep-seated personality traits? Nature vs. nurture type of wonders. Throughout my teen years, I really struggled with identity questions. I do not know how much of this was typical coming of age questions or how much of it stemmed from being adopted. Either way, the questions always lingered. I entered my information on a few adoption websites, adoptee seeking birth-mother. I never received any hits. By the time I reached adulthood, I had accepted the fact I may just never know. And I was okay with that. I was honestly at peace with this.
During Christmas of 2016, I had given my Dad an ancestry.com DNA kit. He had just started to dabble on social media and I thought he might find it interesting to explore his own family genealogy. As it turns out, he just was not that interested. Instead of returning the kit, I decided I would take it myself. I knew it provided results tying back to ethnicity backgrounds, so I thought it might be interesting to know some of those results on a global level. What countries/areas did my ancestors originate from? I received the results and it showed some things that I already knew from my adoption records. My adoptive parents had been given few non-identifying details in the adoption paperwork. I had some vague medical background and some general genealogy details. The ancestry results were interesting but by no means earth-shattering. I believe it narrowed it down to me being from a 'Southern European' descent. Really? I could have told you that without a crystal ball. It showed some distant cousins but nothing closer than that. I took it for what it was and moved on. After I got my initial results, I never checked the website again or reached out to the very distant family it connected me with.
About 8 months later, a man by the name of Carl Senarighi submitted a DNA test through ancestry.com to find some answers he was seeking. By a stroke of pure luck, after receiving his results, there was a hit. A match to his DNA that read- Shauna Coble-Possible Range: Close Family-1st Cousin with a confidence of 'extremely high.'
About 3 years ago, after his parents had divorced, his mother pulled him aside to have a talk. She told him (much to his surprise) that she had given up not only 1 but 2 children for adoption. This was prior to his birth and before she married his father.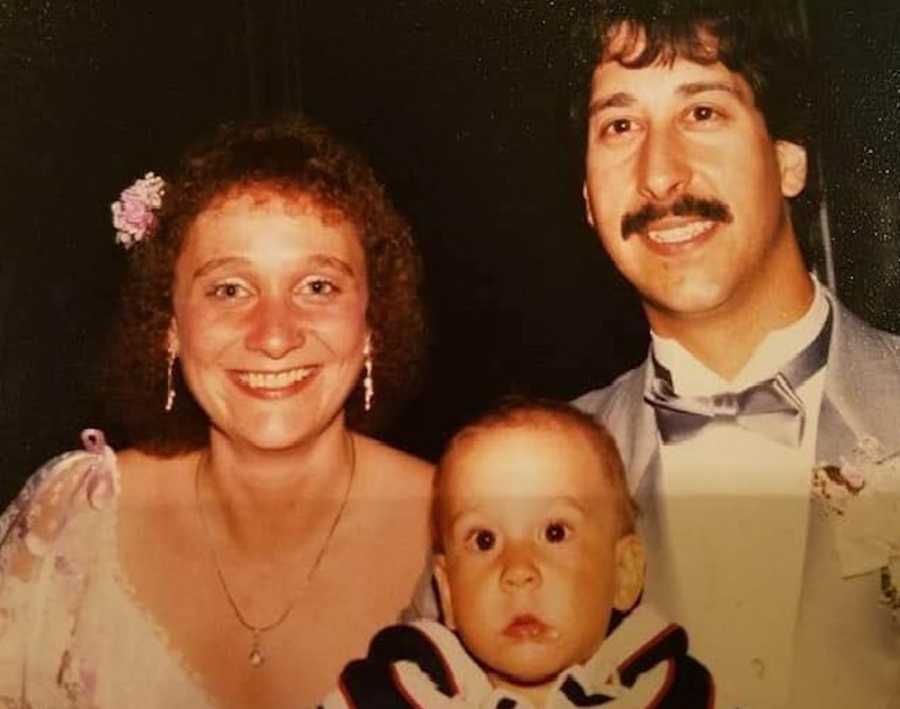 His father had wanted to protect her name and reputation and did not want to cause any unnecessary chaos. They made the decision to keep this a family secret. Carl had gone his whole life, 30 years, thinking he was an only child. I can only imagine the emotions he experienced hearing this news.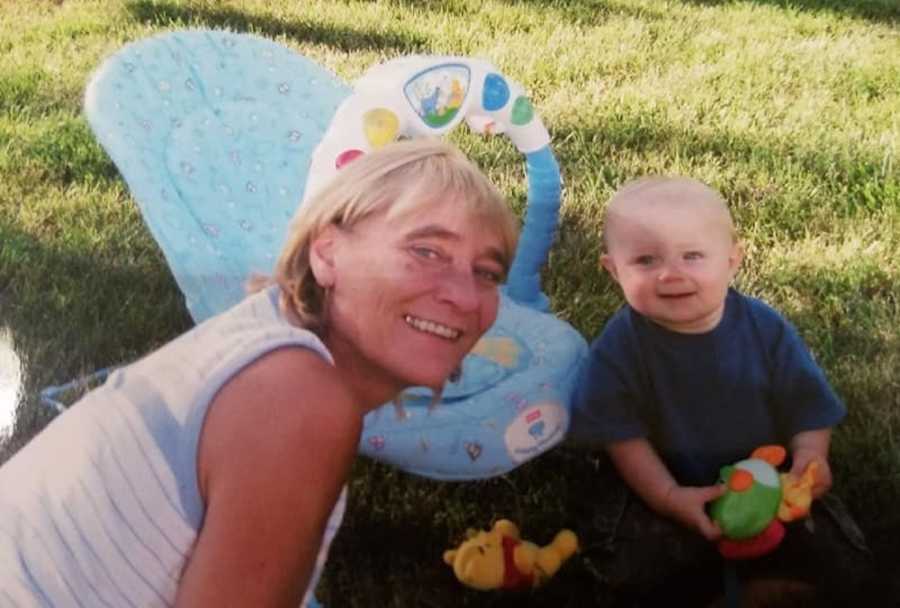 A short time later, Carl's mother, my biological mother, Wendy, was diagnosed with lung cancer. She succumbed to the disease at the young age of 59 on September 12, 2016.
After her death, Carl decided to pursue finding his long-lost half-siblings and knew of a friend that had found their biological family using DNAAncestry.com. He was skeptical but decided it was worth a shot. It worked.
So here I am, reading this Facebook message on October 10th, just hours before my first interview. I immediately called my Mom, who was just as shocked as I was. She was leary at first, taken aback. As I gave her more information, she too realized this was the real thing. After all, birth dates had been confirmed and DNA doesn't lie. I went on to tell a few close friends and family members all while also trying to mentally prepare for an interview. A good friend told me to focus on my interview and 'tuck it in.' After all, I had waited 36 years for this info, I could wait a few more hours before letting it totally sink in.
As the day progressed, I continued corresponding via text and email with Carl and his fiancée. He was able to shed some light on my past and started sending pictures of my biological Mother and their family. I was in complete and utter disbelief. He also gave me the name of a first cousin who was there when I was born that I have since seeked out and formed a relationship with. I look forward to meeting her and other extended family as well.
Carl went on to explain that I was born into a very devout Catholic family. Children out of wedlock were extremely frowned upon but abortion was absolutely out of the question. I was actually born in the family home of my biological grandparents on July 23rd, 1981 in Virginia, MN.
The same day Carl reached out, I was told they knew who my biological father was. This day was becoming more life-changing by the minute. After some digging, I found out he is still living and resides in Arizona. Just knowing WHO he is, is enough for me. I was blessed with such an amazing man as a father that I am not out soul searching, trying to find a dad. I have one. An amazing one. Through family friends of my biological mother, I now know that he did not go on to father any other children. I do not know if his family has any idea that I exist. My intention is certainly not to disrupt any lives; including my own or those of my adoptive or biological family's. I do not need nor want to be a part of his life, my cup already runneth over.
Through the years, one of my greatest fears about finding my birth mother was that she was going to be 'a less than ideal' human being. I have found, through listening to stories from those that knew and loved her most, that my worries couldn't have been further from the truth. In life she was loved by all and had a great deal of compassion, empathy and kindness. I fully understand and appreciate her decision to put my half-brother and me up for adoption. It was a truly selfless act. I have only just begun to get to know her from the eyes of those that cared for her so deeply. It brings me a great deal of peace to find out she actually was the person I had always hoped her to be. Truly, my only heartache is not being able to tell her simply 'thank you' for the life she bestowed upon me.
In the months after our initial point of contact, Carl and I corresponded back and forth nearly every day via text. Sharing stories about our own families and children, making up for lost time.
Today, Carl and I met for the first time face-to-face. It was everything I hoped it would be. We have already built an amazing relationship and I truly couldn't be happier with the way things are unfolding. After our meeting we both agreed that it felt as though we have known each other our whole lives. We both know in our hearts that Wendy has a hand in this from above.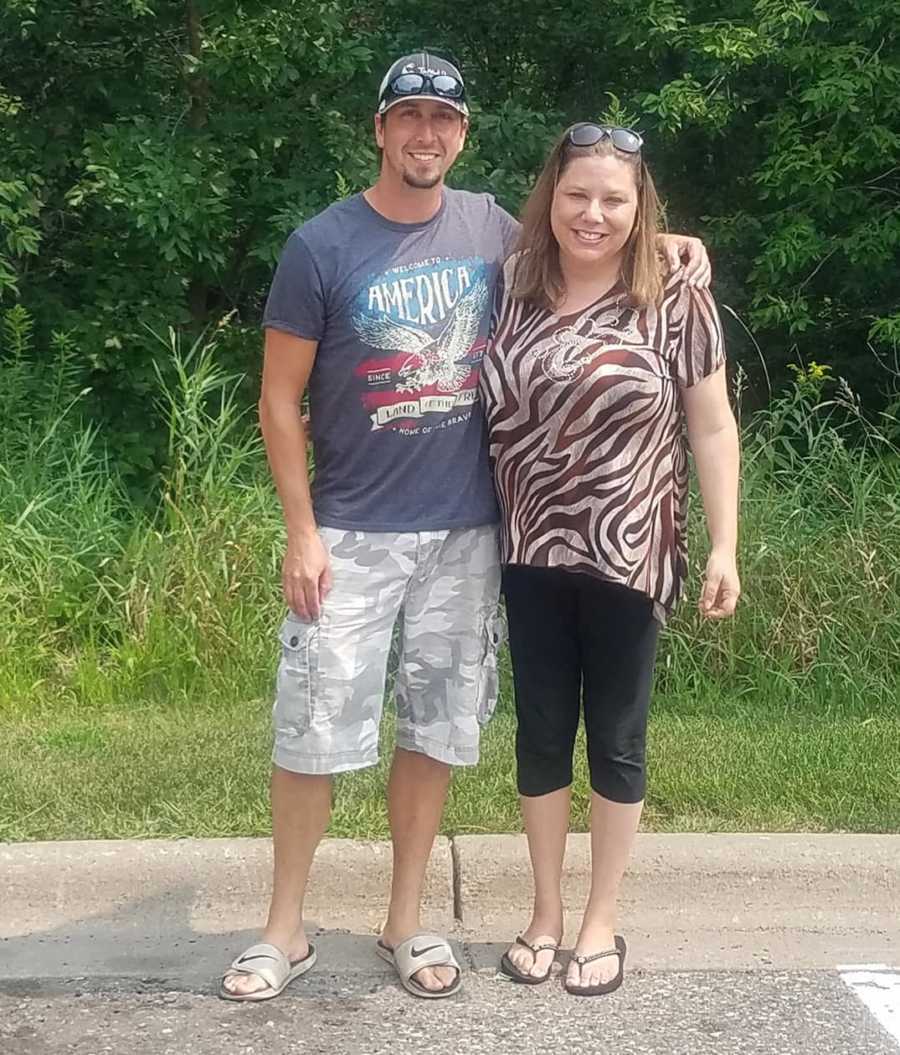 Carl was given a birthdate for our still unknown half-brother. We also know the city and state in which he was born. He is the last missing link. Eventually we hope to solve that final mystery. Only time shall tell what this next chapter may bring. Thank you, Wendy, for giving me the chance to tell this story. I know you are smiling down on us today."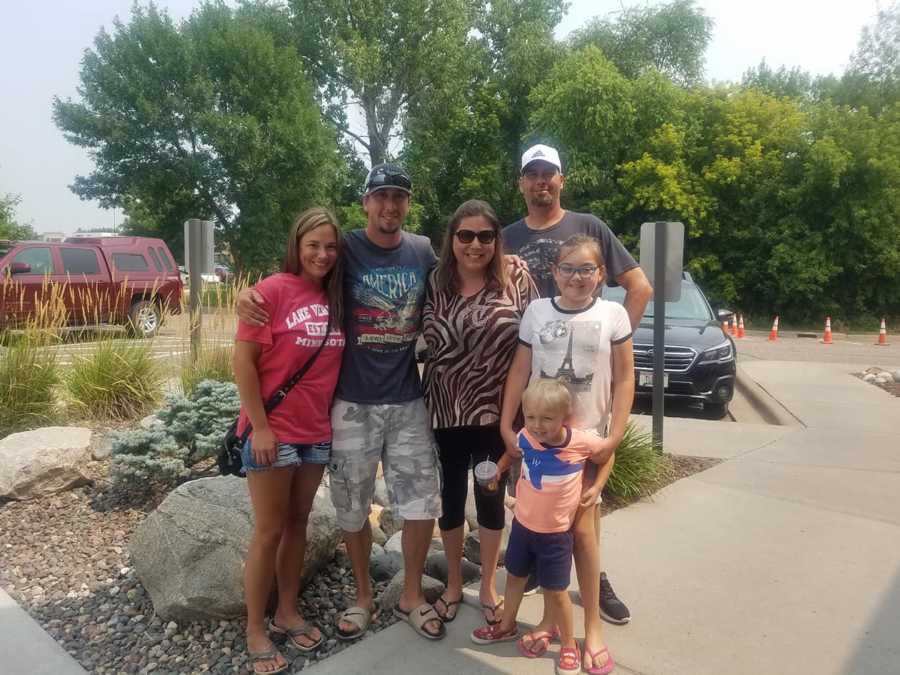 This story was submitted to Love What Matters by Shauna Coble, 37, of St. Francis, Minnesota. Do you have a beautiful adoption story to share? We'd love to hear from you. Submit your story here, and subscribe to our best stories in our free newsletter here.
Read more stories like this:
'The last stop was the frozen aisle. That's when I saw her. I wanted to help. Would she think I was a kidnapper? Her son turned the corner and disappeared. I knew I had to act.'
'I wanted to find my biological parents. My mom told me 'no'. It was a closed adoption. Soon after, a mail order DNA test caught my eye.' Woman 'stuck between 2 worlds' embarks on search for family names
Help us show compassion is contagious. SHARE this beautiful story on Facebook with your friends and family.