"This is a story about a tragic accident my wife was involved in and how it changed our life and marriage, but not the love I have for her. October 25, 2013, Angela, my wife of almost 13 years, was nearly killed after being struck by a NYPD traffic vehicle as she was walking across the street in New York City.
I believe there are defining milestones in our lives we can look back on and see the choices we made and the path's we find ourselves on as a result. It's clear for us, as we look back, God has bigger plans for Angela and me, and this is our story.
Angela's beginning is fairly traditional, in that she married her college sweetheart, John, after dating for 5 years. Life was good for them and after a few years they began their family, having two wonderful children. It was in their 13th year of marriage, while in Tulsa, Oklahoma, when John was diagnosed with a heart/lung disease. Six months later, after a wonderful and loving 18-year relationship, he was now gone. A widow with two young children, 7 and 2 years old. Angela was devastated, grieving, but having to begin the process of healing and finding herself without the love of her life, while continuing to love and raise their children.
Angela stayed in Tulsa as this was home. It is where her family and friends were, and where she wanted to raise her children. It was her faith which saw her through these difficult times, along with family and friends. Time to heal the loss and learn to celebrate the life he brought. She found purpose and life again, not only in her children but in her family, friends, her church, and in serving others.
As for me, after high school, I decided to serve in the United States Air Force. In 1987 I enlisted and began my almost 10 years in the Air Force. It was my assignment to Fairbanks, Alaska, where my next milestone occurred. I married, and instantly became a husband and a father of a beautiful 3-year-old little girl. I eventually adopted her, and we also had a son together. Unfortunately, life got hard and I was not prepared. Our marriage ended and ultimately led to me having full custody of both children.
It was about this time my military enlistment ended and I returned to Tulsa, where my family was. I also needed to begin the process of healing and finding myself while continuing to love and raise my two children.
It was at church here in Tulsa, almost 4 years later, where I met Angela and fell in love. In November of 2001 we were married and began our life together as a blended family with four children — two boys and two girls.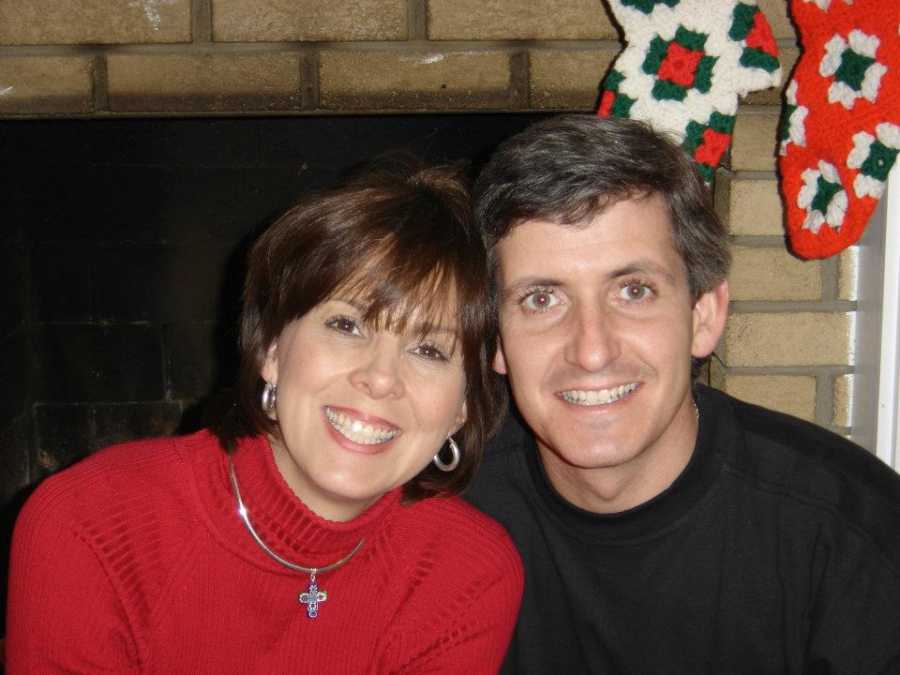 In 2012 Angela's youngest, who had been in ballet since her dad signed her up at the age of two, now 15 years old, had an opportunity to study ballet in New York City. We decided to figure out how to make that work, and we rented an apartment in NYC, and Mom and daughter went to live there while she was training. Our other children were out of high school and all three were attending college. My home base remained Tulsa and we all traveled back and forth on a regular basis.
Angela was struck on October 25th, at 6:15 p.m. Tulsa time. I was still at work in Tulsa when I received a call that Angela had been seriously injured. In speaking with the police and doctors, I learned Angela's injuries were nearly fatal. Her head penetrated the windshield of the car before being thrown to the ground as the vehicle stopped. Unconscious, bleeding profusely, unresponsive, and not breathing. They were not certain she would survive the night.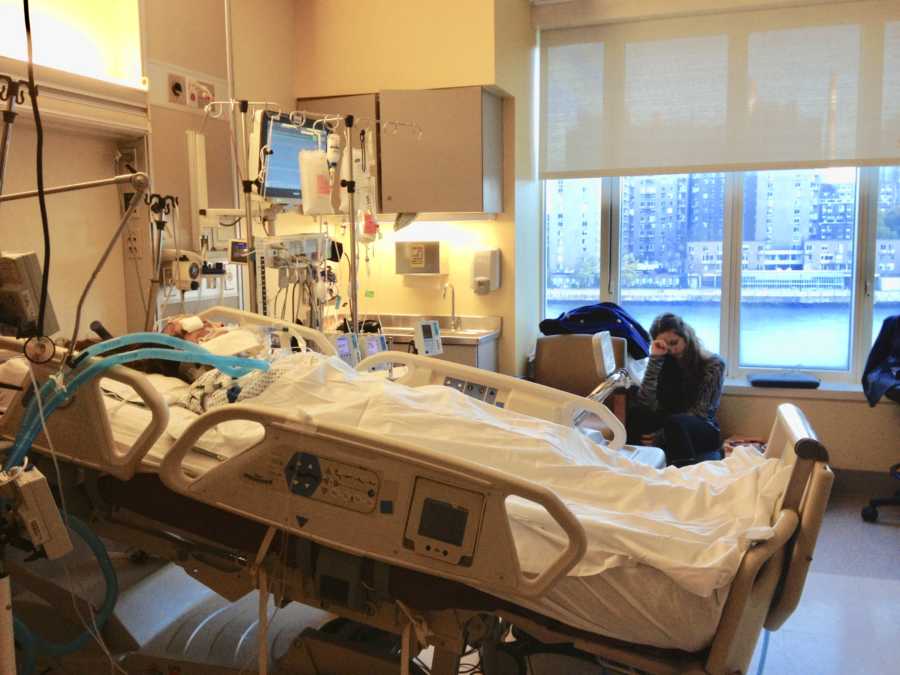 I was numb. I was over 1,300 miles away. At some point during all this, it occurred to me… a co-worker and friend, who lived in the NYC, told me if I ever needed any help with my family while they were in NYC, to give him a call. So I did. He immediately dropped whatever he was doing that evening, left his family, and went to the hospital to be with our daughter and be my eyes and ears and provide me regular updates. What a godsend he was.
A few hours later, I was packed and ready to go. Sitting alone on my bed, quiet and still for the first time. All I could do was pray. I felt helpless. Alone. Uncertain. Fear was flirting with my imagination. It was a very long night.
Something changed in me by the time I got to New York the next morning. I had a completely different attitude. All I had been doing for the past 18 hours was thinking, praying, and preparing myself for what was to come. The unknown. But for the first time, I was at peace as I walked into the hospital room. I was ready for whatever I needed to do.
The details I learned of the day before just amazed me. Angela had been babysitting for a friend and had just left the apartment and was waiting at the bus stop. After sitting for quite some time, she realized the bus must not be running so she began to cross the street.
As it turns out, President Obama was in New York City that day, so yes, the bus wasn't running at that time. As fate would have it, an NYPD traffic officer on special duty in support of the President's visit, was approaching the intersection Angela was crossing. It was just starting to get dark. The vehicle did not have its headlights on. He didn't' see her. She obviously didn't see him. Their paths crossed, and Angela was struck while in the crosswalk at the intersection of East 72nd and York Avenue.
Amazingly, an ambulance witnessed the accident and immediately administered lifesaving care within seconds. From the time she was struck, to the time she rolled into ICU, it had been only 7 minutes. She was also only two blocks from one of the best hospitals in the city. I recall the hospital was in the middle of shift change so anyone who could possibly be needed that evening was there.
Angela's injuries were extensive, requiring life support. She was in a coma and would remain that way for almost 4 weeks. The most significant injury: TBI – Traumatic Brain Injury. Her injuries were horrific, and the outlook was still unknown. I was by her side every day. First as her husband but also as her advocate, insuring she received the best possible care. I oversaw every detail, insuring every issue was addressed. It was an unbelievable ordeal. I continued to maintain my job, keeping up with the children, and maintaining communication/updates with the larger network of family and friends.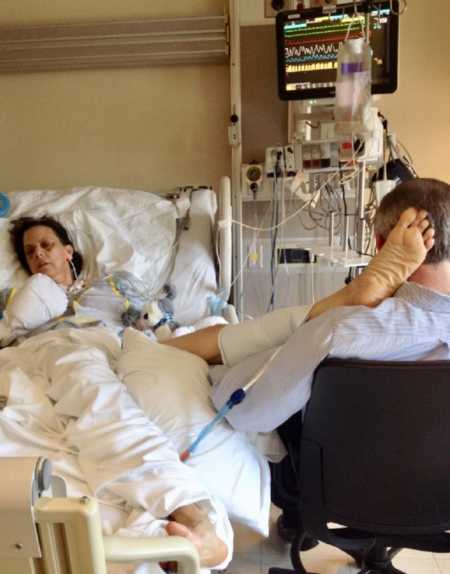 By the grace of God, over the four weeks, her brain was showing signs of cognitive function, eventually coming out of her coma. However, at this point it became apparent how impacted she was. There are many resulting long term effects of the injuries sustained that day, however the greatest was the amnesia-like loss of memory of the past 15 years. Problem was, we had only been married for 13 years at that point. She didn't remember who I was.
She was so confused, unable to make sense of anything at this point. Angela didn't remember her first husband had passed away. She had to grieve his loss all over again. She also could not remember her father had died several years earlier. It was overwhelming.
Our relationship in many ways hit the reset button. We had to start all over again: friendship, trust, affection, hope, faith… all the things which built the relationship the first time. I was 100% responsible for making it all happen again, as she just wasn't capable in the few years following the accident.
She spent the next four weeks at New York Mount Sinai Rehabilitation Center in their inpatient facility. Again, I was by her side every day. It was at this point I started to realize this was the beginning of the most difficult and challenging time I had ever experienced. By far the most emotionally difficult time of my life.
I never questioned my commitment and dedication to our marriage. I had this unexplainable strength and patience. The nurses keep telling me how unusual it was to have someone so dedicated and ever present, showering Angela with love and protection. I just knew this was the beginning of the rebuilding of our relationship and I felt I needed to be the central point of her care. The arm to steady her, the hand to help her, the person walking with her, fixing meals, appointments, driving her, praying and going to church with her. Probably at the expense of relationships with all other family and friends.
I continue this commitment today. The reality is Angela has peripheral blindness and will likely never drive again. Long and short term memory issues still affect her daily. Nerve damage and pain impacting her arm and leg on the side she was struck. She has balance and motor function issues which prevent her from things like running, playing the piano, and it makes stairs a risk. Unfortunately, Angela's memory of the relationship with my two children was also impacted. It's been difficult.
On top of all that… It was 3 years after the accident when Angela was diagnosed with Chronic Lymphatic Leukemia (CLL). The news was difficult to get our heads around. Fortunately, it was identified early, and we are in a monitoring mode as treatment is not necessary at this point.  It's been about a year and her blood count remains stable.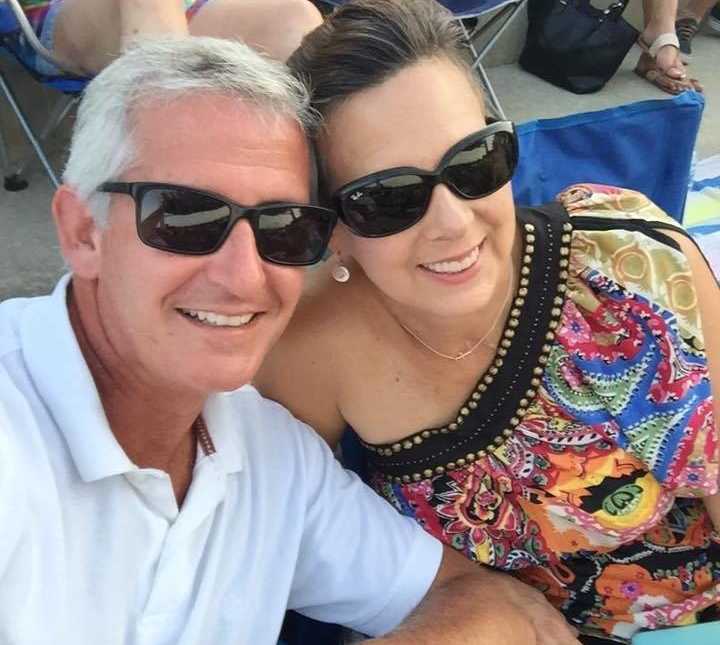 It has been 4.5 years now and we have been through a lot, and come a long way. We have spent a lot of time looking back at those significant milestones in our lives, attempting to fill some of the missing years in her life. I also spent a lot of time looking at all the years of pictures we have. I've placed pictures all throughout the house in hopes they would become familiar to her. Over the years I took walks with her in places she should be familiar with, both in New York and in Tulsa. Memory walks I called them. Sometimes she would remember something about it, so we would go in and see what happened next. It always amazed me how many times the people inside actually knew her and had been wondering how she was doing. Those were very emotional times. It really meant a lot to our relationship having all these experiences together. We were dating all over again.
I felt however, there was one more milestone I needed to create.  The last few years really gave us a chance to relive our lives as husband and wife, however, she still had no memory of our wedding. I wanted to create a significant memory of a wedding ceremony. I had been planning this in my head for a couple years.
On June 16th 2018, Angela and I renewed our wedding vows on an absolutely perfect day in Central Park, surrounded by some of those amazing doctors and a few of our close friends who helped us through those years. The new memory was perfect in every way. What a blessing to be able to do it all over again. I mean, she is falling in love with me a second time.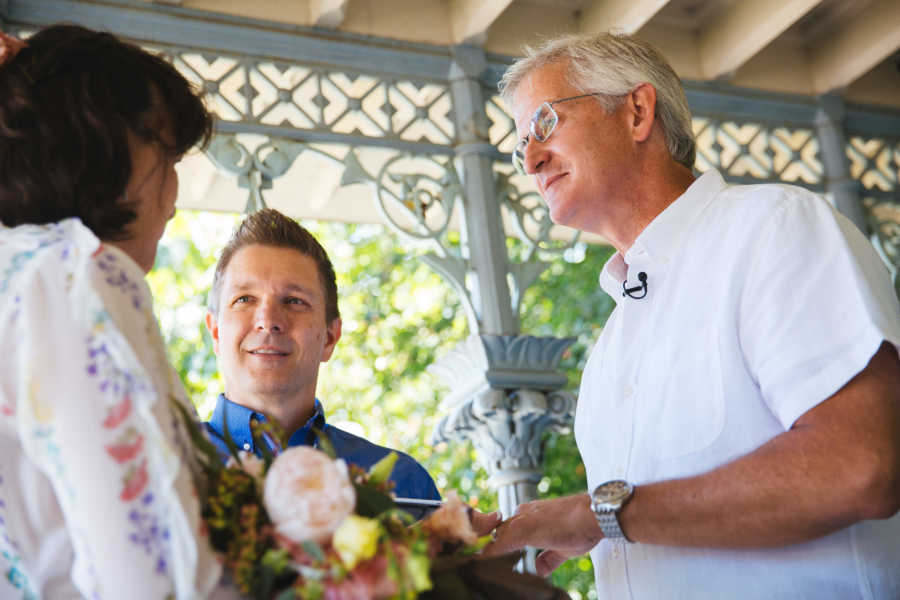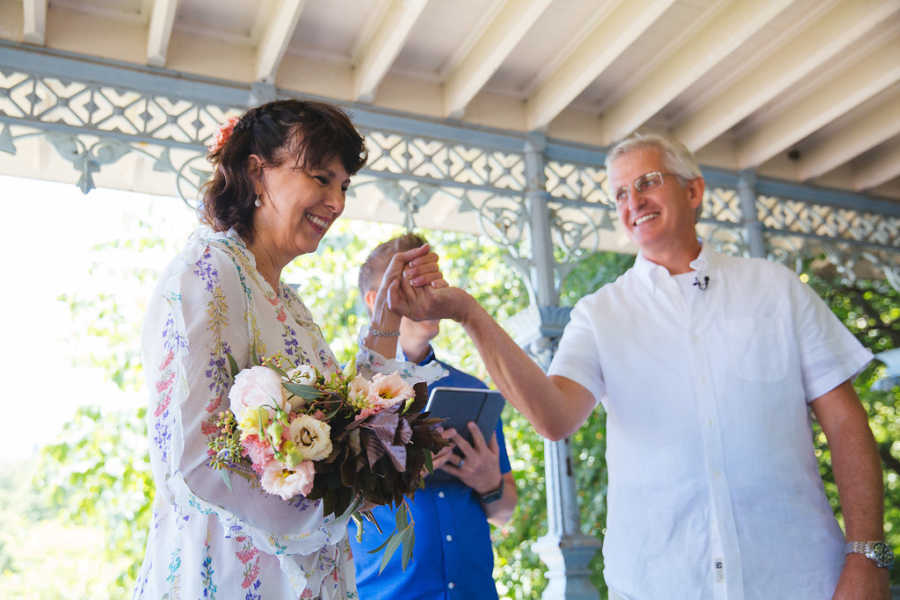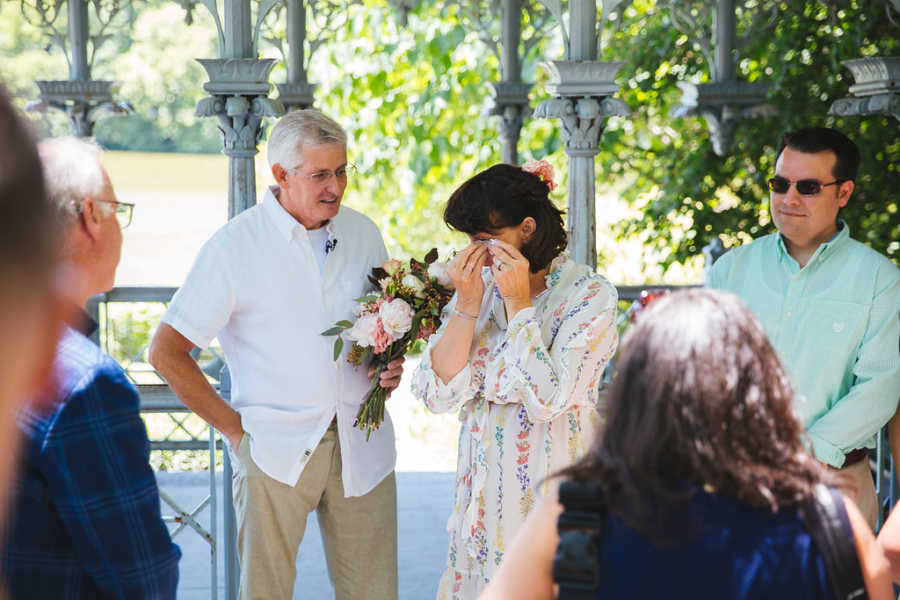 Our story is still in the making, and we are left to face many challenges. However, we have finally begun to discuss the possibility of a, 'What Next?' We are looking forward to figuring out the answer to this question. We are fortunate! I feel like we get a second chance. God is good!"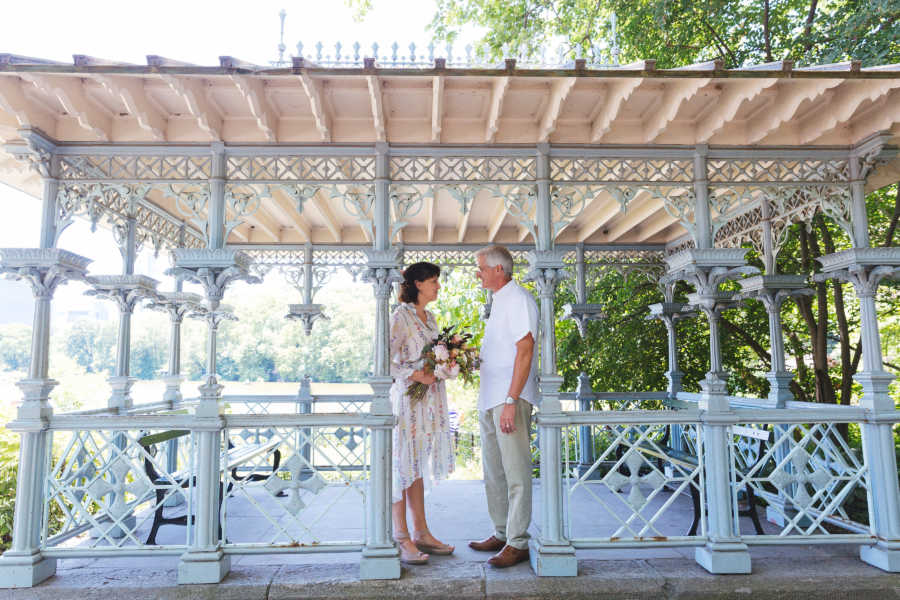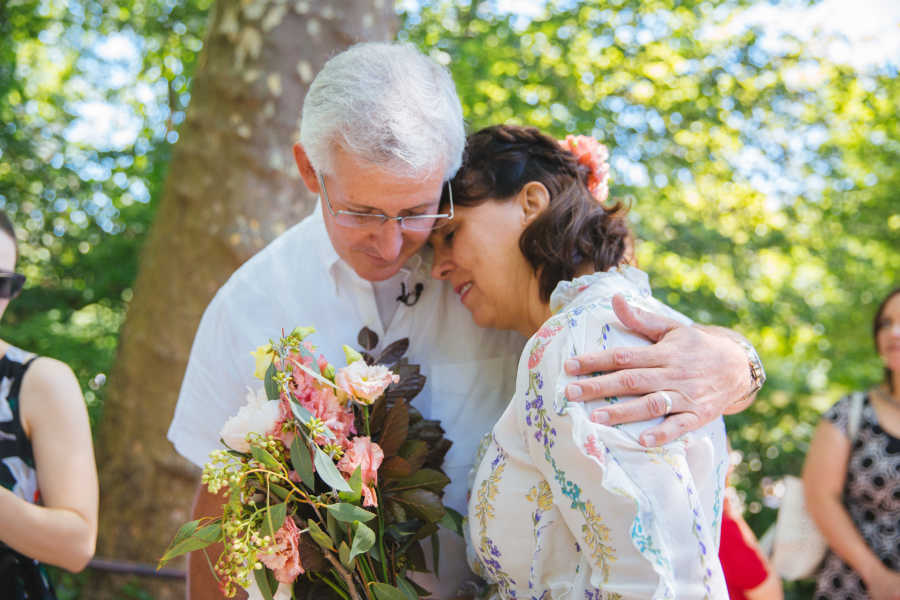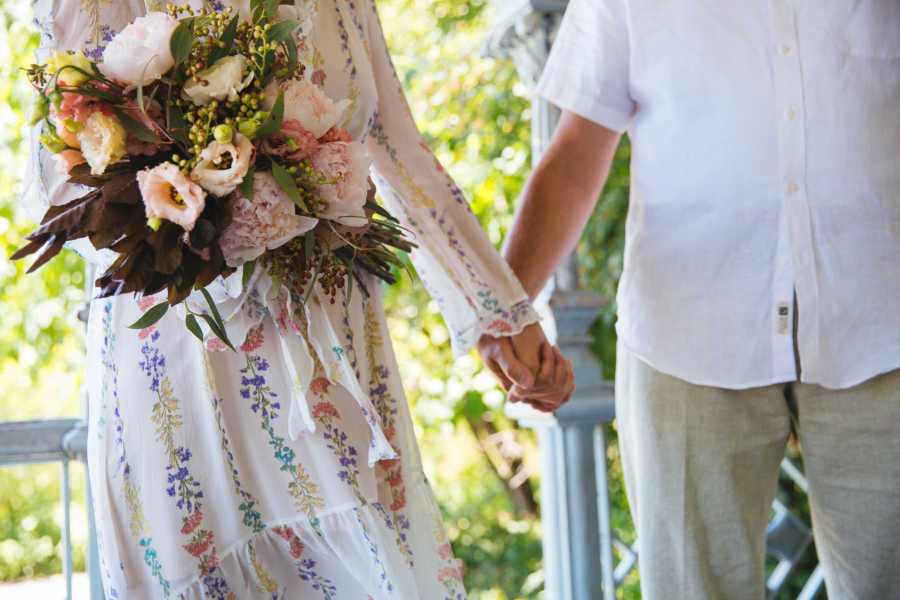 This story was submitted to Love What Matters by Jeff Hartung of New York City. Subscribe to our free email newsletter, Living Better—your ultimate guide for actionable insights, evidence backed advice, and captivating personal stories, propelling you forward to living a more fulfilling life.
Help us show compassion is contagious. SHARE this beautiful story on Facebook with your friends and family.