"Hi, my name is Courteney. I've been fighting a larger than life battle with mental illness for as long as I can remember. From the outside I look like the average 22-year-old but this year alone I've had over 20 suicide attempts. I struggle with depression, anxiety, borderline personality disorder, PTSD and self-harm.
I've suffered from anxiety and depression since I was a child but everything changed when my best friend in the entire world took her own life. When I was 12 years old, my older sister died by suicide. She was my whole world. Soon after her death I started self-harming as a way to try and deal with the tragedy of losing my sister. Her death turned my entire family's life upside down. I didn't want to add to everyone's sadness so I began hiding my depression and my scars and swore no one would ever see anything but a smile. The pain of losing my sister was just too hard to bear so I buried it deep down.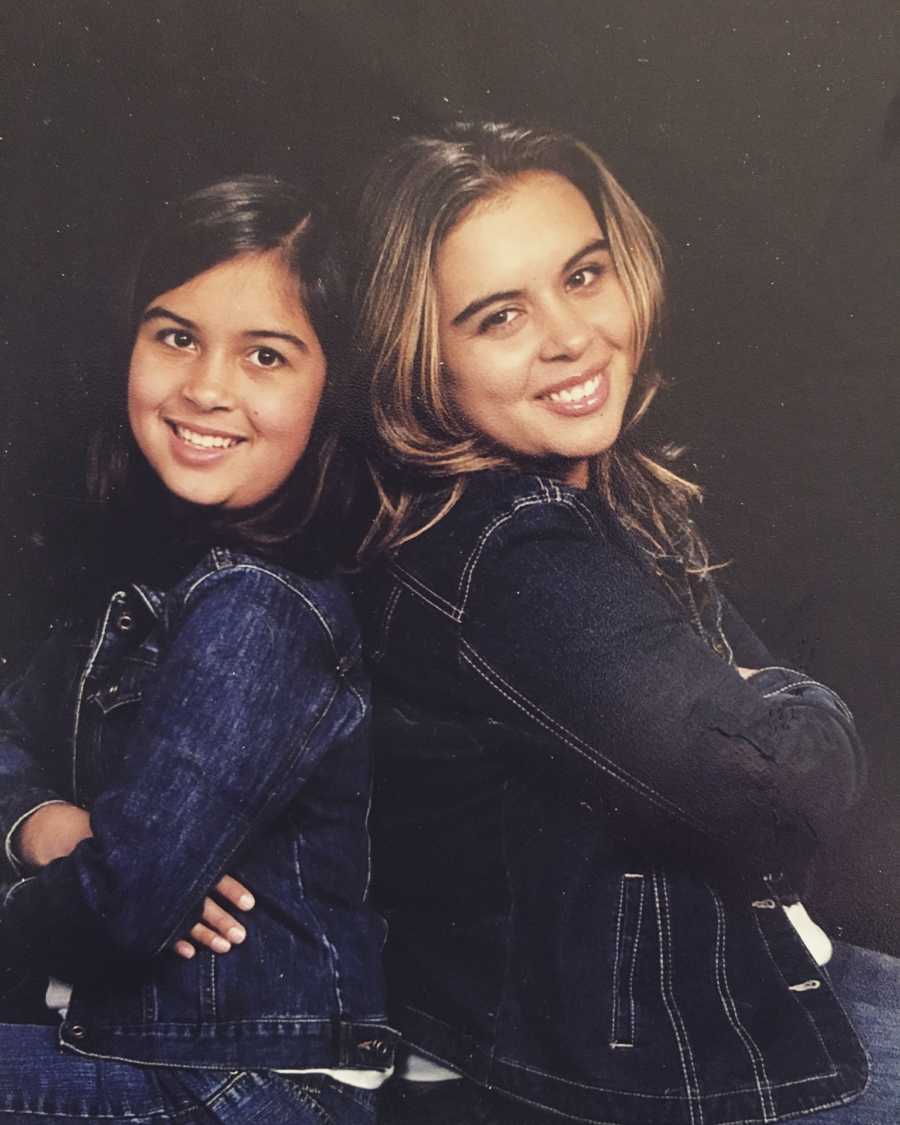 In middle school, I was often bullied. It didn't help that I had Bell's Palsy for most of seventh grade so the kids often laughed at my face and called me names. I was so self-conscious and hated myself more and more each day. I couldn't control how my face looked, but I could control how I looked. This was the beginning of my struggle with an eating disorder.
In 10th grade I went to a public high school after being home-schooled. I was severely bullied. I would get pushed, things thrown at me, called awful things and when I would go around at lunch asking people to sit with them every group would tell me no. I would sit by the trashcans and get food thrown at me. I felt worthless and like I didn't matter. I couldn't hide everything with a smile anymore. Even though I had struggled with depression for years, it was at age 16 that I thought about suicide for the first time. I had my first attempt and spent every single day wishing to die.
After experiencing major trauma and struggling with mental illness for so long, things got extremely bad at age 21. At 21, I was hospitalized for the first time after an overdose. I was on the mental health unit for 36 days and then went to residential treatment in Florida for 6 months. During that time I was diagnosed with borderline personality disorder and had trouble accepting this new diagnosis. I came back to Alaska and lasted about a month before having such a severe attempt that I ended up in the ICU for the first time. I felt beyond defeated ending up back in the hospital after so many months of treatment.
I ended up being hospitalized several more times with attempts almost every week. The mental health unit got to the point where they wouldn't accept me anymore because they said I was too critical for them and they couldn't help me. I continued to attempt and avoided going to the hospital. I felt absolutely helpless and miserable. I was determined that one of my attempts would work.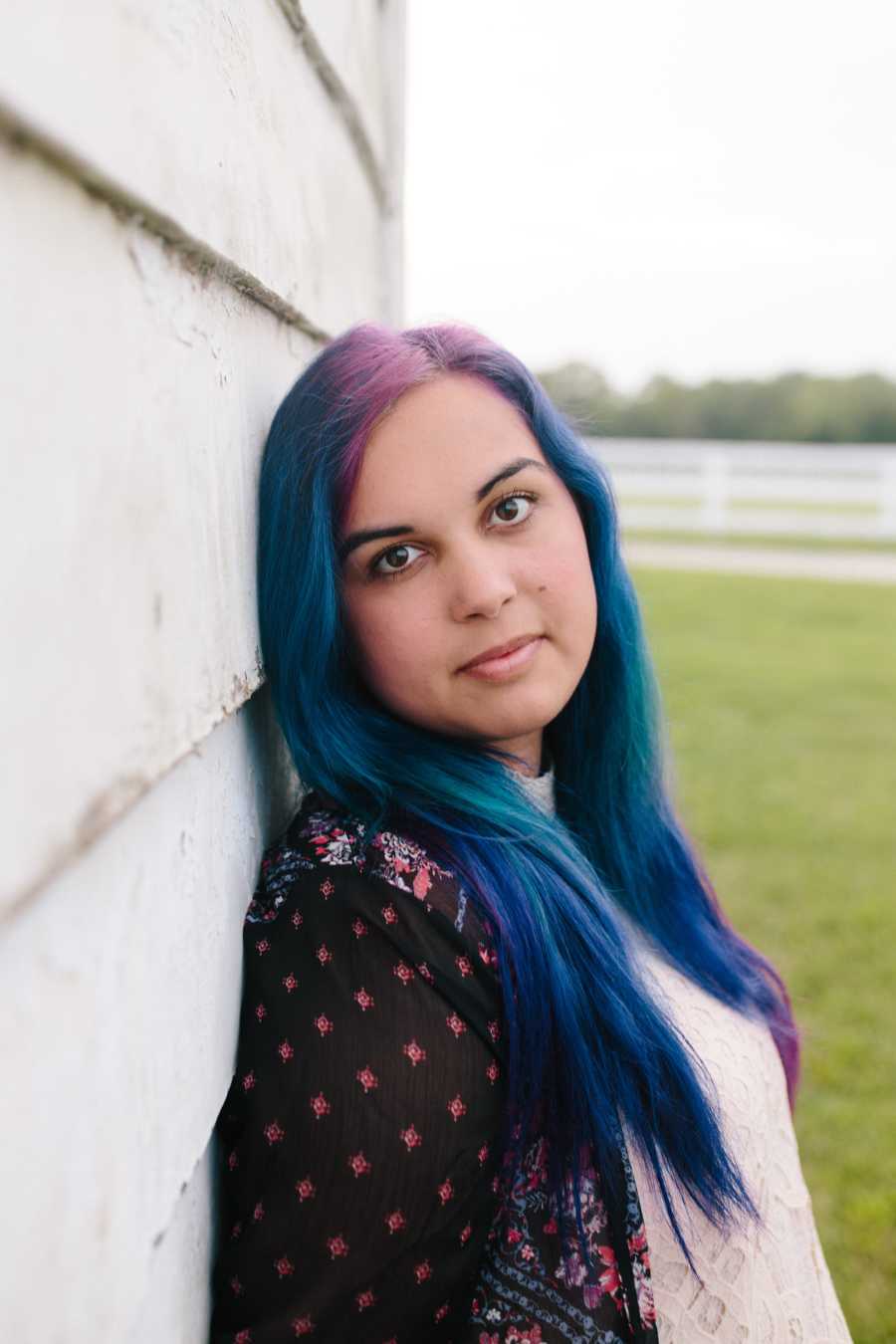 This past April I had an attempt that was again severe enough to put me the ICU. This one put me closer to death than I had ever been before. I couldn't hear, and I faded in and out. More doctors and nurses than could fit filled the room. I had multiple IVs and in one they gave me potassium. The potassium burned through my body so bad that I began crying. They drew blood every 30 minutes to check my kidney and liver function. They asked me if I had signed a DNR and if I had an advance directive. They told me to call family that I wanted to be with me. I felt like death was near. I ended up pulling through and after 4 days was sent to another medical unit. It was there that I was given the dreaded news that I would be court ordered to go to The Alaska Psychiatric Institution (API).
I spent 69 awful days at API. The only place I could think of that would be worse is prison. At API I witnessed things that still haunt me. I was sexually assaulted and had some of my very worst days here. I was on every precaution they had. I slept with no sheets, no pillow case and a cold safety blanket. I was ordered to stay out of my room during the day, only allowed to eat finger foods and couldn't leave the unit. I was truly treated like a criminal for having a mental illness. I stayed in this place until it was decided that I was getting worse and not better and they couldn't help me. I had been given up on by every mental health professional in the state of Alaska.
I returned home traumatized and worse off than when I entered API. I didn't know how to live after being in that place for so long. That night my heart was heavy and hurting. I didn't see a glimmer of hope. Nowhere could help me, and I was done. I attempted suicide and self-harmed. The next thing I know is that I woke up confused. I wasn't supposed to wake up, but I did, and the ambulance had just pulled into my driveway. My good friend had called 911 on me. They quickly took me out on a stretcher and raced to get to the hospital as the sirens were blaring. They put an IV in as they said there was no time to wait and gave me oxygen as mine was quickly dropping. I entered the ER and they worked on stabilizing me. I had 4 different IVs, a catheter, blood drawn from 3 different places, was given 4 different shots around the clock and was told to drink charcoal right that second or they were going to insert an NG tube. I was told if I didn't come in I would have died, and they were still waiting to see if my organs shut down. I was moved to the ICU and spent 4 days there.
I was sent to API again but only spent 5 days there, then was sent home.
Despite all my struggles and attempts, I'm still here. I'm fighting every single day. It takes everything to make it through each second but I'm surviving. I'm here.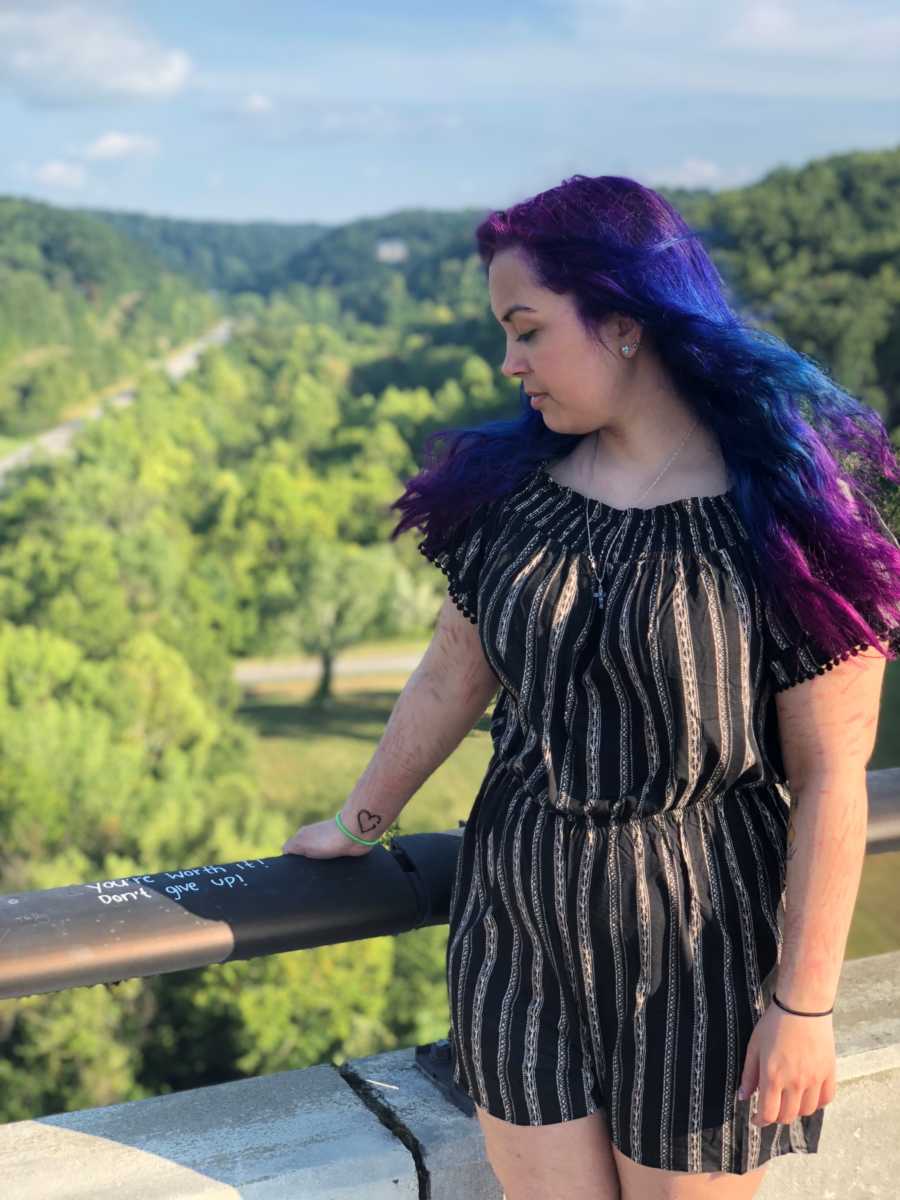 On August 10th, I went with my good friend Lauren to the Natchez Trace Bridge in Franklin, Tennessee. Many people come to this bridge to end their life and we wanted to write messages of hope to encourage others to not end their life. Being suicide attempt survivors ourselves, we know how hard life can be and know there were times we could have used a kind message. We hope seeing the messages we wrote will stop people from jumping during their darkest moment. We aim to spread light."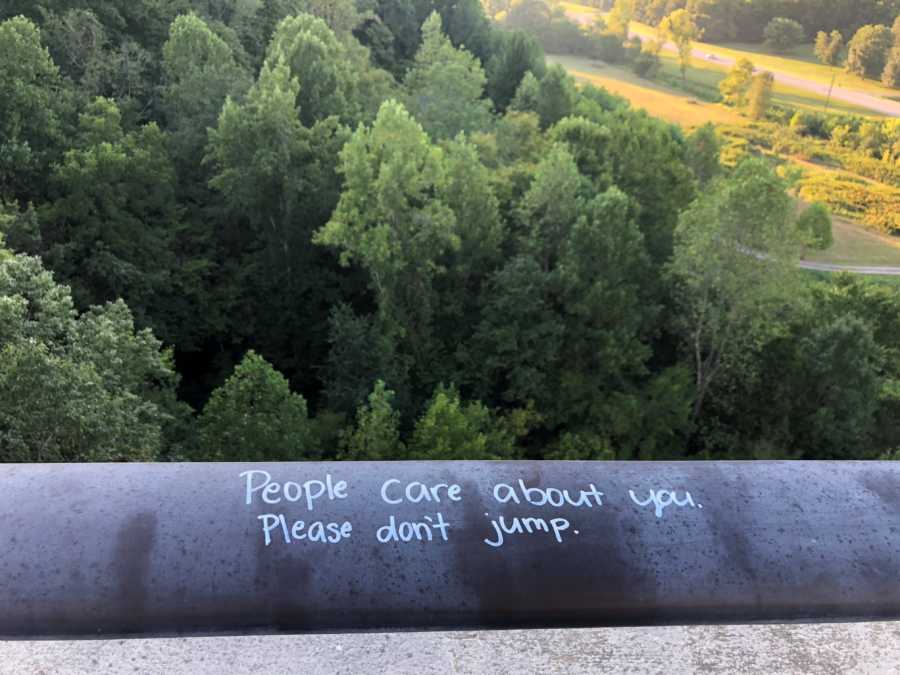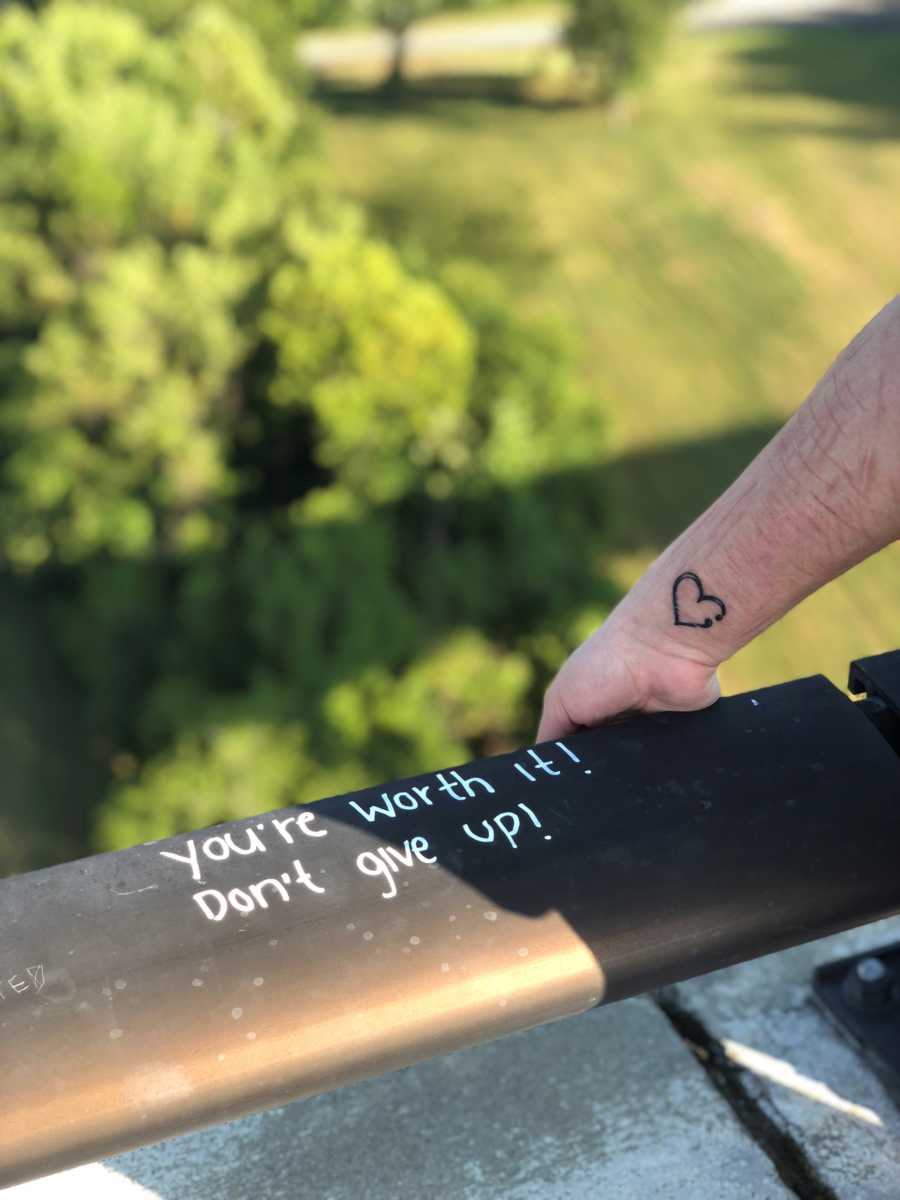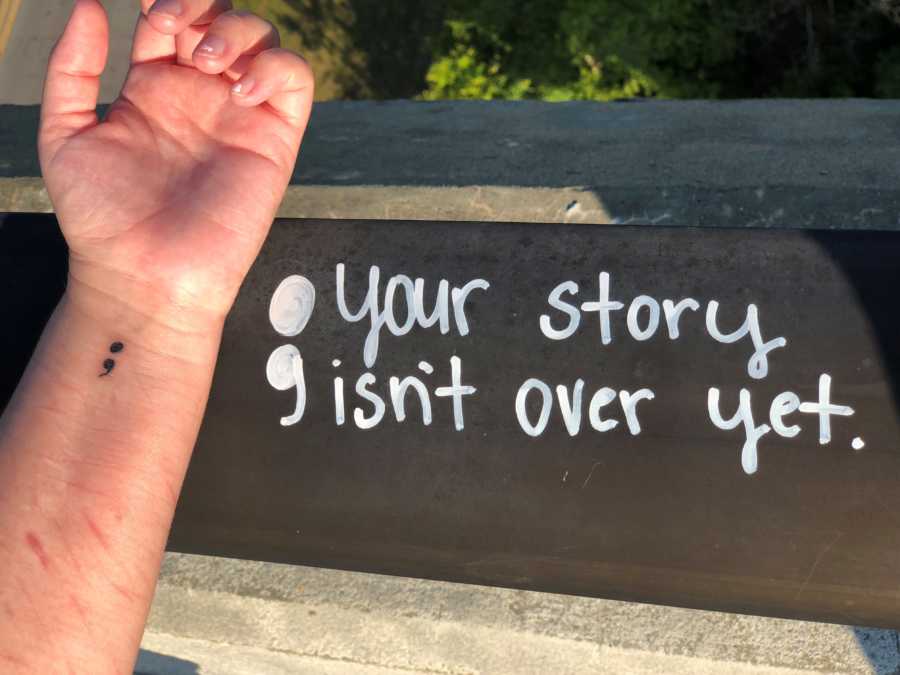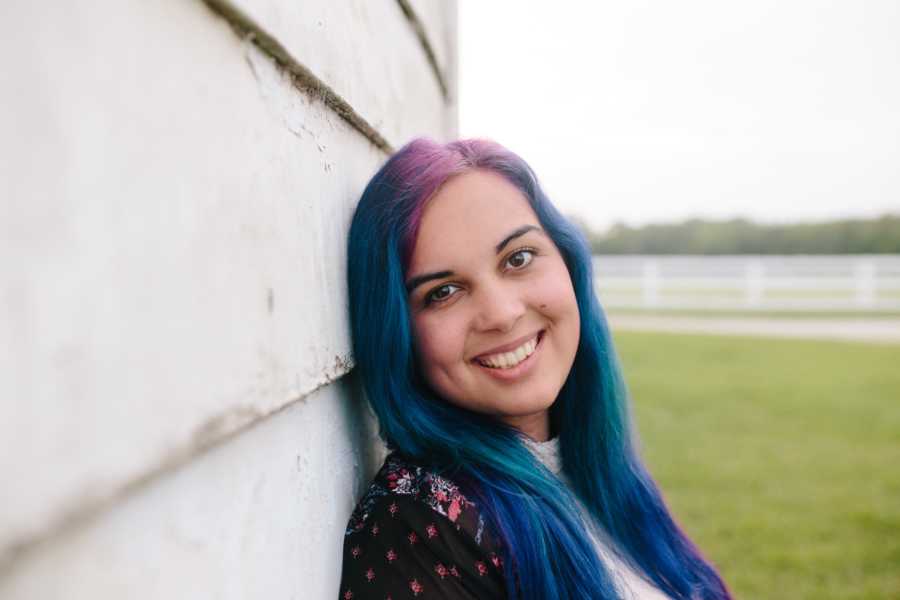 [If you're thinking about hurting yourself, please call the National Suicide Prevention Lifeline at 1-800-273-8255 or visit suicidepreventionhotline.org to live chat with someone. Help is out there and you are not alone.]
This story was submitted to Love What Matters by Courteney Vidal, 22, of Anchorage, Alaska. Submit your own story here, and subscribe to our best stories in our free newsletter here.
Provide hope for someone struggling. Please SHARE on Facebook to let them know a community of support is available.