"Bringing home, a newborn for the first time was the hardest thing I've ever done in my life. I had never been more exhausted, more worried, more emotional or lonely in my life.
Every single mother I met had it all together. Except me. They could all make appointments on time and have their kids dressed and their hair done and manicures, except me. All of their babies SLEPT! Except mine. I felt like I was failing, and I didn't have it all together. I was surprised when recently I was asked for advice because I was told I looked like 'I have it all together'.
If I could give a new mother advice it would be this:
I promise you I don't have it all together… and YOU don't have to have it all together and you won't have it all together. Everything you do is a win, even if it's not getting dressed and staying in pajamas and just surviving. Even if it is using tissues to wipe your butt because you're out of toilet paper and wipes to clean the house. It's a win.
Breastfeeding is hard, and has it rewards, but there's reward in your baby being fed and formula is great too. Don't beat yourself up with the way you've given birth… vaginal births are amazing and so are C sections – you're not a failure in any way… you are a winner (and you're so allowed to mourn the way you wanted it to go as well.)
Routines are amazing, but some days baby is on their own schedule, don't beat yourself up if you both sleep till 12 p.m. after being up half the night. Feeding to sleep, rocking to sleep, dummies…it's all part of the haze and sometimes it extends beyond, don't let anyone make you feel guilty for it. Do whatever works for you. When you're both asleep doesn't matter how, it's a win.
This a picture of me where I appeared to be blissfully happy to everyone on the outside but drowning in postnatal depression and anxiety because I expected to have it all together. Don't believe social media or the moms who appear to have it together, sometimes they're suffering too, just in silence. Don't compare, we are all going mad… but we all don't know that we are winning.
Some days you'll feel like you've aced it, you'll get dressed, get a manicure and brave the day, and some days that manicure will chip, you won't have time to shower and the only thing you'll be able to muster is putting on a bra. But it's a win, it's always a win.
That's what it is to be 'having it all together'… in this crazy hood we call motherhood there's a lot of dark alleys and winding roads, but it's a lot of rainbows and sunshine too, and every day you navigate through it, is a win."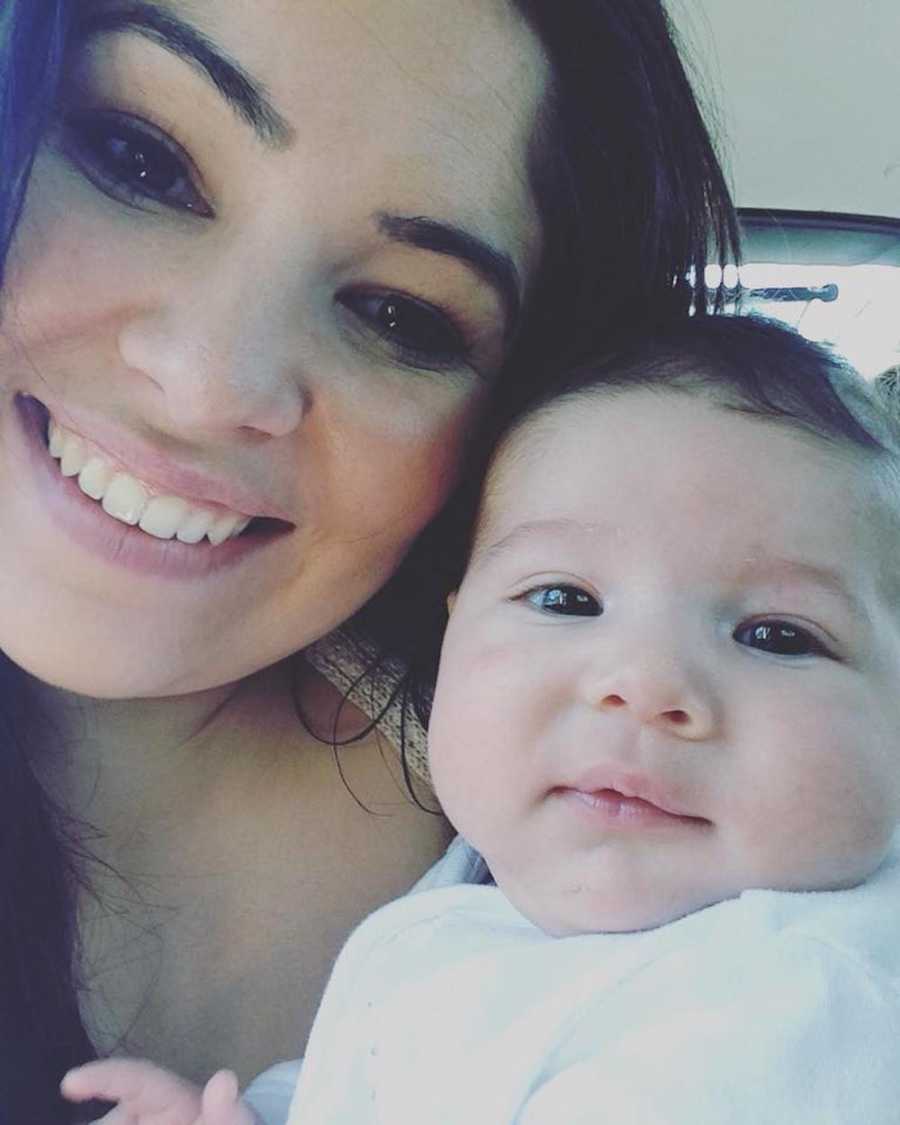 This story was submitted to Love What Matters by Laura Mazza of Mum on the Run, where it originally appeared. Submit your story here, and subscribe to our best love stories here.
Do you know someone who could benefit from this story? Please SHARE on Facebook or Twitter.