"This is the moment when my sister met the woman who saved her life.
In 2009, a young woman, Kara, donated blood and was asked if she wanted to sign up on the bone marrow donation registry. She agreed without much thought, swabbed her cheek, and went on about her day.
In 2013, she got a call. Because in the months before, while she had been living her life as normal, my little sister, Kari (yes, their names are only off by one vowel) had been diagnosed with leukemia. Kari was 29, a pastor's wife, and a stay-at-home mom to my nieces–then aged 6, 4, and 2. Kari's body was making broken blood, and her only chance to live was through a bone marrow transplant.
For various reasons, the donor and recipient aren't told much about each other. A year after a transplant, they are given the opportunity to get information about each other. So, knowing almost nothing about my sister–only that she was a woman who needed help–Kara immediately agreed to donate. For months, my sister was all but isolated in a hospital room in Chapel Hill, NC. But while Kari was going through chemo, Kara was about six hours north, preparing her own body to donate. Then one August day, Kara went into a hospital in DC, and she filled up a bag with her peripheral stem cells. That bag, no bigger than a normal blood donation bag, was literally life's blood to my sister.
It was immediately taken to NC where it was transferred to Kari. Over the next weeks and months, I saw my little sister grow healthier and stronger. She got out of bed. She got out of the hospital. She celebrated her youngest daughter's third birthday at home. The doctors said Kara's blood had fully transplanted Kari's, and the leukemia was gone.
The following August, my sister and brother-in-law decided to renew their wedding vows for their 10-year anniversary. It was a couple of weeks short of the one-year bone marrow transplant anniversary, but the powers-that-be decided that they'd bend the rules a bit to allow Kara to be there for the vow renewal. They bent the rules, but not much. Because Kari extended the invitation through the bone marrow registry, and she only knew that the donor agreed to come and was coming from about six hours away. Kara was only told that it was her recipient's vow renewal and given an address to a hotel where she would be staying.
Kara got caught up in some traffic and arrived literally minutes before my sister was about to walk down the aisle. And when she arrived, Kari didn't know her name, didn't know her face, didn't know her story…but she knew that this was the woman who had given the very marrow of her bones to save her life.
There's not a word that encapsulates the feeling that Kari and her family have toward Kara. Appreciation, thankfulness, gratitude…those are all pastel words for a feeling that is achingly bright. But the look on my sister's face. That's the feeling.
I got to sit beside Kara during the vow renewal. Got to see her face overwhelm with emotion when she saw my nieces walk down the aisle as flower girls. Little girls she didn't know existed 15 minutes before. Little girls who still had a Mommy because five years earlier Kara said yes and swabbed her cheek.
This is a happy story with a sad ending. Three years after the bone marrow transplant, Kari's leukemia came back and overwhelmed her body before she could receive another transplant. Three years is too few, but it was so many for Kari. It is a happy story because Kari's story could have ended in 2013. But for three years she was healthy and vibrant and wonderfully alive. And she renewed her vows, she loved her daughters and saw them all start school, she gave them memories, she bought a home, she traveled to places she had always wanted to see, she spread her church's word, she saw Kara multiple times and met her whole family. For 1,281 days after her bone marrow transplant, Kari lived.
Anybody who knows me for more than five minutes knows this story, and I've tapped the well dry on asking people I know to sign up to be bone marrow donors. What I want for my 40th birthday is for this to be shared as far and wide as possible. Kari and Kara's story are amazing and beautiful and uplifting. And I know that it will inspire people to sign up for bone marrow donation. In five years, you could be meeting your Kari."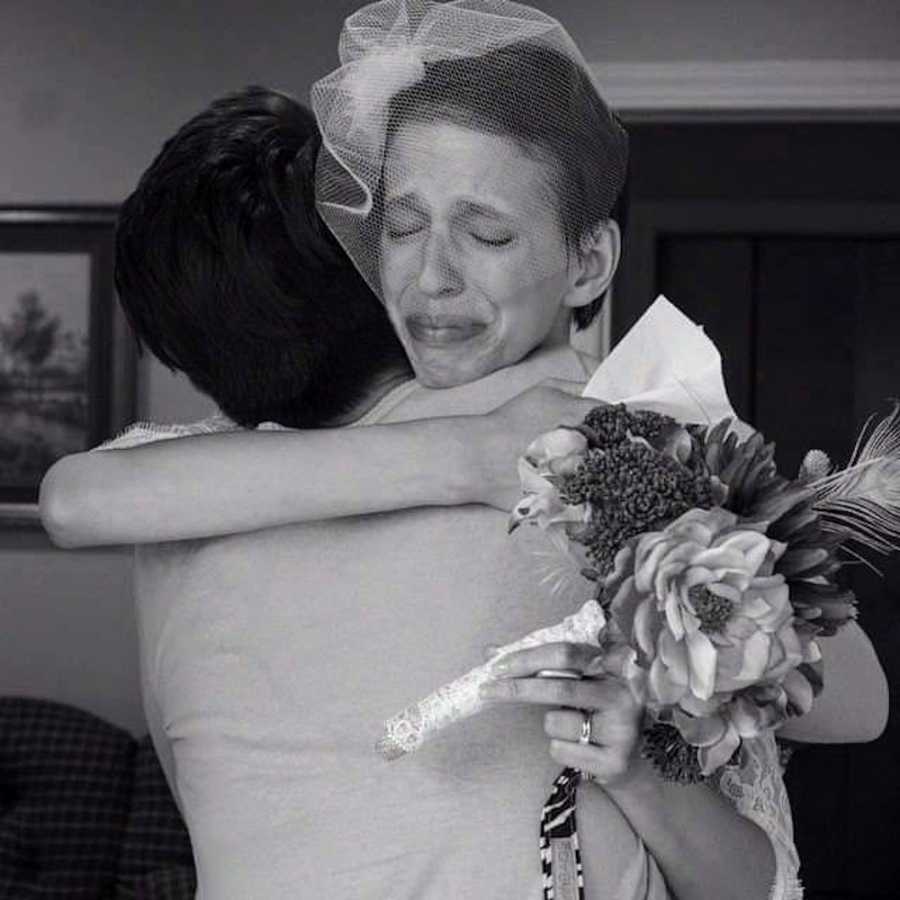 This story was submitted to Love What Matters by Lisa Coltrain. Find out how you can be a donor by visiting bethematch.com Do you have a similar experience? We'd like to hear your important journey. Submit your own story here, and be sure to subscribe to our free email newsletter for our best stories.
Do you know someone who could benefit from this story? Please SHARE on Facebook or Twitter.