Self-Confidence
"My daughter Liv is 11 years old and has always been an athlete. She's powerful and can even do multiple pull-ups. She's definitely in better shape than her mom!
She's played sports since she was 5 years old. She was an incredible soccer player and then decided to be a cheerleader. Overall, she's very dedicated to her teams and her health.
She's broken her ankle multiple times and is in an orthotic until she regains strength and stability, so she's on injury restriction right now which is KILLING her. She wants to play again so badly.
Liv is also a kind soul. She looks out for her autistic brother and takes care of everyone. We call her 'little mama' because of how protective she is.
She loves herself and her family, and really is just incredible. She's an incredibly talented artist and photographer. It's amazing to see your child at such a young age accomplish such incredible things.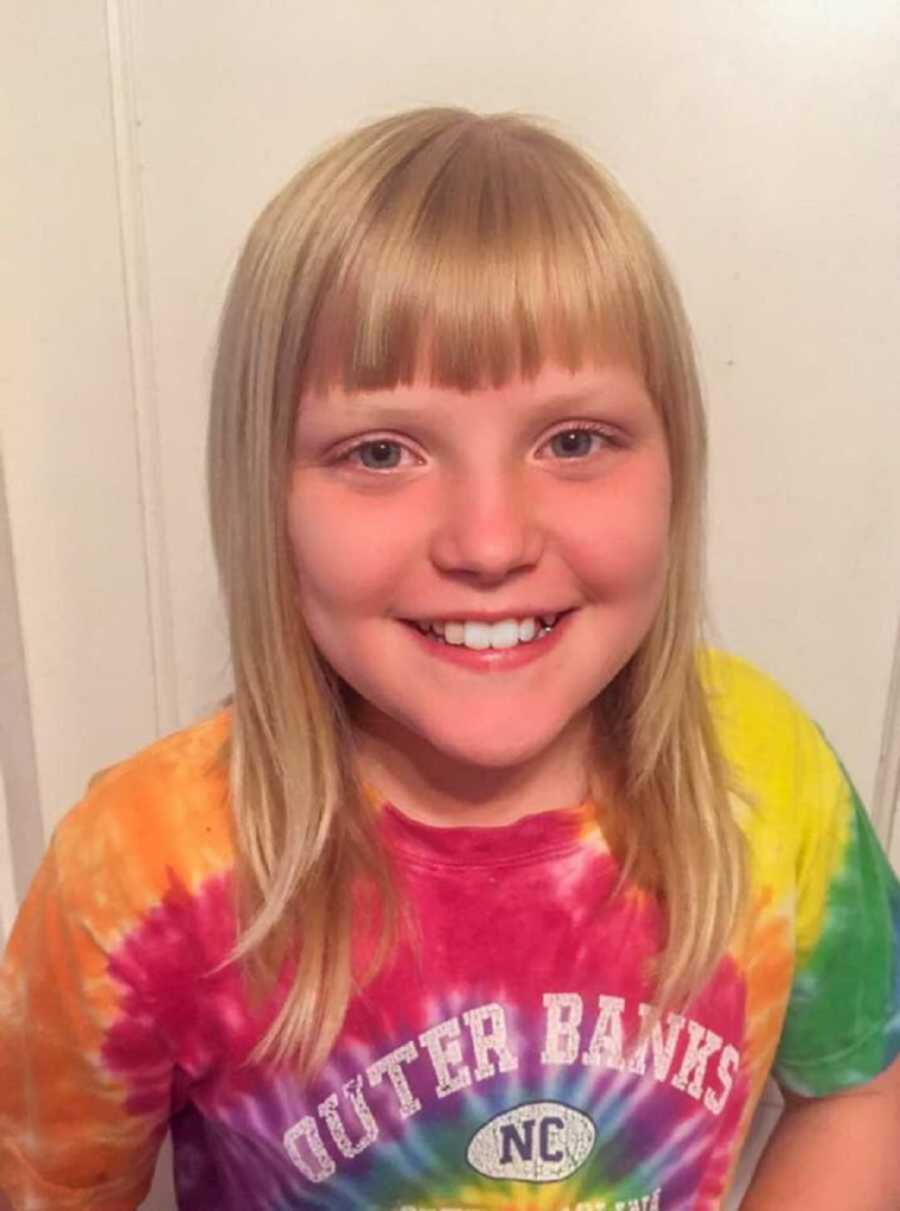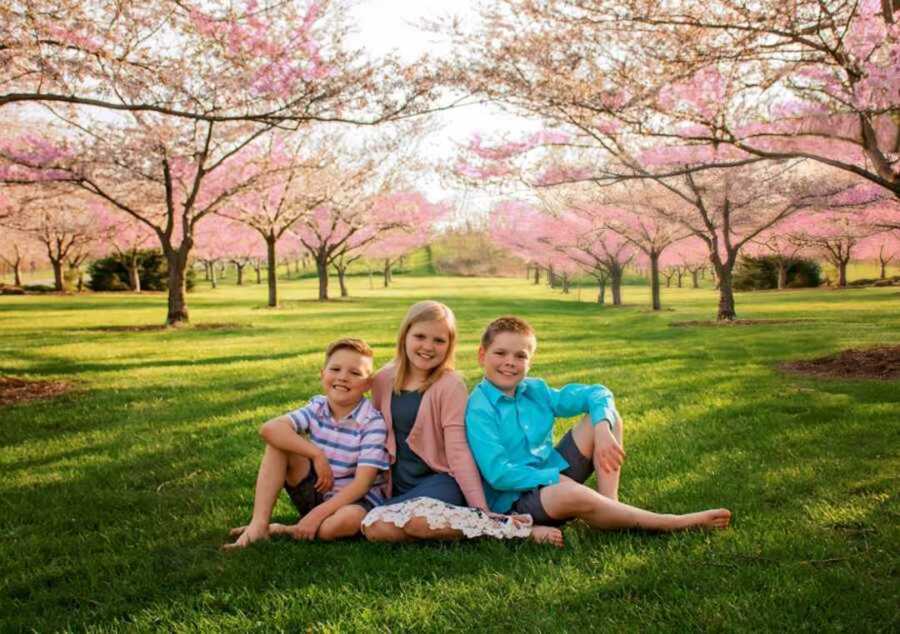 Over the last year or so, she's discovered who she is, and I watched my beautiful girl grow. When I was her age, I did NOT have that level of confidence, but she does.
She's so inspired by the singer PINK. We love her body positive messages and her ability to own who she is. She came to me before her birthday in 2018 and asked if we could cut her long blonde hair short, shaved sides and all.
I was so excited to see her grow! She shaved her hair and got her PINK style and BAM! My girl truly found herself and was shining!
As a mom, it's all I could ever want for my daughter. To see her love herself and be happy. And she did!
There was a lot of backlash from kids at school about her hair. She was TORMENTED to the point to where I had to pull her out of that school. We transferred schools and her new school is AMAZING.
Her new school has kind staff and kids, and a positive environment that seems like a distant dream these days. So, once again, my girl has been THRIVING. She is happy, confident, and so sure of who she is.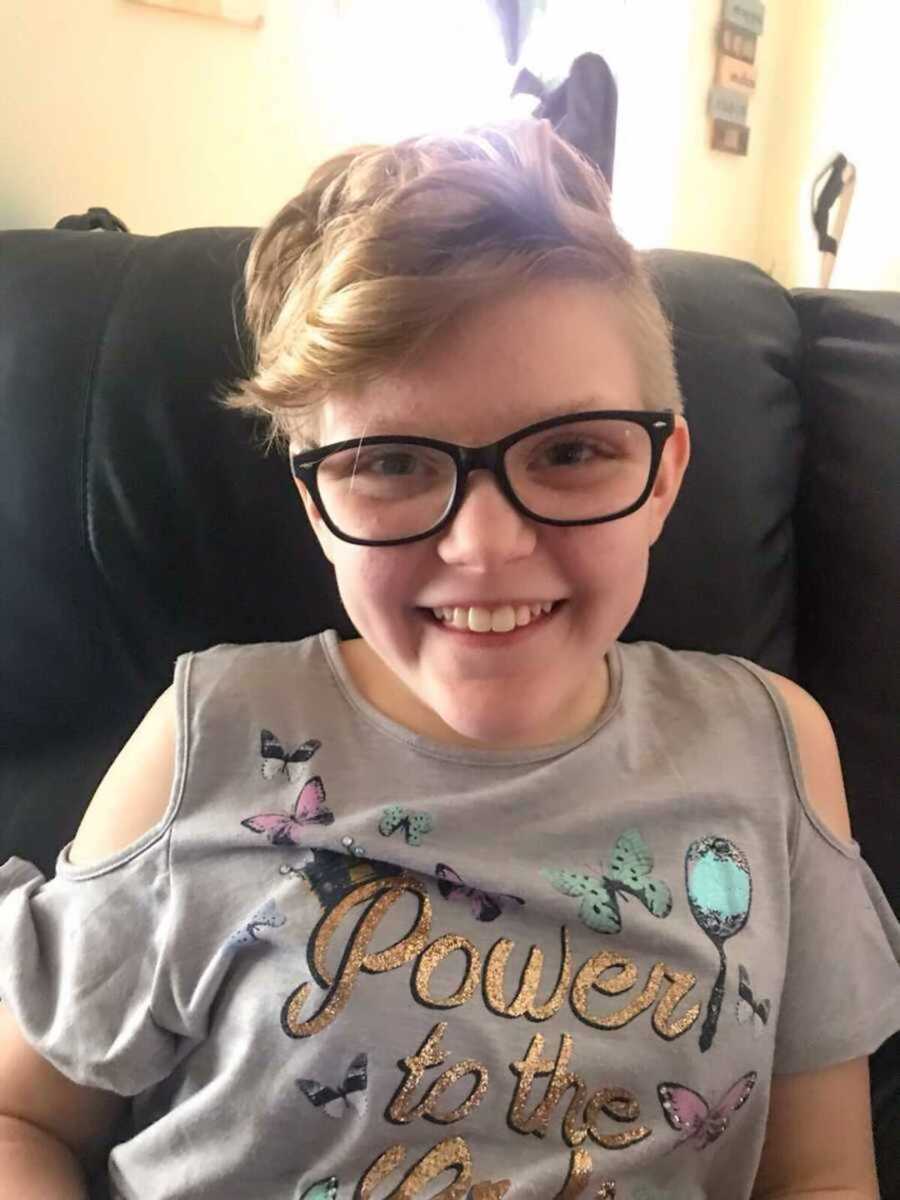 Body Shaming Doctor
This week she developed a rash, so we couldn't send her to school. We were sure it was an allergy but made a doctor's appointment anyways just to be sure.
We couldn't get into her doctor appointment until the afternoon so we had fun playing dress up and taking photos during our day. I'm a professional photographer and we always have fun with creative sessions together.
She asked me during this to shape and color her eyebrows. She's very, very fair-skinned so they were fairly invisible. I told her I was only doing it because she asked. I told her in my eyes she was perfect just the way she was.
She was thrilled, proclaiming with joy, 'My eyebrows are visible!' We both got a chuckle out of it. We had fun with our snowy photo shoot and hurried back to the house to snuggle under the covers and watch some TV together until it was time to go to the doctor later that afternoon.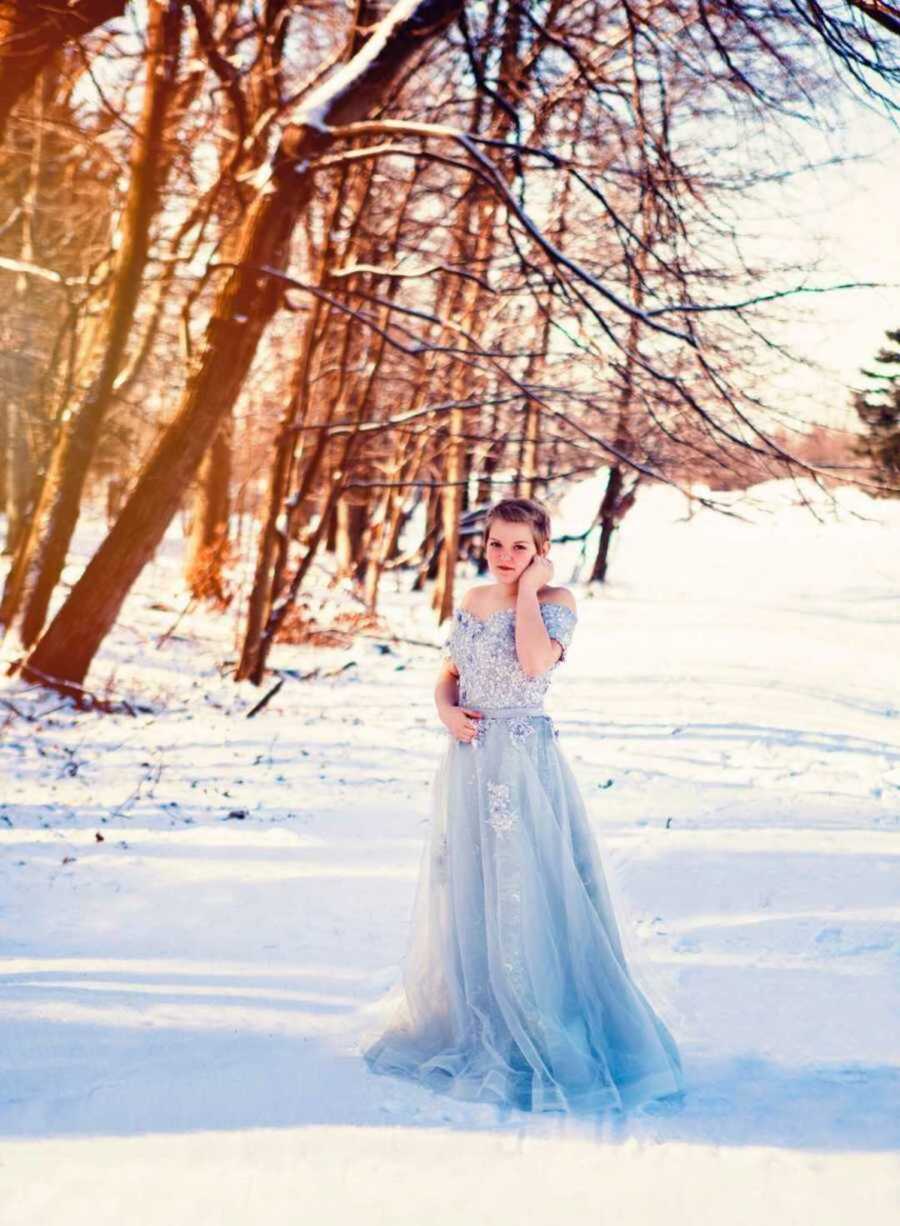 We get to the doctor and they told me she needed a physical, so they did a physical. They said she was 4'11" but their height chart was messed up and she's actually 5-feet tall. She weighed in at 117 pounds. Smiling at me she said, 'I grew some more!' I smiled back and said, 'I know! You are taller than I am!"
She's very developed for an 11, almost 12-year-old. She has full C cups and is blessed with her mama's fabulous booty. She has developed a woman's body and is proud of who she is and how she looks. She has never really given it much thought other than trying to work out to be better at the sports that she loves.
The doctor gave us a prescription for her rash (allergic reaction to something) and kind of breezed through her physical and didn't even really finish it. Then he left the room.
He doesn't even get the door shut all the way before he walks back in, and then like an avalanche of words (in front of her and her brothers) says, 'We need to talk about her weight.' He proceeds to say, 'We live in America where 80% of us don't eat the best and don't exercise enough, and I believe she's part of that crowd. She needs to be in sports.'
He looks at her and says, 'I think you are old enough to start using exercise equipment too.' We just sat there for a second, open-mouthed, shocked. SHOCKED! He's been our doctor since we moved here 7 years ago.
'You should probably not allow her to drink sugary drinks or eat junk food,' he added. WE DON'T. We're human and so we're not perfect, but we really do pretty well. We don't even keep juice in the house. She's my little water lover.
SHE'S A VERY TALENTED ATHLETE. I'M UTTERLY DISGUSTED. I look at him and say, 'She is in sports. She's on injury restriction right now due to multiple ankle breaks.'
He replied, 'Oh that's right, you just said that.' I proceed to tell him that even in this snowy winter, they go outside and play. She is a very active kid.
He left the room. She looked at me and said, 'I'm fat?' Tears started running down her face. My jaw was on the floor. I then felt the rage start to boil up inside of me. I pulled out my phone and called my fiancé.
His reaction was, 'Olivia? OUR OLIVIA?!' You could hear the rage in his voice. The nurse walked in to give her a flu shot and I immediately told her what the doctor had just said.
She was shocked herself and immediately started apologizing. I tried to tell Olivia that the BMI was crap. It was too late; the damage was done.
I watched the happy drain from my daughter's eyes and turn to rage in mine. She was crying. I rushed her out of there. Still on the phone with my fiancé, we got in the car. It went into Bluetooth mode so she could hear him.
He tried to tell her the doctor was WRONG. She was perfect and that measuring system is outdated and garbage. Again, it did nothing. She was blankly staring forward as we made our way home. Every time I glanced her way, I felt this sickening feeling in my stomach.
What has this man done to my girl? Isn't he aware of how eating disorders start? What about teen depression and suicide? Isn't there enough pressure put on themselves by social media, unrealistic body expectations because of models and celebrities? Or even from classmates?
WHY take a healthy child and tell her because she doesn't fit on this particular chart, that she needs to lose weight? ARE YOU KIDDING ME?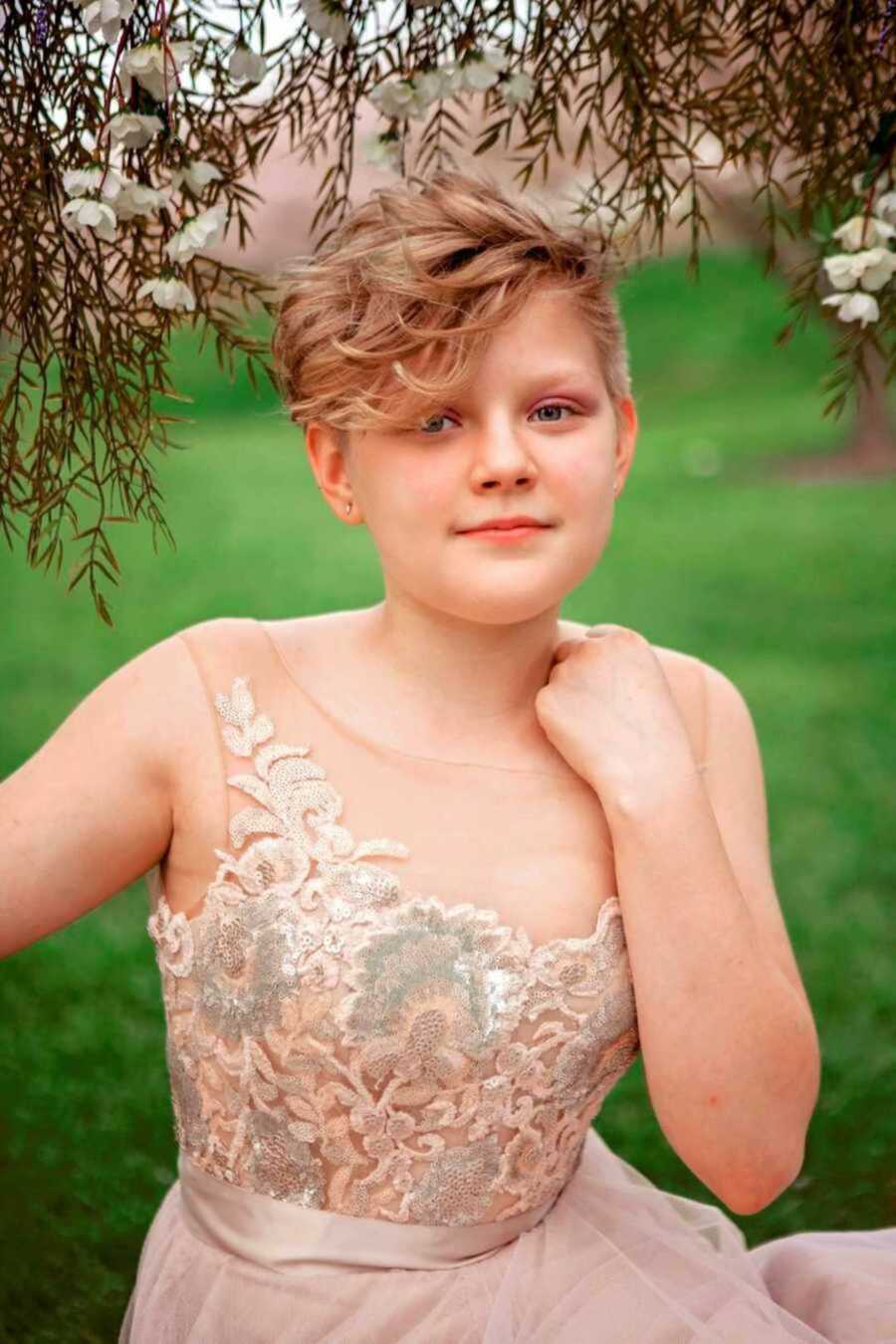 Just that morning, I took photos of a confident girl who truly loved who she was… and by that night, she refused to eat, and didn't speak most of the rest the day, randomly bursting into tears. As a parent, it's truly terrifying.
I told her he is an idiot. I've been telling her ever since how beautiful and perfect she is to me and should be to herself. I talked to her about it. I asked her how she felt and she said, 'I was okay until he said I was overweight.'
She can't UN-hear it. She trusted our doctor and he betrayed her. He let her down is such an awful way.
Spreading Body Positivity
The next day, I kept her home to make sure her rash was clearing up and to also give her a mental health day. She would randomly cry. I sat down with her and told her, 'Are you going to let someone else, ANYONE else, decide how you feel about yourself?'
She looked at me and quietly said, 'No.' I made her look me in the eyes and I said it again. All of a sudden, something in her clicked. You could see the light back, a flicker… but it was there.
I asked her what she wanted to do about it. She said, 'I don't want others to feel this way.' So, together we thought of what we can do to spread the self-love she had before this doctor callously told her she was overweight and needed to exercise.
She's an artist and we're both photographers, so I said, 'Come on! Let me remind you of how beautiful you are!' We went downstairs to the studio and she said, 'Let's do an anti-bullying photo shoot!'
'There's my girl,' I thought.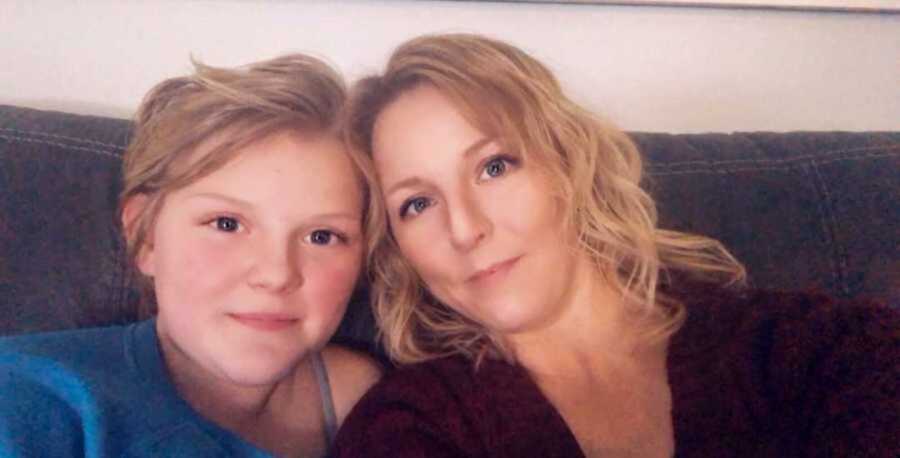 We brainstormed some ideas and created some amazing, inspiring photos. She took that BMI and erased it off herself. And I couldn't be more proud of this child. This young woman she's becoming.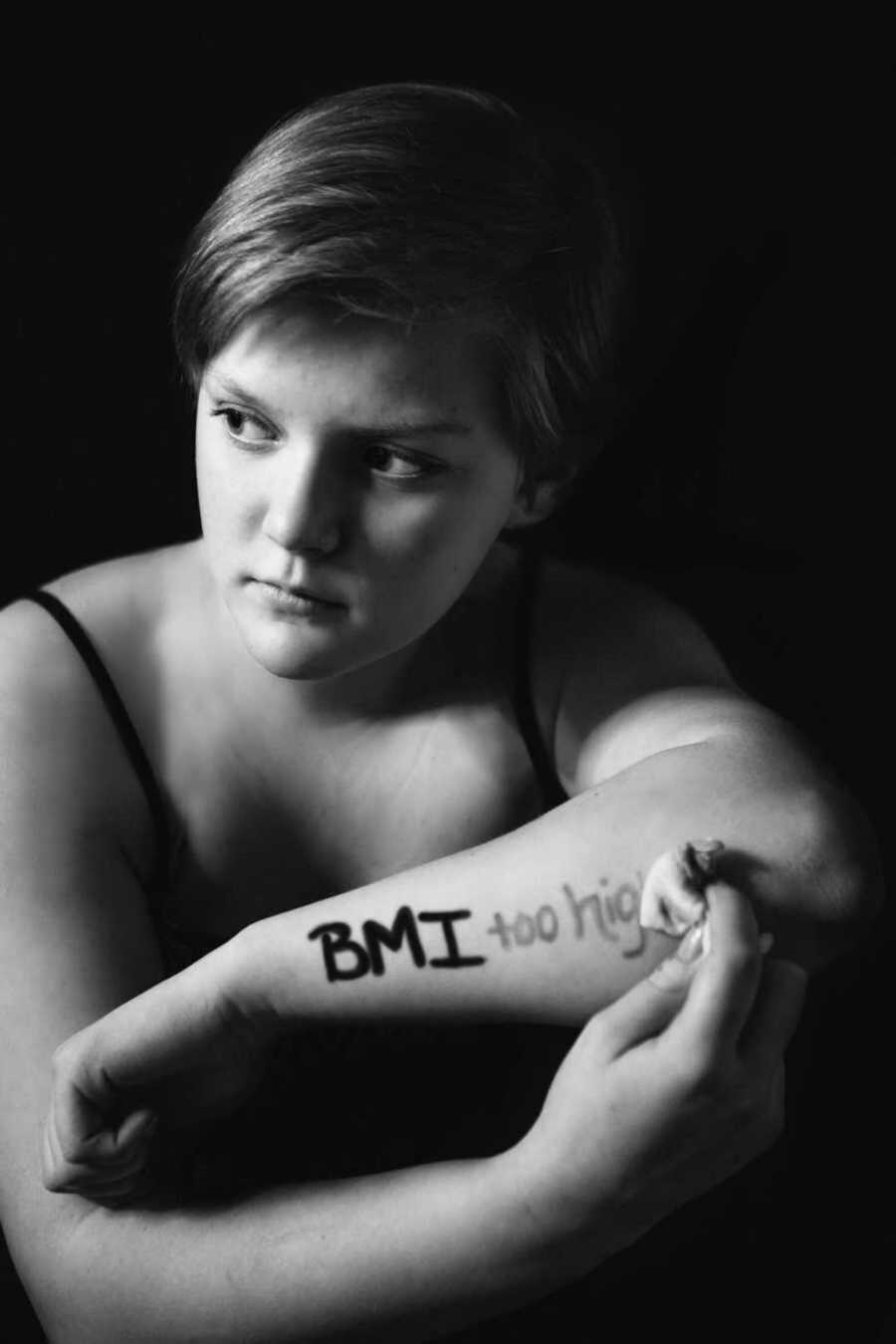 She's so incredibly strong. I cannot wait to see where her life takes her, because let me tell you, it's going to be far. And if ever she falls, I'll be right there to pick her up and remind her of just how strong, beautiful and amazing she truly is."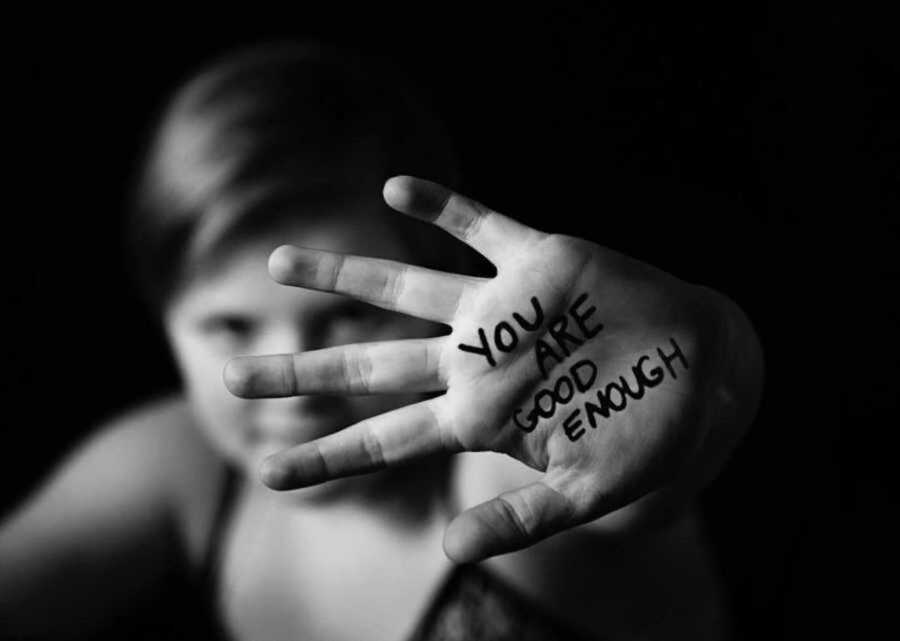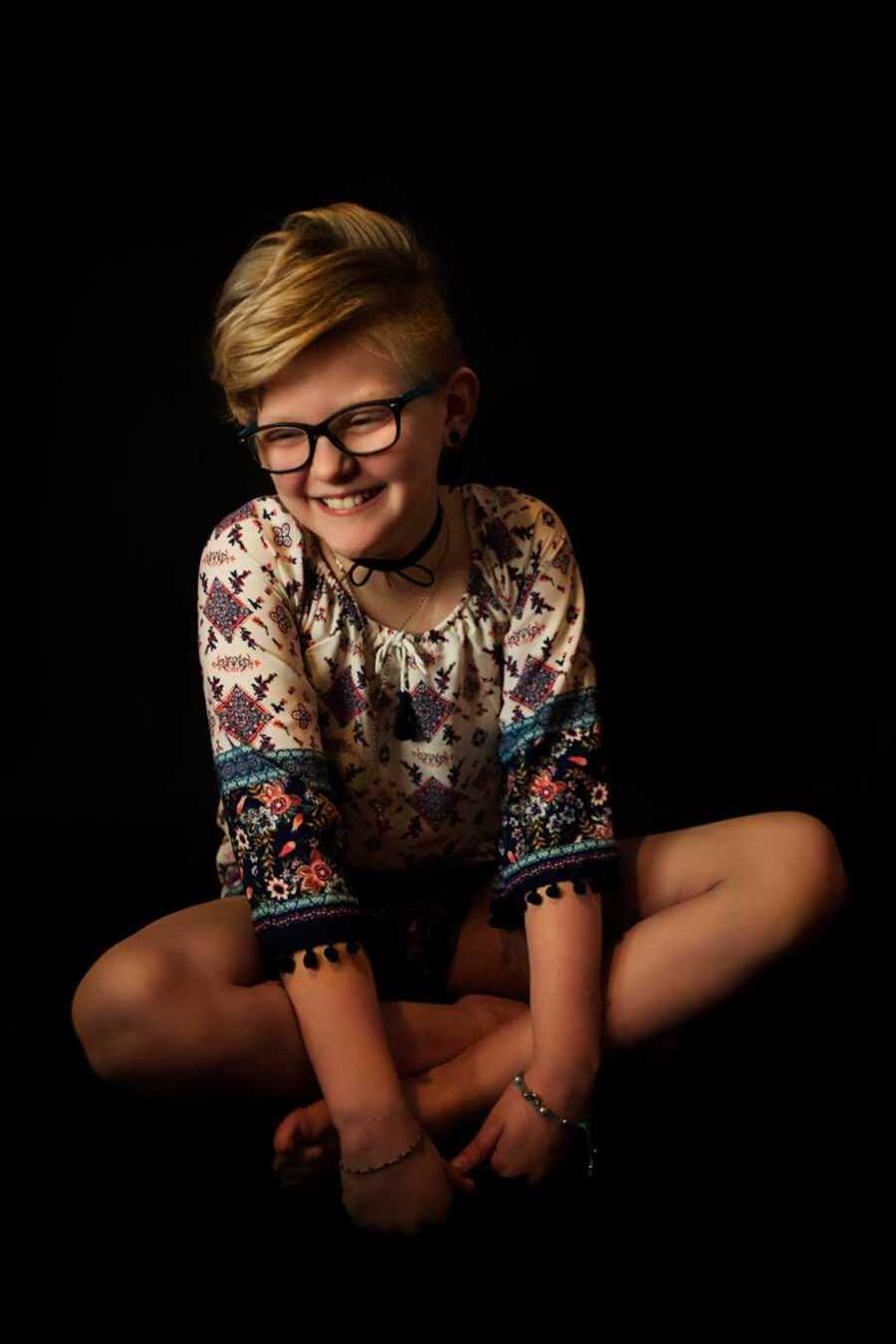 This story was written exclusively for Love What Matters by Shayna Brumbalough of Cleveland, Ohio. For permission to use, email exclusive@lovewhatmatters.com. Be sure to subscribe to four free email newsletter for our best stories.
Read more stories like this:
Mom Shares Reminder To Teach Body Positivity During Back-To-School Shopping After 8-Year-Old Breaks Down For Being 'Fat'
How The Body Positivity Movement Saved Me From My Years-Long Battle With Bulimia
Provide beauty and strength for others.  SHARE this story on Facebook with your friends and family.