"Never did I think a wildfire would derail my wedding day, but that's exactly what happened. Thankfully my now husband and I are able to see the beauty in the ashes. Let me back up a bit…
Taylor and I met 5 ½ years ago at Cal Poly, SLO. My roommate Kristin set us up on a blind date. It was love a first sight. Neither of us believed love at first sight was true until we met each other.
Taylor proposed July 27th, 2017, at our home in Chico, California. I was totally caught off guard. I was in old, bleached scrubs with 2-day-old hair, not exactly pretty. I obviously said yes, and the wedding planning begun. We chose my parent's property on the Klamath River, mainly for the 3 beautiful oak trees that reside there. Oak trees are a pillar of strength for me, and have deep roots. There is nothing better to symbolize a marriage. My family worked tirelessly to build the cabin on the property, which was finished just in time for the wedding. Fast forward almost a year, and it is wedding day.
Wedding planning is my part time profession. With that being said, my own wedding was going to be my big event. I wanted to show off my skills and attention to details. Everything was thought out, each part was going to be its own experience. Flowers on oak stumps, chandeliers in the oak tree, vintage seating for cocktail hour, lights illuminating the oak trees at the reception, family style seating and meal service. It was perfect, everything I had ever dreamed it of being.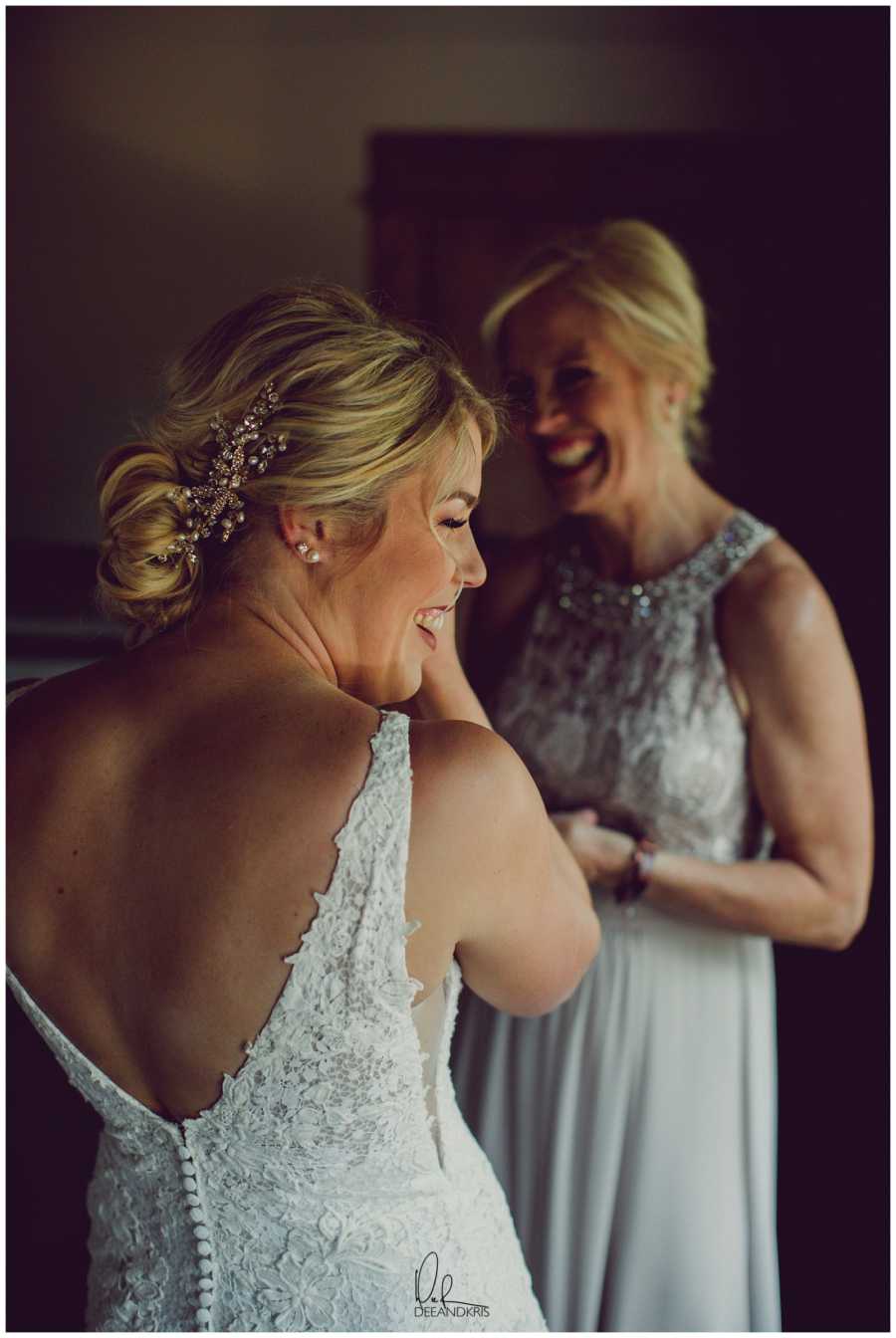 On Thursday July 5th, 2018, we were driving back from Medford, Oregon, when we saw the beginnings of the fire. It started 1.1 miles away from my parent's property in Hornbrook, California. At the time is was very small and seemed well handled. However, the winds took over and the small 30-acre fire turned into a 35,000 acre fire in just a few days. My heart sank seeing the flames on Thursday. I had a gut feeling this wasn't going to go my way. I was not prepared for the reality of it all.
Friday morning the winds were still in our favor and the fire was moving northwest, away from the property. They also had opened up I-5 again and our guests were able to get to us, along with our vendors. We did our rehearsal and rehearsal dinner as planned in Ashland, Oregon. It was wonderful and we all had a great time.
Driving home that night, it was crazy to see the flames and how close they still were to the freeway. Pulling up to the property we could see a bright orange glow on the ridge opposite my parent's property. I called Taylor and locked myself in my bedroom, melting to the floor crying. Hysteria finally set in. Everyone staying at the cabin packed a bag, just in case we were evacuated. I had my dress laying across mine just in case. We made it through the night.
It is wedding day! Lola Beauty from Austin, Texas, arrived and got to work making us all feel like princesses. Sister Eventz, our day-of coordinators, arrived to start making my vision come to life. Dee and Kris from Dee & Kris Photography came next and began taking detail and getting ready shots. Everything went according to plan. It was just a little hazy, with minimal winds. The day was surreal. I couldn't believe it was here and it seemed to pass by so quickly.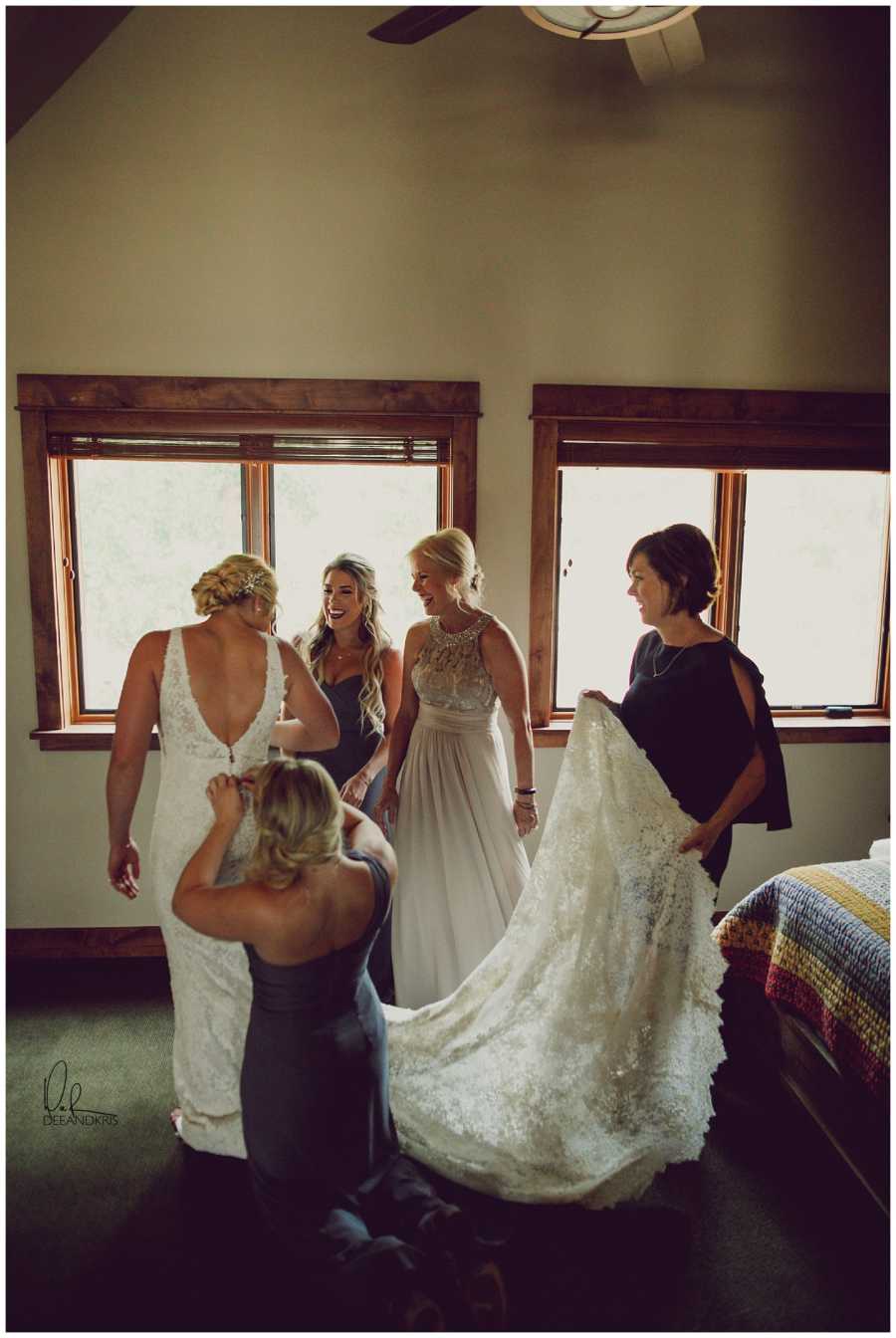 My mom, mother-in-law, and two sisters helped me into my wedding dress. My wedding dress is what dreams are made of. All lace, deep V-neckline with six-foot train and a cathedral veil. I got to do a first look with my other three bridesmaids and my dad. Seeing my Daddy was the most nerve wracking for me. I am the first of three girls to get married, so this was an emotional day. I got a few moments with my girls before I got to see Taylor, and those are treasured moments.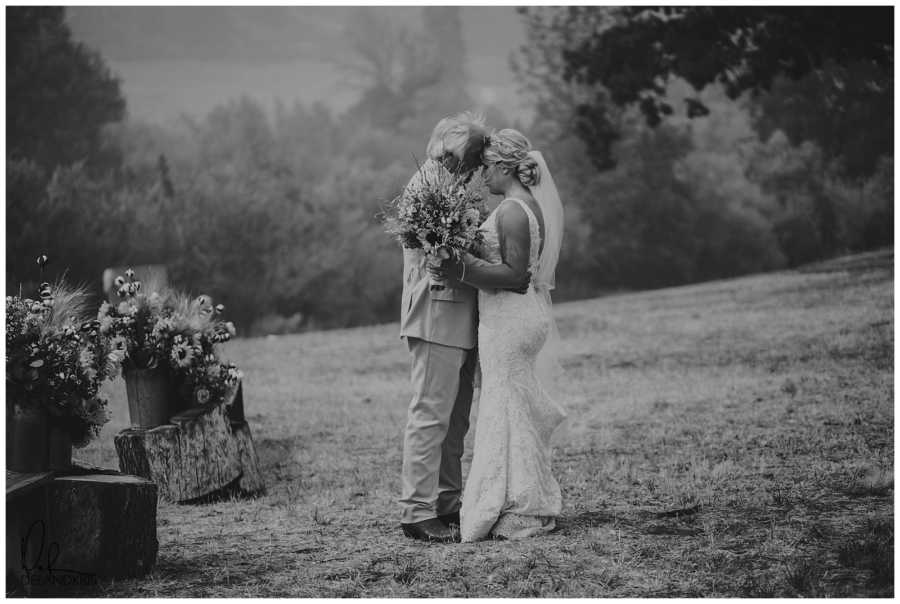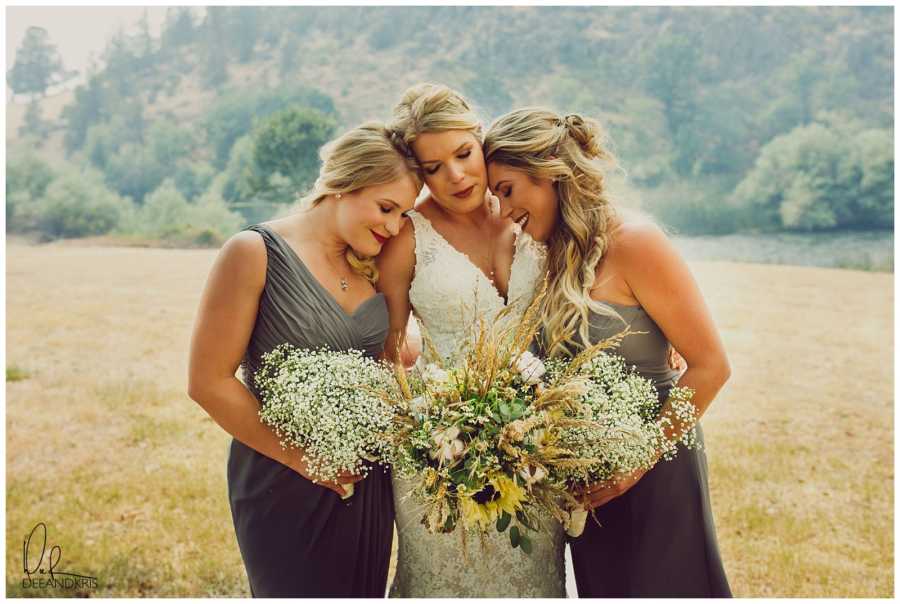 Our first look was next. It wasn't until this moment when we saw signs that the day may have to change. Dark smoke was forming on the ridge across the river. Dee and Kris wrapped me in a sheet and drove me down in the Ranger to the middle of the field. There was a lot of dust and kick up from the field, the sheet protected me. Taylor was waiting for me, it was completely surreal, and all of my nerves faded. He is my rock and my person. I was so excited to give him a hug because I feel so safe in his arms. His reaction was perfect, there were tears.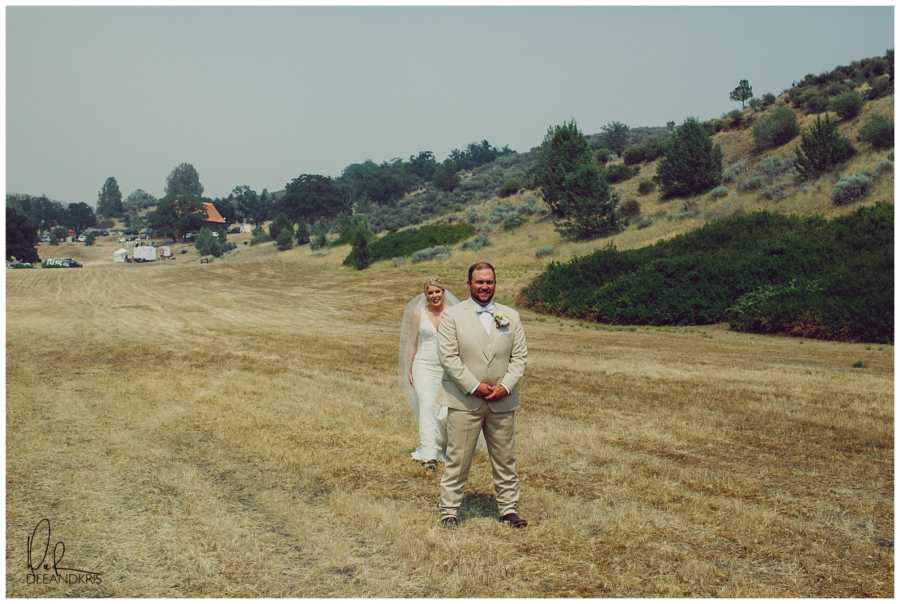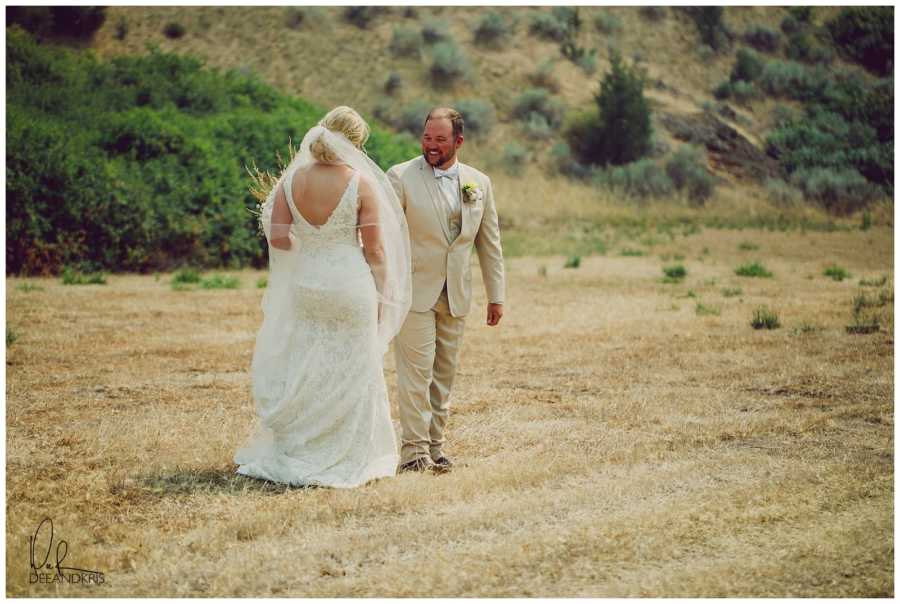 We were on our way back to the ceremony site when we saw the flames come over the ridge. I lost it. Taylor and I took a moment to gather ourselves. It was decision making time. We needed to get married, so here comes the whirlwind.
We rushed back over to the ceremony site where plans were made into actions. Our families were asked to come early for family pictures, so they were all gathered for the ceremony. Our bridesmaids and groomsmen lined up and Taylor and I were ready to get married. My dad stopped us, and said, 'I would like to walk my daughter down the aisle.' This was one of the most beautiful moments of the day. With flames coming towards you, hysteria becomes real, and in that moment, I needed my daddy. We stood at the end of the aisle, I cried, we prayed and reminded each other that God does not give us anything we cannot handle. We gathered ourselves and we were ready. I cannot believe it, but the DJ had everything ready and cued the music. My daddy got to give me away to the man of my dreams.
We held the wedding right then and there with the family that was already in attendance. The original start time wasn't to be for another hour and a half, but we wanted to share our vows on my family's land.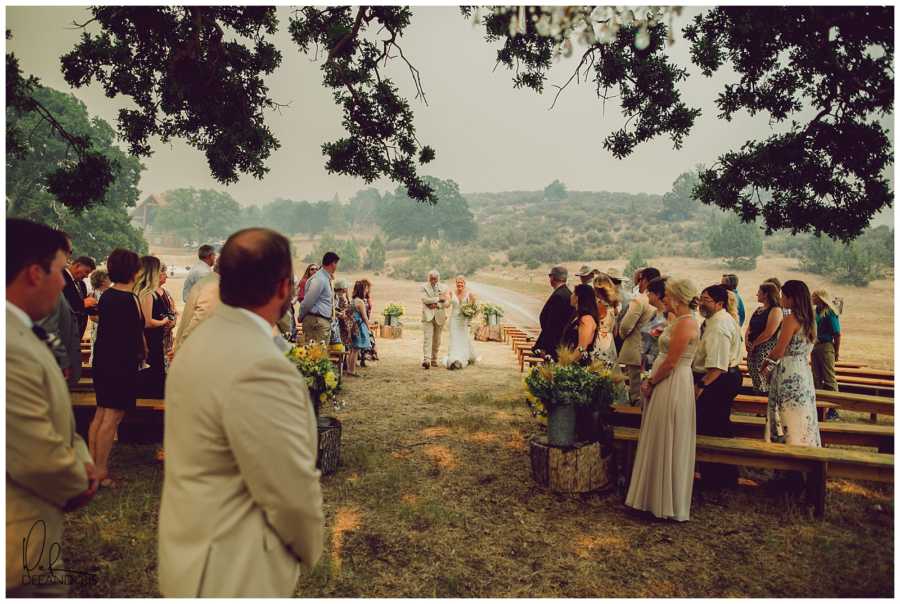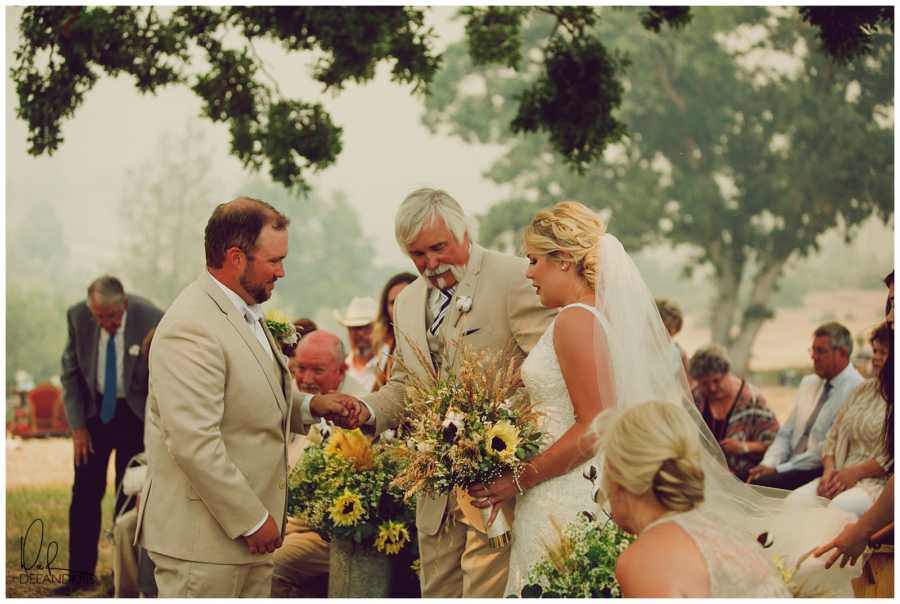 We had to cut our 30-minute ceremony into about 5 minutes. The flames were approaching. We had worked hard with my Uncle Russ (our officiant) to create a beautiful church service outdoors, but it was all thrown out the window. In the middle of it all, we got the orders to evacuate the premises. We were pronounced husband and wife, told, 'you may kiss the bride,' we kissed, and then we RAN.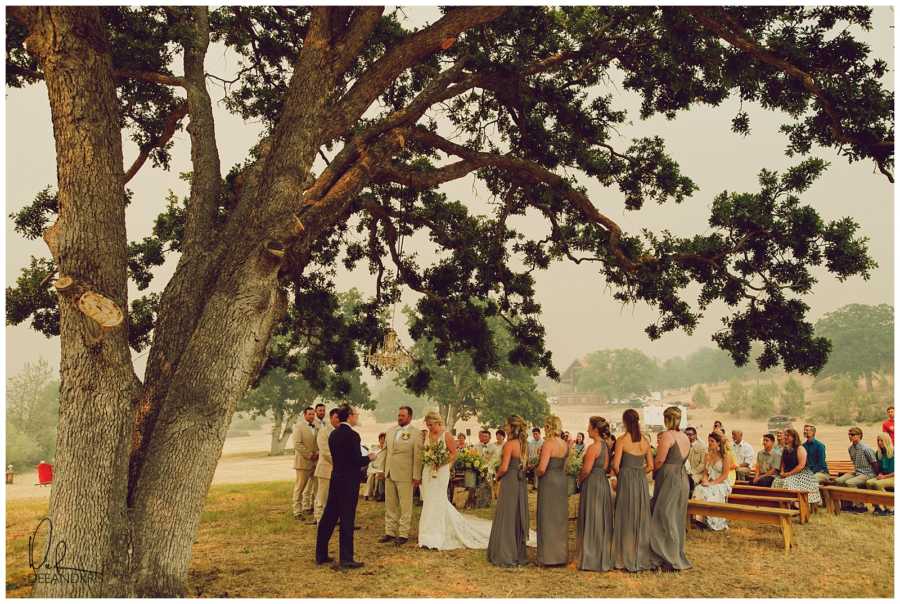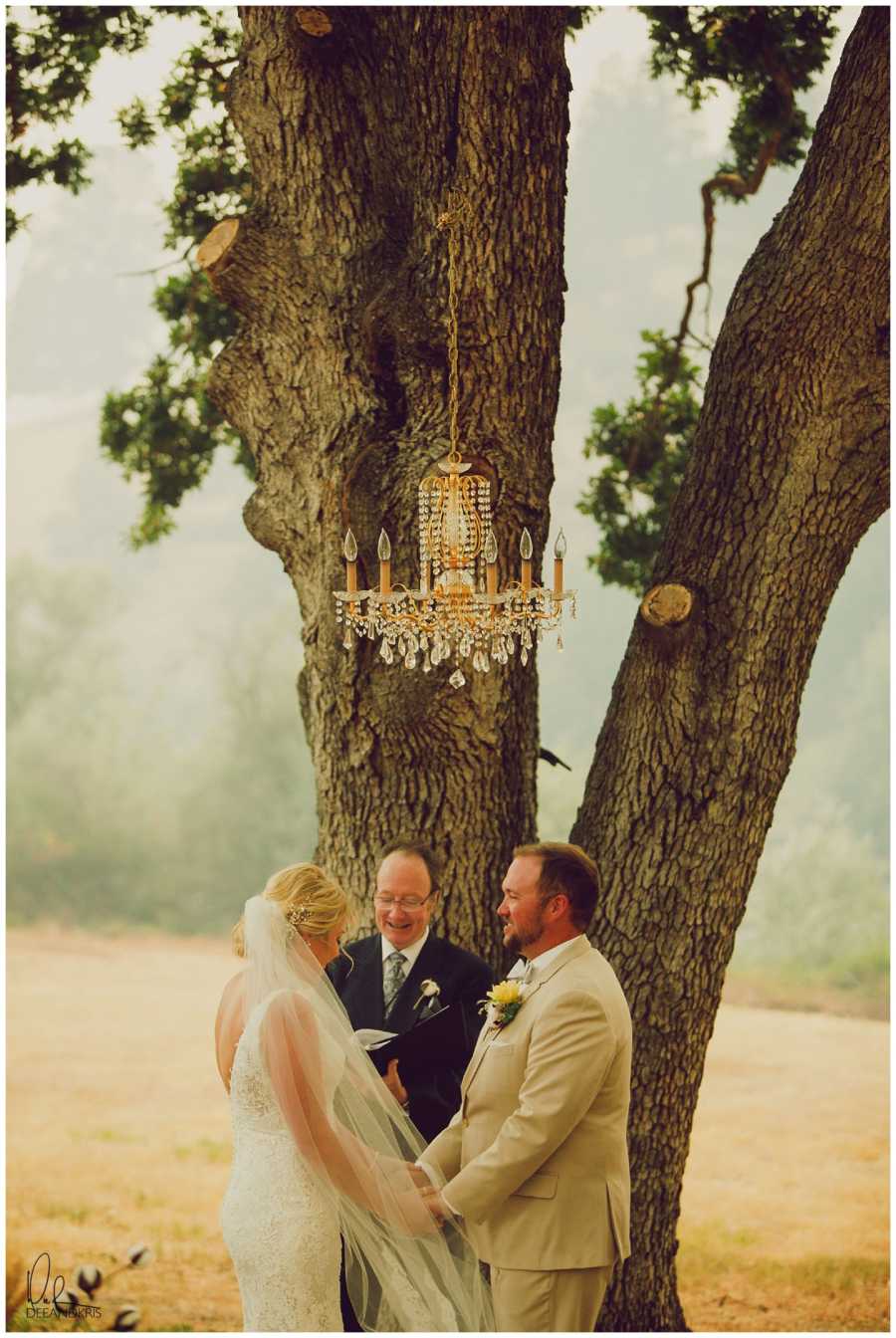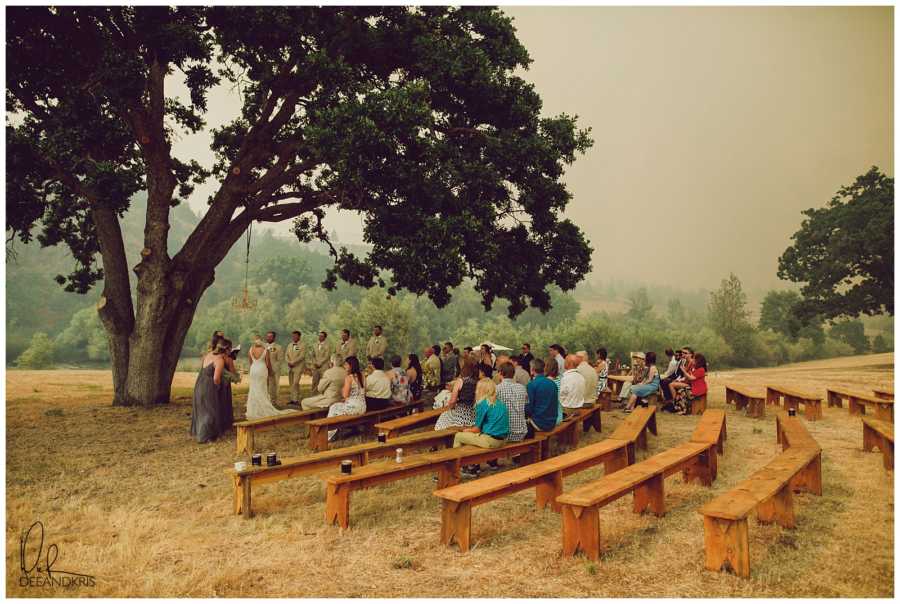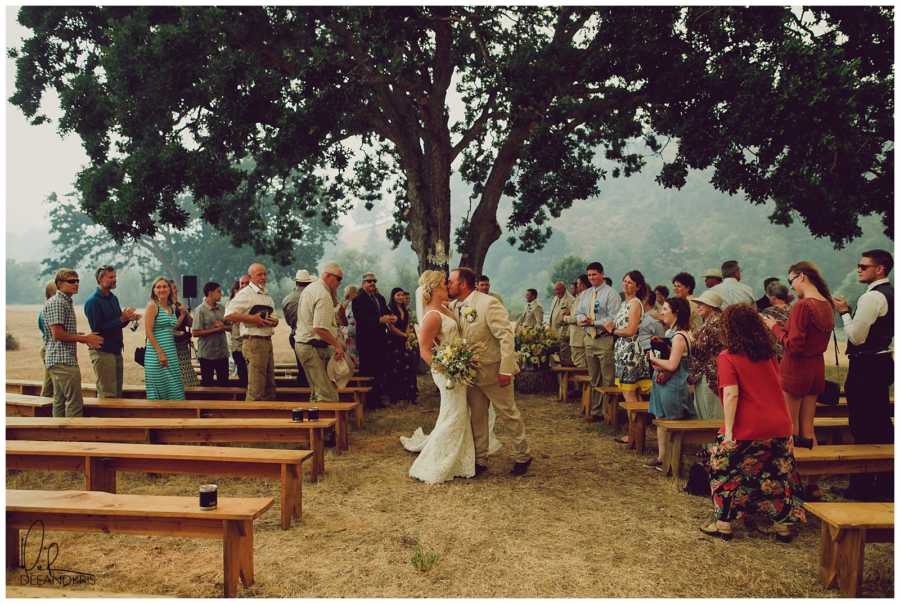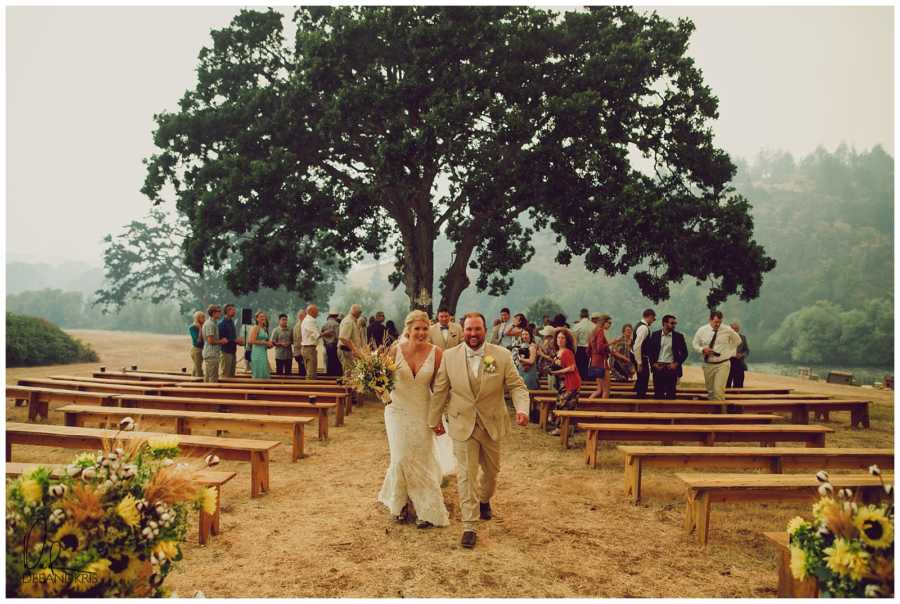 The flames were rushing for the river as the winds were picking up speed. Vendors and our family left belongings as there wasn't time to safely gather everything. In the movie 'Leap Year,' the main character was asked what she would grab if she only had 30 seconds. That is about all the time we had. Taylor grabbed the dogs, and I grabbed my purse. That is all I had time for, my 30 seconds was up. Everyone was able to make it out safely.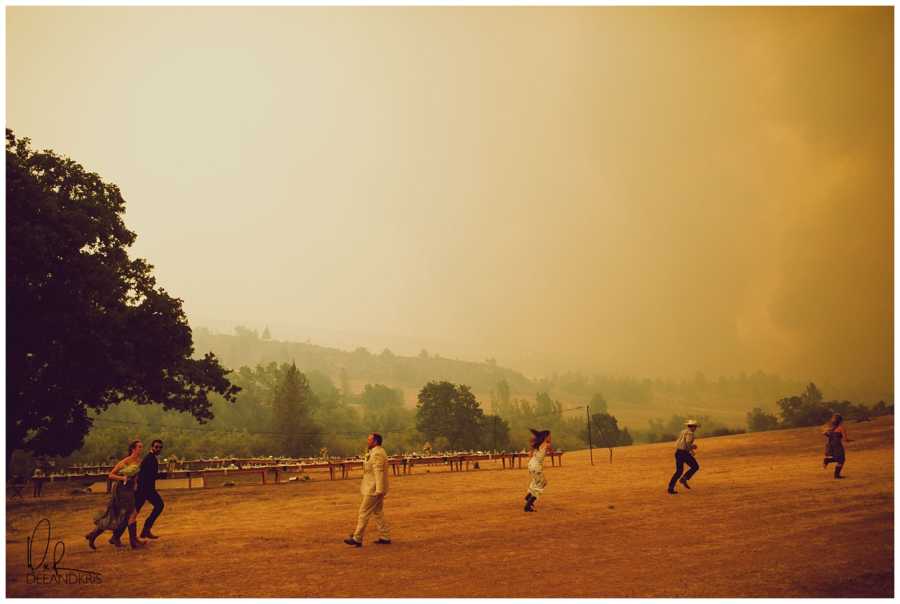 Our caterer saved the food, the DJ saved all of his equipment, some of our friends grabbed alcohol. We all met up at the Holiday Inn Express once we confirmed everyone made it safely, and friends and family jumped to action. They secured the banquet room at the Holiday Inn and they made a wedding reception happen in 20 minutes. All of our guests that were diverted on the bus at WalMart in Yreka showed up, and the party began.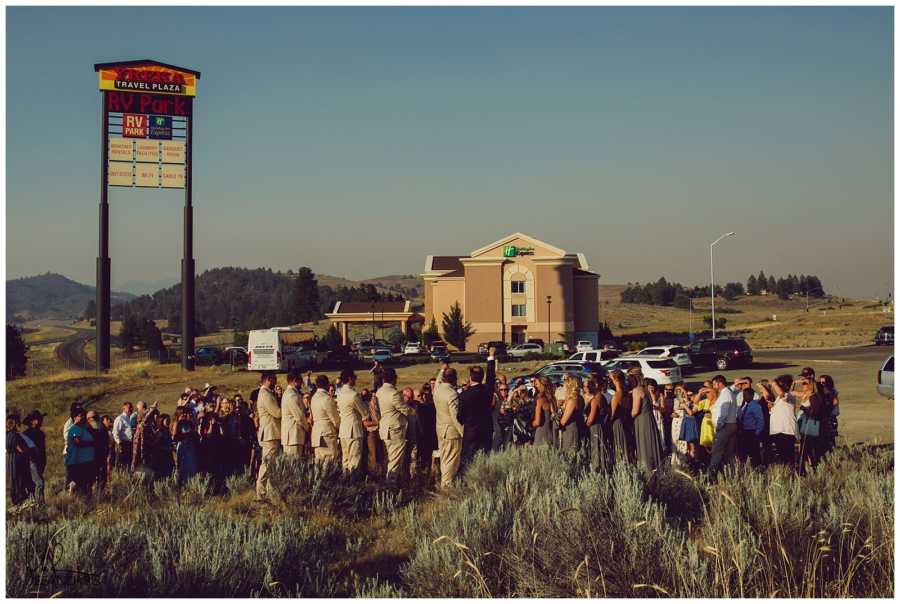 One of our very close family friends gave us a hug and we cried. She told me it hurt her heart she was unable to be there to see our ceremony. Taylor and I discussed it and decided to renew our vows for all of our guests that missed our wedding. We got remarried on the hill outside the Holiday Inn. Crazy, but so fun.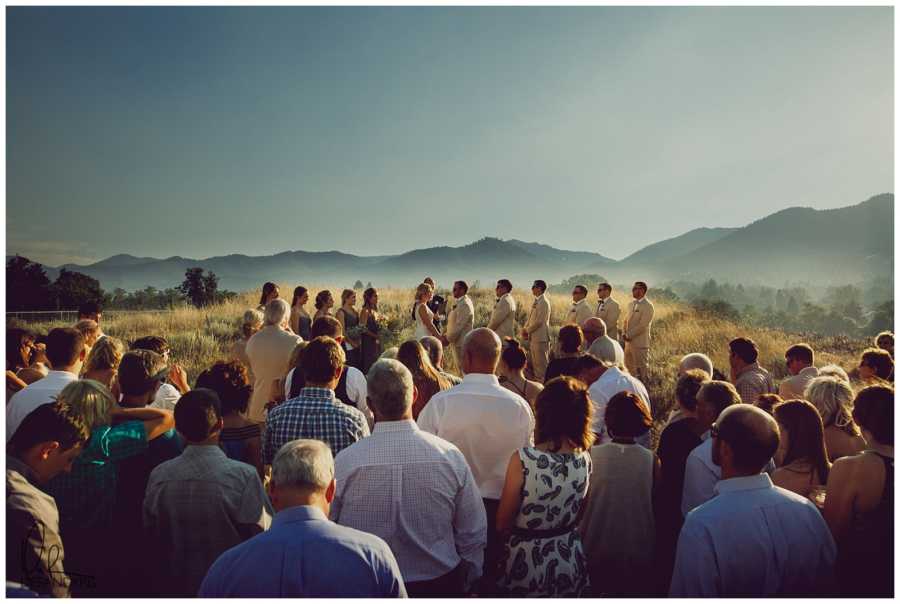 We got to do all of our dances, toasts, cake cutting, bouquet/garter tosses just like a normal reception. The cake was bought at Raley's for our guests. It was such an eclectic and unique reception. We are so truly blessed. Our family and friends are all great people and can just go with the flow. They came together for us, and poured their love into our reception. Thank you to all of them.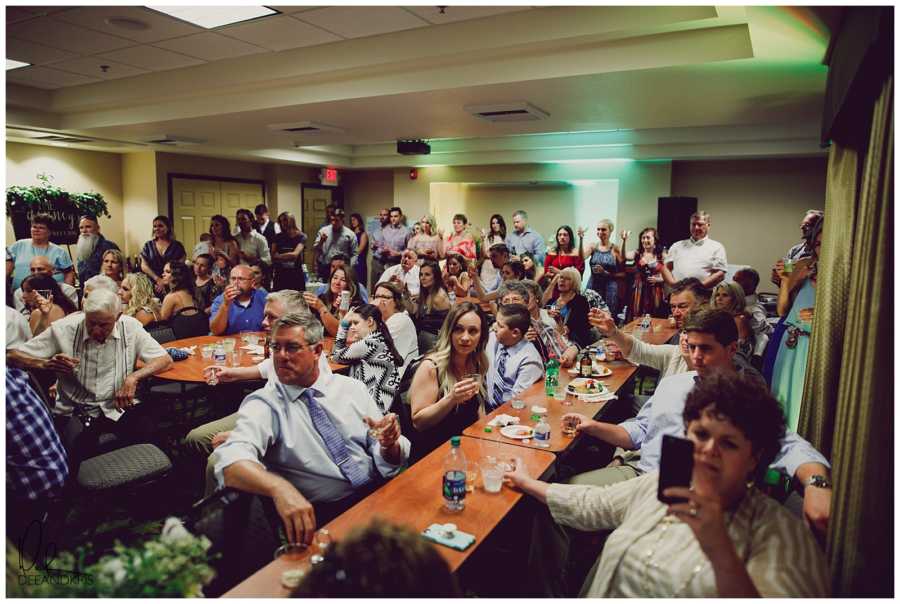 The next morning we were informed that a strike team had camped out on my parent's property and everything was saved. They said it was the eeriest feeling sitting there at a complete wedding setup without the celebration. They deemed it 'the ghost wedding.' We are eternally grateful to all of those individuals who risked their lives to save our property.
On Tuesday, our evacuation orders were lifted and we went back to the cabin to clean up. At our amazement, everything was sunshine and rainbows. We are very, very blessed in this life, but we were and still are heartbroken. We spent a year planning our perfect day, and it was derailed. It was going to be so beautiful. On Tuesday I grieved for the loss of my perfect wedding. I work so hard to make everyone else's day perfectly when I plan weddings, so why couldn't I get mine?
Thinking this way makes you feel guilty, because we have so much. We did get a wonderful day, just not the one we had expected. As the years roll on, the grief will get easier. I will keep making sure all of my brides get their perfect day. Every bride deserves their vision to come to life.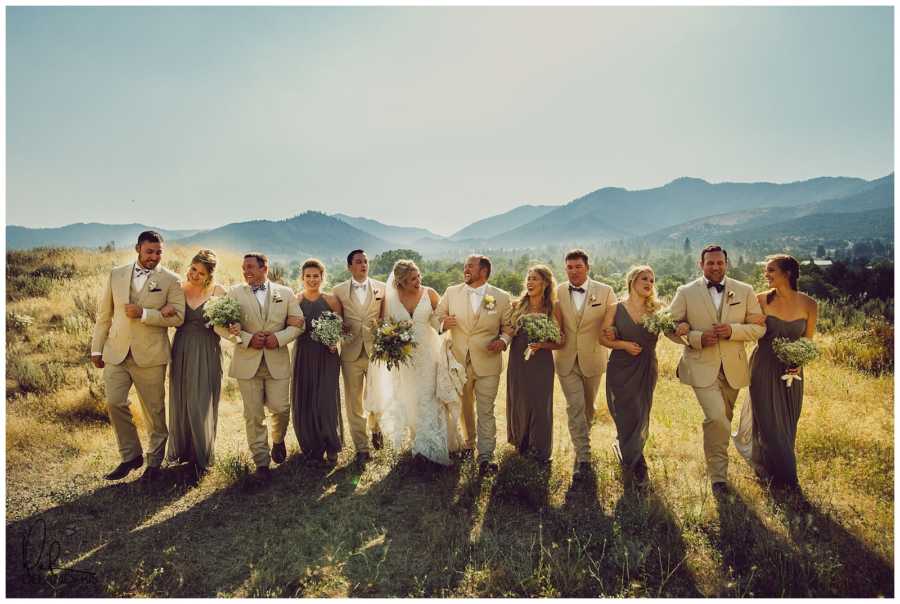 I thought I loved Taylor the day I met him. I loved him the day he proposed and couldn't wait to marry him. But I loved him most on our wedding day, knowing this was the perfect man for me for standing by my sides through this wild experience. He is my rock, my pillar of strength, and my home. I could not have made it through all of this without him. After experiencing this fire, I love him even more than I ever did."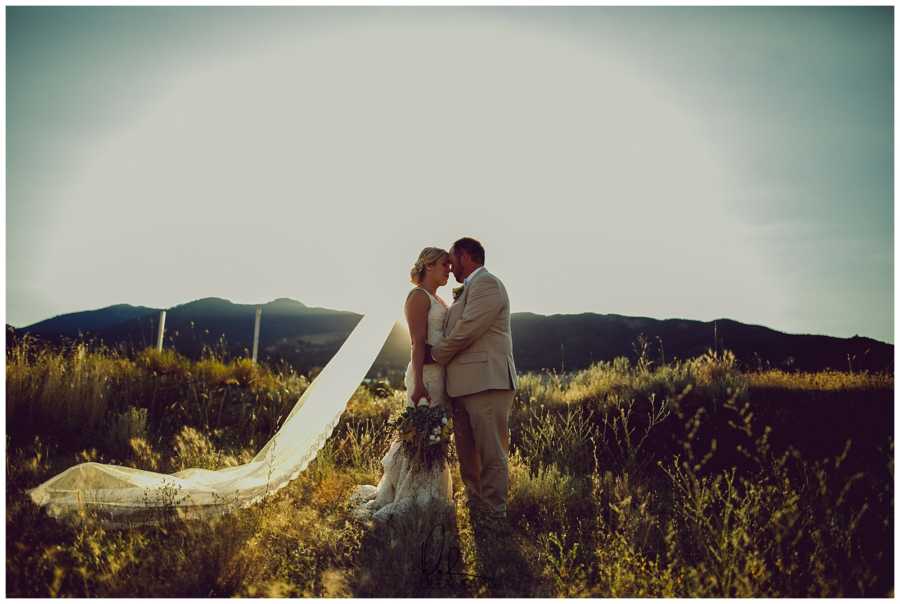 This story was submitted to Love What Matters by Ellie Parsons Denney of Chico, California. Submit your story here, and subscribe to our best love stories here.
SHARE this story on Facebook to encourage others to cherish every moment and love what matters most.