"Let's start at the beginning. It took us years before we revealed our genuine 'how-we-met story.' There were a few special people who were privy to the truth, but to most people we met, we offered a far more generic story. 'We met through friends.' Our life journey to date has given assurance that remarkable things happen in your life when you listen to your intuition and concentrate on taking the next right step.
It was September 2005 and two inquisitive female Londoners meet online. We met at a time when online dating was considered 'strange and unusual.' Internet dating sites were believed to be filled with hermits and social pariahs. We had no expectations of a relationship, but after our first telephone conversation (which continued on for 6 and a half hours), it was clear this wasn't going to be a casual encounter. We shared our hopes, dreams, and wants for the future and found we shared a number of core values. A few days later, we met in person for a lovely meal and we both acknowledged meeting in person further reinforced our connection. Over the next couple of months, we enjoyed a series of wonderful dates, spa trips, and a trip to Rome.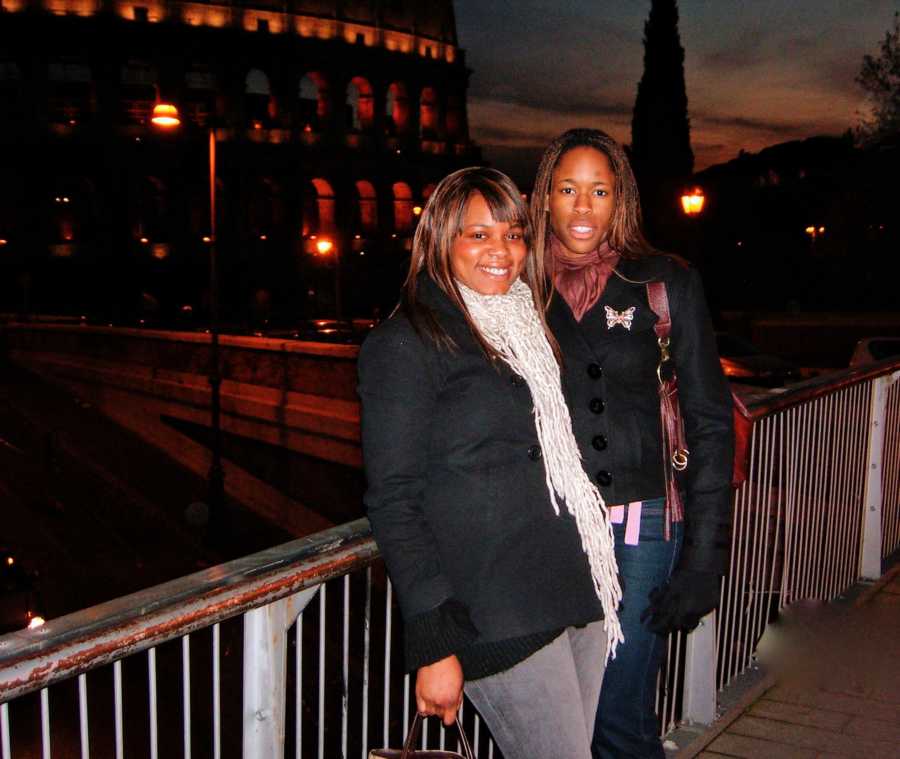 One evening, in a bar in March 2006, the conversation turned to us questioning, 'Where is our relationship going?' The truth of the matter was – we didn't know. We hadn't set any specific boundaries aside from exclusivity and up until this point, we continued along enthusiastically without sharing our intentions. It was an incredibly emotional and honest discussion driven by an underlying fear of the unknown. For us, there was no template to follow and there was a distinct lack of examples within our social circle at the time. We were two black women of West African and West Indian descent – both from conservative heteronormative Christian households that believed in good education, successful marriages (to men), and 2.4 children. However, despite these expectations, one fateful evening in March 2006, we made the life-changing decision to listen to our intuition and embrace the unknown and embrace each other whilst acknowledging the love growing between us. 7 months later, we excitedly moved into our first apartment together.
By 2007, we both began making strides in our respective careers and traveled. After a year of living in our first apartment, we decided it was time for a new move to a greener area of South London. We moved into a beautiful duplex apartment which was around three times the size of our first home! Over the next few years travelling all over the US, Canada, Asia, the Middle East, Europe and retreats around the UK. We were active in the London LGBT+ scene and enjoyed the company of our friends, we had good careers, a home we loved, and above all, love and respect for one another. Our families still proved to be a challenge for us, as both sets of parents disapproved of our relationship. Despite this, in 2008 we made a commitment to one another whilst on a trip and exchanged engagement rings. This was a significant step for us. It was our way of telling each other we were committed for life.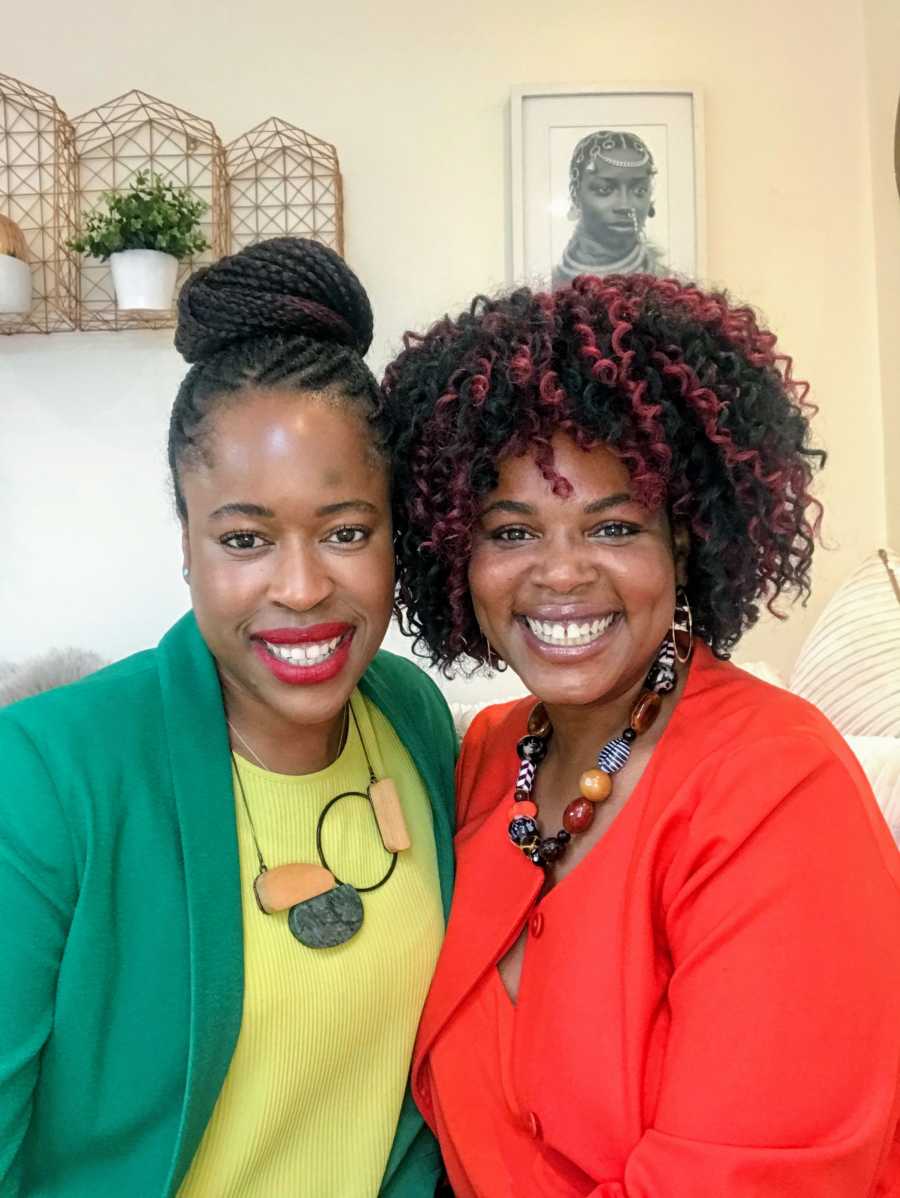 We finally set a date of September 25, 2011, 6 years to the date we met to get 'married.' In the UK, the Marriage Equality laws were not brought into effect until 2015. However, a civil partnership was made legal for same-sex couples in 2005. With minimal family in attendance, we held a civil ceremony on Friday, September 24, 2011, which was followed by an intimate meal with our close inner-circle. On the following day (also our sixth anniversary of being together), we had our Holy Union Ceremony which we celebrated at a beautiful Georgian mansion house close to our home. Our ceremony was led by the incredible Rev. Jide MacCaulay.
A close-knit group of 40 of our nearest and dearest watched us exchange vows, we dined, shared speeches, danced to a wonderful Steele Pan Band on the lawn outside and as the evening came on, we were joined by all in releasing fire lanterns on the lawn. The best of our wedding festivities was our first dance: Etta James' 'At Last.' After dancing late into the evening, we were swept away to a fabulous hotel in Central London where we relaxed for a couple of days before heading off on our 3-week honeymoon to Hong Kong, then Ubud, Seminyak in Bali, Indonesia. It was a trip to remember and memories to cherish.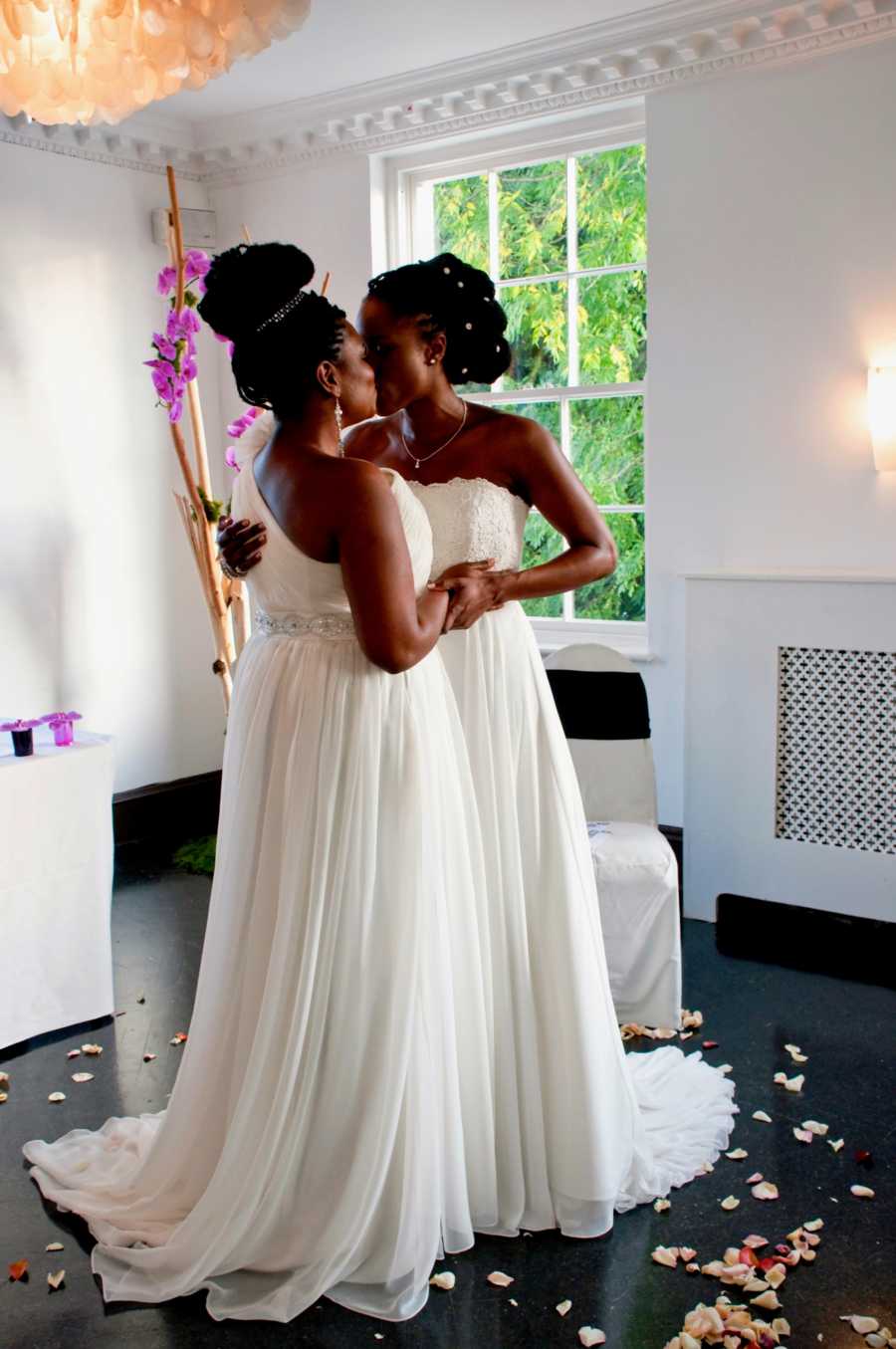 During the six years in our home, we grew as individuals and as a couple. We developed a real level of confidence about our relationship and began to understand what it meant to live as black queer women. Our parents' opinions no longer had the impact they once did. We were both excited and empowered by the decisions we made together. We made the most life-altering decision yet and decided to try for adoption, this required another move.
In 2012, we moved again to an area slightly further from Central London. Our criteria for this home were practical: baby-friendly, close to parks and green spaces, in close proximity to good nurseries, and good transport links to Central London for work.
We attended talks, seminars, and open evenings, and after we finally selecting an adoption agency, we started the process in September 2012. People have often asked us, 'Why adoption?' Our answer was always, 'Why not?' We chose to adopt because it was something we really wanted to do. Initially, our families did not support our decision to adopt. While it was sad and painful to hear they were not going to be part of the process, we knew we had each other.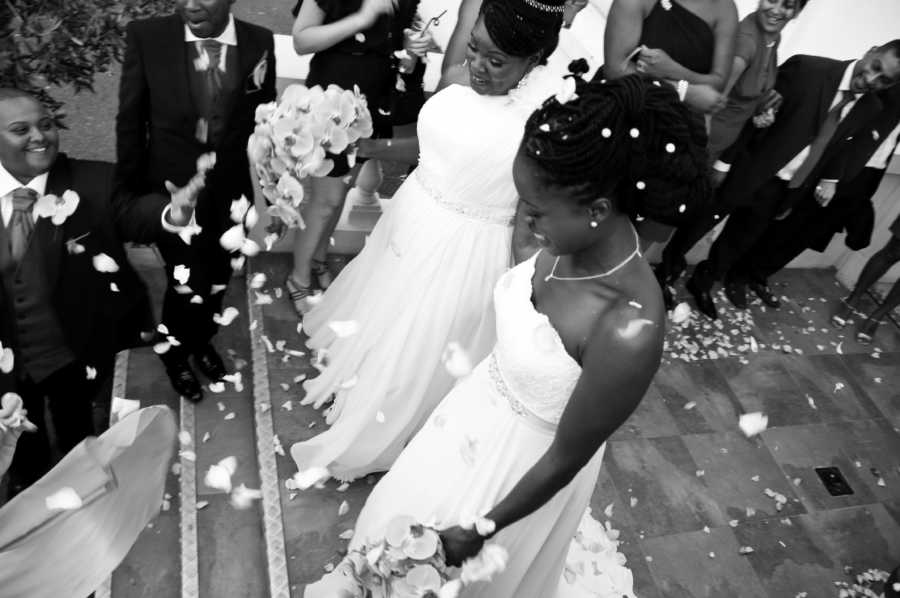 We had very clear criteria from the start of our process: a little girl aged 0–3 years old. We approached the process with openness and honesty and as a result, we learned a great deal about ourselves. We explored our childhoods, our families and our hopes for the future and worked through a number of personal and sometimes painful memories.
In October 2013, a year after starting the process, we were finally approved to adopt. We were matched with a total of five children – all of whom were unsuccessful for a variety of reasons. The process of excitement followed by disappointment was difficult and exhausting. But through each failed match, we grew more resilient and ultimately, the process led us to Ava, our sixth match in May 2014 – an active, smiley and round-faced baby. We were delighted!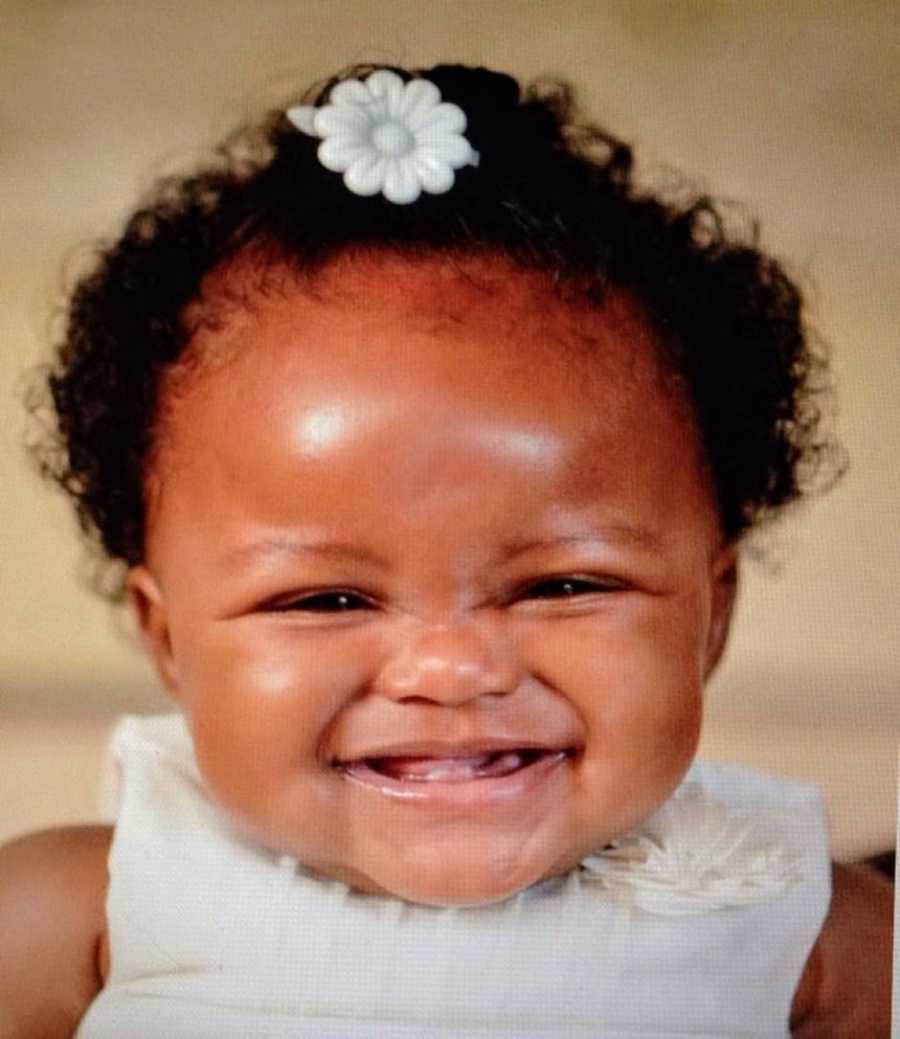 Our first few weeks together were wonderful. Our social worker asked us to not socialize for the first 6 weeks to encourage family bonding and attachment, so we spent all of our time together – visiting local green spaces, going out to family-friendly restaurants, and taking local day trips out. We found ourselves in a new kind of normal, though we knew this change was coming, the reality of our lives felt uncomfortable and unfamiliar. The tantrums began, as did our parental obsession with routine and doing things perfectly. Our lives were completely transformed. We both experienced post-adoption depression. Medical professionals suggest it shares many characteristics with post-natal depression. After around 2 months, we started to socialize with our circle of friends again, which helped us mentally beyond measure.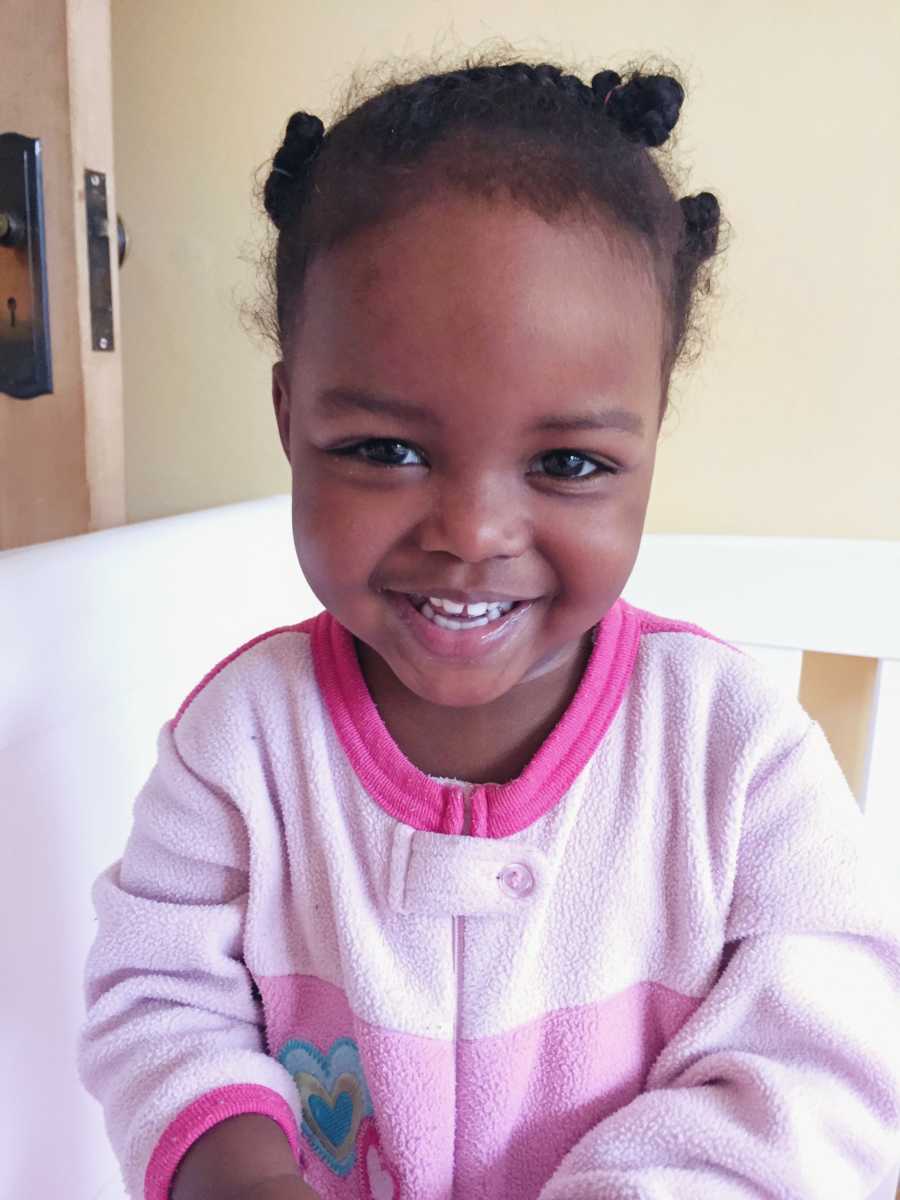 Then, all of a sudden, we started to feel much better. We can't pinpoint the day when the clouds began to clear, but one day, the depressive feelings were no longer present. We relaxed into our new roles, we got to know Ava on a deeper level, and fell in love with her! We worked hard to provide her with a life where she received love, encouragement, and nurturing. Once Ava turned 2 years old, she attended nursery for a few mornings a week, which was a real milestone for us. Our social circle had taken on a new dynamic. Now we had friends with children, which was great for sharing stories and strategies. We had good routines in place, a genuine support network, and friends.
Our parents met Ava and, of course, fell in love with her. Ava is blessed to be adored by both sets of grandparents, she has cousins, uncles, and aunties, as well as close friends. Our current home had fulfilled its purpose, it felt like the right time to move again. This time we had the desire to move even further from the city. However this time, we were open to taking on a big project.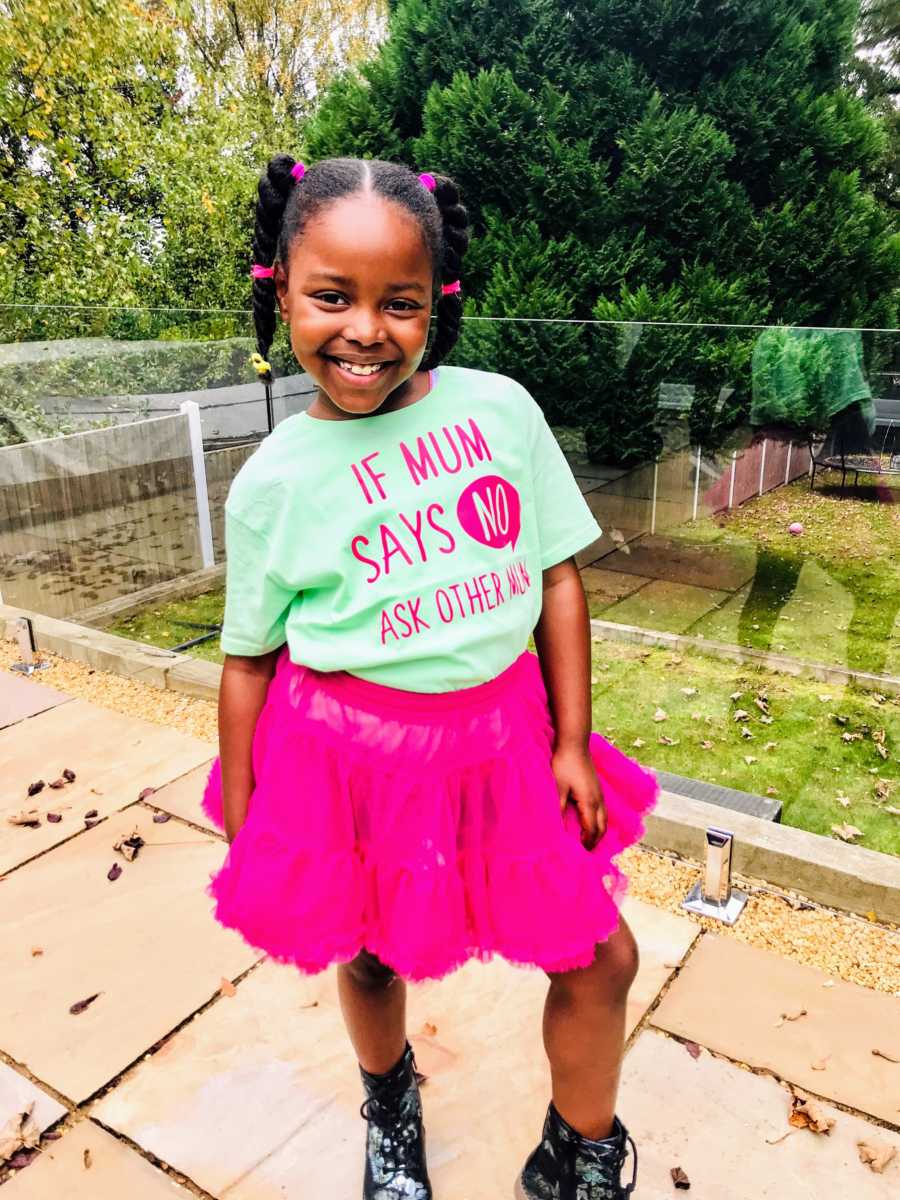 Samuel Johnson once said, 'The man who is tired of London is tired of life.' We believe the person who is tired of London is ready for a change, and we were ready for a change. In 2015, we decided on the county of Surrey with its greenery, space, fantastic schools, lovely properties, and more diversity than many expect. Eventually, our search led us to very a generous sized house that was in serious disrepair. It sat on a good-sized piece of land, but it was undoubtedly the ugliest house on what is a very beautiful street. It wasn't logic. It was intuition. We were sold!
It took us 2 years to completely renovate our home; we transformed it from top to bottom and back to front. Fast-forward to the current day and we couldn't be happier with our decision to settle here – how we live as a family has transformed. Ava proudly started school in 2016 and has settled into school life very well. Being a very active child, she loves singing, drumming, dancing, science experiments, and animals. She has a lovely set of friends, attends various extra-curricular activities from swimming to her dance academy through to rock school. As a family, we walk and cycle in our local forests and fields. We socialize with family and friends, spend days enjoying our home and garden spending time together as a family.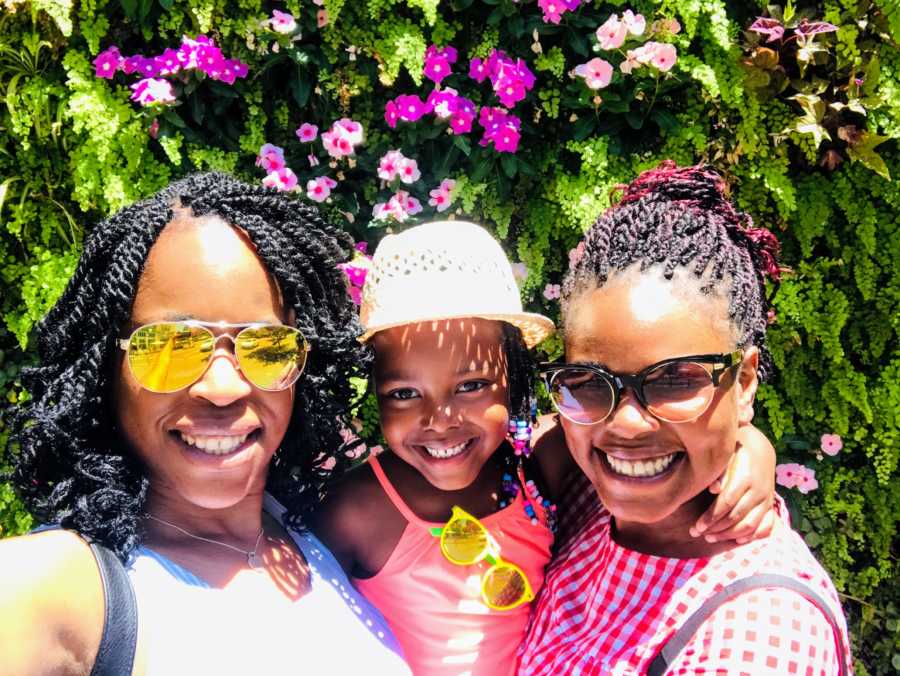 We are grateful we were given the opportunity to find one another. Grateful Ava found her way to us and changed us in ways we never believed possible. Grateful that wherever we have lived, it has always been home. As a couple, we still relish date nights and couples trips, all courtesy of the babysitting duties from our wonderful family and friends. We recently enjoyed a weekend away to celebrate 9 years of marriage and 15 years together.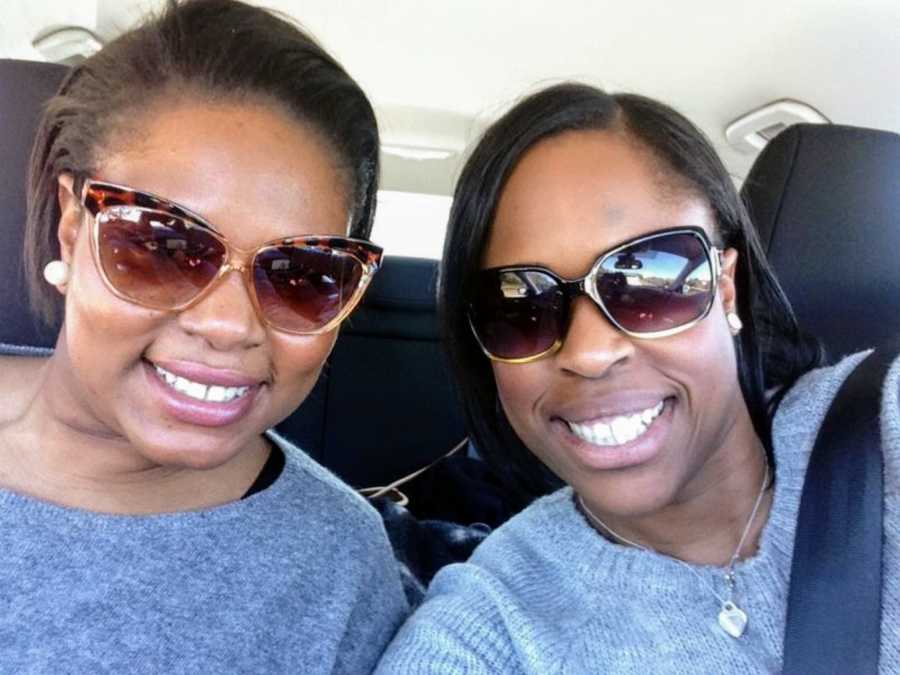 A child has the remarkable ability to alter your world and heal old wounds like nothing else in this world. Ava is every bit ours and we couldn't love her more if she were our birth child. People often tell us she resembles us, and she certainly has a blend of our characteristics. If we didn't make the decision to have that very first conversation, we would have missed out on 15 years of the truest and deepest of loves we have both ever experienced. Our journey hasn't been easy. Like many others, there have been periods of struggle, but this has built our resilience and strength as a couple, parenting, and now business. Every decision we've taken has led us to where we are now. We have recently spoken about moving again – but we're not ready yet, we're enjoying the space we have built."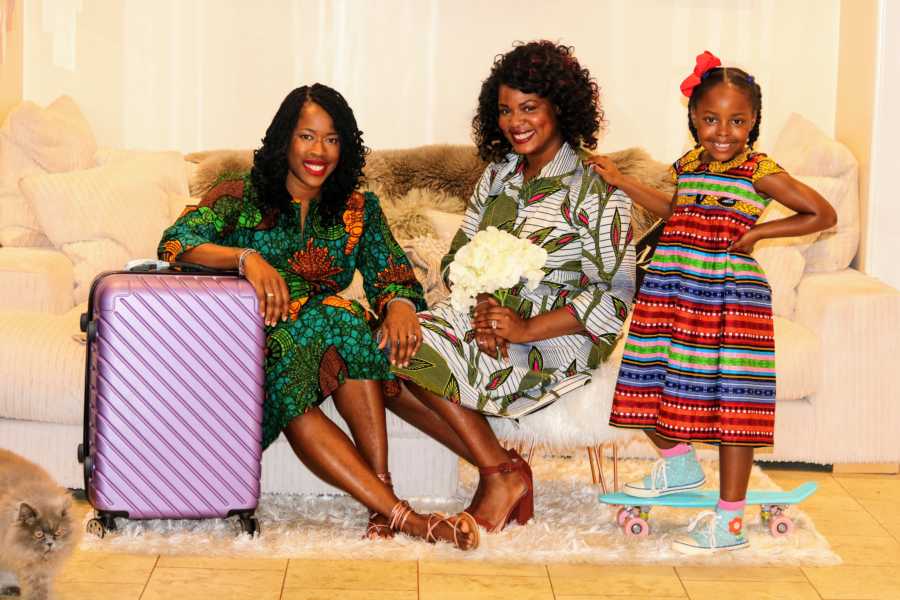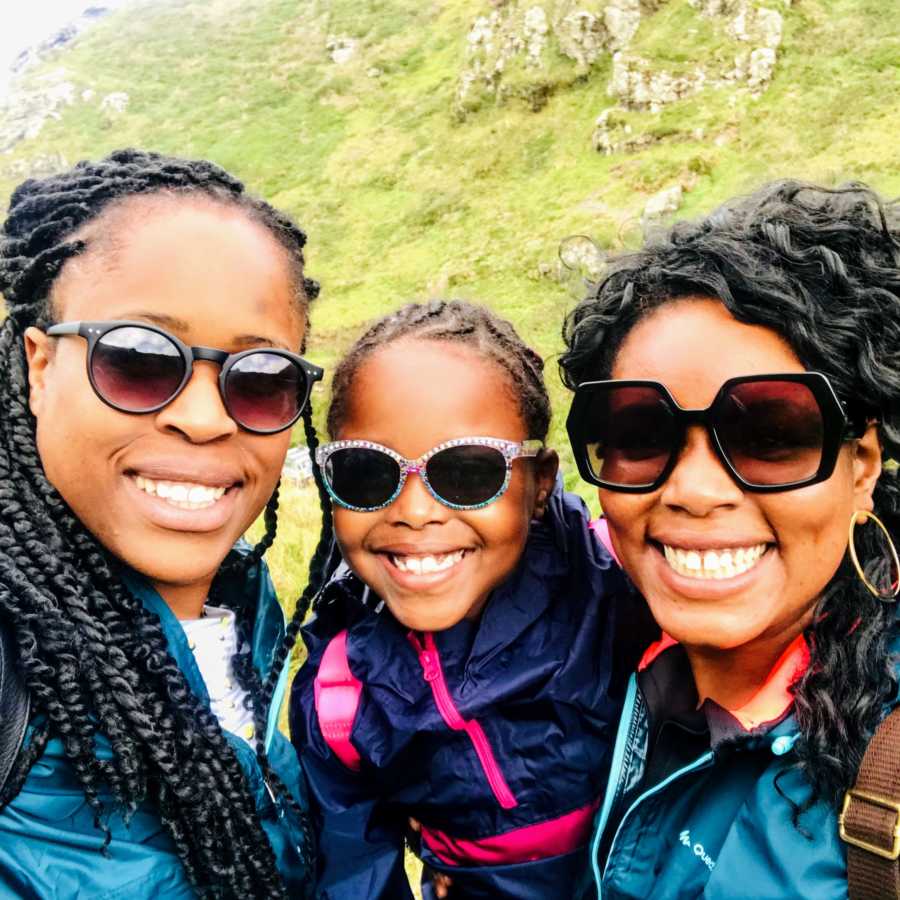 This story was submitted to Love What Matters by Didi and Priscilla Akutu-Carter of the U.K. You can follow their journey on Instagram. Do you have a similar experience? We'd like to hear your important journey. Submit your own story here. Be sure to subscribe to our free email newsletter for our best stories, and YouTube for our best videos.
Read more stories like this:
'Nervously, we asked what was happening. 'Are you sitting down? The birth mother is having twins.' Our tears of joy were replaced with complete shock.': Gay dads welcome 'beautiful and healthy twins' after adoption journey
'Why did you waste so much money making a family when you could just get pregnant the REGULAR way?': Woman candidly shares the struggles of being an LGBT mom
SHARE this story on Facebook and Instagram to help celebrate unique and beautiful differences!