"I can remember it like it was yesterday.
I simply close my eyes and can see myself laying in our king-sized bed we had shared for our 2 years as husband and wife. It was a smoggy Wednesday morning in June, the kind that makes you want to roll over and hit the snooze button. I hear his alarm go off at 5 a.m. and I smash my pillow against my ears. As my 6'2 husband wiggles himself out of the loft that we had made into our bedroom, I throw the covers over my head to block the light.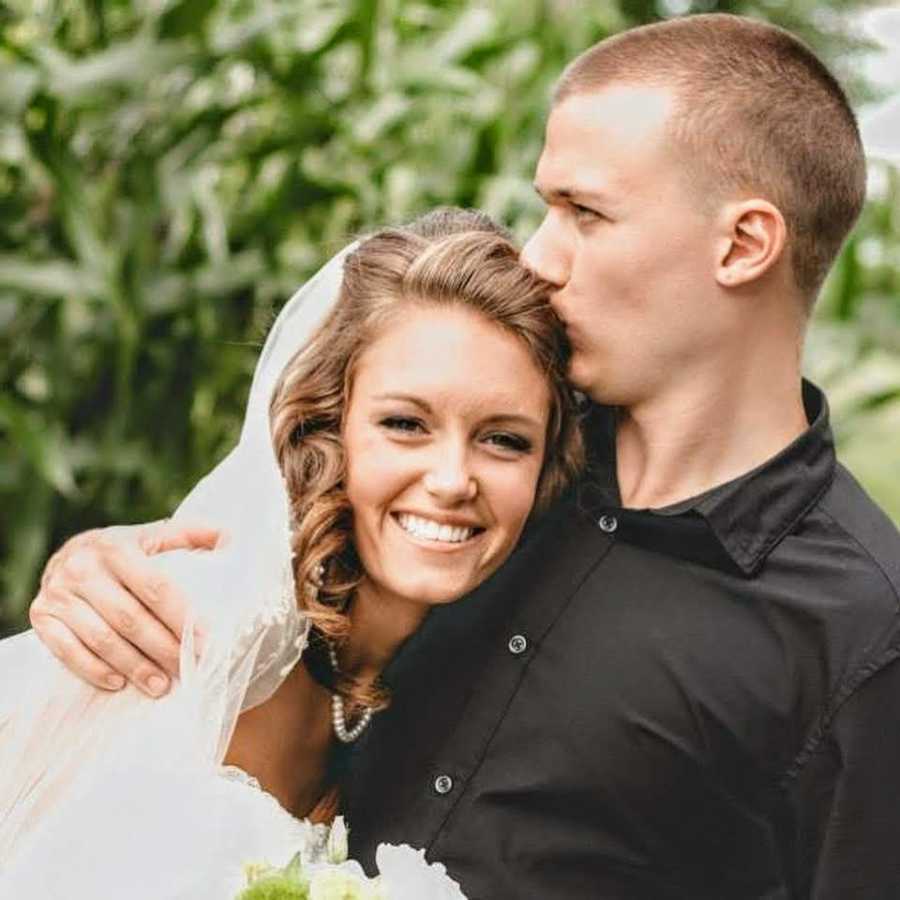 You see, the year prior we had just finished renovating the place we called home, Bunker. After purchasing an acre property near the city, we flipped the unattached one-car garage into our tiny house.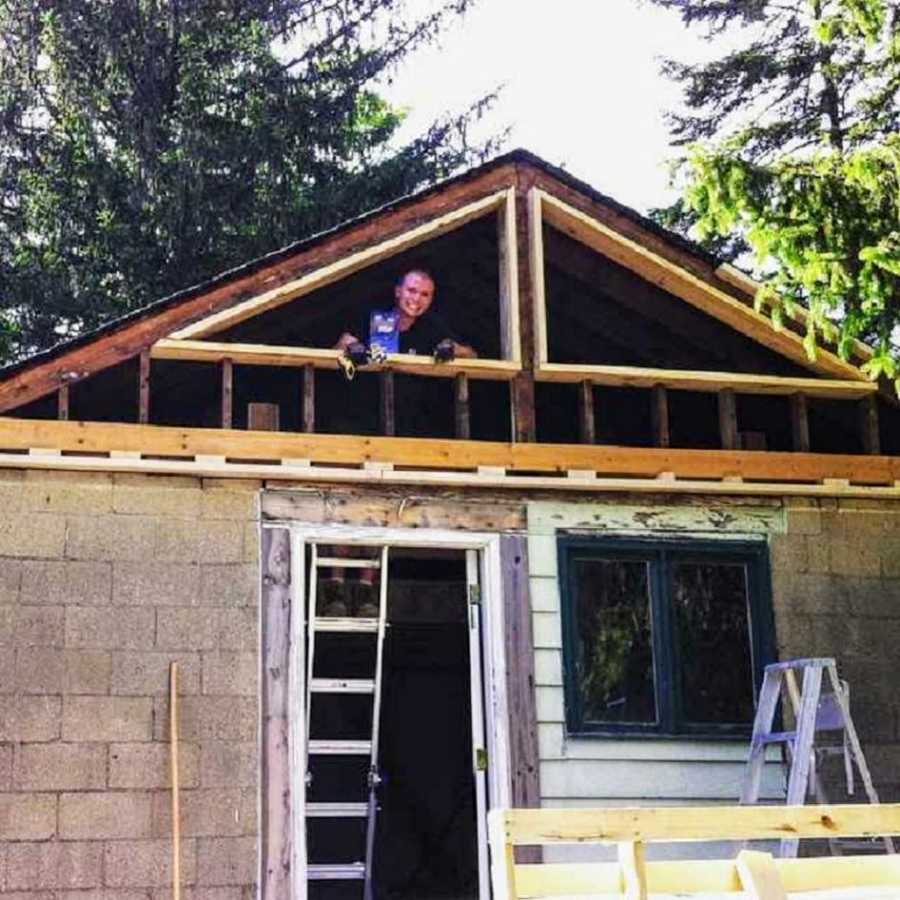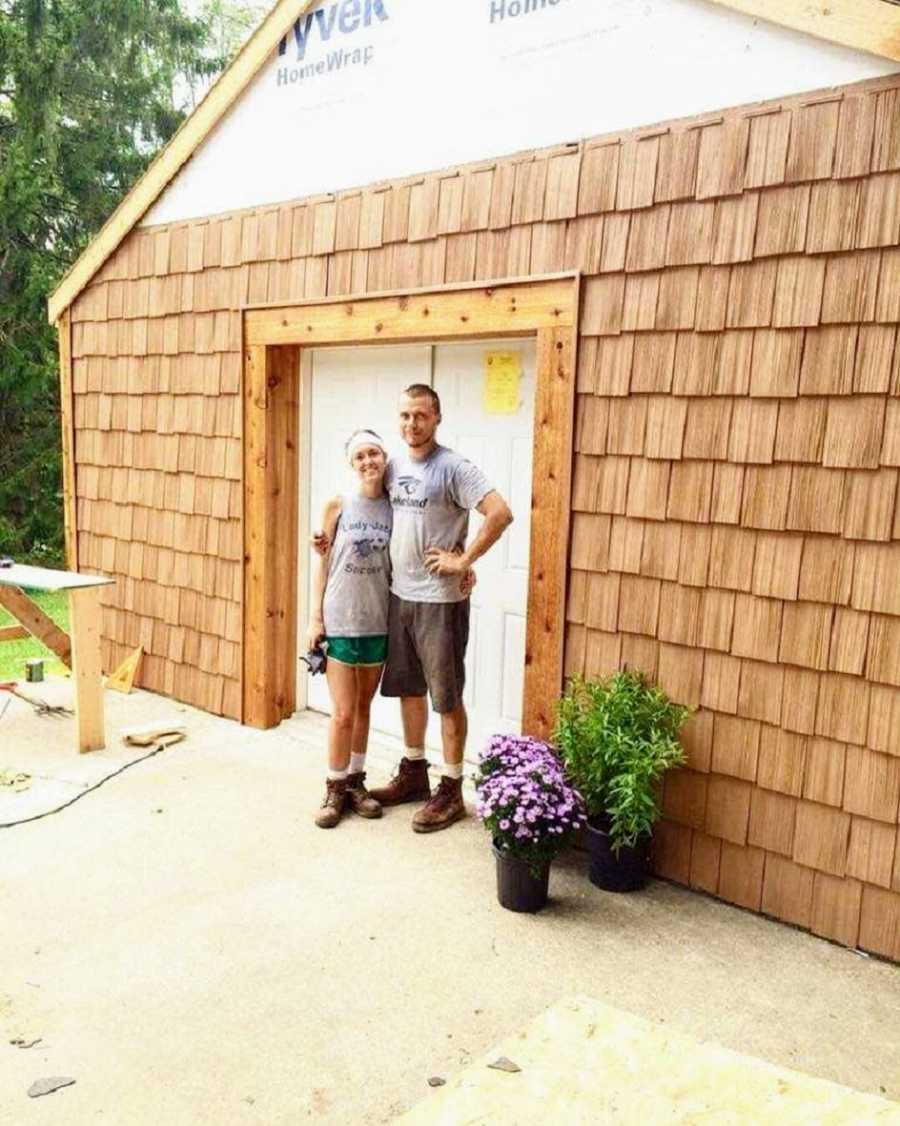 Boasting 400 square ft with a lofted bed, we poured our heart and soul into that space. My husband, always the handyman, had just finished law school and was cramming for the bar. When his hours of studying were over, he would head to Bunker to put on the roof, plumb the bathroom, or install the custom windows we had designed.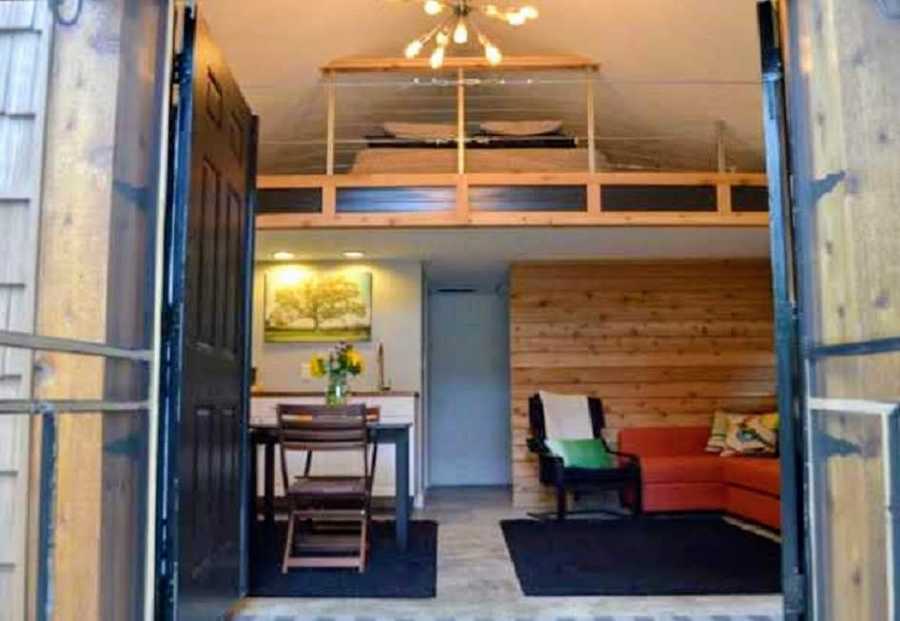 The wide-open space of Bunker allowed me to hear him brushing his teeth and then slipping into his khaki pants and a blue button-up. Little did I know that just 3 hours later, those pants would be bloody from asphalt and his striped shirt cut off of him as the EMT's fought to save his life.
As I heard him walk outside to start his motorcycle, I lifted my head by the railing and sleepily spoke the words that will forever ring in my head. 'Are you sure you don't want to take your truck? They are calling for rain today.' He said, 'I'll be fine. Love you!' And with that, the screen doors I had just finished painting black gently shut. My husband walked out of our house for the last time. I hit the snooze button and woke back up an hour later.
We had a deal. Derek could ride his bike but he had to text me when he arrived at his destination. I checked my phone fully expecting an 'I'm safe' text but none had arrived. At 6:45 a.m., I text, 'You safe?'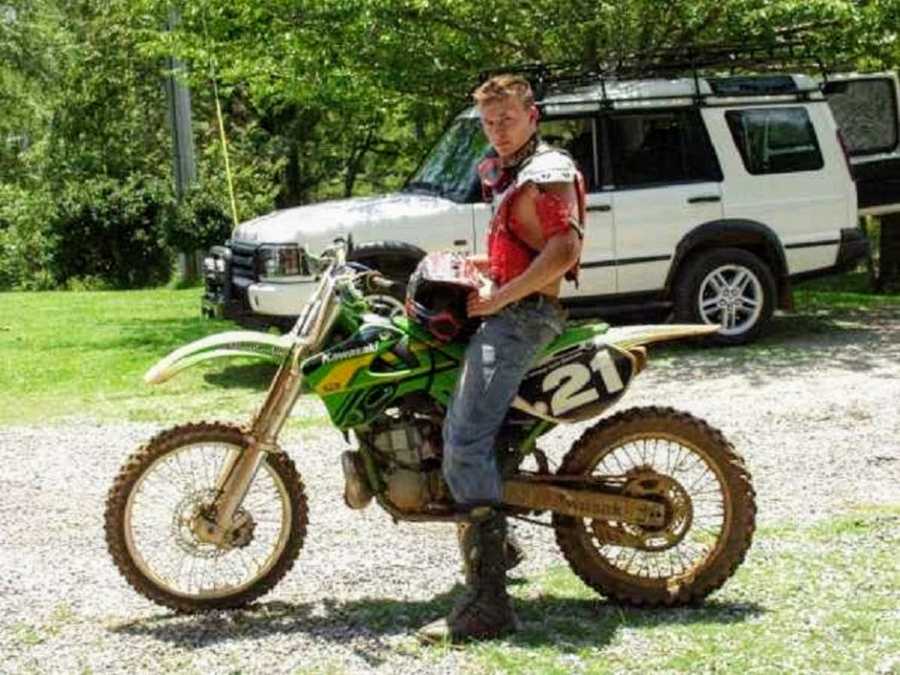 Hitting the snooze again, I woke up at  7:10 a.m. to a missed call and voicemail from Derek's phone. I started to play the message and my heart instantly went to my throat. 'Mrs. Lavender, this is David from Eskanazi Hospital. Your husband has been in a serious accident and we need you to get here as soon as possible. He is alive but that is all we can tell you. Please call me back.'
As I called back the number, I found myself scrambling around the house. I remember stopping in our small bathroom and looking at myself. No makeup, hair thrown up, wearing a t-shirt I tried to class up by tying a knot on the side, and a black striped maxi skirt. I audibly told myself, 'LeAnne, you need to calm down.'
With that, I grabbed my keys and hustled out the door. As I worked my way downtown at rush hour, I started the task of calling our families who both live about 2 hours away. Tears streaming down my face, my biggest fear was that I was going to pass the scene of the accident and see his bike. Our parents answered their phones, threw together an overnight bag, and made their way to Indianapolis, Indiana.
Arriving at the emergency room was nothing like I expected. Instead of chaos and doctors everywhere, it was completely still. Not a single soul was sitting in the waiting room, nor was there a nurse or attendant to be found at the desk. After ringing the small bell sitting on the counter, a man in his 30's came out from behind the blue painted wall. This was David. He explained that they didn't know much but Derek was found in a patch of grass off the highway near an exit ramp less than a mile from his office. He was currently getting an MRI and a doctor would be out to speak to me shortly.
By shortly, he apparently meant an hour. As I sat in a sterile private room, in walked a handsome man in his late thirties. He introduced himself as Derek's spinal cord surgeon and my heart again sank. He explained to me that Derek had crushed his T4-T6 vertebra in his back and had less than a 5% chance of walking. My 28-year-old tall, athletic, handy husband would now be paralyzed from the armpits down. Honestly, my usual emotional self couldn't even let the tears fall. I was just in shock as he handed me Derek's black motorcycle helmet. I noticed the face mask was smashed out and watched a tooth literally bounce across the floor. I bent down to scoop up the small tooth and asked if I could see him before surgery.
Dr. K ushered me back to the surgery area. I won't forget seeing Derek for the first time. His face battered and bruised. He gingerly turned his head towards the sound of my voice and said, 'What happened? Did I hurt anyone?' The doctors explained he was the only one injured in the accident and they weren't sure what had happened. They then listed off his other injuries which included a broken jaw, arm, both hands, scapula, 6 ribs, a collapsed lung, loss of hearing in the right ear, broken eye socket, and fractured a bone on the back of his head. But in all of this, no concussion. The doctor's assured me there didn't seem to be any brain damage.
10 hours later, I was surrounded by our family and friends, both in person and in prayer. I gripped tightly to my mother-in-law's hand as we slowly walked towards the room where we would spend the next month of our life. Having suddenly lost her husband and Derek's dad just 2 years earlier, she knew she was starting the grief process all over again. Her strength became my strength.
The next month in the ICU just smeared together. I started to process what a spinal cord injury actually meant for Derek and our future. We knew we would need to go to rehab, find an accessible home, and sort out the mess of insurance. I was reminded to just take one hour at a time because when you are in the ICU, things truly change so quickly.
Two weeks after the accident, we almost lost him. As the doctors performed emergency surgery in his room, I was ushered to wait in the hall. I frantically watched his room fill up with staff who wanted to see what the commotion was about. His oxygen saturation level had been dipping all night. A normal adult's numbers will be at 94-100% and Derek's had settled at 40%. As I sat on the blue bench outside of his room, watching, a nurse used a bag valve to keep Derek's airway open. I began to panic. Next, a doctor came out of the room with surgery consent forms in hand. As I signed the thick papers, I asked if there was a fear he would have brain damage. I'll never forget him looking me in the eyes and saying, 'We're afraid he isn't going to make it.'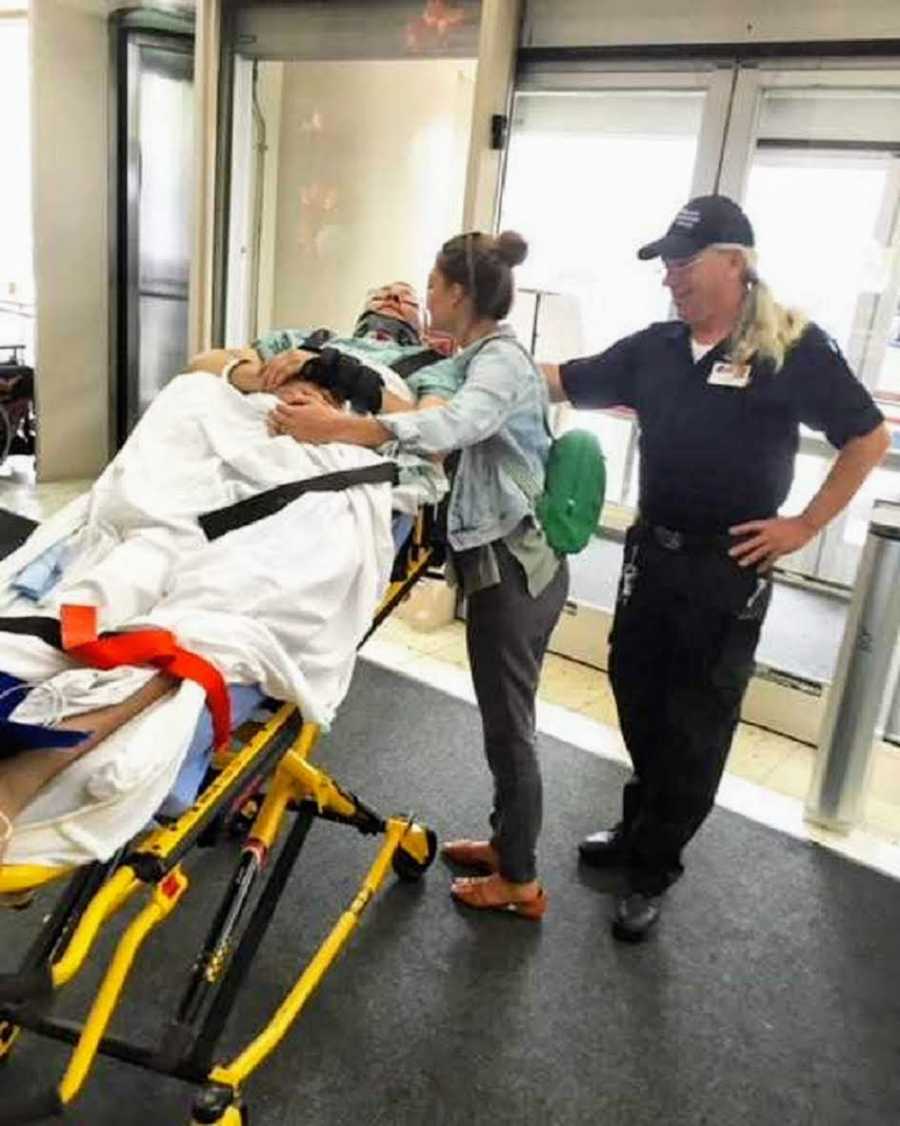 At that moment, my brother- in- law came through the ICU doors in a flurry. After being permitted to come back knowing the seriousness of the situation, he sat with me as I processed that I was a few yards away from the surgery because they didn't even have time to get him into an operating room. Almost as quickly as the chaos started, it then settled. 20 minutes later, people started filing out of the room. I watched their faces closely for any hope. Thankfully, the surgery was successful and Derek's lungs started to make serious improvements in the days that followed.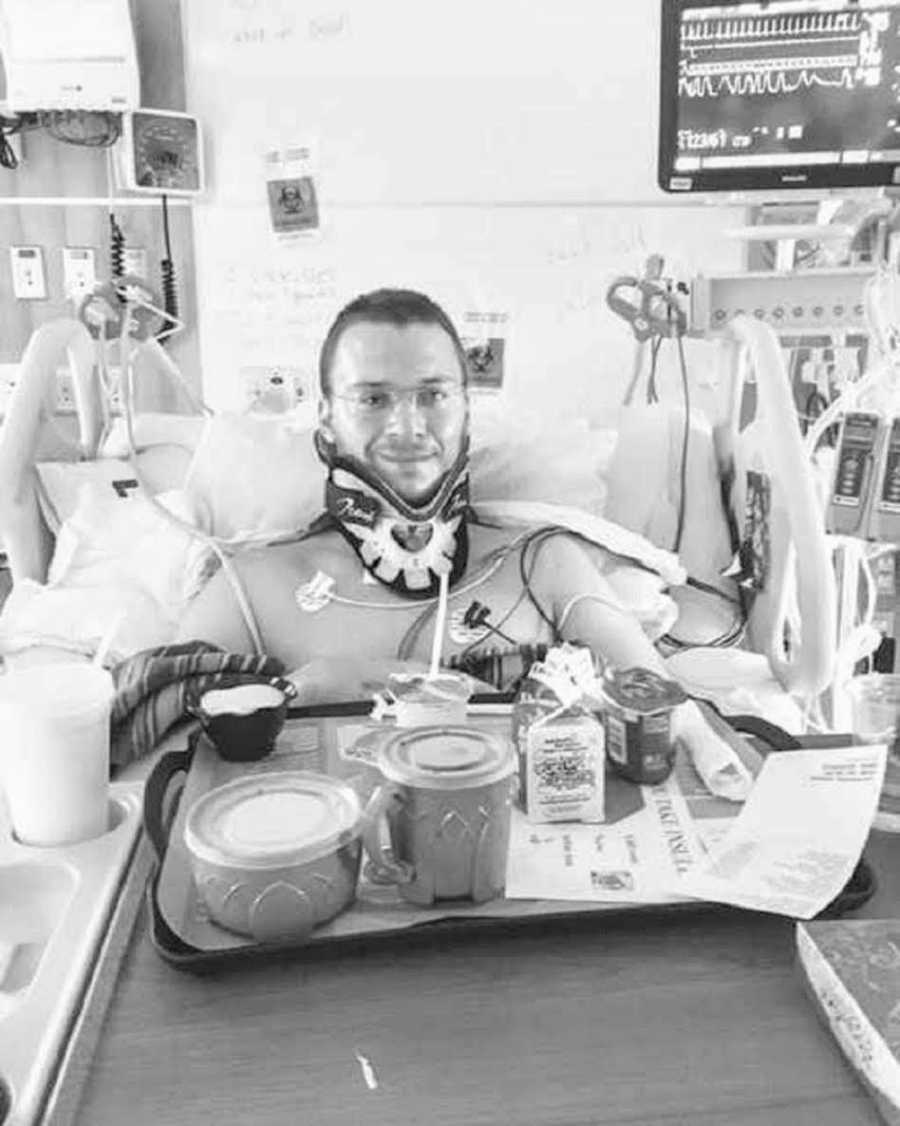 A couple of weeks later, we moved to an inpatient rehab hospital in Chicago, Illinois. This is a hospital you stay at but after the doctor's rounds in the morning, you spend 3-5 hours a day in therapy. You are assigned a Physical Therapist (PT) and Occupational Therapist (OT) that help you with strength building and re-learning simple tasks like how to put on your socks, shower, and get into a car.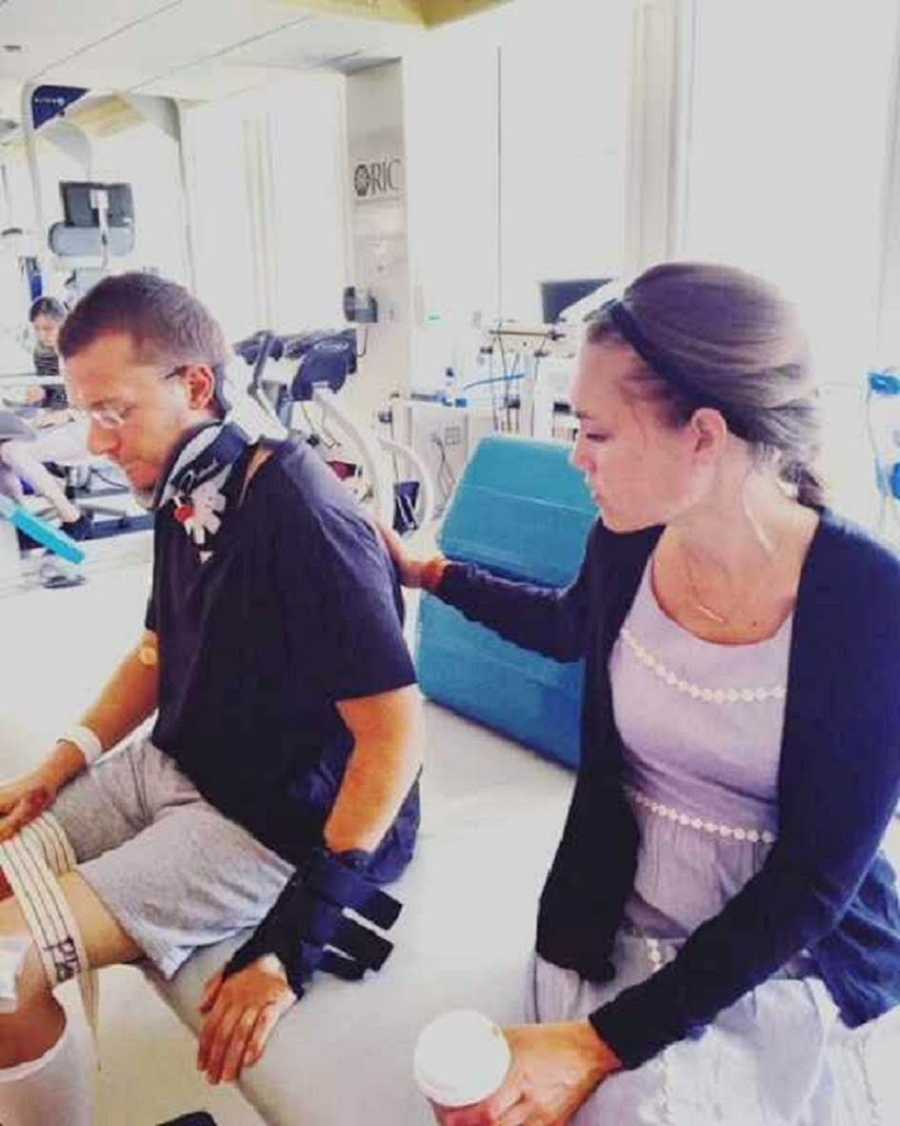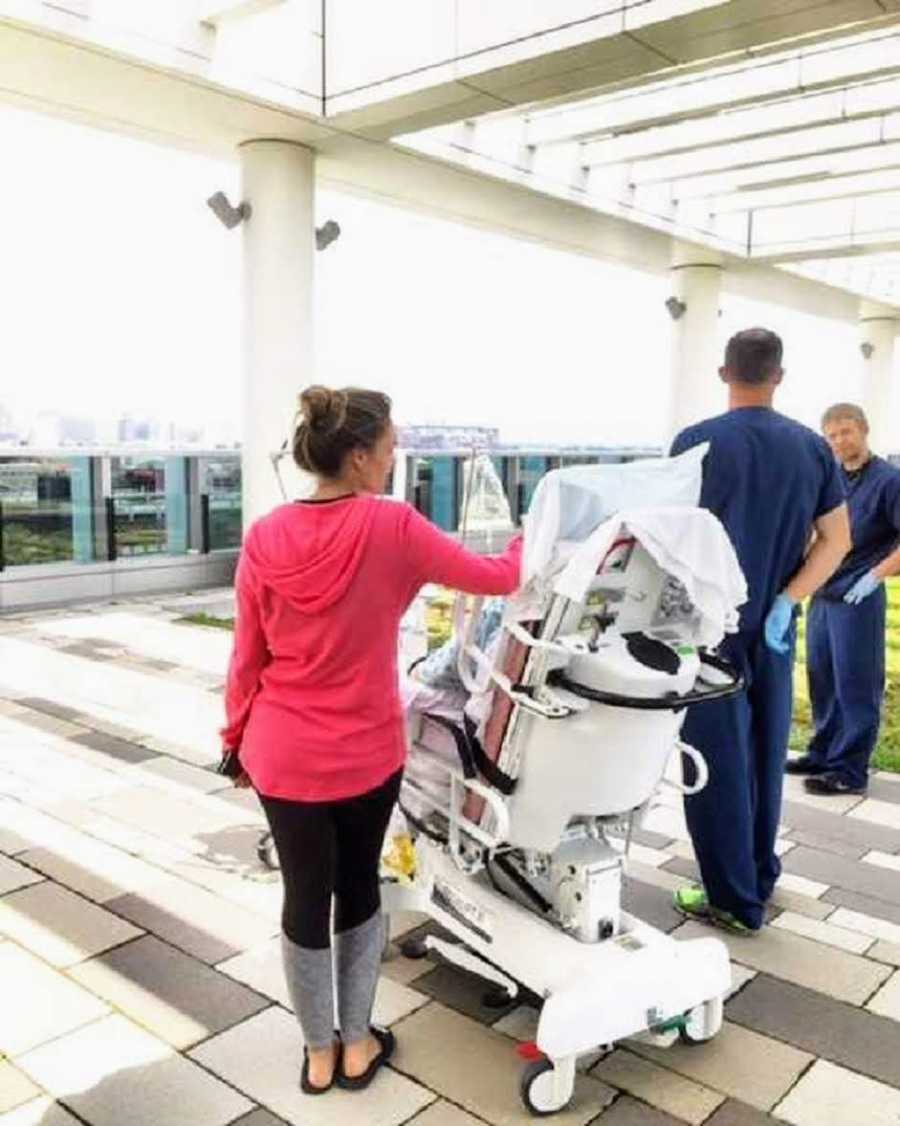 We spent 4 months in Chicago learning and making plans for our future. Through it all, I never once heard Derek complain. He simply put his head down and pushed through the pain. Derek obviously had his hard days as he fought infections, having to sleep next to snoring roommates, and mentally processing his new life. Unfortunately, our hardest day was yet to come.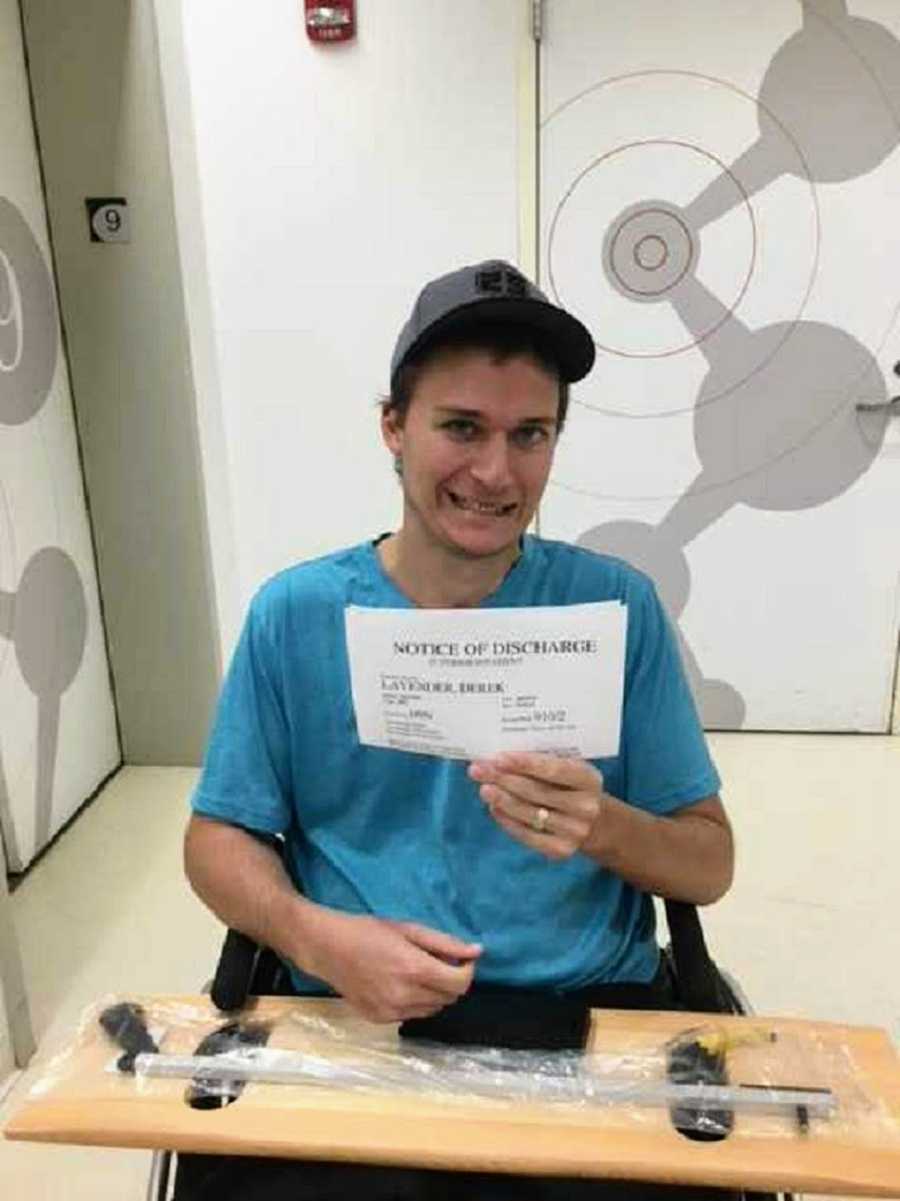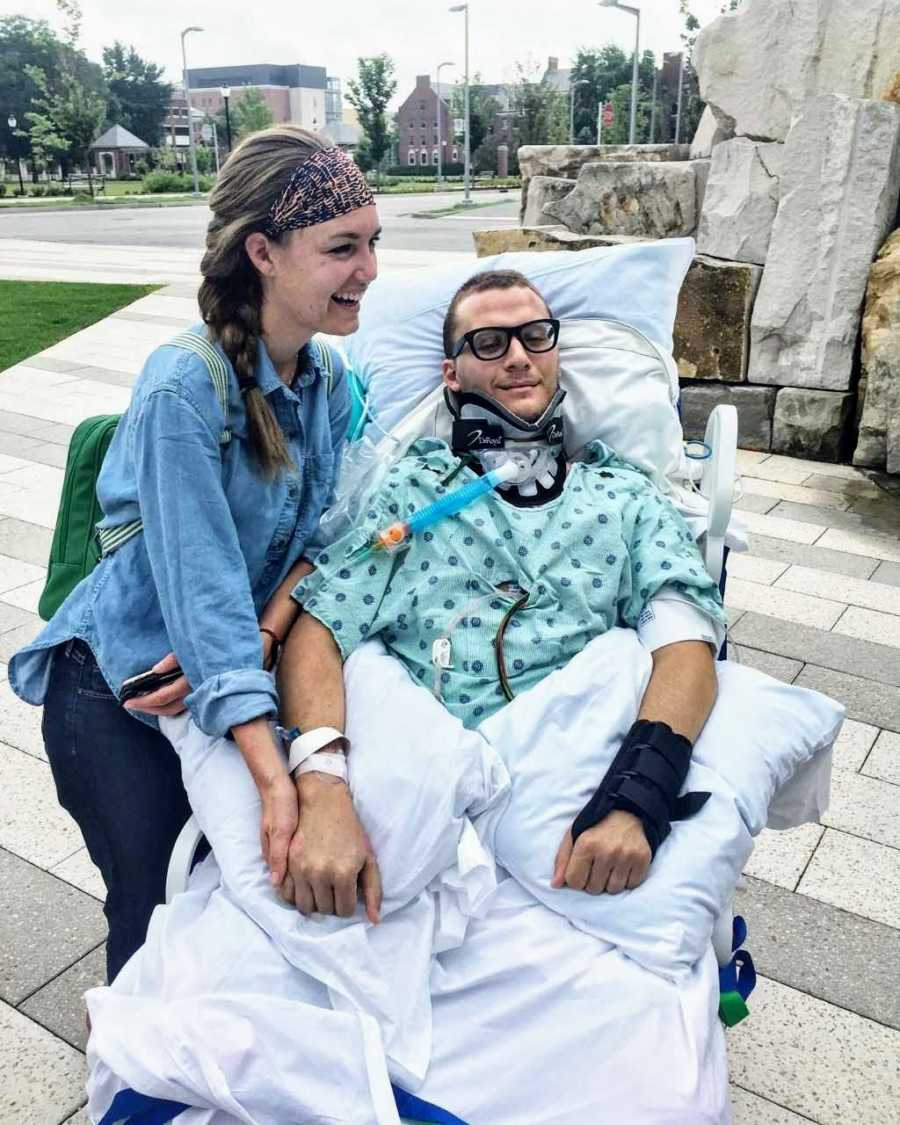 In October, we finally got the green light to head back to Indianapolis. Derek transferred into our car using a sliding board and we waved goodbye to the folks we had grown to rely on for the toughest months of our lives. Since Bunker was not accessible, we ended up filling it with renters as we moved downtown to an accessible apartment near Derek's office.
That evening, we laid in our new king size bed, the one his mother generously donated because the one at Bunker was trapped by the railing Derek had built earlier that summer. And we cried. So many tears. We had hit our lowest point as reality set in. As I tucked Derek in and set my alarm to turn him in two hours, we couldn't believe that this was our life.
But as I knew it would, life went on and time started to heal our hearts. We got more efficient with the required morning routine. Derek learned to turn himself in the middle of the night. He started back at work, just part-time at first and then slowly moved to full time. We sold Bunker and used the profits from all our hard work to renovate an accessible ranch home. We tried flying and went on a vacation. We got a puppy. Derek got his driver's license. And just like that, life started to feel more normal.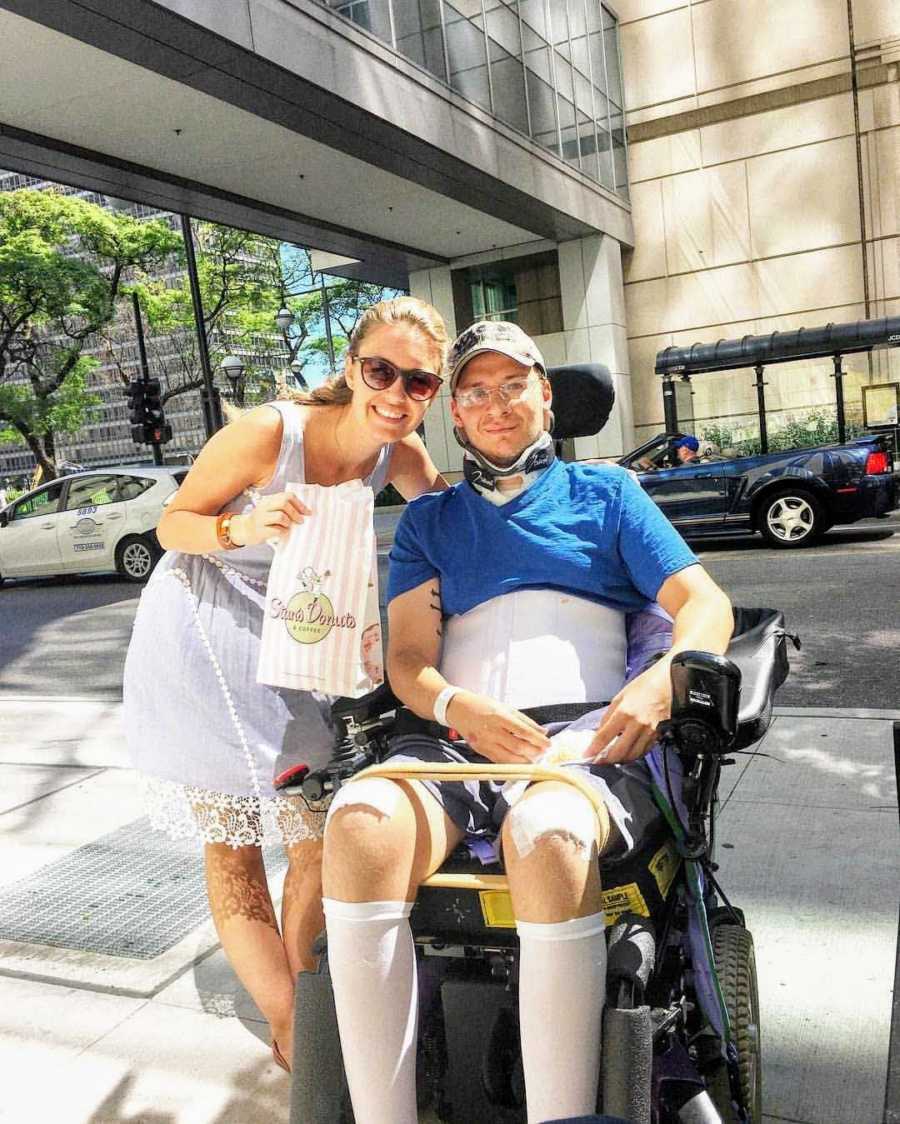 Don't get me wrong, this lifestyle is hard. Everything takes more time and needs to be planned out. There are required medical steps we must take every morning which takes 2 hours. We are up at 4:30 am each morning to make sure Derek is out of the house on time. There are the frustrations with flying, finding accessible homes to stay in when we travel, and of course, the steps, curbs, and parking that can create annoying situations.
But then there are beautiful moments like our nieces/nephews giggling as they push Derek around our home, me leaving him for a long weekend with friends because he is able to be independent, and seeing God's fingerprints all over our story. Optimism is truly a mindset. It doesn't mean you can't be realistic with the hand dealt to you but it does mean you set your eyes forward and notice the bright spots in life.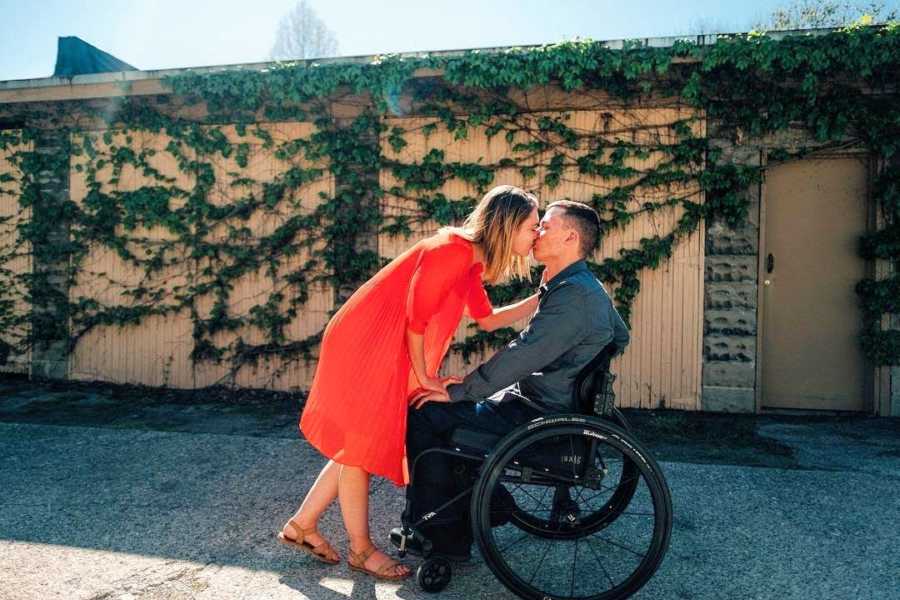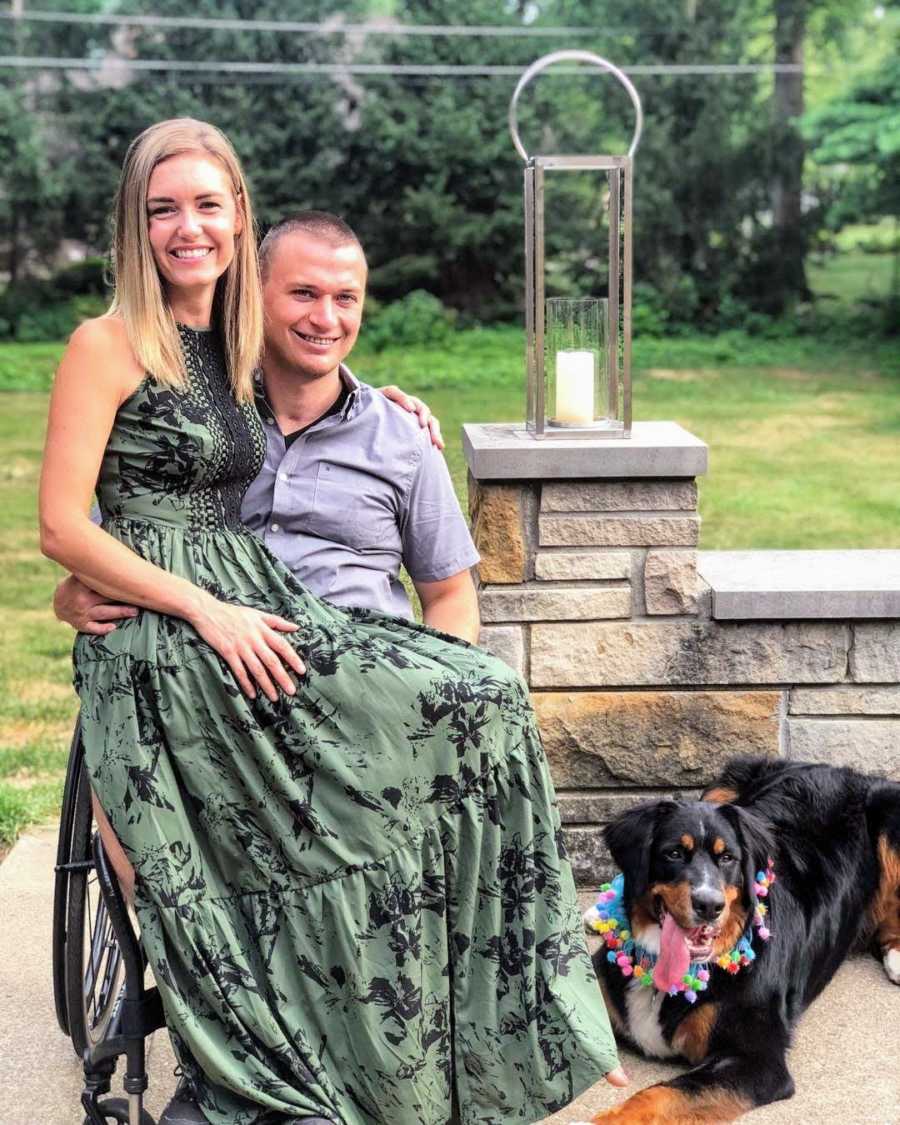 Through this life change, we've been reminded that we are all members of a club that we never dreamed of being a part of. And when we are in this club, we think we certainly won't keep wracking up club memberships. Unfortunately, that's not how life works.
Take heart. Be kind through your pain and know you are not alone."
From podcasts to video shows, parenting resources to happy tears – join the Love What Matters community and subscribe on YouTube.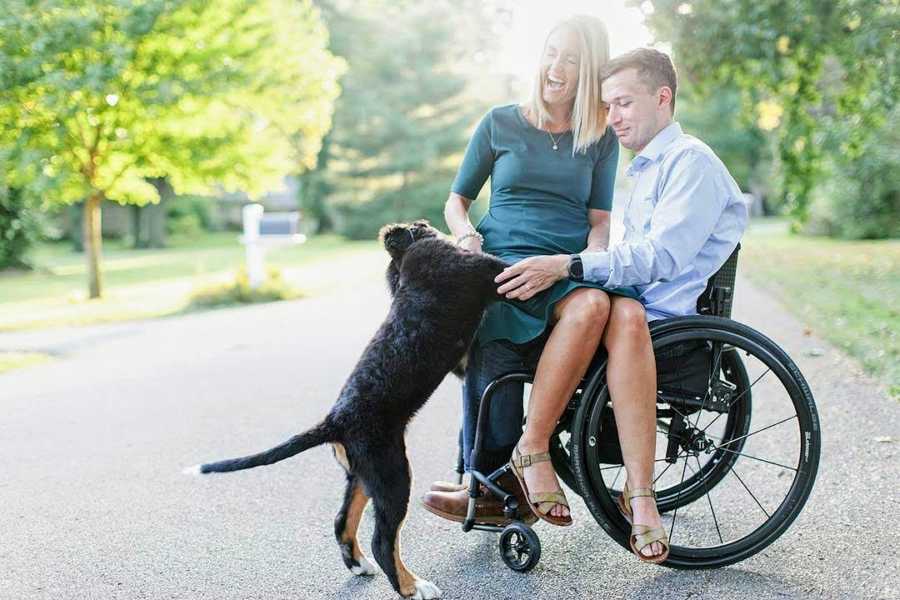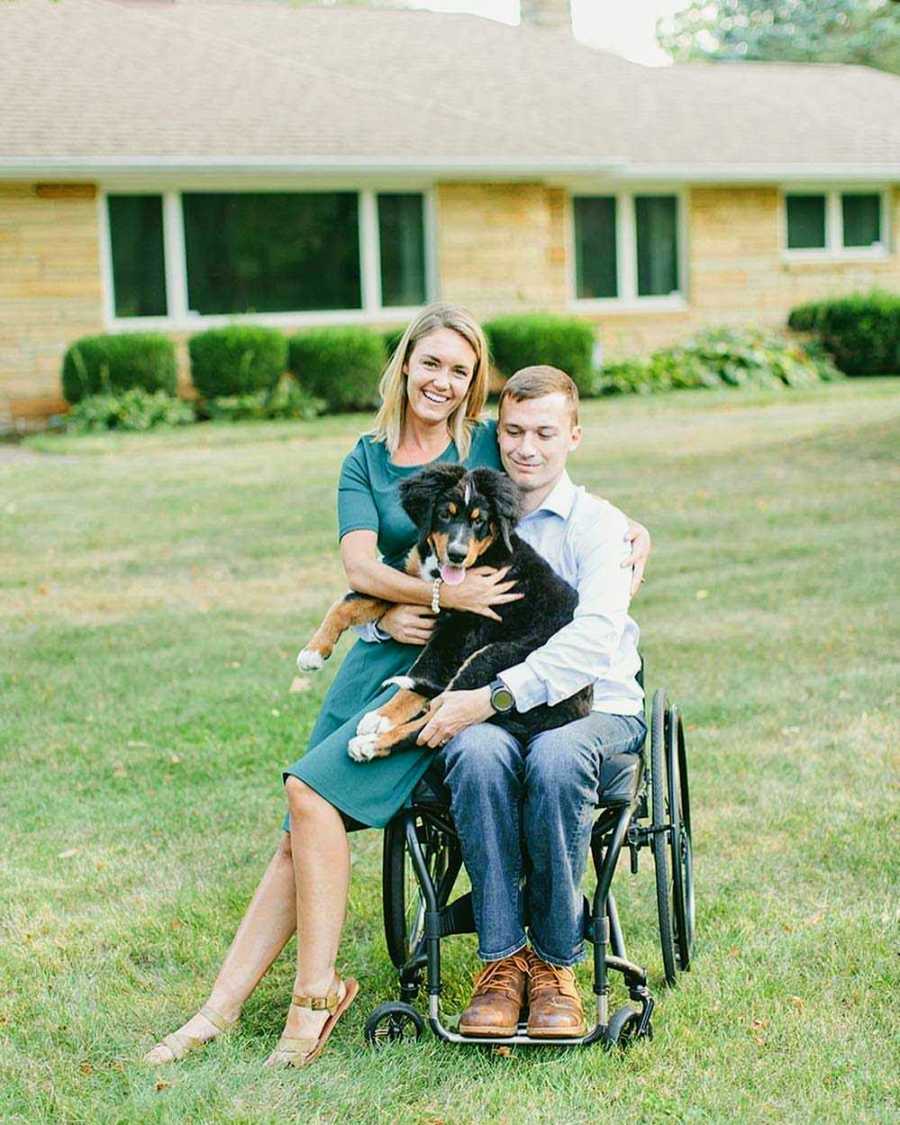 This story was submitted to Love What Matters by LeAnne Lavender of Indianapolis, Indiana. You can follow her journey on Instagram and her blog. Submit your own story here and be sure to subscribe to our free email newsletter for our best stories.
Read more powerful love stories stories like this:
'Who is this,' I asked. 'This is Ty's assistant principal. I just came upon a car accident on my way home. It's Ty, and he is not good.' Wait, what?
'His last text said, 'Bank robber.' My heart raced and I ran upstairs. I received a message from a stranger offering condolences to my fiancé. I had no idea what was going on.'
Provide strength and beauty for others. SHARE this beautiful story on Facebook with family and friends.