"Sometimes answered prayers don't always look the way we thought they would.
Sometimes you bury the desire that led you to that prayer so deeply, that you cannot recognize it's fruition.
Sometimes the way your prayers are answered are so unorthodox that you wonder, 'God, was that really you?'
For as long as I can remember, I missed positive male role models.
My father was abusive, then absent.
My Grandfather on his side passed away.
My Granddad on my mother's side lived far away.
There were no Uncle's, or a stepfather, or anyone at all to fill that void.
Naturally, upon becoming a mother, one of my deepest wishes was for my children to have what I was missing.
An older mentor, a grandfather who taught them things I couldn't, uncles close by…good, strong men that they could count on.
Life has a funny way of not working out quite like we planned and starting out as military brats certainly didn't give my children a home base or the ability to be close to any family.
Their dad was deployed often and it was just me and them a good majority of the time.
I hoped that retirement would bring some stability and allow for more permanent people to come into their lives.
I am not sure in what form I was expecting God to provide such mentors to our lives, but I kept praying, 'God, please send honorary grandparents' to my children. People who will care about them, invest in them, and help them become who they are supposed to be.'
I think I expected some older couple from church to step in, for one of their Grandpa's on their dad's side to move closer, for my mother to remarry a nice, older gentleman. I didn't expect Master Cruz and Mr. Jose would stand in the gap.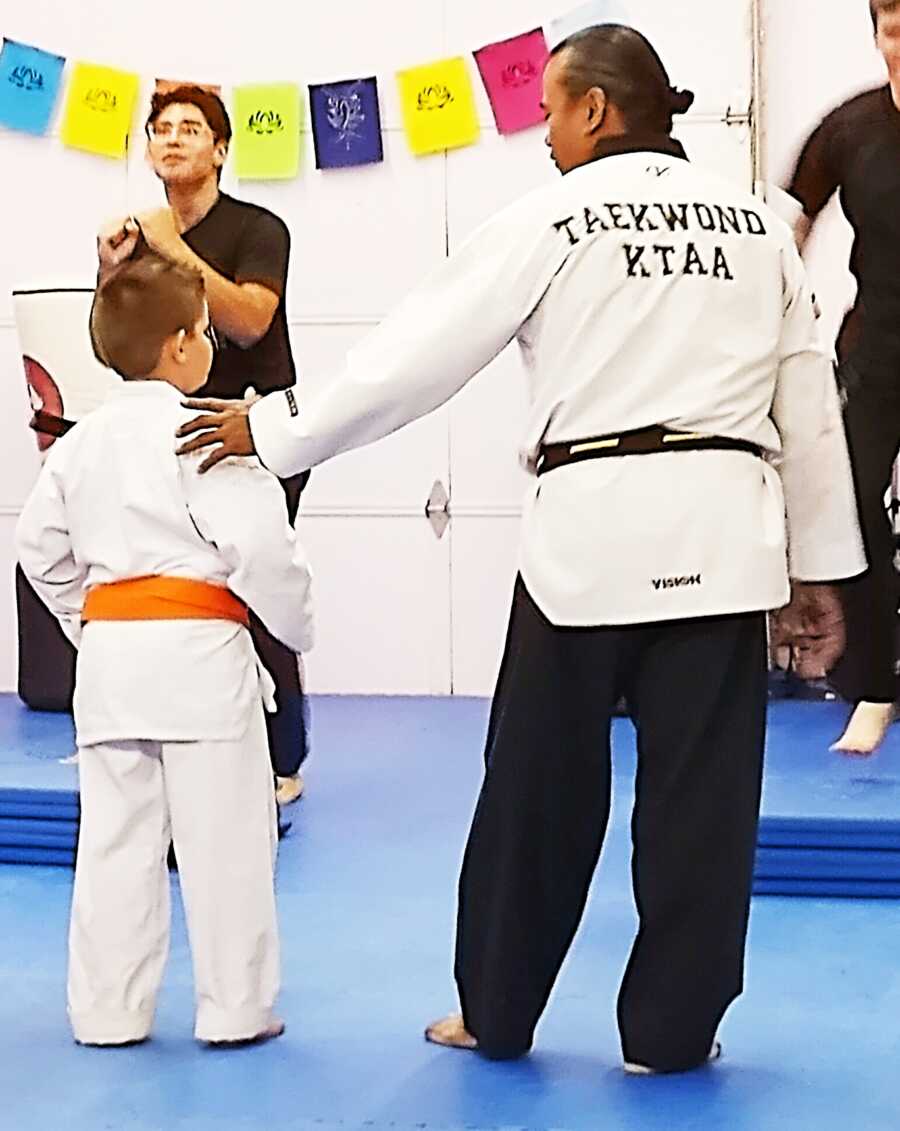 Since the age of five, my middle son has been passionate about martial arts. For 2.5 years he trained until he earned his orange belt and then was devastated when his martial arts studio shut down due to Covid this summer.
I didn't think he'd ever want to move on, but his desire to earn a black belt outweighed everything else, so we went on the hunt for a new studio to continue his training.
He fell in love with a little Taekwondo studio in our small town, and almost immediately, Master Cruz saw something in Christian that reminded him of himself as a boy.
He allowed my son to start instructing the younger class with him and if you saw the smile on my child's face that week, nothing had ever made him prouder than having that opportunity.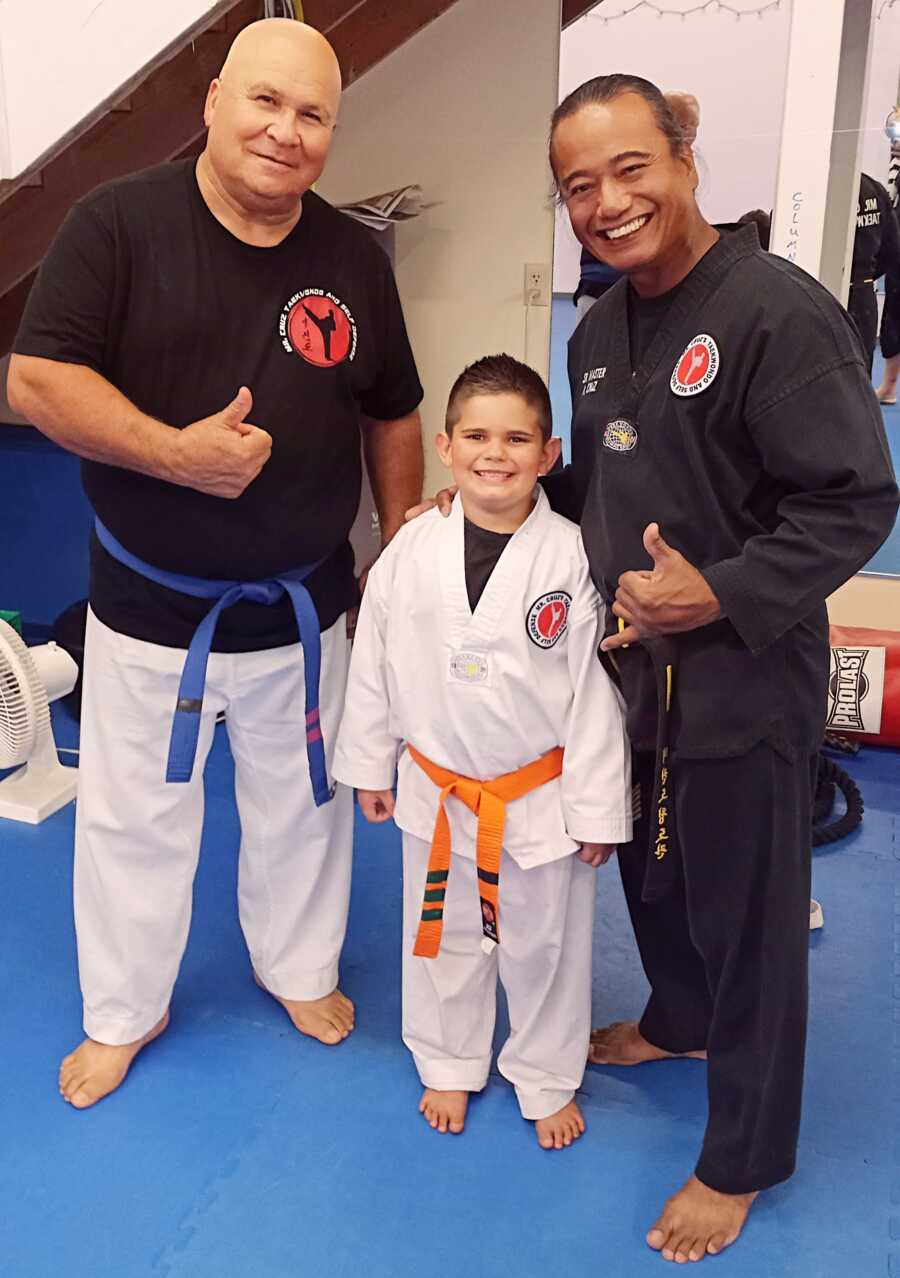 Naturally, he doesn't have all the skills at 7 years old to instruct others, so Mr. Cruz patiently explains to him what he needs to do and has taken so much time to invest in Christian and his future.
When we first started classes, an older gentleman named Jose helped instruct as well and he took a shine to my son right away too.
Now, every time he sees Christian, he tells him, 'You're my hero, you know.'
He sees so much potential in my son and admires his determination to earn a black belt at any cost.
It struck me while I watched as they put their hand on my son's shoulder and give him gentle instructions, just how much it meant to Christian.
He views martial arts as his future and to have people that believe in him, support him, and train him means the world.
And to watch my prayers be answered means the world to me.
When you don't know someone's story, it is difficult to comprehend just how much your kindness will mean to them. Taking a little extra time to share your gifts and talents with those around you, will have lasting impacts on our future generations."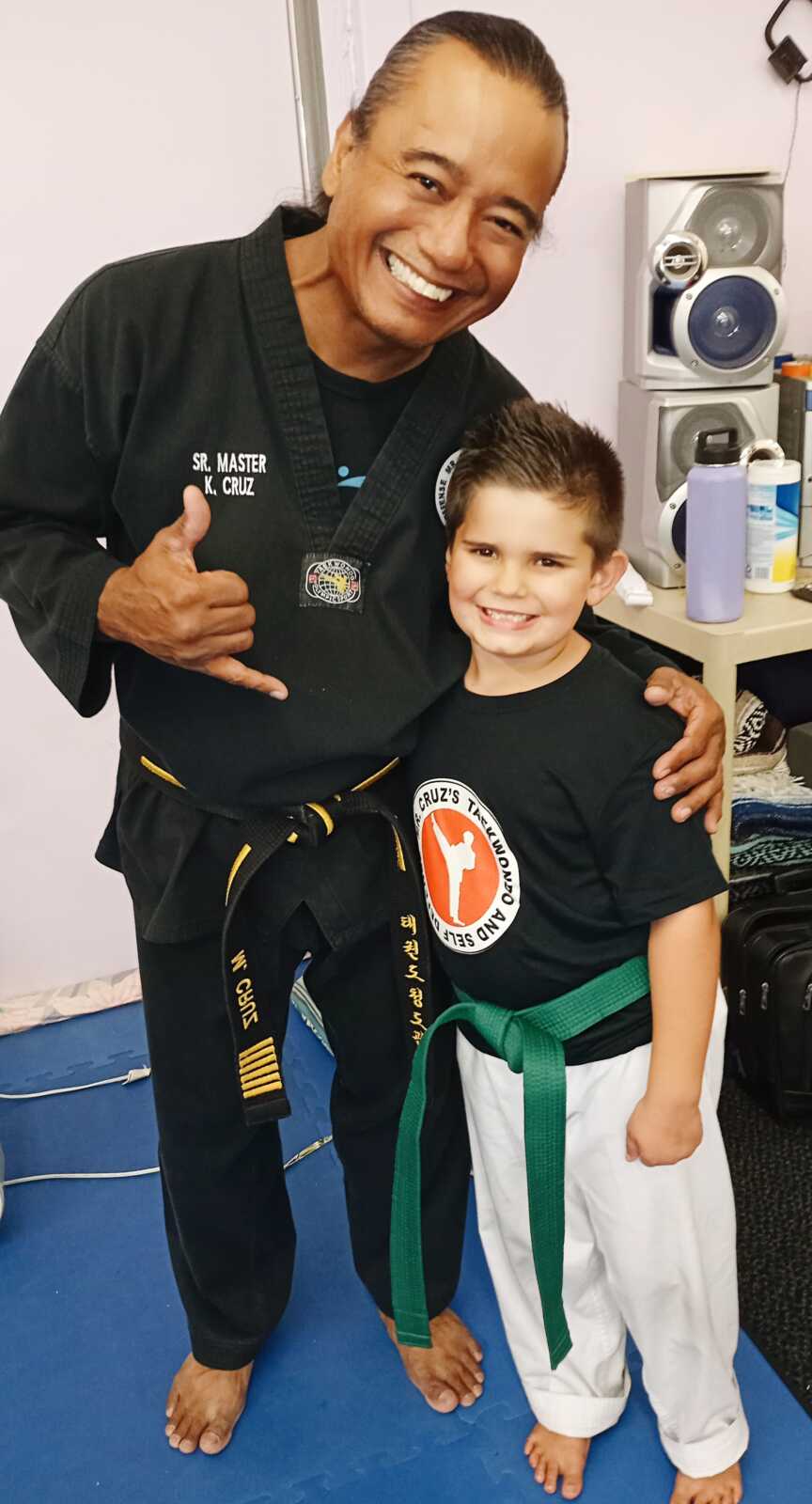 This story was submitted to Love What Matters by Tabitha Yates, a writer, master life coach, and founder of The Redeemed Mama. You can follow her journey on her website,  Facebook,  and Instagram. Submit your own story here, and be sure to subscribe to our free email newsletter for our best stories.
Read more from Tabitha here:
'If you are having to fight for a place at the table, if you are having to beg for an invitation, those are not your people.': Woman urges 'you deserve to belong'
'No one asked if I was OK.' I was 15 when I attempted suicide. I went to church, sat alone. I cried the entire service.': Woman urges Christians to discuss mental health, 'you don't need to hide it'
'I gently patted my son's back when I heard a crackling, wheezing sound. 'Something's wrong, I just know it,' I told my husband.': Mom candidly shares journey with parenting PTSD
'They just want to make it home to their loved ones. They're working soul-crushing shifts. Who will help THEM?: Woman pens ode to Covid-19 war heroes, 'We see you, and we salute you'
Provide beauty and strength for others. SHARE this story on Facebook with your friends and family.