"Simple moments together, a snippet of our little ordinary life.
Nothing fancy.
Nothing outrageous.
Nothing over the top.
Simple.
Easy.
No fuss.
Moments at home cherishing each and every minute together, knowing one day it will come to an end.
Time together teaching, learning, giggling and growing.
Time together.
It was all I dreamt of and everything I could have possibly imagined.
Time together, loving.
Isn't time funny though?
Some days we feel last a lifetime and pray for bedtime to arrive, to relax and exhale.
And other days we want to just reach in and grab time and make it stop.
We want to press pause.
Stop in that moment to capture it all.
But time is always the same.
We never have to question the movement of time.
It is always consistent.
It is always moving forward.
Lately though, I'm not wishing for time to move forward…
I'm missing the simple days splashing in the sink, jumping in puddles in the rain, swinging high on the swings and singing our way through the day.
I'm missing snuggling while listening to books, painting the next masterpiece and searching for toads.
I'm missing my children, in their younger forms, while loving the teens who stand next to me, now taller than me.
Is it wrong to miss their younger years?
Is it wrong to yearn to go back in time?
Is it wrong to have loved those simple moments so much it makes me crave more and more moments like this?
I don't think so.
It's who I am and who I will always be.
My past moments create and mold the joy within my life now and I am blessed to go back in time within my mind.
I do this often…
Go back in my mind to a simpler time.
If I'm having a hard day connecting to my teen, I recall how easy it was then and adapt to try to make our connection today stronger.
If we are having harsh words, I think of how soft spoken we used to be and try to change my voice.
If my patience is next to null, I remember the over abundance of patience I had when innocent eyes looked up at me with adoration and take a breath.
No one ever said being a mom was easy.
No one ever said some days wouldn't be hard.
No one ever said we can't wish to hold on to moments and no one ever said letting go was easy.
So for now, I will relish, with profound nostalgia, the precious time I had with my children just simply living, within our simple yet ordinary world.
As I watch their present day independent world unfold before me, I will learn to cherish the moments moving forward and with great pride whisper, 'I am blessed.'"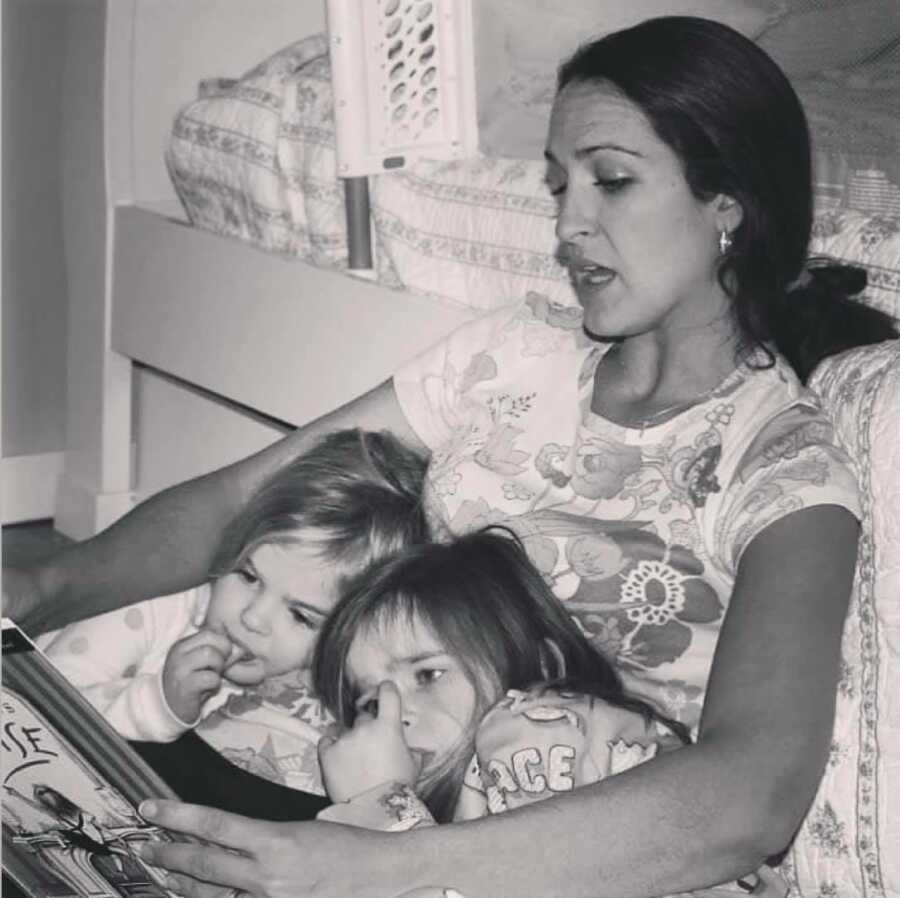 This story was submitted to Love What Matters by Hang in there mama by Ali Flynn. You can follow her journey on Facebook and Instagram. Submit your own story here. Be sure to subscribe to our free email newsletter for our best stories, and YouTube for our best videos.
Read more from Ali here:
Don't Hide Who You Are, Don't Cover Up The Hard Days—Dig Deep And Lean On A Friend Who Validates You
'No boy? Their daddy is going to have a hard time when they are teens, watch out!': Mom to four girls powerfully responds to gender remarks from strangers, urges 'words matter'
I Owe It To My Kids To Allow Them To See My Mistakes
Sweet Child, May We Forever Be Each Other's Constant
Show some support for the wonderful mothers in your life. SHARE this story on Facebook with family and friends.