"In the future I want kids." declared Keren one evening, around a year into our relationship. "Well, you'll have to marry me first!" was my smart reply, thinking I had cleverly gotten around the subject.
The story of how we met is really quite simple, we met in the very modern way of online dating. Keren and I lived 40 miles apart until I moved to Leeds in October 2015. We were inseparable straight away – our first date was on 17th November 2014, where Keren took me to an immersive theatre production underneath Leeds Town Hall (which was incredibly strange and set the tone for our relationship perfectly).We spent every spare minute we had together since then. We would spend much of our time at bars drinking wonderful local beer, going on city breaks around Europe and binge-watching Netflix at home in bed… and we hope to continue this when player 3 arrives in August!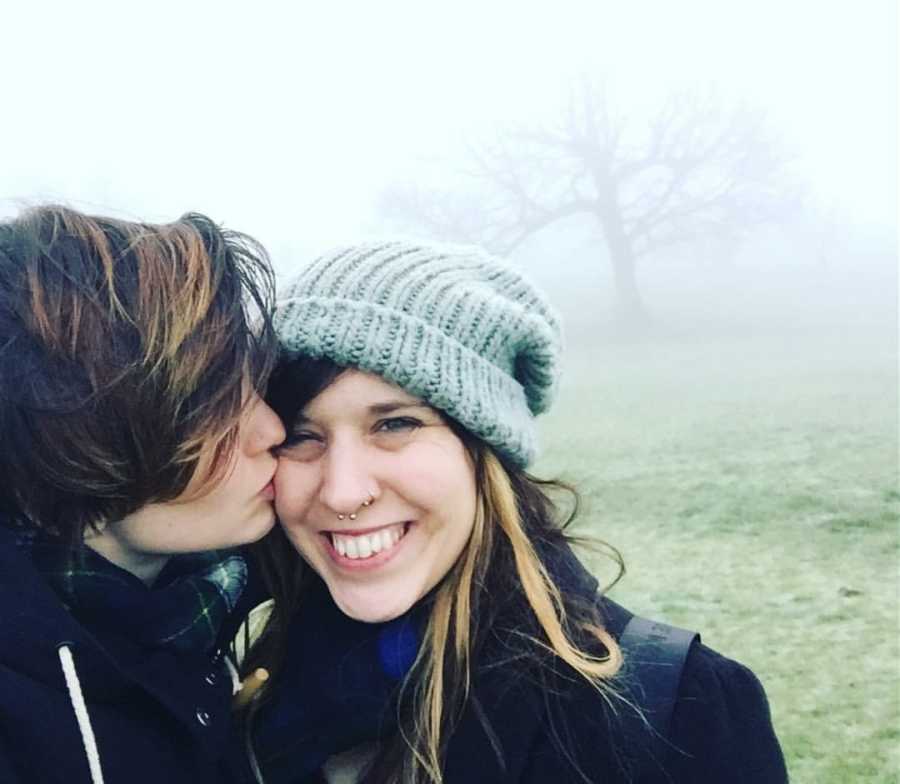 I never pictured myself marrying or having kids, but that was before I met Keren, and before the arrival of our incredible nephew – he was the first baby I had ever held when born back in 2015, and it was love at first sight.
Once we decided we would try for a baby, we then had to decide the route to go down. As a same-sex couple, we had a couple of options – IUI (Intrauterine Insemination) is the cheapest option at around £1000 per cycle, with sperm being placed inside the uterus in a very non-invasive procedure. This can be done at home with goods being purchased from a sperm bank, or you can go to a clinic. There are even people who buy sperm via social media, but there are ethical and medical issues with this – the donor has no legal anonymity, I (the non-birth mother) would have no parental rights unless I was to adopt the child at birth, and the donor would have no health history checks. We did consider IUI at a clinic and spent a while looking at sperm banks, but when we looked into it further, success rates sit at around 16%. We found our best option would be to put more money into using a clinic for IVF (In Vitro Fertilization), where the success rates are between 36-44%. During IVF, eggs are harvested and fertilized in a laboratory, and only the strongest selected to be transferred for the remainder of the pregnancy.
After lengthy discussions, we decided together that we would try for a baby via IVF, but for legal reasons we would need to be married first (she proposed to me, of course), and we got the ball rolling in March 2017.
We chose Care Fertility in Manchester after having a wonderful appointment with Patient Liaison Manager, Lauren. We felt comfortable, safe, and she took her time to talk in great detail and honesty. That was important, as it's a hell of a lot of money to put on the line for such a slim chance of success. As a same-sex couple, we don't qualify for NHS referral, meaning we have to completely self-fund. Basically, we had to find several thousand pounds.
In June 2017 we were wed in a retired slate mine in Cornwall with 6 of our closest friends. As soon as we returned a married couple, we could really plough forwards with our IVF journey.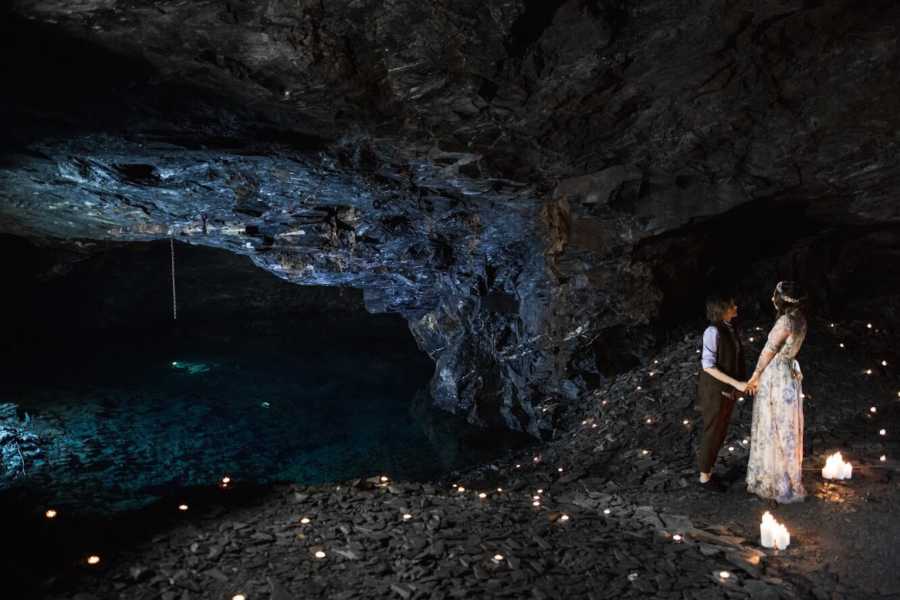 Legal documentation, blood tests, family history health checks, counselling sessions, it's all very full on. In one appointment we were asked out of the blue for our 'donor specs', something we had discussed but didn't realize we could actually choose! Dark hair, green eyes, Caucasian, 5'8" + – we matched it to Keren's physical attributes. It's never going to look like me, so there's little point in pretending.
Once matched, we got a short bio on our donor and were asked to confirm. The bad news was that the sample allocated to us had a marginally lower count than preferred, so would have to be ICSI rather than IVF. This was the only sperm available, we could either go for it or wait for the next batch from California in 6 months. We went for it.
Our journey wouldn't be possible without the help of a donor, so we made the decision to give a little back and donate Keren's eggs to an anonymous recipient. And it made our cycle around £2,000 cheaper. No brainier.
We were given a full itinerary of what happens when, and in October we were to start the at-home injections. Both of us were incredibly anxious about this part – I was close to phobic about needles and Keren wasn't overly fond of the idea of injecting daily for up to 3 months.
We paid our £1,000 meds bill, and sure enough a huge box arrived, full of needles, ice packs and vials of various medications. We were to start off with Buserelin at 7 PM every day, which stops the natural cycle and prevents eggs being released from the ovaries. We got Keren comfortable on the bed, I made her a cup of tea, then just went for it. I did injection number one, and honestly felt like a hero. We kept on at it, taking it in turns each day finding a spot that wasn't bruised or tender, and reached a point where she couldn't take anymore. She would cry and beg for me to not do it because it hurt, but I could always reason with her, and we powered through.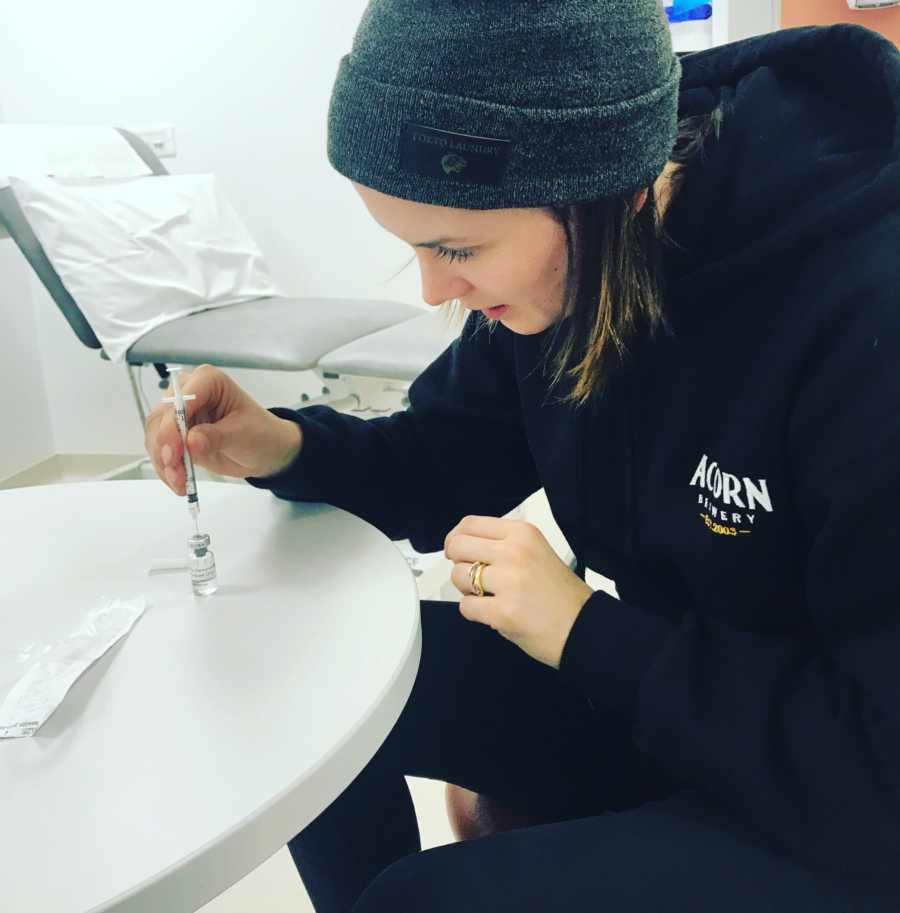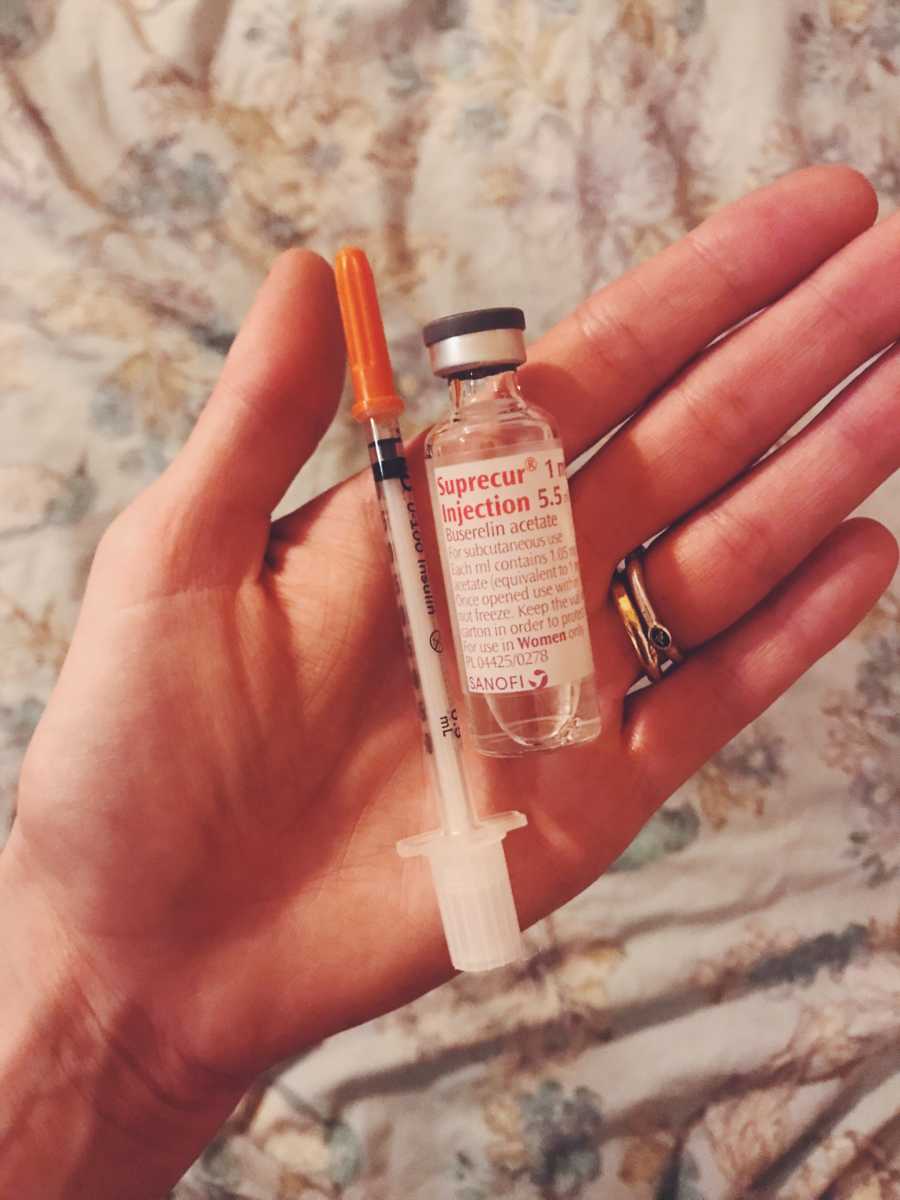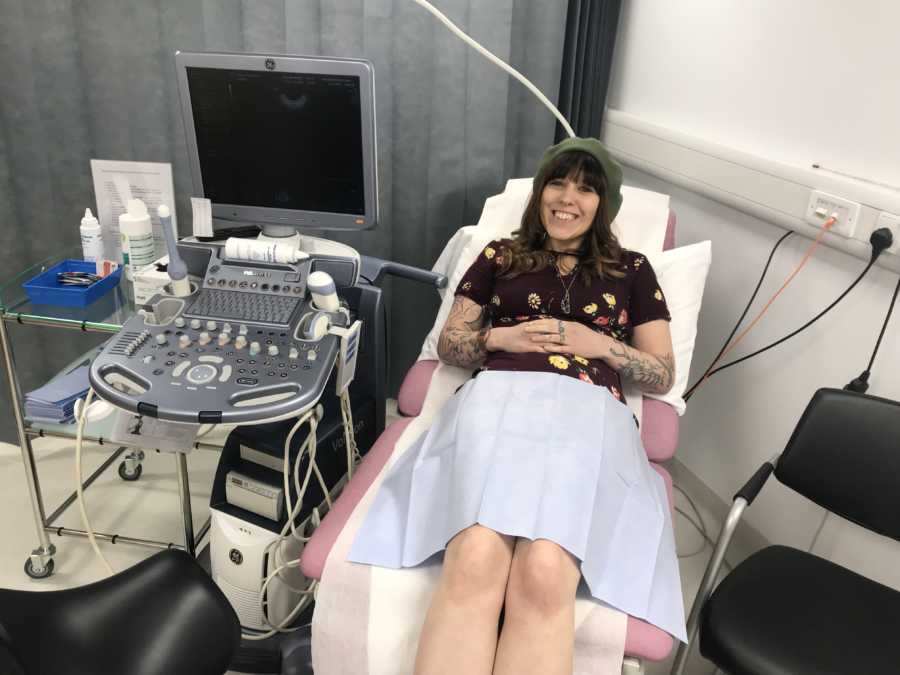 During the injections, Care Fertility were all over us making sure everything was perfect. We went for routine scans and got very familiar with Keren's uterus and rogue ovaries – one kept going missing (apparently, they can sort of float off into your body, like an astronaut on a spacewalk)! Once given the nod by the clinic, we were to add a second daily injection of Menopur. This one stimulates both ovaries, enlarging the follicles and prepping it to release loads of eggs. During the three weeks of injecting, Keren's ovaries went from the size of a grape to an entire BUNCH of grapes, and she was in some real discomfort. We had to go for more clinic scans to see how the ovaries were expanding, being careful not to leave it too long to risk OHSS (Ovarian Hyperstimulation Syndrome), and finally we were given a date and time for our final injection. Gonasi has to be administered exactly 36 hours before egg collection, and my God, the needle was big. There were some understandable protests when I had it all ready, but it was so big Keren decided she had to do this one alone.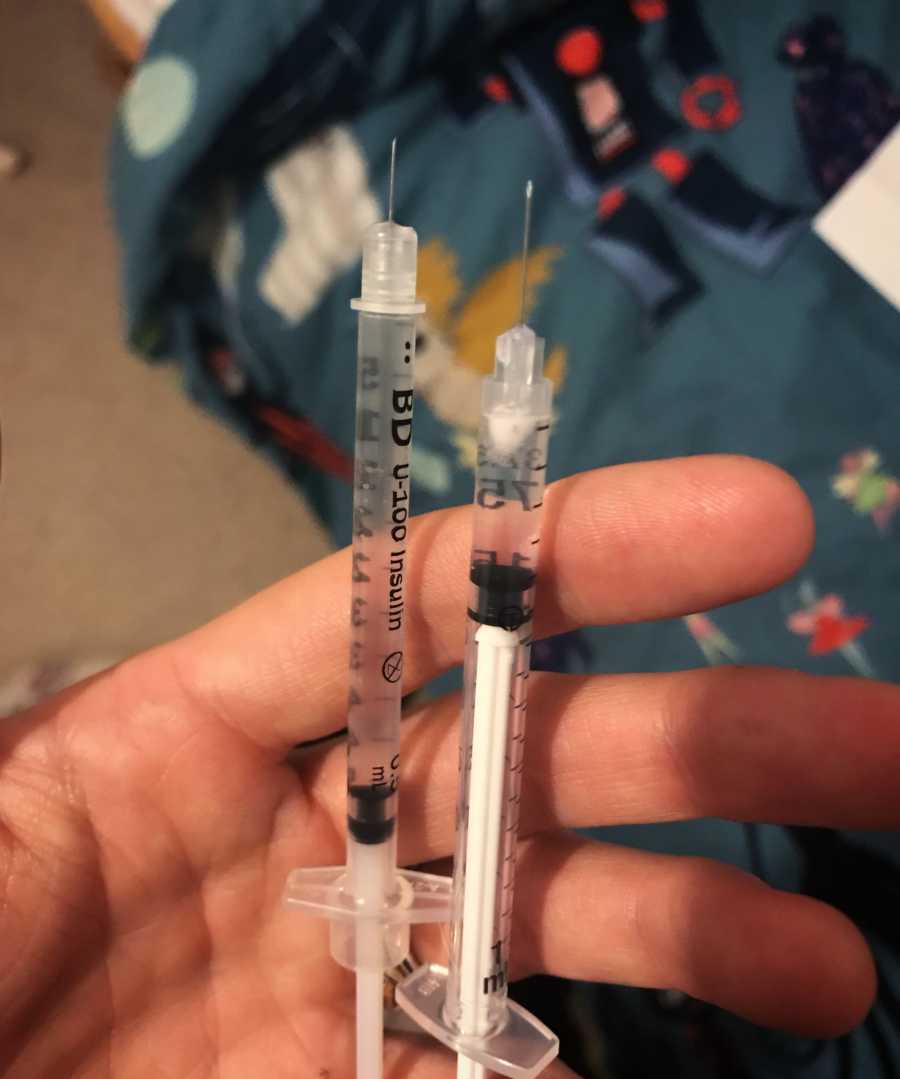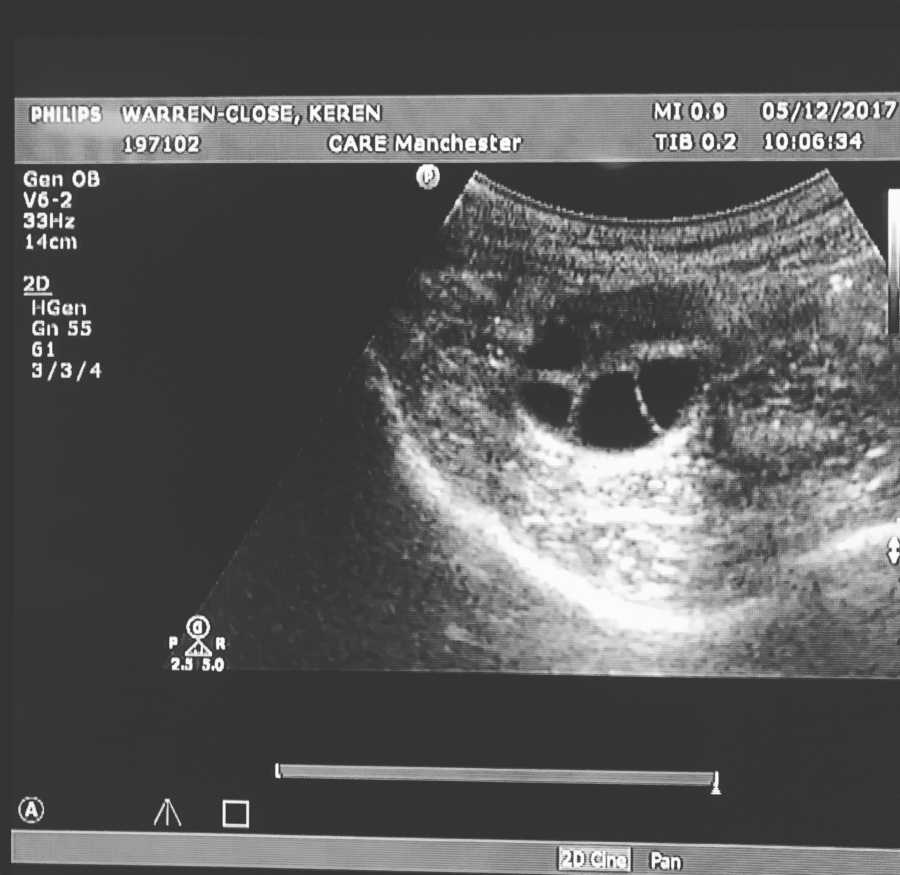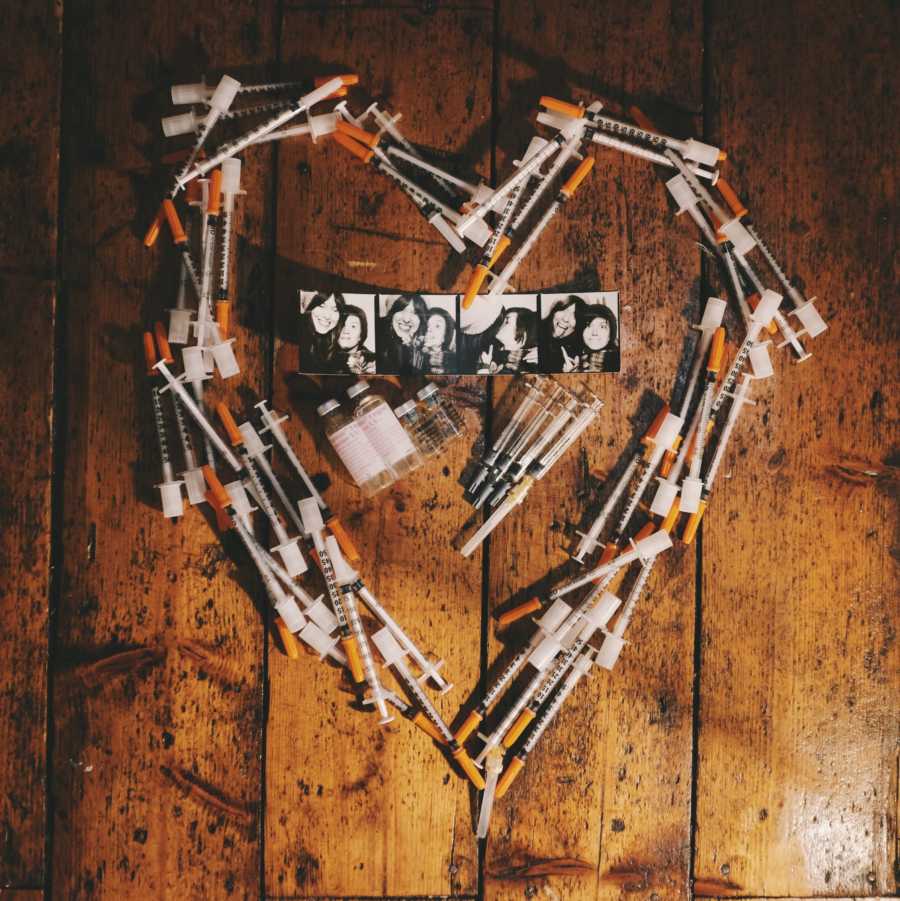 Our egg collection was booked – we had to be at the clinic pretty early on, and the drive over to Manchester was tense. We got set up in our own private room, and Lauren from our first Care appointment came down to see us and wish us luck. After just 20 minutes, Keren was wheeled back in, heavily sedated, but it was done! We got the wonderful news that 19 eggs were retrieved (which is amazing!), so we got to keep 10 and donated 9. What shocked me was that we could still withdraw our consent to donate, even at this point.
Our eggs were taken to the lab, and later that day fertilized. 9 months after our journey began, our baby was made. We were sent home to rest, I did the driving as Keren was still sedated and a bit wobbly. We would ring the clinic daily for updates on our embryos and hope for a day 5 transfer.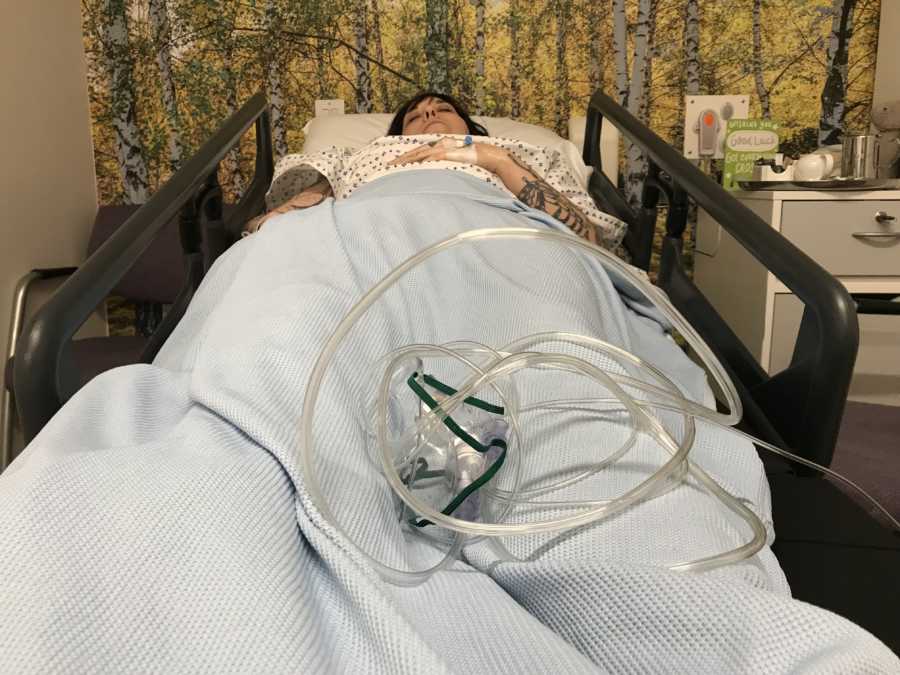 A couple of days after collection, Keren was complaining of severe lower abdomen pain. She dismissed it, until I urged her to go to the emergency room – we couldn't risk anything getting in the way of our transfer day. Sadly, it was confirmed that it was OHSS as a result of the stimulation injections – you could actually feel the ovaries by pressing her stomach lightly. A couple of days in hospital and some new drugs to self-inject (yay!) and things started to go back to normal, but it was a really terrible scare. Meanwhile I was getting updates on our little lab babies – a couple dropped off after day 1, and by day 3 we had 5 remaining that were looking healthy (we would go ahead and freeze any remaining healthy embryos for future siblings). We got booked in for a day 5 transfer, but we had to get Keren scanned beforehand to confirm she was healthy enough for the procedure.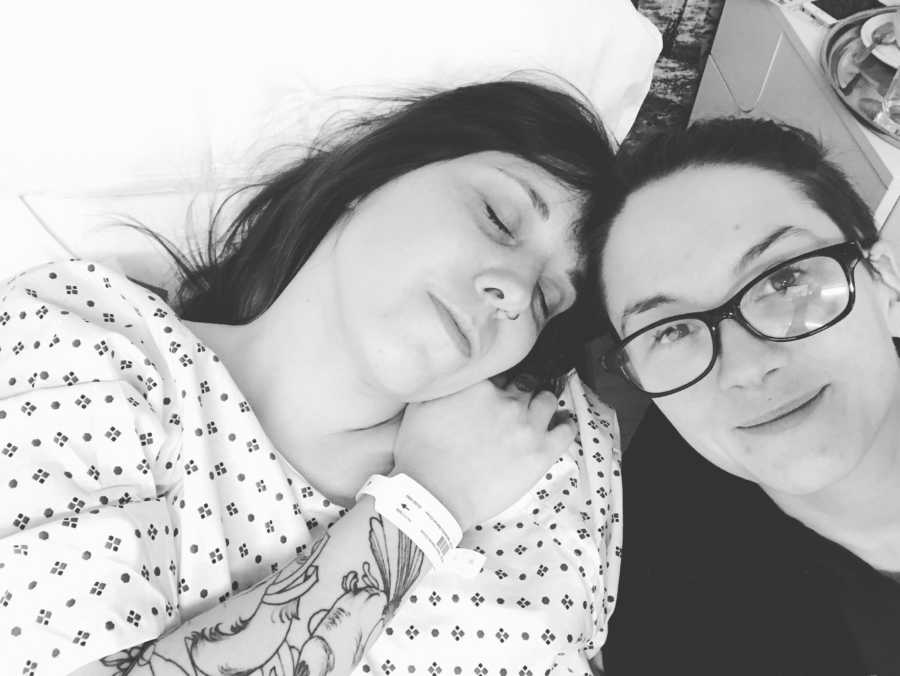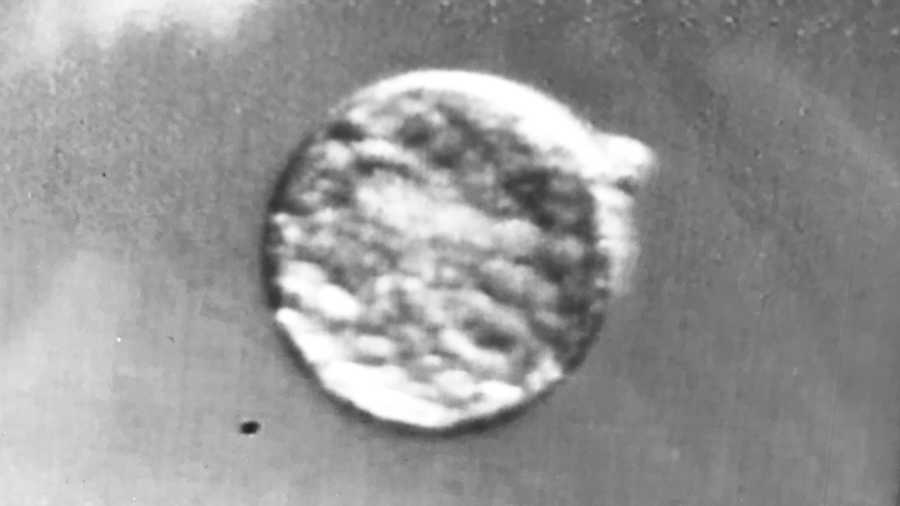 We went in for transfer – the clinic picked the best-looking embryo and popped it back in! It was a lot less invasive than collection, and I could go to hold her hand and support. As we left the clinic, we couldn't believe we actually got to this stage – there was life inside of her!! We were under strict instruction to not test until day 14… two weeks!? We did our very best and tried to be as patient as possible, but crumbled at 3am on day 6, when we were both wide awake and highly stressed. We did a test and it was… well it was inconclusive. Cue even more stress and anxiety about it being negative.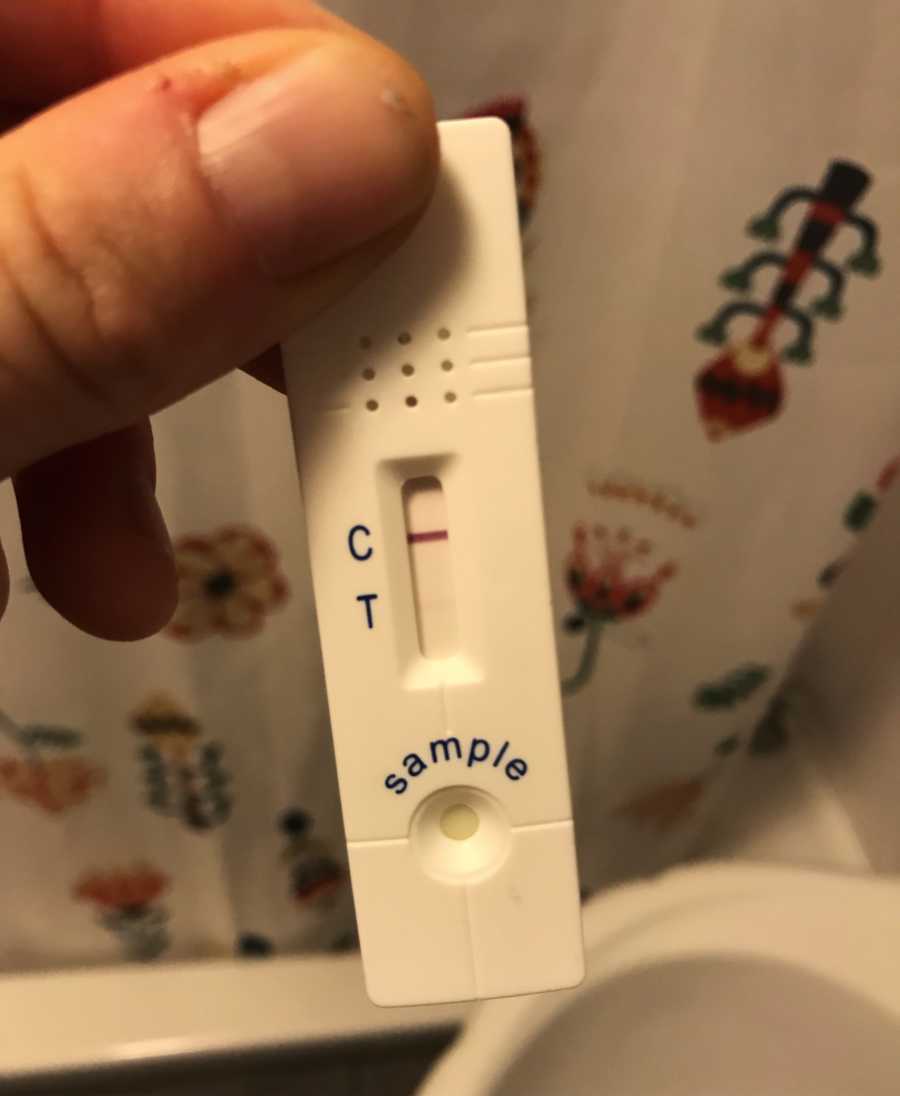 We continued the tests every 2 days, there was little point doing them more frequently than this, and sure enough the line appeared, and it got darker over time.
We felt ecstatic, over the moon and utterly blessed. Success rate for us was roughly 39% – a big risk for a lot of money, stress and hard work.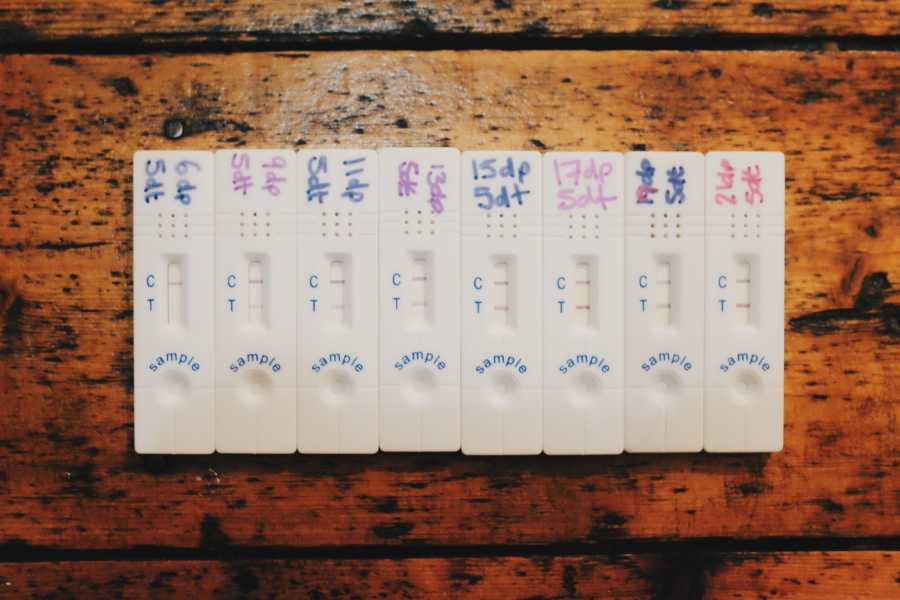 From this point on it's been like any other pregnancy, we are now 29 weeks in and Keren is getting quite large, I am getting nervous, but we are so full of love and ready to welcome our little girl to the world in August! We couldn't have done it without the help of the staff at Care Fertility Manchester, our donor, our families and our ridiculously understanding employers!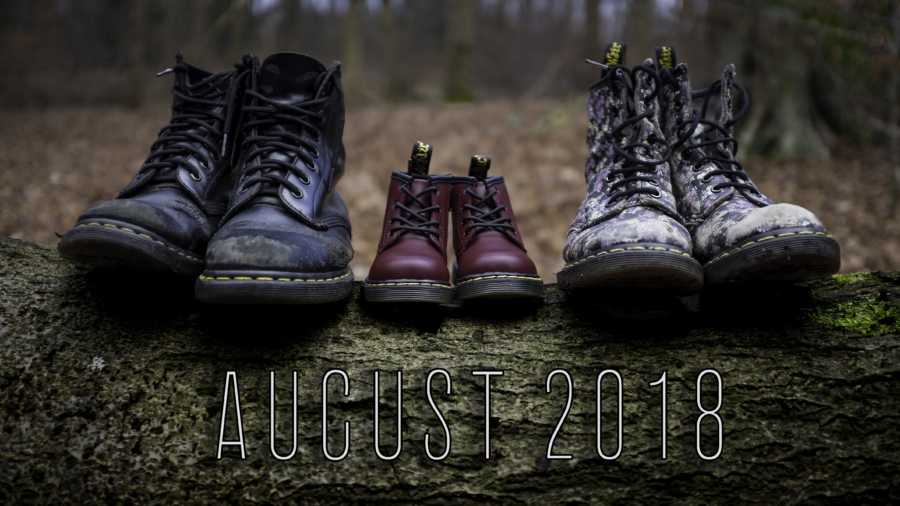 We hope our story will inspire others to be open minded about same-sex parenting, the struggles we have been through to become parents, and the strength we have had to have to mentally endure the journey. It has been the most stressful, painful, tiring, but most importantly wonderful experience, and we couldn't have done it without each other.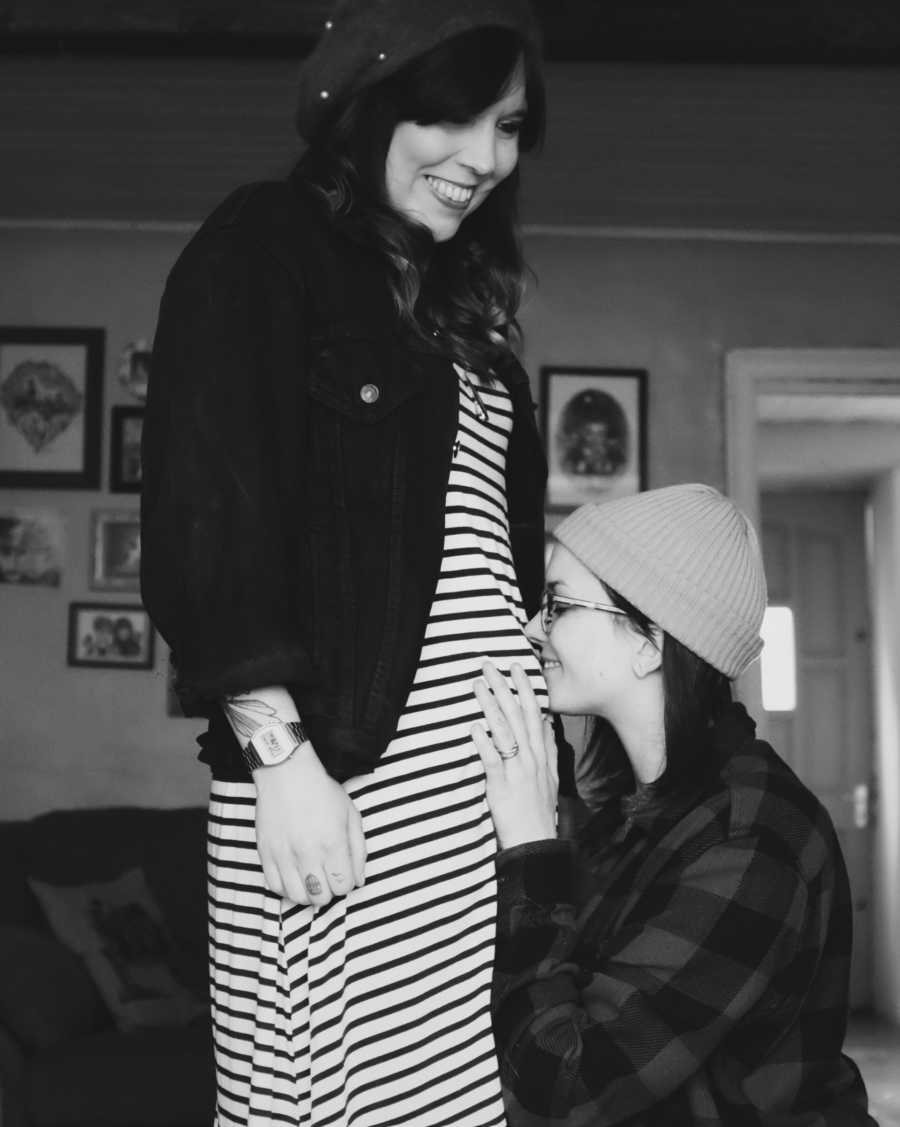 We aim to share our experiences, both good and bad, via our Instagram page – no rose-colored glasses, just a true reflection of what we have been through, and what you might expect if you are looking to go through the same thing."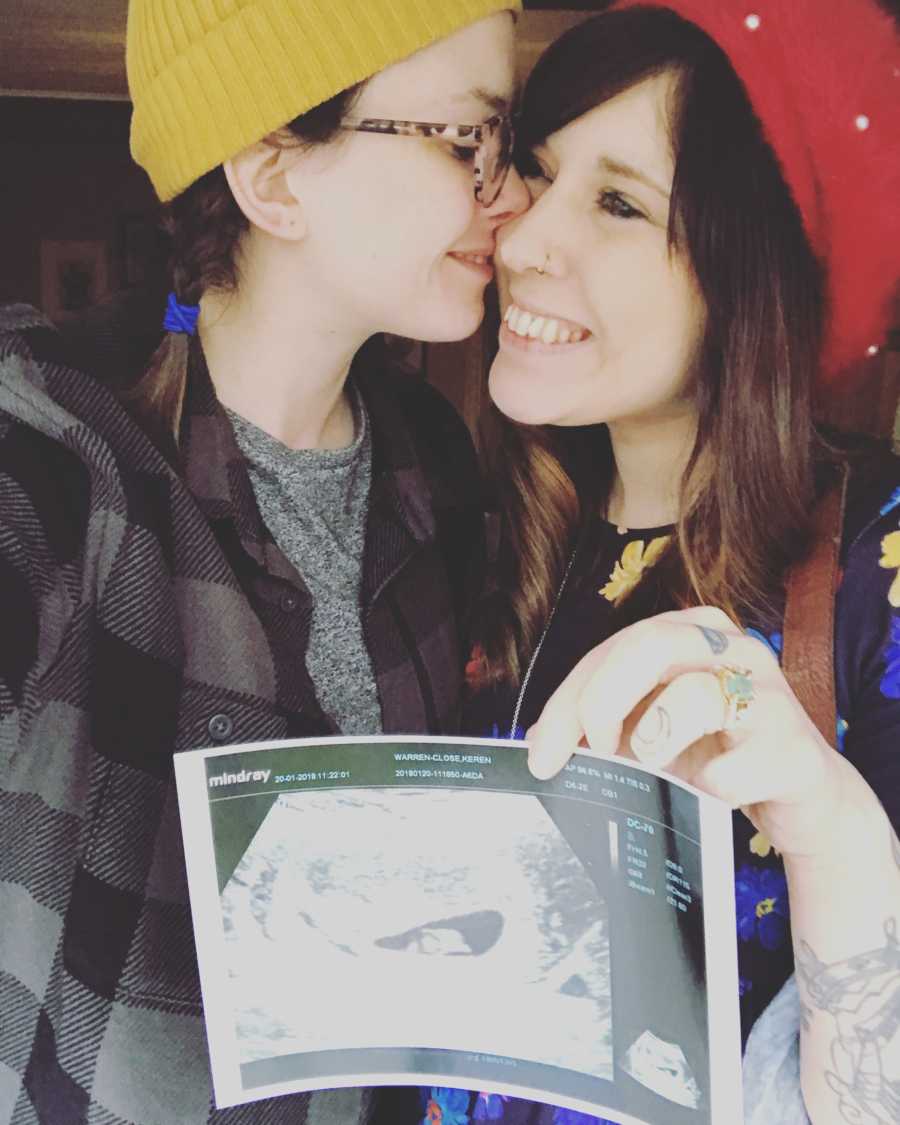 This story was submitted to Love What Matters by Samantha Warren-Close, 28, of Yorkshire, UK. You can also follow their journey on Instagram here.  Submit your story here, and subscribe to our best love stories here.
Help encourage inclusion, SHARE this story on Facebook or Twitter with your friends and family.
SaveSave