"My husband Shane and I started dating in high school. We got married in 2009 and had our first child, our daughter Teagan in 2010 followed by our son Parker in 2011. In 2013 we found out we were pregnant again, but we had a miscarriage on our daughter's birthday none the less. It took me many years to be mentally able to try to add to our family again. In 2015 we brought our dream house in the country. An older farmhouse with a large barn for some animals, and many outbuildings and land to keep my husband and kids busy running and playing.
A few weeks after we moved in we found out we were pregnant again. Hudson was born in January 2016 a healthy baby boy and our family was complete! We added to our dreamhouse that following spring and fall with chickens and cows to complete the 'total dream' of raising our own food and having a hobby farm.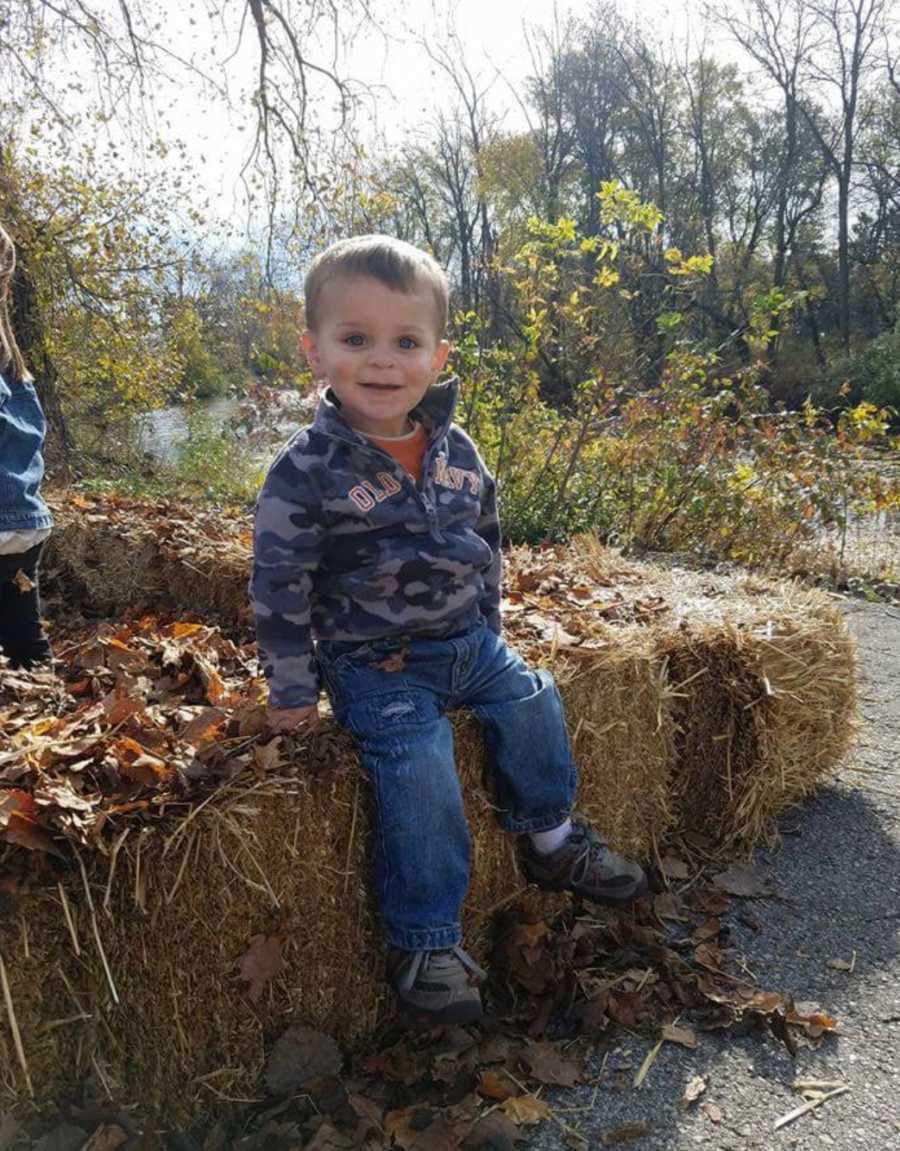 In the spring of 2018 Hudson started complaining of leg pain during the nighttime. Sometimes it didn't bother him at all and sometimes the pain was really bad. We took him to urgent cares, pediatrician visits, emergency rooms and orthopedic specialists 2 hours from our home. Nobody could explain what was going on or help him. He had so many x-rays of his leg that I lost track. He had two leg splints in case there was a pulled muscle or tendon etc. But it just kept getting worse until he couldn't walk anymore.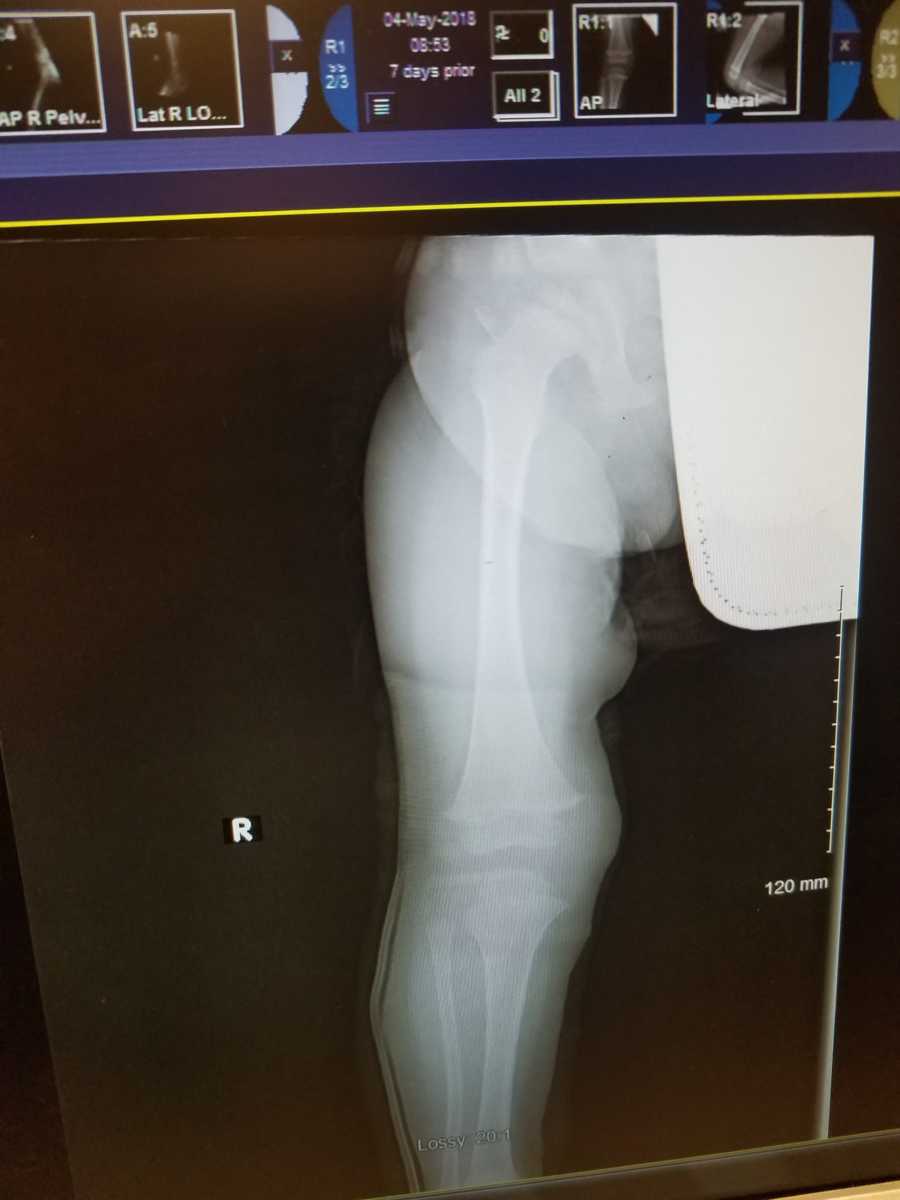 Finally, at the beginning of June we took him to an orthopedic specialist 2 hours from our home. The Doctor insisted he had two fractures in his leg. She pointed at thicker lines on his lower leg bone and a small spot on his femur and said that's where the fractures were and sent us to their ER. There we stayed for over 10 hours as they did tests on Hudson. We didn't even know what they were for or what the results were. We held him down for full body x-rays thinking this was going to help find out what was wrong with our baby. It turned out the Doctor called cps. Finally, at almost midnight and a full leg splint on again we were allowed to leave with an apology from the hospital social worker that none of this should have happened.
The following day my husband receives a call from a county detective that he and a social worker were at our house and would not leave until we returned home. My husband and I rushed home and they interviewed my husband for over 3 hours on how he broke his own son's leg while he comforted and cuddled with our son. The social worker questioned me and our other two children.
After they left my husband broke down. That was when I finally realized how seriously they were questioning my husband and how serious this whole matter was. Now we had to worry about getting our son the help he needed and protect ourselves from something we never did.
The following day our son was so uncomfortable with the leg splint on and could barely sleep all night. I called the ER back and asked if he could at least sleep with the splint off. The lady got upset and said if we took it off we would be non-compliant, and they would force us to put on a hard cast that we couldn't take off. Being very uncomfortable and non-trustworthy of that hospital I called a local orthopedic clinic for adults in the morning basically begging the receptionist to get Hudson an appointment that day. She did. I met my husband and my son at the clinic in the afternoon. The Doctor took new x-rays and asked me what the Children's Hospital was calling fractures. I pointed to the areas the previous doctor told us were fractures and he was confused and puzzled. He said maybe, possibly, probably not…and even if they were they wouldn't explain his symptoms and you would want to conclude with an MRI or better images before calling those fractures. The doctor got us an immediate appt for an MRI of his leg that night.
Monday morning, I called the social worker to tell him the news about his MRI and that he didn't have any fractures. He informed me they would still be continuing their investigation and pulling our 8 and 6-year-old out of school that day to question them. I practically begged him not to, but they did. Hudson had some bloodwork scheduled for that Monday and my husband and I took him back in together. After his blood draw we sat outside the clinic on the grass with him trying to get him to eat something. He didn't want to eat anymore and was starting to show that he was losing weight. I just sat there and looked at my baby. He looks miserable. I decided that this was it. Somebody was going to figure this out and it needed to be quick. We went to the ER again. After waiting awhile our ER doctor came in and said he read over ALL of his notes and looked at ALL of his x-rays and his MRI and wanted to do some more blood work. We waited awhile more. Nothing too alarming on his bloodwork. Our ER doctor called our son's primary pediatrician and they realized they went to med school together. Together they collaborated on what had been done, test results and what our next steps were.
Our next step was an MRI in the morning on his lumbar spine. They feared something was possibly pushing on his nerves in his back causing the leg pain and symptoms.
Shortly after his MRI started a nurse came out and told us they could see part of something but needed to do his pelvis area too and it would take longer than expected. We were relieved that they found something. An answer after months of nothing. After his MRI we went home. I met my mom and my daughter at her softball game. While watching her game I received a phone call from our pediatrician. She told me they found a large mass in Hudson's pelvis area and it was pushing on his spine. She gave us two options for treatment. We chose Madison's Children's Hospital as our pediatrician had some connections there. The other option was the hospital we had a very bad experience with just a week earlier.
We left the following morning on a 3-hour drive with a 2-year-old who was in a lot of pain. He slept through most of the car ride thankfully. We arrived at the clinic and saw the mass for the first time. It was huge. It basically touched his back and his belly. The neurosurgeon wasted no time in admitting us upstairs to the hospital.
The second day they did a biopsy of the tumor to see what it was. The following day they wanted to do some more minor tests and procedures but while waiting my husband and I grew increasingly worried with the amount of pain he was in. We mentioned to the nurse about our concern and within a few minutes his oncologist, the fellow oncologist and the neurosurgeon were back in the room with a new plan to remove part of the tumor that was pressing on his spine. We agreed as we needed to do something to help our baby.
We waited for hours and hours for him to come out from surgery. In the meantime, the oncologists came into our room and sat down. They said that the preliminary results from his biopsy the day before showed cancerous cells. They thought most likely neuroblastoma a common cancer in small children.
By about 9 p.m. we received a message that Hudson was out of surgery and doing well but would be spending the night in the PICU. I was scared going to see him not knowing what to expect. But we walked in and he wasn't in pain. He was chatting and alert. I snuggled with him in his bed that whole night being so grateful.
The following morning, he was doing great as they moved us back to his regular room down the hall. Both grandmas came to visit that day along with our other two children. It was such a happy day of laughing and goofing around.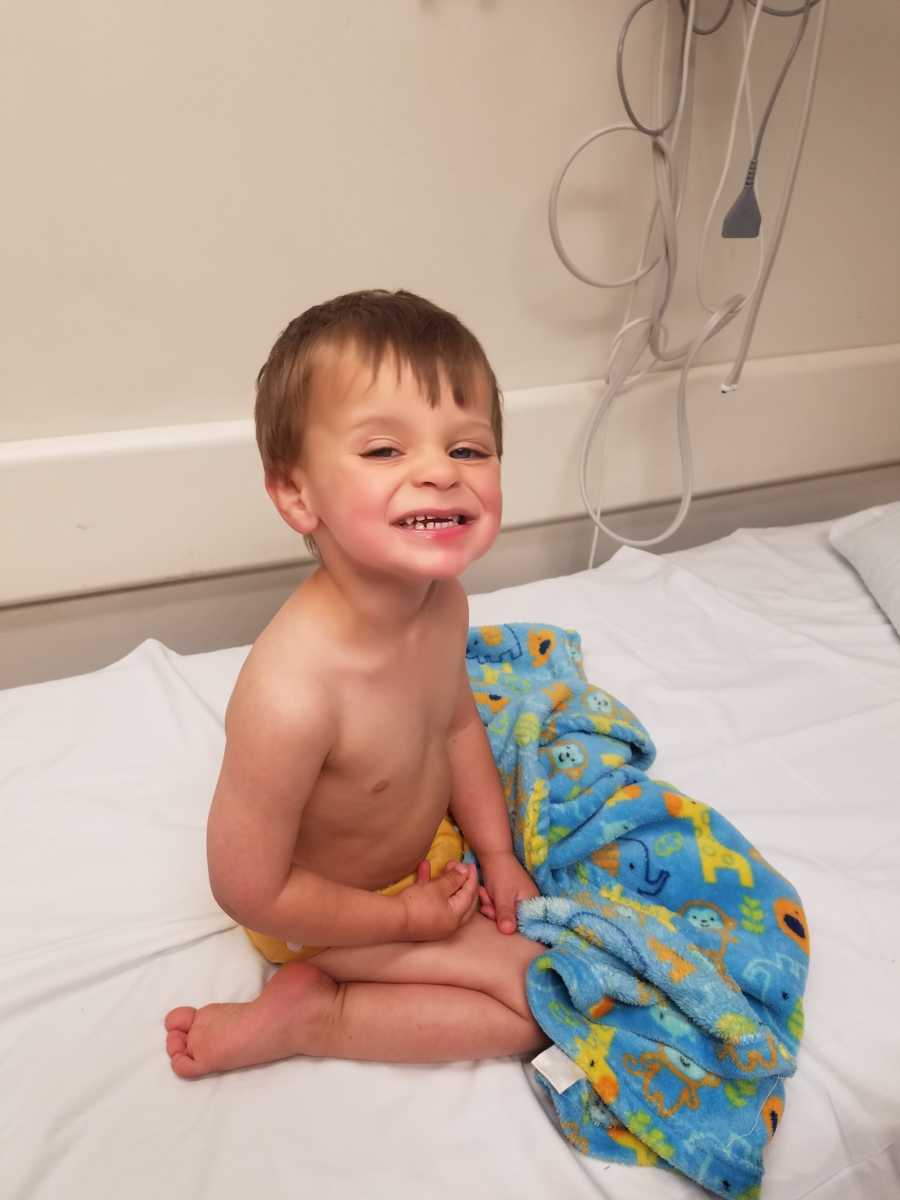 In the meantime, they also discovered it wasn't the type of cancer they thought it was, but it was Ewing Sarcoma. A cancer that only 250 kids are diagnosed with a year in the US and mostly between the ages of 10-20. His chemotherapy started just 3 days after his surgery because of how aggressive his cancer was growing towards his spine.
I was scared of his first chemo. What it would do to my baby. How sick he would become; how fast he would lose his hair…so many unknowns. But he slept through his treatment and woke up just as he fell asleep. It would be later we learned how many days it takes for the side effects to show up.
That next week were filled with more scans, healing and tubes. My husband and I would learn how to care for his many lines such as his feeding tube and PICC line. He needed medicine to administer into his PICC line every night to help his blood counts recover. We practiced nervously on a dummy with tubes coming out all over him. We were happy to go home but also terrified that we would mess something up. The home nurses met us at home that first night and walked me through the whole process. I was somehow amazed my child was still alive after I was done. It was the single most scary thing I have ever done in my life knowing that what I was doing was going directly to my baby's heart. Prior to this I could never imagine being a nurse and responsible for people's lives, it was just something I was not comfortable doing as a profession and now I had to do those things to my own child.
After being home for 24 hours his temperature was 102 degrees. Our home nurse thankfully was there again and took the steps to call the hospital and gave us the instructions to head to the local ER. We would soon become pros at all of this in no time. It's amazing how quickly you can find a new normal and adjust when you have no other choice.
We got to the ER that night and his fever kept rising, they started IV antibiotics and transported us on a 3-hour trip to the Children's Hospital by ambulance.
We stayed at the hospital another week and his blood counts were so low they barely registered. Every morning we would wait for the nurse to write his new blood counts on the marker board…hoping they would start to climb higher. Hudson was suffering from awful mucositis in his entire digestive tract, fevers, diarrhea, vomiting and stopped eating completely. They began IV pain control and tube feeding to help his comfort. After the fifth day his count finally started climbing and he quickly became much better.
All this would become the new normal for our family. Inpatient chemo, home for a few days, fever, ER, Ambulance, Hospital, Home for a few days, chemo.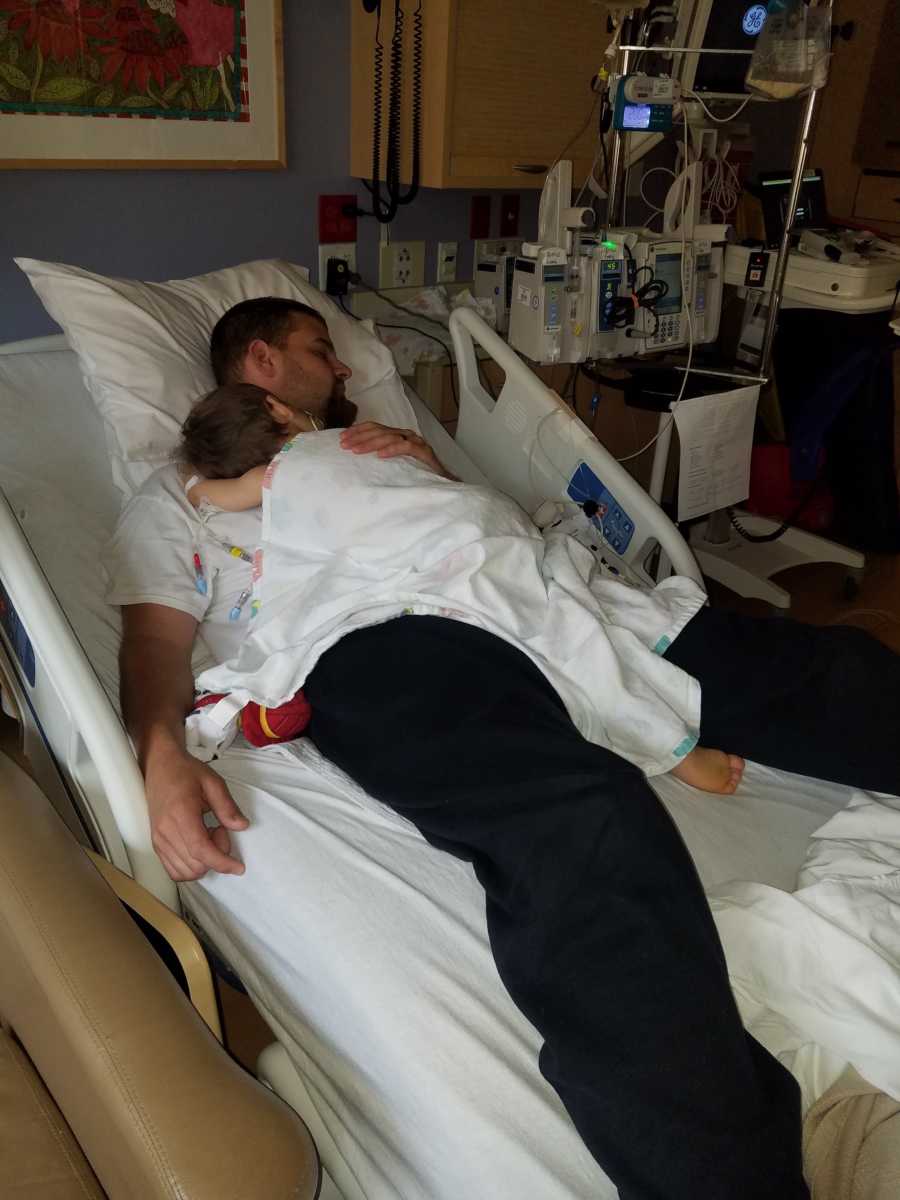 I can now flush his Hickman line without sweating bullets, administer his GCSF without reading the instruction sheet 10 times, keep track of his in and out, change diapers 4 times in an hour while my 2-year-old keeps on playing.
And it was during this adventure that we needed something to help occupy a very active 2-year-old in the hospital. A 2-year-old who never watched TV before because he was always too busy playing or destroying something. He lived outside in the summer. He loved mud puddles, sandboxes, being in the barn and out by the chickens. None of his favorite things were in the hospital. There were 4 walls, windows that didn't open, air conditioning, and a TV.
Thankfully after Hudson was recovering from his surgery the first week we were at the hospital his room had a perfect view of a construction site. My husband showed it to him and he no longer wanted to sit in his boring bed in the middle of the room he wanted to look out the window. My husband would climb up into the windowsill with a fragile 2-year-old and hold him, so he could see all the activity. I would manage his IV lines and tubes as well as gather any additional toys needed.
As he got better he would climb up onto the couch himself and sit in the windowsill. Occasionally we would get a room with a boring view… facing away from the construction. Those days I would have to be very creative on how to entertain this crazy little guy in his room.
From June to mid-August Hudson had spent over 50 days in the hospital. But it was during his last visit. A 5 day visit in a room with a perfect view that he became so very attached to the construction. He woke up in the morning and immediately had to go to the window. He would notice when the gate was open in the morning and when it closed at night. When the lift truck drove out of the gate and down the road, when the crane picked anything up. When a delivery truck came, the blue port a potty on the roof where they guys did you know what was a hit, when they dumped the garbage was an even bigger hit because you could hear it inside the hospital. And if he heard it and he wasn't by the window it was an emergency to get to the window asap!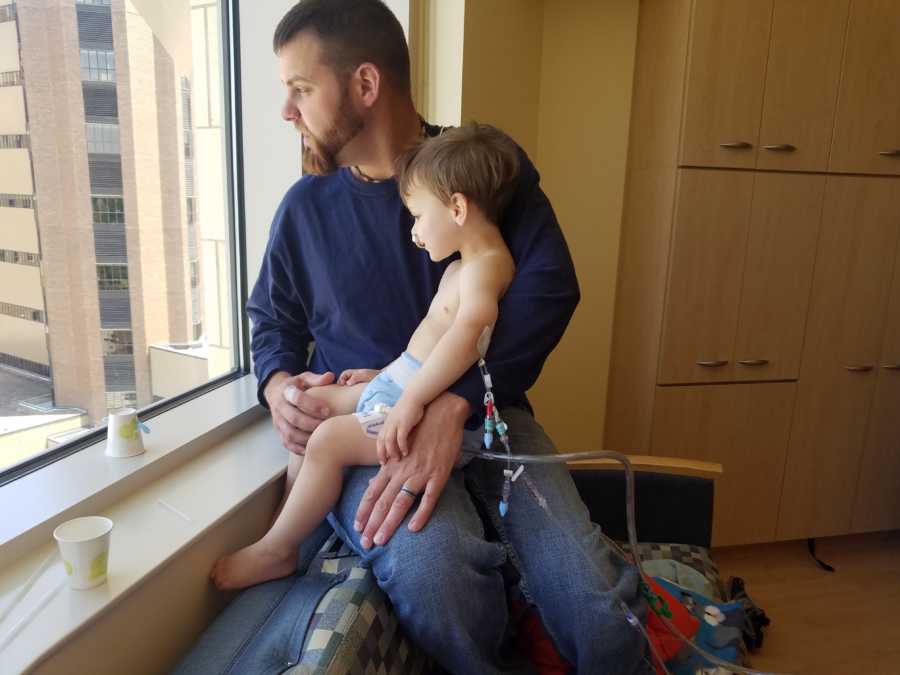 So, one morning when he was sitting in the windowsill watching their every move I noticed the sign on the fence with the company's name. I decided to see if I could find them on Facebook and when I did I sent them a little picture to hopefully brighten their day that their work was so important to a little somebody. Within the hour I got a response that they wanted to come meet Hudson and bring him some goodies. Which they did later that afternoon. After their visit he started referring to the construction guys as 'his guys'. And he wore his Findorff vest for three days straight. He even showed his vest and hardhat off to all the Doctors in the morning during rounds. They were very amused at his full costume and they all knew how much he loved to watch them out the window.
During this visit Hudson was just waking up from his nap and was caught off guard a little bit. I told them Hudson's favorite part when they dump the yellow dumpster into the large green one. One of the guys in the room stated he's the one who does that! As soon as they left Hudson dug through the bag they brought him and found the yellow vest, a hard hat with his name, a truck coloring book, pen, colors and some toy tools. I think connecting them helped out both ways. It definitely made a huge difference in Hudson's demeanor the following days as he had a connection with them now. He watches them more closely and wore his vest proudly. And I think it made the construction guys feel really good that by just doing their job they were entertaining so many other people including Hudson.
I think it's rare that a large company has those kinds of values built into their company. It was obvious that Findorff lives these values of supporting their community. They responded within minutes, had a goody bag ready and organized the goodies and workers within hours to surprise Hudson. After the visit they invited Hudson on site for a closer look. We are planning on doing that this week!
I wish it wasn't so surprising and extraordinary for these events to happen. I wish more companies built these values into the foundation of their company and then actually lived them. Thank you Findorff.
Moving forward Hudsons treatmemt schedule includes a few more weeks of chemo, then scans to figure out if he will need surgery and radiation for 6 weeks followed by another 20 weeks of chemo.
I want other moms and families who are going through similar issues  to know that they are not alone. Reach out to other moms whos kids have traveled this path. They are a huge support for you… more than the doctors and social workers at the hospital because they have traveled this path themselves. It's not easy but you will be surprised at how quickly you and your kids adapt to this new 'normal'."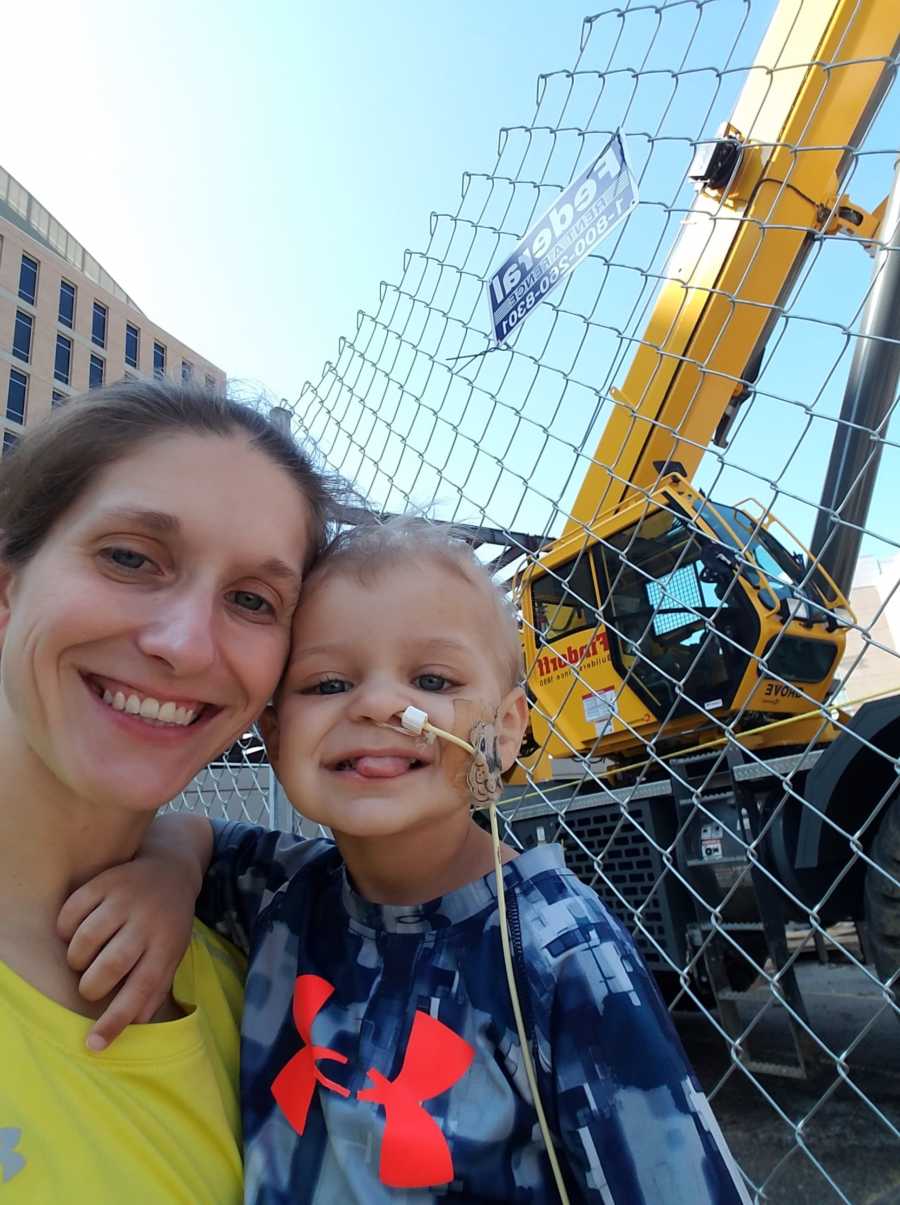 This story was submitted to Love What Matters by Sara Dellemann of Wisconsin. Submit your own story here, and subscribe to our best stories in our free newsletter here.
Read more stories like this:
'It's a cancer children are known to get. Your daughter has a tumor in her brain.': Parents work to overcome daughter's pediatric brain cancer diagnosis
'We'll never ask a child to leave our home.' The most terrified child was dropped off. She was haunted.': Cancer survivor bonds with adopted daughter, 'We stepped into her grief with her'
Do you know someone who could benefit from this story? SHARE on Facebook to let them know a community of support is available.