"So, picture this…I just delivered my baby girl, and she's on my chest. I deliver the placenta and the doctor asks if we want to see it, and we say, 'yes!' It's such an INCREDIBLE organ, but pretty funky looking. We all laugh.
We go back to looking at the baby on my chest and start working on getting her to latch when all of a sudden, I hear the doctor say, 'She's bleeding out…' followed by a lot of acronyms and demands. Next thing I know my baby is stripped from my chest and the room is full of doctors and nurses. There are 4 people plus the doctor moving quickly all with their hands down there, some holding me open with metal tools, some flinging tools to the doctor, some putting pressure and coming up with blood-soaked gauze second by second.
I look to my left and a man has my arm, he's sweet and introduces himself as the anesthesiologist as he already has an IV in in seconds. I look to my right and another nurse is attempting an IV and having trouble, people are running in and out of the room yelling stats and acronyms to the doctor, and he's yelling things back. It's like a scene out of Grey's Anatomy.
The baby nurses try to distract my husband Bobby and ask him if he wants to come take pics of Taylor, so he reluctantly leaves my side and heads to spend time with the baby. I look back down at the doctor and he's furiously stitching and keeps repeating, 'I can't find the source of the bleed,' and continues to shout orders and ask for new tools and clamps and has another person join in holding me open…and by holding me open I mean holding my vagina open.
All of this continues and after an hour another doctor joins in to help him. They keep stitching and stitching…blood filled gauze keeps getting filled and tossed by the second, and I am calm as can be…I knew if I freaked out, I would just lose blood faster. Bobby and I exchange a forced smile, with tears in our eyes as he holds our freshly born baby in the time that I was supposed to be feeding her and bonding with her on my chest. I can see the fear in his eyes but he's staying strong for me.
Although I'm calm, I remember thinking, 'I guess this is how I'm going to go… But I don't want Bobby to have to be a single father!' Little did I know he was thinking the same thing. After almost 2 hours of hearing, 'I can't find the source of the bleed', and 'I can't stop the bleeding' … they finally got the bleeding to stop. I ended up with over 100 internal vaginal stitches and lost 1.5 liters of blood (real numbers, not exaggerations). This was the single most traumatic event that Bobby and I have ever experienced and have both been feeling pretty blessed. If I would have had a home birth…the ending of the story would not be the same.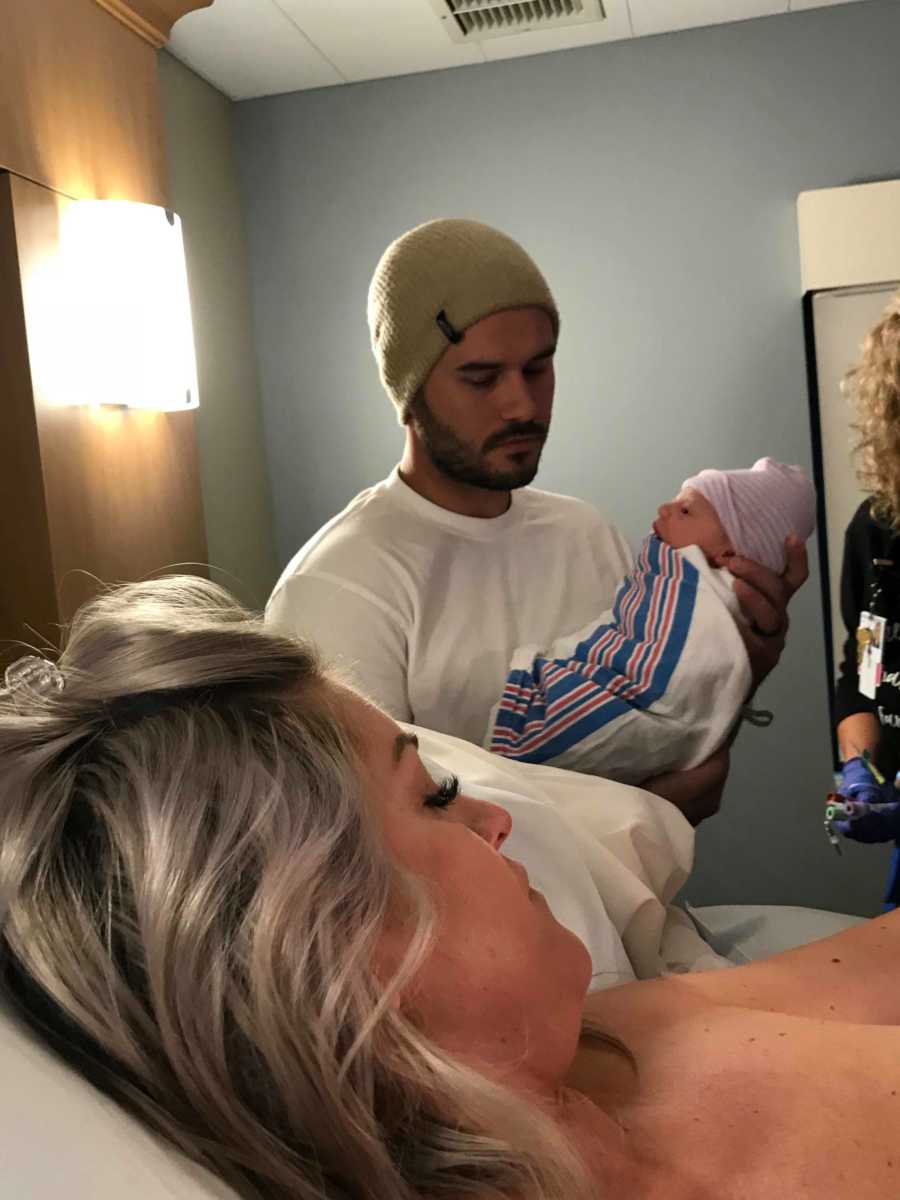 My full recovery is going to be slow and long. It's been painful and emotional to not be able to care for my baby in her first week of life. Bobby has done all of the diaper changes, clothes, picks her up to hand her to me, feeds me, takes me to the bathroom, literally he does EVERYTHING for us even helps us with breastfeeding, EVERY. SINGLE. FEED. It's been hard to not be mobile for this first week but moving with 100 internal vaginal stitches and that kind of blood loss isn't the easiest. My heart rate goes to 140 with me just walking to the bathroom. The doctor says it will take about 3 months to heal from the blood loss, and an unknown recovery from the stitches, because frankly it was a freak occurrence. No one knows how I ended up with so many lacerations inside, especially since I did not tear at all on the outside.
So, how are we? We are SO GOOD.
I am healing slowly but surely and am having a hard time taking it easy. Baby girl is SUPER healthy despite some latch issues – that will be a separate post. Bobby is a freaking GOD and I literally am the luckiest woman alive to have his support. Even with all of this craziness I have never loved life more! Not even joking, my heart is so full, and I'm just so blessed to still be on this earth to go through life with Bobby and Taylor."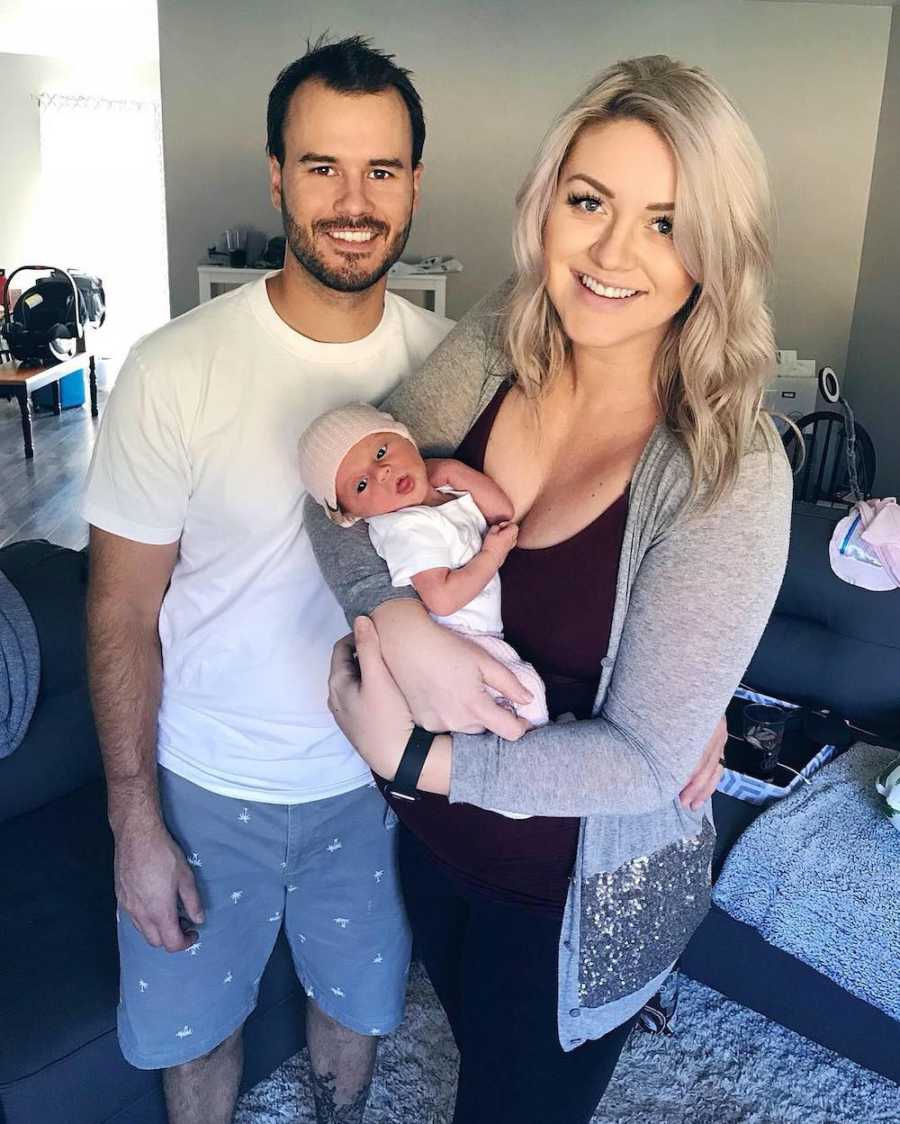 This story was submitted to Love What Matters by Dani Hopkins of  Spokane, Washington. Be sure to subscribe to our free email newsletter for our best stories.
Read more stories like this:
'Motherhood is really tough.' You'd think, 'Well that's crap.' Birth was traumatic. As a child of sexual abuse, a traumatic birth can be very re-triggering. I didn't count on that.'
'When my water broke, it was all blood. Something was very, very wrong.': Woman and son nearly die in 'traumatic birth' due to undiagnosed pre-eclampsia and HELLP
Do you know someone who could benefit from this story? Please SHARE on Facebook or Twitter.