Disclaimer: This story contains details of child abuse, child neglect, and suicidal ideation that may be upsetting to some.
"'Where are you from?' It was hard being the new kid hopping from school to school because we moved a lot. I was honestly never in one place long enough to plant roots, or make friends. Within a year alone, I could've walked the halls of 12 different schools. 'My name is Jasmine, You can call me Jas.'
Enneagram 6, the loyalist; someone who craves security and stability and whose core fear is lacking that. Where am I from? I'm from a broken home where love was portrayed as strained vocal cords and staying up all night screaming to the top of your lungs. Some would say living out my fears, I would have to agree. I guess to understand the background of my story I have to start there.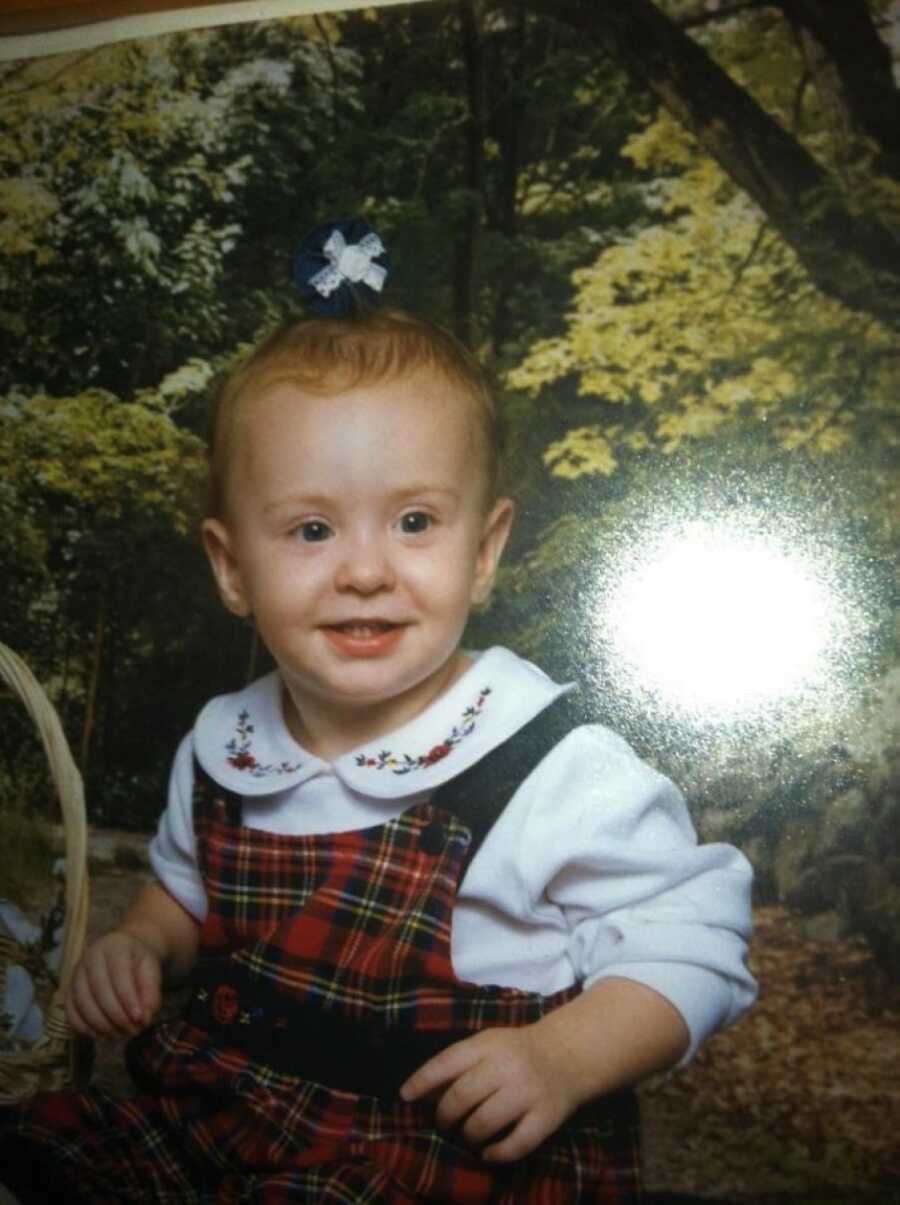 My parents were insanely similar and yet polar opposite. Both storehouses of unresolved trauma from the life they lived before me. Perfectly imperfect for each other. They both had very complicated childhoods where they experienced emotional neglect. I saw that narrative written into my own story. Most of the time, people raise kids how they were raised. I live by the quote, 'Trauma(ed) people, Trauma People.' My mom got married to her first husband at 14 to escape her home life. She dropped out of high school, had her first baby at 15, and lived her teenage years and early adulthood promiscuously. She always dreamed of the white picket fence we never had.
My dad was the youngest of 8 and was verbally abused by his dad. He became a preacher in his mid-twenties and was in that office when he and my mom met. It was the opposite of the life she was living at that time and she was drawn to that. Hearing their story always felt like a saint and sinner love story dynamic. However, My dad was actually married 4 times before he and my mom made their own vows; 3 out of 4 of those wives left him a victim of infidelity resulting in failed marriages. All of the fears, insecurities and even anger was carried over into his marriage with my mom. Add her past reputation on top of still open wounds and let's just say all hell broke loose.
I'm the oldest of three on my dad's side. I'm 22. My middle sister, Destiny, is 19, and Rae is 15. Dad always dreamed of getting his 'boy' but nope, three girls. I didn't understand why until I became older but now I feel as if it was ordained. I really believe if he didn't have daughters, he would've had even more of a deep-rooted hatred for women. Fast forward into my life and the only version of love that I ever knew was the kind that kept me up until it was time for school the next morning. I remember my sisters running into my room afraid of the people that were supposed to keep us 'safe.'
No matter how many times we moved, and no matter where we went, this was our reality. I would hold them in the dark, making up songs to sing to them as I tried to override the violence that the sheetrock muffled while they fell asleep in my arms. Running back and forth between them and my parents, shoving myself in the middle— begging for it to stop. I held my dad as he cried and screamed, I held my mom as she did the same. For as long as I could remember, this was my job. I was always in the middle.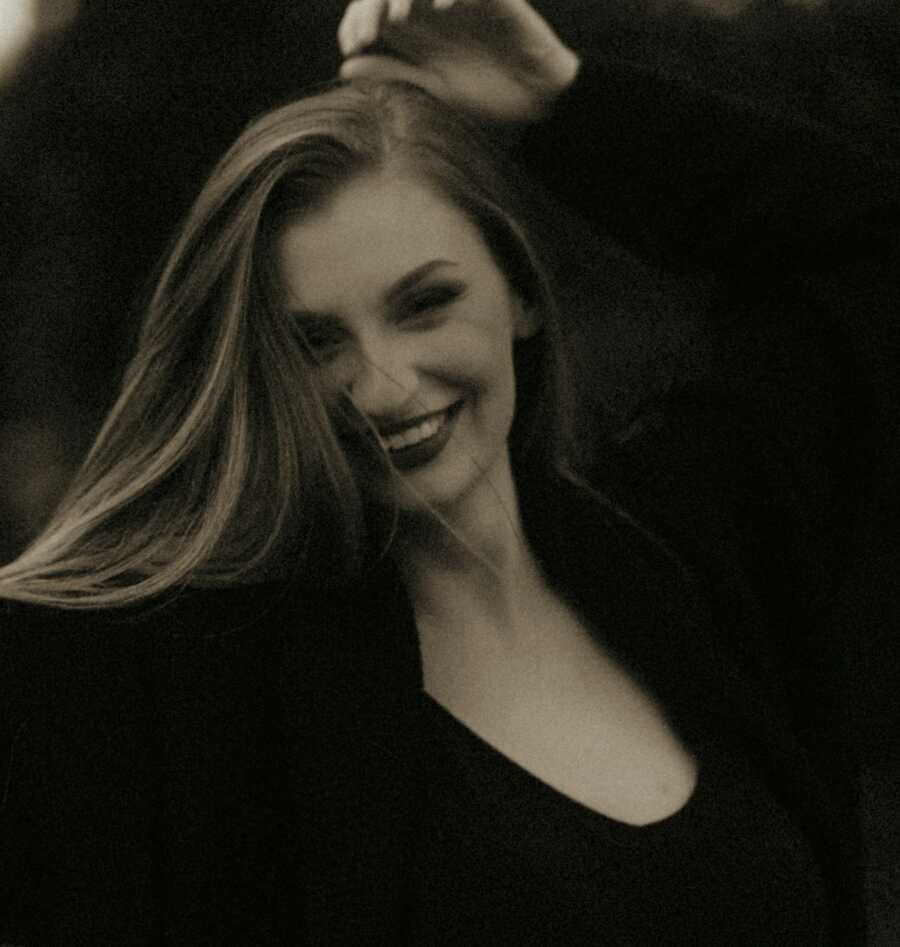 We would get up after long nights and carry ourselves to school. 'Don't say anything to anyone about our fights, you don't want to be taken from home, do you?' Someone had already caught wind of the chaos and we were interrogated by CPS. What did they mean? Isn't this love? Isn't this what a normal life looks like? How would I have known when this was all that I had known? All I knew was that I was scared of 'love.' I didn't want it, in fact, I wanted to run from it like it was the plague. I wish I could go back and hold myself like I held my siblings. I wish I could tell little Jas that real love was coming.
I witnessed a recurring cycle of domestic abuse on both ends for 13 years, maybe one day I can go more into detail about what that looked like. After 15 years of hell on earth disguised as marriage, they decided to part ways for good. Where we lived at the time of their divorce was arguably one of the first homes I ever felt was concrete in my life. It was a little run-down foreclosure in Tennessee that my grandma bought us. It had zero furniture, only a couple of mattresses on the floor. We slapped the ugliest paint colors Valspar has to offer on those walls and called it home.
This is where my love story started, I just didn't know it yet. Here I was, navigating a life of newfound freedom in the light of the separation. Growing up in a very conservative home, I barely had friends let alone guy friends. But, the summer before I started High School, right around the time the divorce was finalized, I met Brian (B). Who is Brian you may ask? I'm convinced that he is an angel on earth. He's honestly the reason I'm even here to tell you this story. It's been almost a decade since we first connected, so I can't even remember fully how it happened. But I do know that he was the most adorable, barely five-foot-tall, bi-racial boy with the biggest dimples and the largest afro I had ever seen.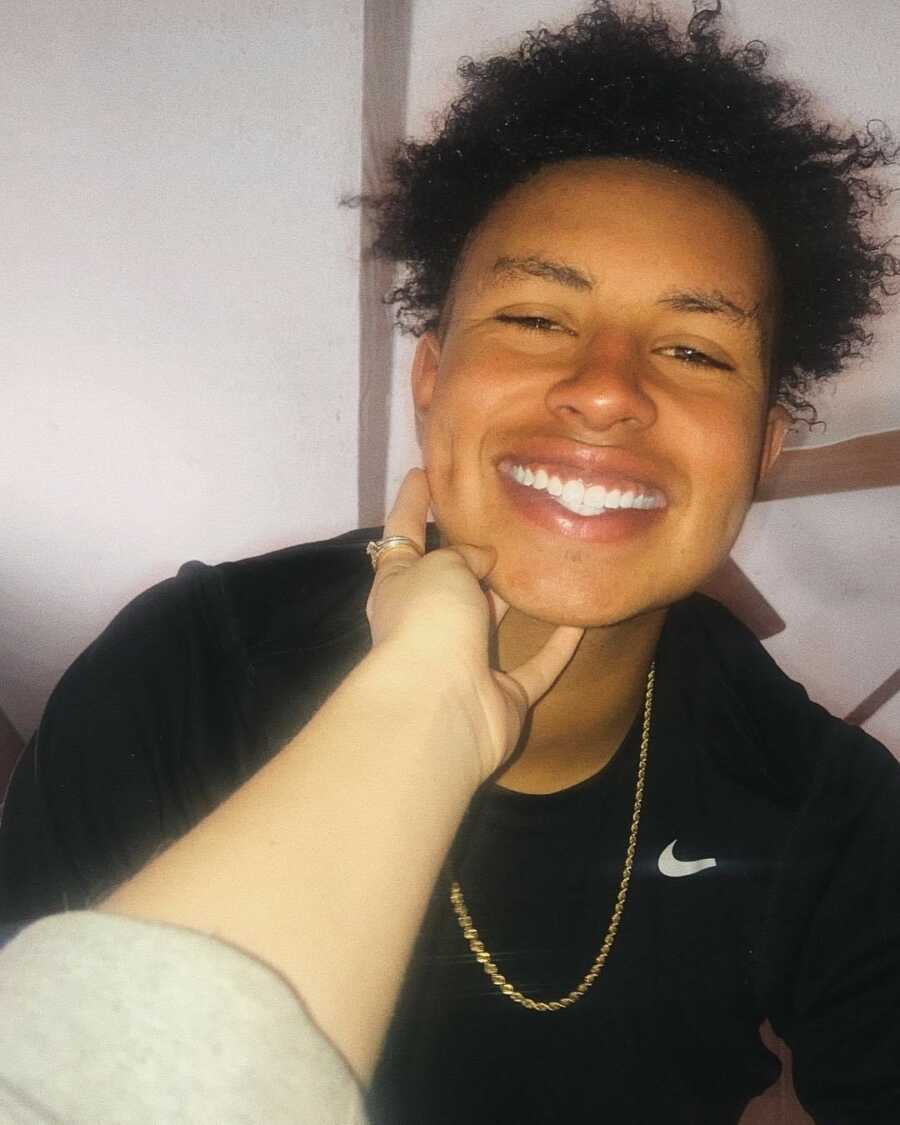 His personality has always been infectious. He has the loudest, most contagious laugh. To know him is to love him. We were best friends all throughout our high school years despite me getting homeschooled and moving with my dad in the middle of my sophomore year. We always stayed in touch, hung out with each other as much as possible, and even he didn't know what was happening behind the scenes. I turned 16 and owned my first used car. My dad struggled to get on his feet after the divorce and was homeless staying with anyone that would let him. My Toyota Camry became our home for a while. We begged our family to let us sleep in their driveway.
I stayed in worn-down motels for 10 hours a day, alone, while he worked sleeping in bug-infested beds and ate what we could afford out of a crockpot. Being homeless at 16 prepared me for my life-changing forever 2 short years later. Eventually, he got a different job that let us stay in a beat-up trailer in exchange for working 14 hours a day in 100-degree chicken houses. We lived that way for a little while until my dad told me to come back to live with my mom because he didn't want me to be in that environment anymore, so I left him and my car behind.
I came home and mom had remarried a man that she knew for only a couple of months. After years of trying to fill a void with body after body, through him, she became addicted to pills in an attempt to drown out the mental warfare. Of course, I didn't like him. I had to mourn the death of my mom while she was still alive. She blamed it on the fact that I was jealous and wanted to be with him. I was told to kill myself, amongst other things that no one should ever have to hear.
I worked during the day, did my school work at night, and scraped together tips from waitressing to feed my sisters. Life was different. Still hell. The light at the end of the tunnel was Brian. We were inseparable when I came back home, along with a couple of other friends in our small group at that time. He was probably at my house more than his own, but I was never one to share my battles and I never wanted my parents to look bad so I kept my personal life personal. Maybe I was just trained from my childhood to not say anything.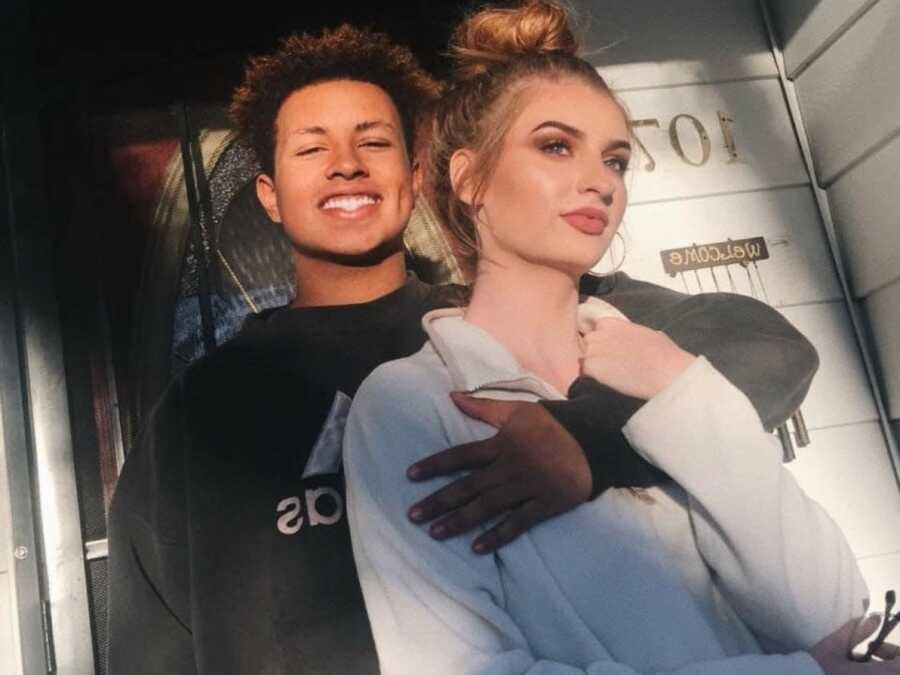 People ask how we transitioned from friends to lovers and it was subtle and honestly miraculous. My mom, enduring her third abusive relationship, eventually filed for another divorce. To make a long story slightly shorter, our lives flipped upside down more times than I could count; I was molded to always expect the worst. My relationship with both of my parents had always been rocky, despite being divorced. I was still constantly thrown in the middle, blamed, and was an emotional punching bag for both of them.
At 17, I experienced severe depression from the years of trauma I had endured and suppressed. I tried to talk to my parents over and over but I was told that I wanted attention, that I had never been through anything, that I'm selfish, that there are people who have it so much worse than me, and I'm messed up in the head amongst so many more phonetic bullets. I saw the generational curse of emotional neglect pour out into my cup. I was alone. The friends I did have at that time started leaving, they either started disliking me or they had different life plans and no longer came around. Except for one.
In this time of my life, I would say I laid face first on the rocks at the lowest point I could reach. It reminded me of Jesus begging God if it is His will to let the cup pass from him. I remember being on the basement floor after begging for help and I couldn't take it anymore. I planned my own death. Details on how I would do it, where, and when. I wrote out goodbye letters to my family and Brian. Only God knew. But then, I watched a miracle. At the exact time and day that I had planned on ending my life, Brian came to my house…
Except for this time, he didn't leave. It seemed like he was always there. I couldn't even hurt myself. He is literally the reason I'm alive. At this time, we were still just friends. I didn't even perceive him as anything more than that. But within a couple of weeks, everything changed. A week after I turned 18, I was thrown out of the house by my mom who at the time was still struggling with addiction and resentment. I had nothing but a trash bag full of clothes and nowhere to go. I had to leave my sisters, who wouldn't talk to me anymore from not understanding and being upset that I had to leave, and I felt so hopeless. So alone. So scared.
It wasn't until my life was shattered that I realized that restoration is born there. I stayed the night wherever I could; it was a mirror of my experience with my dad. My sister's friend, who I am incredibly grateful for, let me into her home to stay while I got on my feet and no matter where I was, B was too. While staying with her, she invited us to come with her to Virginia to visit her sister and I will always give credit to that trip for bringing me the family that I have now. The night before I left, Brian told me he wasn't going to come because he had somewhere to be the next day. But 5 a.m. rolled around and I woke up to him hugging me telling me that he didn't want to be anywhere that I wasn't, so he went too.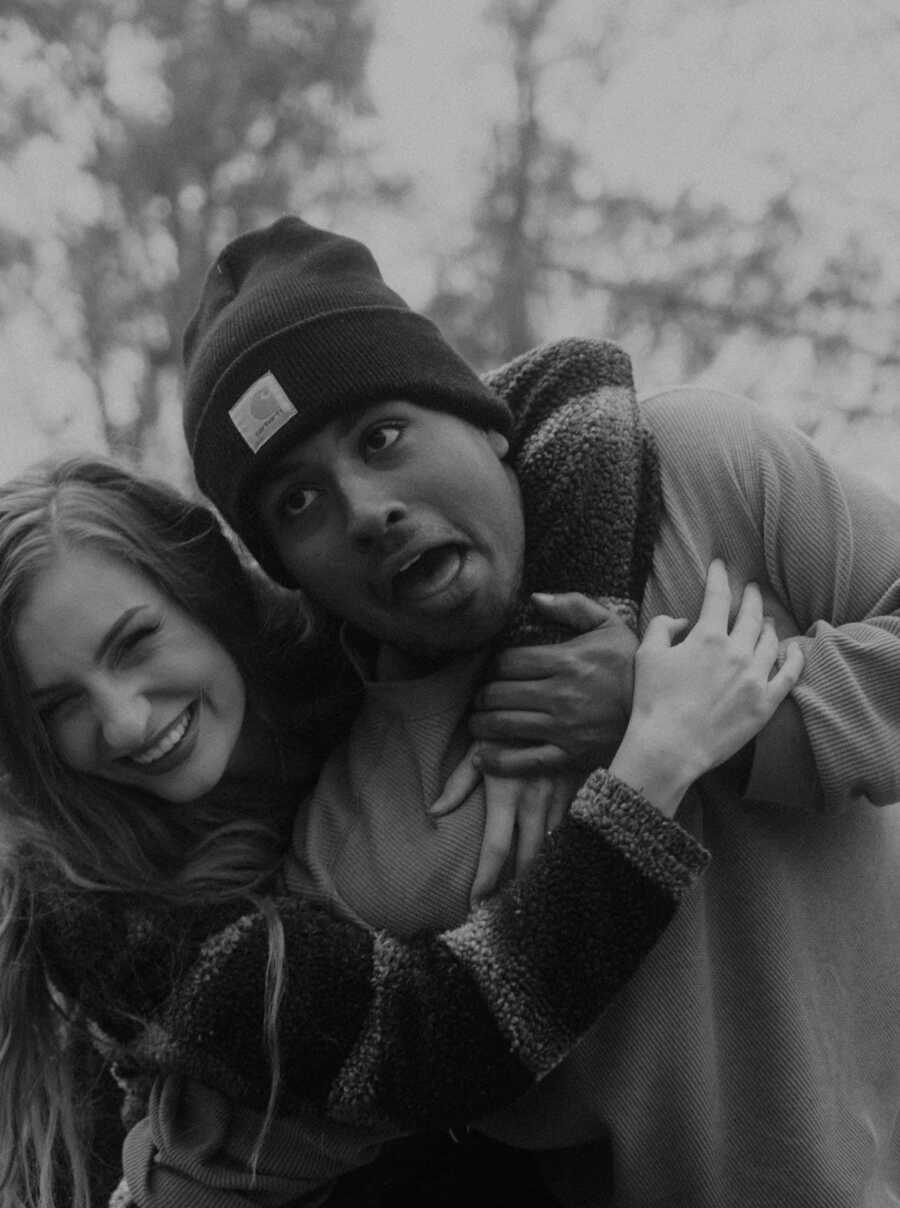 We were best friends for over five years leading up to that and it's like everything played a role to bring us closer together. It was in Virginia that we had a change of heart. While we were there visiting, I was watching Brian talk to this little boy that he had never met. He might've been around 9 years old or so. He was admiring Brian's brand-new sneakers. The little boy was wearing his dad's old pair that were beaten up, very lived in, and loved. You could tell by the holes in the sole. I stood at a distance and I watched Brian take off his shoes with no hesitation and hand them to that little boy. He said, 'Here you go. You'll grow into them.' He walked back to the car barefoot with a full heart. That action? That was love and for the first time in my life I didn't want to run from it, I wanted to run into it.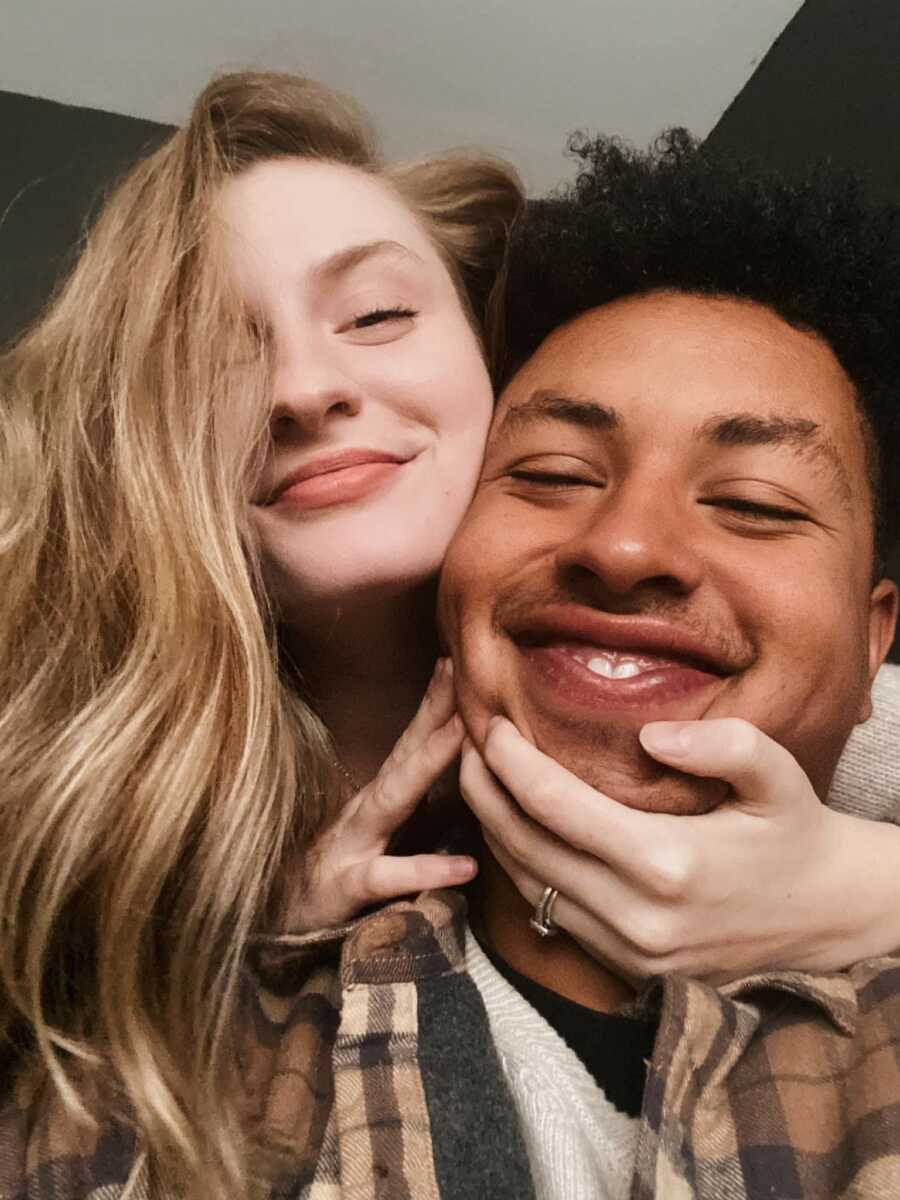 Just a few weeks later this sweet guy of mine asked me to be his life partner and the rest is history. Our unity quickly uncovered hidden racism within my family, and it was made very clear that they didn't support us. Brian endured a lot. He was called slurs, told he didn't deserve to eat, was slandered and belittled, and still is the most loving person I've ever known. He would give the shirt off his back to his enemies with no thought. His love is pure and sincere and undeserving of what he went through, but he never left.
There weren't many people that believed in us, but us. We worked hard, moved to Georgia, and he took a leap of faith starting his own car detailing business. He is hardworking and dedicated and anything he puts his heart into and believes in becomes successful. I'm grateful that he's always believed in me. In May of 2019, we got married. That next year, we brought the most perfect baby boy earthside who loves to give and share just like his daddy.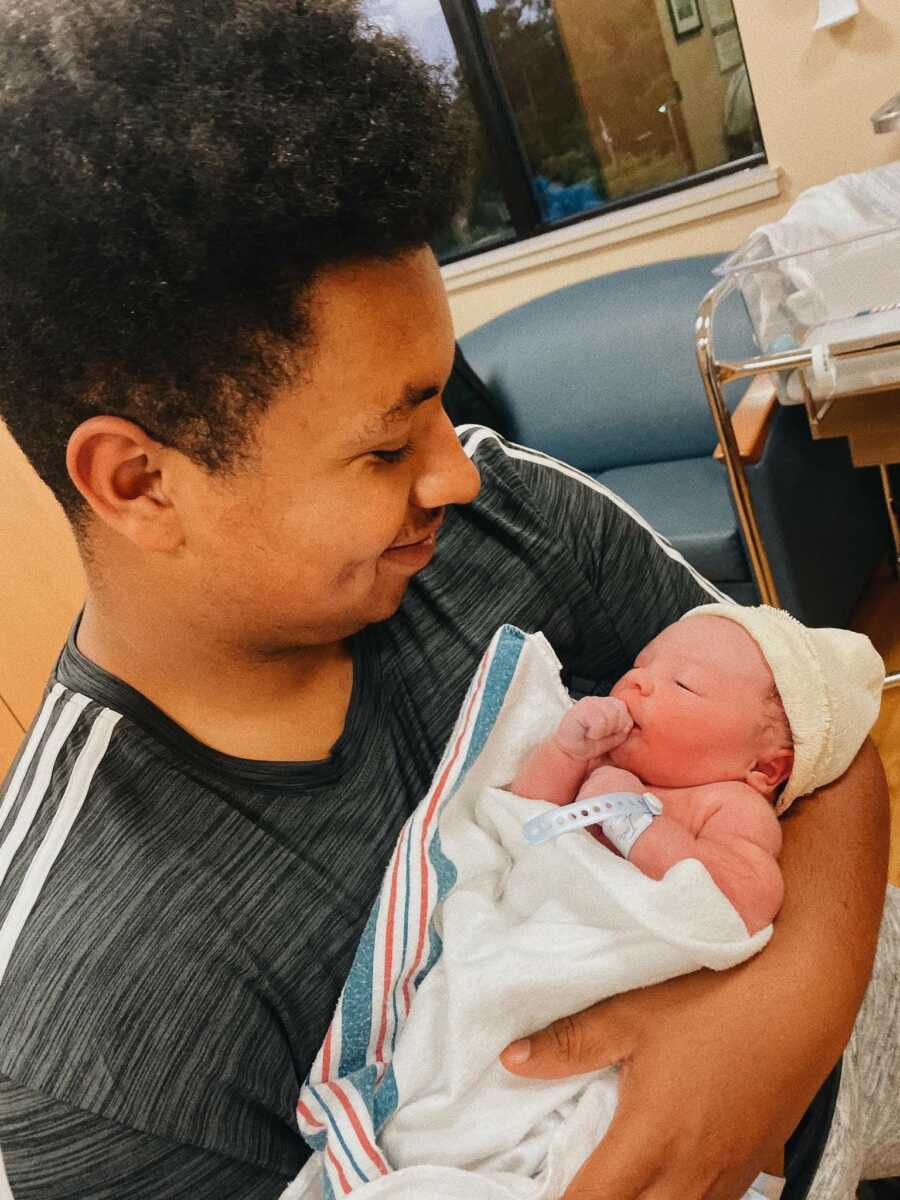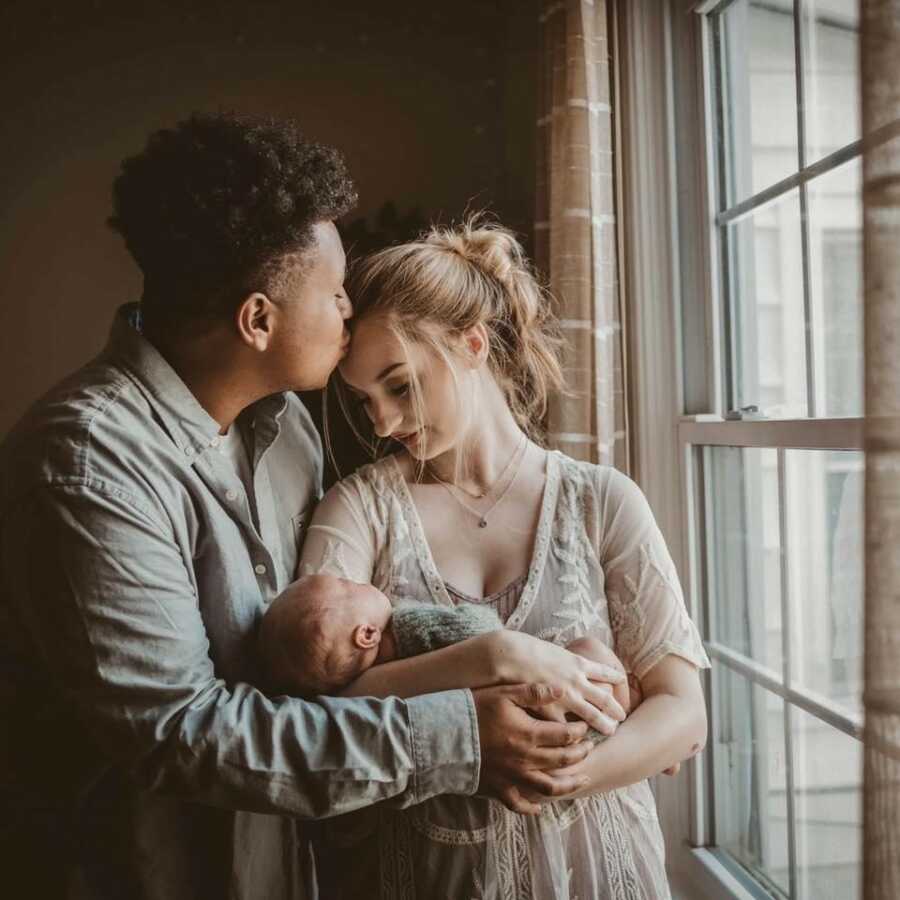 When River was three months old, Brian sold his car to buy me a camera and all of the gear I needed to start my own business. I wasn't good, I didn't know what I was doing, but he handed me my camera with no hesitation and told me I'll grow into it. Today, I am a couple's photographer that showcases how I view love, how he taught me to view love.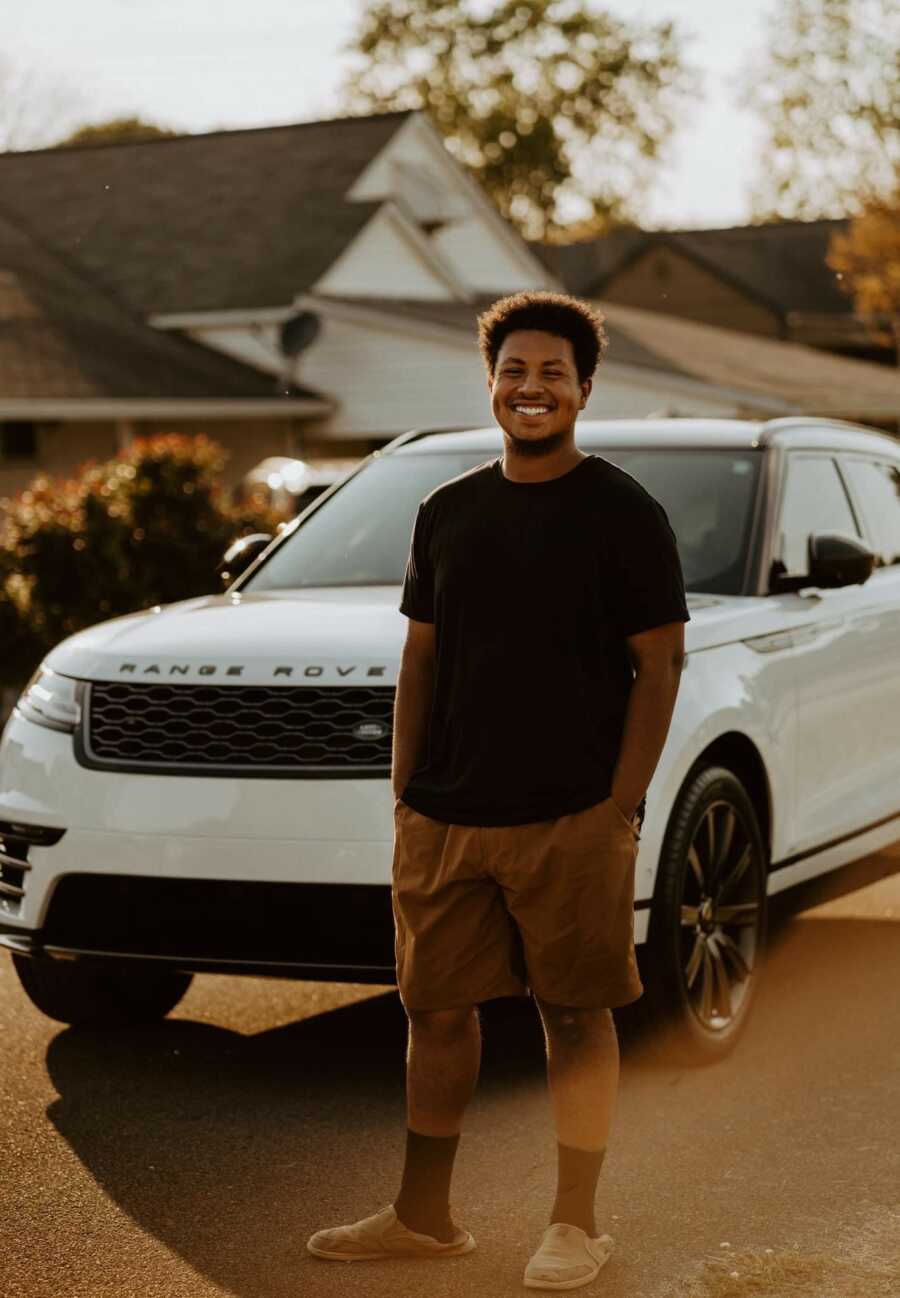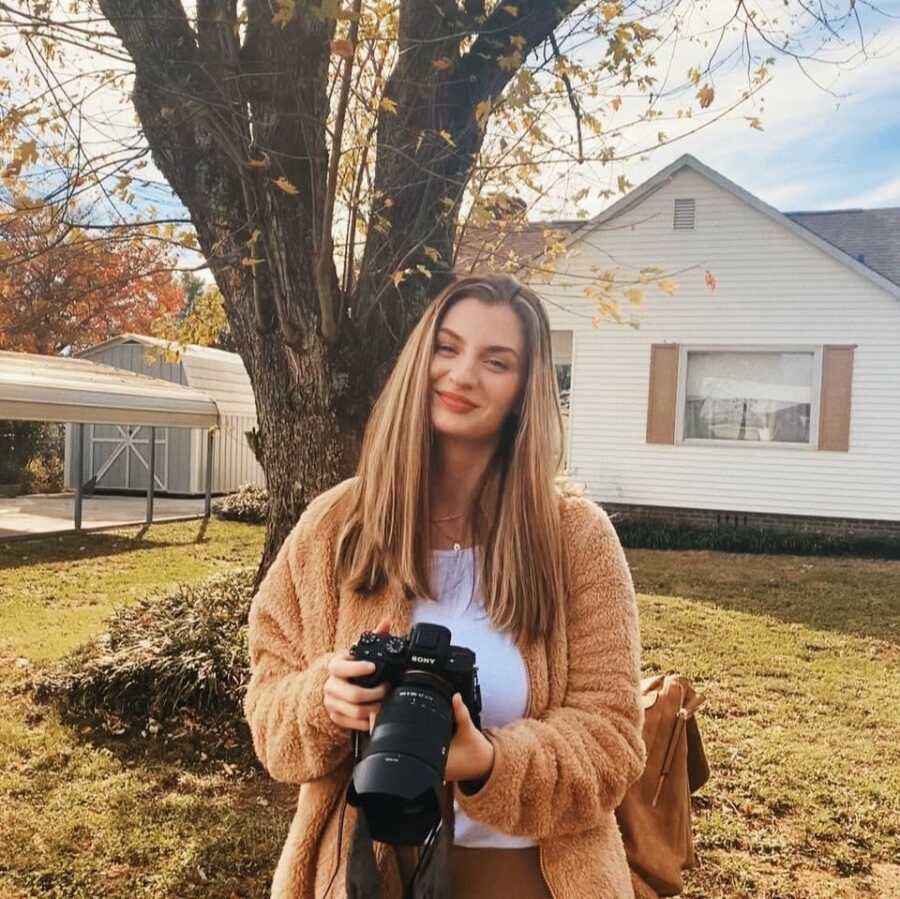 Don't give up. Sometimes, in the midst of our hardships, there is a bigger picture we have yet to see."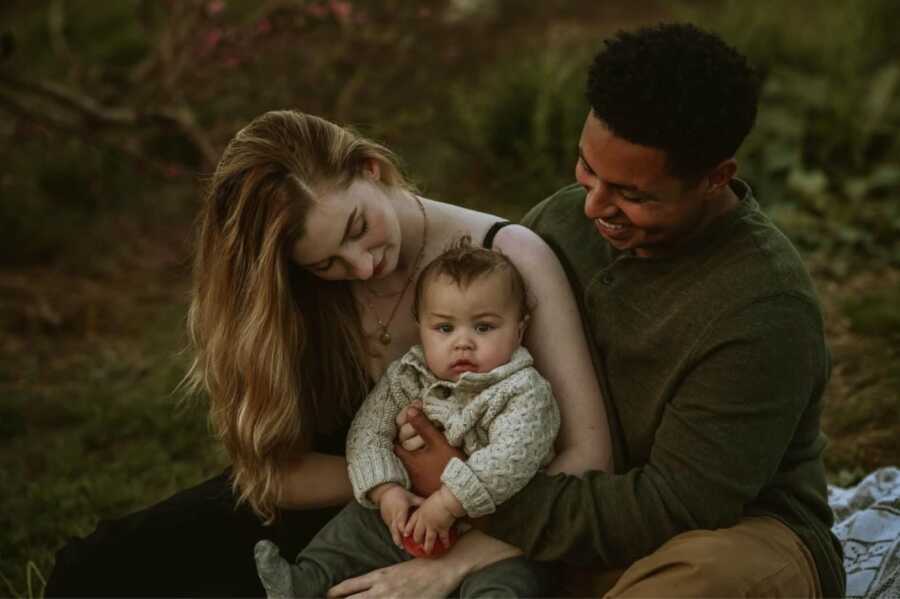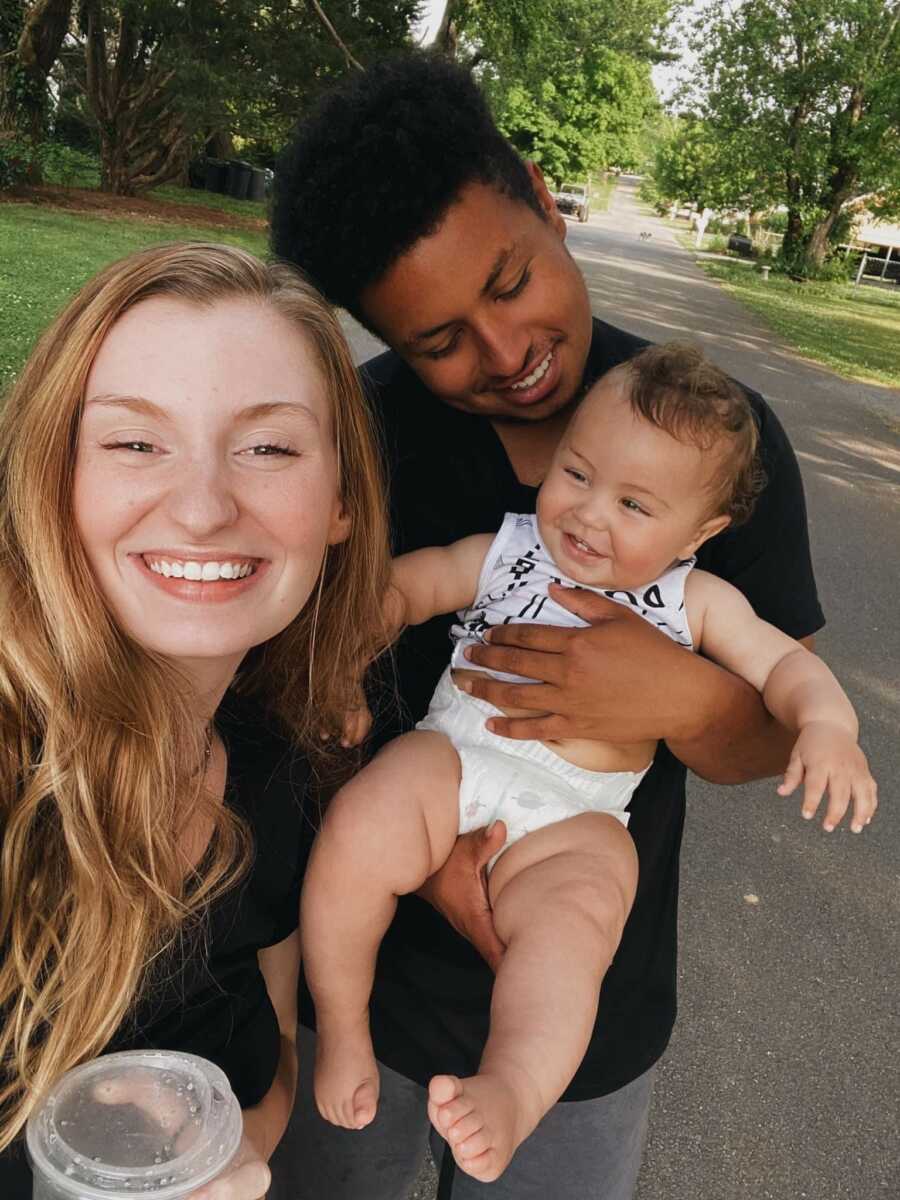 This story was submitted to Love What Matters by Jasmine Jones from Hiawassee, Georgia. You can follow her journey on Facebook and Instagram. Submit your own story here, and subscribe to our best stories in our free newsletter here.
Read more from survivors here:
'If I refused his advances, I'd get in trouble. I had to keep my head down, my mouth shut. I couldn't 'ruin' her image of the perfect family. I paid my dues every night for 6 years.' Sexual assault survivor breaks silence after 2 decades
'My dad said, 'You've been emotionally beaten.' I knew THIS marriage was different. Our kids were smitten.': After abuse, woman blends family with new husband
'40 days. 39 nights. That's how long it took living in a domestic violence women's shelter to secure a new home.': Domestic abuse survivor urges 'don't let the fear of leaving keep you staying'
'You can't sexually assault your wife.' It finally hit me. I had to get my son out before there was no turning back.': Woman finds happy ending with 'man of her dreams' after escaping domestic abuse
Provide hope for someone struggling. SHARE this story on Facebook to let them know a community of support is available.