"It's been almost 5 years since I found the strength to do what I never thought I'd be able to do. I married young and had a kid young, but I never dreamed I would end up like one of those women from those Lifetime movies. This isn't something I thought I'd have the strength to share.
I was abused emotionally, physically, and sexually. It was a daily thing being constantly told, 'You're fat, worthless, no one will want you if you leave,' then hearing him apologize and say he never meant it. 'It was the beer talking.' 'I was high, I didn't know what I was saying.' I was sexually assaulted weekly and told, 'It's not rape, you can't rape your wife. You can't tell me no.' I'm not sure what I thought the end game would be. The only thing I knew for sure was I didn't want my son to be from a broken home. I thought I'd stick it out like most women try to do. Looking back now, I have moments of feeling dumb. I should have known better. I've seen these things before and read about them, time and time again. I should have seen it sooner.
It finally hit me. I knew I had to get out. I had to get my son out before there was no turning back.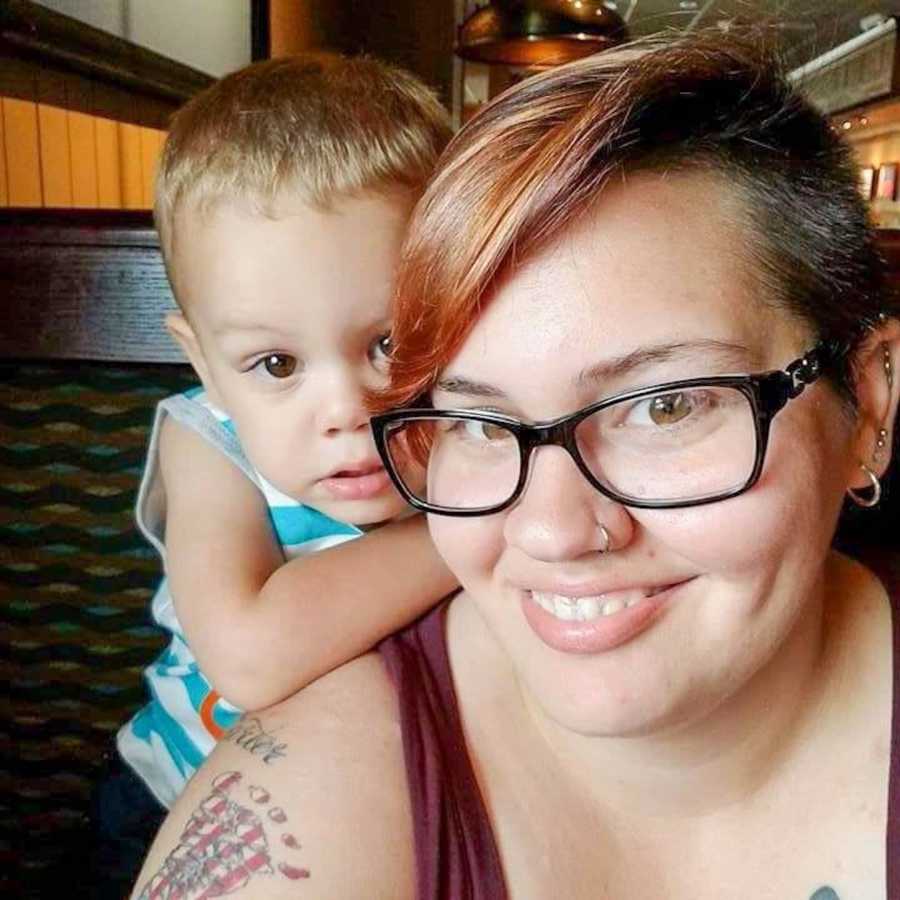 I suppose I'm luckier than most because I had a mom and a stepdad who were willing to take us in. I got a job and just wanted life to be normal again. I wanted to feel normal again, but it wasn't looking like that was a possibility.
After several months of being separated and trying to go through a long stressful divorce, I did what any single woman in her 20's would do. I decided to try out a dating app. Boy, was that rough. The majority of the people I came across were either looking for a one-night stand or weren't looking for a single mom. That is until I met someone special, the man I would end up marrying and the man I honestly never thought I deserved.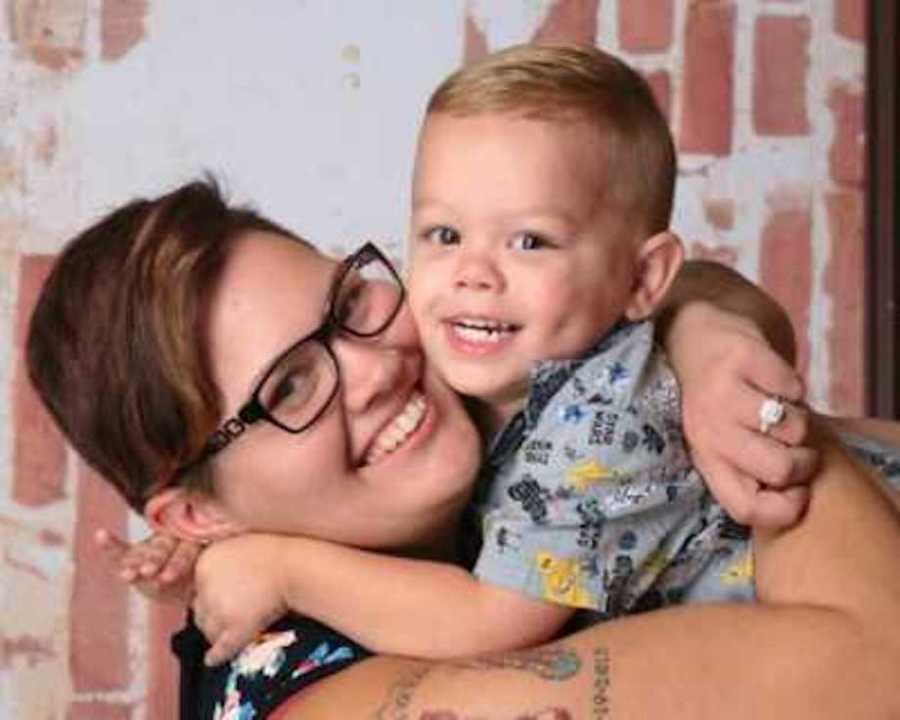 From day one (before we even met), I explained basically everything to him. I told him I had a kid from a previous marriage and about all the abuse I went through. I explained I was still legally married and trying to get through this divorce but when both people don't show up to court, everything just drags on and on. We hadn't even met yet, but I sat there, online and on the phone, explaining all my baggage to this guy. It may seem crazy, but we had an instant connection. I knew I'd rather tell him now than scaring him away later.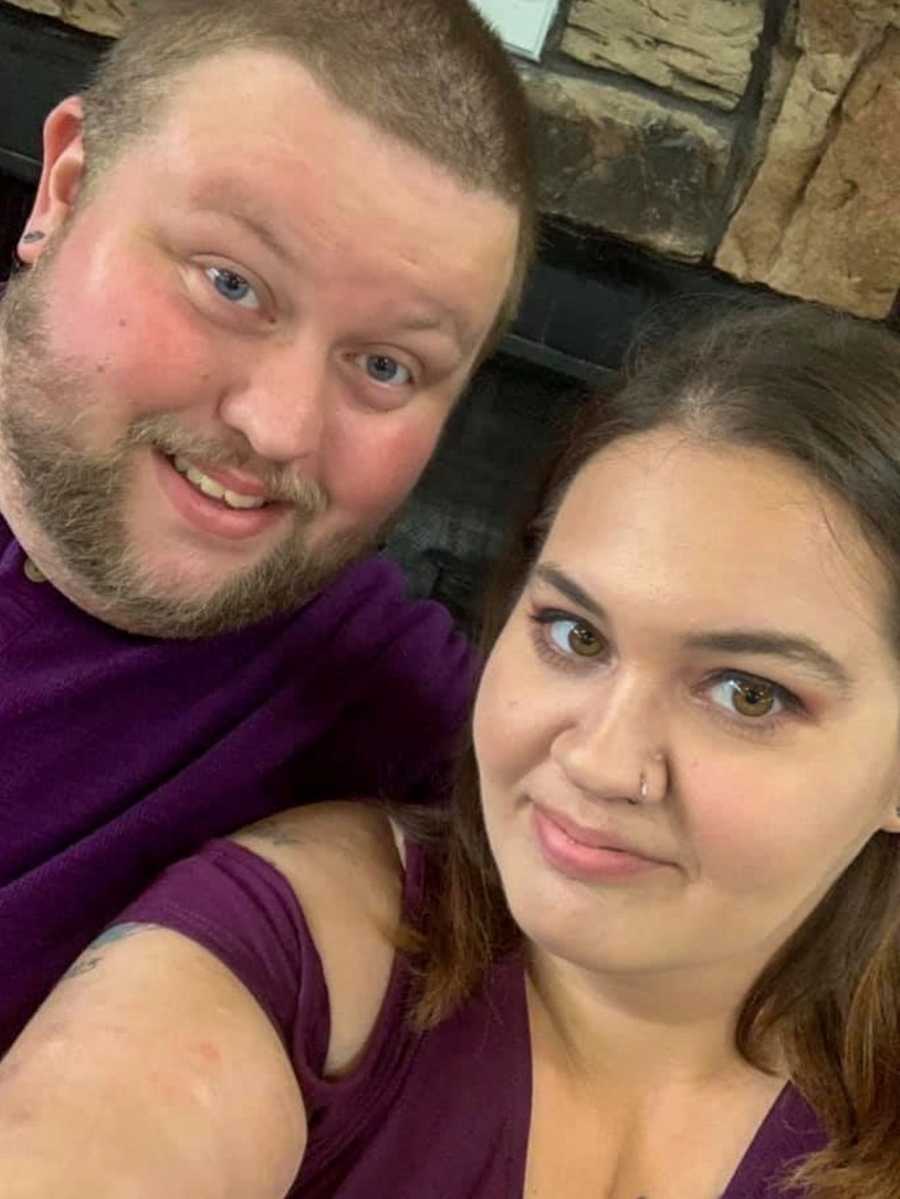 Funny enough, our first date was at a bowling alley (not exactly the most romantic thing, especially since I don't bowl). But neither of us had a ton of money and both desperately wanted to meet after talking back and forth online for a little while. We realized we had a ton in common and had opened up so much already. On this date, which I wasn't thrilled about, still ended up getting exciting, knowing I'd be able to spend time with him in person and really get to know him. It was the best bowling trip I've ever been on.
I remember going home to my mom that night and telling her how much fun I had. 'This is it, he's the one.' She heard that before and told me to take things slow. At this point, she didn't know the details of my past marriage but knew it was bad. She wanted me to be careful. But I think she knew too. This one was different. She would tell me constantly, 'You look so much happier lately.' And I was. I couldn't stop smiling every time I saw him.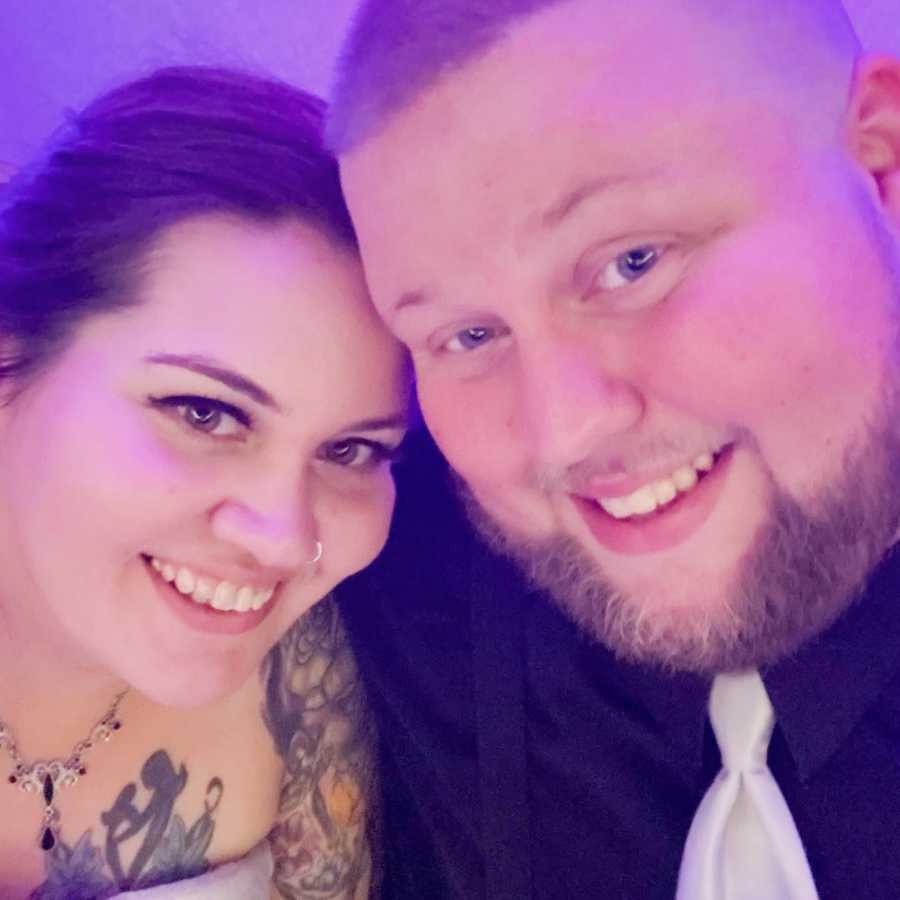 After a few months, I knew he'd be a great boyfriend but what did he possibly know about being a dad? I was right, he didn't know much. But what he lacked in knowledge, he made up for in heart. He had a niece around the same age as my son and I could see how amazing he was with her. He may not have known all the 'dad' things, but he knew how to make us laugh and he knew how to be there for my son. No matter how many times my son would sit on his lap, constantly ask him questions, or ask him to play silly games, he never turned him down. He'd crawl on the floor with him and play whatever he wanted. He started helping us teach him his ABCs and counting. My son was so connected to him.
The day we finally planned to have him meet my son, I warned him, 'Don't be upset if he cries or hides from you. He hates men. He only really lets his papa and uncle hold him and talk to him.' That day, we met up at a park and after just a few minutes, my son (who was 1 at the time) ran right up to him. He picked my son up and put him right on his shoulders. My son didn't want to leave his side the whole time.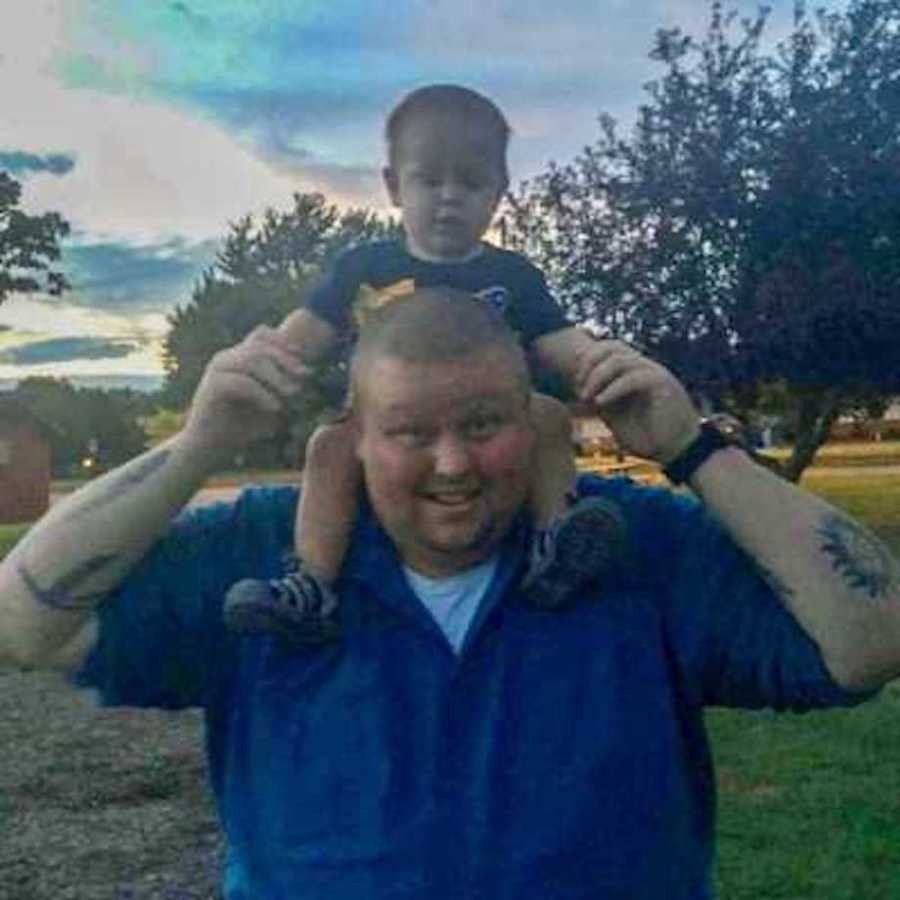 To be honest, I was shocked. All I could do was smile. I've never seen my son react that way to anyone new, especially a guy. I knew that was an amazing sign.
It wasn't long after, maybe about 6 months or so, that my son started calling him 'Dada.' That was unexpected. Besides my stepdad and dad, he didn't have any father figures in his life. Still to this day, we don't know where we picked that up at, but we didn't tell him he was wrong. We knew we were meant to be together, so we just went with it. I was a little hesitant at first. I wouldn't correct him, but I also didn't encourage it. I was a little scared because I didn't want to take the chance of something not working out. But after a while, I realized this is how it's meant to be. He was meant to have a dad and he finally found his 'Dada.'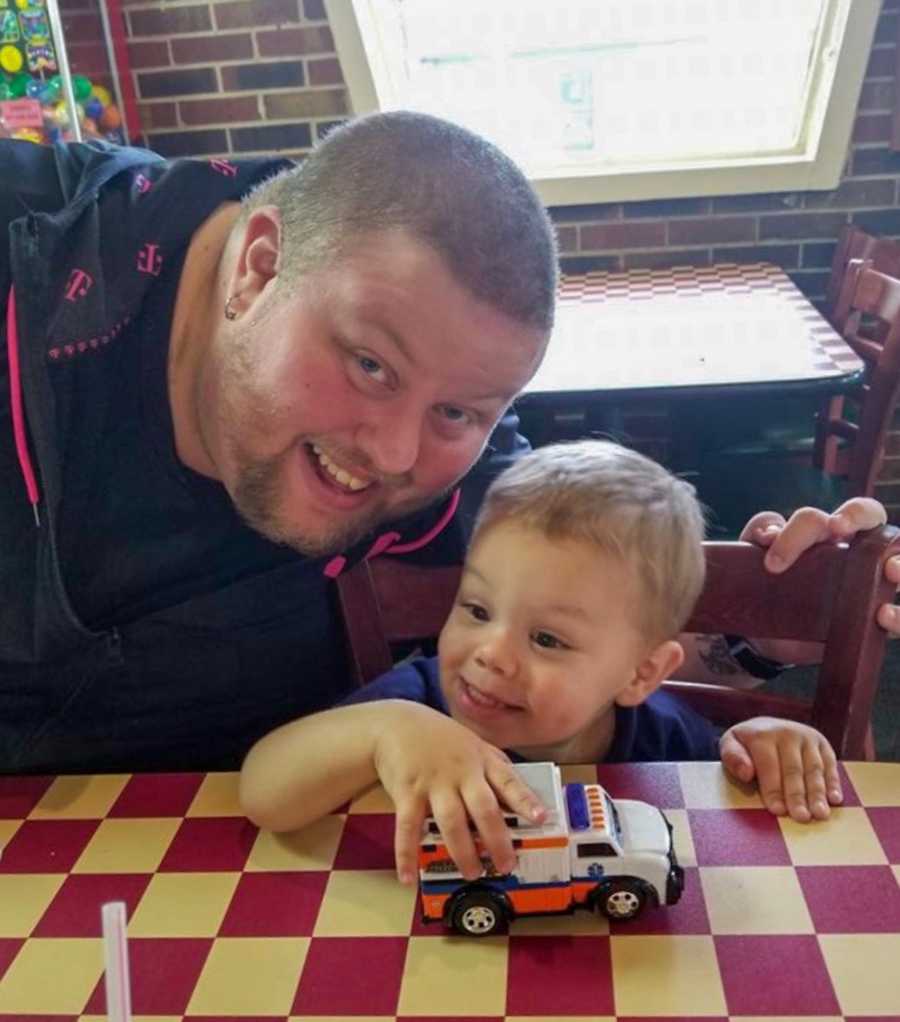 Once that connection was made, my son would ask constantly, 'When is Dada coming? Can we go see dada now?' How could I tell him no? Most of our 'dates' after that consisted of the three of us doing something together. We felt like a family before it was even official.
And from there the rest is history.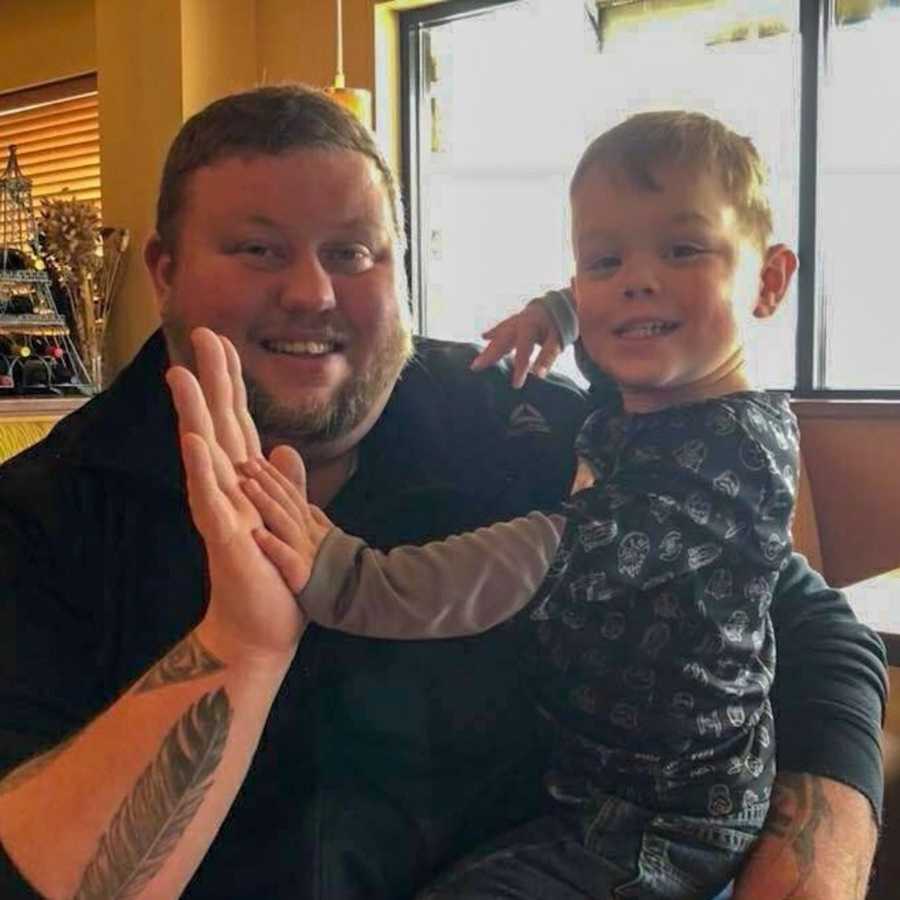 He proposed about a year later. Still learning new things about each other was fun, but we knew it was going to work out. Trying to plan a wedding together was tough. We couldn't decide on much. However, he did end up picking the perfect song for our first dance and in turn, also created something new for us to have in common. He picked the song 'Home' by Blue October, turning me into a huge fan of the band too. The song is so perfect. It fits us so well! I cried when he played it for me! We made it through the rest of the wedding planning and got married in October 2019.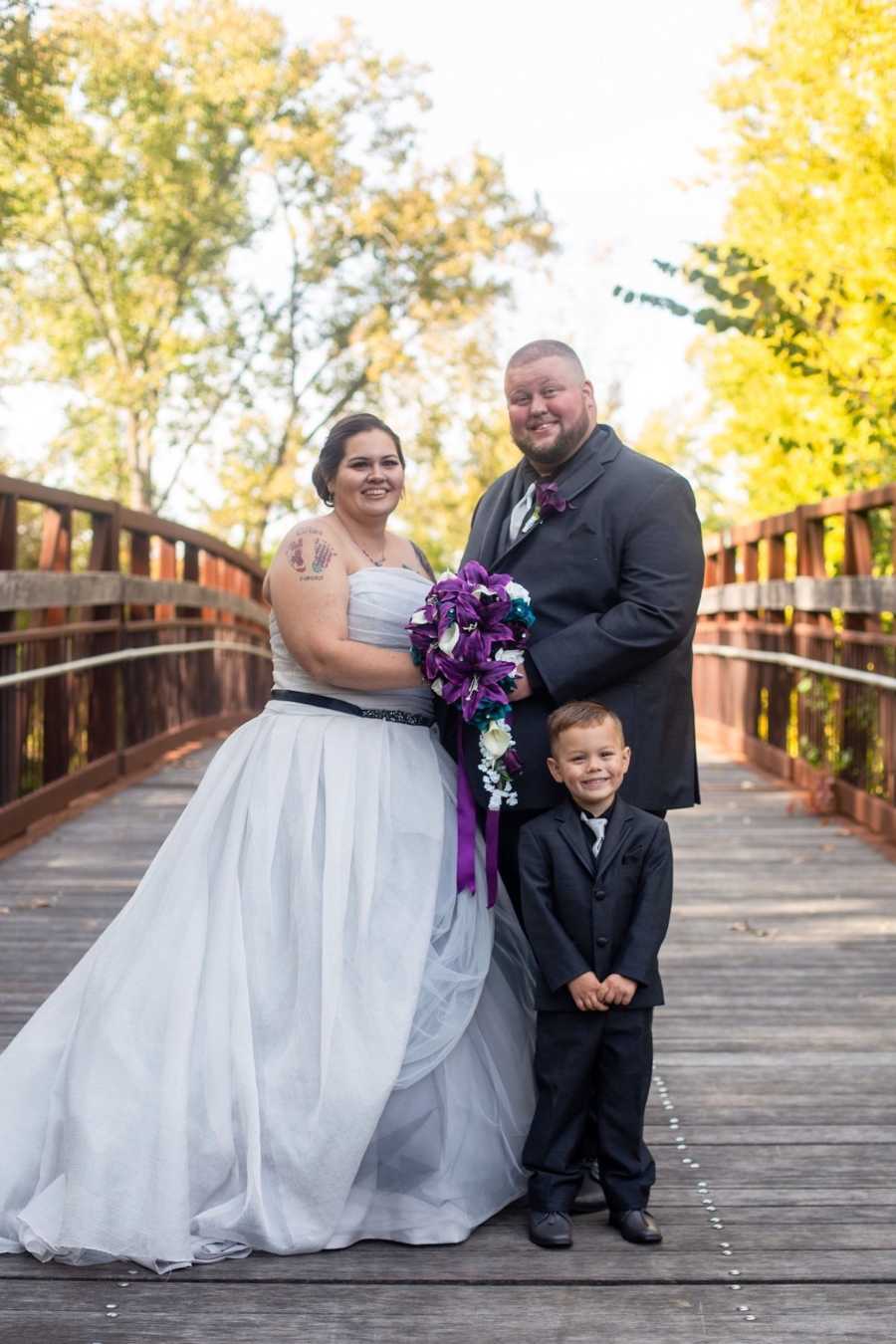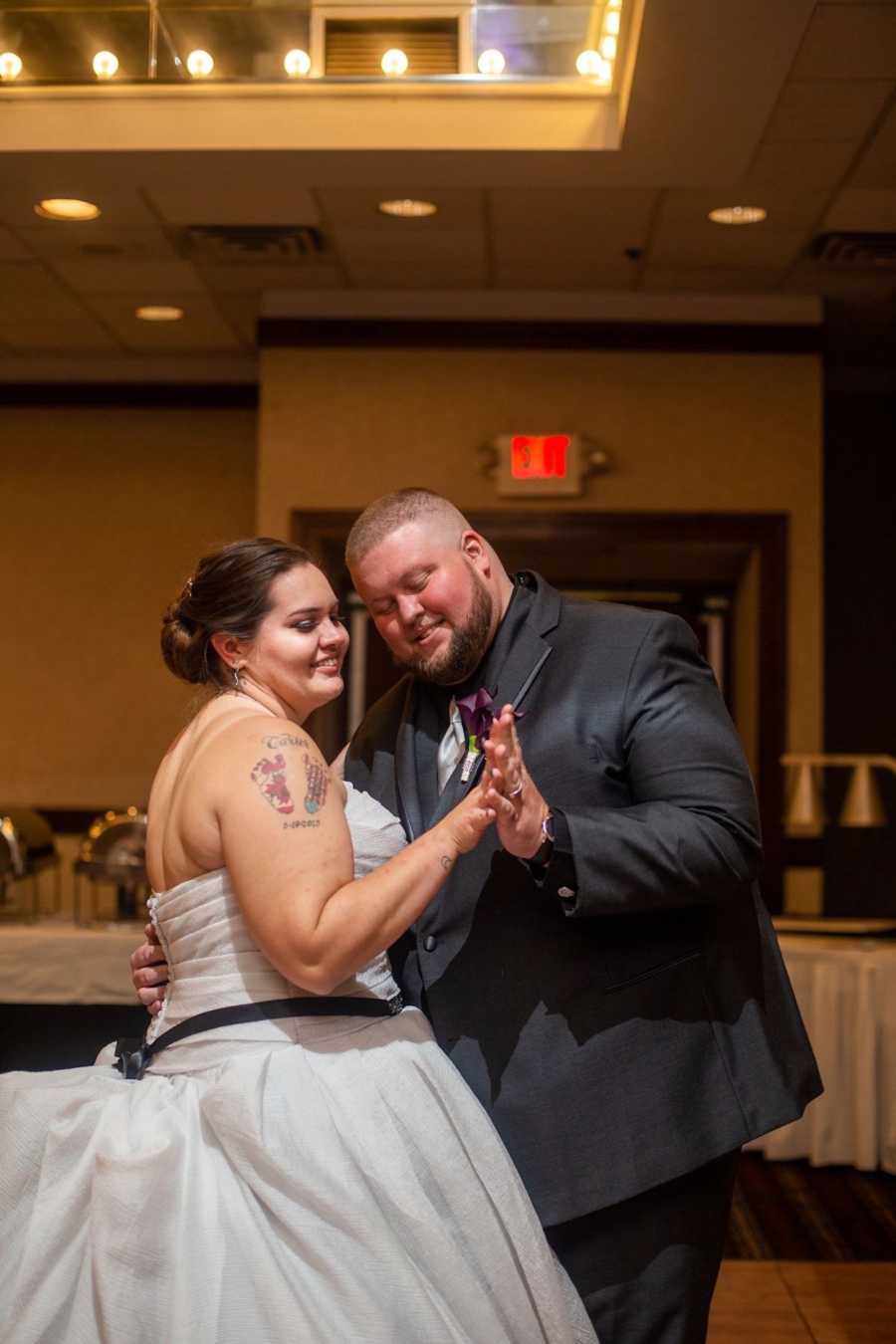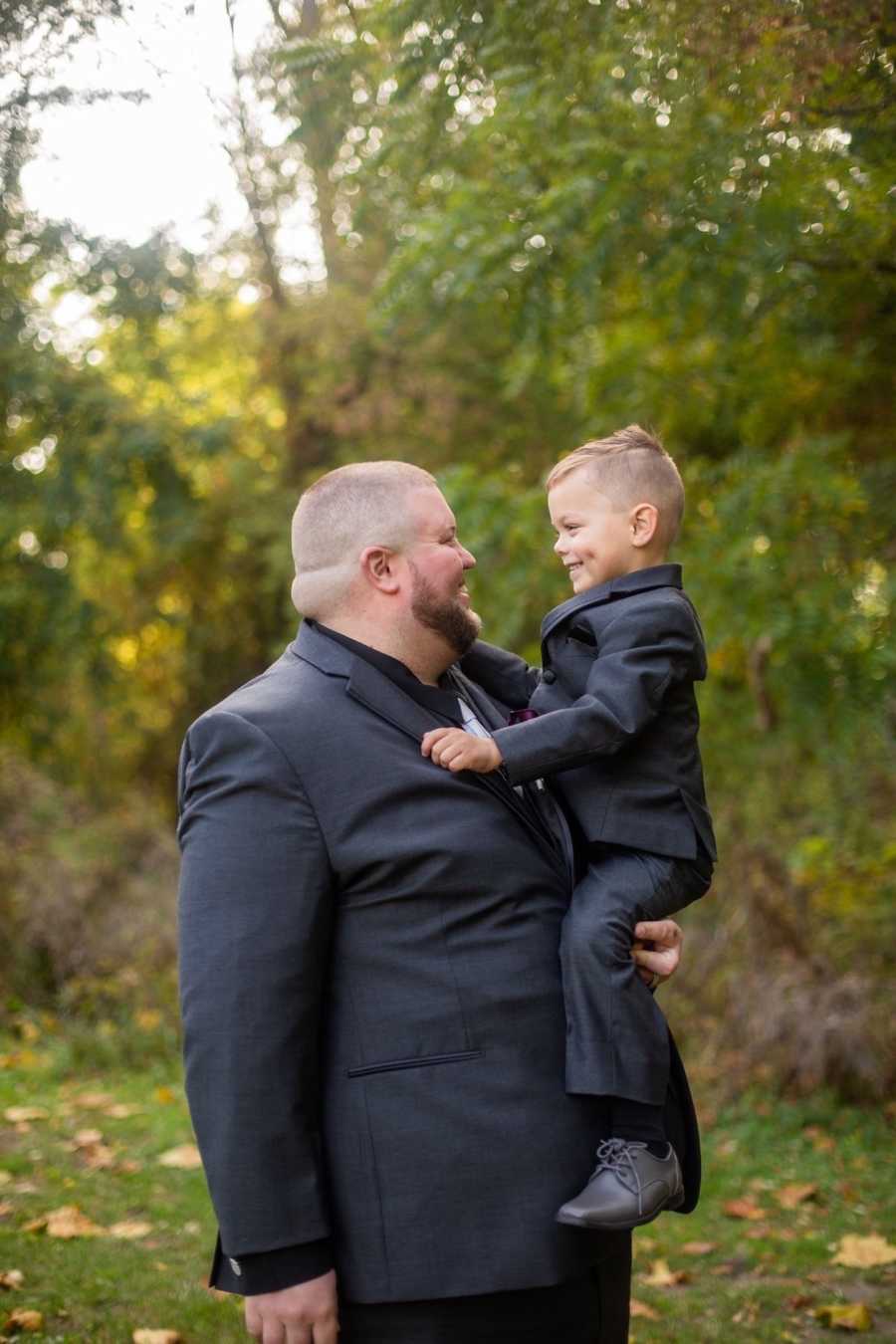 Now, he's no longer just my son. He's ours. And in October of 2020, he will no longer be an only child.
To this day, my son still has his 'Dada' but now he calls him his 'best friend' or 'daddy.' I honestly couldn't ask for a better dad for my son. I can't wait to be able to introduce our new bundle of joy to this family!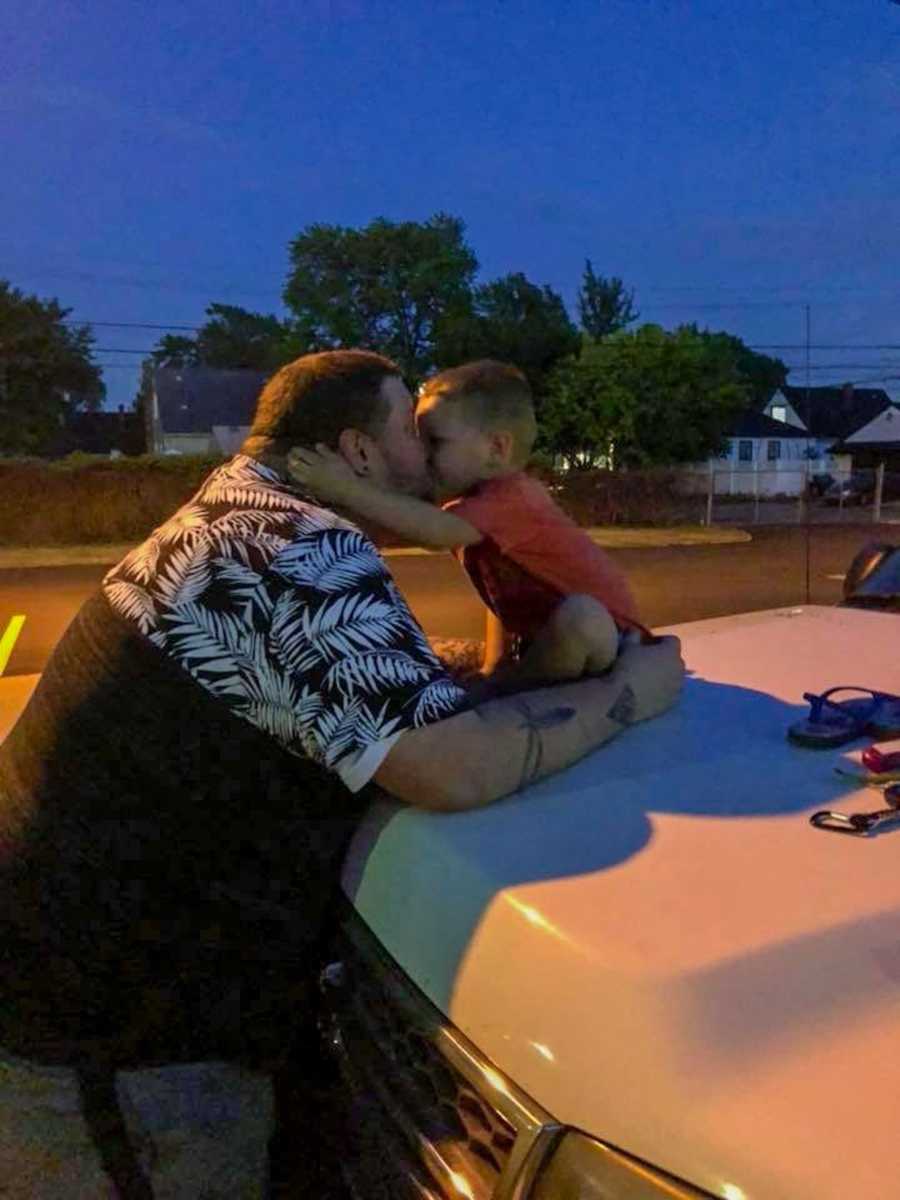 Things aren't always perfect. He's not always perfect, but I know I'm loved. I know our son is loved. I couldn't have asked for a happier ending. Happy endings do exist."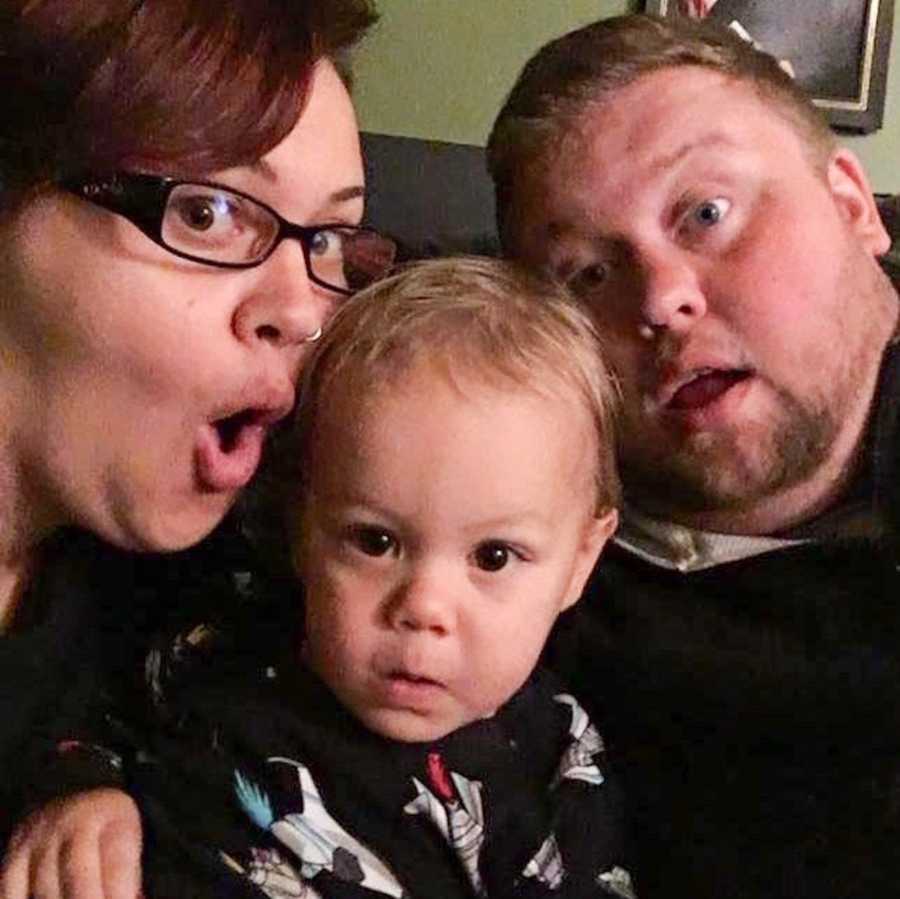 This is an exclusive story to Love What Matters. For permission to use, email Exclusive@LoveWhatMatters.com.
This story was submitted to Love What Matters by Jen Mullins, 28, of Michigan. Do you have a similar experience? We'd like to hear your important journey. Submit your own story here. Be sure to subscribe to our free email newsletter for our best stories, and YouTube for our best videos.
Read more stories from Jen here: 
'My family and I live check by check. 'The lady in front of you wanted you to have this.' I'm pregnant and super emotional as it is. I start bawling my eyes out in line.': Woman thanks stranger for act of kindness, 'There are still great people in this world'
Read more touching stories like this:
'It snapped me awake. What I thought was snoring, was actually the 'death rattle.': Woman remarries after high school sweetheart's sudden death, creates big, blended family with new husband, 'I love my husband's ex-wife'
'I live with my husband, my ex-husband, his girlfriend and our 6 children. We threw our parenting plan out the window.': Woman says she wouldn't change their unconventional blended family 'for the world'
Do you know someone who could benefit from this story? Please SHARE on Facebook or Twitter.