Becky Gacono of Annville, Pennsylvania, chronicles her mother's dementia journey each week for Love What Matters. This week, she discusses the anguish of moving her elderly parents into an assisted living facility, and the stress of her father wanting to be with his wife but missing his home.
"We wish there was a handbook about growing old with different case scenarios: This is what happens if you live for a long time. This is what happens if you have surgery when you are old. This is what happens if you get dementia. This is what happens if you don't. This is what happens if you are a child of parents that grow old. This is what happens if you are a child of a parent with dementia. This is what happens when you make the tough decision to move your parents to a home. OK, you get the idea. We are lost.
I feel as though I am in the middle of a jungle at nighttime with a machete and I'm plowing my way through but I have no direction, no guidance, no idea when I'll see the light again. It sounds a bit dramatic, and maybe it is, but in this moment it doesn't seem that far off from a pretty fair depiction of our lives right now.
As I write our stories about our parents I never want anyone to think we are not thankful for the blessing of still having both of them. On that same note, I never had any idea it would be this hard. From the deterioration of mom from this despicable disease – dementia – to the stress and exhaustion of watching my dad care for her and lose her slowly. We had caregivers but she always wanted him. It has been hardest on him.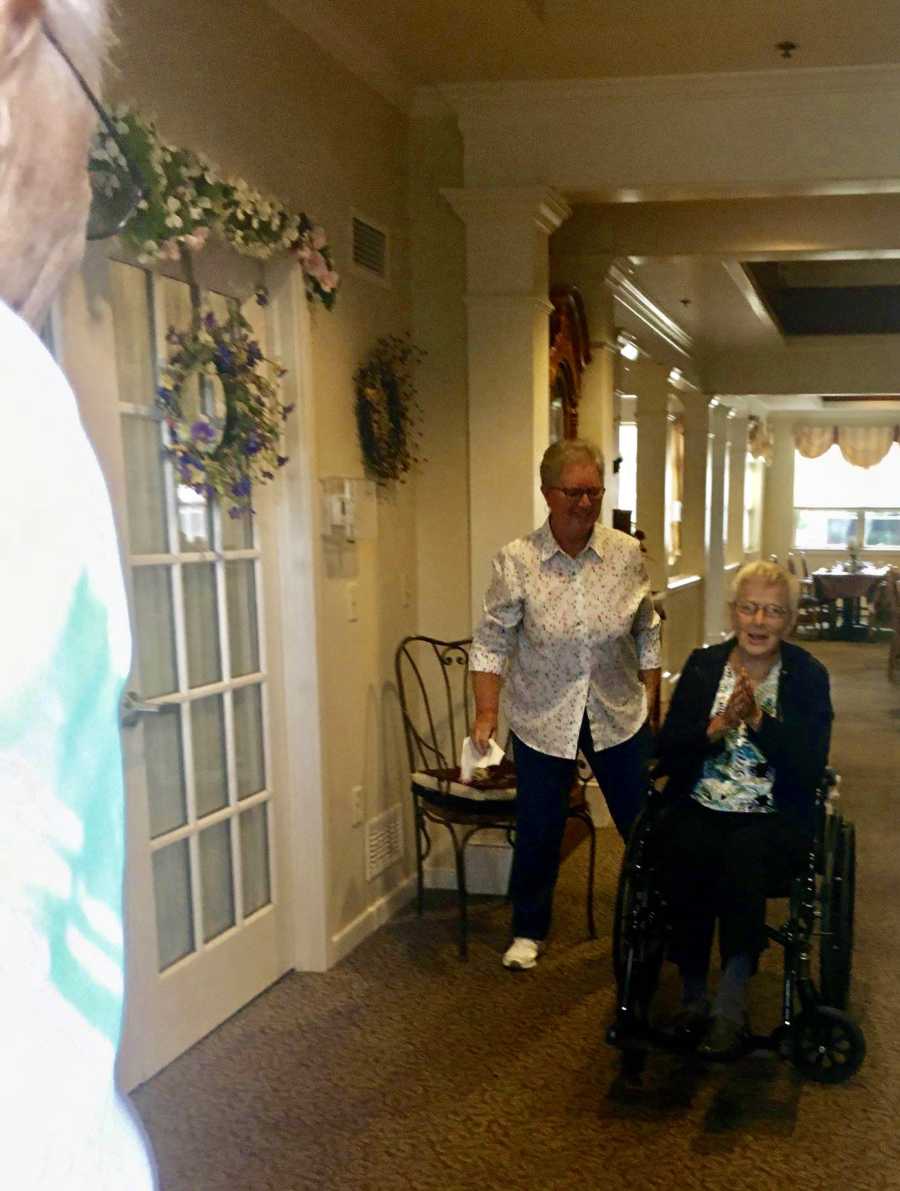 So the time has come for my mom to be in a home. She needs 24-hour care and to be safe. Their home was no longer a safe place for her to be. We find a wonderful place and dad wants to be with her. We get them moved in and settled. Wait, did I say settled?! We get them moved in.
Mom no longer knows she isn't home so she appears to be doing fine through this adjustment in this new place. She can wander the halls or sit in her room. She can be taken to exercise class, have her fingernails painted, go to happy hour (which I will be attending with her whenever possible so the glass of wine she won't touch doesn't go to waste), she can go to all kinds of things and she is neither happy or sad, and I guess that is where she is in this next phase of the Big D.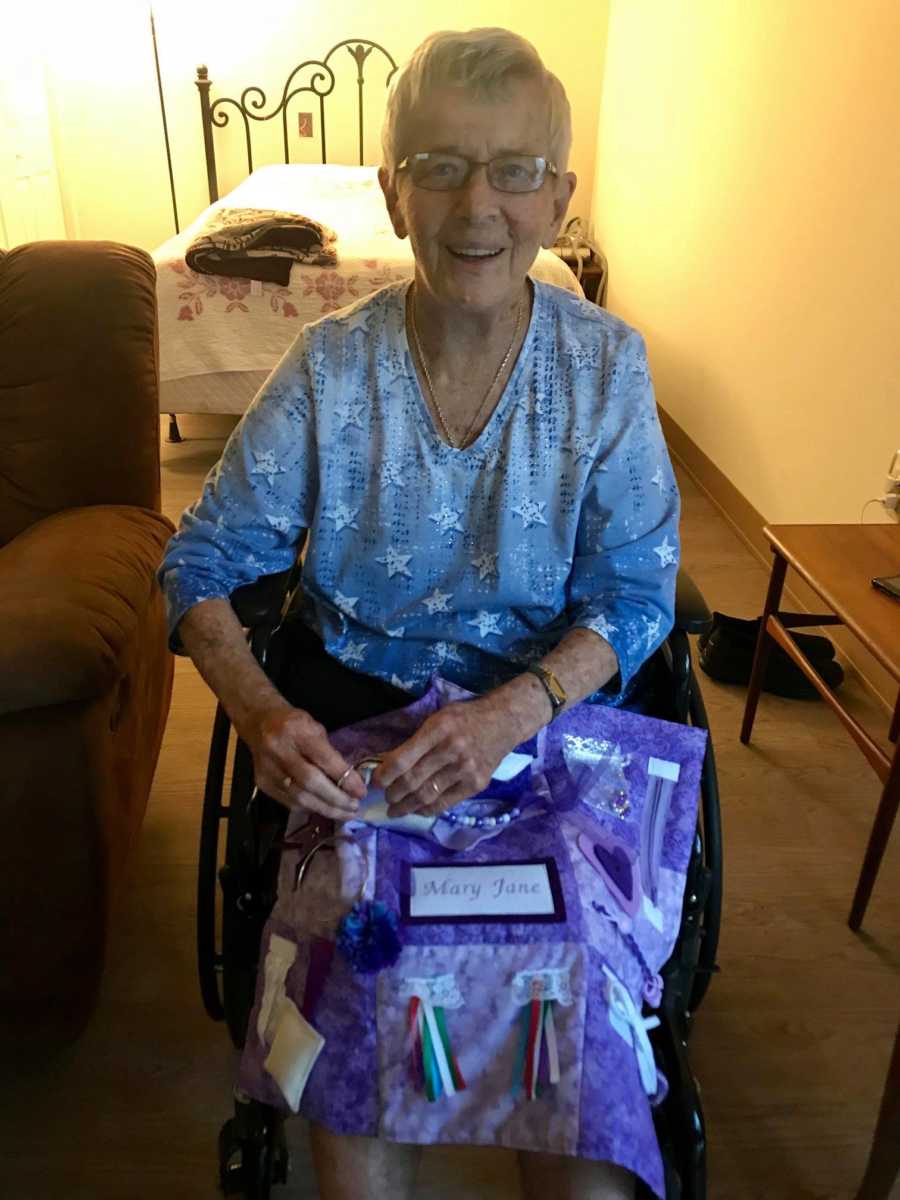 Then there is dad. He is not content. He wants to be with mom, but he also knows he is losing her at a more rapid pace than he wants her to go. She no longer reaches for his hand as they sit in their recliners. She rarely says 'Carl' anymore. She doesn't lean in to kiss him and she spends a lot of time taking things apart, moving things around, and straightening anything that can possibly be straightened. He is realizing she doesn't need him the way she did and he feels so alone – unless we are with him. And feeling alone in an unfamiliar place is hard, as it would be for anyone. He doesn't want to leave mom, but he feels like he doesn't belong there. He hates the feeling of losing his freedom and he feels as though he is losing us.
We visit every day. We try to explain to him he can go with us or anyone else to do things outside the home. He can go to his grandchildren's soccer games, his great-grandchildren's cross country meets. He can go to Dairy Queen with us. He can join us in lots of things we do and when he leaves, Mom can stay there and she will be safe. We can say all these things but until he realizes they are true, every day is a very long day for him. Today he went to the eye doctor and to Dairy Queen for his blizzard. He ate his there and took one back for Mom. He handed it to her and she began eating it. It was lunchtime and an aide told him Mom couldn't eat hers until after lunch, and took it from her and put it in the freezer. Telling him what he can and cannot do for his wife did not sit well with him (or with us – a phone call was made). As you can imagine that did not help his yearning to go home. He is between a rock and a hard place – as they say. He wants to be with mom but he is longing to go home.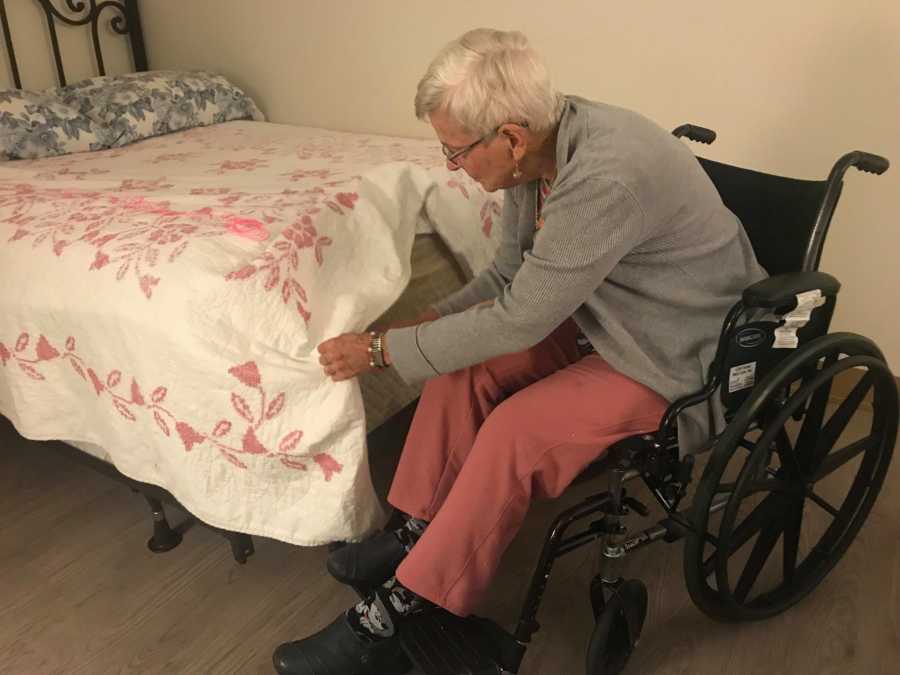 So the home has not reduced our stress or his. It has changed it from worrying about their safety to worrying about all these changes for Dad. We don't have answers and we know the importance of his need to be heard. So I listen. I look at his tired eyes and a sadness I can feel and I try to be him. I try to feel what his words are saying. I try to close my eyes and put myself in this moment he is in and feel what he is feeling, and all I can do is feel a weight around my being that I know he is carrying every moment of every day. My heart aches for him. I can't make his decisions. I can't know what it feels like to not be able to go home, not because you don't want to or can't, but because the person you love isn't there – she is here – in this place. All I know is I am overwhelmed and completely ill equipped to be doing any of this.
WHERE'S THE HANDBOOK? I NEED A DAMN HANDBOOK!"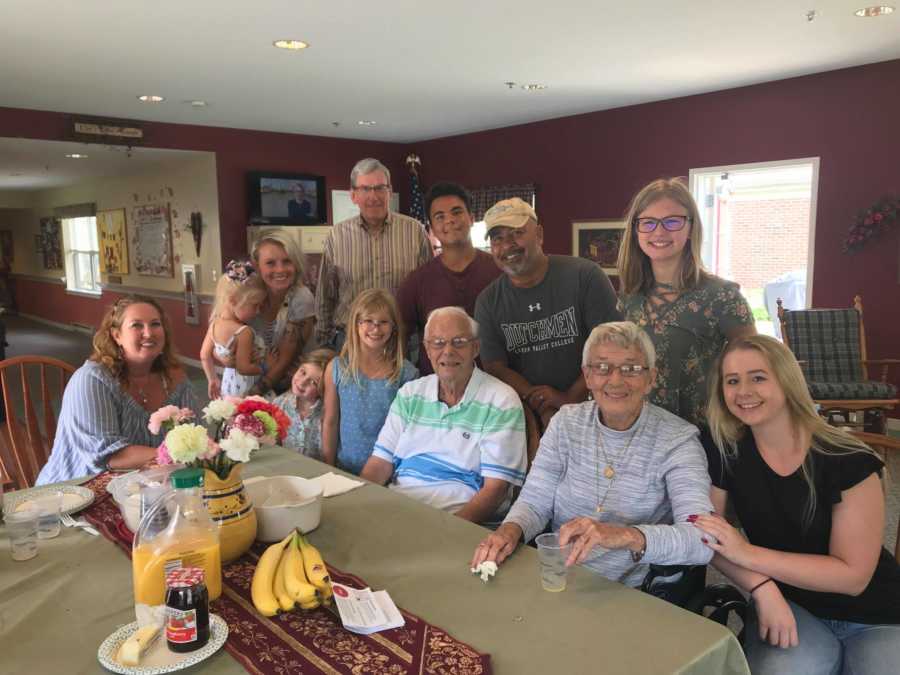 This story was submitted to Love What Matters by Becky Gacono of Annville, Pennsylvania. She is chronicling her mother's dementia journey on their Facebook page, Our Journey Through Our Mom's Dementia, and in a series of posts for Love What Matters:
'They don't really feel pain anymore.' WHAT?! The hardest thing we had to do was say goodnight, and walk out of her room that night.
'His love for her is palpable': Doting husband's explicit instructions for wife with dementia's morning routine
'I'll get to her outfit later': Daughter's humorous attempt getting her mom with dementia to the doctor
Wife with dementia 'listens' to husband's story for 15 minutes before cracking a joke, which 'gives him a sliver of hope she is still there'
Submit your own story here, and be sure to subscribe to our best love stories in our free newsletter here.
Do you know someone who could benefit from this story? SHARE on Facebook to let them know a community of support is available.