Day 1.
8:00 a.m.: Yay! It's summer. Sunshine. Barbecues. S'mores. Tan lines. I hope it never ends.
10:00 a.m.: OH MY GOSH, HOW ARE YALL ALREADY BORED??? NO. NOPE. GO OUTSIDE.
10:05 a.m.: Lalalalalala this is great. I love my life and I love my kids.
10:20 a.m.: NO. YOU DON'T NEED ANOTHER SNACK.
12:00 p.m. : Who wants lemonade and a picnic? I put the drinks in fancy glasses so we can all toast to summer and relaxation and warmer weather!
2:00 p.m.: I AM LITERALLY DYING OF HEAT. EVERYBODY INSIDE BEFORE WE ALL MELT LIKE THE WICKED WITCH. WHEN SEATBELTS CAN CAUSE THIRD DEGREE BURNS, IT IS TOO HOT.
2:30 p.m.: Y'all are the sweetest kids. Do y'all want to watch a movie? Cheers & applause!!!! Yay!!!!
2:35 pm: STOOOOP IT. STOP FIGHTING. THE NEXT PERSON WHO TOUCHES ANOTHER PERSON IS IN TIME OUT FOR AN HOUR. NO TOUCHING. THAT'S IT. I TOLD YOU…NO….GET OFF EACH OTHER…STOP…GET…DON'T…THAT IS IT! EVERYBODY IS IN TIME OUT FOR THE REST OF THE SUMMER. NO, I AM NOT EXAGGERATING. WHAT DO YOU MEAN WHAT DO I MEAN?
3:30 p.m.: Who wants to build a fort?
3:45 p.m: HOW IN THIS WORLD? THIS ISN'T A BARN. IT'S A HOUSE. A HOUSE. WE LIVE HERE AND EAT HERE. START CLEANING THAT MESS UP. LOOKING LIKE A CLASS 5 TORNADO JUST HIT UP IN HERE. I'M NOT HELEN HUNT/BILL PAXTON. I SWEAR IF I SEE A COW FLY BY. I'M NOT HAVING IT. I'M NOT DOING THIS ALL DAY LONG. LIVING LIKE WE'VE GOT NO MANNERS.
5:00 p.m.: Dad's home! Everybody jump on him and tell him how much fun your day was! Let's change and have a water balloon fight!
5:15 p.m.: I KNOW YOU HATE SUNSCREEN, BUT YOU'LL HATE A SUNBURN SO MUCH MORE. WELL, IT WOULDN'T BE SO HARD IF YOU DIDN'T SWUIRM LIKE THAT. JUST STAND STILL. DO NOTHING. YOU CAN DO THAT. JUST STAND STILL AND DO NOTHING AND I'LL DO ALL THE WORK. LIKE TRYING TO PERFORM SURGERY ON A FISH OUT OF WATER. WHY ISN'T THIS STUFF RUBBING IN? ALL NATURAL MY BUTT.
5:30 p.m.: Water balloons!!!! So fun!
5:50 p.m.: DO NOT TAKE A…STOP. STOP RIGHT THERE. DON'T YOU DARE PUT YOUR WET SHOES ON MY CLEAN CARPET.
6:30 p.m.: Does everybody want hot dogs and s'mores for dinner? Dad, fire up the grill.
7:05 p.m.: STOP FEEDING THE DOGS. WHAT DO YOU MEAN YOU DON'T LIKE HOTDOGS? YOU JUST SAID THAT'S WHAT YOU WANTED! NO. YOU CANNOT JUST HAVE S'MORES. YOU NEED SOMETHING NUTRITIOUS LIKE MYSTERY MEAT HOTDOGS.
8:00 p.m.: Everybody time for bed. I had so much fun with you guys. I love you so much and I'm so excited to do this every day all summer long.
8:30 p.m.: BACK IN BED RIGHT THIS INSTANT.
8:31 p.m.: Ok, I love you. Night night.
———————————————————————
Day 2.
6:00 a.m.: Ohhhh it is so nice not to have to set an alarm.
6:05 a.m.: WHY? WHY ARE YOU ALREADY UP?
———————————————————————
Day 45.
3:00 p.m.: HURRRRRY UP AND START, SCHOOL! WHY DOES SUMMER LAST SO LONG?!?!? I DON'T KNOW WHAT TO DO WITH THESE PEOPLE. I AM OUT OF IDEAS AND SNACKS AND MY HOUSE IS DESTROYED. PINTEREST IS THE WORST AND I AM BROKE AS A JOKE. NO MORE CRAFTS. NO MORE SNACKS.
———————————————————————
Day 76.
8:00 a.m.: [the day before school starts]. I just want to soak this whole day up. You guys have no idea how much I'm going to miss hanging out with you all day every day. It went by way, way too fast.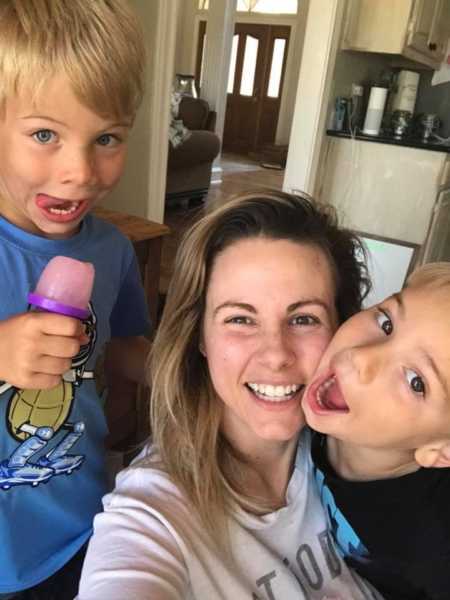 This story was submitted to Love What Matters by Amy Weatherly. The article originally appeared here. Follow Amy on Instagram here and Twitter here. Submit your story here, and be sure to subscribe to our best love stories here.
Read more from Amy here:
'I don't fit in. They don't really want me there. I wonder why I wasn't invited. I walk up to a circle of people and don't know whether to force my way in, or hang on the outside, twiddling my thumbs.'
'Behind every successful woman is a tribe. A tribe of women who could choose to compete, but take the higher road of collaboration instead.'
Provide beauty and strength for others. SHARE this story on Facebook with your friends and family.