"'Don't lose yourself in motherhood.'
I rocked my third child to sleep, enjoying a few tender moments of holding a baby and reading on my phone. Mom blogs were new to me, and I ate them up like honey. Hearing the hearts of fellow mothers felt beautiful, beautiful, beautiful – and the piece of advice that was dancing in front of my eyes was…
'Don't lose yourself in motherhood.'
I'm not sure I knew exactly what the recommendation meant, but I took it as this: To fully enjoy life and be a strong woman, I SHOULD meet some of my goals (personal and professional) during this season of motherhood.
'Don't lose yourself in motherhood.'
This suggestion grew deep roots in my mind. Maybe because I needed to work at least part-time for financial reasons, and it felt like validation. Also, I love chasing dreams, so despite the busyness, it felt great to give wings to a few of mine.
But then somewhere in this mom journey, the advice that once empowered switched to burdensome.
Because you know the 'blip' from Avengers: Endgame?
Blink – it happened here.
My kids are in 10th grade and 9th grade and 5th grade and oh-my-heart, their focus has shifted to activities and friends and driving and talking about college. No one has listened to my suggestion of stopping all this growing up so fast.
I'm big emotions over here. Now, when I hear messages about going for one's dreams or meeting that goal, I think – that's such a great idea FOR ANYONE OTHER THAN ME.
I just need a hot moment. Or ten. Or a hundred.
I'm not feeling a full-steam-ahead season.
I don't want to sign up for all the things.
I don't want to work longer-than-necessary hours.
I don't want extra obligations, no thank you.
And please, I need zero suggestions of some long quest for self-improvement.
I don't want to feel like a failure because I'm not doing enough self-care or meeting the 'right' kind of goals.
Off, off, off noise.
The only 'more' I want right now is to focus on simply being present.
I want to not sweat the small stuff but still invest the time into guiding and parenting my kids through the important stuff.
I want to say yes to the family movie.
I want to cheer from the sidelines at their games and concerts.
I want to go out for ice cream.
I want to open our home to friends and not worry about the mess, noise, and late hours.
I want to pile into the booth, order dinner, and hear about my family's day.
I want to walk around the mall with them to shop for hoodies.
I want to smile at the pile of shoes and backpacks by the door because that means everyone's safely home.
I know I'm not going to enjoy every moment of raising big kids. Of course, there will be hard parts. But I just want to be around so I can lean into the moments that I do enjoy.
I'm sure someday I'll be back to wanting to chase that goal – but not now. Not even a little bit.
'Don't lose yourself in motherhood.'
Not every message we hear about mom life is for us.
And if it is for us, that certainly doesn't mean the message is for every season.
Previously, maybe I didn't want to get lost in motherhood – but right now, I don't care if I do."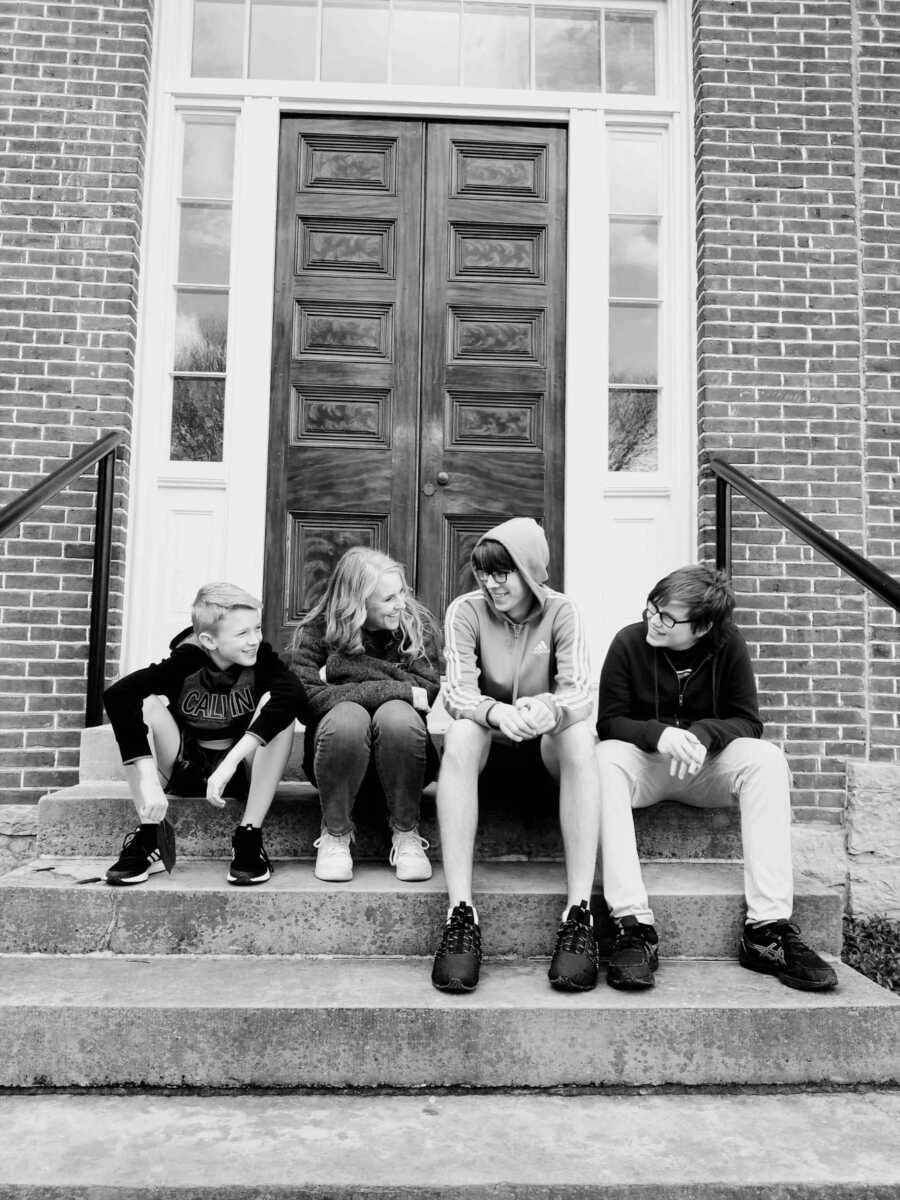 This story was submitted to Love What Matters by Cheryl Donely, a high school teacher and mom of three boys. She writes faith-based encouragement for moms of tweens and teens at Empowered Moms and Kids. You can follow her on Facebook and Instagram. Submit your own story here and be sure to subscribe to our free email newsletter for our best stories, and YouTube for our best videos.
Read more stories like this here:
'I haven't wanted to be with you for a long time.' I felt the life drain from my body.': Woman escapes toxic marriage, navigates single motherhood and self-love, 'We created our own meaning of family'
'I am tired.': Special needs mom urges 'this massive weight of motherhood, it's always with me'
'I wondered every morning, 'Is today going to be the day I connect with my baby?': Woman shares motherhood journey through OCD diagnosis, 'It does not define me'
'They tell us, 'It's like nothing you've ever known. Trust me.' We smile politely and worry again about the fear of failing.': New mom shares motherhood journey, 'They were right'
Provide beauty and strength for others. SHARE this story on Facebook with friends and family.