Our Family Story
"Here in Appalachia, people are cradled in the arms of mountains and valleys as they grow up. We know the woods, rivers, and hidden hollers as well as we know our own names. It is of no surprise, then, that the love created here feels ancient and hallowed. My great-grandparents have that sort of love—the sweet, enduring stuff of fairytales. Their love story has always been a triumph in our family, the shining example of what it means to truly find your soulmate in life. After 75 years of marriage and nearly a century of walking this Earth, their dedication to each other and their continuously expanding family remains unparalleled.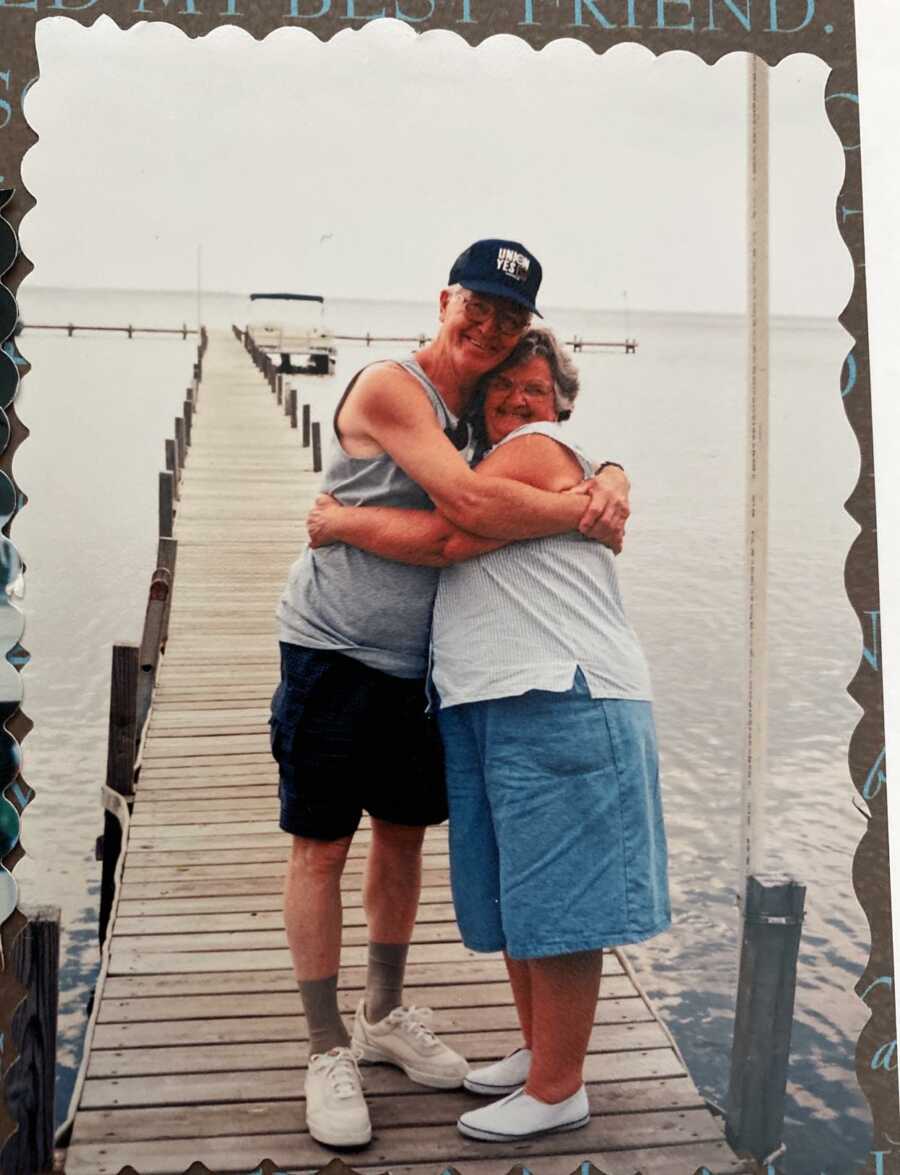 Great-grandma Lorraine and Great-grandpa Ulysses (who is known as Kenvil by his family and friends) were born at the beginning of the 20th century. Great-grandma Lorraine was born June 2nd, 1929, and is currently 92 years old. Great-grandpa Kenvil was born December 6th, 1926, and will be 95 in December of 2021. Great-grandma was a child of the state and was raised in the foster care system with her older brother, Henry Bias. Great-grandpa came from the large Dawson family that had lived in West Virginia for centuries. Their story together begins not long after that—they met for the first time when they were in fifth grade at Sissonville Elementary School. Lorraine was immediately drawn to Kenvil because of his love and commitment to God and his family, but it wouldn't be until a few years later they began to court.
Young Love And Marriage
As young teenagers, they weren't allowed to go on dates unchaperoned. If Great-grandpa wanted to take Great-grandma outside of the house for a date, they had to be accompanied by an escort, which would usually be Lorraine's older brother, Henry. For their first date, Great-grandma invited Great-grandpa over to the house she was staying in so they could listen to The Grand Ole Opry together in the family living room. Their courtship continued similarly until Great-grandpa enlisted in the Army during World War II in 1943. He was stationed for four years in Okinawa, Japan, but in August of 1946, Great-grandpa was briefly home in West Virginia on furlough.
In the midst of World War II in the United States, people scrambled to get married and have children with their darlings. They wanted to cement their bonds with one another so they would be eternally connected even if they passed away during their service. My great-grandparents were no different. When Great-grandpa returned home on furlough, he and my great-grandmother decided they couldn't wait any longer to get married. They didn't have the money or the time to plan a large service with family and friends.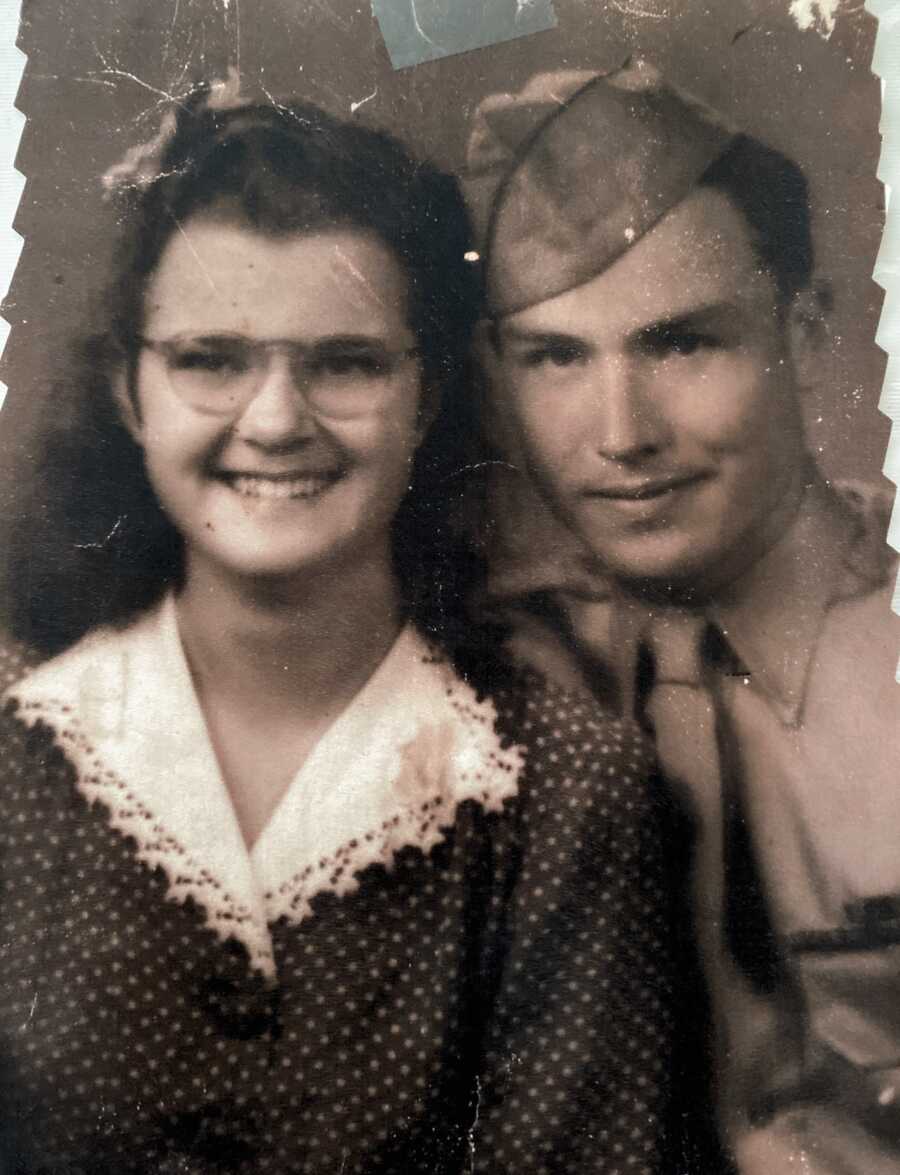 Their wedding was a small, quiet ceremony in which they vowed to dedicate themselves to God and each other above all else. My great-grandpa wore his military uniform, and my great-grandmother donned a beautiful red dress with white polka dots. They were accompanied only by Great-grandpa's older brother, Clyde, and Great-grandma's childhood best friend, Emmagene, as the witnesses to their marriage. At that moment, the tiny ceremony was nothing but perfect in their eyes.
Unfortunately, the happy couple couldn't spend as much time together as they wished—Great-grandpa had to return to his military service for another year before being honorably discharged. The two agreed that while Kenvil finished out his service, Lorraine would live with his family on Cicerone Road at the location of the original Dawson settlers' homestead. At only 17 years old, Great-grandma was anxious and wistful as she waited for her new husband to return home from war.
Return From The War
Great-grandpa's return home was the sweet bliss and balm she received in 1947. Finally, after years of worrying and waiting, the two were permanently reunited, now as husband and wife.
The following years of their marriage held many trials and tribulations for the new couple, but they weathered the storm of their poverty with faith and grace. After returning from the war, Great-grandpa went on to have many jobs to support his growing family. He laid asphalt, worked in glassblowing, and also had a job on the docks for a company called Bell Lines, which he would continue to work for as a truck driver later in life. In 1948, Great-grandma and Great-grandpa welcomed Gary—the first of their ten children—into the world.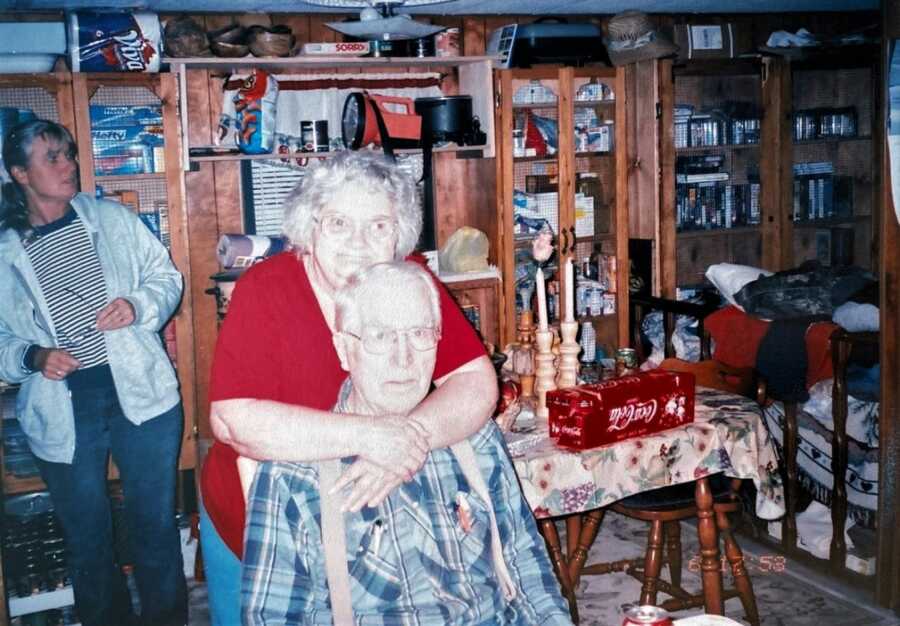 Growing Family
In the 50s, Laverna, Neil, Vivian, Randy, Rita, and my Mawmaw, Judy, were born. The youngest siblings, Timmy, Janet Marie, and Donna, were all born in the early 60s. Sadly, Janet Marie was born prematurely and passed away at only six days old. Great-grandma was sick with infection after Janet Marie's birth and it took nearly three months for her to recover completely. Through it all, Great-grandpa was her rock and provided her with the love and comfort she needed.
In rural Appalachia, it was not uncommon for most people to have home births with the assistance of midwives. Hospitals are few and far in between in West Virginia even today, so Great-grandma and Great-grandpa's first three children were born with the help of a midwife. All the children from Randy to Donna were born in a hospital. However, their fourth child, Vivian, was a special case. When Great-grandma was in labor with Vivian, the area near Poca River where they lived was completely flooded.
At the time, the family had no car; the only modes of transportation they had available were their own two feet and a boat. So Great-grandma set out on foot, fully in labor, to try to find a proper place to deliver her baby girl. She possessed unimaginable strength as she walked and then boated down the swollen, flooded river for miles. After her difficult journey, she safely delivered Vivian to the Salvation Army. Great-grandma's devotion to her family, her faith in God, and the support of her husband drove her to push forward even when things became tough.
The Dawson family as a whole was full of determination. Their living situations were less than ideal, especially in the 40s and 50s—there were no luxury housing amenities in their homes. Great-grandma had washboards and a tub in which to do laundry, the family used an outhouse as their restroom, and a cool hole in the floor functioned as the family's natural refrigerator. Great-grandpa worked tirelessly at his different jobs, and great-grandma worked at home to raise their nine children. The first few houses the large family lived in were often too small to comfortably house them all. My Mawmaw Judy recalls that when the older kids were still small, they each slept in dresser drawers in their parents' bedroom. Their first house itself only had one bedroom and three rooms total.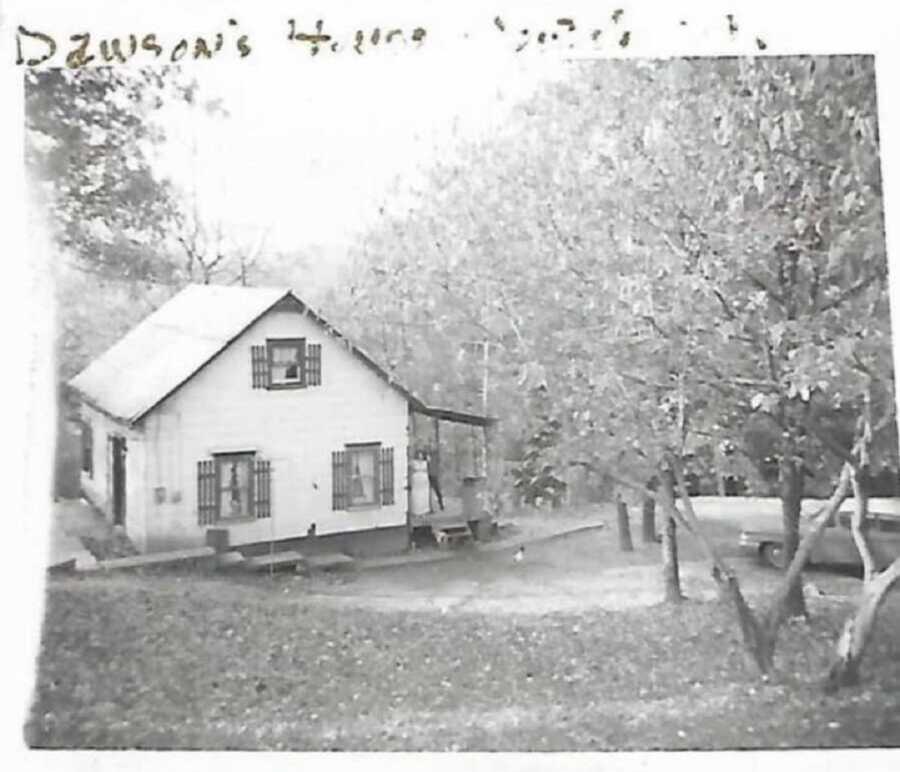 Creating A New Home
In the mid-1960s, things began to look up for the family when Great-grandpa became part of a union called Teamster when he was a truck driver. The union wages were fairer, and that meant the family got to move into a house with more modern amenities—a house on King Street the children often referred to as a 'mansion.' To the large family who had lived in such tiny homes before, the King Street home really did resemble a mansion.
For the first time, the family had a house with an inside bathroom accompanied by hot water and enough rooms for the siblings to be comfortably separated by gender as they slept. My Mawmaw Judy recounts with a laugh that the children all used to squabble about who got to use the shower first so they could bask in the hot water. Great-grandma and Great-grandpa were pleased they found more financial stability as the years went on. All the hard work they put into raising their children and their careers paid off in beautiful ways.
They were privileged enough to watch their family expand—they have lived to see their children, grandchildren, and even great-grandchildren have kids of their own. Their love became the building blocks for generation after generation to follow. Great-grandma and Great-grandpa's current home on Harmons Branch Road has been the hub for family get-togethers and celebrations for decades. Generations of children have played corn hole in the front yard, surrounded by Great-grandma's flower beds bursting with colorful blossoms.
Kids ran from the old tire swing near the dilapidated one-room schoolhouse on the property to the giant barn a few yards away, trailed closely by old barn cats vying to be pet. If we were lucky, Great-grandpa would take us into his woodworking shed and yell facts about the wood he was carving over the shrill shrieking of machinery—he made glossy bowls and cups and dishes, prizes made specifically for us.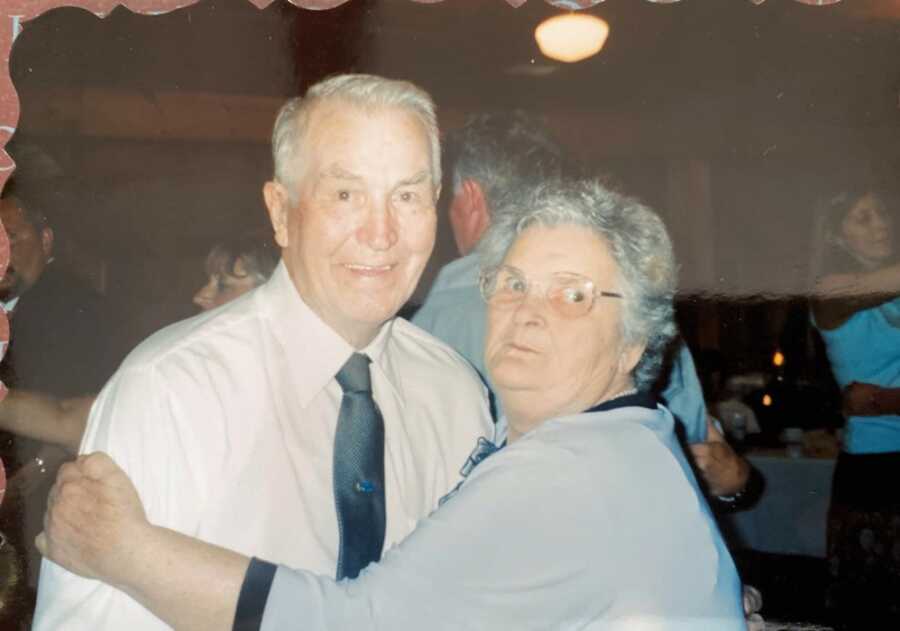 In the evenings, Great-grandma and the aunts and cousins would crowd in the kitchen to make dinner. The children lazed on the well-worn living room carpet, playing with whichever ancient dog currently resided in the house. When I was little, it was a droopy-eyed basset hound named Bingo. The grandkids younger than me grew up alongside Sugar, a tiny mutt with enough energy to rival the sun.
The house is full of old photos of Great-grandpa and Great-grandma's younger years and the family they built; their memories are woven like a tapestry through every inch of the house. Love in that house is unmistakable—you hear it in the way Great-grandma and Great-grandpa tease one another, in Great-grandpa's sudden harmonica solos, and in the quiet conversations with Great-grandma between her children, grandchildren, great-grandchildren, and great-great-grandchildren as we all sit together in the shade of the front porch.
It was on that same porch that Great-grandma, Mawmaw Judy, and Mawmaw Judy's daughter and my aunt, Bethany, began to discuss what Great-grandma and Great-grandpa wanted to do for their 75th wedding anniversary. Great-grandma came to the conclusion she wanted to have the church wedding she hadn't been able to have in 1946.
Wedding Planning
Bethany reached out to aunts, uncles, and cousins to see who wanted to participate in the wedding planning. The planning duties were split between Vivian, Rita, Timmy, and his wife, Sandy, Donna's daughter, Tia, and Gary's daughter, Melonie, as well as my Aunt Bethany. Bethany decided to go with yellow for the wedding colors since it's one of Great-Grandma's favorite colors, and with that, the wedding planning truly began to unfurl.
However, there were a few bumps in the road before the ceremony could happen. A week before the originally scheduled celebration in August, Gary was hospitalized with COVID. Because Great-grandma wanted Gary to walk her down the aisle as her eldest son, it was decided the ceremony would be postponed while he recovered. The new date for the wedding was set for early October with hopes everyone would be healed enough to attend.
The family got to work—Laverna made the beautiful bouquets, and other family members bought a replica army uniform for Great-Grandpa to wear. Great-grandma, for the first time in her life, wore a wedding dress that the family helped pick out from David's Bridal.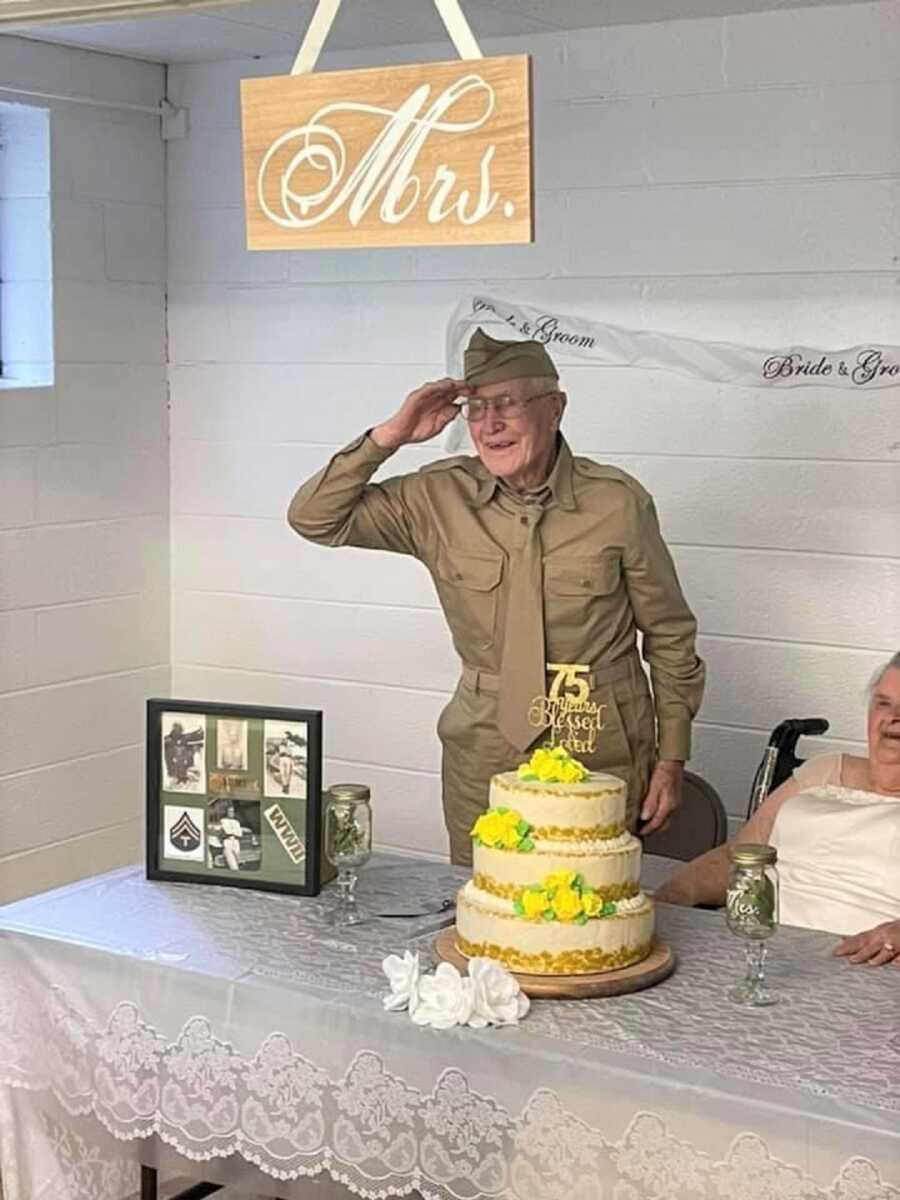 The ceremony was held at Reverend Mayford Witt's church—God's Lighthouse Church—and was officiated by Reverend Witt and family member, Chris Wills, to celebrate Great-grandpa and Great-grandma's life-long commitment to their family and each other. Gary Jr. reached out to several TV stations, wanting to share this love story for the ages with the world. WCHS responded and attended the wedding to report on the special event.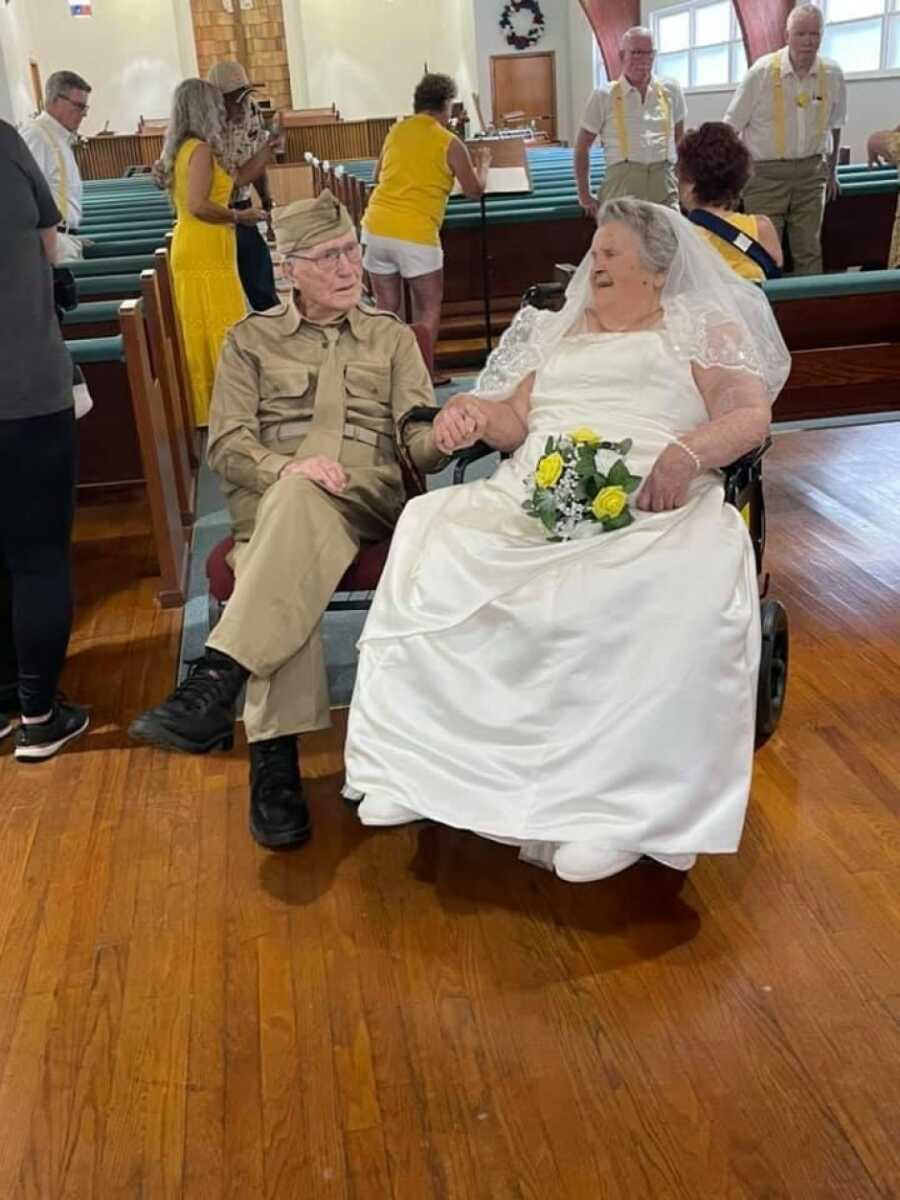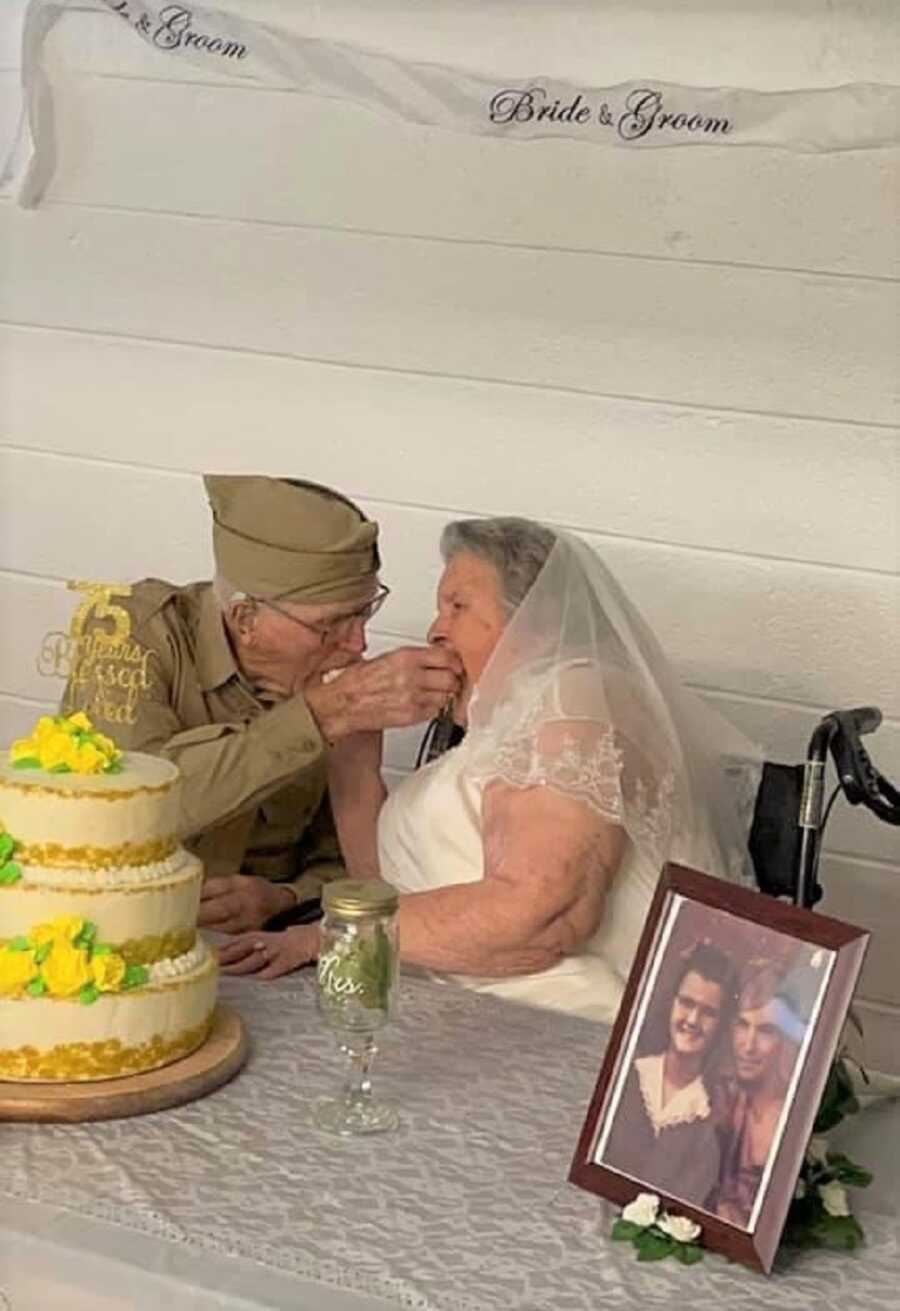 Gathering Of Generations
Although my Aunt Bethany and several other family members couldn't be at the ceremony because of COVID, they watched the wedding through live stream and celebrated alongside everyone else. Great-grandma was all smiles and full of joy as she was wheeled down the aisle to meet her husband. Great-grandpa oozed that same happiness and had tears in his eyes when he saw her approach.
For the first time in years, cousins got to reconnect at the wedding reception that was full of family. Five generations gathered together to celebrate the love between Great-grandma and Great-grandpa, that had endured the hardships of war and poverty. By having faith in God and one another, Great-grandma and Great-grandpa survived and flourished, filling the generations to come with adoration, laughter, and strong wills of their own.
When asked what advice she would give to those hoping for a strong marriage, Great-grandma said: 'A relationship is not 80/20, it's 50/50.' And my great-grandparents' love story has always been just that—the even, steady give and take, the sureness of the tide meets the shore. The eternally lasting love in fairytales can only exist if it is based on mutual caring, respect, and determination. No one is more deserving of this beautiful love story than my Great-grandma Lorraine and Great-grandpa Kenvil."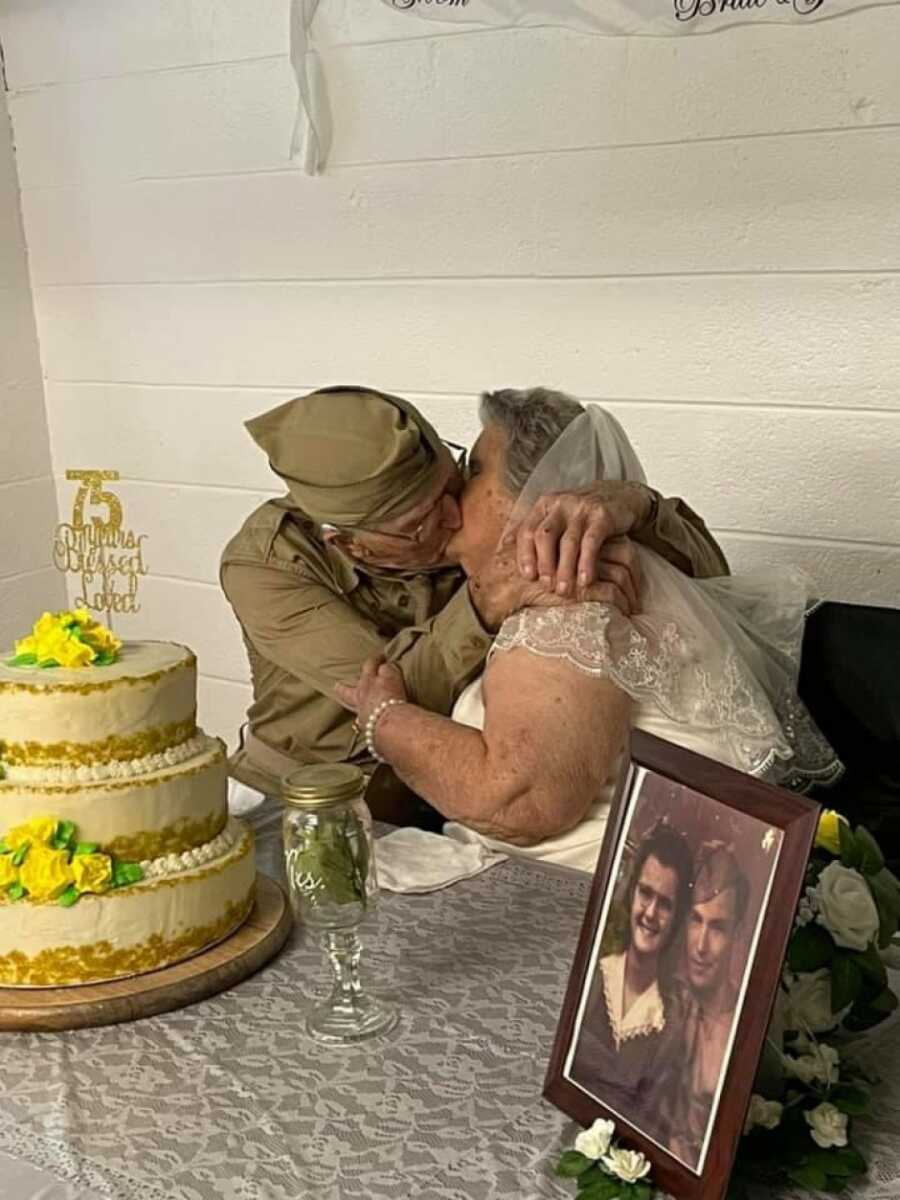 This story was submitted to Love What Matters by Harley Crites. Submit your own story here, and subscribe to our best stories in our free newsletter here.
Read more stories here:
'It was not only a huge milestone, but I think they knew it might be their last.': Woman shares her grandparents' love story in honor of their 75th wedding anniversary
Married For Half A Century: An Interview About Everlasting Love With Jane And Bob
'I saw an elderly man with his walker at the corner. 'I'm trying to get to the 99-cent store 1.5 miles away.' His wife needed some chocolate bars.': Man shares act of kindness for 93-year-old man
'Take photos with your grandparents, because one day, when the dust has settled and the years have gone by, those photos may be all you have left of them.': Woman pens ode to grandparents
Do you know someone who could benefit from reading this? SHARE this story on Facebook with family and friends.