It began as a campus romance. They were introduced in 1969 by a colleague at Oakland University in the student center. She was wearing a short two-piece white outfit that he remembers fondly. They were both members of the faculty in the English department. It appears English is truly a romance language.
Tonight, I witnessed chivalry in its finest form as he walked around to open her car door and made sure she was situated safely in the passenger seat. She said he would be wearing his blue suit for our portrait session and that he was very handsome, and surely she is the luckiest woman in the world. She agreed to wear her wedding dress and veil from their June 10, 1971 wedding.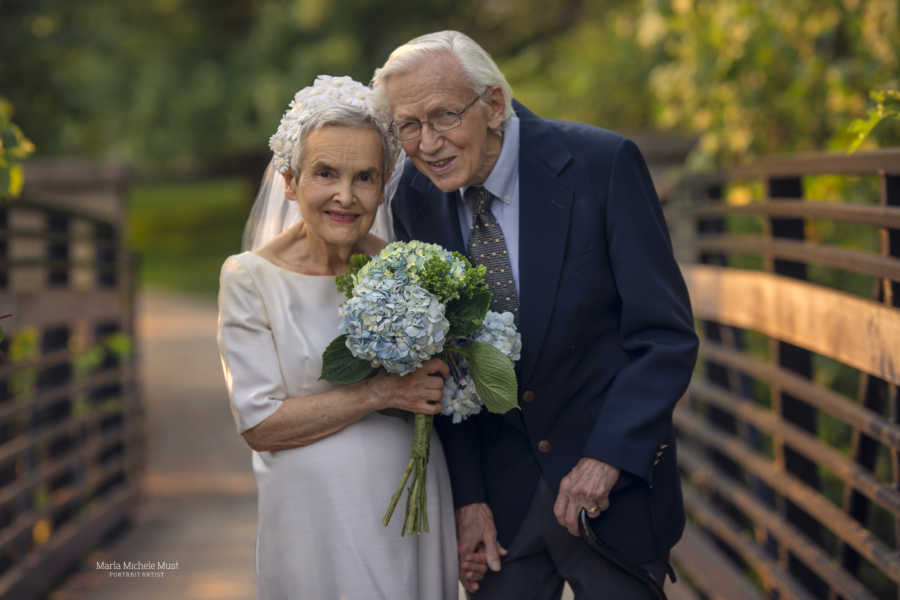 Could you briefly introduce yourself?
"We are Jane and Bob Eberwein, 50-year residents of Birmingham and retired professors in Oakland University's Department of English."
Where are the two of you from?
J — "I'm a New Englander and still enjoy getting back to my home city of Boston. I graduated from Emmanuel College, and earned a Ph.D. in American Civilization at Brown University before moving to Michigan in 1969 to teach at Oakland University. Bob is a native Detroiter who has lived in Michigan all his life. He graduated from the University of Michigan and Wayne State."
What favorite things do you enjoy doing together?
"We're walkers and chose to live in this neighborhood because all the nearby streets are so walkable. We've been in the habit of getting out for walks several times a day, although physical limitations have cut back lately on mileage. We enjoy dining in local restaurants. We're regulars at Sunday Mass at Holy Name Church. We have a strong circle of friendships that result in social get-togethers. We always have things to talk about with each other: cats (two of them currently living with us), garden, continuing professional involvement, public affairs."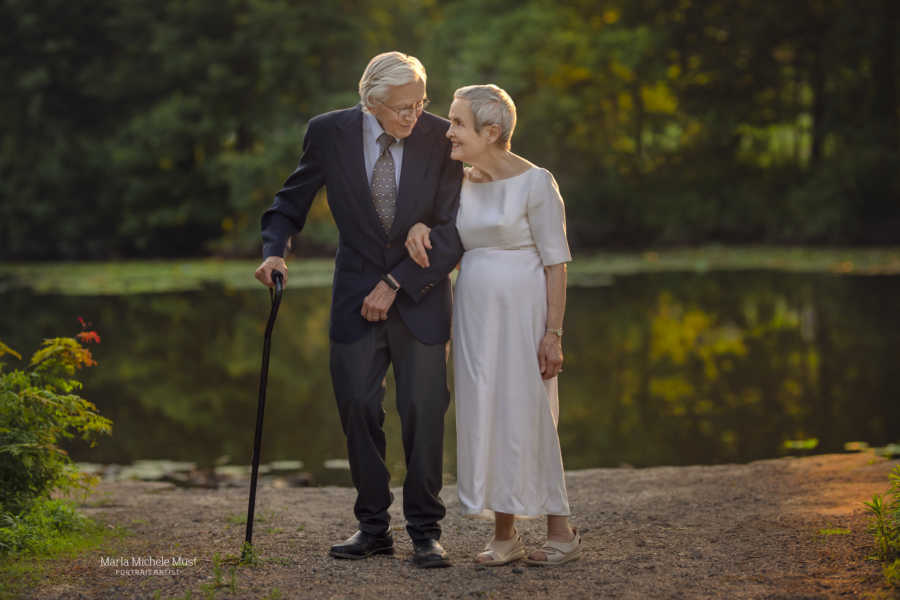 What is the secret to a long-lasting marriage?
J — "Longevity and luck play bigger roles than we might like to think. My father died two months before my parents' tenth anniversary, so I learned that lesson early. Friendship matters, too. We think of our romance as a friendship that caught fire, but it still remains our closest friendship. It helps to have stable personalities. Both of us are creatures of habit; we appreciate continuity. As a Catholic, I revere marriage as a sacrament that is God's gift."
How has this portrait session with Marla Michele Must affected you?
"It reinforces our sense of how fortunate we are in our neighbors! And how gifted some of them are! It has also contributed an element of happy surprise to our golden anniversary. Especially in this pandemic year, we weren't planning on a big celebration (very much not our style) and have been surprised at how many people congratulate us and think the fifty-year mark is exceptional."
Whose idea was it for a portrait session to celebrate your fiftieth anniversary?
"Last summer, Marla offered to give us a portrait session when she heard it was our 49th. We suggested waiting for the 50th, and all three of us remembered. We are very grateful."
How did you end up wearing your original wedding dress and veil?
"When I hung the dress and veil up after cleaning back in summer 1971, I recall thinking it might be fun to try it on again — perhaps after 50 years. It was actually Marla's suggestion on the afternoon of the photoshoot that I might see if it would still fit. Fortunately, it did, and the dress itself added to the joy of the occasion. I'm glad it is a relatively simple sheath and not an elaborate gown and train."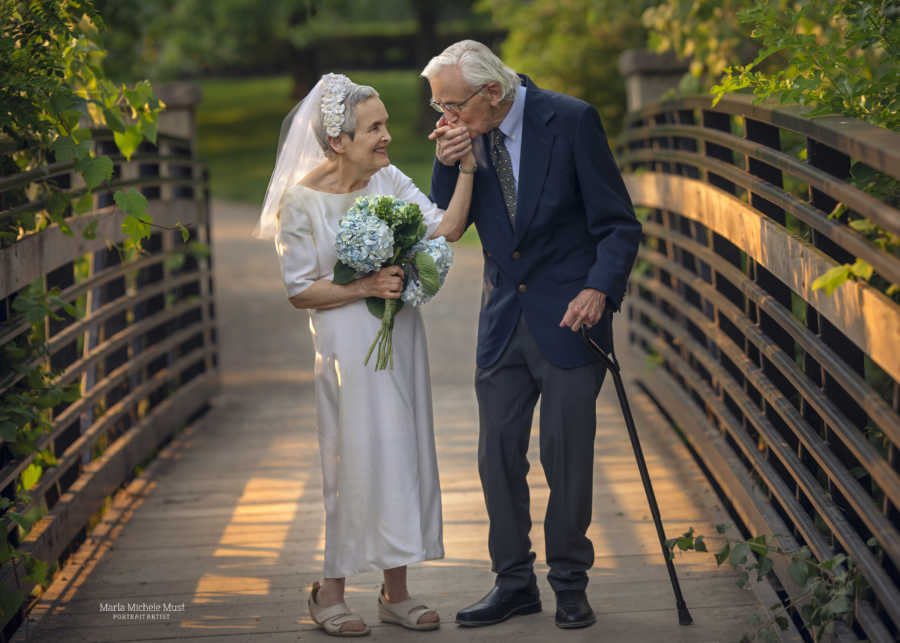 Do you have any relationship advice for the younger generation?
J — "Of course, I wish them happiness and hope their relationships develop into strong marriages. A piece of advice I occasionally gave my student friends continues to apply: keep your attention focused on forming and sustaining a marriage rather than on planning the wedding."
What is something you have learned about love over the years?
J — "Love of all kinds sustains us from birth to death. I am grateful for the love of parents, grandparents, aunts, and uncles now gone, for my sister's steady and supportive love, for the love of friends, and especially for Bob's love and respect. As an English teacher, I tend to look to literary sources for insight and especially like the standard of marital happiness Jane Austen held out at the end of Pride and Prejudice: the ability of each partner in a married pair to contribute to the happiness of the other. And I can't resist quoting my favorite poet, Emily Dickinson, who wrote:
Love — is anterior to Life —
Posterior — to Death —
Initial of Creation, and
The Exponent of Earth —
It occurs to me that both authors I have just quoted were single women. That's a reminder that love isn't limited to married persons. It would be much better to remain single than get married just to meet social expectations."
B — "Remember that every day together is a precious gift."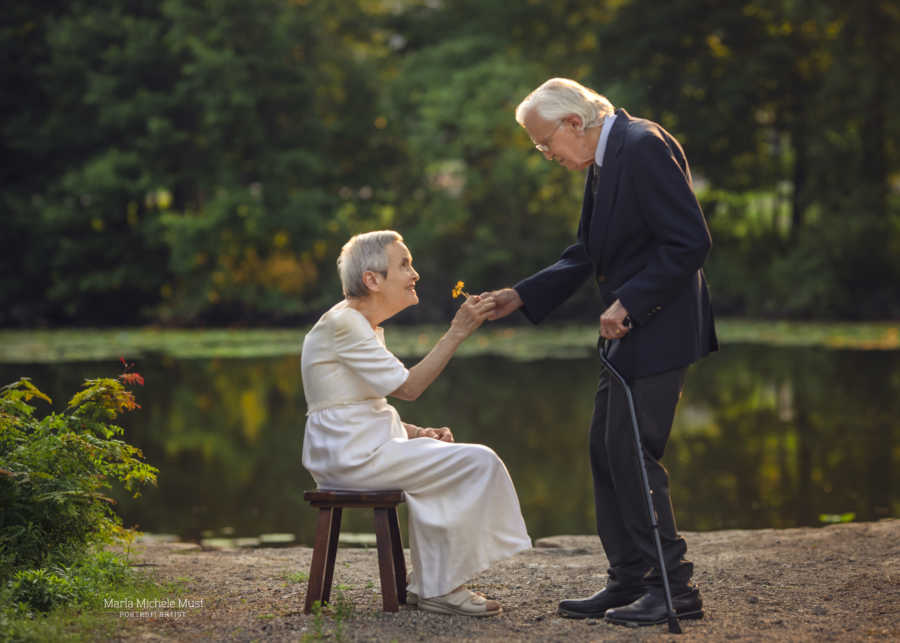 What do you think is the foundation of a strong marriage?
J — "Reciprocal trust."
B — "Continuing to be in love."
How do you feel about the portraits that were captured?
J — "The portraits give me great pleasure, especially those that capture the confidence Bob and I feel in each other and the happiness we find in each other's companionship. They provide a treasured companion piece to our wedding albums and reinforce the sense that much remains the same as in 1971 despite the many challenges any couple would face over half a century. I especially marvel at Marla's ability to capture Bob's smile. Usually he prefers to avoid the camera and has to be reminded to smile for our cats.
I think they capture the way we are perceived in our neighborhood. People stop to tell us how 'inspiring' and 'enviable' our relationship appears to them as they see us walking hand in hand, and sometimes people in restaurants comment with surprise on how much we still have to say to each other."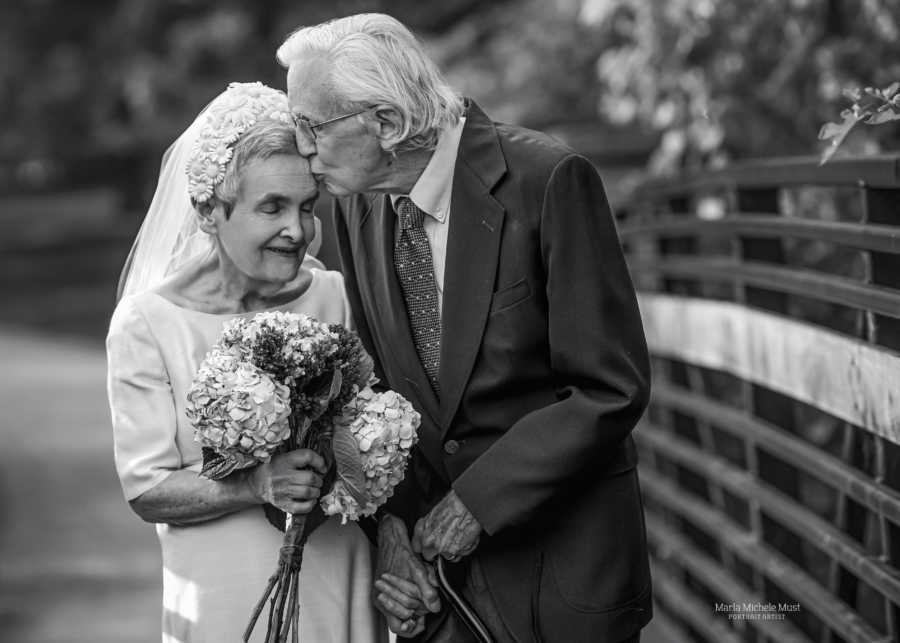 Is there anything else you would like to share?
"Our profound gratitude."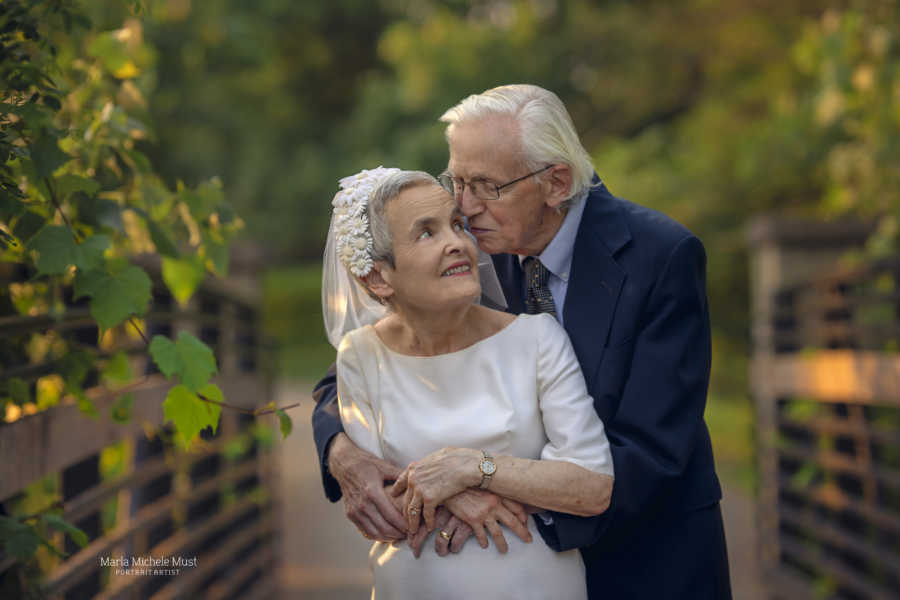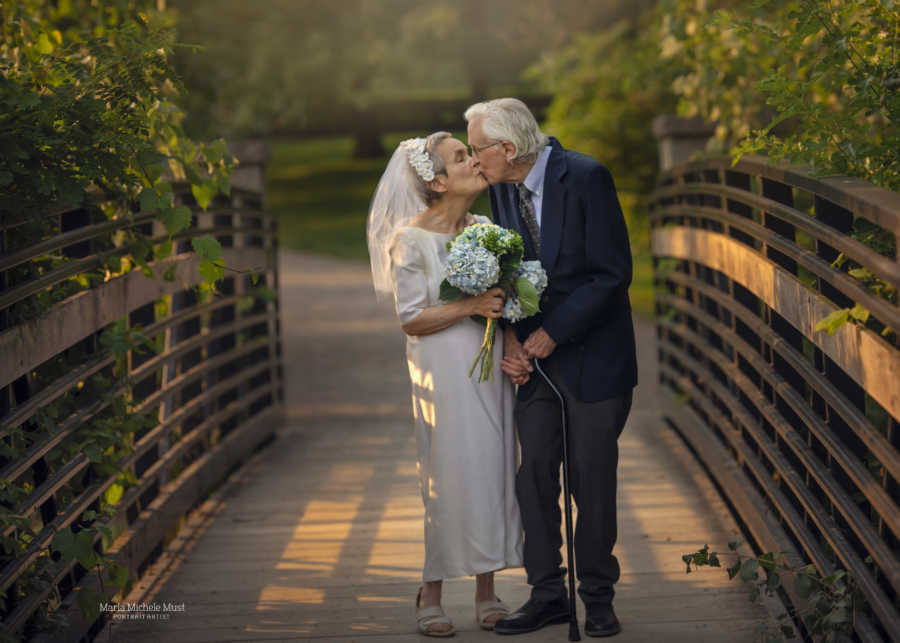 This story was submitted to Love What Matters by Marla Michele Must, MPP, Master Portrait Artist, and Jane and Bob. You can follow Marla on Instagram, Facebook, and her website. Submit your story here, and be sure to subscribe to our best love stories here.
Read more stories like this here:
'My husband and I ended up in marriage counseling over a bathroom. Yep, I said it. 'How about aiming IN the bowl? Is it really so hard, fellas?': Widow urges 'don't waste time on things that don't matter' after husband dies of pancreatic cancer
'You are responsible for yourself. It is not his job to keep you happy. True happiness does not come from another, but within.': Young woman shares love advice after 12-year long relationship
'A silly mistake. I should have brushed it off, laughed. But I didn't. I almost let it ruin the night.': Woman claims 'grace' is the key to marriage, 'bring it every day, even when you don't want to'
'Weeks before boot camp he said, 'What if we get married?!' I knew the risks. The statistics were against us.': Military spouse candidly recounts 'navigating the chaos' of young marriage, pregnancy
Spread love and beauty. SHARE this story on Facebook with your family and friends.