"Take photos with your grandparents. In fact, take lots of them. Take photos with your grandparents, because one day, those very photos will help you remember how beautiful your grandma looked when she laughed, or the way your grandpa's eyes lit up whenever he smiled.
Take photos with your grandparents, so one day, you have something to show your own grandchildren when they ask you about the meaning of love. Take photos with your grandparents, because one day, when the dust has settled and the years have gone by, those photos may be all you have left of them.
I have always had a really good relationship with my grandparents. Barefoot and wild, my childhood was spent ripping and running on the family farm. Hand-in-hand with either my grandma or grandpa, I was never alone in any of my endeavors.
Looking back, I can remember the warm, summer breeze brushing through the flowers in my grandma's garden. I can even taste the tartness of the strawberries that weren't quite ripe enough to pick. By the time I was 6, I was able to name every flower in that garden. After all, I wasn't allowed to pick the flowers unless I could name them – that was grandma's only rule. When a soft, spring rain would roll in, I can remember sitting on the back porch with my grandpa. I was always enamored by his wisdom, his wit, and his uncanny ability to tell wonderful stories.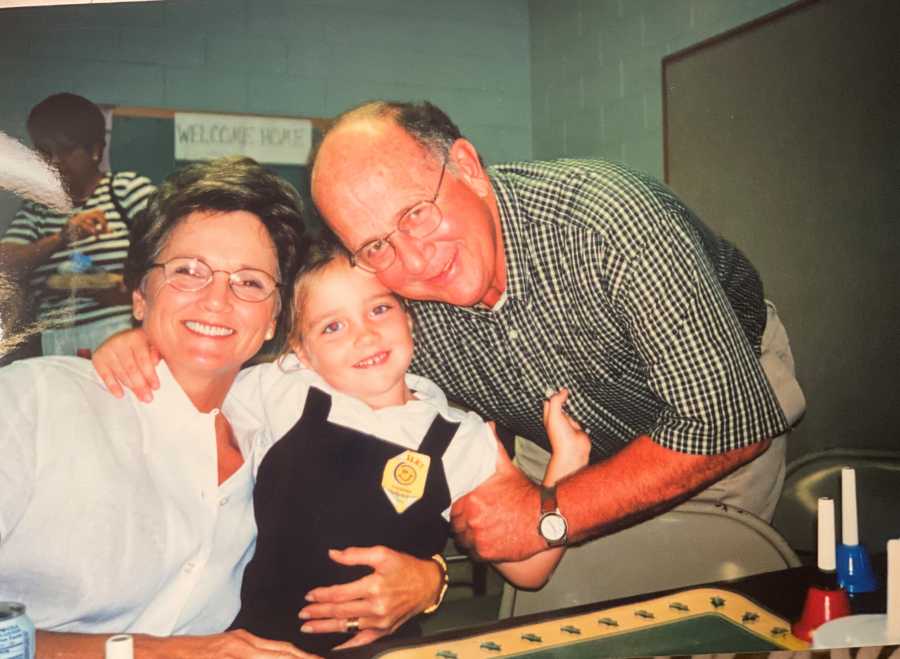 I'm beyond thankful that even into adulthood, I was able to continue making memories with the two people that had left such a profound impact on me as a child. A soon as the family farm sold, my grandparents permanently lived in Lexington, Kentucky. I went to school at the University of Kentucky, so I frequently visited my grandparents. Whether it was to get a home-cooked meal or to snag a quick hug, I found so much comfort and solace in each of my visits. The stressors of school, and even life in general, always seemed to melt away as soon as I walked through their front door.
College was very difficult on me mentally, emotionally, and socially. Many nights were spent at my grandparents' kitchen counter, my grandma wiping my tear-stained cheeks with her handkerchief, and my grandpa fixing a bowl of ice cream to cheer me up. In a culture where I never felt quite good enough for anyone, I was good enough for them. They loved me for me; in all my brokenness and in all my flaws, my grandparents loved every ounce of my being. None of us knew it at the time, but they saved me in more ways than one.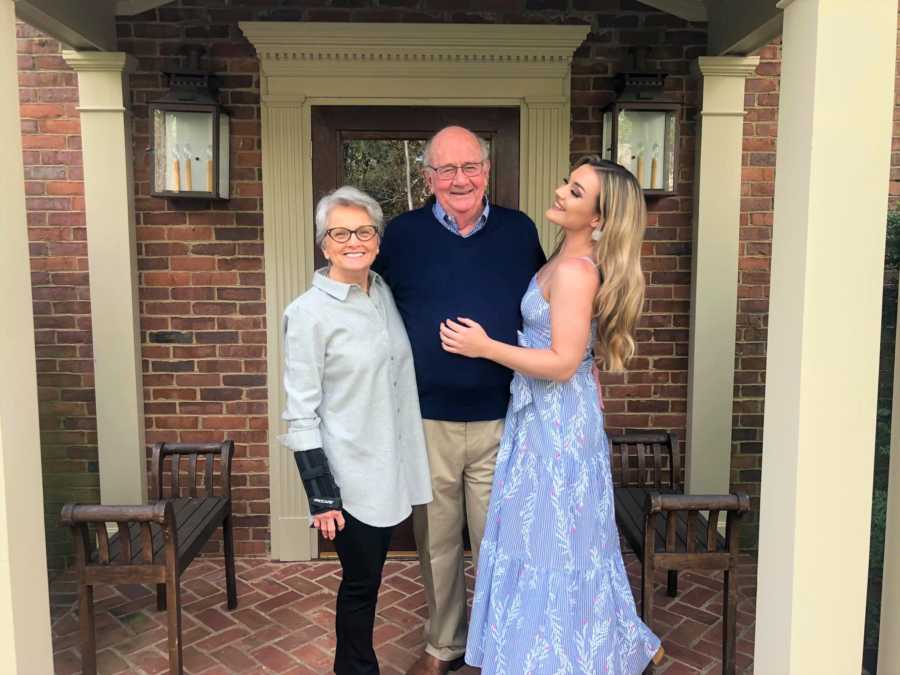 After finishing school, I moved about an hour away from my grandparents. Often times, I found myself reminiscing on the good times we had together in Lexington. On the days I missed them most, I would flip through the camera roll in my phone, smiling and laughing at all of the candid photos I had captured of my grandparents. My only regret was I wished I had taken more. Little did I know, a perfect opportunity would soon present itself, and thus change my life forever.
Here is how the sunflower photos with my grandparents came to be:
As soon as Sarah Hill (one of the local photographers from my area) announced she was doing sunflowers photos, I immediately booked her without even checking my calendar. As I paid my deposit, I was already contemplating the outfit I would force my boyfriend to wear and thinking of how I would tastefully coordinate his clothes with my own.
Several days after booking our session, it hit me: he had to work. Ugh. I was bummed but determined to find a replacement. As I pondered which friend I would ask to join me for pictures, a text popped up on my phone. It was my grandma, checking in on me like she normally did. At that moment, the solution became clear as day. I called my grandma immediately and asked if her and my grandpa would be interested in doing a photo session with me. I could hear the excitement in her voice.
'Well, you will have to let me know what you're going to wear so we can match!' She was giddy.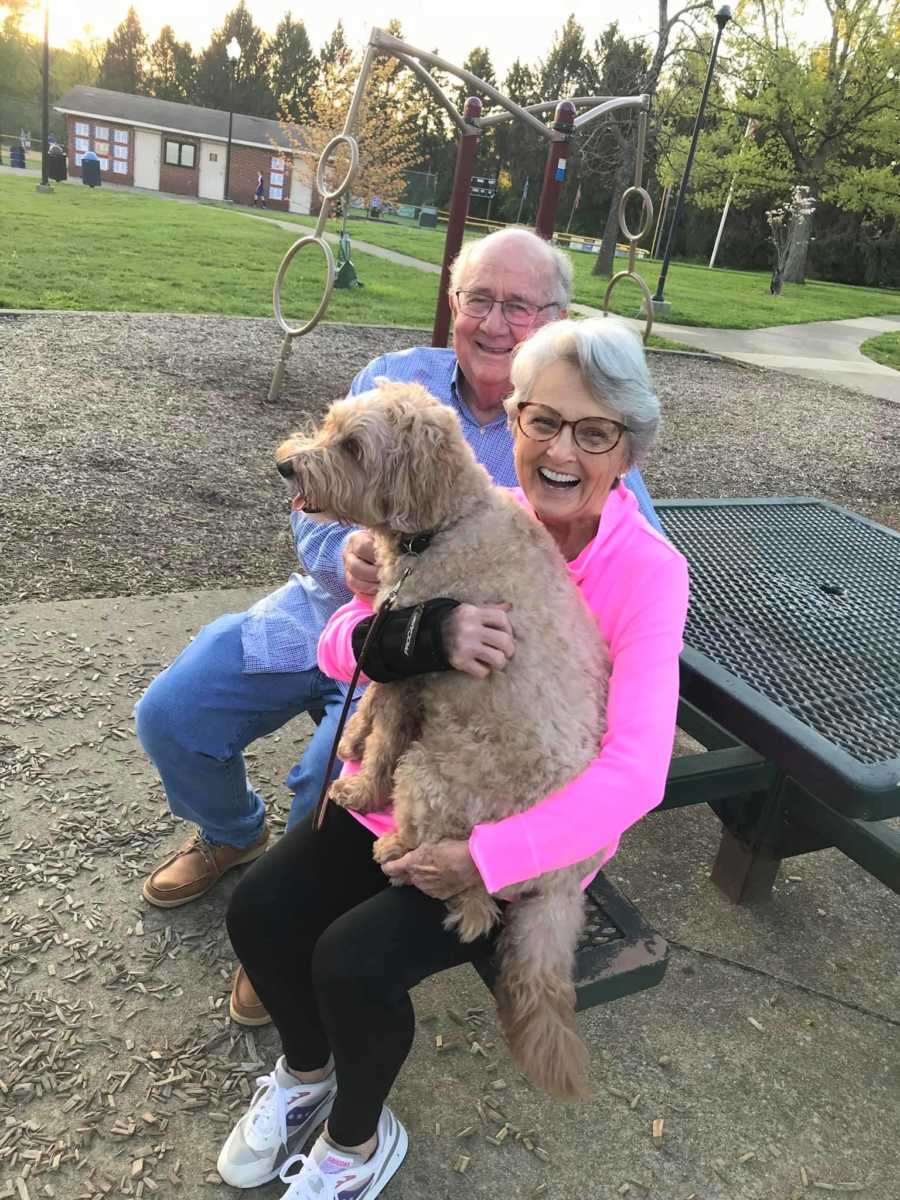 On the evening of our session, it was a beautiful night. There was a gentle breeze, and the sun was glowing behind a thin veil of clouds. The sunflowers welcomed us, their petals open wide as if they were ready to give us a warm embrace. I met my grandparents there. My grandma greeted me with a hug and a kiss, and my grandpa followed behind her to do the same. I could tell my grandma had picked out my grandpa's yellow shirt (color coordination was also her thing). We chatted for a second and followed Sarah out into the sunflower field.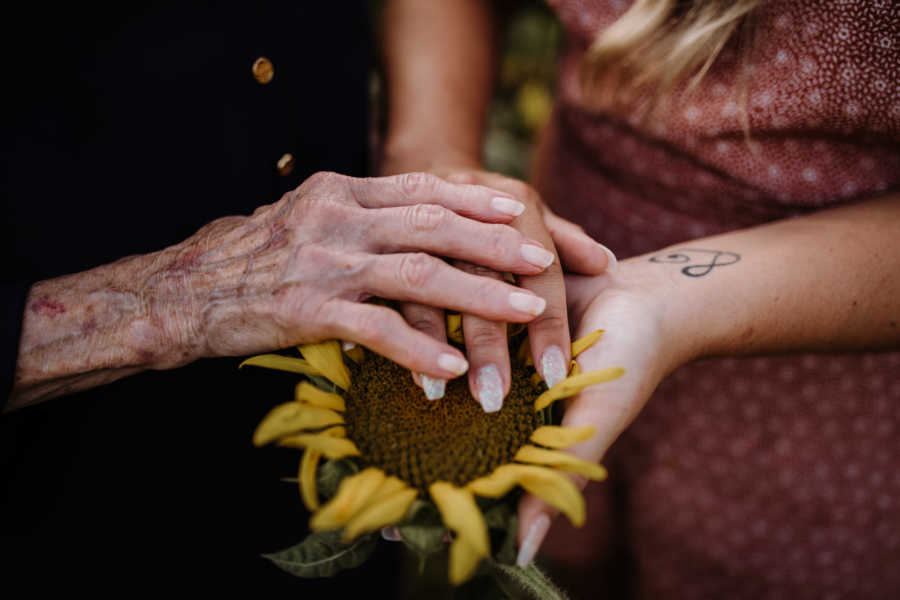 Sarah always had a way of picking out the best poses for her clients. For one of the photos, my grandma cradled my face in her hands, just as she did when I was a child. A sense of comfort and tranquility washed over me as I felt her warm hands wrap themselves around my cheeks. I could have stayed in that moment forever.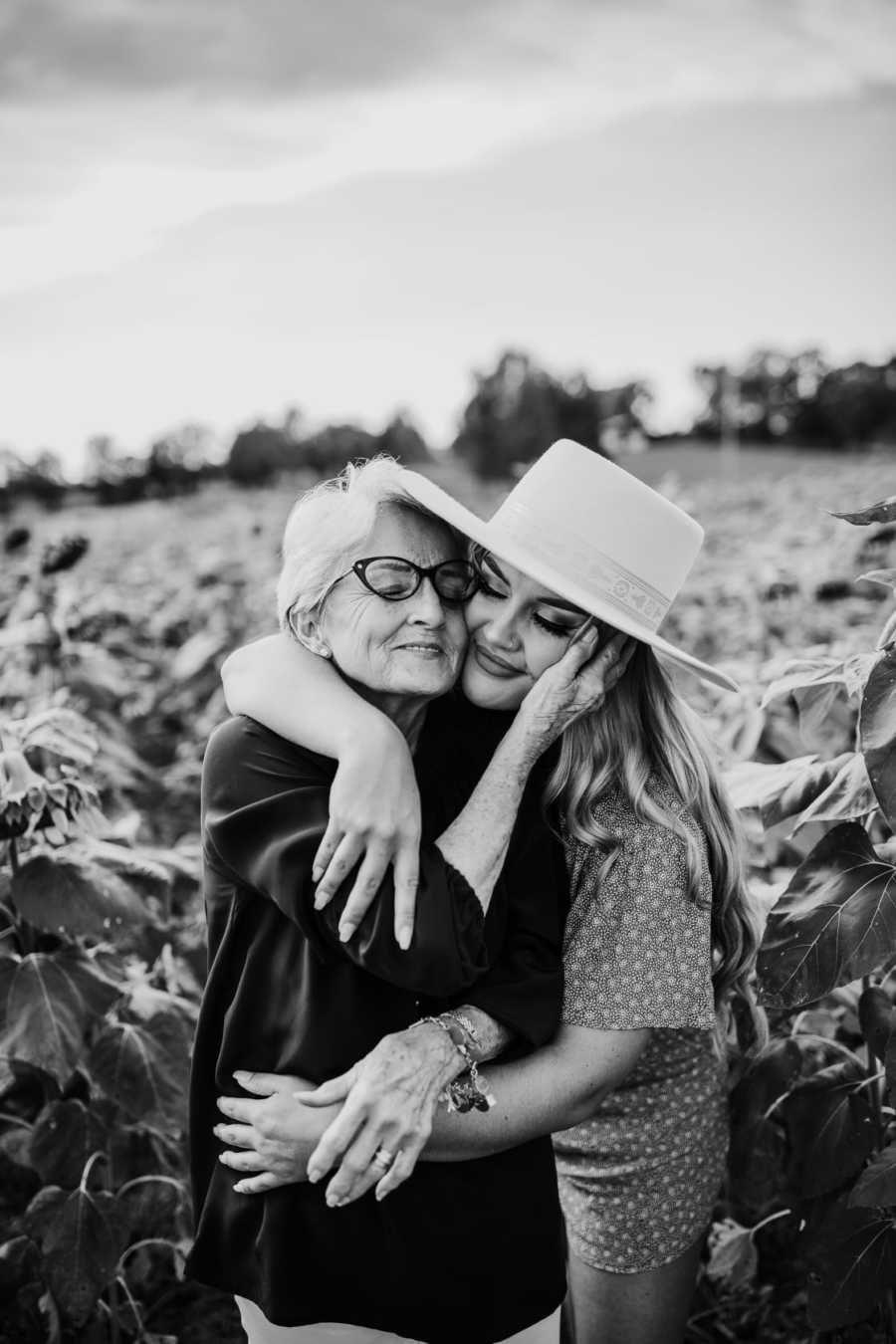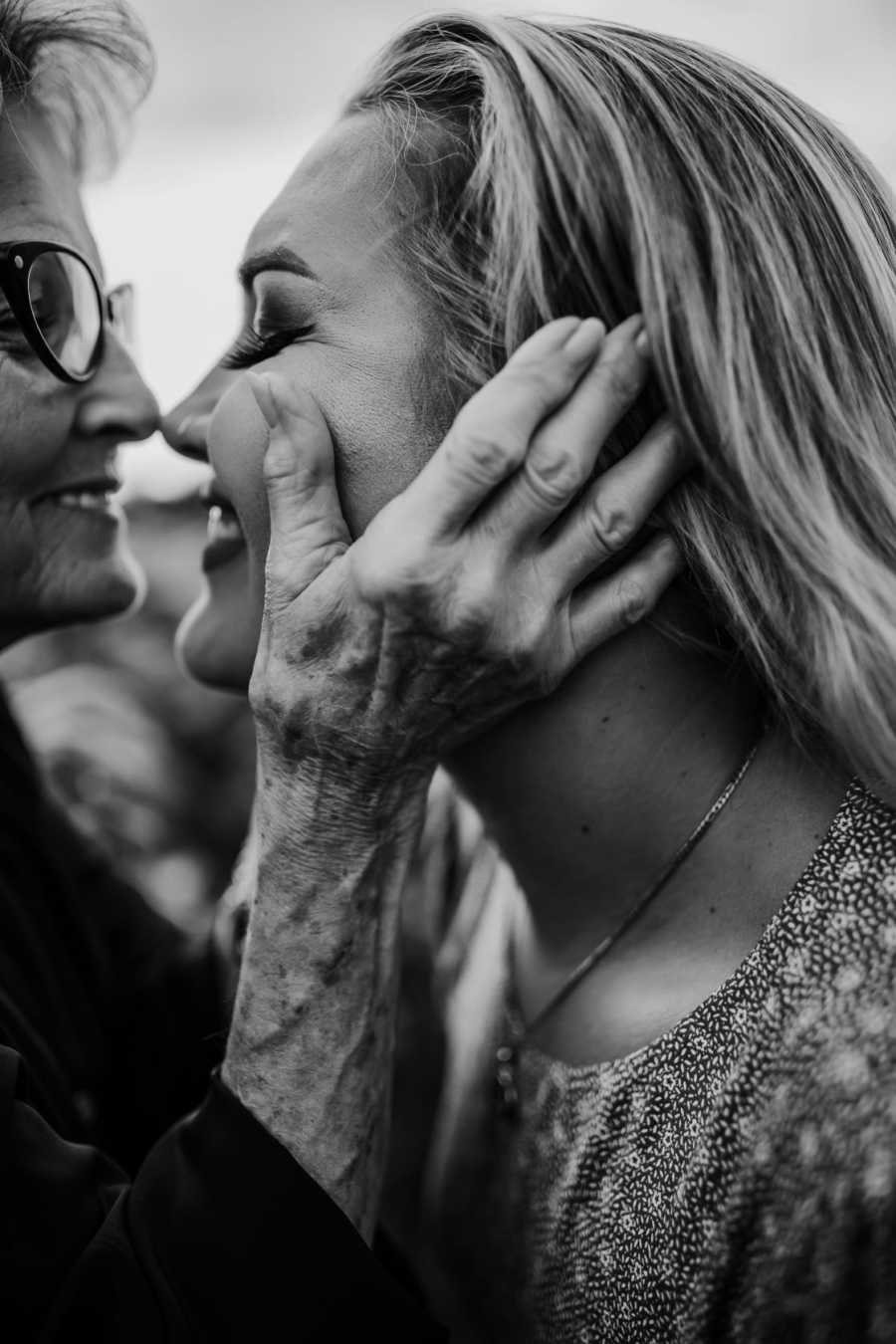 Another moment to left me speechless that evening was one shared between my grandma and grandpa. Facing one another, my grandpa gazed down and my grandma, smiling. Her chin was tilted upward at him and was resting between his thumb and index finger. It was at that exact moment, I was taken back in time, 56 years to be exact. The very wedding photos that had fascinated me as a child had transcended into reality before my eyes. A radiant bride and a beaming groom, ageless in both their love and their youth.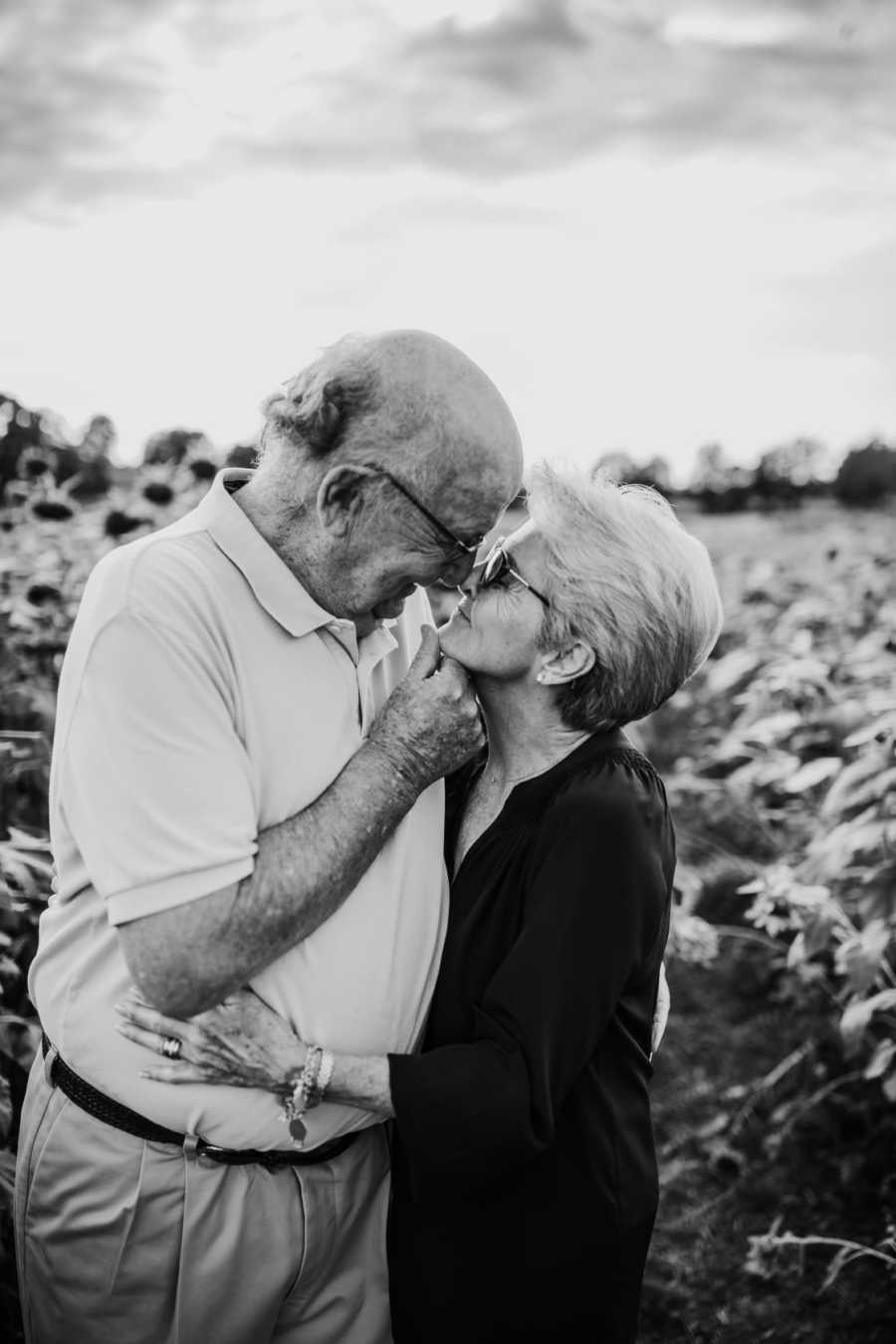 That night will forever be one of the best memories I share with my grandparents. No matter how far we are from one another – whether we are separated by miles or by life and death – I can rest assured knowing when I look through those photos now, or in 20 years, they will take me back to that sunflower field and place me in the arms of my grandparents.
Life is shorter than we could ever possibly imagine, and certain moments that we think we'll have more of may never happen again. As we grow older, our lives undoubtedly become busier and certainly more hectic. However, in the midst of all the chaos, may we never forget that while our lives are merely beginning, the lives of our grandparents are not. Time is so incredibly precious, and we are running out of it every single day.
So please, for your present and future self, take photos with your grandparents. Take as many as you can."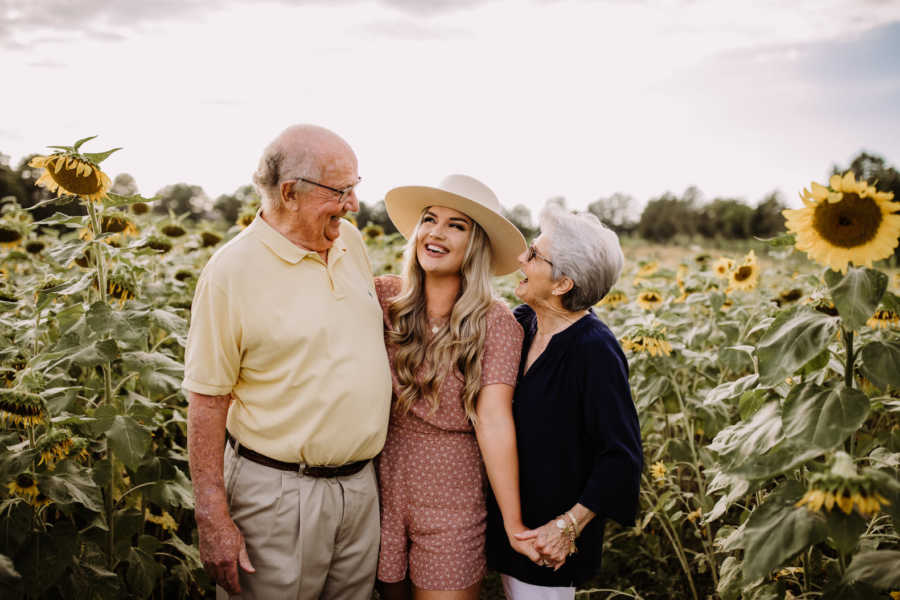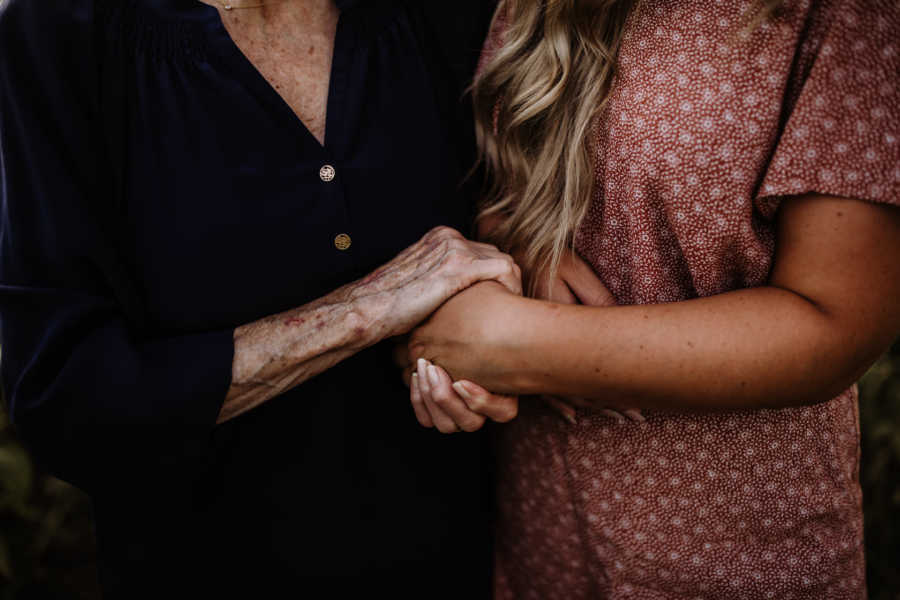 This story was submitted to Love What Matters by Emma Tobe. You can follow her journey on Instagram and Facebook. Submit your own story here and be sure to subscribe to our free email newsletter for our best stories.
Read more stories like this:
'Instead of packing the car for a fun weekend with grandma, we came here, to the cemetery. This is where we must visit her now.': Woman loses mom, says we should 'let grandparents spoil our kids while they still can'
108-year-old meets his 1-year-old namesake: 'You don't know what this means to me'
'Nana, when you get to heaven please send me lots of pennies': Grandmother sends hundreds of pennies from 'heaven' to symbolize her 'deep love'
Do you know someone who could benefit from reading this? SHARE this story on Facebook with family and friends.