"The moments I have spent with my girls throughout the years are some of the most fulfilling moments of my entire life. They make me laugh so hard it takes my breath away and makes my eyes blurry with tears. They lift me up when I have those 'can't get out of bed and don't want to adult' days, and they support me wholeheartedly, without judgment. They are the shoulders I need to cry on, the absolute best shopping buddies, the ears that offer to listen when I need to scream and vent and rant, and the only ones who could ever possibly understand just how desperately I need to dance it out to Eddie Money's 'Take Me Home Tonight' while singing at the top of my lungs, simultaneously sipping on an ice cold vodka soda, with a twist of lime of course.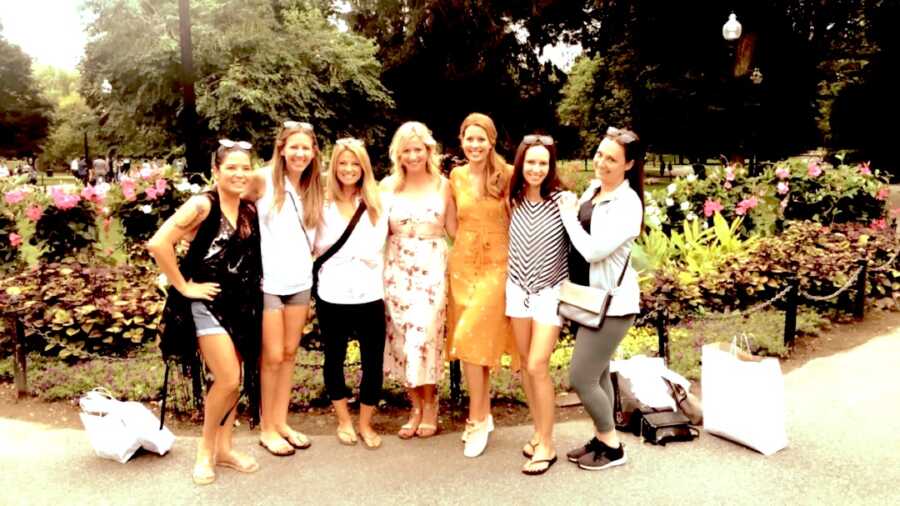 I recently returned from a trip to Boston with some of my best girlfriends. We actually take this trip annually, and it's become one of my most cherished traditions. Every single year, we choose a new location we want to explore together. We set a long weekend aside to celebrate our friendship, decompress from all of life's stressors, and not worry about anything at all except fun and relaxation. Call it a girls trip. Call it a momcation. Call it whatever you want. 
The bottom line is I believe, down to my core, that every single woman needs to set uninterrupted time aside to make wildly inappropriate, shenanigan inducing, soul warming, incredible memories with her girls.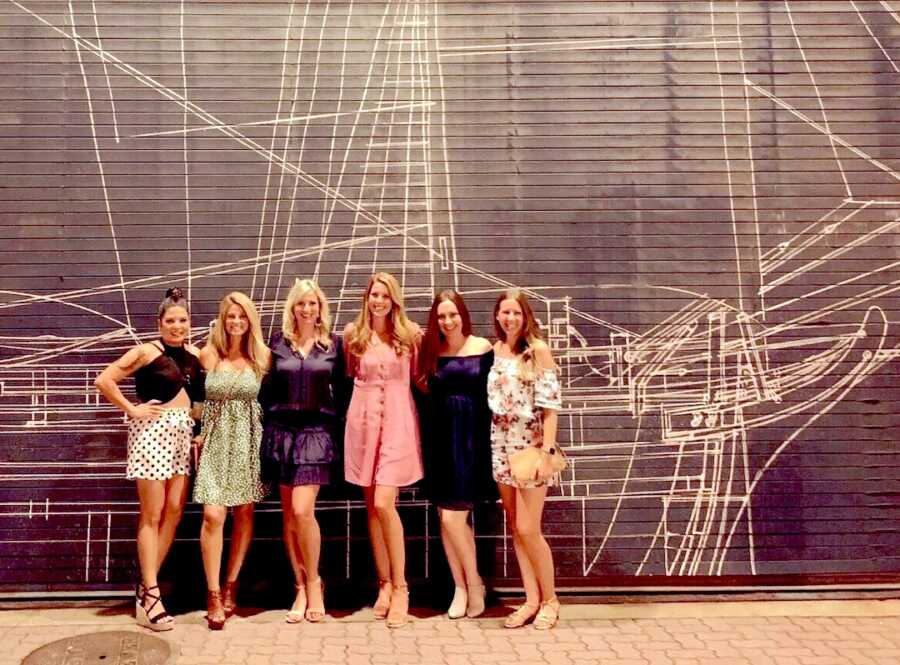 There seems to be a stigma attached to moms taking vacations without their significant others or kids. For the life of me I can't understand how moms get shamed for planning time away from their family. I've actually had someone flat out ask me if I ever felt guilty going on my girls trips. GUILTY. Are you freaking kidding me? 
Guilty implies I'm doing something wrong. It implies I should be remorseful for my actions. Um, lemme tell you what. As a mom, every single decision I make, everything I do, every worry I have on a day to day basis is focused on someone else. I spend ninety five percent of my day meeting the needs of my children, my husband, and my students, and it's so beyond easy to neglect the one person I can't afford to neglect. Myself. You can bet I don't feel guilty taking a weekend to get away with the girls, or plan a night out to sip cocktails and gossip about which former Bachelor contestant is currently wasting their life away selling hair vitamins on Instagram.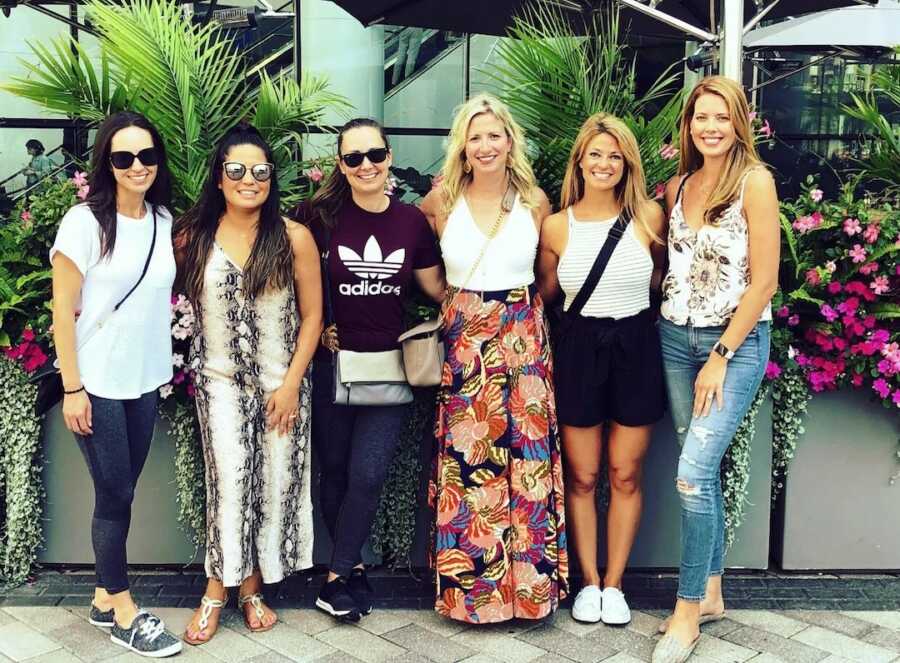 There are a multitude of reasons why girl time is essential for every mom, or every woman for that matter. I could go on for days about why fostering healthy female relationships is vital for our health, both mentally and physically. About how time away, just for us, is necessary on so many levels. For the sake of time, I'm going to outline just a few of them…
We Need The Break
It doesn't get more literal than this, guys. We can't do it all. There comes a time as a mom where we reach our breaking point. Mom burnout is a very real and scary thing, and it can sneak up on you. We can't possibly handle one more sleepless night, one more tantrum, one more mess to clean up or problem to fix. We feel like the world is closing in around us, and the anxiety creeps in. Sometimes we can handle the burnout well, and we can even hide the stress and the frustration from those closest to us. We don't want to admit we need a break, but the fact is we do. We deserve it. I honestly can't think of better company for that break than other women going through the exact same thing you are.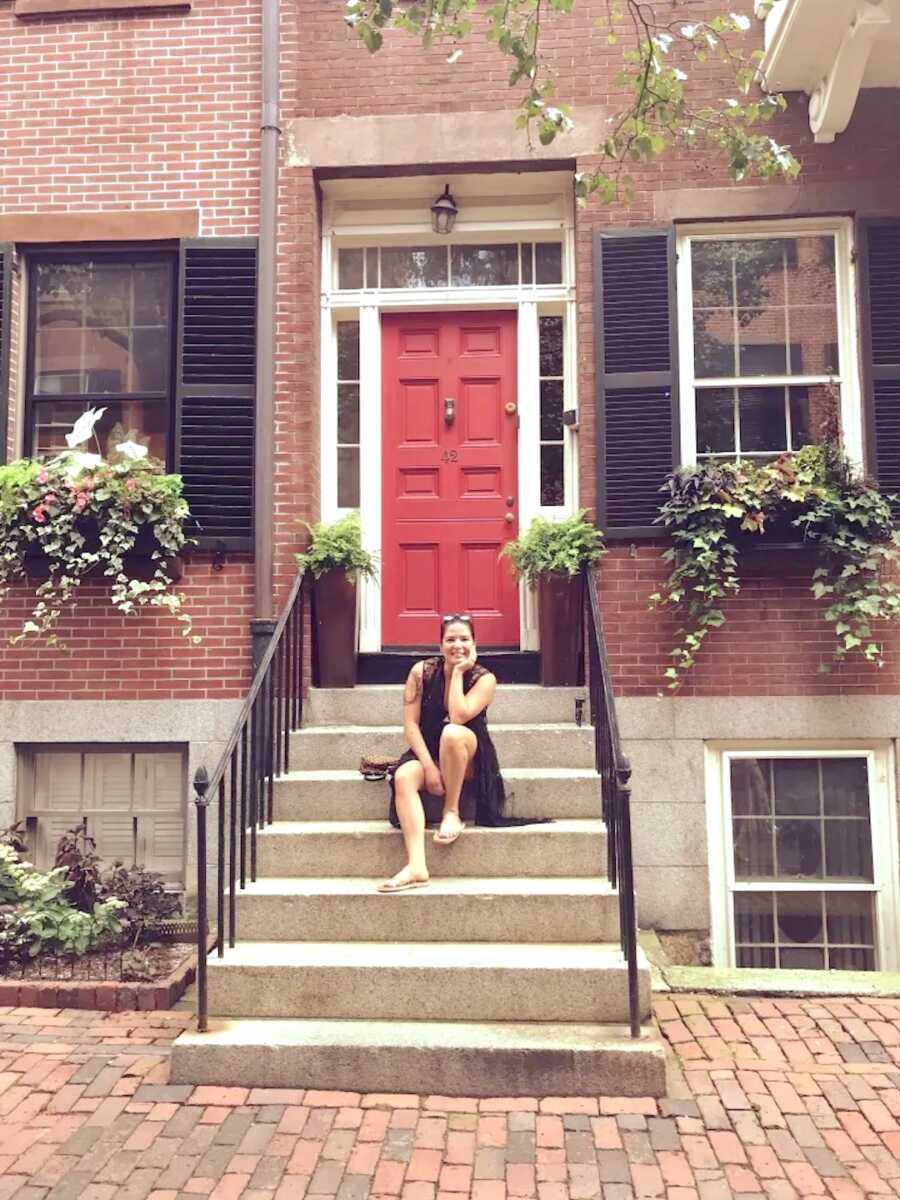 I love my husband and children more than anything on this planet. They are legitimately my whole world, and I do miss them every second we're apart, but I'm not afraid to admit sometimes they drive me insane. Can I just tell you how amazing it was to spend three whole nights sleeping soundly, knowing I didn't have anyone to worry about except myself? I could get up when I wanted, drink hot coffee and eat hot food, spend an hour putting on my makeup, and meander around the shops at a leisurely pace without having to race to the checkout because my toddler was trying to break the record for the loudest scream recorded in the history of mankind. As much as we love our families, and cherish every day we spend with them, needing some time away doesn't make us bad moms. It makes us human, and there ain't nothing wrong with that.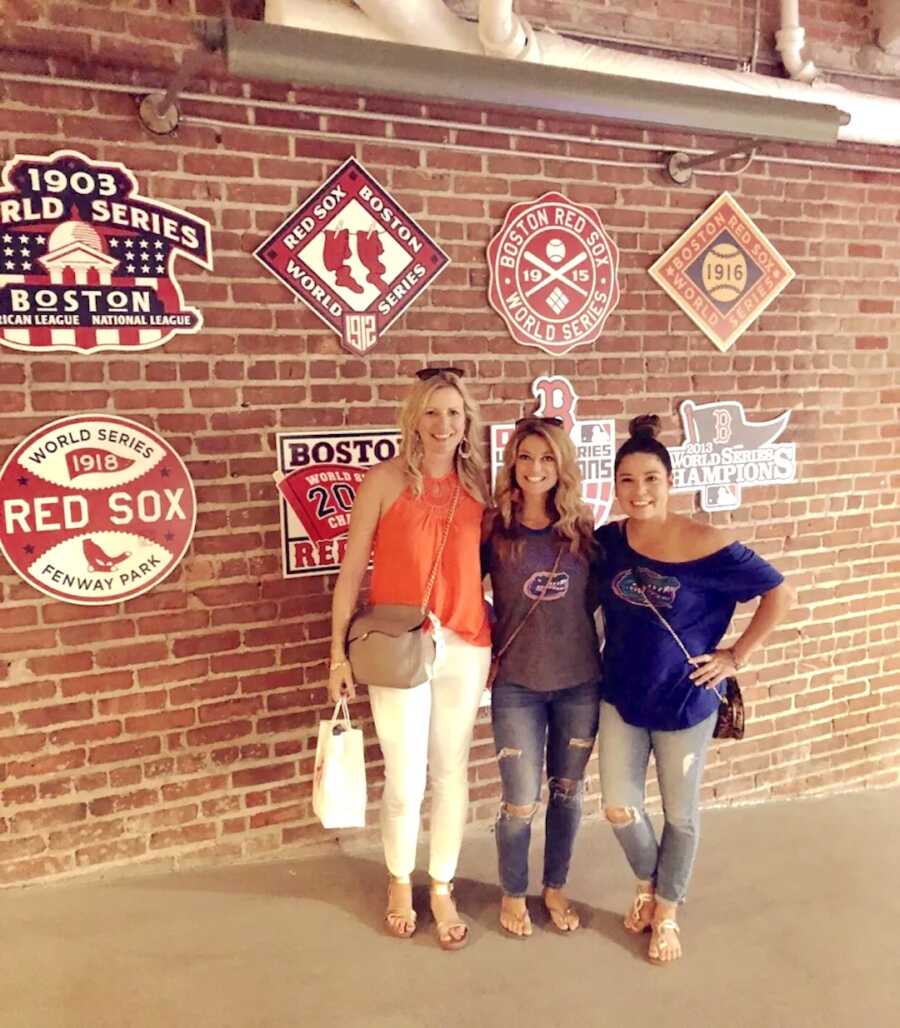 Our Friends Just Get Us 
Look. My husband is incredible. He's my partner in life, and my one true love. He protects me, provides for us, and he would do anything for his family. But let's be real. There is no way he could ever possibly understand just how devastating McDreamy's death was to our mental state, how easily the four things you went into Target to purchase turned into forty things, or how period cramps feel like someone is stabbing our uterus with a serrated knife. Our girlfriends get us on a level that can only be described as deep-seated and unyielding.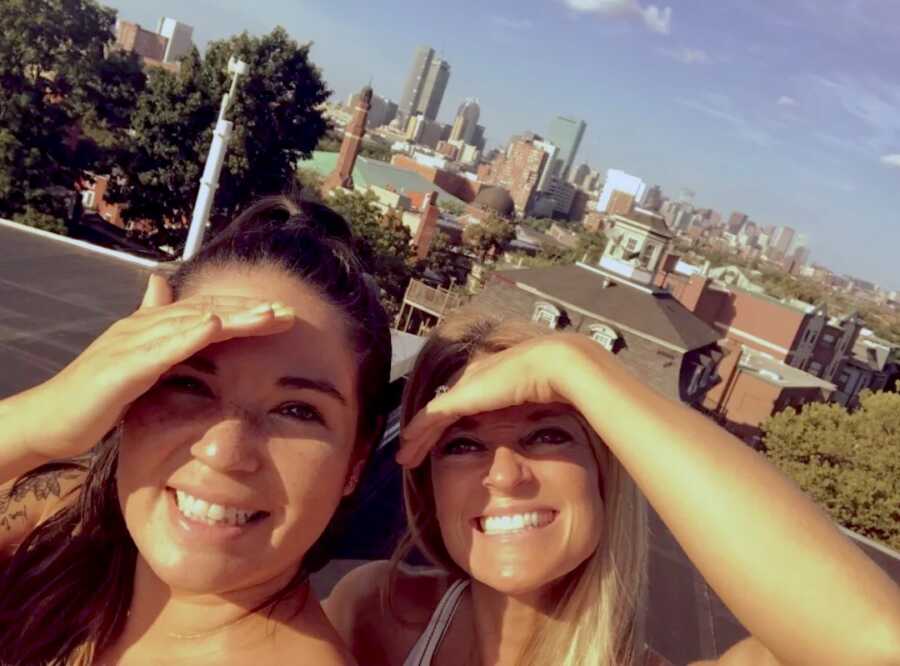 We all need a Romy to our Michelle. We all need a person we know will always listen, never judge, and tell us to get our sh*t together when we're falling apart. It's comforting to know my friends are in the trenches with me, and the time we spend with each other is priceless because it reminds me God puts certain people in your life for a reason, and I know he put my girls in my life as anchors to keep me grounded and sane.
Our Friends Make Us A Better Version Of Ourselves
Allowing myself to be selfish for a hot minute and take a weekend away with the girls (or even a night away) makes me a better wife and a better mom. I know that sounds crazy, but it's true. During my time away, it's like I can hit the reset button, I come home rejuvenated, in a positive mindset, and feeling rested, both in a mental and physical sense. All of the laughing, the leisure, the indulging, the pampering, the long talks over cocktails and coffee, and the girl time is good for the soul. It makes me remember who I was before I was a wife and a mom. It takes me back to the foundation that built me into the woman I am today, and my friends are a huge part of that foundation. 
They knew me before, they stood by my side through my journey, and they will continue to be there for the next chapter. The time I spend away from my family reminds me how fiercely I love my husband and kids. It reminds me I married a man who can hold down the fort like a champ, and who supports my need for a break every now and again. Of course, I miss my babies when I'm not with them, but I also know giving myself that time ensures I can be the mom they need and deserve. Not to mention, those 'Welcome Back, Mommy' hugs and kisses are pretty much the best thing in the world.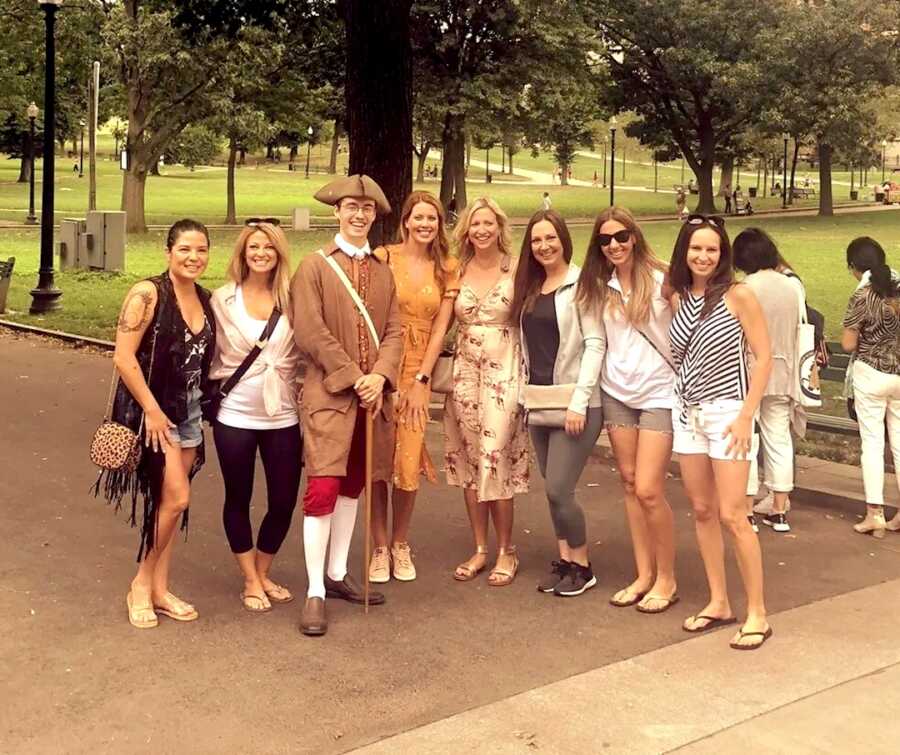 The fact of the matter is life is too short not to spend it with people who make you happy, and love you for who you are. Of course, this includes your family, but it also includes your girls. 
Trust me. Take the momcation. Book the girls' trip. I promise the kids will be okay. They won't forget about you, and they won't be traumatized. I can assure you, despite whatever you're thinking in your head at this moment, your husband can handle it. And if he can't, that's what mother-in-laws are for. They will survive and so will you. I promise you can afford to take a few days off, you work your butt off and your job will be there when you get back. Whatever excuse you find yourself making, stop. Time spent with your girls is time that will never be wasted. It's time that will fulfill you in more ways than you thought possible, and time that you will never regret making a priority. 
Every night out, every phone call and text message, every shopping trip, every late night laughing until we cry while sipping wine and watching reruns of Friends, and every single trip is a gift I will never take for granted. I can only hope we continue these traditions until we're golden and gray, and then pass them on to our own daughters. I hope we can teach them you have to lean on your friends to get you through life's toughest moments and to celebrate the wonderful ones. Those moments we spend with our girls, where we allow ourselves to breathe and refuel, those moments are what some of the world's greatest friendships were founded on.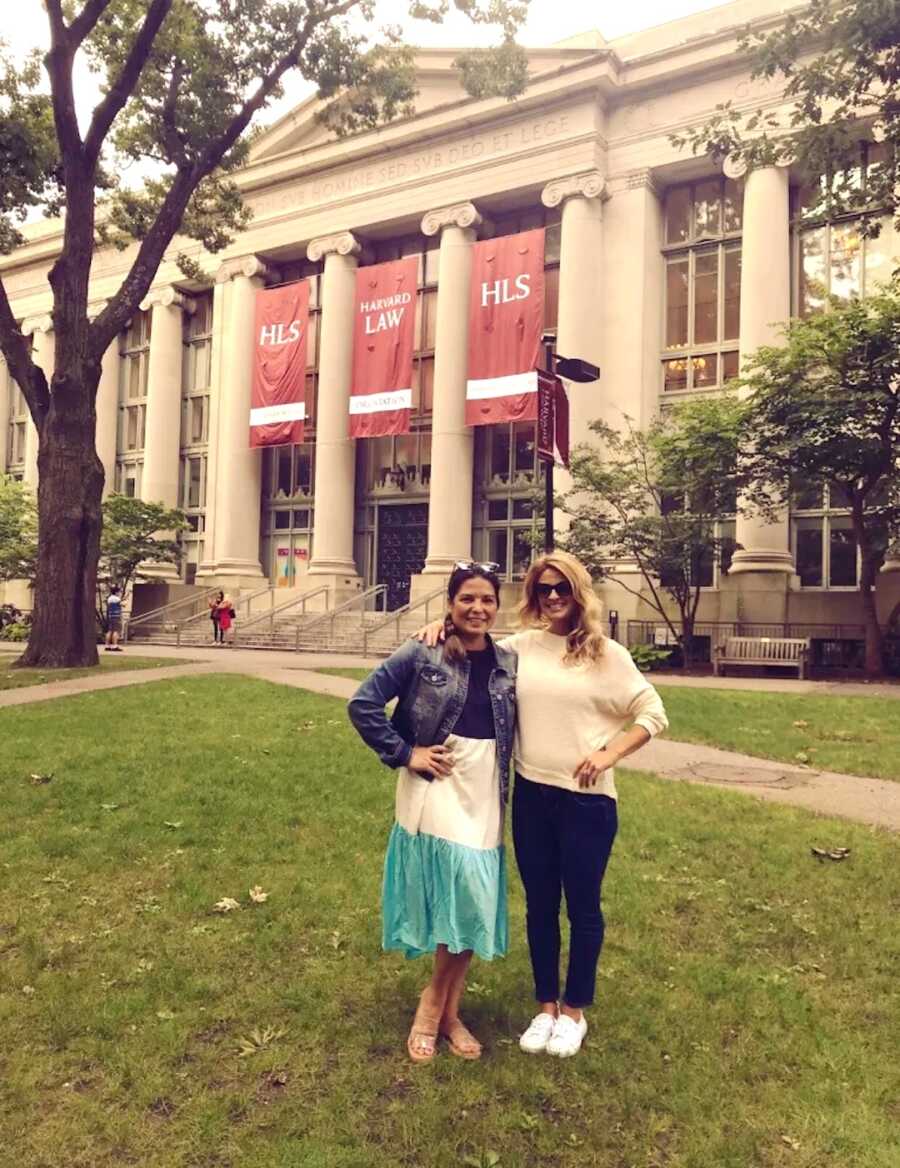 Think of Thelma and Louise.
Think of Samantha, Teeny, Roberta, and Chrissy.
Think of Cher, Tai, and Dionne.
Think of Hillary and CC.
Think of The Rockford Peaches and the Barden Bellas.
Think of Tibby, Lena, Carmen, and Bridget.
Think of Meredith and Christina.
Think of Clairee, Annelle, Truvy, M'Lynn, and Ouiser.
Think of Annie and Lillian.
Think of Carrie, Miranda, Charlotte, and Samantha.
They all loved each other. They all uplifted each other. They all stuck by each other no matter what. And you can bet they went on girls trips and momcations because YOLO, amirite?"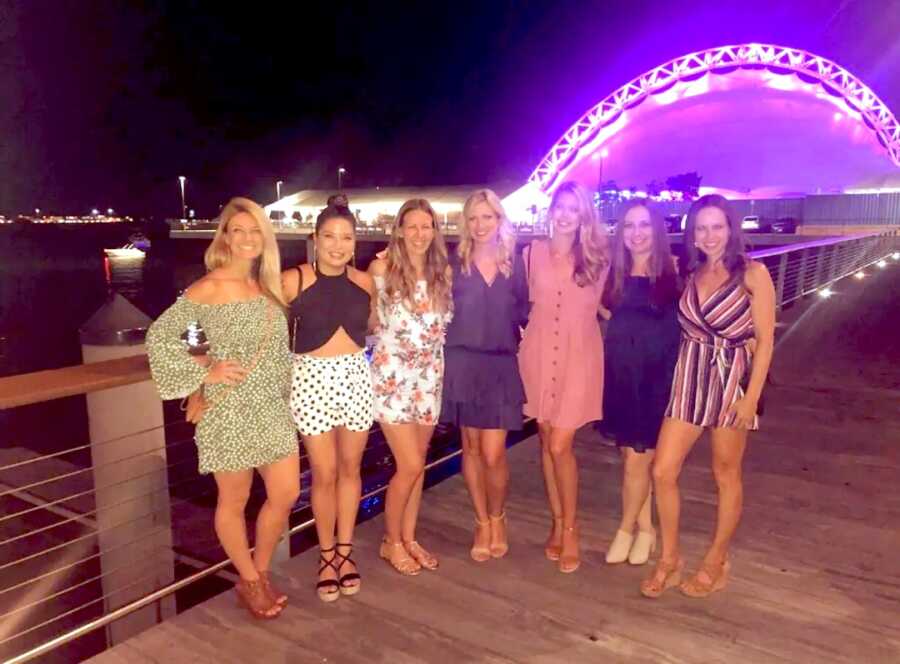 This story was submitted to Love What Matters  by Mari Ebert. You can follow her journey on  Instagram, Facebook, and her website. Submit your own story here and be sure to subscribe to our free email newsletter for our best stories, and YouTube for our best videos.
Read more from Mari here:
'Some days all I can do is go through the motions like a marionette manipulated by my own demons.': Woman urges others to be understanding of depression, anxiety
Motherhood Doesn't Come With A Handbook — You Were Meant To Write Your Own
'How can I just give your clothes away? Like they meant nothing. Shoving them into glossy black bags like garbage.': Woman shares her journey with grief, 'Maybe today, I'm not ready'
'Mommy. Mommy? Mommy!! Hearing this word sometimes breaks me. But I'm reminded how powerful that word truly is.': Mom shares why her title is a blessing
Do you know someone who could benefit from this story? SHARE this story on Facebook to let others know a community of support is available.