"I will never forget the day I officially met Devan. We met back in our early 20's and I remember it like it was yesterday. It was a hot, sunny day back in September 2012. I was just getting back to my grandma's house from taking my uncle's kids to the park when I saw the infamous gold car in the driveway. I instantly got butterflies because I knew it was Devan's car. Devan and my uncle James have been friends for years, but due to my uncle being overprotective, I could never talk to Devan. So, the kids and I got out of the car and I asked James about his friend that was over (although I already knew) and he introduced us. I am usually more reserved and more on the shy side when I first meet people, but  something within me was bold that day. The first thing I asked Devan was if he had a girlfriend and when he said no, I proceeded to ask if he wanted my phone number. You should have seen how red his face got, but he took my number and we have been smitten ever since. At the time I was living about an hour away but we still managed to find a way to one another every chance we could. And before I knew it, I was moving an hour away to be with him. Devan brought so much sunshine into my life and our love just continued to flourish over the years.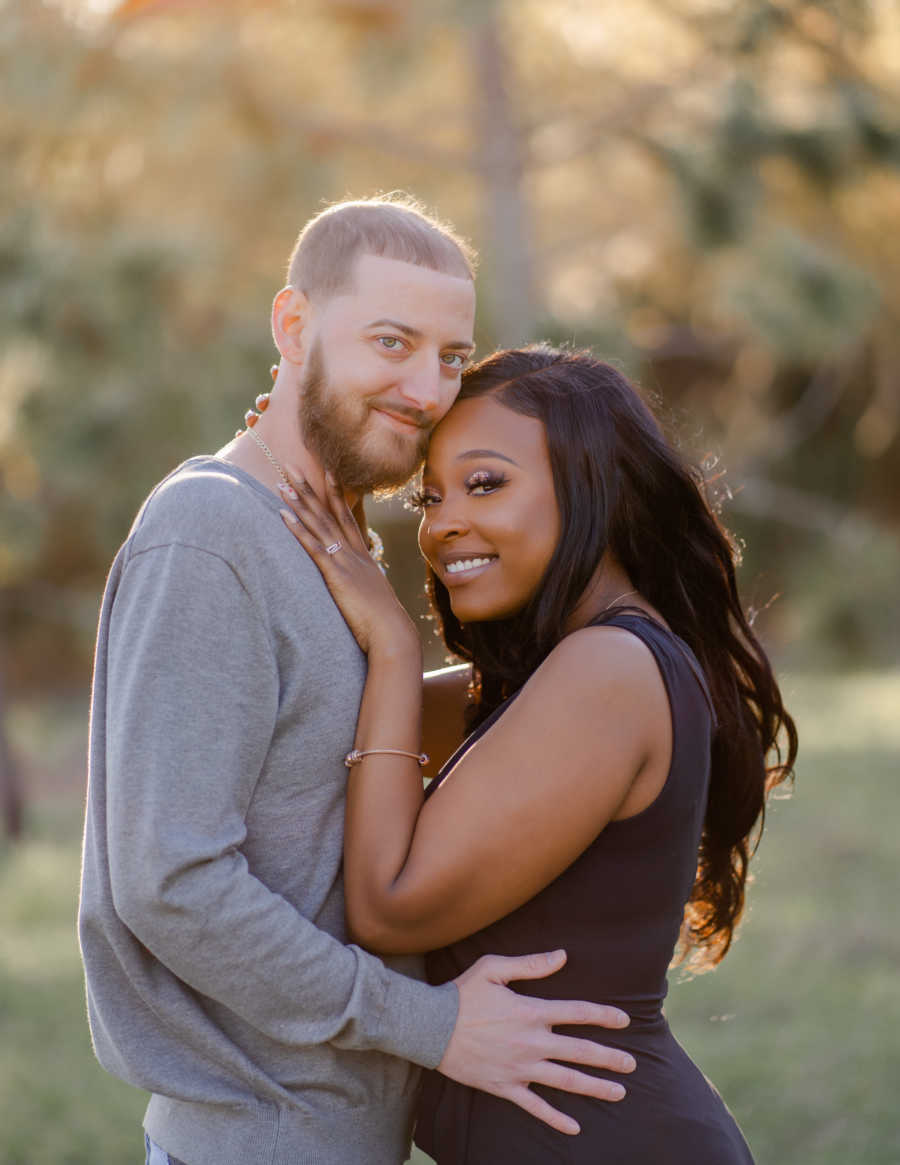 Then came March of 2015 – the beginning of a journey we did not know we would take. Three years into our relationship, Devan developed a funky dry cough that would not go away. We went to the emergency room on three separate occasions and were told he had walking pneumonia and he was sent home with antibiotics. Unbeknownst to us, each time he was treated for walking pneumonia, a mass on his lung was growing more and more. Over the next few months, Devan developed skin nodules all over his back. Months flew by and still no changes in the nodules on his body. Keep in mind, Devan was a very healthy young man prior to any of this. I noticed over time that Devan's weight, appearance, appetite and overall health started to diminish, but we chalked it up to stress.
August 2015 is when our lives would change forever. Devan was feeling a little under the weather and was screaming in agonizing pain that his head was hurting where he had a nodule. His mother and I decided we would travel 45 minutes and take him to The University of Shands in Gainesville, Florida due to not feeling comfortable taking him back to the hospitals we had visited previously. The whole ride there was just nerve-racking. The way Devan described his head pain instantly had me worried it could possibly be a brain aneurism. We get to Shands and they began every test you could think of under the sun, and he was then admitted.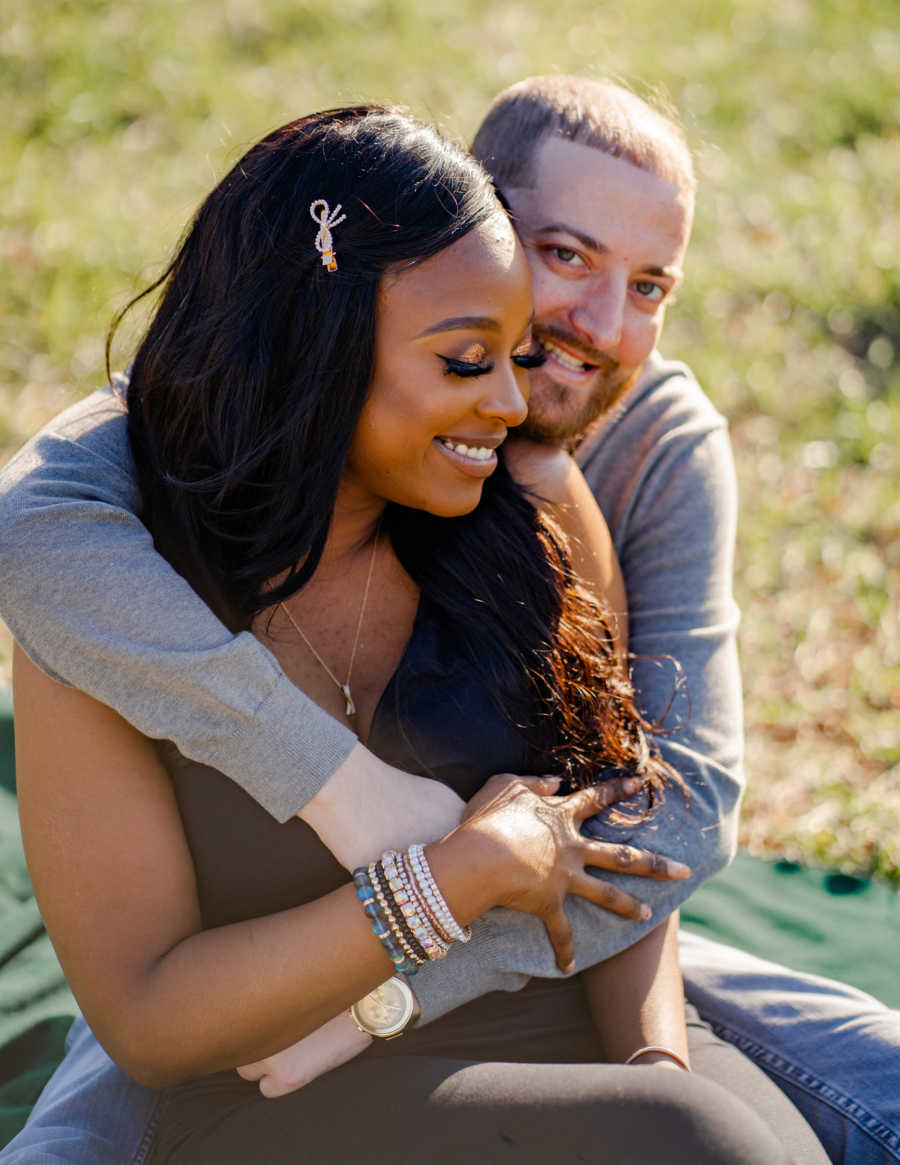 Due to these unknown nodules, Devan was now giving a sample for a biopsy. The doctor's reassured us everything would be okay, it may be a treatable genetic condition and worst case scenario the diagnoses could be cancer. We had been in the hospital for about 4 days and I felt reassured Devan would be okay while I traveled to Orlando the following day to help with my ill little brother. I recall sitting at my mom's house when I received a phone call. Debbie, Devan's mom, called me as soon as the doctor's made their rounds for the day. I could hear the anguish in her voice and she just broke down crying and told me Devan had cancer.
Those words took the breath right out of my body. I hung up the phone and sat on the floor and I began to just cry. I called my mom and grandma since they are my confidants and my voice of reason, and they too began to just weep. At the time I had so much regret not being there the moment he found out, but looking back it was all for a reason. Devan and I have such a strong bond that when one is hurting, we both are and I know if I were in the hospital room the day he found out, I would not be able to be strong enough for him as I am today. So, the next day I gathered my thoughts and prayed that God would give me the strength to endure what was to come. I put on my shoes and instantly went to be by his side, and I have been there ever since.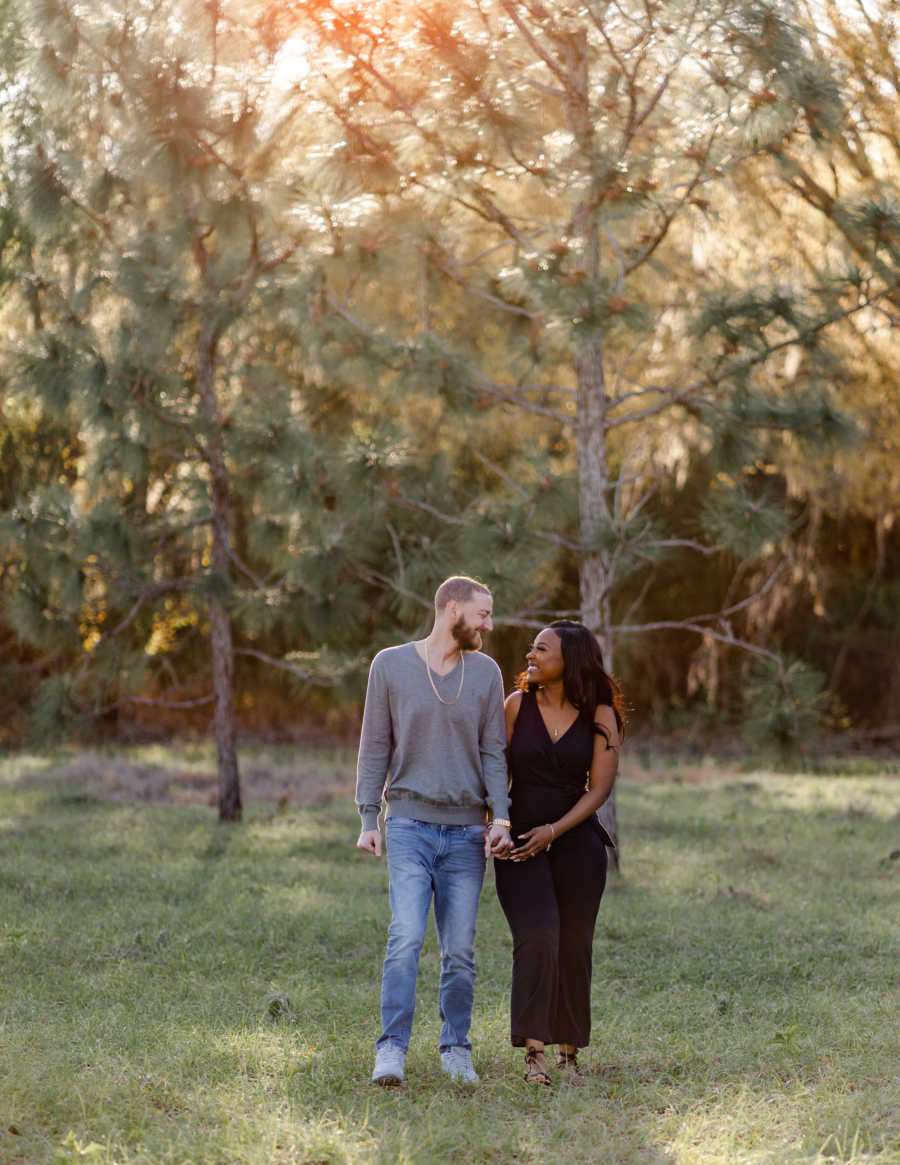 August 14, 2015 was the day Devan was officially diagnosed with Stage IV Adenocarcinoma of the lung with metastasis to the brain, bones, liver, and his eyes due to an ALK gene mutation. Devan has never been a smoker, so this diagnosis was quite the surprise to us all. We ended up staying a month in the hospital as doctor's maintained to keep Devan stable and plan his treatment options. Initially Devan's prognosis was 2-4 months to live without treatment and 4-6 months with treatment due to the cancer being spread throughout his whole body. Hospice was now entering the room to speak with us and preparing us for the worst, but our faith was bigger than that. We come from families grounded in our faith, so we took a leap of faith and decided we will fight this battle until we cannot fight it anymore.
The day before getting discharged, our families and friends came to visit and I thought it was the strangest thing that Devan requested for my mom to get him a ring pop. It's now discharge day and Devan asked that I take a walk with him in the Garden of Hope, which is right outside of the cancer hospital. As we are walking through the garden, reading all of these inspirational words and memoirs of previous cancer warriors, I see from the corner of my eye Devan taking out a piece of paper and instantly my heart started pounding. Devan places this paper in my hand and asked if I would read this letter he wrote. As I began to read this letter, tears just began pouring down my face. The sweet words and love that were coming from this letter was like no other and I knew then the man I fell in love with, is my soulmate. As I finished this letter, Devan got on one knee with that ring pop my mom brought (sneaky one she is) and he asked me to marry him in the Garden of Hope, and of course I said yes! Even in the midst of his own battle, he still managed to think of me and for that I am forever grateful.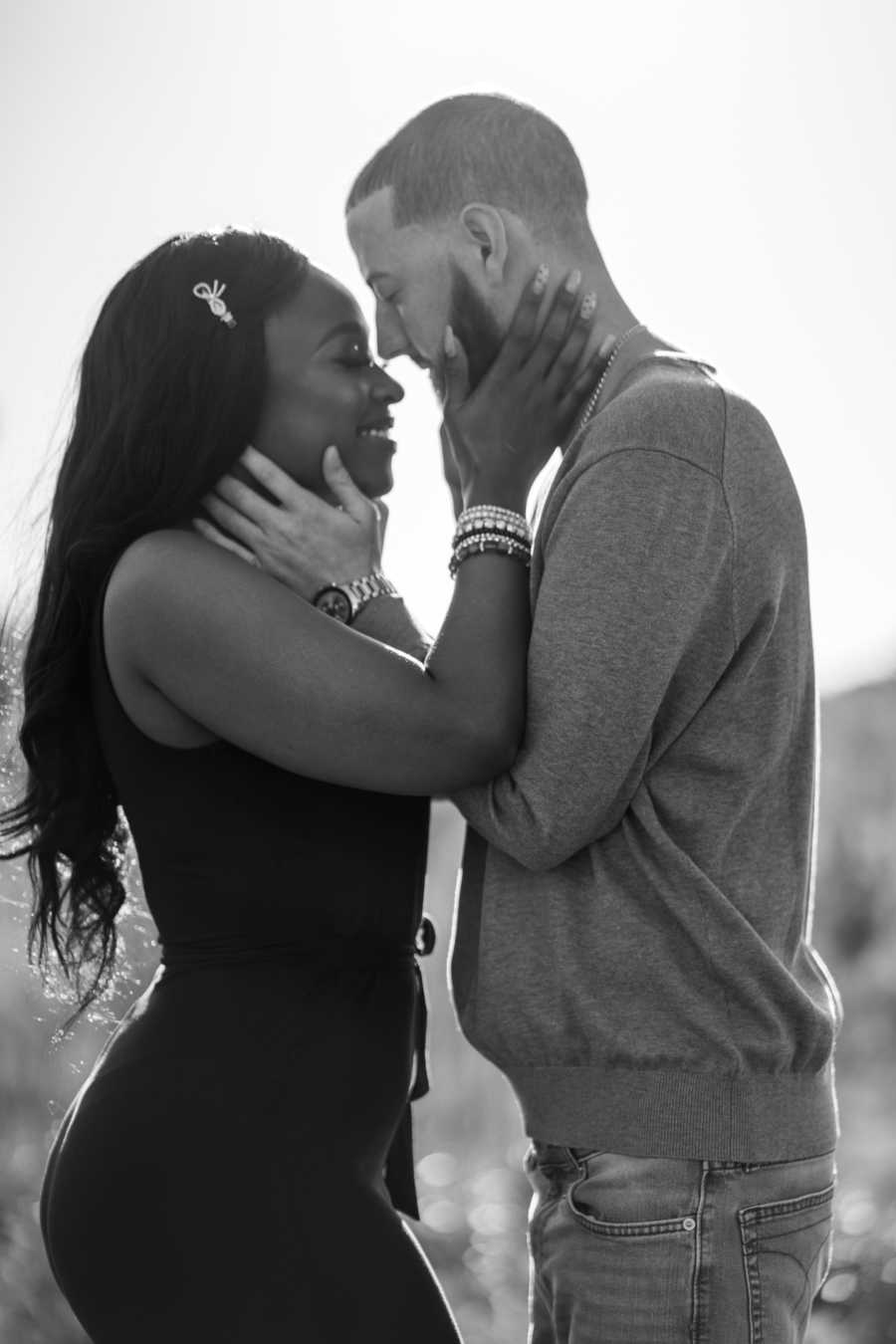 Although some ridiculed him for proposing with a ring pop, I was in heavenly bliss. You see, for me it was not about the materialistic things, but more about his love. I did not care if I never got a ring, what mattered to me was that God blessed me to have more time with Devan. Things happened so fast and before I knew it, I was planning a wedding within a month. During this time, Devan had to do two weeks of full brain radiation, which required us to stay at the Hope Lodge for two weeks so he can attend treatment every day. During this time, Devan started an oral chemo at the same time as the radiation, which has not been done before by his oncologist due to limited literature on both treatments at the same time.
September was a crazy month, but well worth it for October. Our wedding was very small and intimate with close family and the theme was Garden of Hope. Butterflies signify hope, so our wedding was full of butterflies and flowers. I picked out a beautiful lavender dress because purple is meant for all cancer fighters and I wanted to incorporate Devan's journey. Marrying him was by far one of the best days of my life! I took about two and a half years off work and I have a passion for baking, so I started Baking for a Cause. I would and still bake yummy goodies to sell to help with any financial assistance he may need during this journey. Devan was my inspiration to pursue my passion of baking and the cause behind it means everything and more!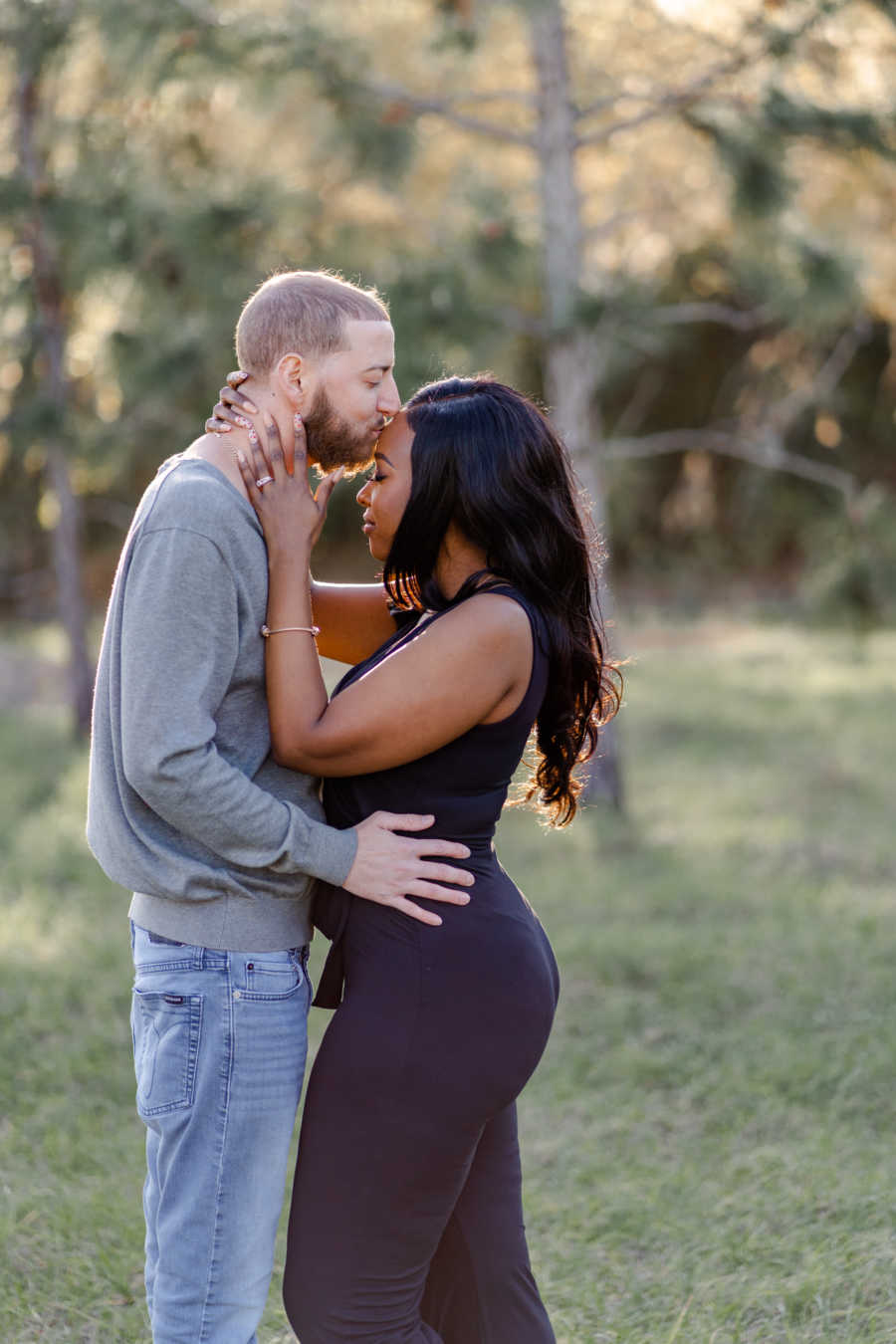 We got a surprise from the Dream Foundation who paid for us to have a beautiful honeymoon in St. Pete beach. St. Pete was beautiful, but Devan still was not fully being himself and complaining of arm pain and chest discomfort. I knew treatments would make him feel unwell but not this bad. We ended our honeymoon a little early and made an appointment for him to be checked out. Turns out Devan had blood clot in his lung and ended up getting admitted so it can be treated. Months start to fly by and Devan is thriving and doing better than expected. After a year on oral chemo, his cancer started having resistance and the cancer began to spread. Thank goodness for clinical trials because he was able to get on the third generation of the oral chemo which penetrated the brain, unlike the first generation. Due to an increase of brain lesion, he was not to do stereotactic radiosurgery, which is a direct target radiation to the brain lesions.
Things looked like they were finally taking a turn for the better when then again cancer came creeping in. It's December 2019 and as we are preparing for holiday parties and events, doctors find the cancer in his femur has spread down his leg and started deteriorating the bone from the inside out. He was scheduled for emergency surgery in which a titanium rod was placed inside the femur bone for support. The months following this surgery were so trying on the both of us. I was working full-time and in between working 40+ hours a week and being a full time care giver, I was beat. But he made it so easy. Not one time since being diagnosed has he ever complained and I admire him for being so strong, not only for himself, but for me too. Over the next few months, he did lots of physical therapy and we were finally getting used to our new normal, but with any journey there's always going to be trials and tribulations. Here we are in May, preparing for his fourth around of radiosurgery. Now on the fifth generation of chemo, we get hit yet again with bad news. He is now needing a second surgery to his femur for fixation of his rod.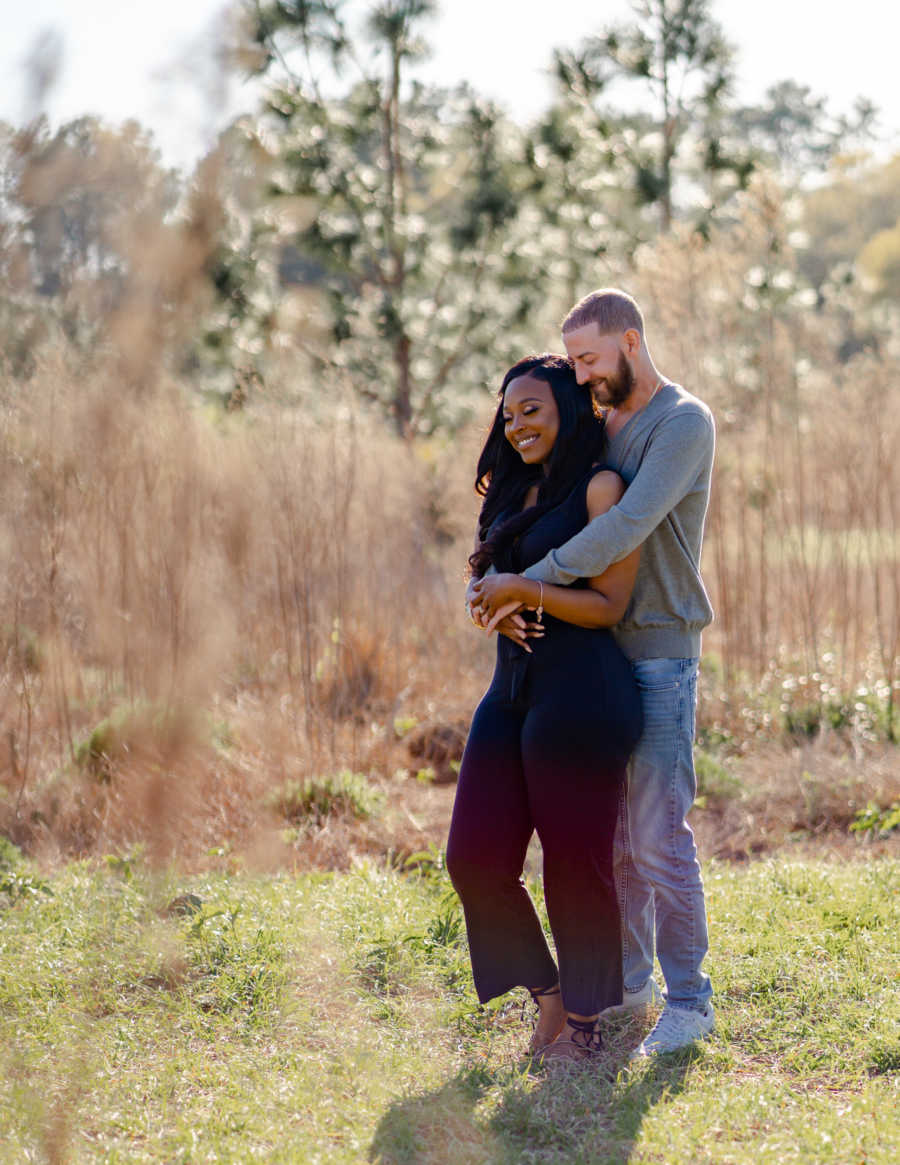 Months go by and we are adjusting to our new normal and navigating through this part of our journey. October 3, 2020 comes around and for once we got to celebrate our anniversary the way we wanted! Things were finally starting to look up again for us and we were enjoying every second. November 2020 we were hit yet again with devastating news. His cancer has become resistant and there are currently no new generations of the oral chemo and the only treatment option is the traditional IV chemo. My heart was so sad for him, but I also remembered we made it this far and we will continue to do so. He started IV chemo in November 2020 and is still currently taking it every three weeks. In the past his doctor mentioned an oncologist whom specializes in his rare cancer and I was determined to get him seen by her.
We prayed and called Boston Mass General, and would you know it, I was able to get him an appointment within two weeks of our call. Here we are May 2021 and on our way to Boston. We are fortunate enough that both doctors have been in communication in regards to his treatment and we are currently awaiting biopsy results to see if there is any other treatment for him. Devan is still currently taking an oral chemo as well as the IV chemo and is doing amazingly! I think our strong faith and our love for one another is what keeps him going. You never know how much love can truly heal someone. Of course, the medicine and the doctors are a HUGE reason why I still have my best friend, but I think love is also what saved him.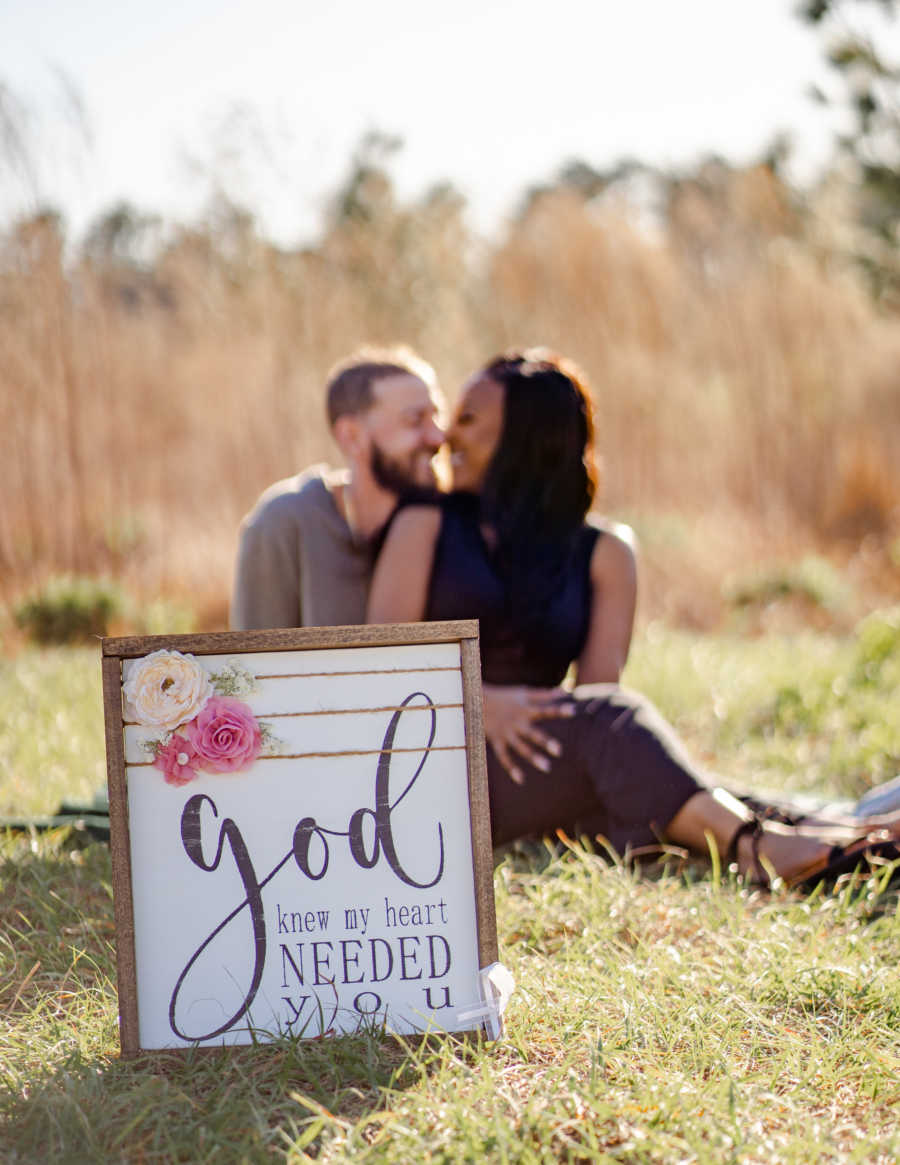 We want people to take away from this story that no matter what it may look like right now, anything can turn around for good. This whole journey has helped us to not only appreciate one another more, but to also live in the right now. Even though life may bring some rain and storms, love conquers all. Cancer, you tried to destroy us, but I thank you for making us stronger and love even harder. You only have one life to live so make it magical and live it to your fullest! An illness does not define your worth or who you are, so for all of the warriors out there, stay strong because this too shall pass. And even when you're nearing the end of your journey, smile and know you did your best and it's all that matters."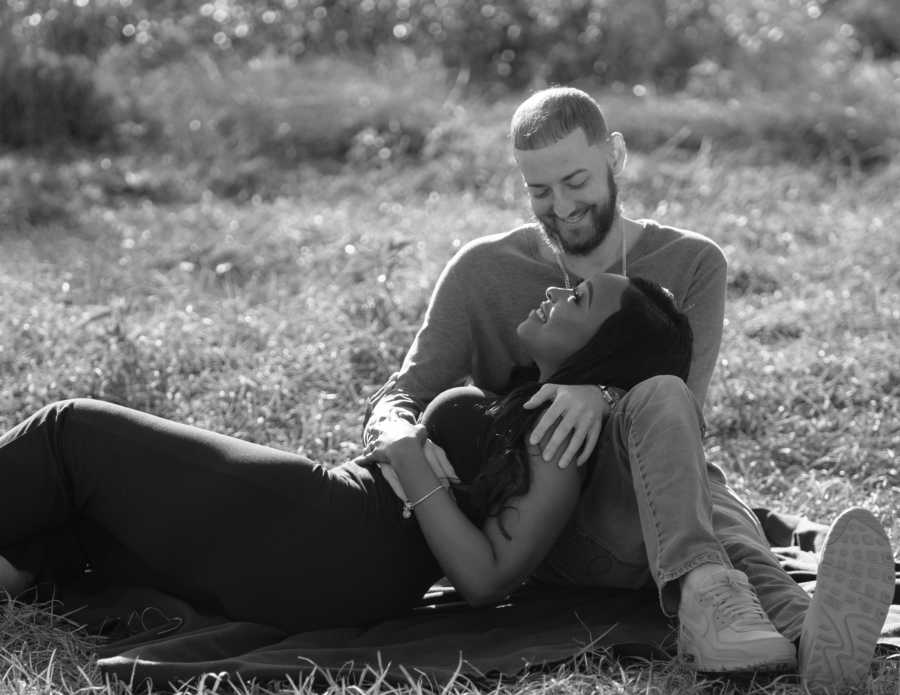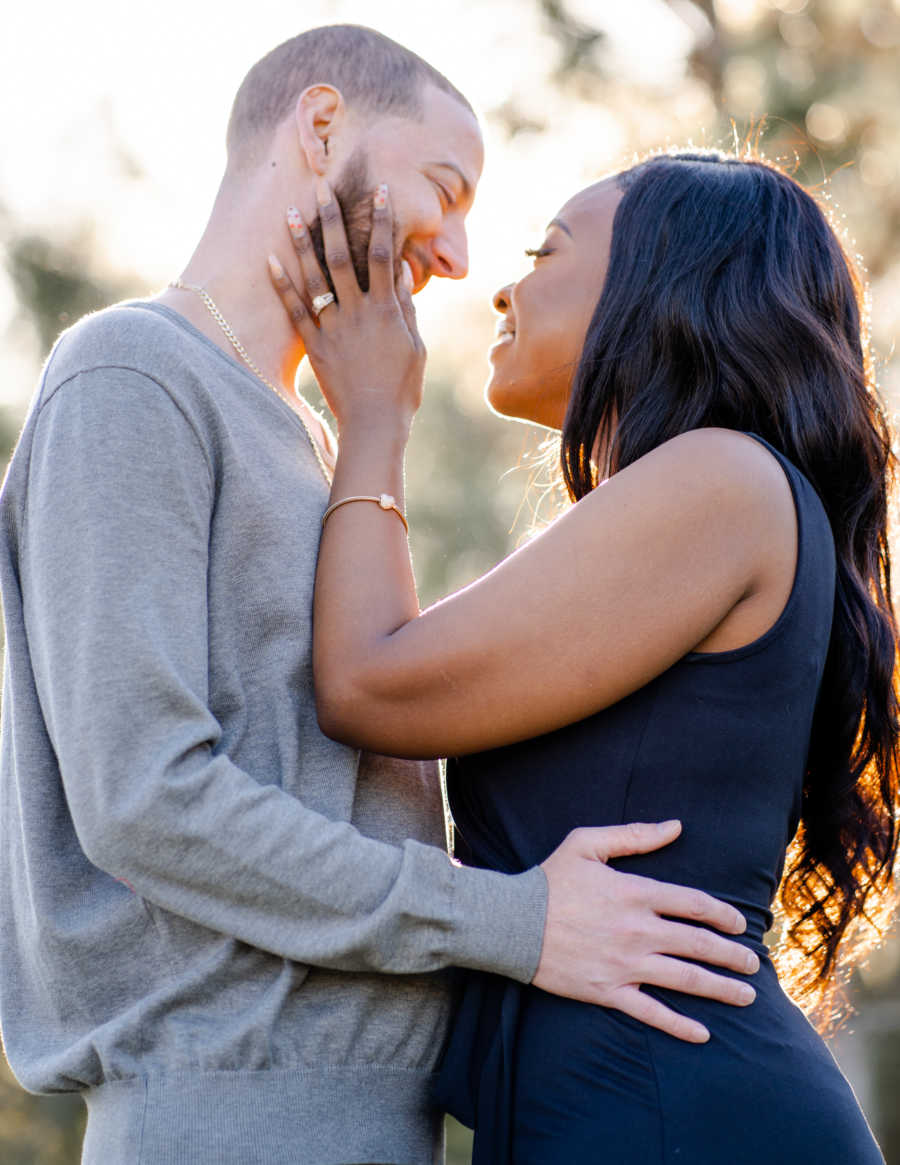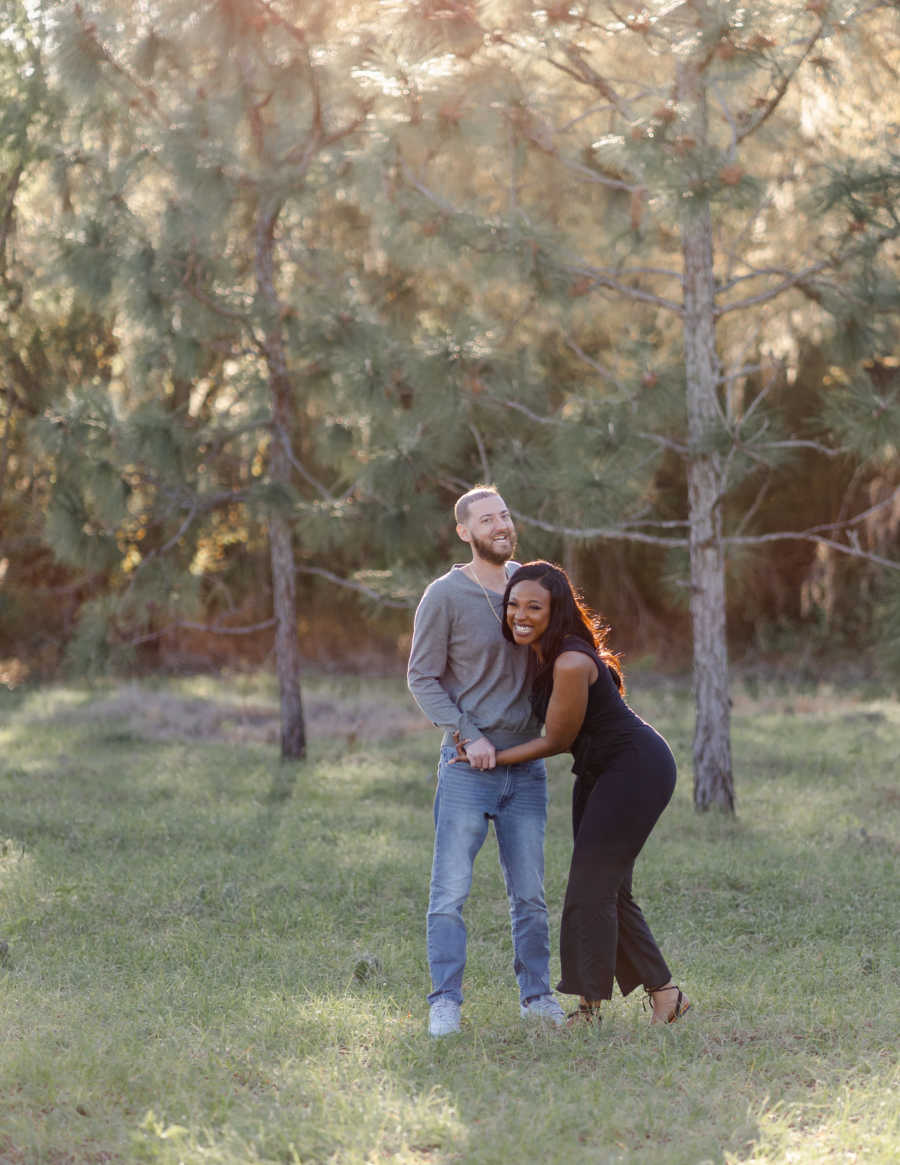 This story was submitted to Love What Matters by Devan and Deshayla Garrett of Florida. You can follow their journey on Facebook. Submit your own story here, and be sure to subscribe to our free email newsletter for our best stories.
Read more stories like this here:
'I love you, mom. I'm not ready.' I kissed her forehead and said goodbye, knowing we'd never speak again. 'It's your turn to be strong now.': Daughter exchanges vows in front of terminally ill mother
'If I don't survive this, I want you to know I lived more in my 36 years than most do in 80.' It was time to let go.': Woman shares love story after losing husband to pancreatic cancer
'I stepped out for fresh air on the cruise ship. 'How're you doing tonight?' All I could see was a beautiful white smile.': Couple share long-distance love story, 'Love is stronger than distance'
'Is there a family history of cancer?' I said, 'I'm adopted. I have no idea.' The search began.': Adoptee reunites with birth family, 'They accepted me with open arms'
Do you know someone who could benefit from reading this? SHARE this story on Facebook with family and friends.