"This is the story of the coming together of two souls who endured trials, tribulations, and triumphs to bring to fruition a healthy and happy relationship that neither could have imagined ever existed.
My name is Rebecca and I spent six long months alone grieving over the end of my 8-year relationship. I was taken in by a generous colleague, but soon realized I needed solitude to trudge through the depths of my heartache. I grew up in the desert; however, through forming a fondness for cruise traveling, I discovered that I adored the ocean. So I typed 'beach' in the rental marketplace and only one place came up. It was extortionate in price but I knew my mental health had no monetary value. I lived there on my own, properly, for the first time in my life.
I existed on work, sport and sleep, denying myself of all extra curricular activities which, for 35 years, had occupied at least 80% of my life. I cried every night. I had puffy eyes, physical pain all over my body and couldn't eat properly or hold a conversation. My only real relief was as a professional and dedicated nurse, where I left my pain at the door.
Eventually, my Dad and brothers started hounding me for not having a future residence lined up when I was homeless in a matter of weeks. It never occurred to me to worry. I would always land on my feet. I had plenty of friends who would accommodate me until I found somewhere if it came to it. During that final month in the beachfront apartment, I had started socializing again and decided to visit the hotel bar at least once before I left.
At the bar that night, I walked in independent and confident, scanning the tables, wondering who would be interesting to talk with. As my rational mind kicked in, I said to myself, 'What are you doing here? Who goes to a bar alone?' As I was about to walk out, I noticed a table with three people. I thought, 'Oh, well, maybe I would be a welcome addition because there's an uneven number.' So, I introduced myself and asked if I could sit with them while I waited for a friend. It was utter bollocks, but I needed an in!
Within five minutes, I pointed at Michelle and said, 'I'm going to take you home tonight!' To which Michelle replied, 'Promises, promises!' I thought to myself that this woman doesn't realize I love a challenge and I always get what I want! It was game on! Michelle asked me if I'd like to go outside for a smoke. As they were menthols, I acquiesced. While outside and chatting, the alcohol had started to kick in and I leaned my head on Michelle's shoulder. Only Michelle remembers that, but recalls it was then she knew she was hooked.
We chatted at the bar until closing time and Michelle asked me back to her room. The night's details are blurry and unnecessary to mention, however, we both knew we wanted to see one another again. I hadn't even told Michelle my name. How was she going to get in contact with me? All I knew was she was on a different floor of my hotel that was inaccessible. I called reception, but with vague details, they were neither willing nor able to help. Amazingly, a day later, Michelle's colleague left her number on my car! I texted, 'Do you remember me?' Michelle replied, 'How could I forget?'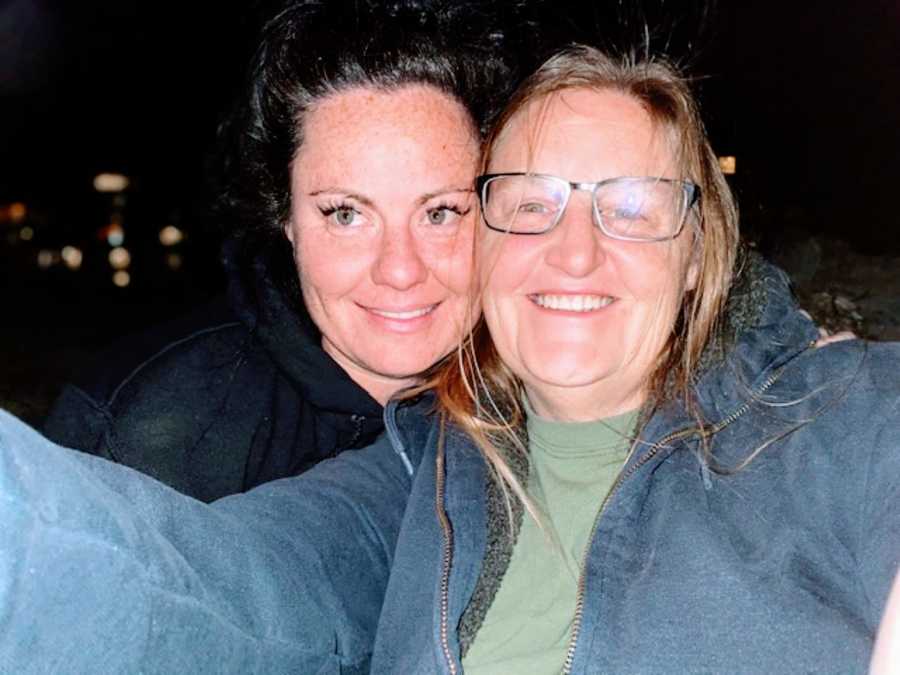 We spent the following three weeks falling in love, with a small episode of complete resistance by me. I said, 'I'm not ready for a new relationship and this is moving too fast.' Michelle was incredibly calm and understanding and said, 'Okay. No problem, I know it's what I want but I'll give you time and space to work it out.'
I said, 'Okay, well I have to go coach my niece's netball game just now, so I'll see you later.' Michelle asked, 'What's netball? We don't have that in the USA.'  I said, 'Oh, well you must come watch.' We arrived at the same time as my brother and the moment he saw Michelle he whispered, 'Is that your new girlfriend?' Startled, I snorted, 'No! Calm down! I barely know her!' My brother had an innate ability to see things before anyone else. Later in our courtship, Michelle confessed watching how affectionately I interacted with my family confirmed that she really wanted to be with me.
I don't recall exactly when or what changed, but over the next few days I completely changed my tune. I realized I felt safe, secure, and completely sure that being with this incredible woman was exactly what I wanted. The organic development of our union was a whirlwind courtship. When we are together, nothing else in the world matters.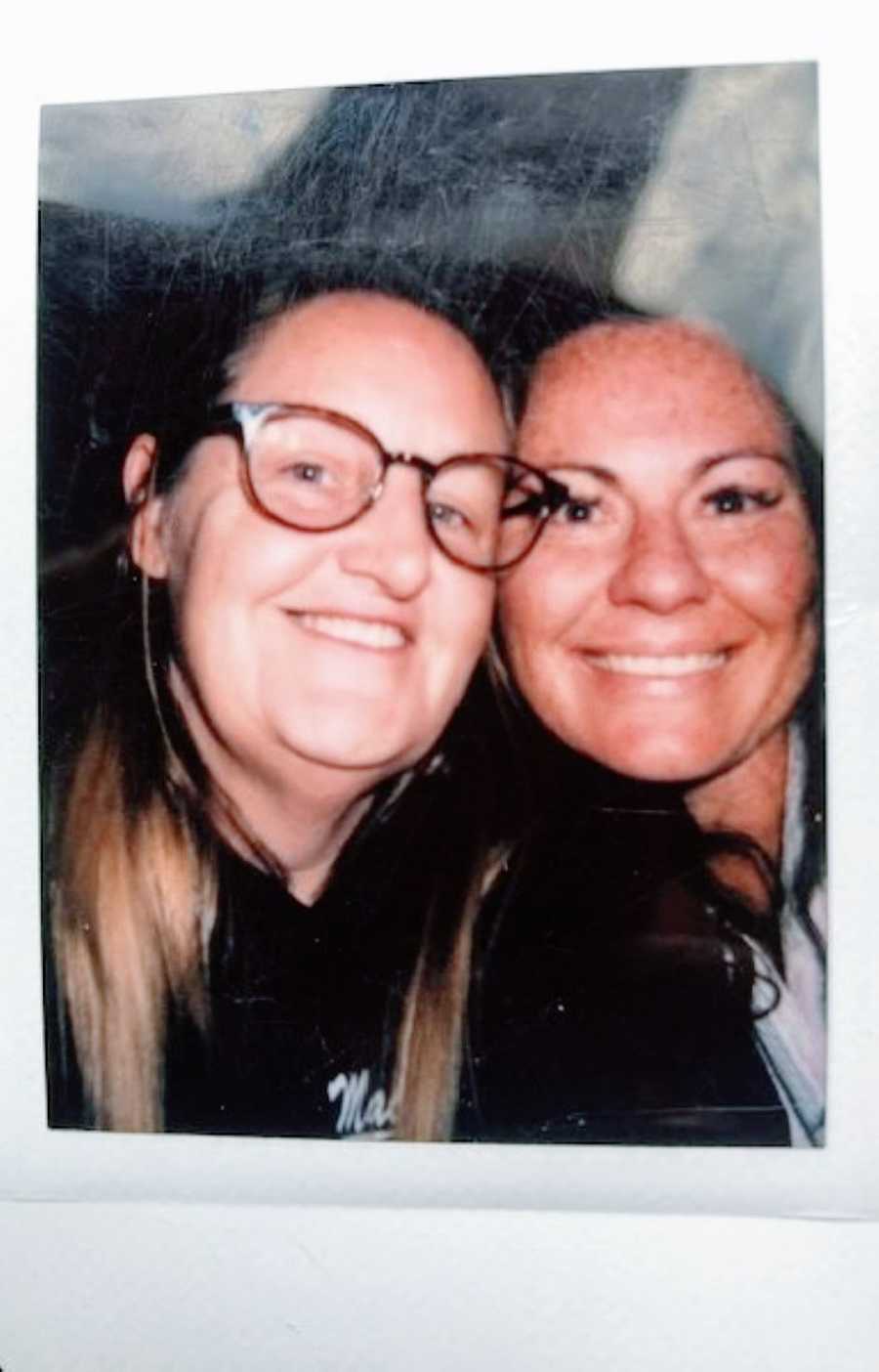 We spent the next three weeks talking about absolutely everything that came to mind and then some. One morning after a romantic hand-in-hand long beach walk, we rested upon a mound of sand in front of our hotel. Michelle sat behind me, hugged me, and proposed marriage. As I accepted, Michelle placed a gorgeous halo diamond ring on my index finger because she couldn't see past my frizzy hair! We laughed and hugged then wandered back to our room to FaceTime our nearest and dearest; all who were over the moon!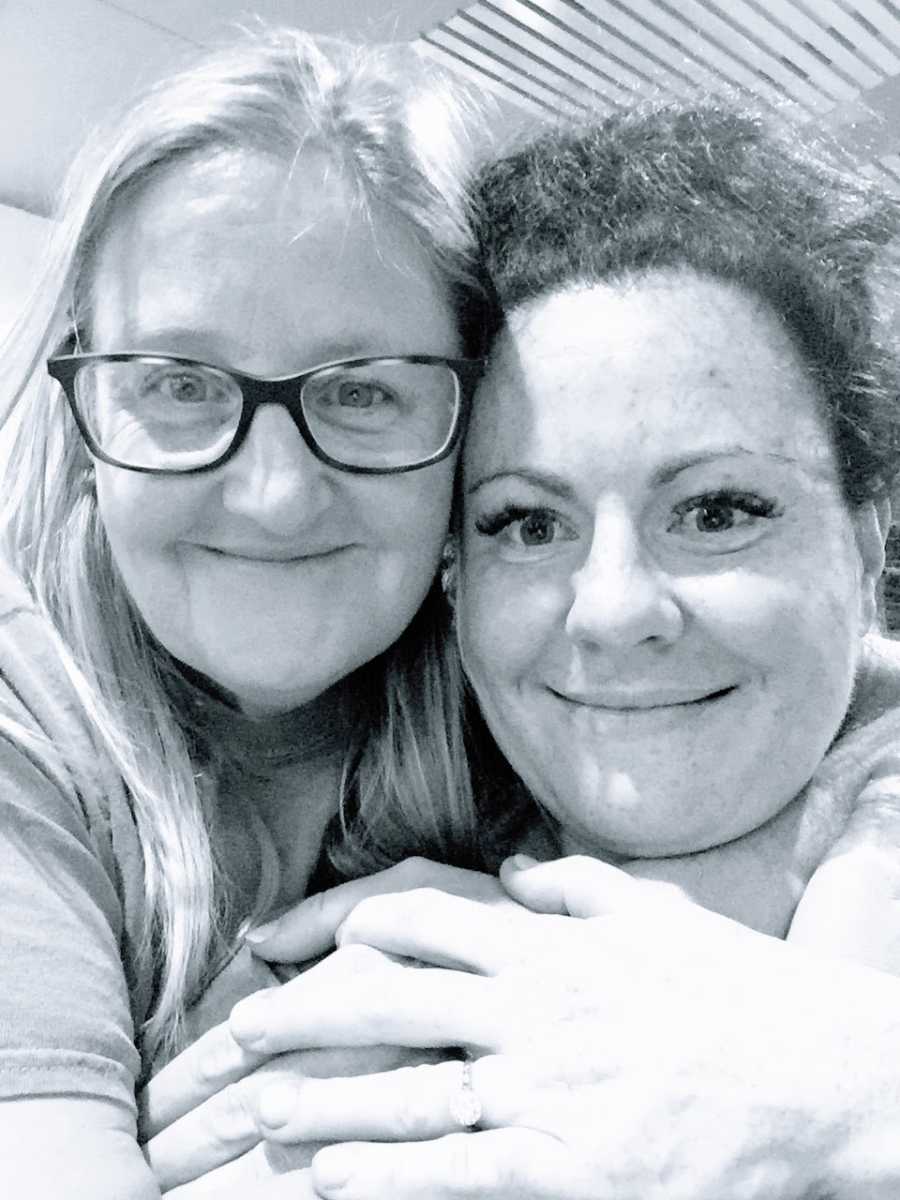 Three months later, on December 20, 2020, Michelle and I were married on the beach about a mile from our home. The weather was perfect! The pandemic meant we had to keep it small, so only my immediate family were present. My brothers took turns holding the live camera for all of Michelle's friends and family back home in Seattle. As a surprise, Michelle had pre-arranged for my three brothers to read our favorite poem during the ceremony. I was incredibly touched.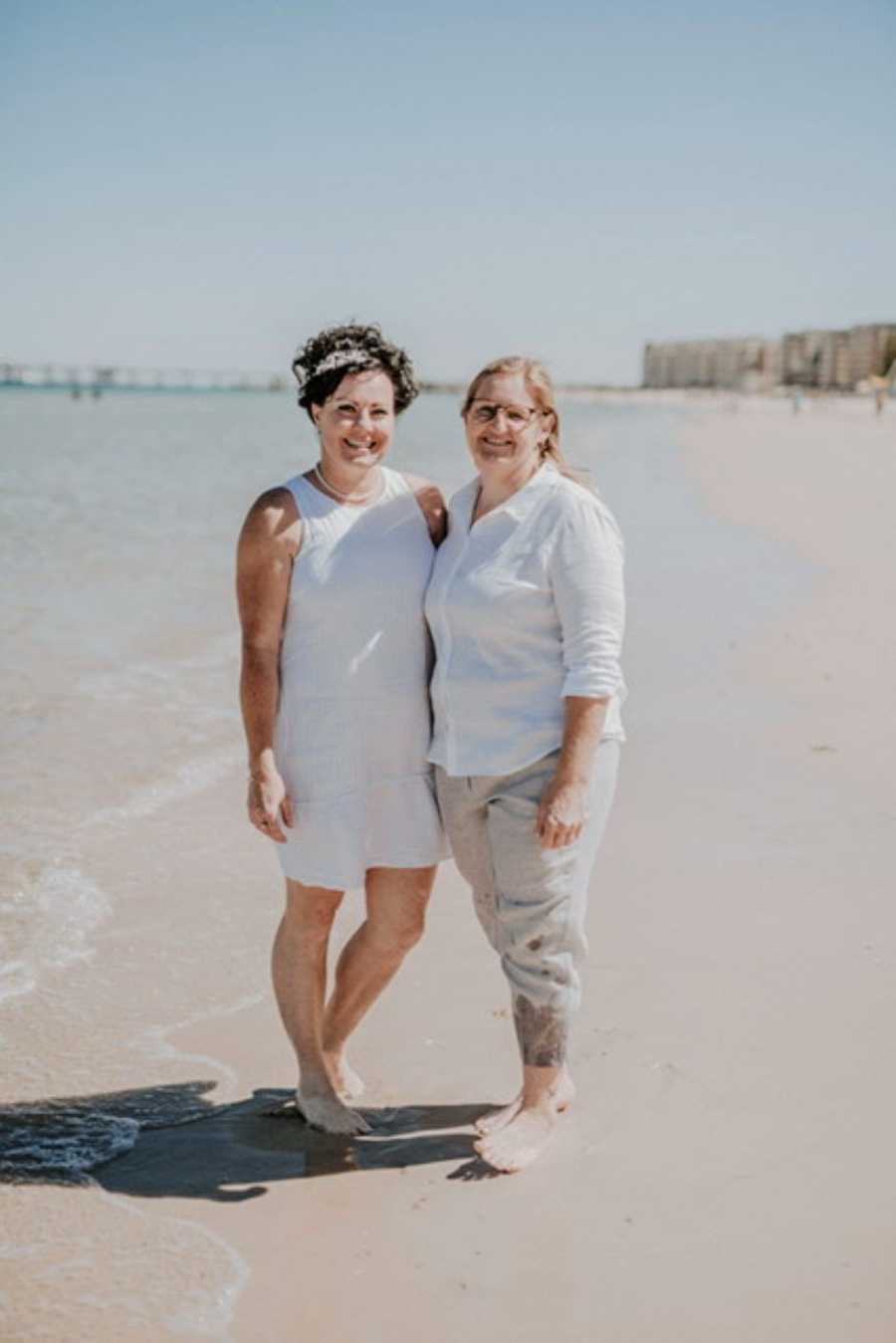 We enjoy going out of our way to show one another how much we care about our relationship. However, nerves caught up with me and I accidentally said my own middle name during Michelle's vows! It was a typically humorous moment. After the 'I do's,' celebrations, tears, and pictures, as new wives we split open the gorgeous and delicious cake our sister-in-law had made. Our wedding party then headed to Magill Penfolds estate, where we thoroughly enjoyed a 9-course degustation with matching wines. Staff didn't even know it was a wedding. Everything about the celebration had been simple, sophisticated, and sharp. As new brides, we were in bed by 7:30 p.m. and quickly fell asleep. It had been the best day of our lives.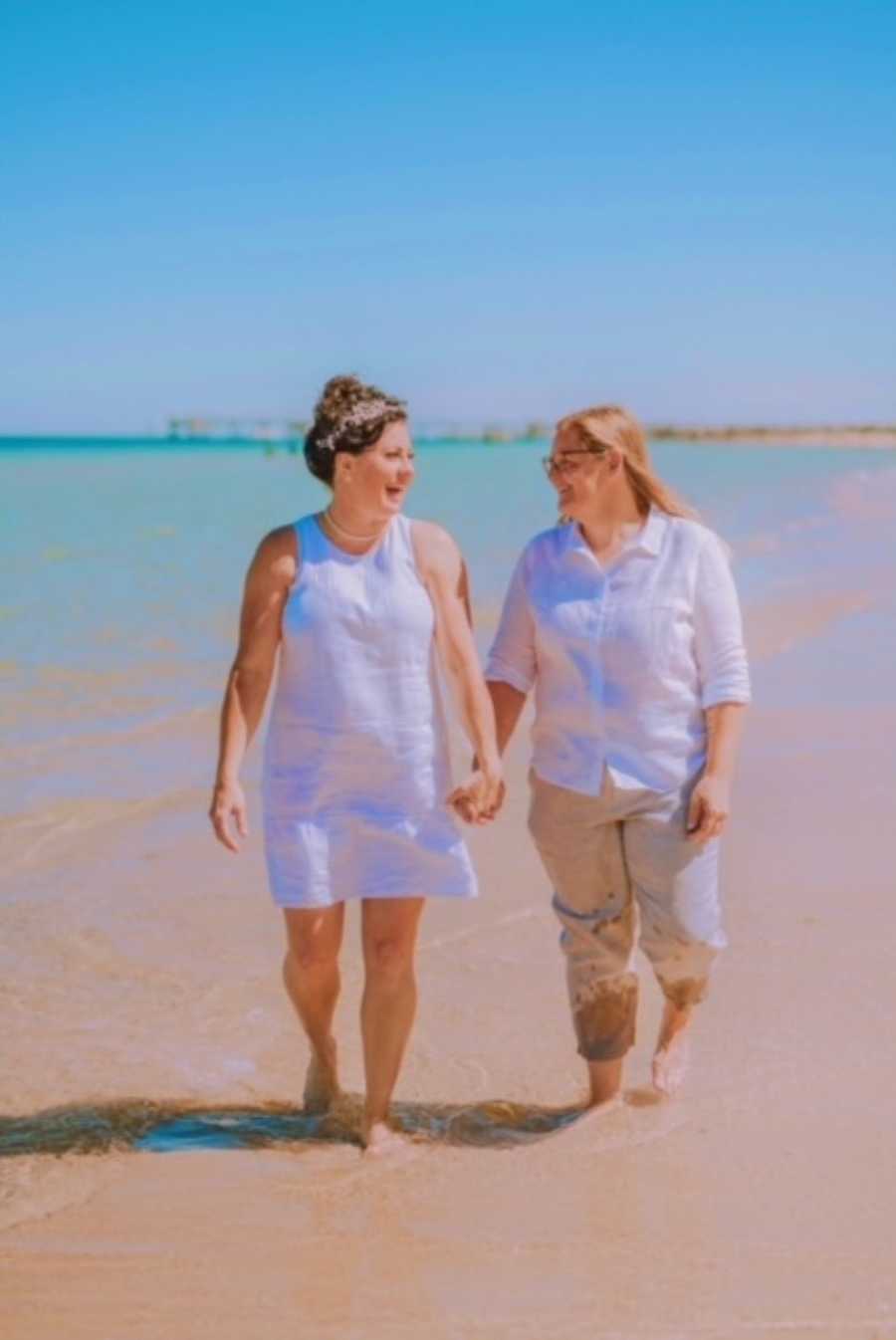 Our transnational union means we are going to spend our future lives between countries. We will always have two homes. This doesn't phase us. Actually more accurately, it excites us. We are both easy going, resilient, and adaptable… three qualities that are rare for one person, let alone a couple. We are one another's favorite person. We are best friends. We hold the highest respect and confidence in each other. Our families adore the new member, even though I have only met my new in-laws via Zoom.
Currently, I am attending summer camp in New York for three months. This means we will be separated for our six-month anniversary, but Michelle assures me it's okay because we have the rest of our lives together. I am a sensitive empath and Michelle is an empath introvert, so we understand one another's emotional needs and work hard to fill up one another's tanks. We share the same love language, which is physical touch, so it's easy to build on our connection this way. Except when we are 10, 627 miles apart. Fortunately when we attend to the other, it also fulfills ourselves! Michelle likes one to two points of contact during sleep, whereas I would prefer complete entanglement. We compromise and somehow I always wake up on Michelle's side.
We will remain flexible and openminded in regards to our future living arrangements as we have to wait patiently for the spouse visa acceptance for me to live and work in the United States. We are aware there will be periods of severance and have mentally prepared ourselves. Without speaking about it, we both just know no matter what happens and no matter where we are in the world, our hearts are always together. It's funny because you grow up hearing clichés like, 'When you know, you know' and Michelle and I have both spoken about how we have immense self-awareness and assurance in what we know. When we figured out we wanted to be together, there was no holding back. When a colleague asked why the rush in getting married after three months, I answered, 'Well we know now, we will know in 5, 10, 20 years that we want to be together forever, so why wait!'
From the first meeting we have had translation hiccups and our accents have brought many laughs to the relationship. I was raised by British parents and Michelle says I'm not a typical Aussie. She grew up in California and has that soft lilt of the US west coast. This means we are dealing with three cultures, etiquettes, jokes, and slang! It is certainly entertaining. We joked about hiring a translator, but both agreed we couldn't handle a third person in our relationship. My favorite saying from Michelle is when she refers to someone as, 'What's his butt!'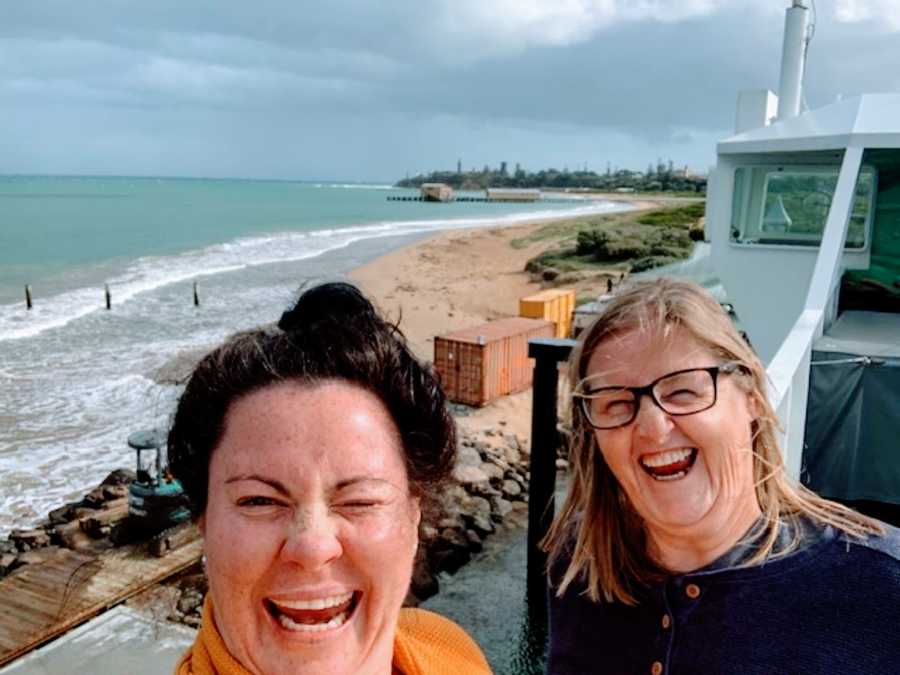 Our friends like to tell us I am the 'ying' to Michelle's 'yang' as she is quiet and calm while I am loud and energetic. We balance one another out. We laugh together every single day, we are always joking and being silly. We have already developed our own language where we grunt at one another but know what it means. Who knows why. Maybe we can't be bothered using words sometimes. We can sit in silence or we can talk endlessly, yet either way, we are deliriously happy to simply be.
We recently enjoyed a kayaking trip with friends and the instructor warned it was a test on the most solid relationships. We laughed. He said, 'You need to talk and coordinate.' We didn't utter a word to one another, but somehow managed to nail the whole thing from the first paddle. I was engrossed in the other couples arguing and couldn't believe that things just seemed to work themselves out with us.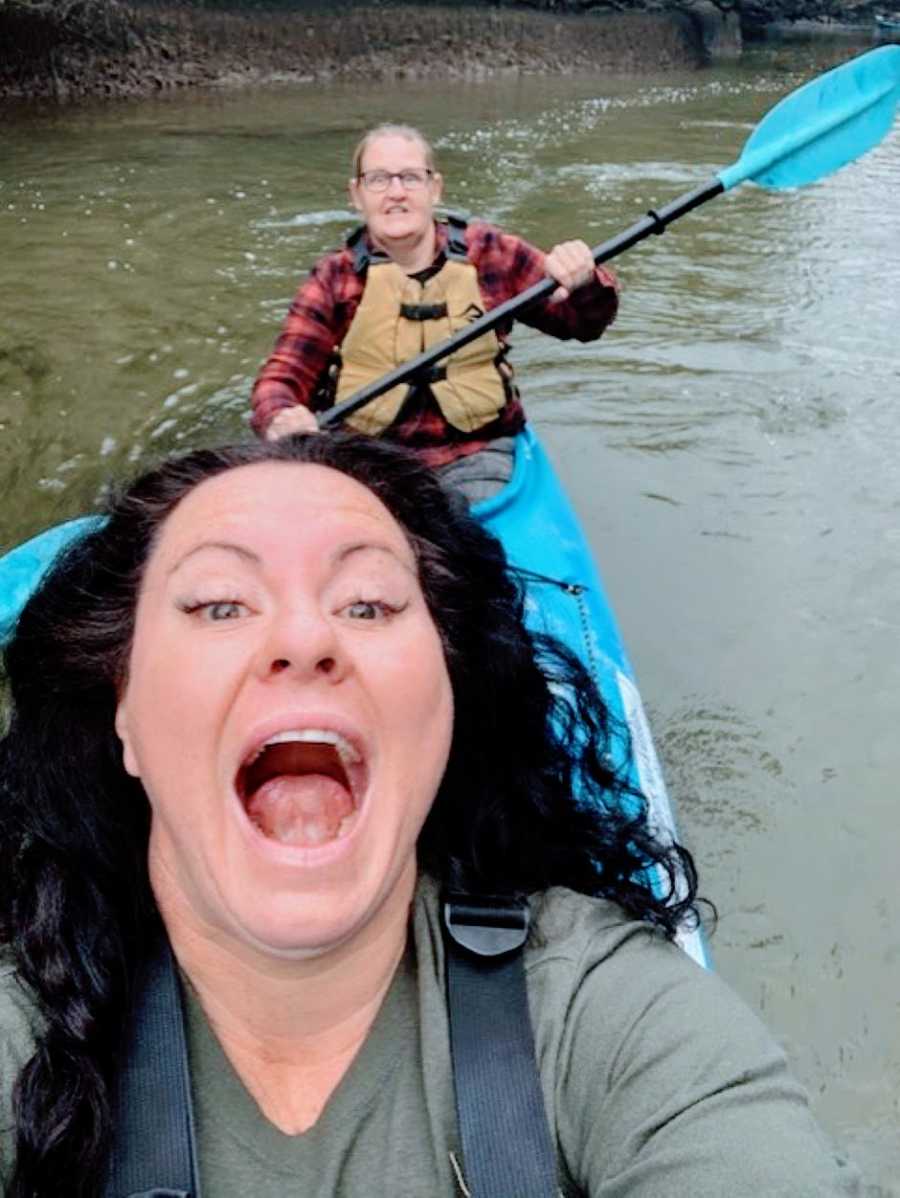 Our favorite pastime as a couple is to be at home, share a bath, watch a movie or Friends, which we started from the beginning as neither of us had watched the entire series. We like to chat on the couch or while I craft, Michelle plays video games. We both love to read. We plan on buying a huge couch we can both lie down on!
What I think is important and valuable for people to know about our story is we are actually polar opposites. Michelle is a self-confessed couch potato and I am an adrenaline junkie. I am outgoing, Michelle is reserved. I am ditzy, yet wise, and Michelle is academic and emotionally intelligent. Michelle is intentional while I am impulsive. I dress femininely, Michelle prefers masculine attire. Michelle is always cold, I am always hot. She is blonde with blue eyes, I have black hair and green eyes. Yet it's the similarities that bring us together. We are both worldly and nonjudgmental. Passionate and hilarious. Selfless and carefree. Independent and family oriented. We love children and hope to have our own someday. We  love camping and cider… and menthol cigarettes. Which we quit just last week. Well, one of us kept our promise.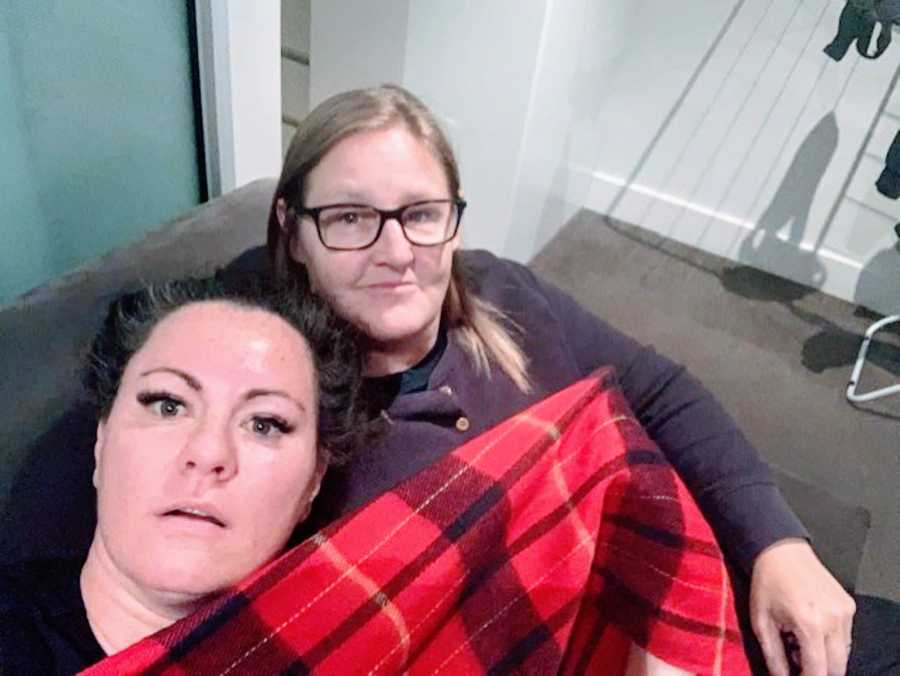 It doesn't matter how different or how similar a couple are; it's what works for you both that will see you through in the end. Just the other day I asked my eldest brother, 'Are you worried for my marriage when the honeymoon period wears off?' And he replied without hesitation, 'Quite the opposite. I know whatever happens with you and Michelle, you will work through it together.' Michelle and I agree we couldn't have said it better. I think we live in a society where people feel the need to follow rules and norms and keep up appearances. But Michelle and I don't compare ourselves to anyone else or their relationships, we march to the beat of our own drum, we know what's right for ourselves and one another… and when we don't, we ask.
We discuss what we want and need. We are both great communicators, but more importantly, we are good at expressing that we understand what the other is trying to convey. Comprehension is vital. We are on the same page most of the time and when we are not, we are hysterically amused while trying to get there. We hold space for one another when it's required. We attend our own hobbies and see our own friends. We cried together when we said our first goodbye. We walked around on each other's feet like children on our first night in our own joint hotel room. And we popped champagne off the balcony and lost the cork on our last.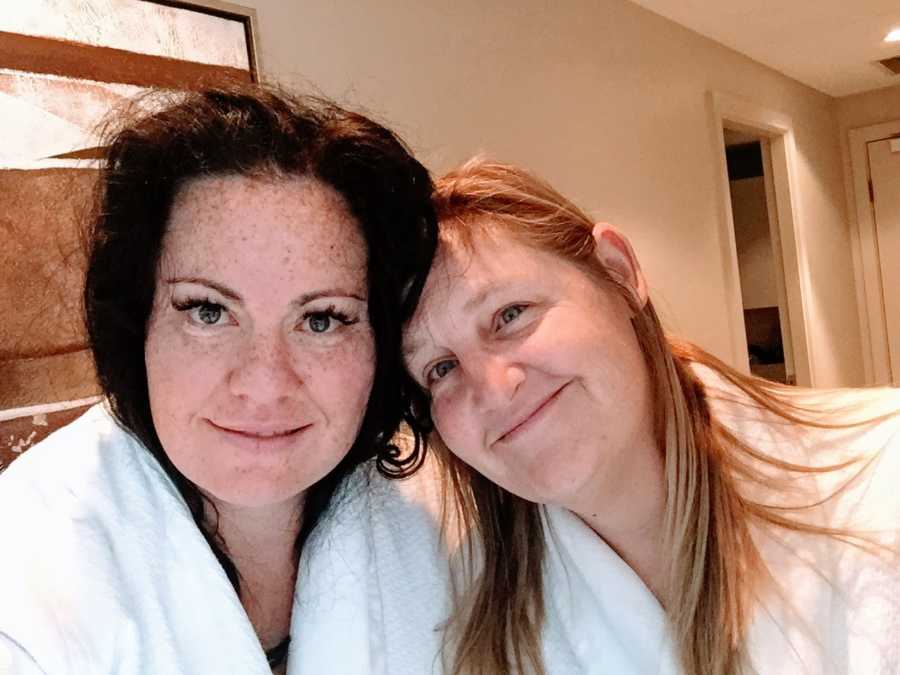 Ultimately, our joint life value, goal, and vision is to travel the world on a sailboat. The backup plan is to retire on a cruise ship. But we know there's no place like home. Together. As wife and wife. Until death do us part.
The intriguing point of this tale remains that this journey we call life is simply made up of decisions. One small choice can change the course of your entire existence. That night I met my soulmate, the world's greatest human and the love of my life. Although we truly believe fate brought us together, we also manifested our joining. Uncanny events connected us. Now we are authentically content, centered, harmonious, and solid."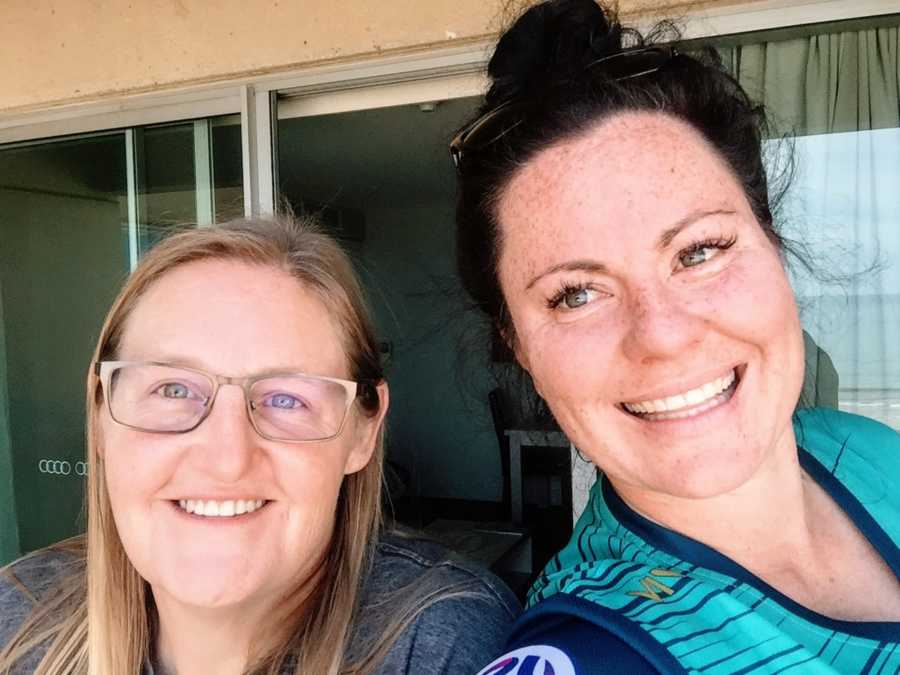 This story was submitted to Love What Matters by Rebecca Baker of Ancramdale, NY. Submit your own story here, and be sure to subscribe to our free email newsletter for our best stories, and YouTube for our best videos.
Read more stories like this here:
'She's so beautiful.' 'Yeah, RIGHT. She's Christian! You don't have a chance.': LGBTQ couple thrives despite hate, claim 'love is so much stronger than words'
'We hid under the guise of 'best friends.' Suspicious, my roommates logged onto my Facebook. They exposed our romantic messages to mutual friends and strangers.': LGBTQ+ woman details brave 'coming out' journey
'Why did you waste so much money making a family when you could just get pregnant the REGULAR way?': Woman candidly shares the struggles of being an LGBT mom
SHARE this story on Facebook and Instagram to help celebrate unique and beautiful differences!