"She wasn't feeling good that Friday; her stomach was bothering her. She had just finished eating a big plate of Thanksgiving leftovers. We had two friends over to celebrate the holiday the day before and the folding table was still up and the dishes were still dirty in the sink. Five minutes later, it started. The ambulance came and took her away. I was left feeling helpless in our living room with our two dogs whining in their crates. 
But let's rewind.
Emily and I met in early 2019 where most people meet these days: a dating app. Neither of us were looking for a relationship and yet, our first date ended up lasting 60 hours. Once we met at the brewery for our date, I knew she was special. I knew she was going to hold a place in my heart that no one had ever held. She said she knew she would do anything to be close to me and to have me in her life. I had never understood a relationship could be that way. We're lucky. We spent our first months of dating going to SO many concerts, soccer games, breweries, dog parks, and more.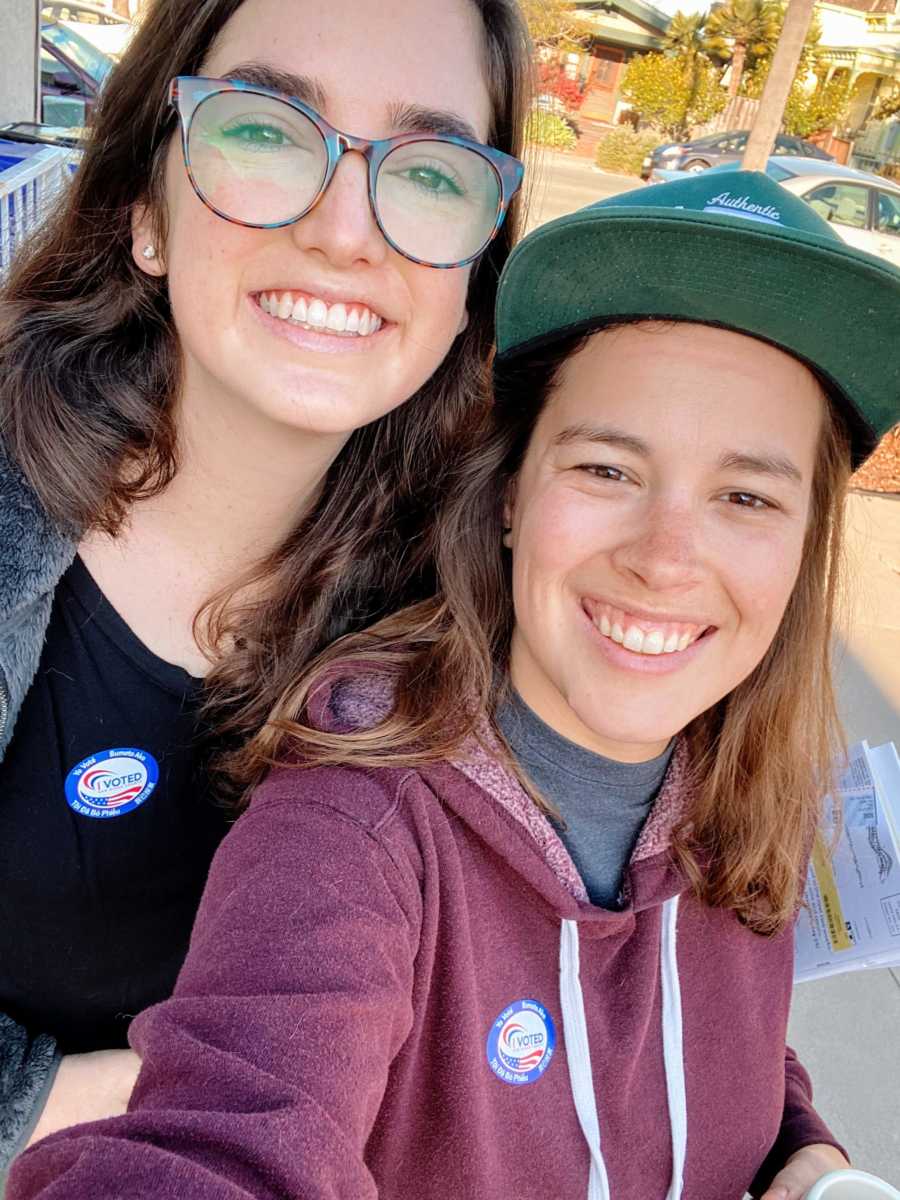 From the first date, I knew I wanted to be with Emily for the rest of my life. She encouraged me to be the person I had always wanted to be. This isn't to say that we don't have our issues, but we support each other wholly and have even gone to therapy to make the big decisions in our life together. For example, we moved in together last October. We chose to have a third party analyze our relationship prior to moving in. We have both been through living situations that weren't successful and we wanted this to last. We moved into a tiny, perfect little house with our dog, Tonks, in San Diego. It's a cozy little place, and we are constantly together, something we both love. 
In December, I proposed to Emily with a wooden ring that has a gold inlay. She thought it was the most beautiful thing. I've written her a journal entry once a month since we started dating, and I proposed to her using that journal. I am not great with my words when I'm nervous. Anxiety, right? I proposed on December 8, 2019, in our tiny home, and to me, it was perfect. We were both over the moon to get married, and we set a date of August 9, 2020, in Asheville, North Carolina.
Fast forward a few months, and COVID-19 hit the United States. It was a scary time, but we were so grateful to have one another. We spent many nights playing video games, watching Harry Potter movies, and playing with Tonks. Emily had been hoping to get a puppy as soon as we moved into our little house, and in April, I finally gave in. We got Mac from a local rescue, and our family felt more complete than ever. There have been multiple times when she looked over at me and said, 'Thank you so much for getting me my little guy, baby.' She and Mac have an extremely cute bond, and I think getting a second dog was the best thing we could have done in 2020.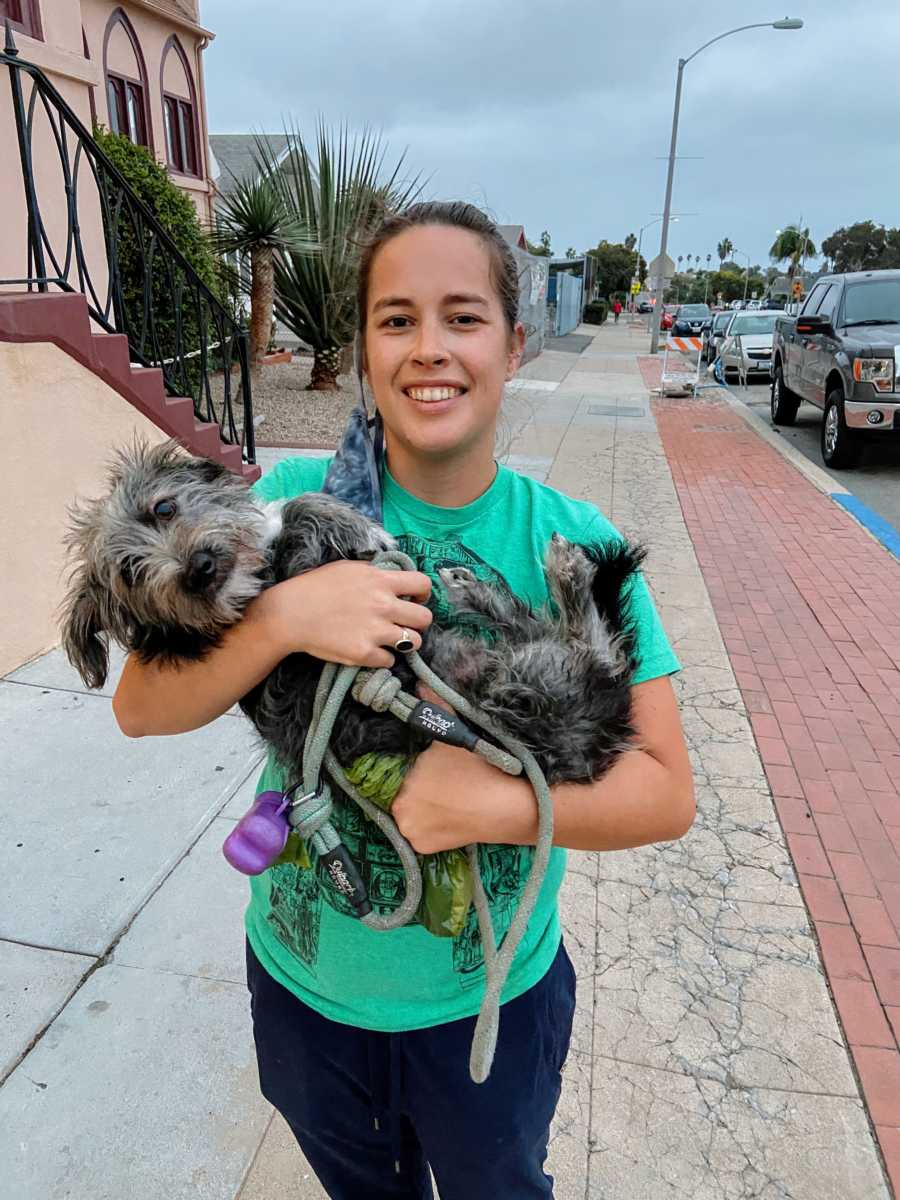 In June, my mom had brain surgery. She was diagnosed with an AV fistula in May. We already thought 2020 was bad, and this was the cherry on top of a disgusting sundae of a year, but boy were we wrong. My mom is doing very well, has excellent care, and has resumed her life as she had planned, and we are VERY grateful for that. In the meantime, we had to reschedule our original wedding date to May 2021. This hurt, but it was the best decision for the health and safety of our loved ones. The day that would have been our wedding, Emily made me a homemade brunch and we danced to our song in the living room, dogs underfoot. Two weeks before Halloween, we decided to elope in Joshua Tree. Something pulled us to get married in the year 2020, and I am so extremely grateful that we followed our gut. We invited four guests and got to planning.
Emily was so excited to pick out her outfit. She went to a thrift store and found a jacket that fit her perfectly. It was like destiny. She looked amazing. I'll never forget the day she had her whole outfit put together and she tried it on for me. The smile on her face was beautiful, truly. Thinking about how happy she looked at that moment brings me a flood of emotions now. I wish I could live in that moment. I also wish I could live in the moment of our wedding. Under the blue moon on October 31, 2020, Emily and I read our vows to one another. We shared funny memories and serious promises, and ended the night with her favorite ice cream. My girl LOVES ice cream. We danced to a Maggie Rogers song. Maggie is one of the last concerts we saw before things shut down. It was amazing. We sat in the very back row of the Greek Theatre and sang our hearts out. I couldn't have asked for a more beautiful wedding to a more beautiful woman, both inside and out.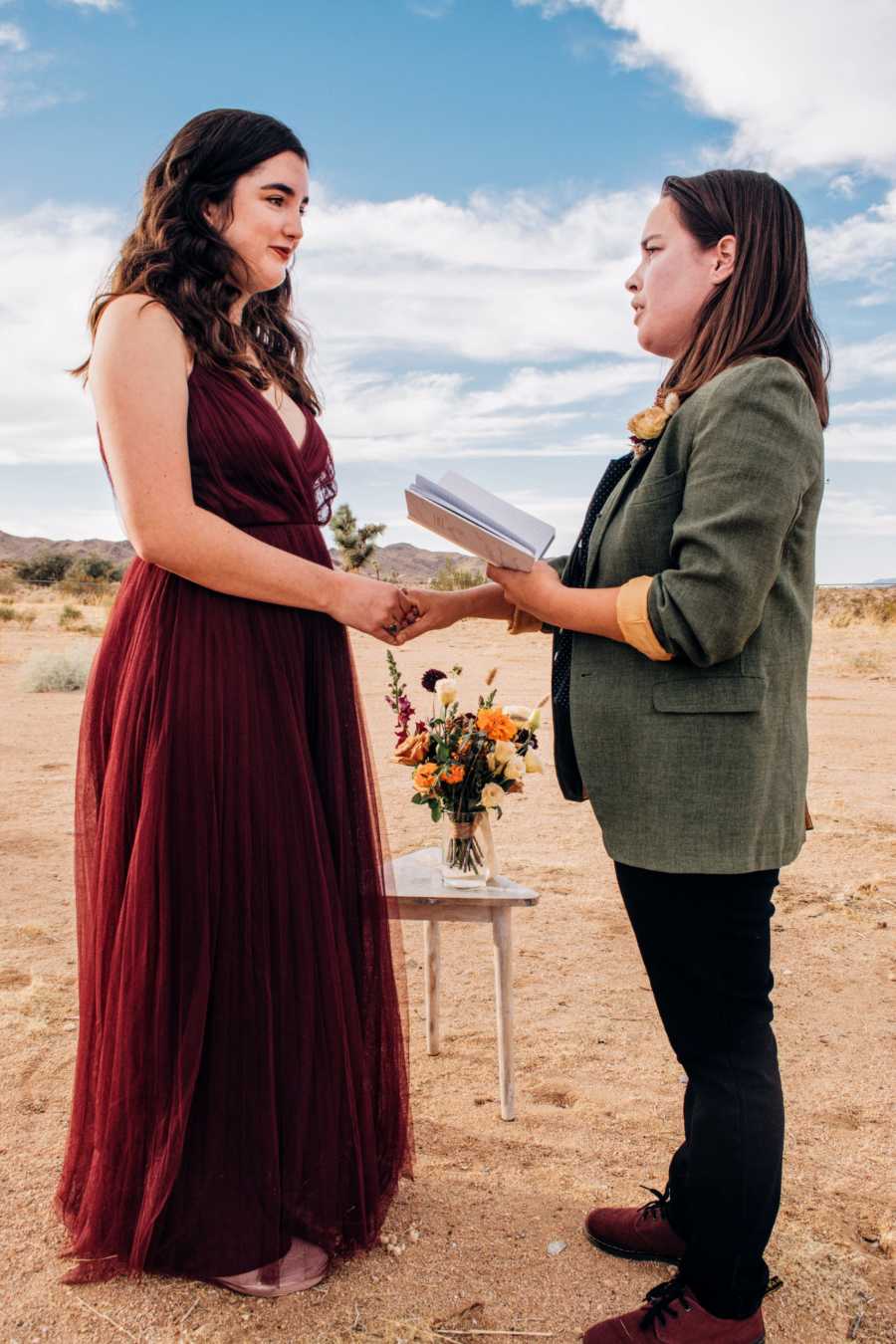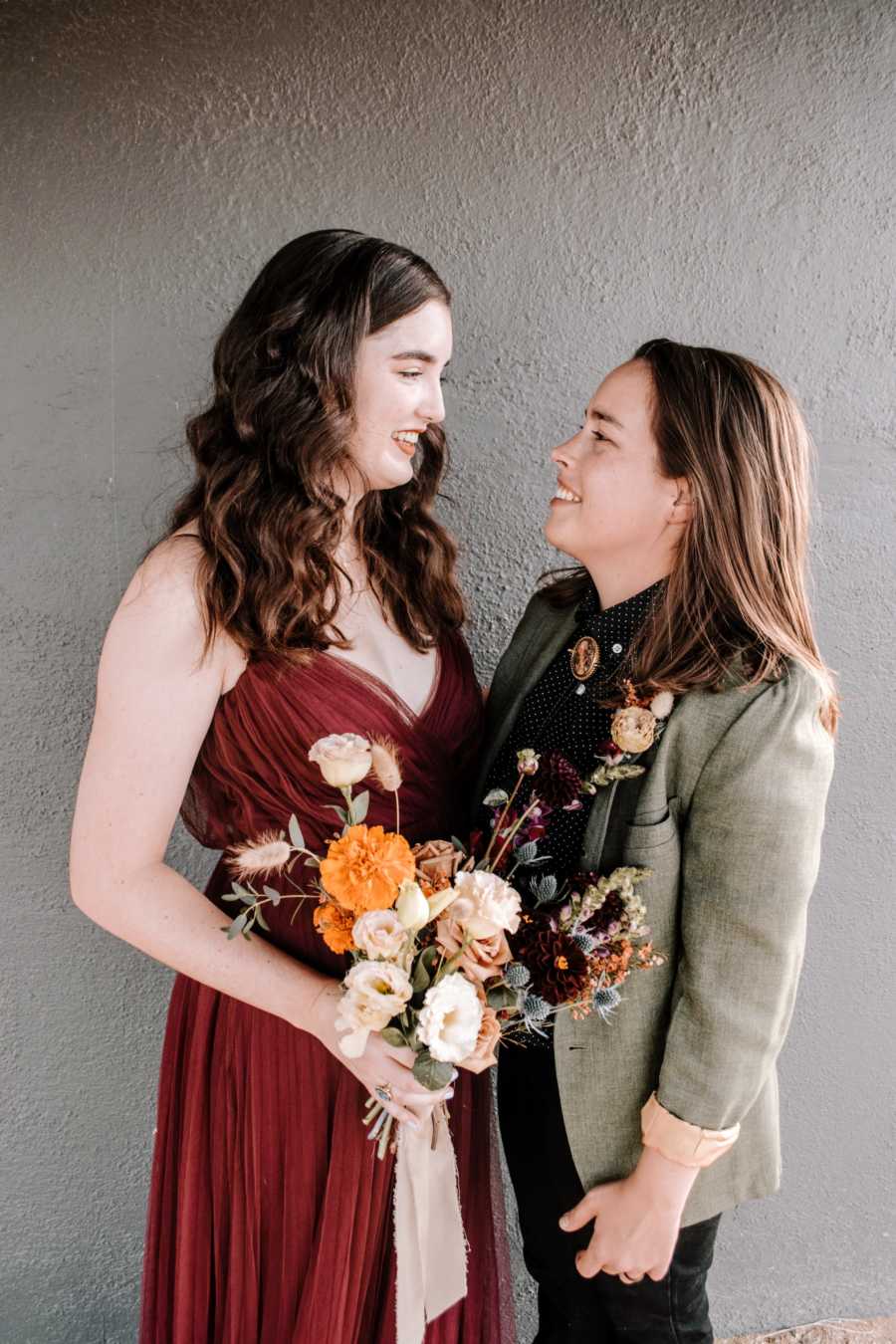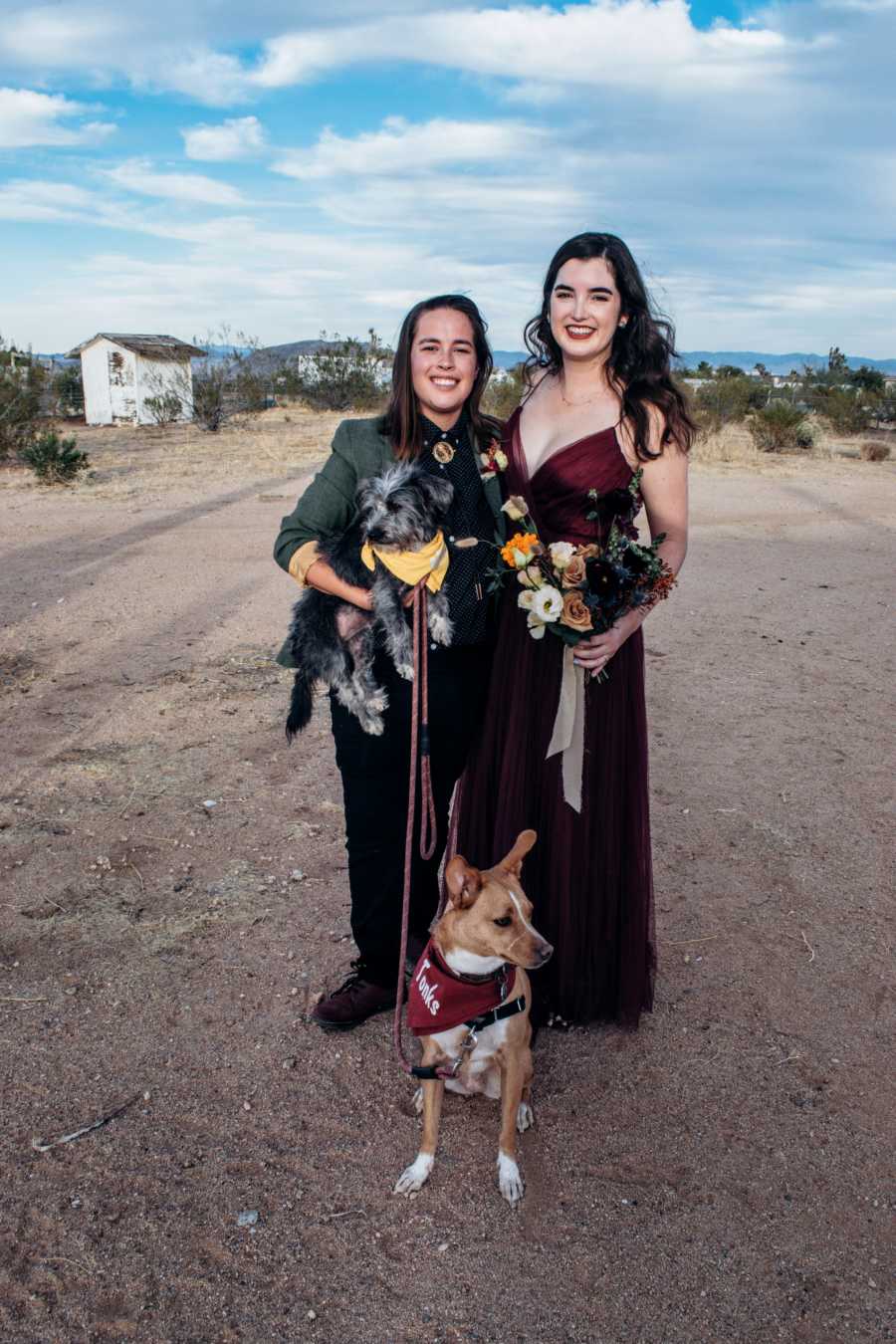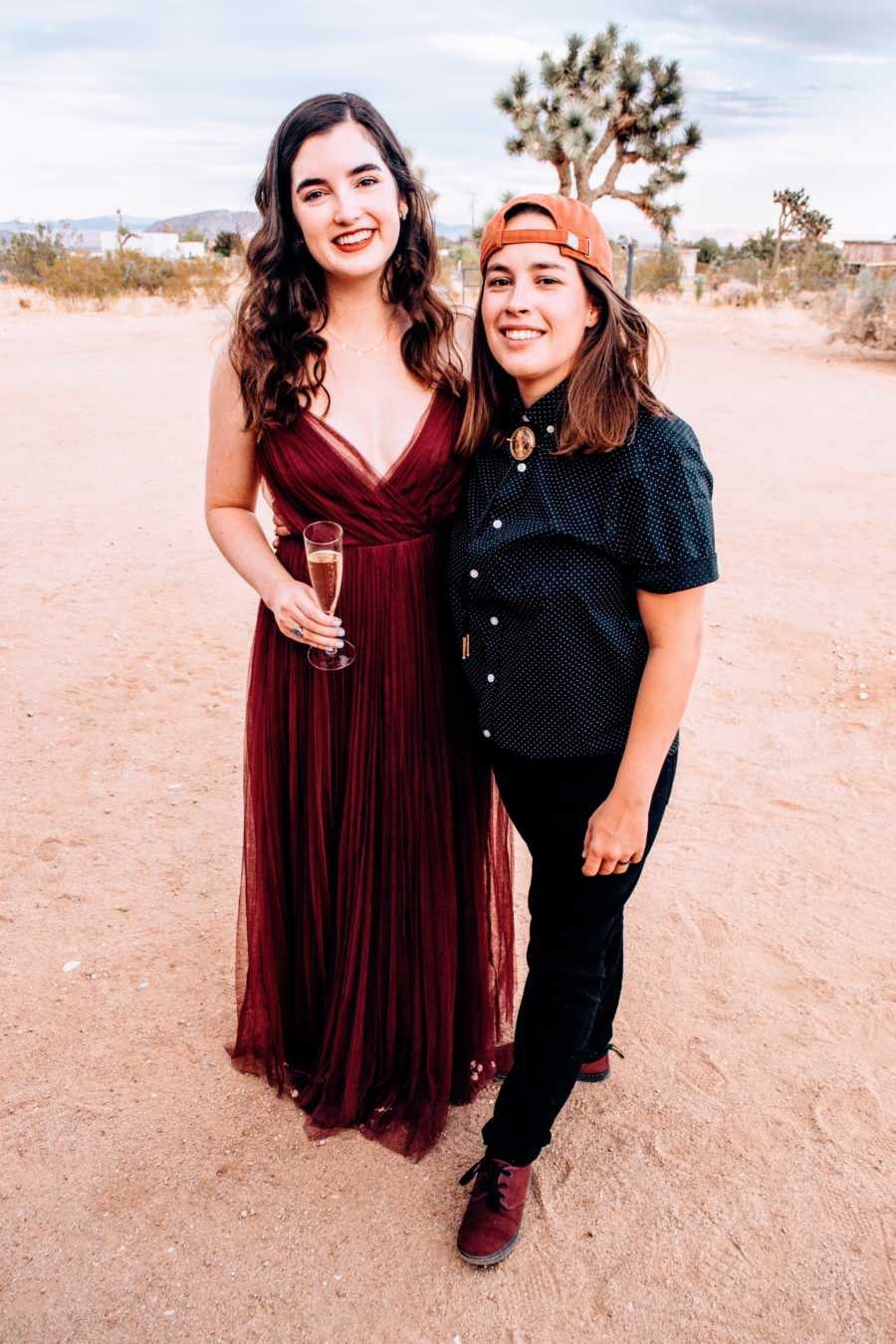 Less than four weeks after our wedding, Emily suffered a massive stroke in our home. She had an upset stomach that morning and felt nauseous, so I gave her some tums. Five minutes later, her words became jumbled…it sounded like she was speaking into a tin can in slow motion, and her face contorted into a shape I will never be able to forget. It is still a blur, but I remember screaming that I needed to call 911, and her telling me to calm down. That's my wife, the one having a stroke telling ME to breathe. 
She is stubborn and brave, and actually helped me get to the phone. When the ambulance came, the head paramedic let me know that she had likely had a stroke based on her initial symptoms, and I was devastated. Emily has never been sick. She has never had any health issues, and I couldn't believe what I was hearing. My family was immediately at my house and we rushed over to the hospital to see if I might be able to give her a kiss and tell her how much I love her. I don't remember a time where I have cried like that in my whole life. I love her more than anything, and this was the worst day of our life together thus far.
Emily had a craniotomy two and a half hours later. They removed a portion of her skull to remove the blood and clot that had burst and caused her stroke. She was diagnosed with MoyaMoya Disease, a rare disease that affects the amount of blood flowing to your brain through the thinning of your vessels. Upon further inspection through an angiogram, she had 0% of her blood flowing through her Carotid artery for an undetermined amount of time, and the pressure became too much for her tiny, thin veins that were trying so hard to keep up. 
She has been in the ICU since Friday, November 27, so this is very new, but I am learning everything I can as we go. I haven't been able to see Emily since that Friday, but we zoom three times a day. She can't speak to me and is very lethargic, but she has finally reached a point where she can hear me when I read her messages from our loved ones every day. My favorite is when she is more awake, and she wiggles and squirms when I read her something funny, or tell her that I love her. This is going to be a long road, but every day I feel more prepared to conquer this life with her. Emily is my soulmate, the one who brings me the most joy, and I don't want to do this without her.
I don't know what the future holds, but I do know that our family, friends, and I are all working hard to send our girl the energy she needs to heal. She is a warrior, and this world is so much better with her in it. Getting to call Emily my wife and my best friend is a gift, and it is one that I will never take for granted ever again. For anyone that has experienced a stroke or is a caregiver to their loved one, thank you for welcoming us into this club that no one signs up for. The support we have received is undeniable, and I look forward to sharing Emily's next win with each and every one of you.
We have hope, and with hope, anything is possible."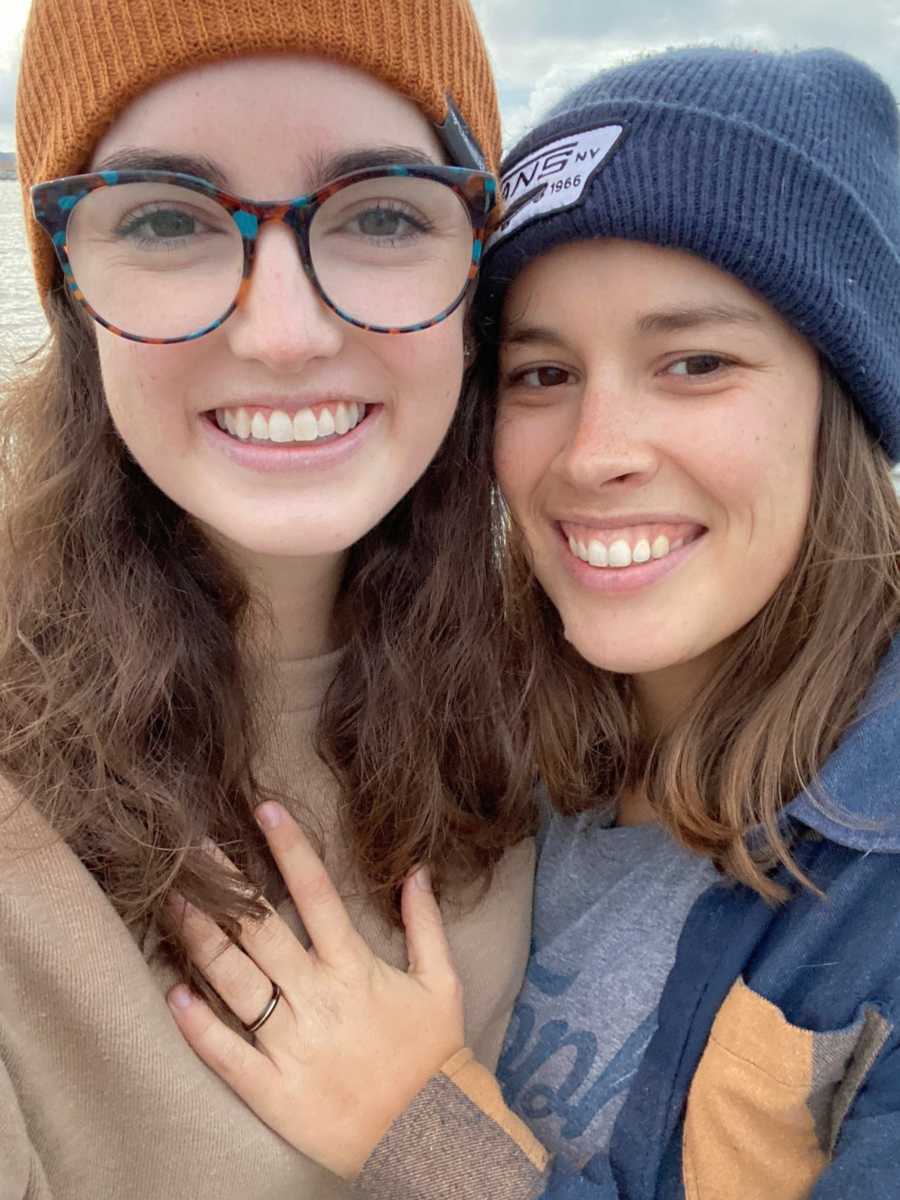 This story was submitted to Love What Matters by Morgan Rose of San Diego. You can support their GoFundMe. Submit your own story here. Be sure to subscribe to our free email newsletter for our best stories, and YouTube for our best videos.
Read more stories like this:
'My boyfriend didn't sign up for a sick girl. 'I'd rather die than have a poop bag attached to me.': Woman with ulcerative colitis learns to 'love herself' despite invisible illness
'Is it cancer?' I had to tell my son, 'I don't know.' There's no treatment. We were told go home and live life.': Twin brother suffers 2 brainstem strokes caused by a cavernous angioma, mom says it's made her children 'kinder, better'
Please SHARE this story on Facebook with friends and family.