Working the nightshift can feel very lonely, but it's a necessity for many people who work in health care.
Danielle Herby is one of those heroes who spends her nights caring for pediatric patients at HealthPark Medical Center in Fort Myers, Florida.
One night, while all of the hospital was quiet, Danielle took her break around 3:30 in the morning. As she walked past the hospital's atrium, she heard the unmistakable sound of someone playing the communal piano.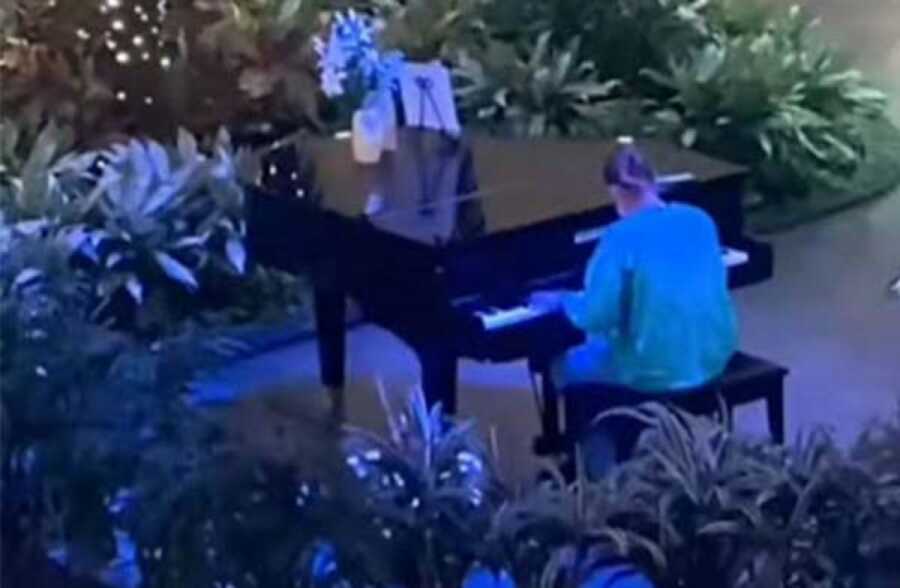 The man, dressed in hospital scrubs and a face mask, was not just playing "Chopsticks." No, Shawn Foley (mistakenly referred to as a woman in the video) was playing the most beautiful melody you can imagine, all from memory with no sheet music. Recognizing that this was a magical moment, Danielle took out her cell phone and started recording a video for TikTok.
This story originally appeared on InspireMore. 
"I walk out to take my break and I hear music coming from the atrium," she wrote on TikTok. "I look down and I see my fellow health care worker playing this on her 30 at 3:33 A.M. I am BLESSED to be able to witness this and to have taken my break at the same time she did."
Danielle shared the video as a way of thanking her fellow health care workers for finding beauty in the midst of a pandemic. Other viewers shared those feelings when they saw her videos, and the clips quickly went viral on Reddit and TikTok.
Danielle has since shared several more videos of Shawn playing, and each one is more lovely than the last.
Check out this talented health care worker in the video above and thank a health care worker today!
This story originally appeared on InspireMore. Submit your own story  to Love What Matters here, and be sure to subscribe to our free email newsletter for our best stories, and YouTube for our best videos.
Read more stories here:
'We've looked for you for 12 years.': WWII veteran reunites with little girl who wrote him sweet letter in 3rd grade 
'When the toddler had a pee accident during bedtime rush, you didn't get frustrated. Instead you turned on weird music, and danced to make me laugh.': Woman pens love letter to husband, 'You are the light of our lives'
Physician Assistant's Spin On 'The Giving Tree' Classic Perfectly Depicts Healthcare Worker's Frustrations During Covid-19 Pandemic 
I Got Chronically Ill At 19, And All My Friends Abandoned Me
Spread beauty and strength for others. SHARE this story on Facebook with family and friends.