"The linoleum floor was stained and cold under our feet as we walked to a round table in the middle of a Kindergarten classroom. A fluorescent lightbulb flickered overhead and I could hear murmured voices making strained small talk. We all sat down. An administrator shifted in his seat and cleared his throat, 'Let's get this meeting started.'
Our team was in the sixth IEP meeting of the day, where I was learning about MY future students' disabilities or required special education plans for our upcoming year of Kindergarten together. Each meeting started with tension that could be cut with a knife, sweaty palms, and sterile pens. It took all my efforts in these formal meetings not to scream, 'I will love your babies like my own and do anything I can to fight for them.'
A single dad sat across from me, not making eye contact. He had worn his best tie for our meeting. I could see his hands were worn, aged, and raw from all the overtime work he was putting into his manual labor job. His hand was shaking as he pushed a picture of his only son across the table to me as if he was handing over his heart. His name was Ethan, which means 'strength.' He had full custody of Ethan after endless legal battles. I was staring into the beautiful eyes of this sweet boy who had only been on this earth for 5 years.
'Ethan's mother drank heavily during the last few months of her pregnancy. She smoked and lived on the streets. She went into preterm labor, and Ethan was born at 34 weeks old,' his dad announced with all the strength he had. Ethan came earthside alcohol and drug-addicted, a premie. He was malnourished, a mere 4 pounds. Ethan's doctor told his father not to hold him too much because if Ethan became very comfortable, he would want to fall asleep and die in his arms. The silver lining? His dad was a fighter for his little baby, and now I was too.
As a teacher, you see all different styles of parenting. You see the families who send their children to school with heart-shaped healthy snacks, handwritten notes with kisses. Ethan came to school each day with the same, gold wrapping Haribo Gold bears (gummy bears). I would always keep extra granola bars for him, but he would only eat his gummy bears as if taking a 'gift' from me would force him to acknowledge someone cared for him. Ethan's dad worked a lot, so Ethan was on his own with his elderly grandma at night. He escaped the world through books. Because he had developmental delays, reading didn't come easy, but he viewed books with such curiosity and enjoyment as if each small black and white book was a treasured gift. Ethan's happy place was sitting on his air mattress at night, rereading the books I sent home.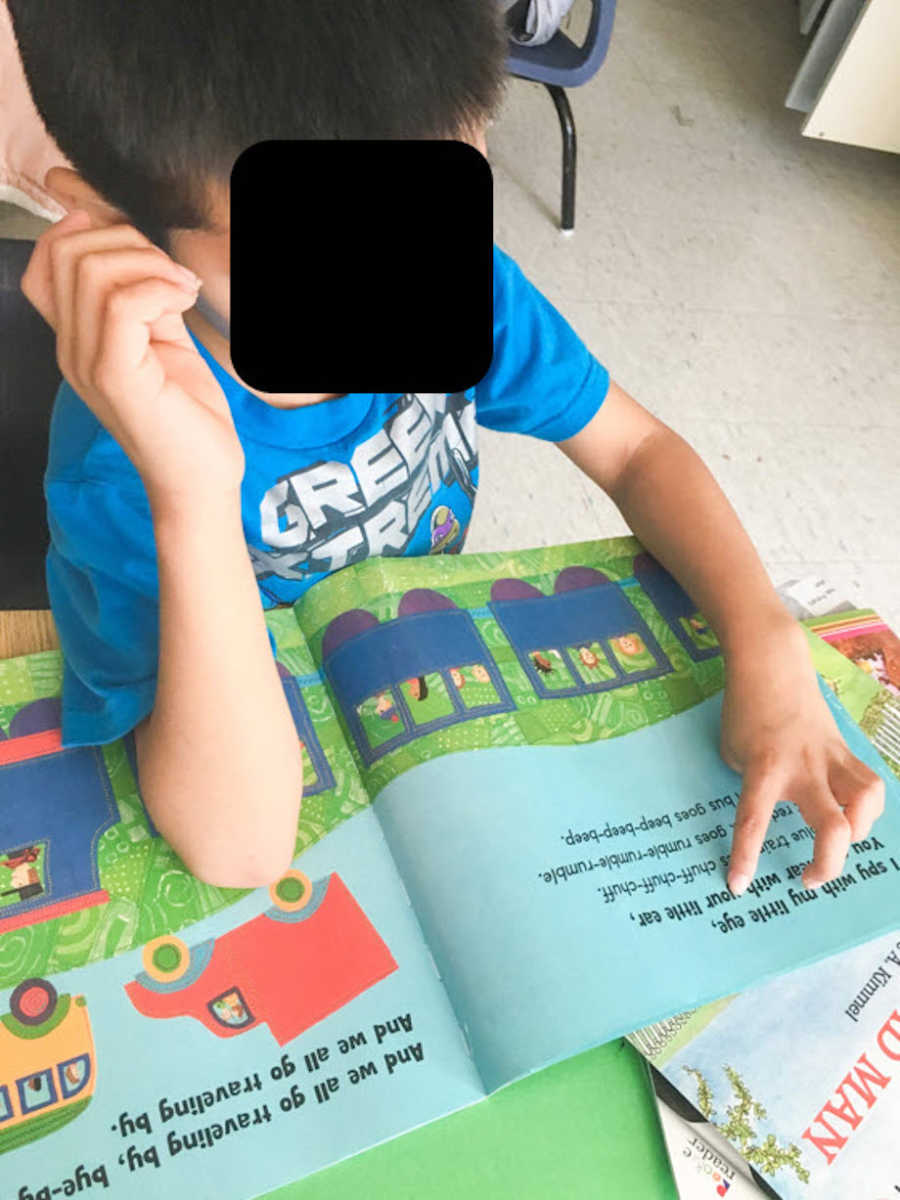 It was a dreary winter morning, and our classroom was filled with the hustle and bustle of morning Kindergarten routines. Families frantically hanging up backpacks, murmurs of, 'Be good, have a good day,' smells of coffee and syrup. Many bright-eyed little faces running up to me, 'Mrs. Russell, want to know what I did yesterday?'
I was doing what I did every morning, checking in book bags each student took home daily to read. Ethan sombered into the classroom, his head hung low, his pajamas still on from the night before. He stood in line to check in his book bag, watching me carefully, as I took my black sharpie and made a checkmark next to each student's name. It was Ethan's turn, his eyes welled up with tears as he raised his head. He had forgotten his book bag, which meant he would not receive any more books that day.
I squeezed his hand, put a big checkmark next to his name without saying a word. I handed him a new book baggie. Ethan's eyes pierced mine, and the rest of the classroom noise faded away. He stared at me for a long time, his eyes conveying no one had ever given him grace and forgiveness like that before. He wiped away his tears and shuffled to put his books safely in his backpack.
As I was cleaning up for the day, all 28 students gone, I surveyed the classroom one last time. Something shiny was sitting on the corner of my desk. I curiously walked over, and found the following: A gold pack of gummy bears, and a sticky note that read, 'I love you.' I burst into tears.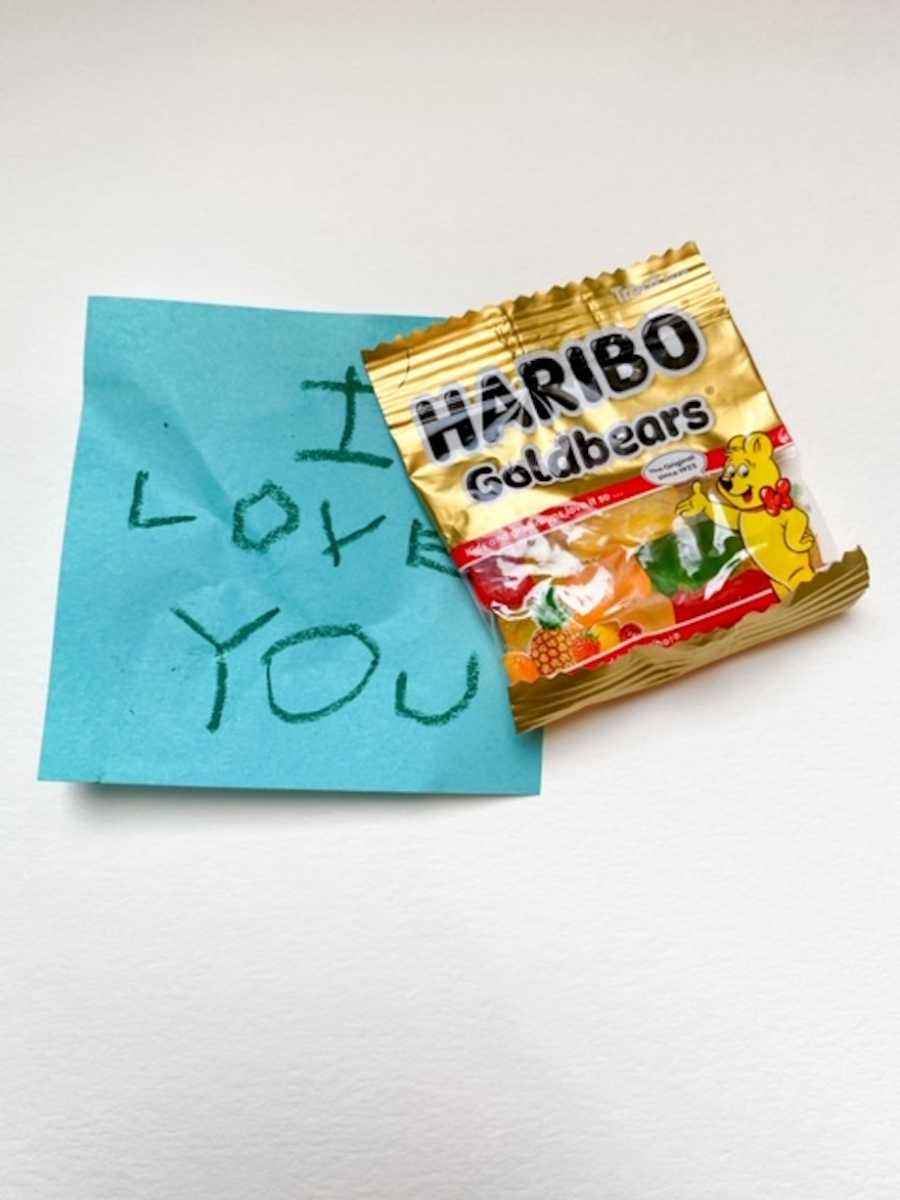 So often children feel as if our love is based on their performance or compliance. 'Good job! Yay for listening! You scored a goal!' If children make mistakes, they lose a piece of our love. When was the last time you were embarrassed or made a mistake? What made you feel better? When did we get the crazy idea that in order to make children learn 'lessons,' we have to make them feel worse first? Ethan taught me so many lessons that day. The power of empathy, equality, and that unconditional love meant having grace with one another, adults and children alike. And more importantly: gummy bears can be the greatest form of love."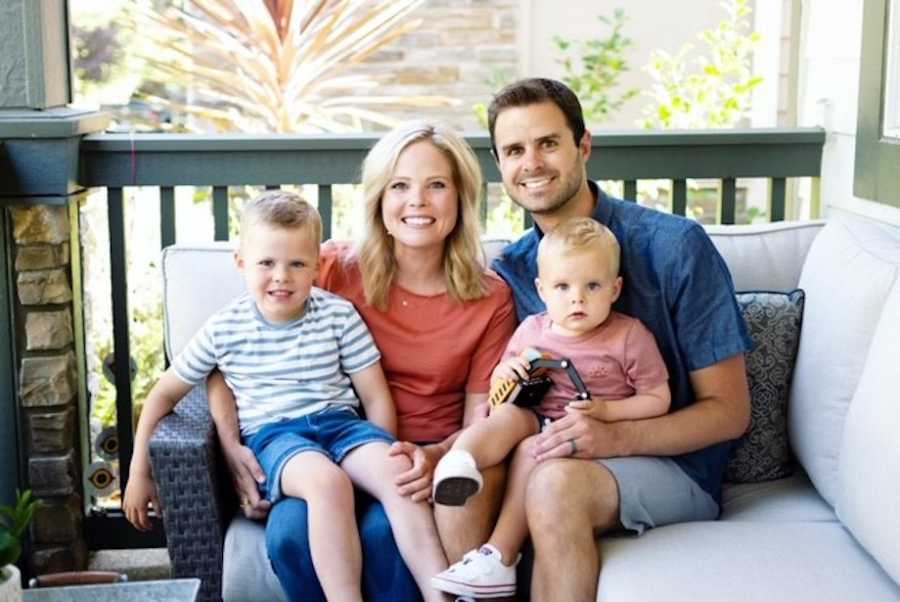 This story was submitted to Love What Matters by Kirsten Russell from Portland, Oregon. You can follow their journey on Instagram. Do you have a similar experience? We'd like to hear your important journey. Submit your own story here. Be sure to subscribe to our free email newsletter for our best stories, and YouTube for our best videos.
Read more stories like this:
'It's sitting one on one with a child. Making sure they know you care, they're heard, and they matter.': Teacher talks reality of teaching, 'if you think you know, think again'

'My job has been turned upside down, inside out, shredded, and handed back with the instruction 'make it work.': Teacher urges for 'compassion' amid reopenings, 'Work with us, not against us'
'If we send our kids to school, we're 'selfish.' If we keep them home, we're 'living in fear.' We're offered strong opinions from others not even in our position.': Mom urges 'there is no right decision'
Do you know someone who could benefit from reading this? SHARE this story on Facebook with family and friends.