"Let me share with y'all a massive mom fail I experienced tonight…
So, about a week ago, I noticed this toy for sale on Amazon. They're called 'Yellies' and the whole concept is that the louder you yell at it, the faster it goes.
Being the mother of a naturally loud and boisterous kid, I thought it would be the perfect Christmas present… well I couldn't wait for Christmas. So, I crack it open tonight, and get a good look at it. I test it out. I'm amazed at how powerful the little motor is… how fast the little legs move… how its creepy little eyes glow a lovely shade of radioactive green.
So, I call Leo in. He looks at it, cocks his little head to the side. And then, obviously, I yelled at it. The spider ran for it. Leo starts screaming… the louder he screams, the faster the spider pursued him!
He runs. And this is when we discovered the fun little feature in which the spider has a tendency to stop abruptly… pause for a couple seconds… spin in several erratic circles… and then turn towards wherever it senses sound… and take off in that direction. More screaming. Spider runs faster.
Leo is backed into a corner as murder glows green in the eyes of little 'Skadoodle.' So, in short, maybe a little electronic spider that's power source feeds off of screams of terror… is not the best Christmas gift for your small child. 10 years from now we'll be discussing this in therapy. 🤦🏻‍♀️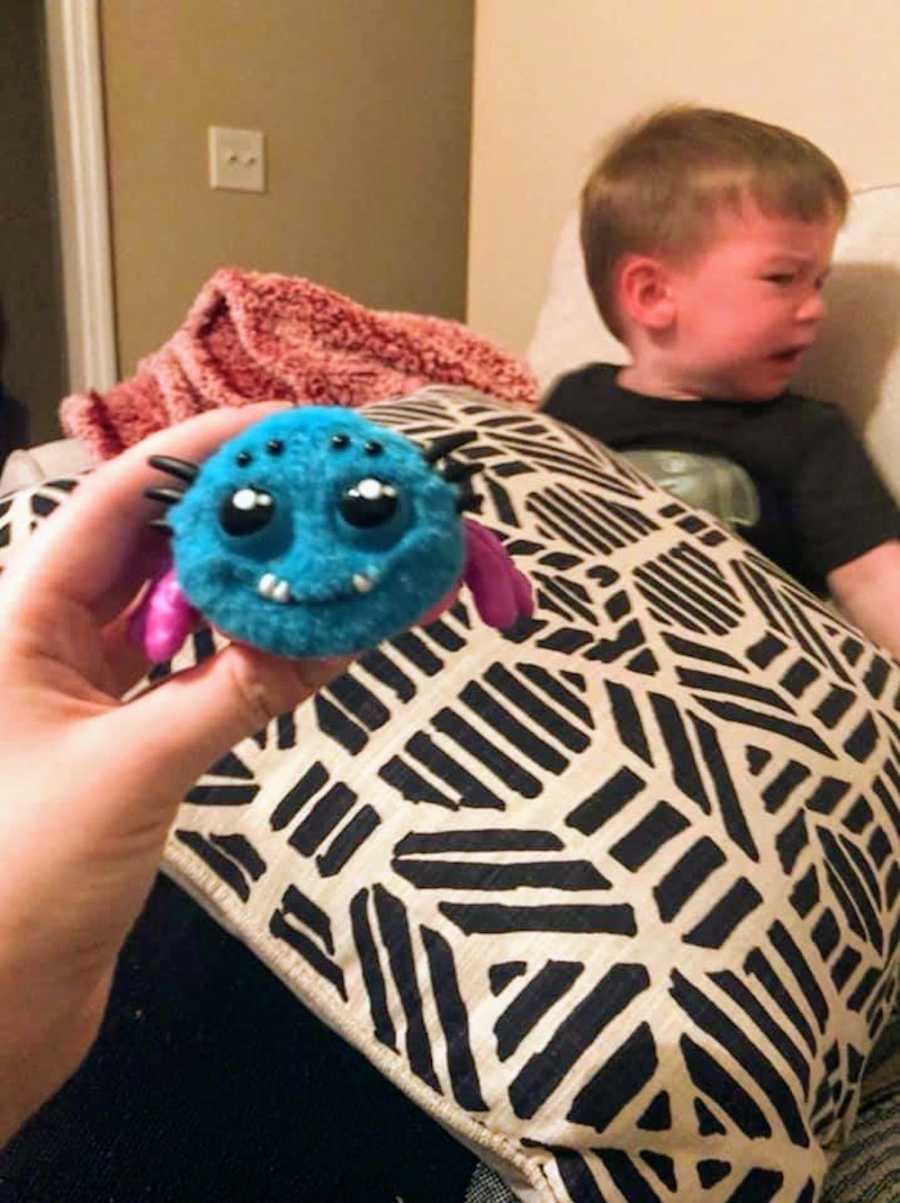 Update: So, to the people who wanted a video… I tried it again. Leo hasn't conquered his fear, but he has taken a more… combative approach… this time he fought back. Shoe in hand, he has put his enemy on its back. RIP Skadoodle."
This story was submitted to Love What Matters by Hilary Hard, 22, of Alabama. Submit your story here, and subscribe to our best love stories here.
Read more stories like this here:
'In the middle of the night, I heard our bedroom door creak open. I froze. It didn't make a sound, but it silently drifted closer.': Woman shares hilariously terrifying mom fail 
'Momma, something funny happened.' He starts rolling up his pant legs and pulls out my THONG.': Woman shares hilarious mom fail, 'I had to catch my breath'
'I pulled into his school parking lot. 'Mama, aren't you FORGETTING something?' There was terror in his voice. That's when I noticed it.': Woman shares hilarious mom fail
SHARE this hilarious story to give other moms a good laugh!