WE NEED YOUR SUPPORT: 
You've read our raw and emotional stories of hope, compassion, grief, healing, and kindness. Unlike many publishers we have not put up a paywall, but we depend on contributions from our amazing readers. We've had 200 million likes and 10 million shares…and now, we need just $5 from you. Become a Love What Matters supporter on Facebook and receive exclusive stories and videos while also helping us to keep spreading the love throughout 2019.
"Happy December! 'Tis the season for over-shopping, overeating, and overdosing on television for women, because that's where the good stuff is. We've been sent an official invitation to curl up daily with a lovelorn Candace Cameron Bure entangled in another hilarious yuletide mix-up, and we haven't been so excited since this time last year.
Believe it or not, there are some people out there who not only wait until after Thanksgiving to put up their tree, but also don't understand our love for Christmas movie season. For those of you who don't exclusively surf cable channels 40–55, here are just a few of the main reasons to go on a made-for-TV holiday binge this year:
1 – The reminder of a more innocent time.
In a world where the complicated and thought-provoking movies win all the awards (psssh, no thanks), give me a small-town party planner being swept off her feet by a handsome CEO with 'I'm too rich to find true love' baggage.
2 – The ingenious names.
This year, we have been gifted with such gems as 'It's Christmas, Eve' and 'Pride, Prejudice, and Mistletoe.' These are both classic Hallmark formula. That cleverly placed comma in the first title tells us that a girl named Eve has to be reminded it's Christmas because it has somehow been spoiled for her (typically because a parent was killed in a tragic Christmas-related accident like being crushed by a life-size gingerbread house at the mall). Following this formula, 'Pride, Prejudice, and Mistletoe' is undoubtedly about discrimination against people who love Christmas by evil triplets — probably named Pride, Prejudice, and Mistletoe — whose parents were sucked up by a freak tornado while caroling (which happened on their second birthday, which was totally December 25th). This is an educated guess but almost definitely accurate.
3 – The stars of yesteryear.
Where else besides 'Dancing with the Stars' can you find all of your favorite sitcom actors from the '90s right now? Danica McKellar? Yes, please! Lacey Chabert? I'll take two! Is that Dean Cain? Grab your Santa suit and get in that phone booth, Superman. You can save my Christmas anytime!
4 – The sweet predictability.
Each movie on your list will have three of the following elements:
A person who hates Christmas because of a childhood trauma.
A type-A deviser whose plans go awry.
A bachelor who cannot be tied down until he meets the Christmas-loving girl of his dreams.
A career-oriented woman with no time for romance.
A sleigh — because everyone has an old sleigh in their garage that just needs some fresh paint to save Christmas.
A seemingly regular man who happens to look a lot like Santa but isn't really Santa until the end of the movie when you find out that — OMG! — he is, in fact, the real Santa.
5 – The always-on access 24 hours a day.
Remember when we were kids and we had to wait for our shows to come on? Remember when we were adults and had to set a DVR? Patience and work is for the birds. 4:00 a.m.? 4:00 p.m.? It's always a good time to tune in to opposites attracting in December!
6 – The emerging technology.
There are actual apps that can help you track the movies you have seen and set alerts for the premieres. Free up some storage on your phone by erasing your calendar with all of your important (but non-Christmas-related) meetings and appointments. This is your life now.
Merry Christmas to all, and to all a good (mostly sleepless, but let's savor this televised Chicken Soup for Your Soul) night! Text me if you're ever up late to see if Melissa Joan Hart falls in love with the real-life Nutcracker Prince. Spoiler alert: She definitely does."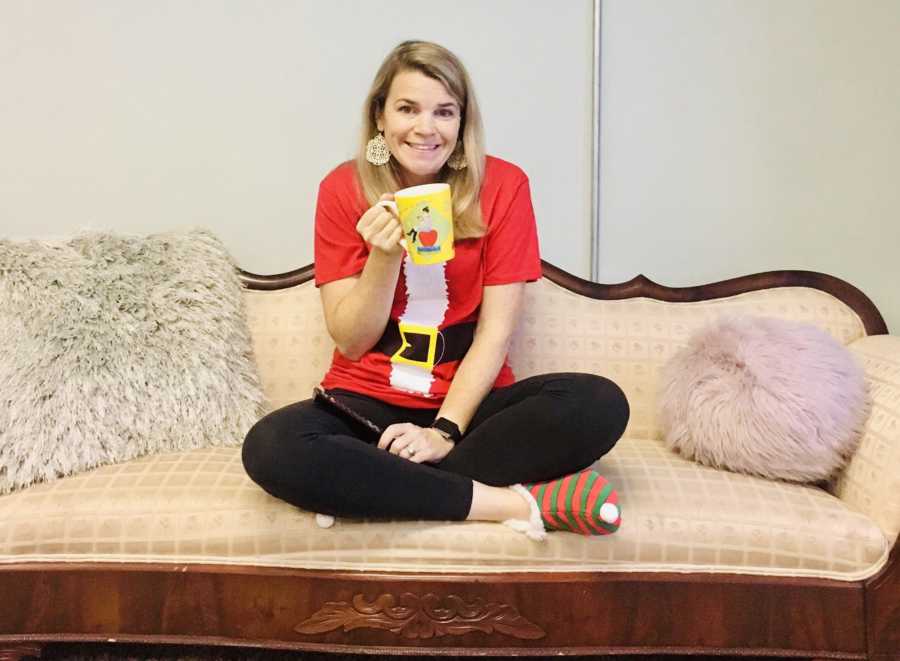 This story was submitted to Love What Matters by Lindsay Chamberlin, a Florida mom who writes for College Park Community Paper, where it originally appeared. 
Read more from Lindsay:
'Aren't you sad you never had a girl?': Mom of 3 'wild boys' hilariously breaks down how #BOYMOMS have 'earned' their exclusive title
SHARE this hilarious story with other Christmas movie-addicted moms on Facebook!