WE NEED YOUR SUPPORT: 
You've read our raw and emotional stories of hope, compassion, grief, healing, and kindness. Unlike many publishers we have not put up a paywall, but we depend on contributions from our amazing readers. We've had 200 million likes and 10 million shares…and now, we need just $5 from you. Become a Love What Matters supporter on Facebook and receive exclusive stories and videos while also helping us to keep spreading the love throughout 2019.
"When I was 18 years old, I had an abortion. The reasons were deplorable. I was in my first year of college, with a boyfriend I no longer loved, and I believed my parents would disown me. I clearly remember the protesters glaring with disapproval and I distinctly remember pretending I didn't care later that evening. I was so careful to soothe my friends by doing shots with them at the local college bar and overly uttering, 'I am fine!'
Then when I was 23, I had another abortion. This time the reasons were even more deplorable. I cheated on a boyfriend, I was just about to graduate college (finally) and I still believed my parents would disown me. I didn't love this boyfriend anymore either, obviously. I had quite a habit of being with people I no longer loved, or never loved to begin with, just because I didn't want to hurt their feelings.
I have regrets every day. Regrets that I didn't know how to say 'no!' That I was more worried about pleasing others than I was about asking someone to use protection. I regret not knowing how to stand up for myself and for not turning to my parents for help. I mostly regret always feeling I would be unloved if I was anything less than perfect. The need to never disappoint ruled how I lived for a very long time; always striving to be what others needed.
Fast forward 10 years and I was loved so well. I didn't have to hold back, pretend or even try with him. Our love came so easy. We met at a mutual friend's wedding. We talked until the sun came up. We took it slow to avoid the pitfalls that I was so scared of. We were married 3 years later, and I was pregnant before our 1-year wedding anniversary.
Before I could blink, I had an adoring husband, a delicious 2-year-old and I was fresh off the ache of a miscarriage. So when a recent layoff made insurance scarce and the price of genetic testing unreasonable, I went without it when I became pregnant once again.
I had that baby, and that baby was born with Down syndrome. Oh how I was devastated. My bones ached, sh*t my soul was sore…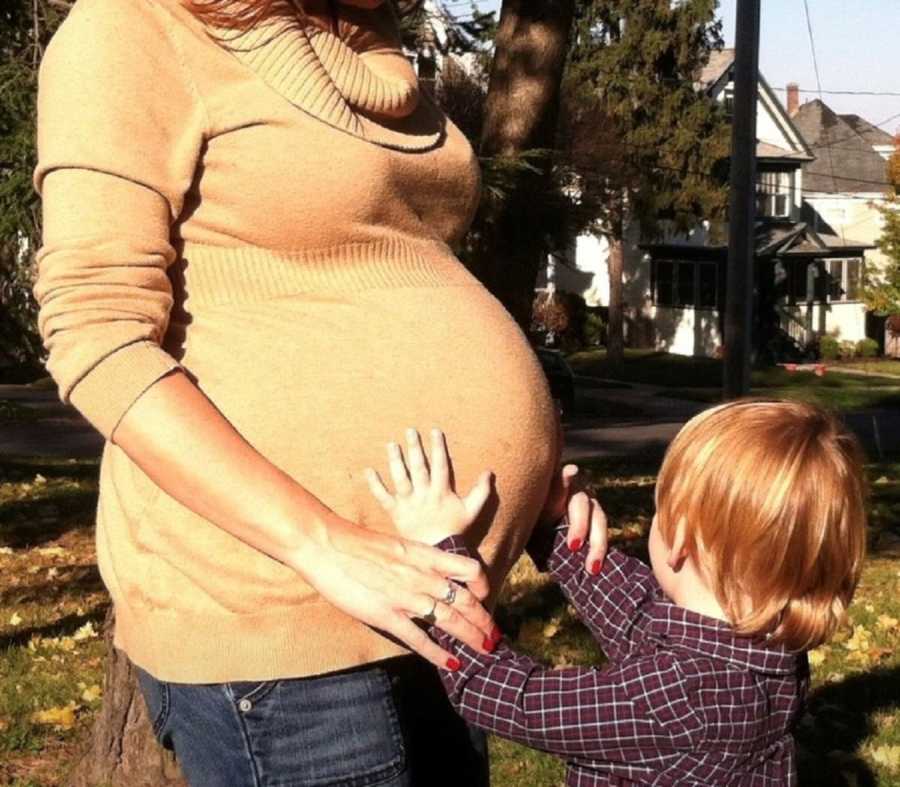 The clincher is that I was pretty sure my baby was going to have Down syndrome. I just had this feeling. I talked about it a lot during my pregnancy to anyone who would listen. I flipped and flopped about getting that test and researched the signs until I could barely catch my breath. My husband tried to soothe me, and he called my doctors ordering them to do the same. The doctors saw nothing on my sonogram. Everyone was tiring of my obsession frankly, and my mom suggested I pray. And so I did. Hard. I said a Novena to St. Anthony. I clutched my precious medal of St. Anthony and read my prayer, which asked me to state my good and true intention. I told my husband it didn't feel right to pray that our baby didn't have Down syndrome… that it didn't seem good and true. He said, 'just pray he's healthy.' So I did. And he was. In the Down syndrome world where there are NICU stays and a 50% chance of a heart defect, my baby was healthy.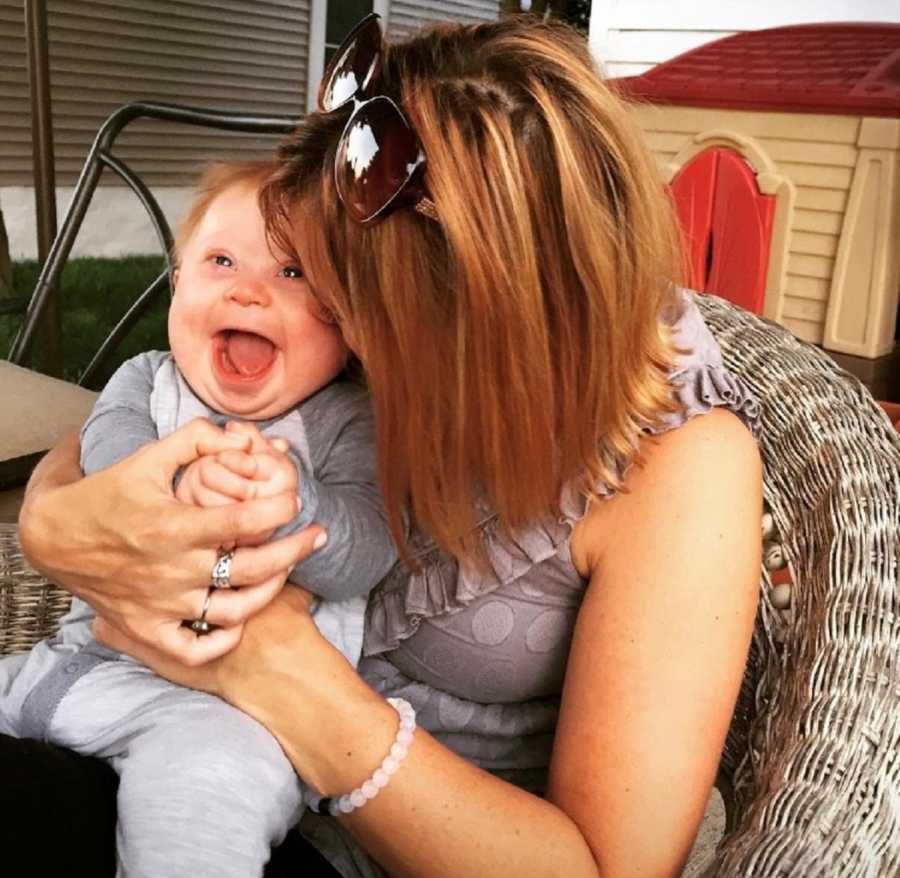 So I know what you're thinking. How can someone who had abortions pray to God?
And, could God be punishing her? Does he do that?
I've thought both. And I am religious. I always have been. I have also been lost… I once stuffed my feelings deep within me for fear of losing love.
But now I know that God does not punish anyone. He wasn't punishing me. He was saving me.
When my son was born, I was the most scared I had ever been about being unloved.
But love swarmed and swirled around us. Love brought us meals and gifts. Love cried with us and laughed with us. Love shared beers with us and joined us in all things Down syndrome. Love gave us an even bigger family where us lucky ones shared trials and monumental moments. Our son creates love. He grows it in others. He has a special gift that grows compassion, pride and acceptance. I have never felt so much love in all of my life.
And yes, I had abortions. I made mistakes because I didn't know what to do. I had so much fear that it strangled my faith.
Then I had my son. I'd like to think if the genetic test said 'Down syndrome,' I would have had him anyway because I love his dad and we can do anything together. The truth is, I will never know the answer to that question.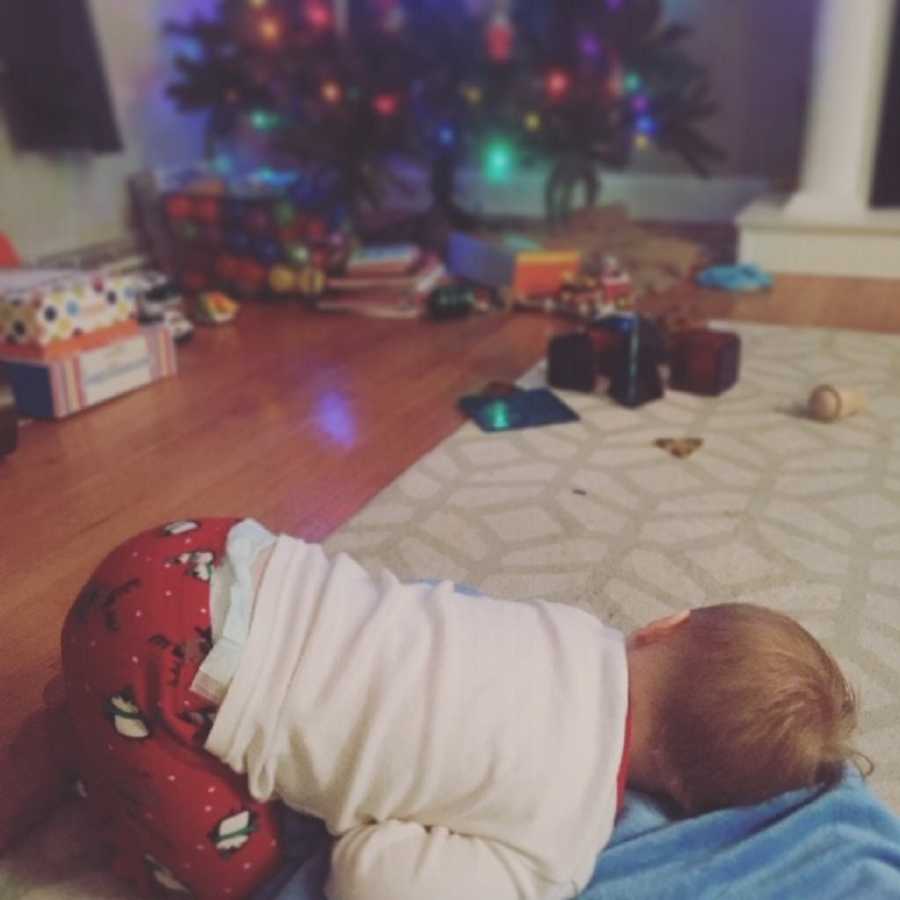 But I do know the advice I want to give the world that is currently trying to eliminate Down syndrome through genetic testing and abortion:
Please don't. But don't do it because it's morally wrong or because it will be a little bit harder to have these babies. Don't do it because, these children will save your soul. They will solidify any belief you have in a higher power. These very special people are a magnet for love. It will surround you. It will blanket you. Fear is a feeling. It is real and valid, but I promise you, this fear is a fleck of dust that will quickly be blown away by the tornado of love you will feel for the incredible human you choose to grow. Being brave is not the lack of fear. It's pushing on despite that fear. It is knowing it is worth it. Please be brave, world. I promise you it will be worth it.
And please, please, please – believe the girl who got it all wrong but still was given the chance to make it all right. Because the gift of my son's life is ultimately the very thing that saved my own."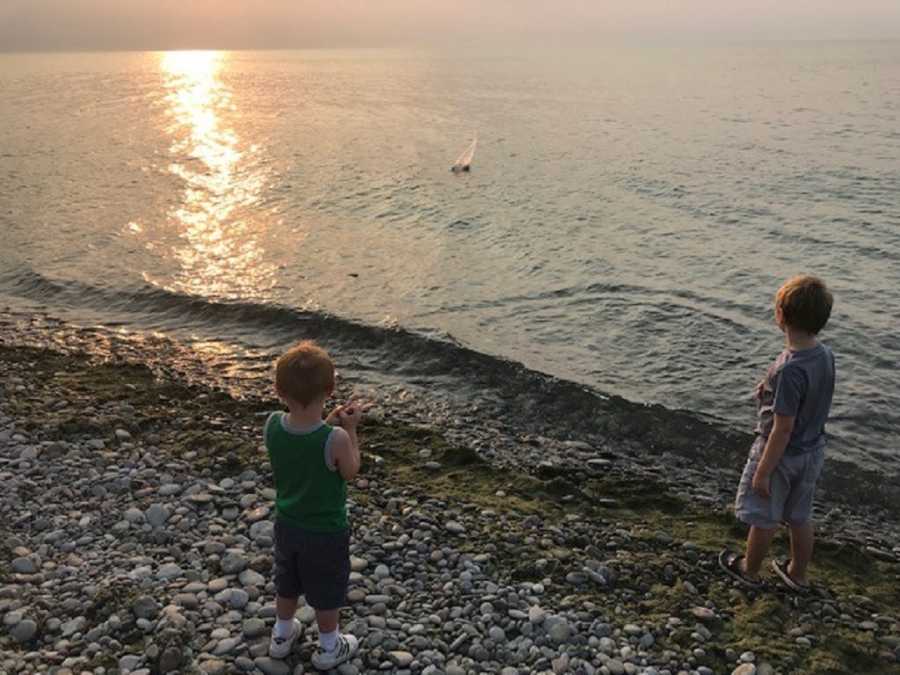 This story was submitted to Love What Matters by a woman who wishes to remain anonymous. Submit your own story here, and subscribe to our best stories in our free newsletter here.
Do you know someone who could benefit from this story? Please SHARE on Facebook to let them know a community of support is available.