"'You guys did great. You did great three times,' our doctor said as she laid out our sonogram with three little sacs. We were pregnant with triplets. My mind was racing. I didn't really process the news – it wasn't until the next day that shock and fear set in.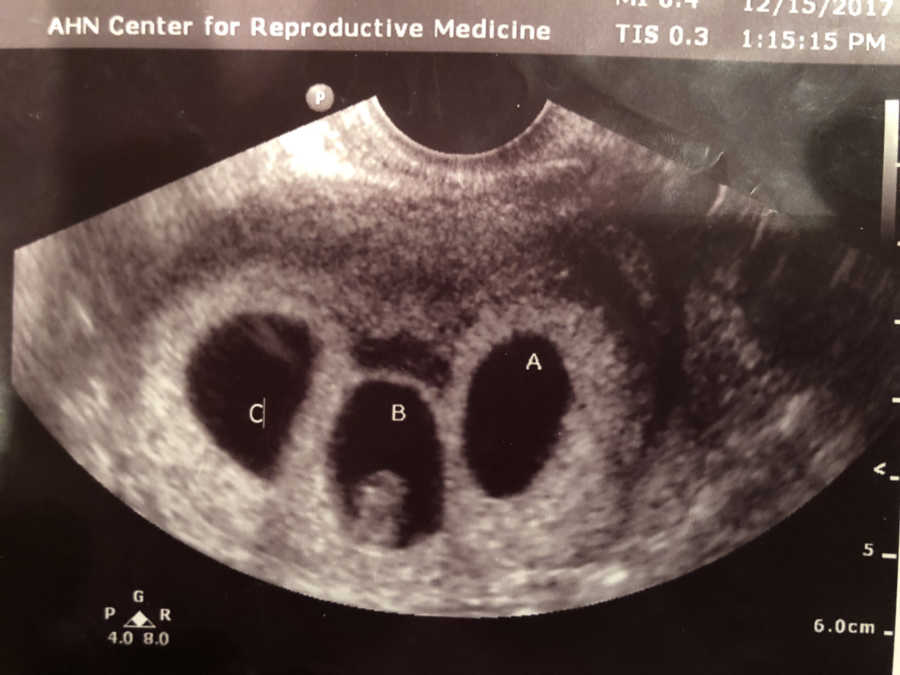 Like so many women, I never had regular cycles. So, when we decided to start a family, I knew it might be difficult. After some consultations, we were on our second round of Clomid, a commonly prescribed fertility drug. I was prescribed 50mg (half the amount used during the initial round) and I had three semi-mature follicles. We were given the green light to proceed and then we waited.
I realized I was pregnant at 3.5 weeks because I had suddenly become nauseous all the time. It made for a difficult Thanksgiving. One Saturday, now 6 weeks pregnant, I was vomiting every hour. I looked at my husband Mike, and said, 'This better be more than one baby, because I can't do this again.' And he replied, 'Don't say that, we can't handle twins.' He was right – we could handle a lot more. I tried to stay positive despite the nausea. I knew puking meant high HCG, which meant this baby was healthy, but I was still nervous for the ultrasound.
The next week we were at our 7-week ultrasound, praying for good news. Because we were being treated by a reproductive endocrinologist, I wasn't allowed to see the ultrasound screen, while Mike actually stayed in the waiting room. It took a long time, longer than any internal ultrasound I had before. We were brought back to our doctor's office and she started with some small talk asking how we were doing. I responded with, 'it depends on what you are about to tell me.' That's when she dropped the news: we were pregnant with triplets.
The next 10-15 minutes were a blur of details: high risk pregnancy, maternal fetal medicine, C-section, etc. I remember her saying, 'Well, we knew this was a risk and we did use those hormone shots.' I corrected her, 'No, there were no shots, just 50mg of Clomid.' At my dose of Clomid, the chance of triplets was below one-half of a percent.
I immediately sprung into planning mode and started frantically taking notes in the notebook I brought to every visit. The doctor reassured us how strong all three heartbeats were. They each had their own sac and placenta. It was the safest kind of triplet pregnancy. Mike couldn't speak. In fact, the doctor looked at him after we covered all the basics and said, 'Dad, are you OK? You haven't said anything.' Mike summed up how we were both feeling on this rollercoaster of a day: 'I'm sorry, I came in here prepared for the worst, and now you tell me we have three healthy babies. I'm just in a bit of shock.' Our lives had not only changed forever, but for the better, even if the blessing didn't hit home immediately.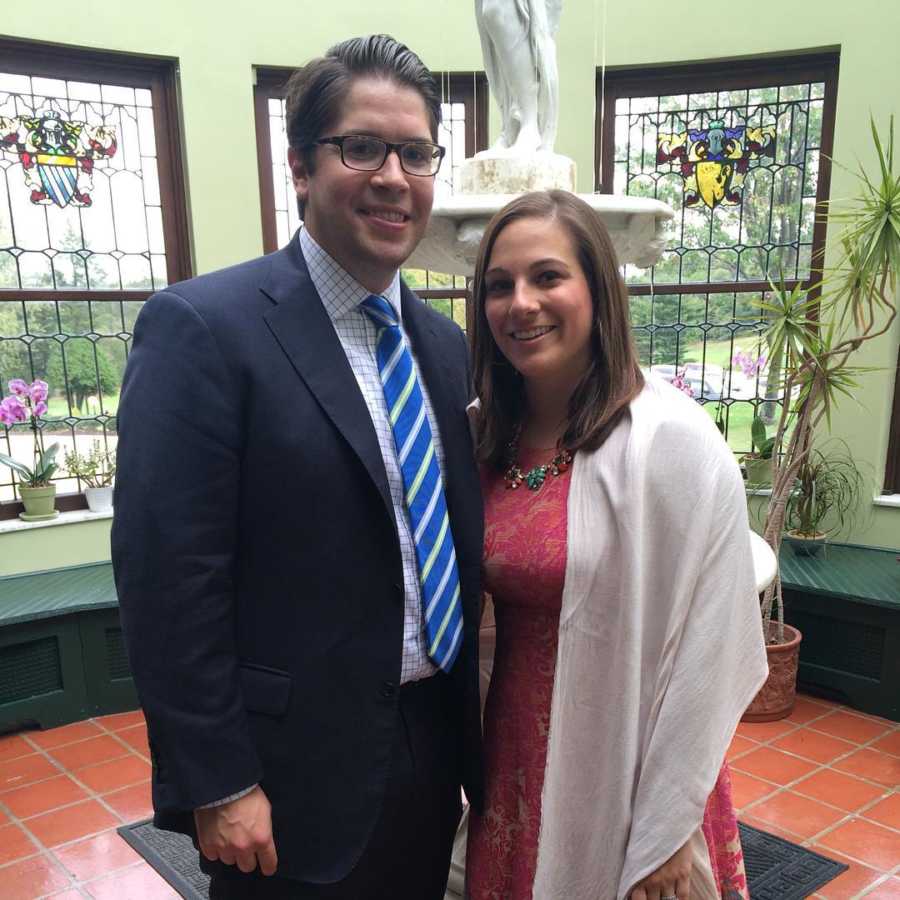 We went to see Mike's parents that night to tell them the news. We Facetimed with my parents who were on vacation in Las Vegas. Both sets of parents were over the moon. I told some close friends—all of whom cried in happiness. I felt excited—until the next day when I fell apart.
This was not our plan, which is an exceedingly difficult realization for us serial planners. I was going to be a mom of two with a career. Between the constant vomiting and this news, I was a wreck. I got out of the shower and started to sob. I stood in my towel in our bedroom and rattled off all my worries. How were we going to pay for three college educations? Maybe pay for three weddings? I cried over silly things like having to get a cot when we go on vacation. We had spent the last 5 years traveling and, we were going to be those parents who were not afraid to travel with our first and second child. How do you go to Disney World with triplets?
I was going to have to buy a minivan. I was going to be 30 years old driving a minivan. And what does pregnant with triplets look like? I watched my friends with their cute little basketball-shaped bumps talk about how huge they thought they looked. I was surely going to be covered in stretch marks and be the size of an elephant.
We spent the next two weeks coping. It's not easy to admit that you need time to 'cope' with such a blessing, but the shock was overwhelming for us. I couldn't bring myself to Google anything about triplets. I kept asking God, 'Why me?' And at the same time, I hated myself for feeling that way. I had been gifted three healthy babies, while so many women would give anything for such a gift.
If you were paying attention, you knew I was pregnant. At work, I kept my office door closed and muted myself on conference calls so people couldn't hear me heaving into gallon-sized Ziplock bags. As the Christmas holiday approached, I was 9-weeks pregnant. We would be seeing tons of family and friends and considering I couldn't stand longer than a few minutes without feeling weak, we were going to have to tell everyone.
Sharing our news become therapeutic for Mike and me. Some people didn't have the greatest reaction and we got a lot of 'your life is over.' Most of our family and friends were filled with joy. When you are almost 30 years old, and you say you have an announcement, people assume you are pregnant. But once the excitement of that news faded, we would share that it wasn't just one baby—it was a 'hat-trick.' Our family went nuts. This was so rare. The excitement was contagious. It was tough at first to handle the news ourselves, but sharing with those close to us we quickly realized the village that will be ever-present to raise these kids.
By January, I was in full-on research and planning mode. Something I could do from the comfort of my couch—close to a bathroom. We were almost out of the first trimester and it was time for our 12-week ultrasound. As our tech rolled the transducer over my belly, there they were, our three miracle babies. It was the family of five we never knew we needed. I held back tears and smiled at Mike. This had suddenly become more real, and seemed completely normal. I was carrying three babies, our babies. I was a mom to triplets. At my follow-up appointment I remember asking my OB through tears, 'When are we out of the woods? Because I am a mom of three babies and I need to take three babies home with me.' At that moment, it no longer mattered that I was going to be driving a minivan, or that we would need both my in-laws and my parents with us at Disney World (I think they probably would have invited themselves anyway). These three babies and their health was all that mattered. Our family was all that mattered.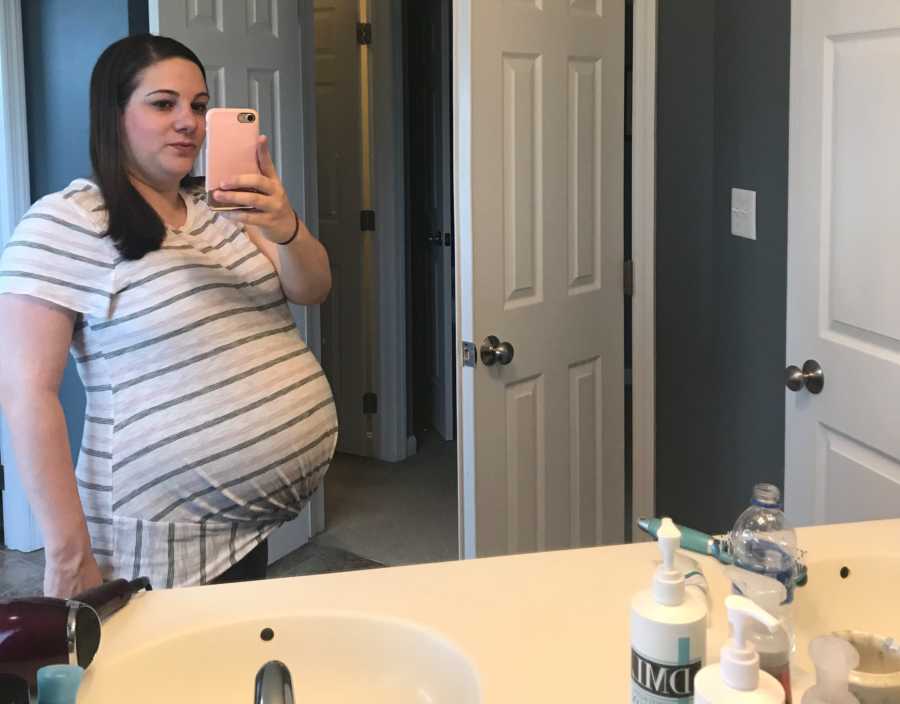 On June 3, 2018, at 4:33, 4:36 and 4:38 a.m. at 31 weeks and 2 days, Owen Garnet (3lbs 5oz), Amelia Marie (3lbs 12oz), and Ava Angelina (3lbs 5oz) entered the world. They were delivered via C-section after I developed preeclampsia. I'm not sure I knew how sick I was with preeclampsia at the time, or what that even meant. I actually thought my doctors were crazy. I had anxiety, of course my blood pressure was high. By far the worst part of having preeclampsia was having to be on magnesium sulfate. We call it 'the mag' because coming off it felt like I was on illegal drugs. I don't remember most of the 24 hours after having the babies. I didn't get to hold the 3 of them together until a week later.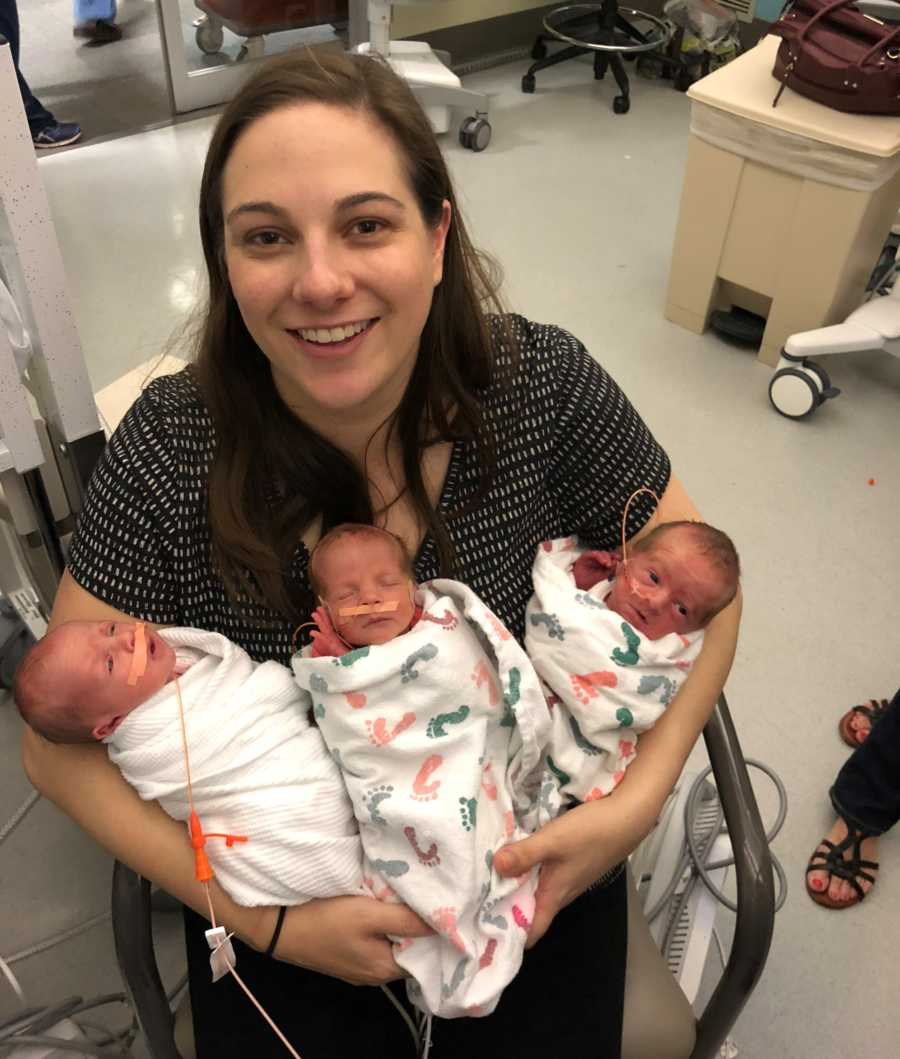 They were sent to the NICU and came home one at a time. Amelia was the last to join us at home, after 50 days. They are three perfectly healthy, premature babies. They're our three perfectly healthy, premature babies.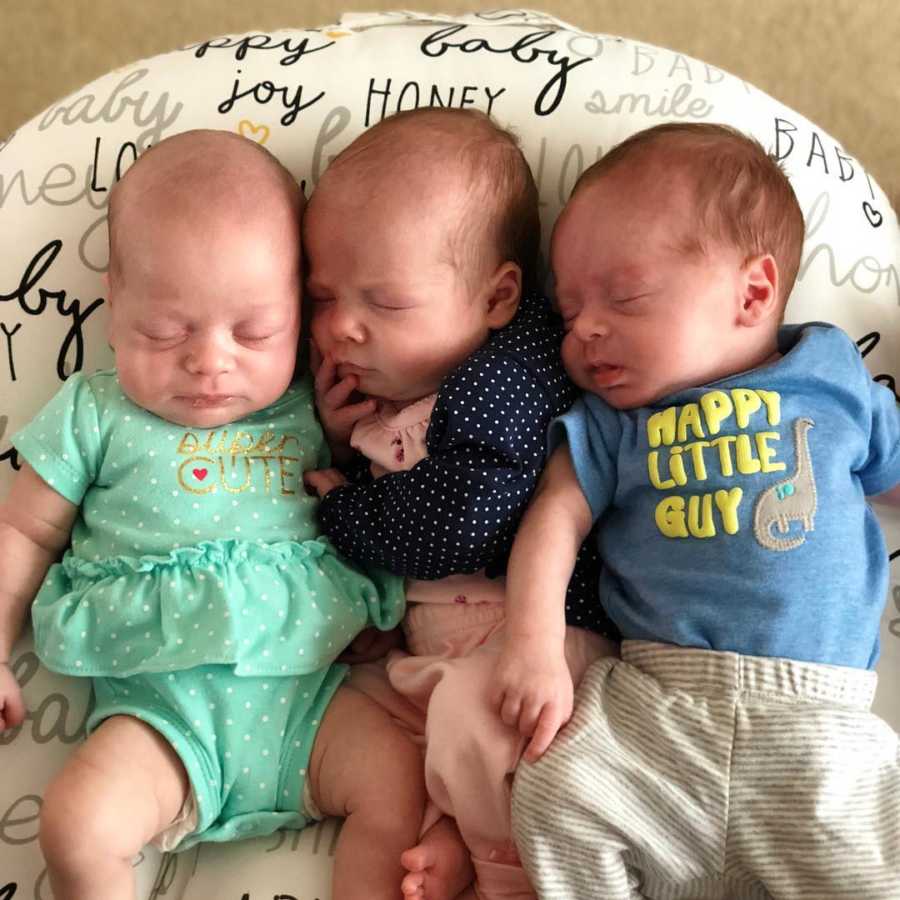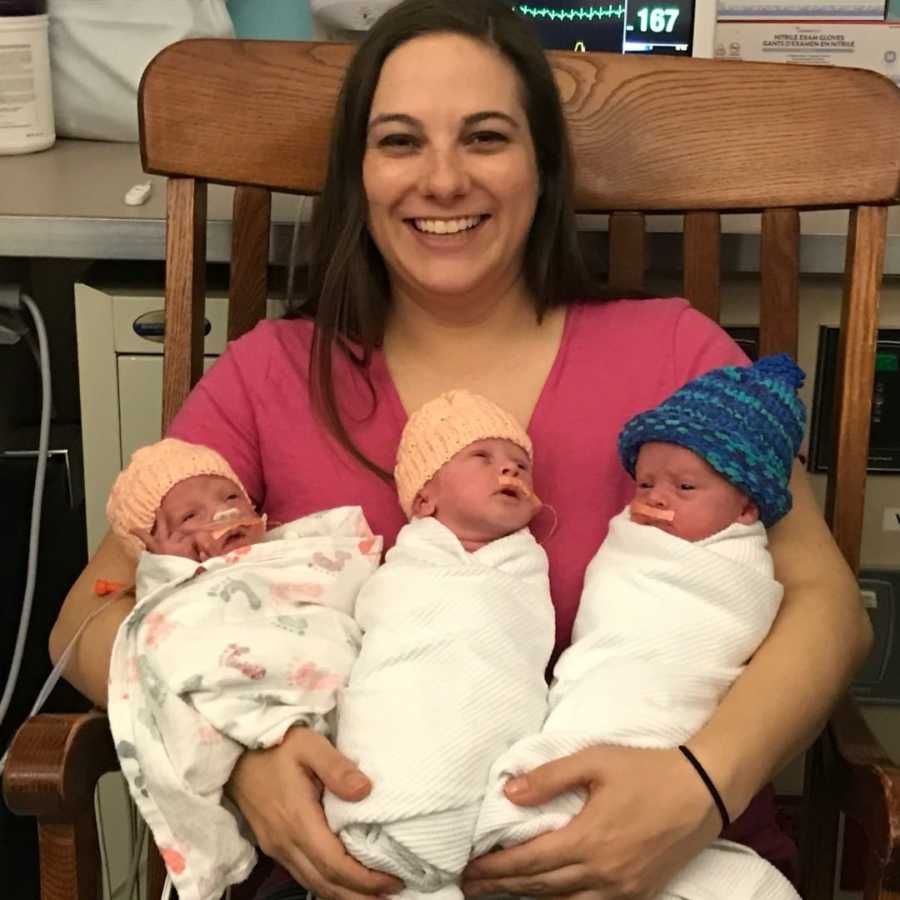 As they have just passed their 6-month birthday on December 3, being a mom of triplets seems normal. They are the greatest gifts God has ever given us. It's not always easy, but the hard moments come with great rewards. They say God only gives you as much as you can handle. He blessed us with exactly what our lives never knew they needed, and we are blessed to handle all these kids give us every single day."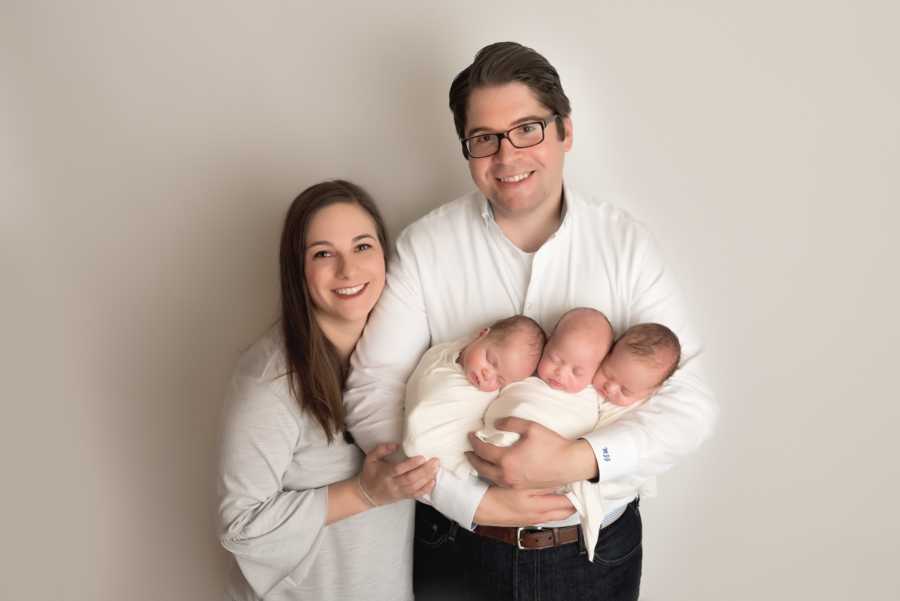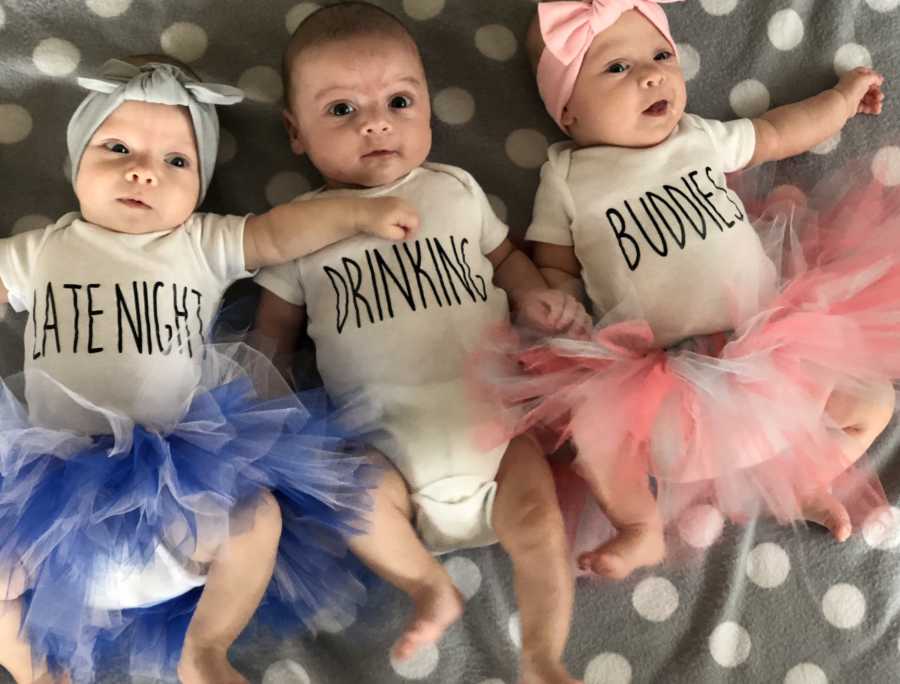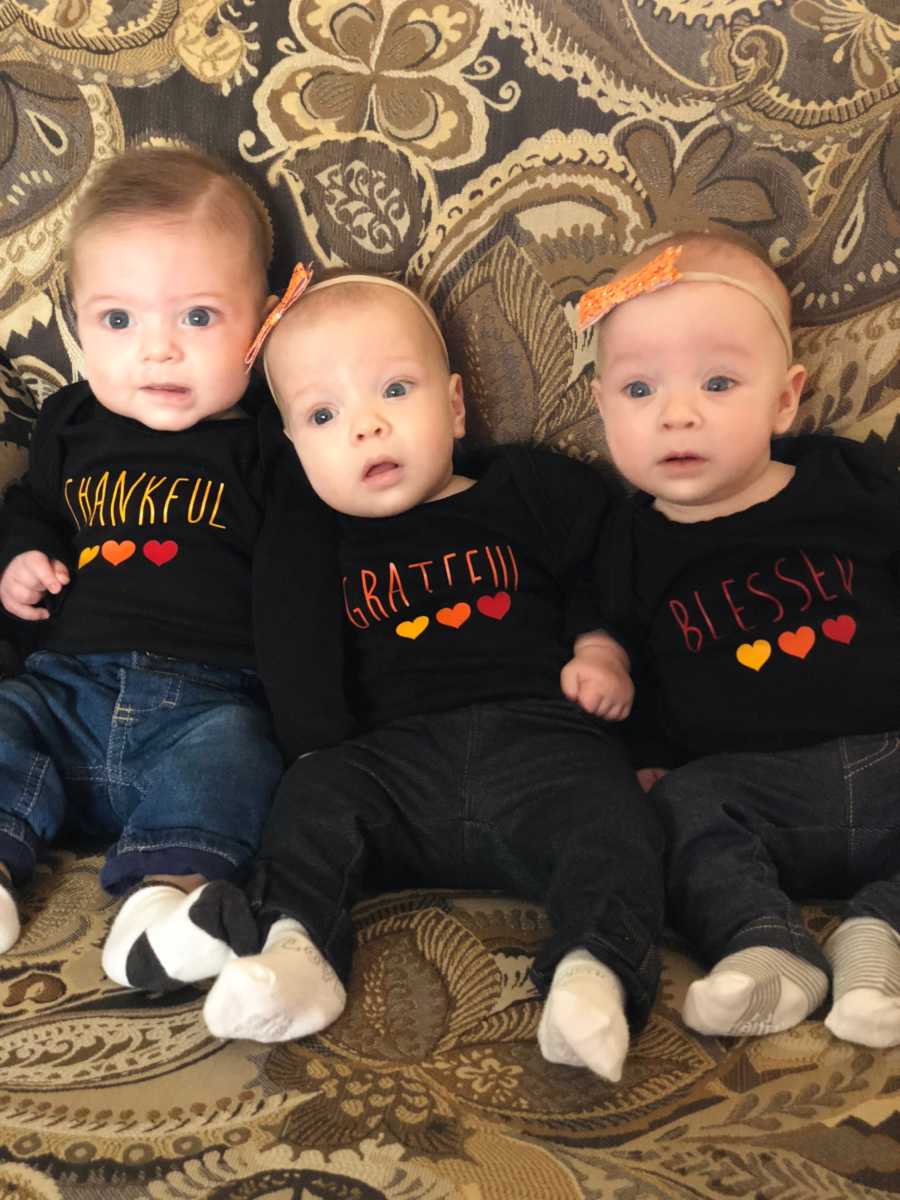 This story was submitted to Love What Matters by Alyson Joyce. She and her husband Michael live outside of Pittsburgh, Pennsylvania, with their triplets, Owen, Amelia and Ava. You can follow their story on Instagram or Alyson's blog. Do you have a similar experience? We'd love to hear your journey. Submit your own story here, and subscribe to our best stories in our free newsletter here.
Provide beauty and strength for others.  SHARE this story on Facebook with your friends and family.