"Prior to 2020, I went through a series of miserable dates, strange boyfriends and a plethora of 'just not feeling it's,' so I had put myself on a dating hiatus of sorts. Spending time away from dating websites and meeting random internet strangers was a great way to clear my head and to sort out my own issues of being disappointed in dating and to focus on myself. It was just what I needed for a couple of years.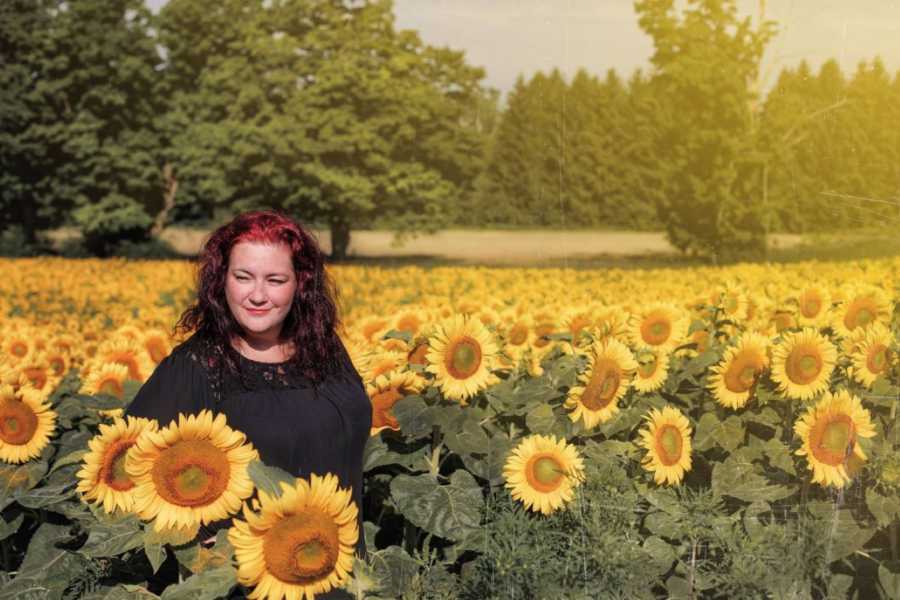 I decided I would start 2020 with a fresh new vibe, excited about meeting people and reinstall my dating apps, update my profile and get back out there. A few dates here and there, promising text exchanges, a couple of conversations and it seemed like I was getting back on track – and then Covid hit.
At first, we were told we'd be in lockdown for 2 weeks in Canada, then this was extended. Lockdown for an introvert like myself, who lives alone in a sunny walkout basement apartment, summer on the horizon and a lovely patio wasn't hard. I cooked great meals, watched a lot of TV, caught up on things I had put off for years. However, not working was hard. As a photographer who loves to be out photographing people, whether for business branding, photographing families and weddings (that were being cancelled left, right and center). It was rough…for everyone. For every person who complained about having to be near their spouse or their own children for days on end, there were a group of people who were completely alone. Everyone checks in on their mom friends to see how they're coping, but no one really checks on their single friends, unless they happened to be living alone too.
Sure, I spoke to my family (more than I normally did) on the phone during lockdown, and a couple of random zoom calls with friends, but as the days dragged into months and while few restrictions were lifting, dating seemed to be an insurmountable hurdle during a pandemic.
Dating is typically hard at the best of times, but now you would have to hedge your bets the person was being responsible, wearing a mask, and not being around a ton of people. And where would you go? Most 'date friendly' spots were closed down. I even tried to set up a couple of Zoom dates, but they just never happened. Thinking about it all was frankly exhausting. It was so much easier to stay home, watch '90-Day Fiancé' episodes and not think about the state of the world. My creative projects waned a little, I was growing bored of my wardrobe, my hair (although, I did go from a deep raspberry red to a bleach blonde at home in a couple of months) and folks on Twitter who rambled on about 'their rights being taken away.' It was a ridiculous divide between people who thought the pandemic was a sham to those who were following health guidelines to keep people safe.
Did I talk to myself a lot? Most likely. Did I live a really solitary existence and stick to the social guidelines in my province and country regarding mask wearing, social distancing and not being in close proximity to anyone outside your household? 100% yes. I couldn't fathom what the future of dating would look like, especially knowing without a vaccine, we'd be doing the whole social distancing thing until there was or I decided to take a risk. Even then, what would that look like? I even joked to a friend about creating a Covid Dating Club, where members were screened and quarantined before a first date.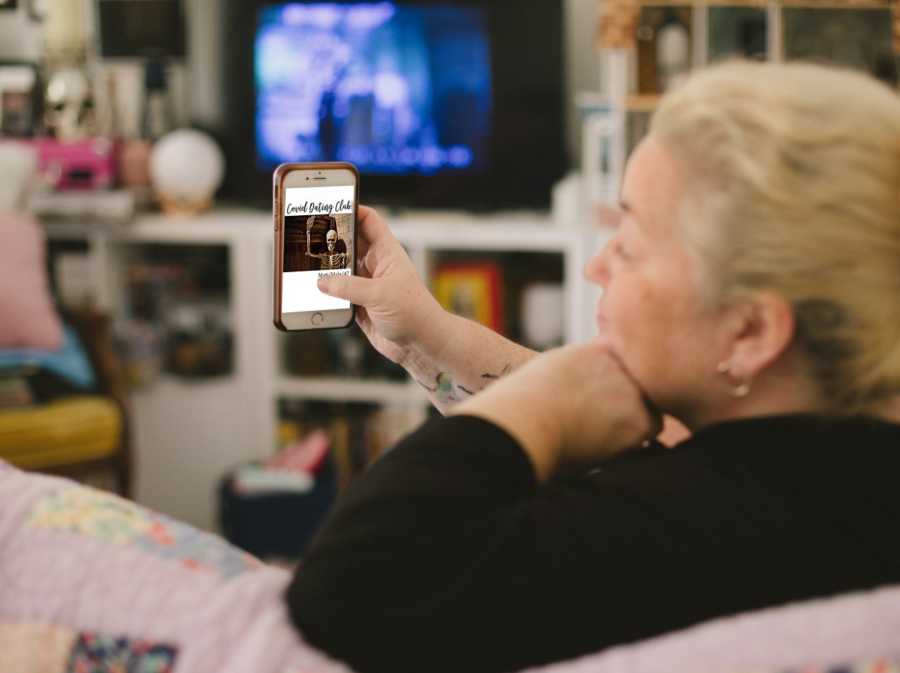 I'm often a risk taker; I've been in a hot air balloon crash, I often travel solo, I run with scissors, but playing with your health or the health of those around you isn't particularly a safe risk.
As summer came and went and we headed into a gloriously vibrant and sunny fall, I knew something had to give for me to make it through winter, especially considering our Covid numbers were going up and would most likely be heading back towards a lockdown. That's when I met Matt, hanging alongside 4 of his buddies at Home Depot.
It was love at first sight. I was craving a fun photography project, as now that I was legally able to take photos, most of us were still very leery of doing so. But Matt (short for Matthew McConachey Bones, yes.. 'jokingly' based off of Matthew McConaughey) was perfect. At 5ft (to my 5'3″), he was a little shorter and thinner than I usually date, his round head, straight spine, fabulous teeth and working joints seemed too good to be true. Not to mention, after a good Lysol wipe down after he followed me home, he was 100% Covid free.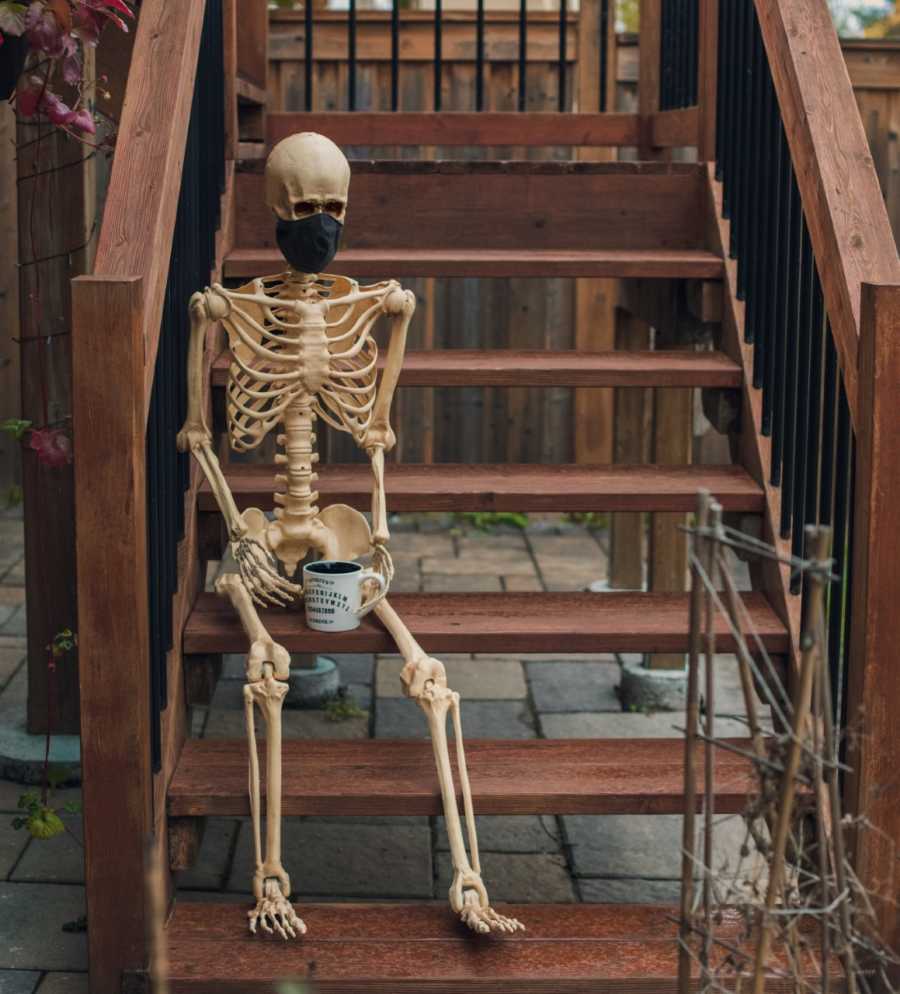 Finally someone to sit across the table from and complain about the noisy neighbors upstairs, someone who didn't mind my choice in movies being horror movies all the time or the truly hideous Covid wardrobe I had adopted since not really leaving the house. He didn't care if I texted on my phone or made Scrabble moves in the middle of the night or woke up early some days and stayed in bed a lot longer on other days. He listened as I praised my own cooking skills, didn't add to the laundry pile or drive my car around. He wasn't interested in seeing other people or chatting to girls late at night. He just was. I just was.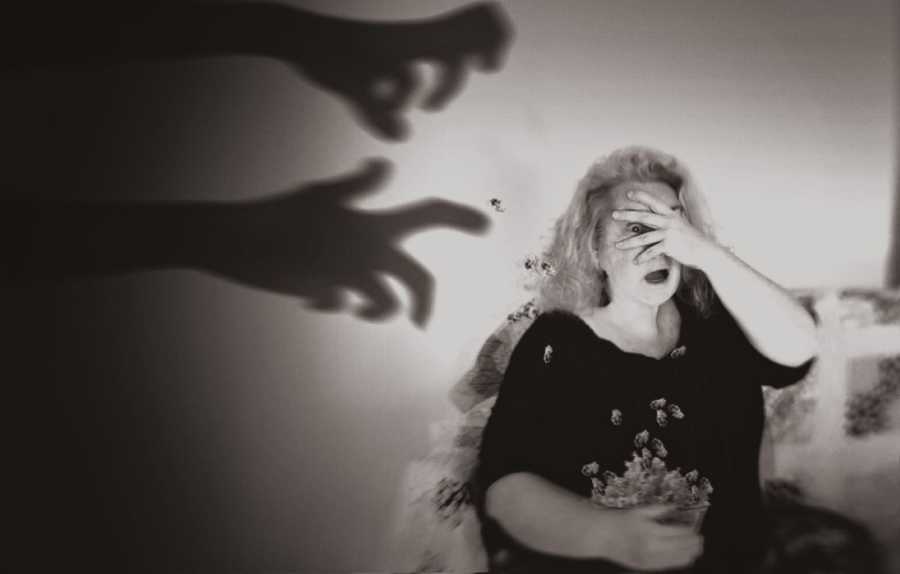 He provided a ton of great jokes and puns and a slew of funny photos to take. Something I could do that really didn't involve anyone else who was potentially a risk simply for being human. I know it seems crazy to think a skeleton hanging around the house past October might be a little odd, but it's been nice to have some company. I've taken him to my parent's house, the park, out for a drive, and soon we'll embark on some winter activities, although I suspect he might need a scarf and hat. Hockey perhaps? Tobogganing?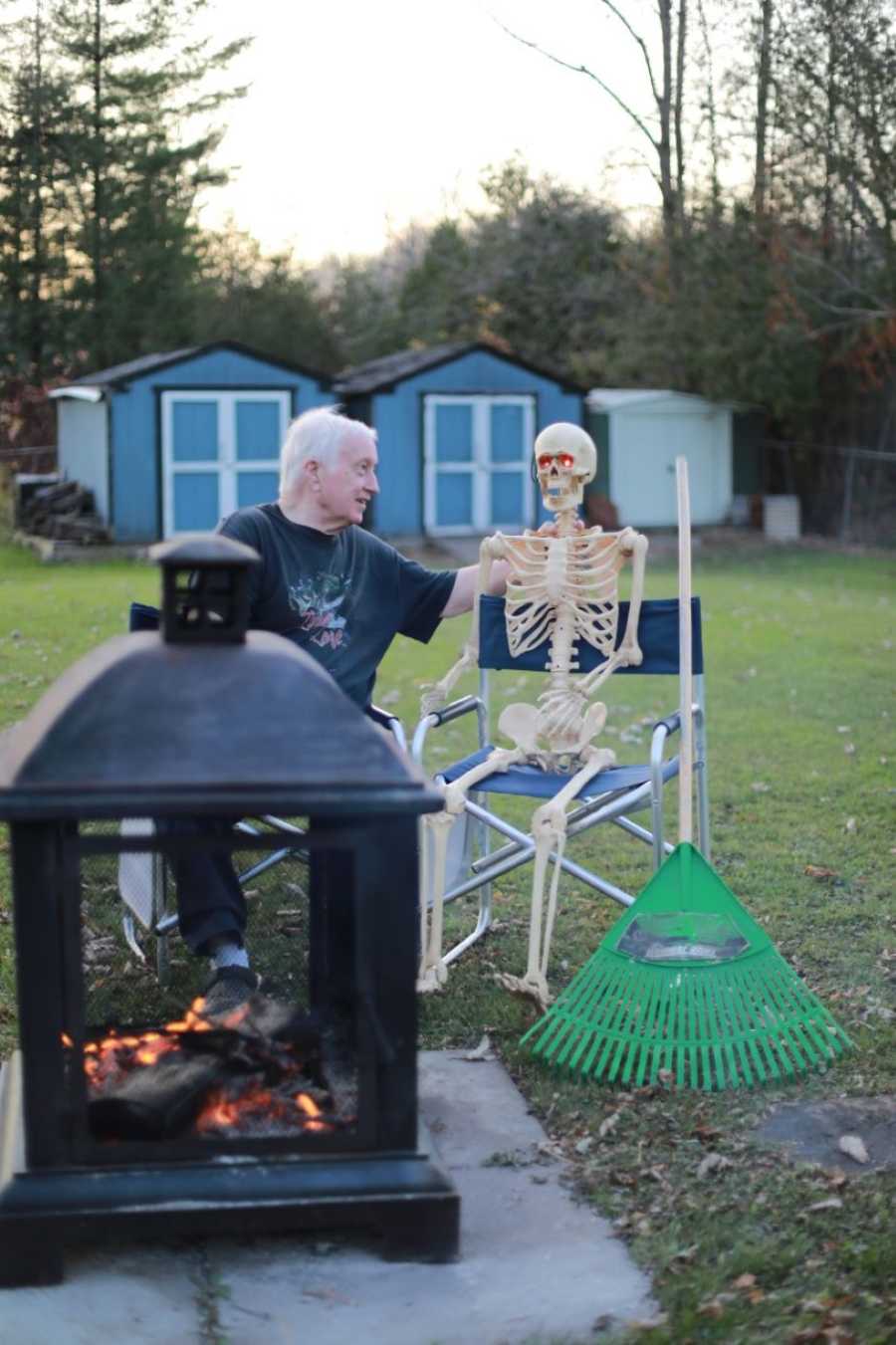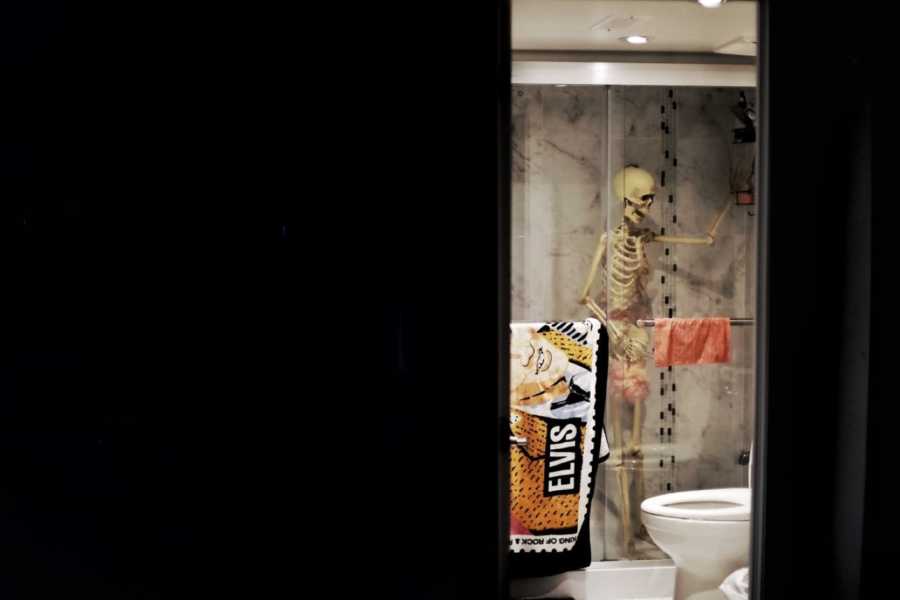 People tell me they can't wait to meet Matt, my parents have a place for him on their couch and even their old dog doesn't seem to mind him. I don't spend as much time stressing about not finding the 'right' person in a year where everything is so up in the air. I have Matt to keep me creatively inspired and entertained, and while I know it's an unconventional relationship, make no bones about it, during a global pandemic, Matt is the guy who I know isn't going anywhere.
I do know that whomever I do date in the future, Matt will always be there, too."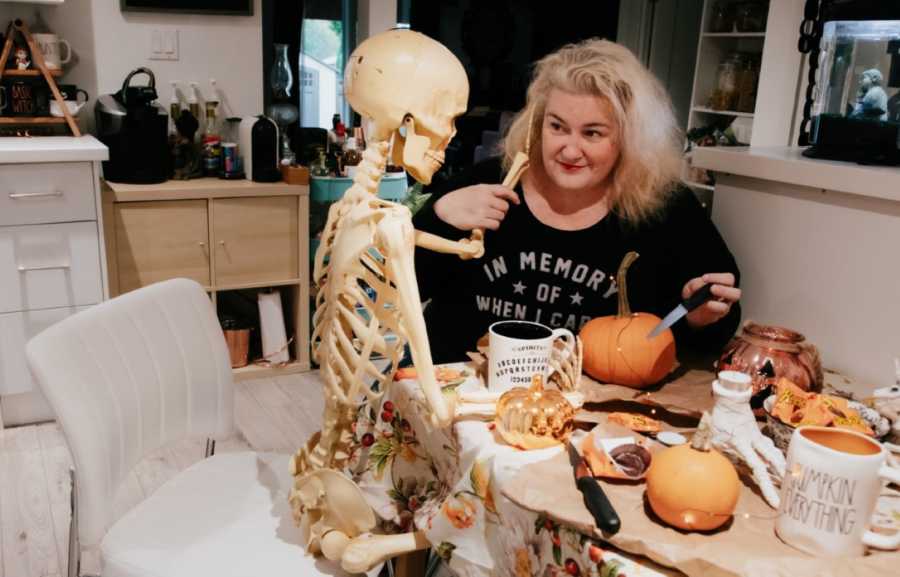 This story was submitted to Love What Matters by Melanie Hillock of Canada. You can follow her journey on Instagram and her wesbite. Submit your own story here and be sure to subscribe to our free email newsletter for our best stories, and YouTube for our best videos.
Read more stories like this:
'What does DTF mean? You swipe which way? Woah, you just sent me a pic of your privates.' Dating life as a widow is terrifying.': Young widow recalls first heartbreak post-loss of husband, 'It stings like hell'
'Hi, how are you?' 'Any weird fetishes?' 'Have all your teeth?' Dating in your 40s is dumb. Widowhood is dumb. Spanx? Yeah, no. But I don't want to be alone forever, so it's a necessary evil.'
Do you know someone who could benefit from reading this? SHARE this story on Facebook with family and friends.