"I am 36 years old and currently live in Las Vegas, Nevada. In November 2019, I began to experience flu-like symptoms, debilitating migraines, spinal pain, and double vision that wouldn't respond to treatment. These symptoms persisted for two months, and I became paralyzed from the waist down on January 27, 2020. The sudden loss of my health and use of my body was devastating. I was diagnosed with Transverse Myelitis. TM is a rare neurological condition where the myelin sheath of the spinal cord becomes affected due to inflammation.
The doctors were not 100% sure what caused me to have TM, but because I also have a history of Lupus—an autoimmune disease—they assumed a Lupus flare might have triggered this rare condition. Being limited in my mobility and feeling trapped in my body left me feeling paralyzed from living a fulfilled life. Before becoming diagnosed with TM, I was very independent. I taught yoga, traveled, and loved exploring anything physically active.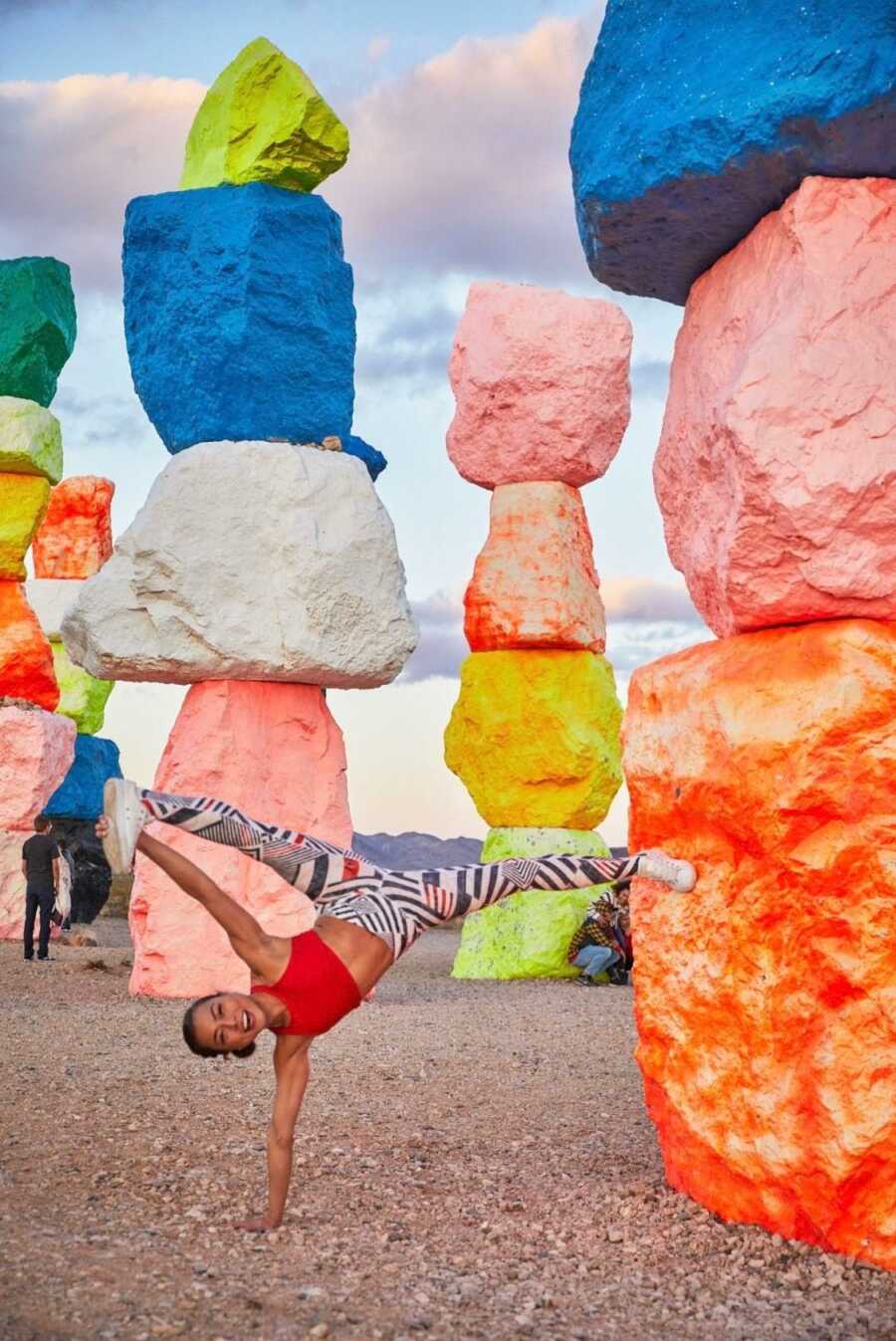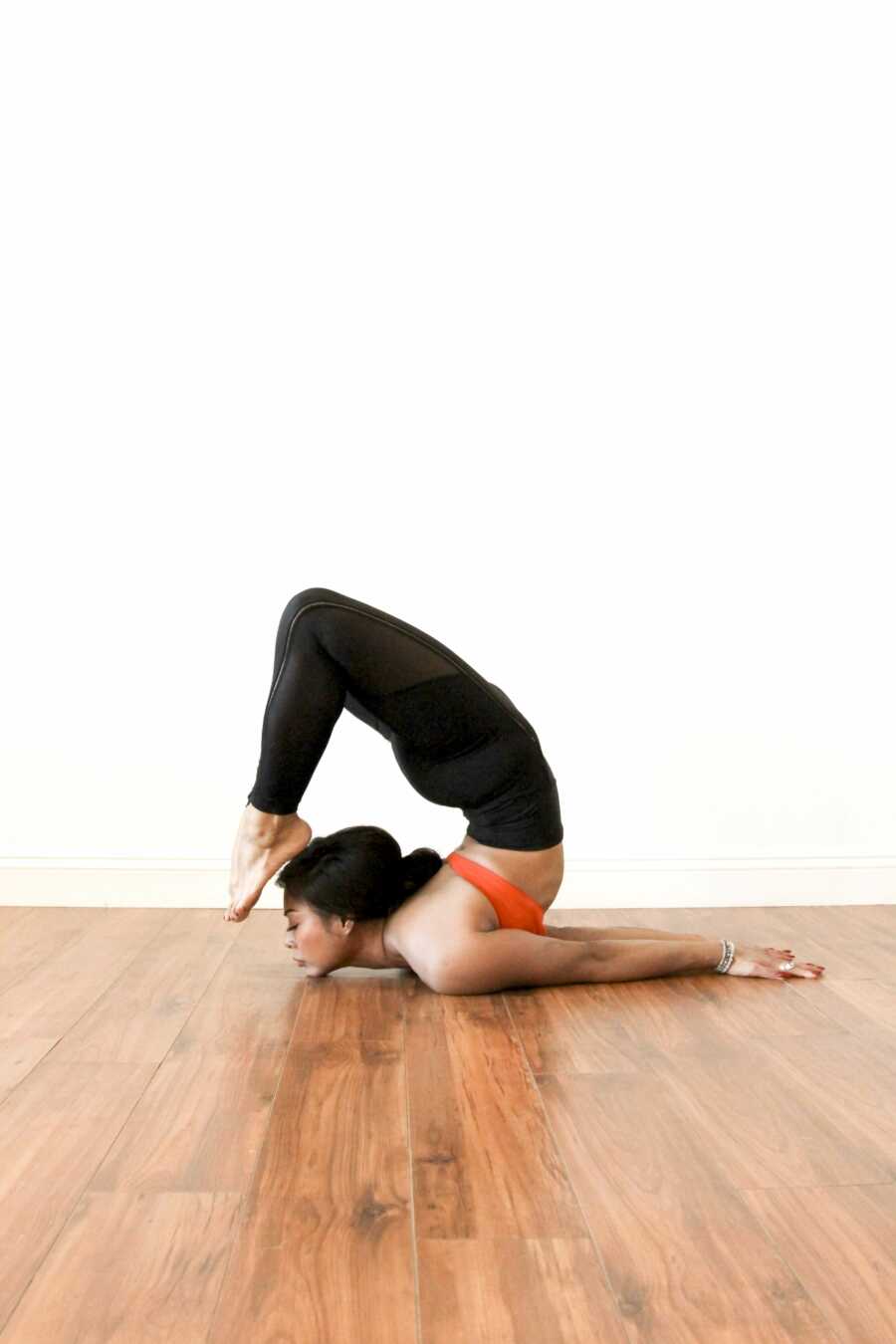 I was in denial for the first couple of months about what my life has transitioned to. I thought after a few heavy treatments of steroids and intense rehab, I would be walking out of the hospital when it was time to get discharged. I had no idea how massive the challenge was going to be to fight for my recovery. It wasn't until I came home from the in-house rehab—where I stayed for 4 weeks—that I was faced with new challenges I had to overcome on my own. It was depressing, and my life at this point felt like a nightmare I couldn't wake up from.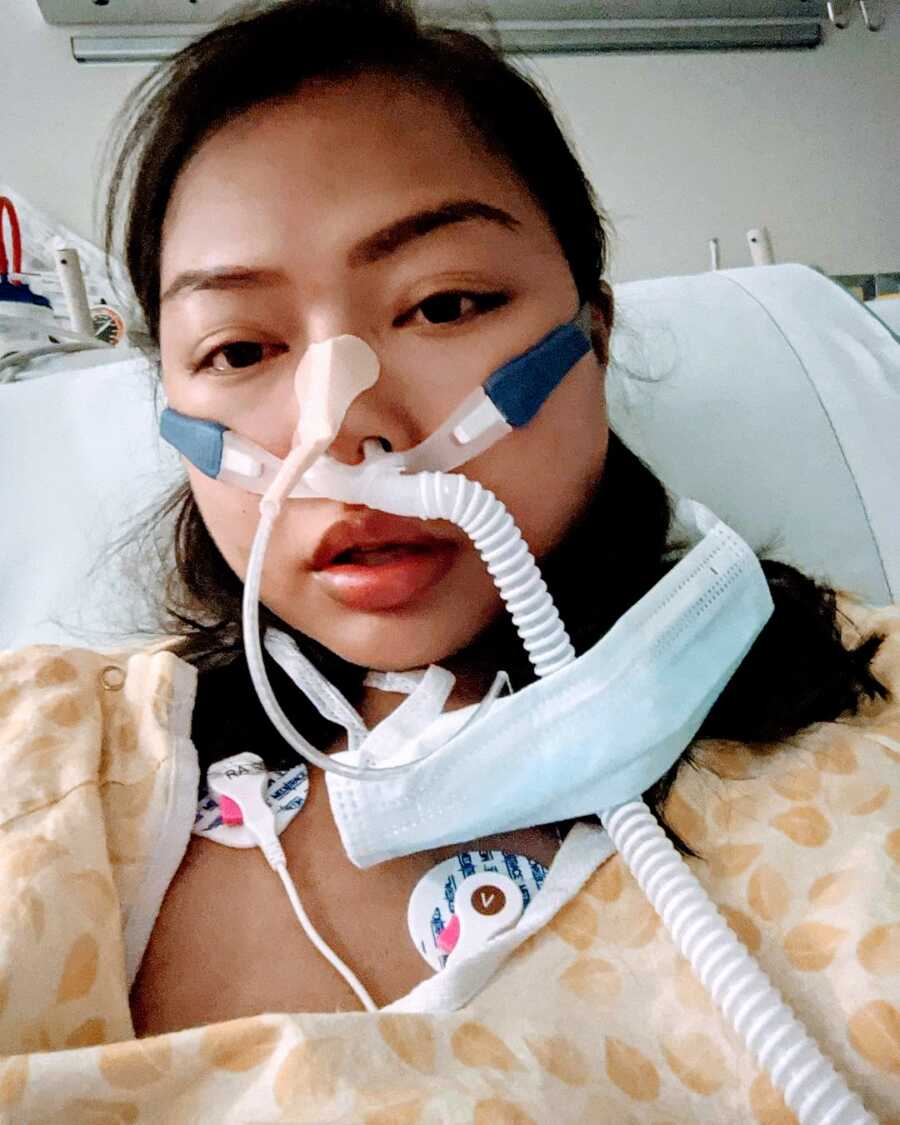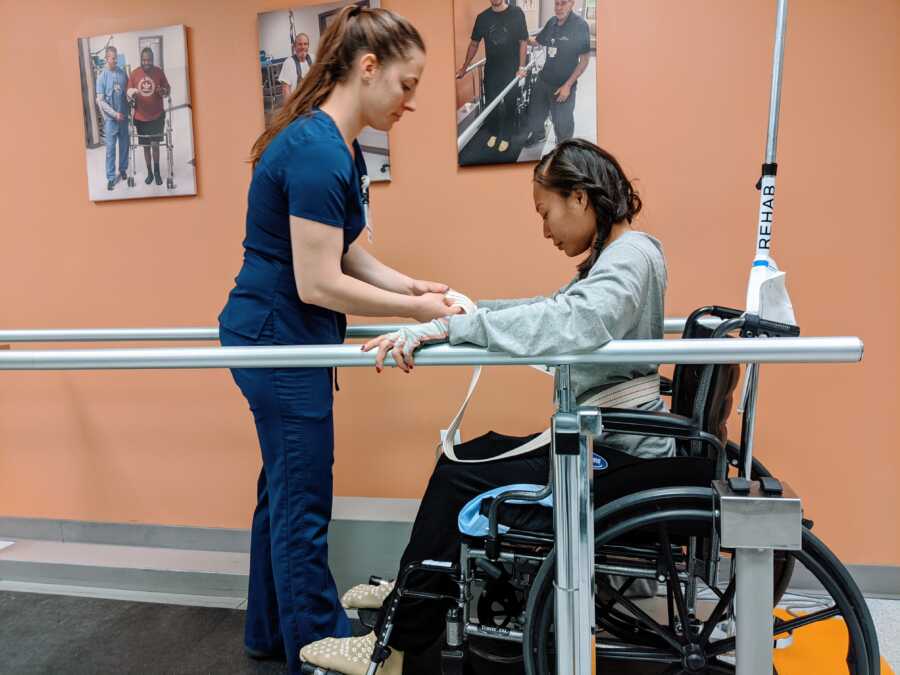 I felt so defeated dealing with constant nerve pain and losing my ability to control my bladder/bowel. The pain in my fingers and wrists was torturous and made it feel impossible to do anything on my own. My fingers were constantly throbbing and felt as if they were slammed between a car door. The hypersensitivity on my stomach and lower back wouldn't even allow the slightest touch of my shirt. It was excruciating and medication did very little to ease the pain. I felt sorry for myself. After losing complete control over most of my independence, I started to suffer from many panic attacks.
In the midst of a pandemic, I transitioned between a nursing facility and the hospital dealing with health complications for the first 10 months of becoming a paraplegic. I was traumatized by everything I was experiencing and it felt so unsafe to be in my body. I battled with the left side of my face being paralyzed, pneumonia, multiple UTIs, edema, skin rashes, anemia, and a level 2 pressure wound. I gained 30 pounds from the heavy doses of steroids and developed 'moon face,' a common side effect of prolonged steroid treatment where the face swells up. My face was unrecognizable.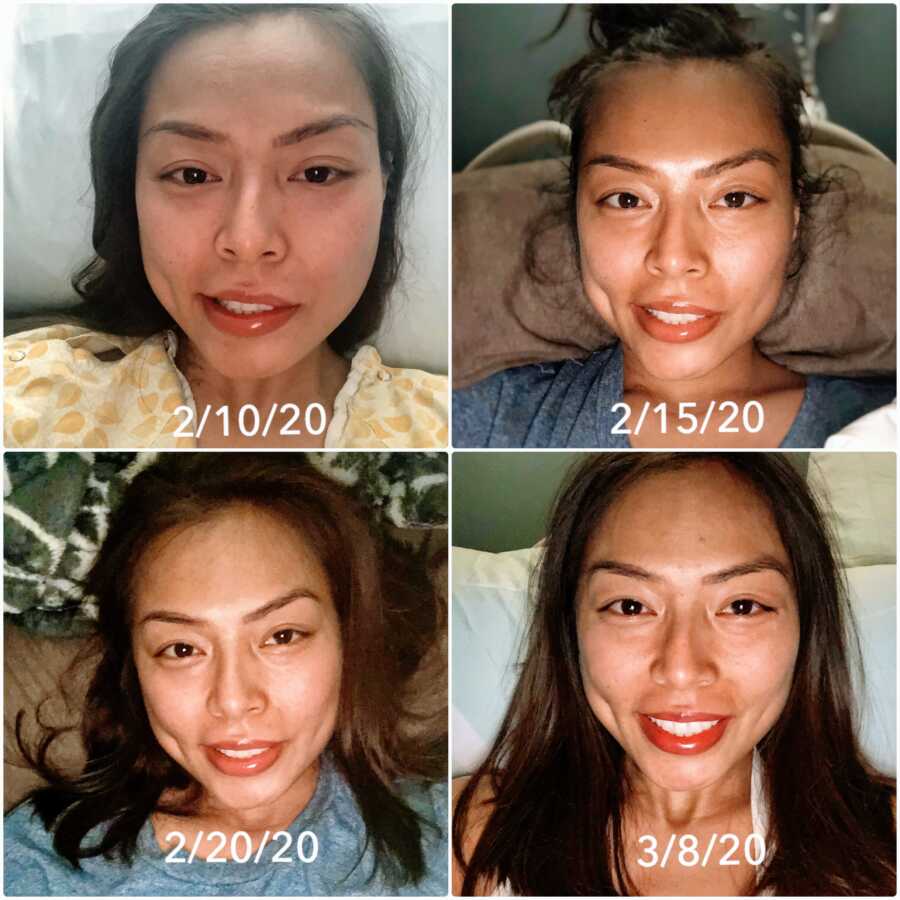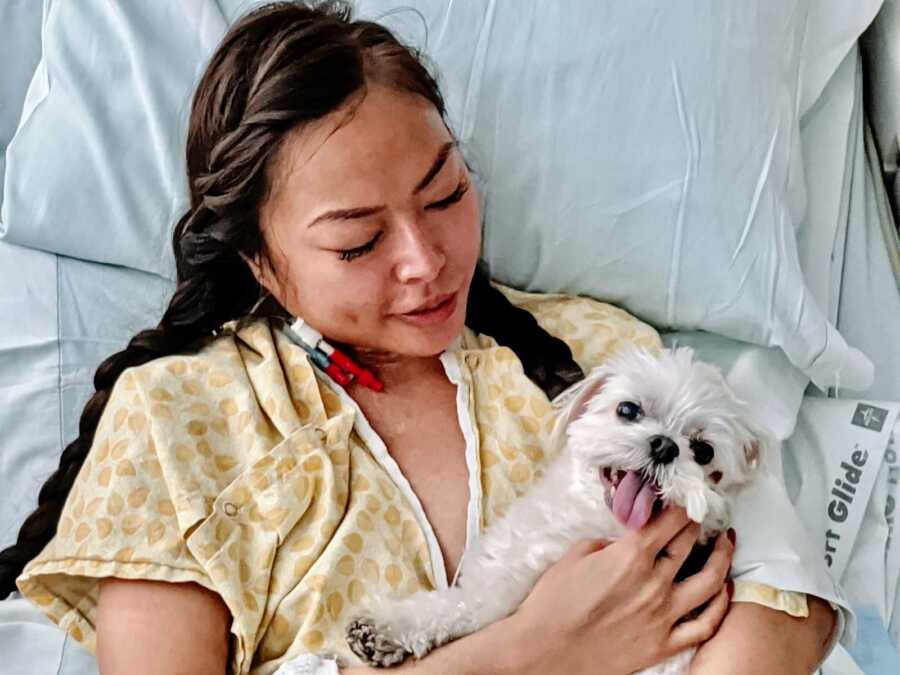 I shed about 30% of my hair, and it was terrifying to look at myself in the mirror. I was disgusted with myself and I felt ashamed to be so upset with my disabled body. Being isolated in the hospital for months was challenging. The feeling of being stabbed in the stomach constantly with no amount of morphine to ease the pain truly made me want to die during those moments. The constant physical pain was unbearable. I would pray to God to end my misery. I wished the nurses would overdose me with morphine and hoped to never wake up again.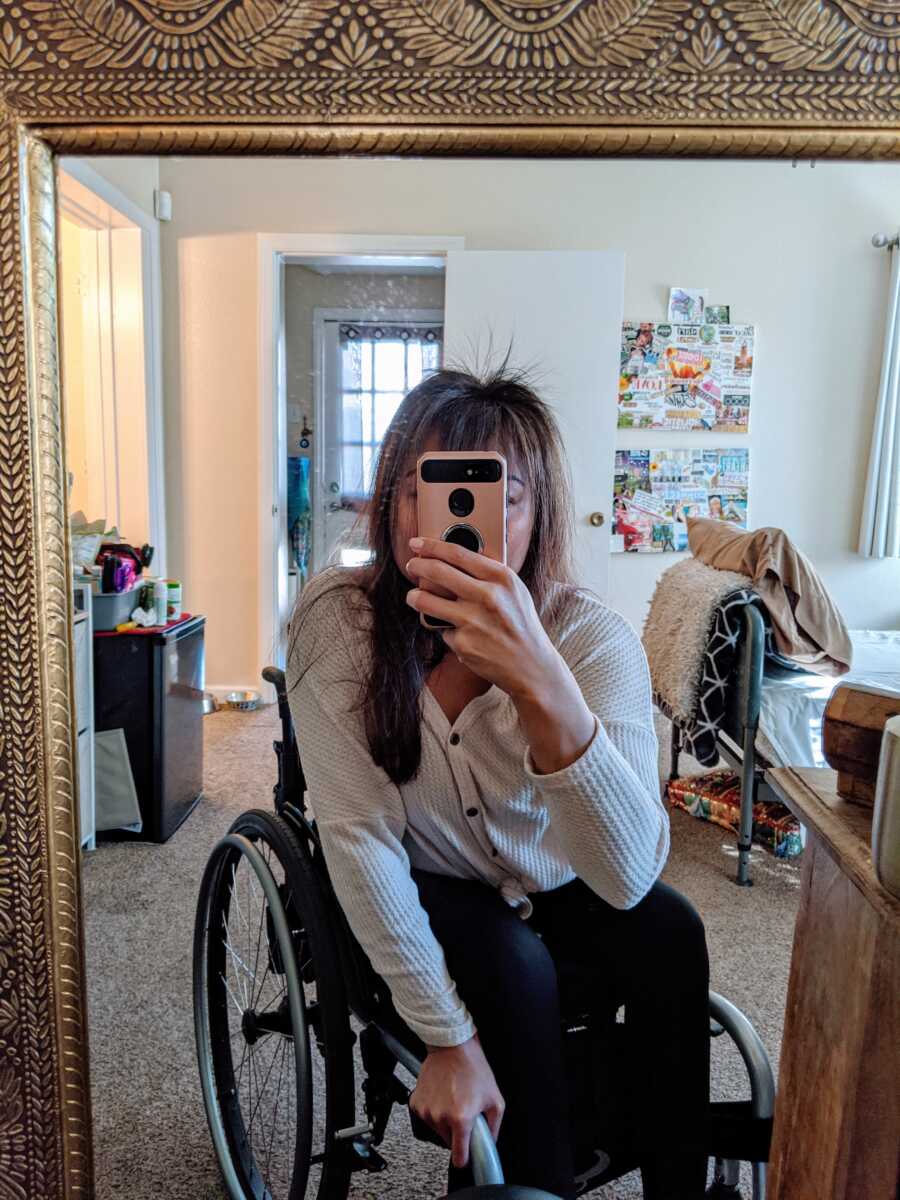 Although I don't have family near me, I've been very blessed to have a supportive roommate who I call my sister, along with an army of people who have continued to support me in every way possible. From ensuring my house was accessible in time for my arrival from the nursing facility to raising money to help me pay for my cost of living. I don't know how I would have managed to get this far without them.
I'll never forget the time I was in the hospital for my 34th birthday. I received a video including about 50 people in my community. Each person expressed their love and how much I mattered to them. It was truly a life-saving moment for me. To witness and experience how important I am to so many, I couldn't give up and let them or myself down. A true testimony of how powerful human connection is for the soul. My homecoming was really exciting for me.
I was so ecstatic to finally start physical therapy after so many months of being bedridden with very limited therapy during my nursing facility/hospital stays. A good friend referred me to an adaptive gym for people with spinal cord injuries called 'Driven NeuroRecovery.' It was the first time I felt excited about anything since becoming a paraplegic, besides getting to be at home with my dog, Barney, again. When I went to their website and saw all the advanced technology and equipment they had available, I felt a deep sense of hope.
Driven gave me hope to recover from paralysis. They have also given me an opportunity to teach a chair yoga class at their gym. It gave me a new layer of purpose. To be part of a community of people who are in similar situations was significant. It helped with my depression to feel like I can still make a difference regardless of my disability. My recovery has been more than just about walking again.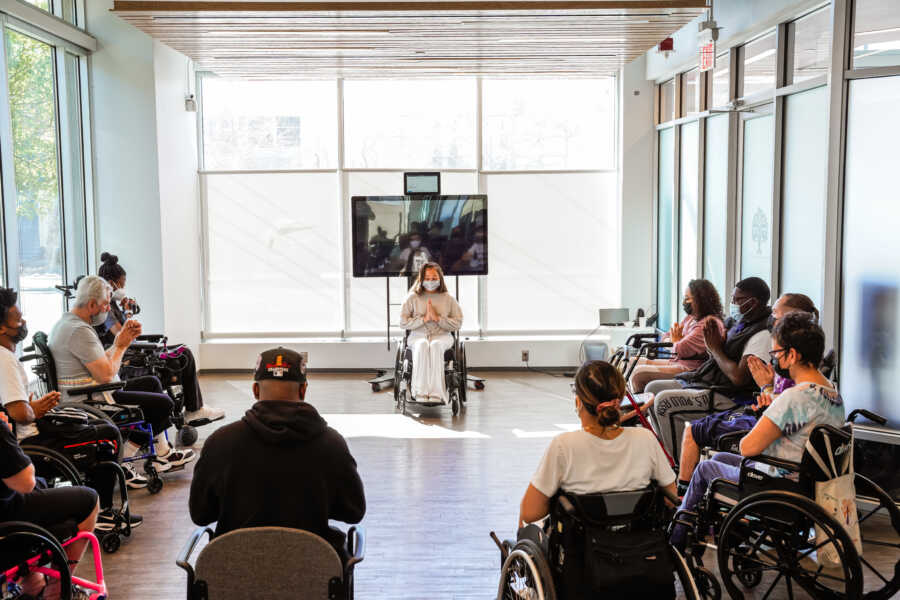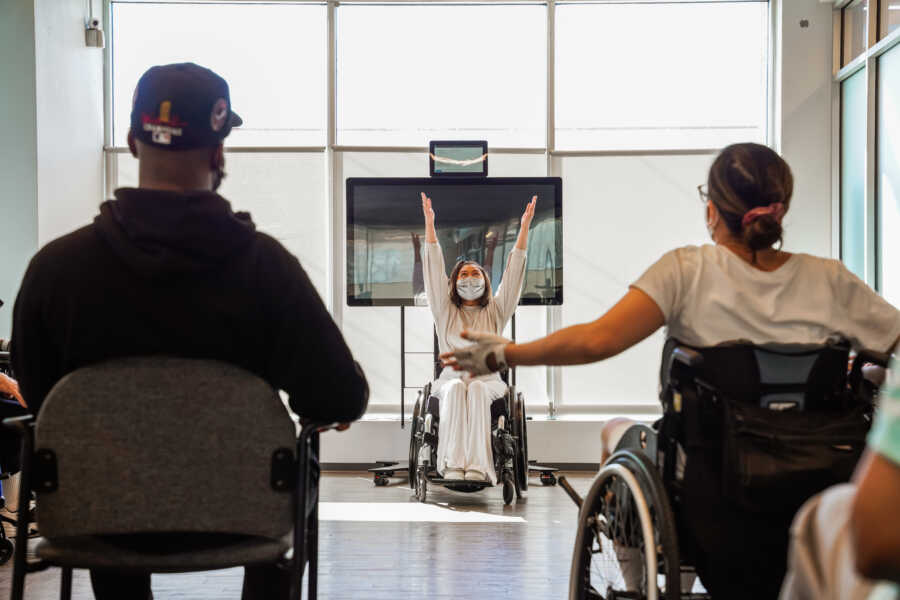 This whole experience has taught me so much about how I relate to my trauma, which has initiated me to relive childhood triggers in many ways. Being in my position literally gives me no way to run away from it but to deal with what is necessary. I started working with a therapist who is also associated with Driven after a couple of months of training there. She made me feel safe enough to fully open up to her to process all the trauma I've ever experienced in my life, ultimately allowing me to shine light on some of my deepest wounds.
Having the courage to acknowledge my pain from the past gave me space to embrace them and finally set them free. I felt empowered to make peace with all the shame and guilt I experienced throughout the last 2 years. I forgave myself for putting so much pressure on myself to heal and walk again, and for feeling disgusted and shameful about my body when it was just doing its best to keep me alive. It was the turning point of my self-love journey where I started to understand my self-worth. I can now see my past, mistakes, and physical abilities do not define my self-worth. The fact I am still alive today makes me worthy enough just as I am.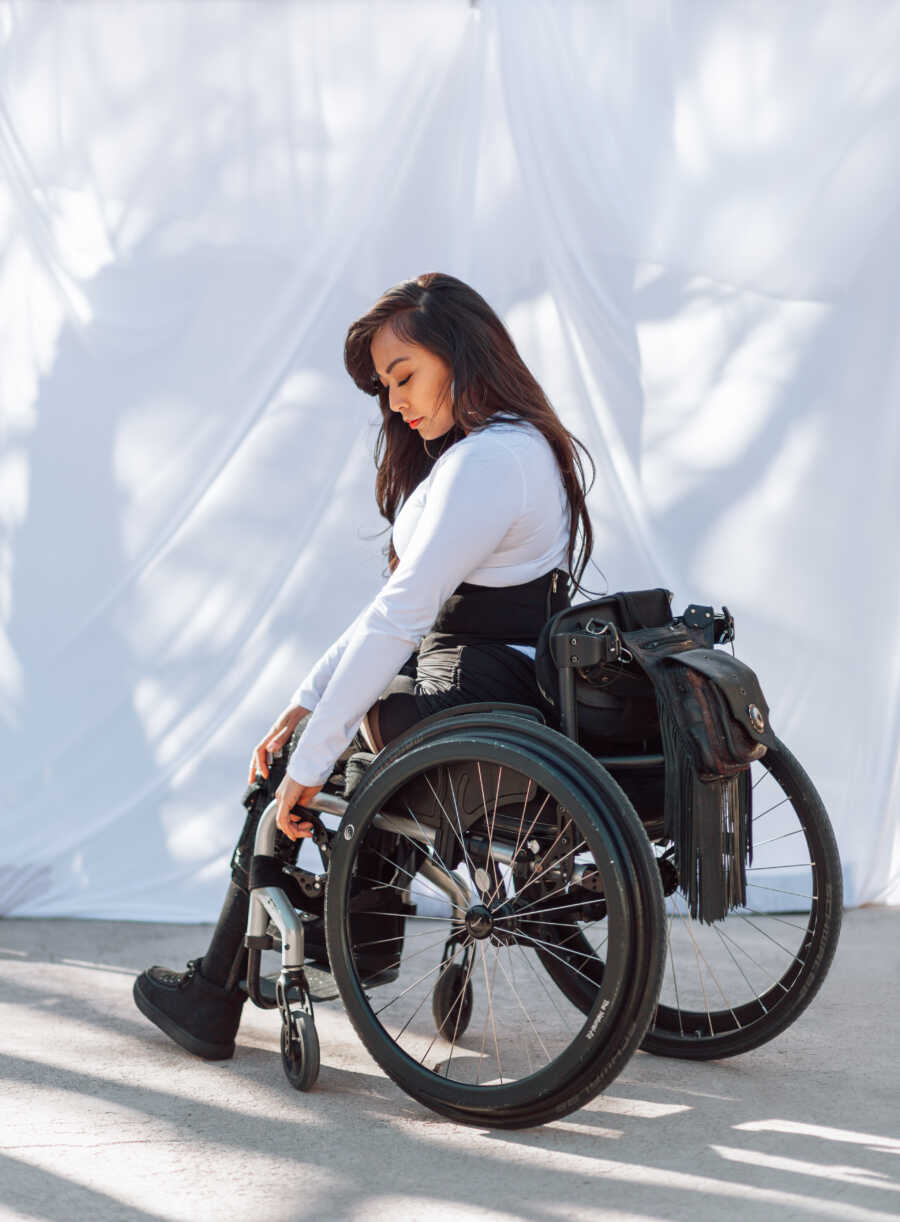 Overcoming the challenges in my life during the last 2 years gave me an opportunity to relearn how to take care of myself in every single way possible. I am so proud to see how far I've come. I am recovering little by little each day. I want to encourage anyone who is reading my story to never give up. It's okay to feel lost and broken no matter the circumstances. Everything is temporary. Even the darkest and most painful moments of my life-changing experience didn't last forever. If you're feeling lost, start simple. Do what you can, one step at a time, and always be kind to yourself."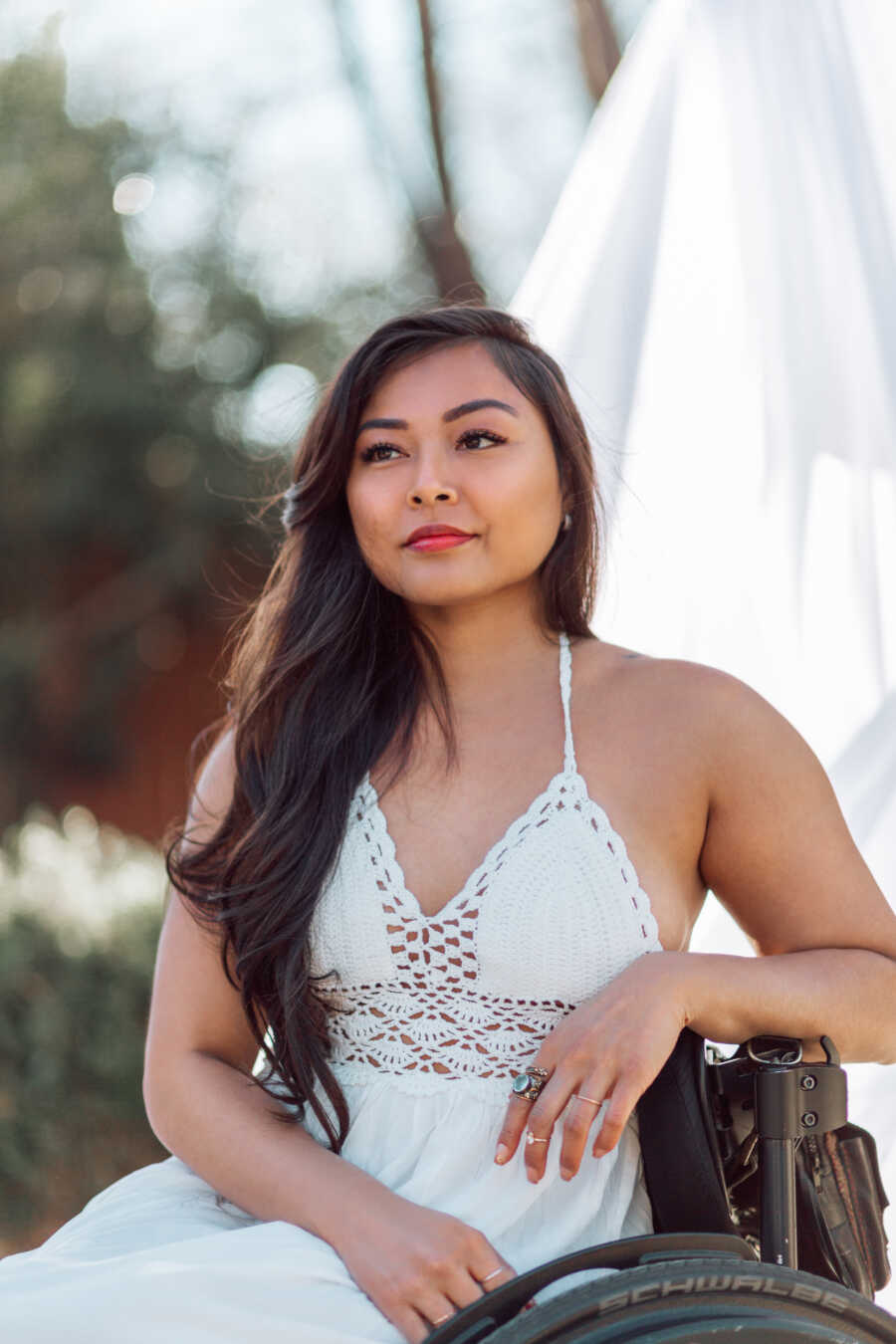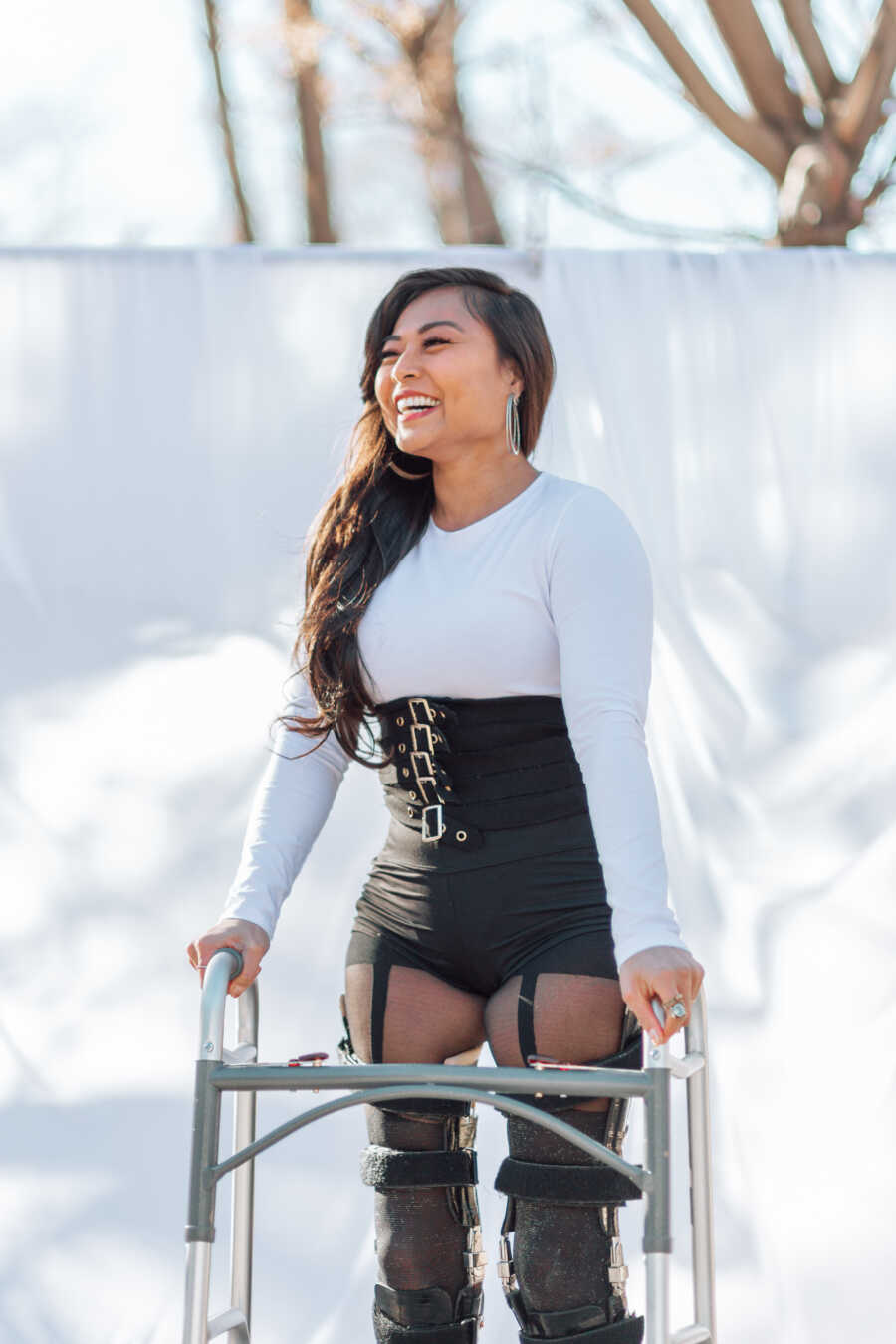 This story was submitted to Love What Matters  by Beya Tep of Las Vegas, NV. You can follow her journey on Instagram. Submit your own story here and be sure to subscribe to our free email newsletter for our best stories, and YouTube for our best videos.
Read more stories like this:
'For two days, I was on the floor in tears from the pain. My body shouted so loudly I had to listen.': Woman with rheumatoid arthritis, chronic illness shares mental health journey
'The doctor said, 'I'm pretty sure this is something you'll live with for the rest of your life. Good luck.': Woman diagnosed with lupus says 'we are warriors'
'I was giving my son a bath when I noticed 3 little pubic hairs. I got an ominous call from our pediatrician at 6:30 in the evening.': Mom works to cure son's Duchenne Muscular Dystrophy, 'Where there is life, there is hope'
'Caleigh complained of back pain. 'Her spine is collapsing,' the doctor said. My sweet daughter was curving.': Mom to daughter with muscular dystropy says 'not every bad situation has to have a bad ending'
Please SHARE this story on Facebook to encourage others to cherish every moment and love what matters most.