"This story started on a night 13 months ago when a blonde haired, blue-eyed emergency room nurse with one of the biggest smiles asked me (I'm an EMT) to help her with a patient, giving me the chance I had waited on. You see, we had both been in long-term relationships that had ended several weeks earlier, and I wanted to get my bearings together. I didn't want to rush into another long-term relationship just yet. But at the same time, I noticed that something was increasingly running through my mind more and more over those few weeks and that someONE was Darrien. I can't tell you what it was exactly, but I can tell you that it made me look around for her every time I walked in the ER. And if she wasn't working that meant it would be a long and boring night, in my mind at least.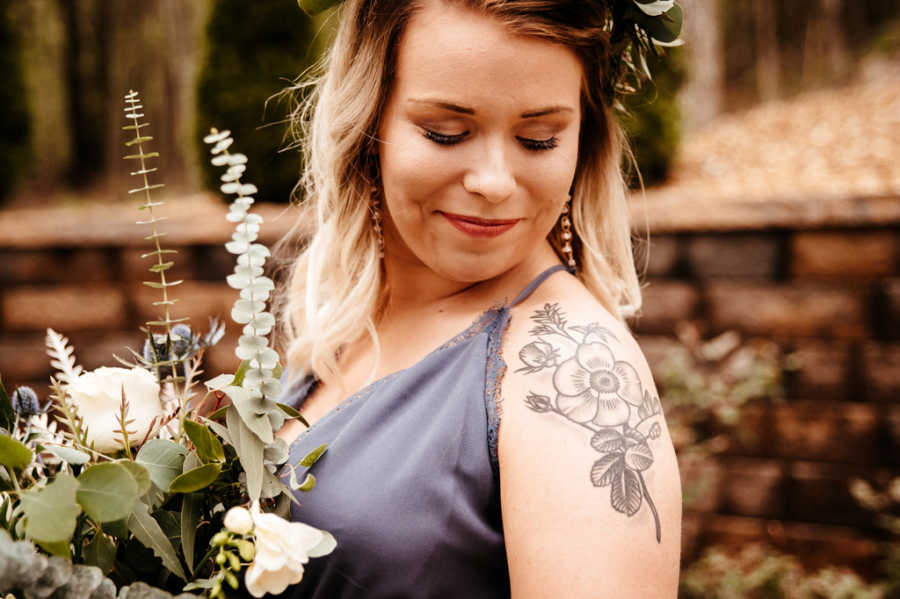 Finally after several weeks had passed, with the help of an intoxicated patient, we broke the ice and to my luck we hit it off right away. This might be the most cliché thing to say, but I knew immediately she was the one. From the way she presented herself, to her work ethic and the love she has for her somewhat new career (I know I'm partial but she's one of the best nurses you will find), to the way she can turn someone's bad day into a good one, I knew this would be the best thing that ever happened to me.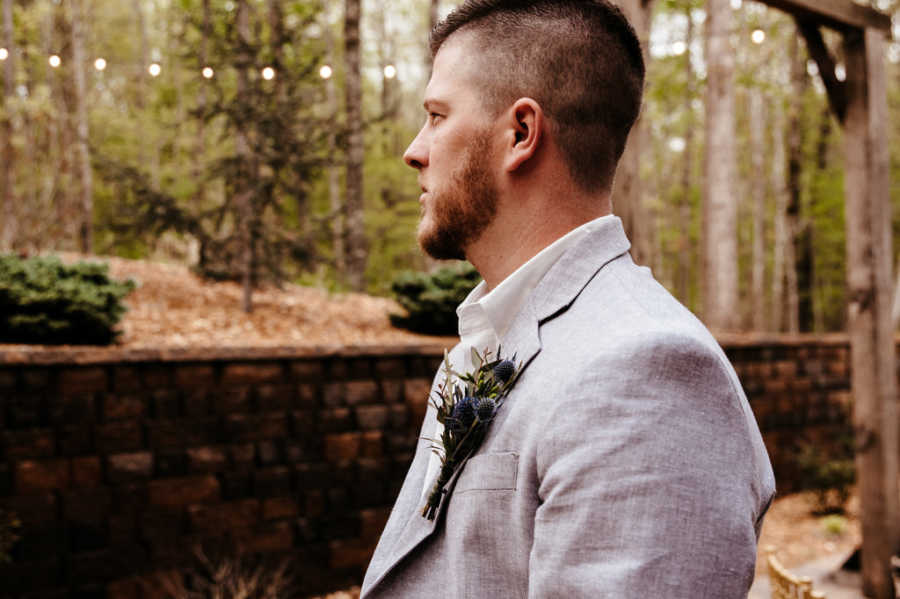 Now, I'm not the type of guy who says things just to say things. I'm pretty straight forward and have a realistic outlook on life, but there was something about her that brought the softer side out in me. Darrien made it easier to open up and talk about different things. We could talk for hours and hours and still have millions of things to say. I was showing her around my hometown and telling her about my family. After a few months into the relationship I was ready to move forward, to get a little more serious.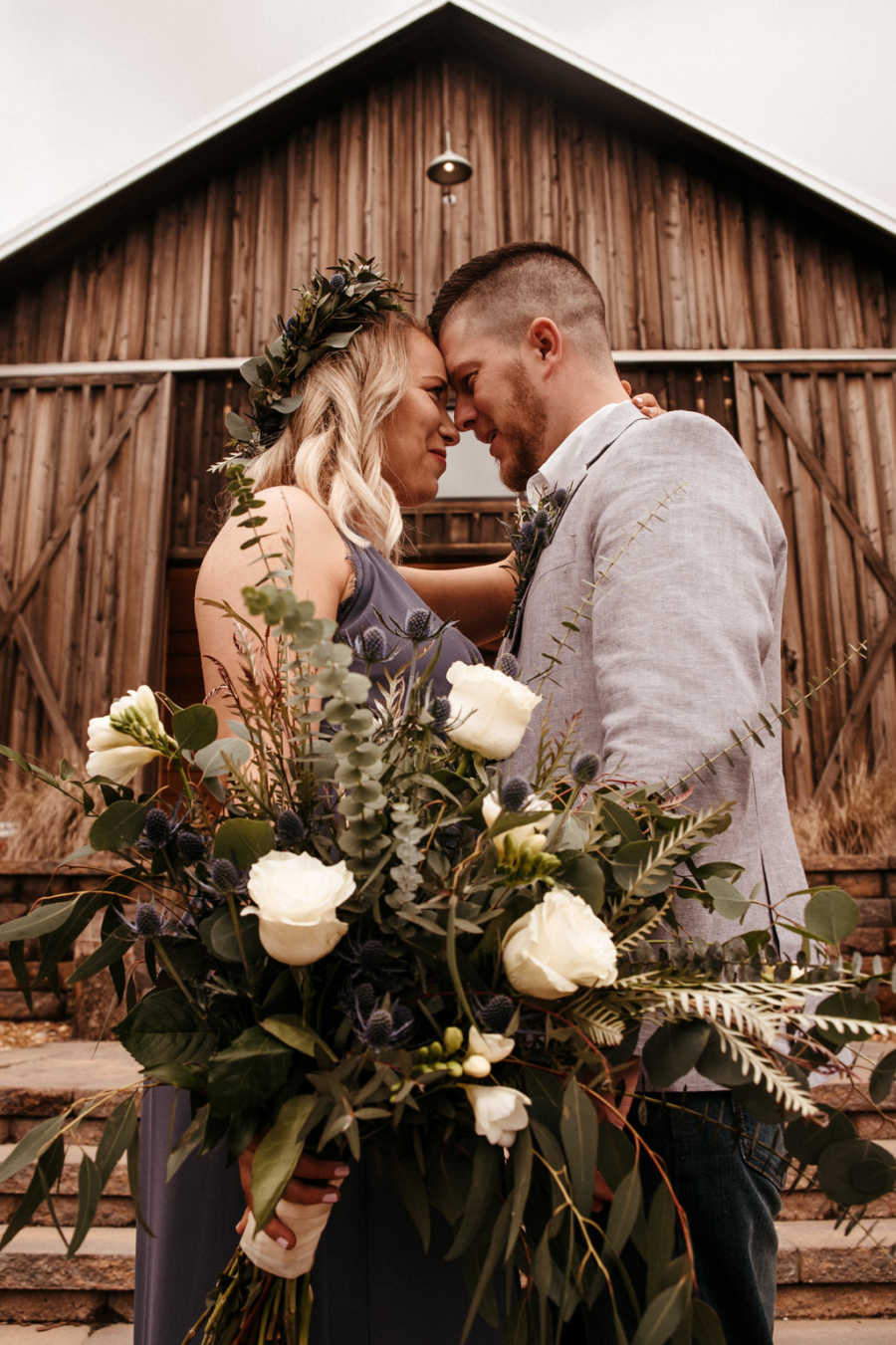 One night I took a leap of faith and told her the story of my grandparents and how they had only known each other for 6 weeks before they got married. She lit up. Her smile alone gave away her exact feelings and she knew right away the message I was trying to relay. Fast forward to less than a year later when I was ready for the next big step, the proposal. I remembered Darrien making several comments to me about how much she liked the photography style of a dear friend of mine and I instantly knew that would be the best way to surprise her. Why? Let me put it this way, if you know of someone who hates taking pictures more than I do, I want to meet them. I tell people all the time that my face wasn't made for the lens side of a camera. I do not like taking pictures and Darrien knows I do not like taking pictures, but if surprising her and asking her the most important question I would ever ask someone meant I would have to take a few, I would suck up my pride and do it.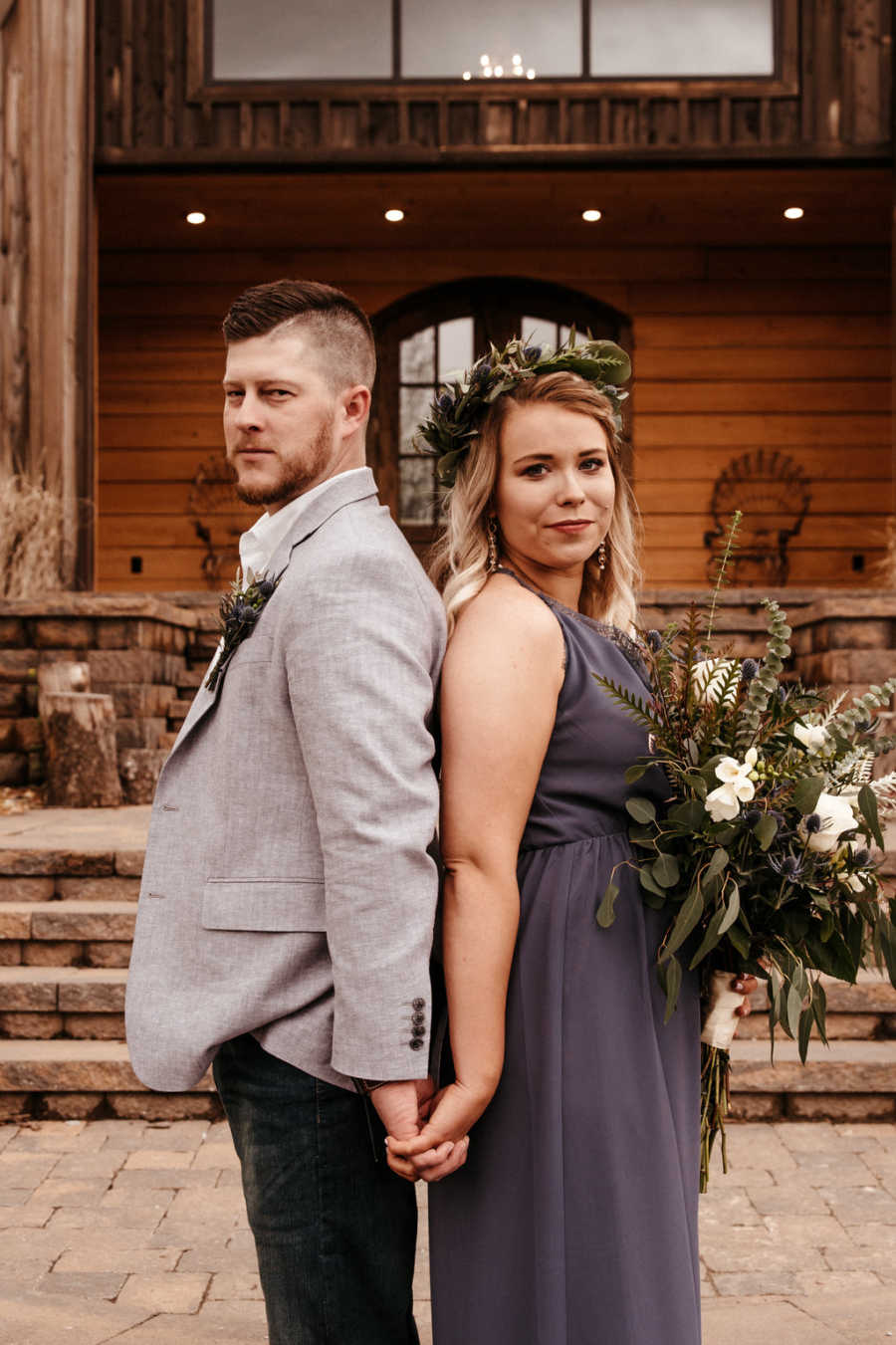 On February 14th of all days, I messaged my photographer friend Samantha with the question, Would you be interested in doing a marriage proposal?' in which she replied with a quick and firm, 'DUH!' Over the next several weeks we planned and went over all the details. After listening to me going back and forth about a site, Samantha asked me to meet her at K&M Barn at Lewis Farm, a wedding venue 20 minutes from town. I knew Darrien would love the venue and after Samantha explained to me how she envisioned the proposal taking place, I knew we found our spot.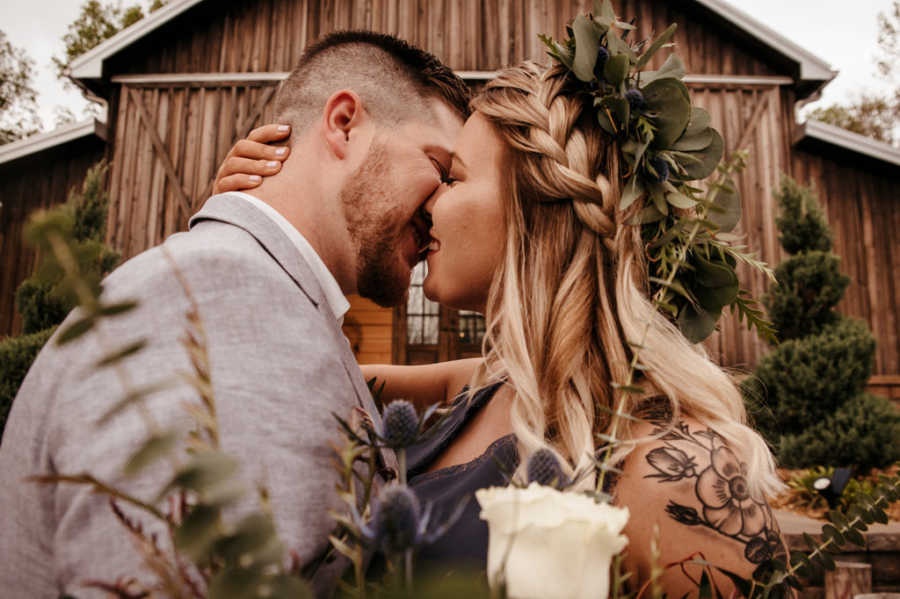 Next I had to finish the details on the ring. One thing that you will notice about both Darrien and me is our love for our family. I have my grandfather's Marine Corps portrait tattooed on my left arm and Darrien has her grandmother's favorite flower tattooed on her left arm. They may not physically be with us, but we carry them with us everywhere we go.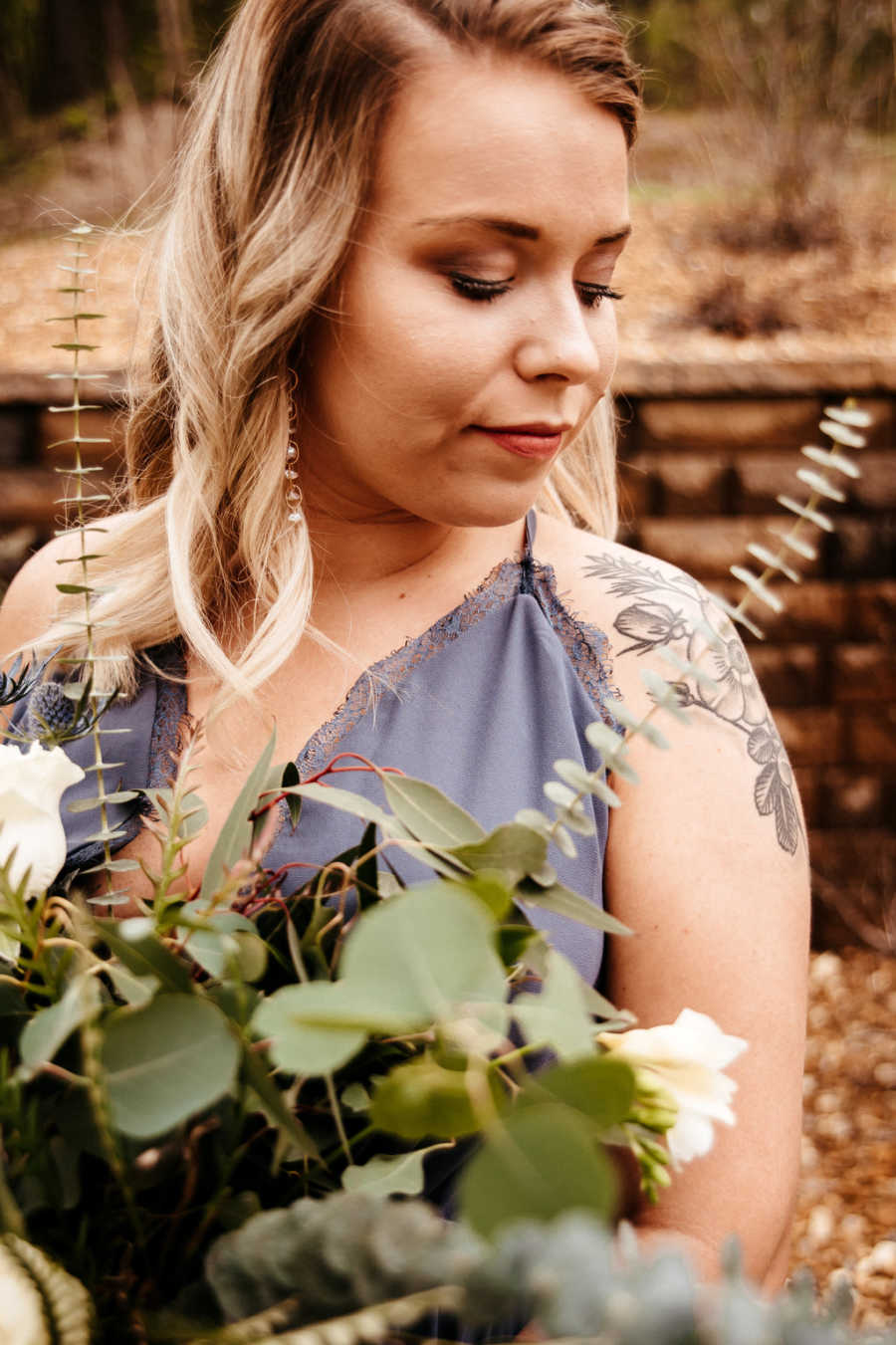 I knew I wanted her ring to have everything to do with family. The diamond was given to me by her other grandmother, whom she rarely gets to see. I had it placed in a setting that I think has the same qualities as the girl that I wanted to wear it.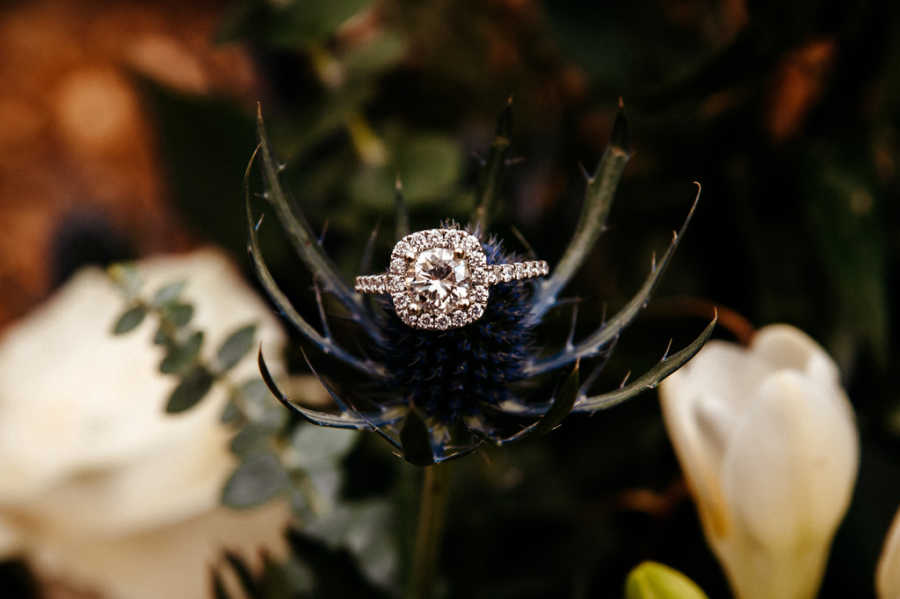 Samantha came up with a plan to get Darrien to the venue without giving away our surprise — She asked her if we would be interested in helping her with a styled photo shoot. I would then propose, leaving room for engagement pictures after. Now everything was set. With both of us nervous that Darrien would ask too many questions and become suspicious, what do you know, Darrien sent a message to Samantha asking if she would 'be interested in taking pictures of Cody and me?' The luck with this girl. After all the weeks of planning, she literally made her own proposal that much easier.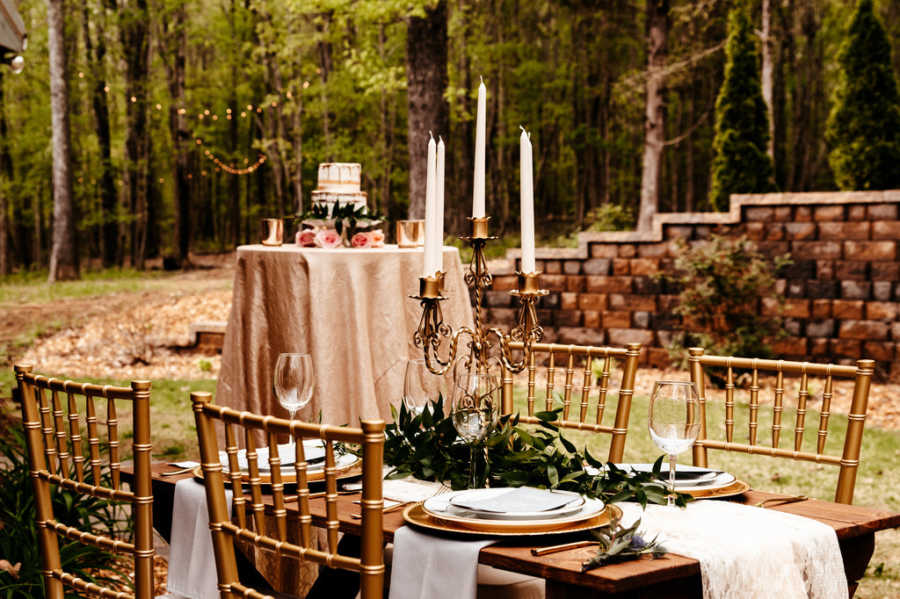 The venue was set, Samantha and another photographer are in the process of taking the detailed shots of everything (the ring being one of them), and the dress that was chosen for Darrien to wear is hanging in the bridal suite. Samantha explained to Darrien what a styled photo shoot is and instructs her to go change. While she's changing, we quickly go over the small details and we begin.
We took pictures by ourselves and together. We also took pictures by a table that was set up with a wedding invitation on them (Darrien never noticed our names on the invitations) and by a wedding cake made just for this occasion.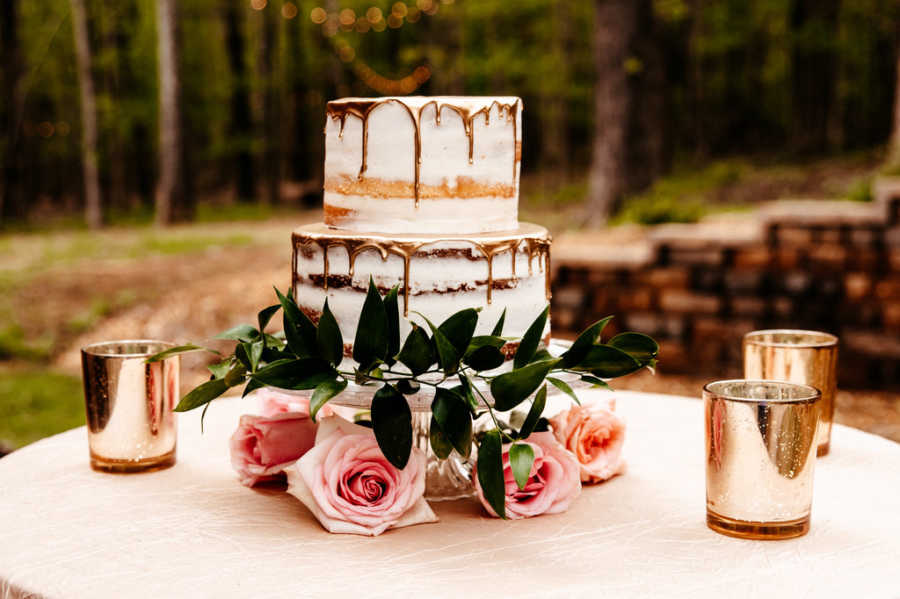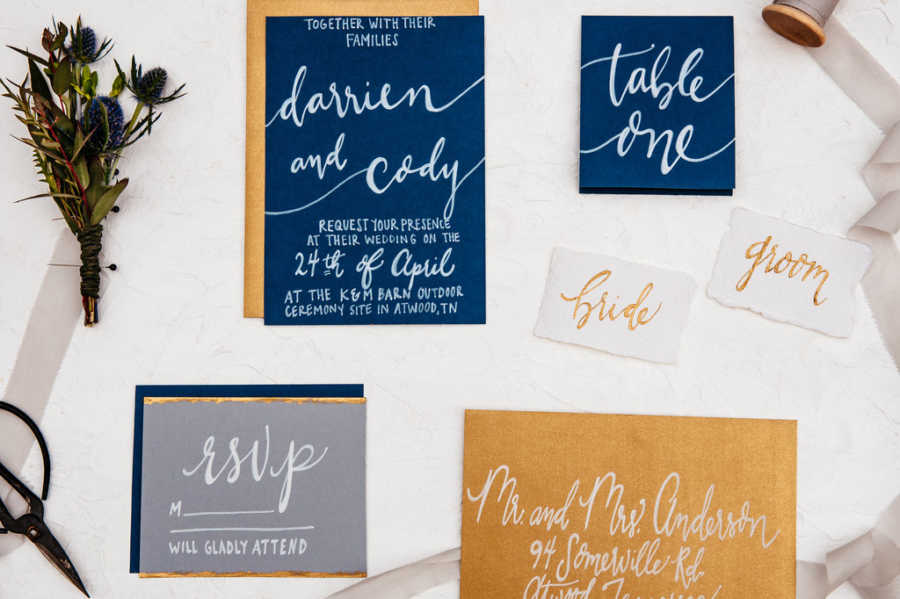 We took pictures inside the barn and outside before moving to the outdoor ceremony area where the proposal would take place by the arbor. Samantha placed us facing away from each other and walked up as if she was fixing the collar on my jacket to hand me the ring that had been in her camera bag the entire time.
I then turned around and got down on one knee.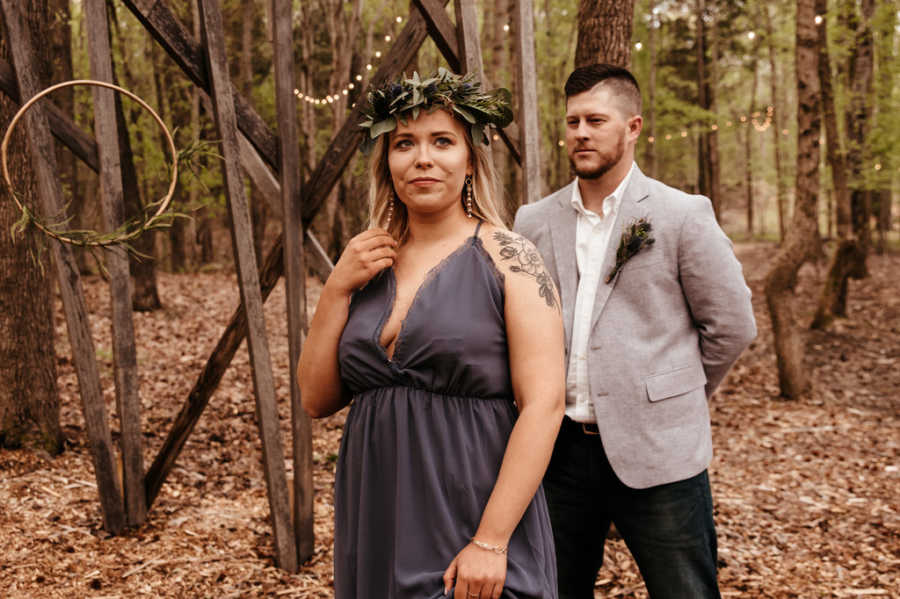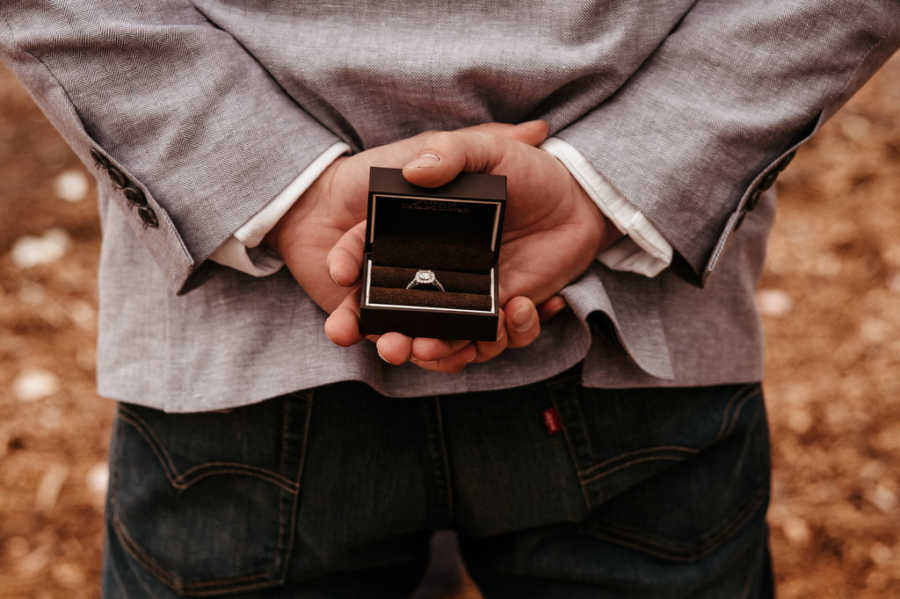 I've heard stories before from several people about how they were scared or nervous in that exact moment. I can't say that for me. I forgot about everything around me and kept my focus on her, which wasn't hard to do. I mean come on, did you see her in those pictures?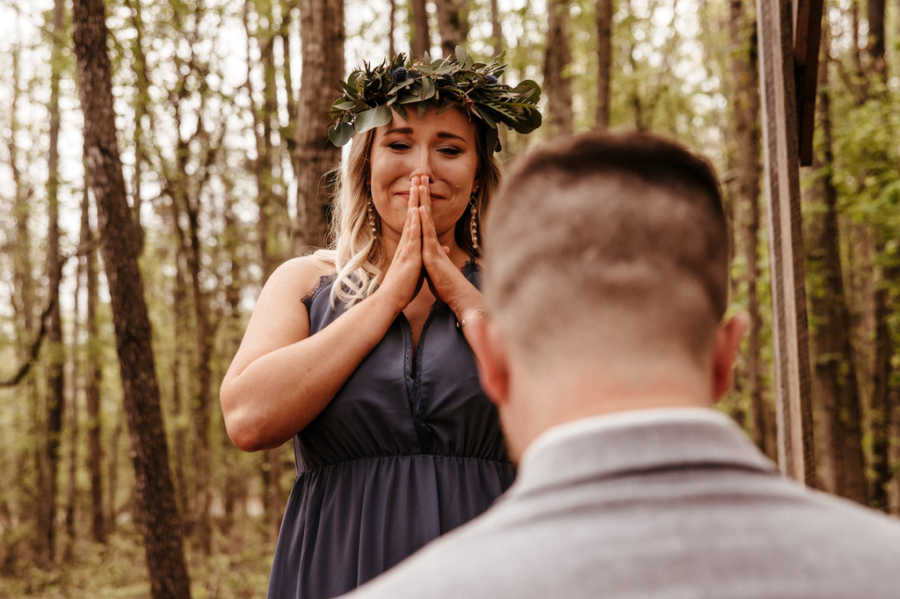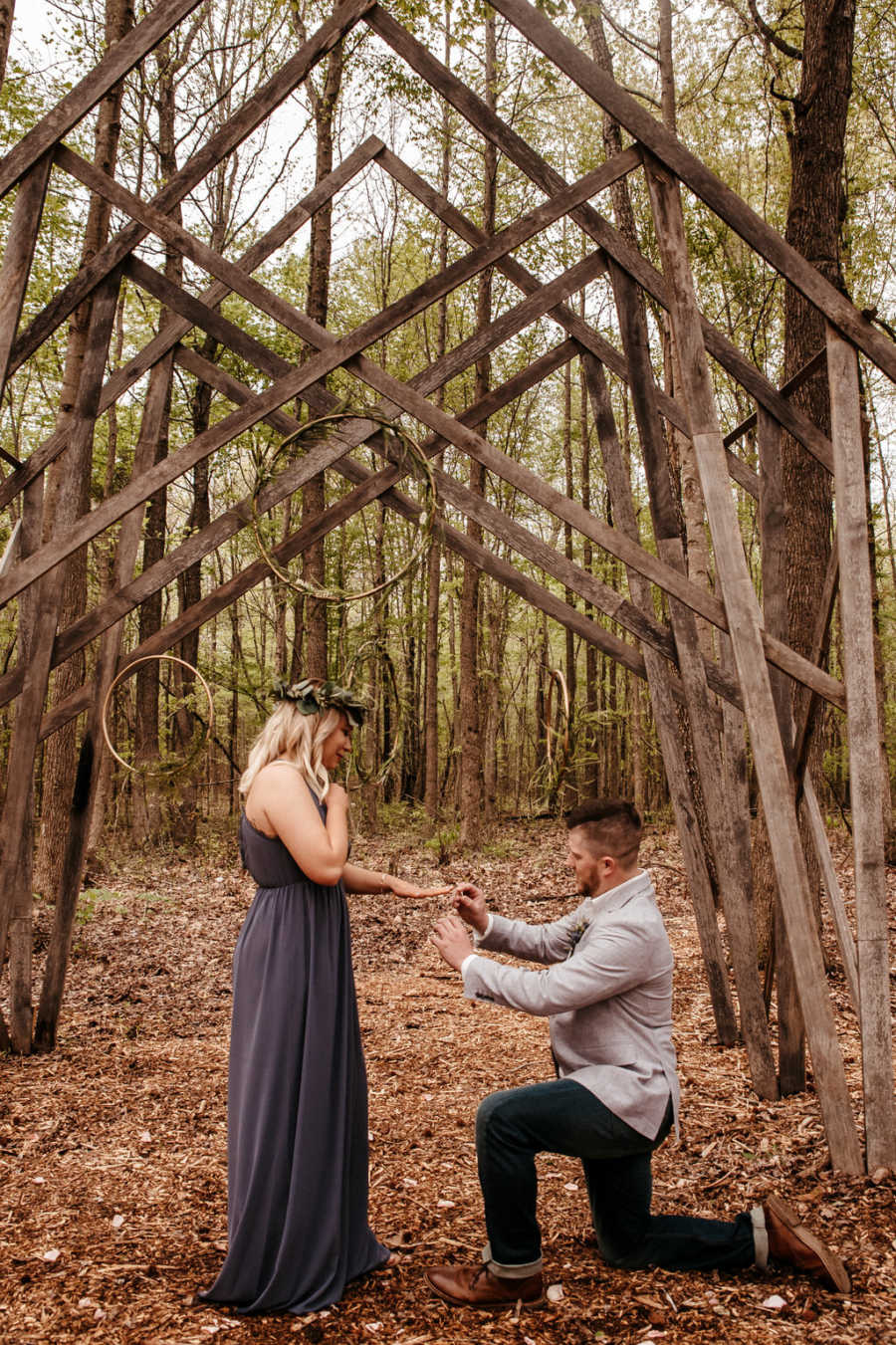 I knew months ago I wanted to marry this girl. The girl who, daily, helps me and others, and expects nothing in return. The girl who hasn't stopped smiling since the first day I laid eyes on her. I asked this girl, my girl, the question I have wanted to ask her for a long time, and thank God she said yes."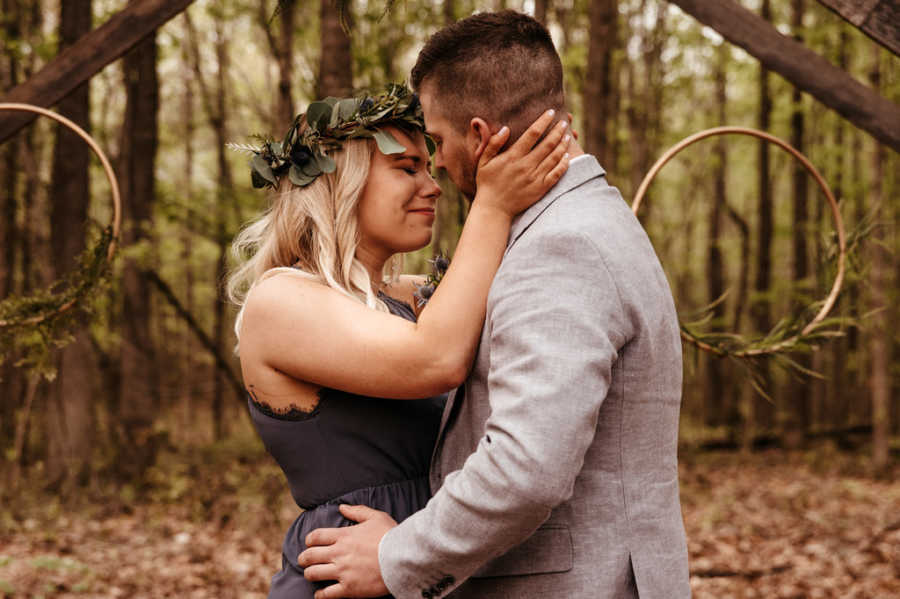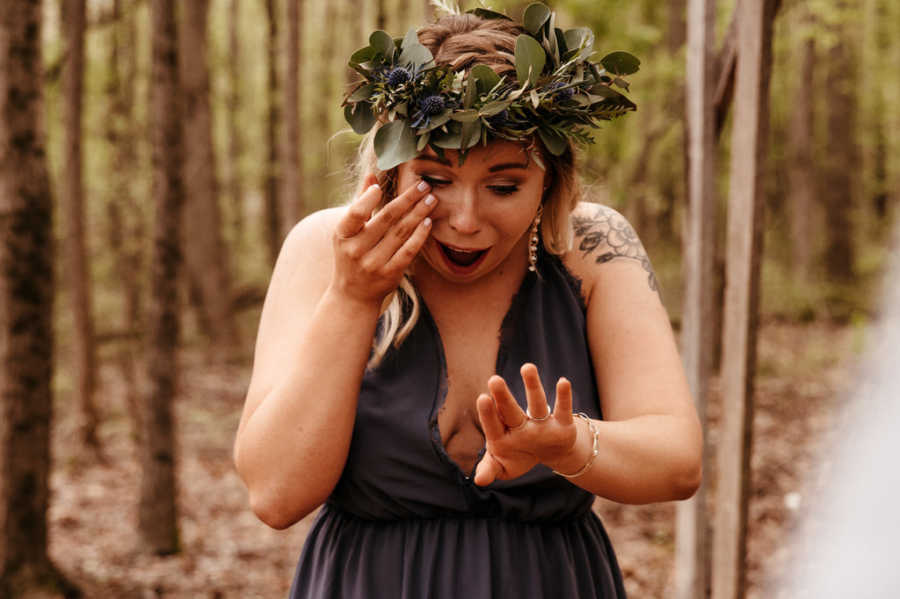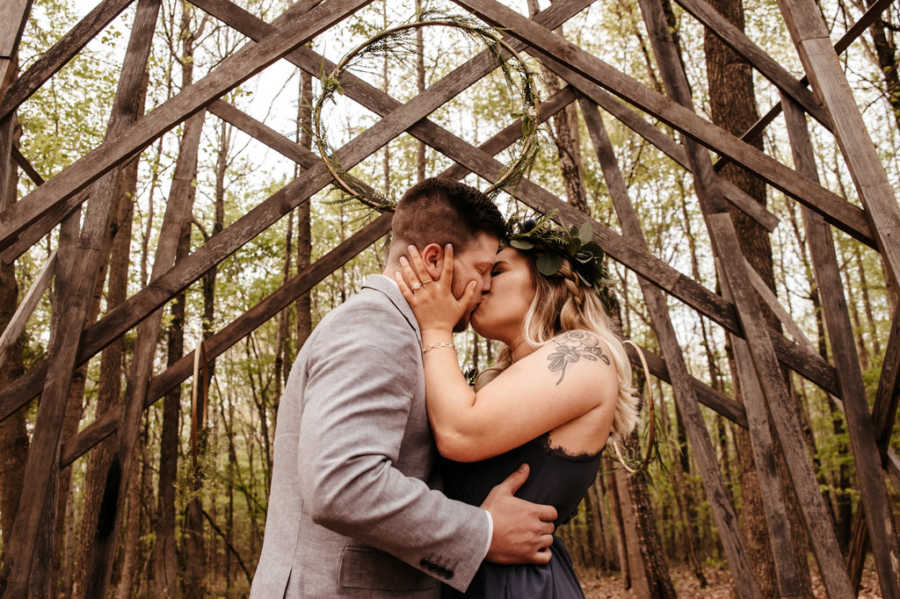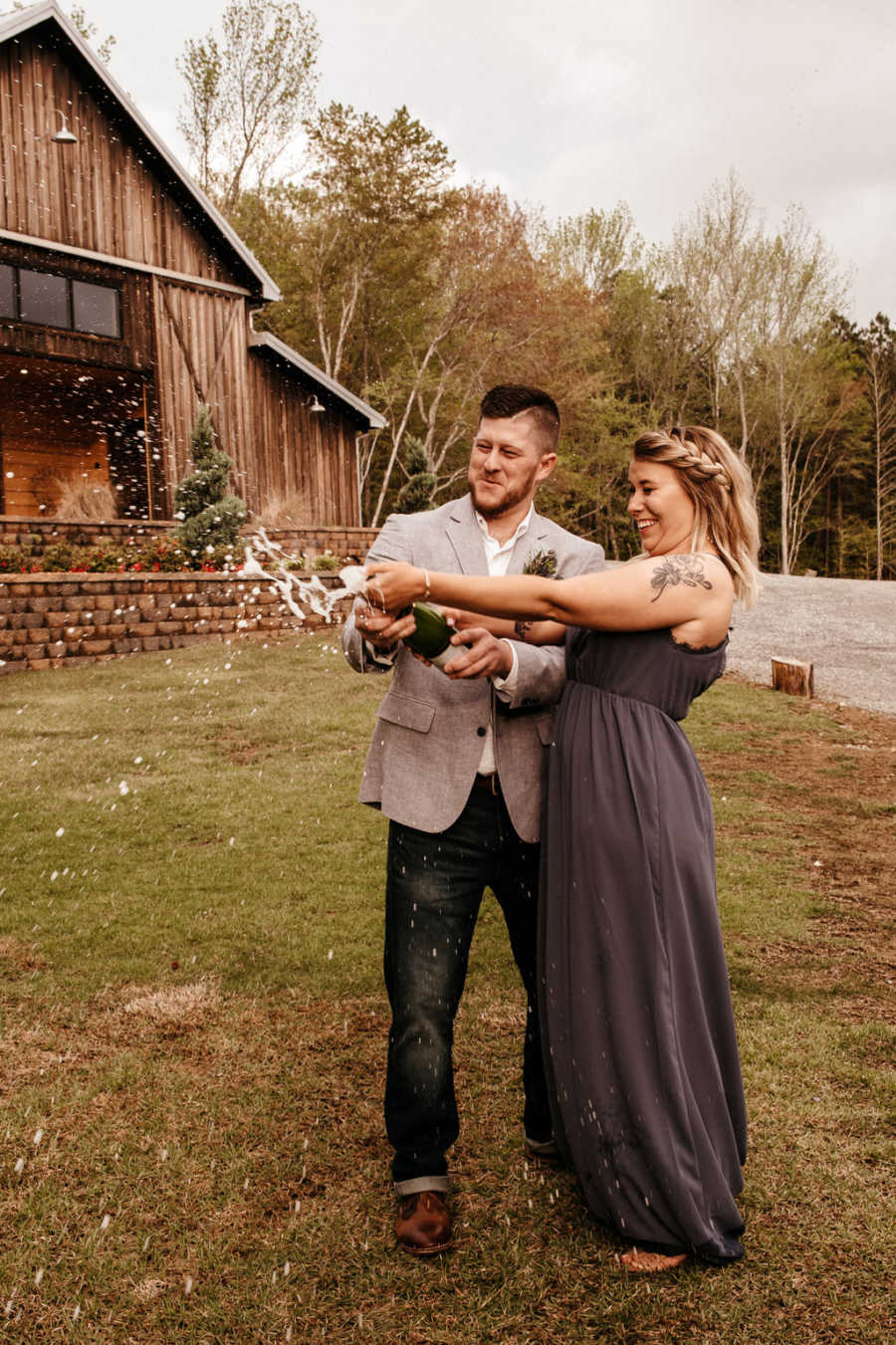 This story was submitted to Love What Matters by Cody Arnold, 29, of Jackson, Tennessee. Submit your own story here, and subscribe to our best stories in our free newsletter here.
SHARE this story on Facebook to encourage others to cherish every moment and love what matters most.
Venue: K & M Barn at Lewis Farm
Models: Darrien Middleton + Cody Arnold
Florals: Sand's Florist & Gifts
Tablescape + Chairs + Hoops: M&M Rentals
HMUA: Lidia Joy Smith
Cake: Tiny Baker
Jewelry: Ellen Hays Jewelry
Calligraphy: Millie Cagle Hayes
Dress: Tobi
Ring: Jared The Galleria Of Jewelry
Photographers: Samantha Slayton + Millie Cagle Hayes