"I never thought I'd be tired of the words pretty and beautiful and being told how desirable I am (in the most vulgar ways). I'm not trying to sound conceited. I'm not everyone's Keurig flavor, but I sure do have my following. If only they knew me. Really knew me.
I also never thought I'd be 31, single, going on date after date, struggling to find my soulmate, while the rest of the world appears to have it all figured out. Keyword: appears. I know I'm not the only one living in 30-something solitude, but on a lonely Friday night it sure feels like I am. Don't tell me I have to be okay with being alone. Life is too short not to have someone in your selfie.
To combat the fear of always riding in this 'solo' boat, I swipe. I scroll. I read message after message and profile after profile. I introduce myself a million times. I exchange phone numbers a million times. I text everything about me and listen to everything about him and him and him five million times.
I also block user after user after user.
I end up drained. I end up pouring from not even a cup because I got nothing. I end up bitter because I'm tired of trying and tired of schooling men on how to respect a girl. (Listen to Tim and Faith's 'Speak to a Girl,' guys. Respect makes you hot.)
Yet, I torture myself again and again. I never trade the boat in for a new ride. I never jump off the merry-go-round. Maybe the horses are just too pretty to walk away from. Maybe I'm a hypocrite because I'm stuck on their beauty too. Wait, no. I've blocked the pretty ones too. I'm deeper than that.
Maybe I look back and remember the memories I made all because I once swiped… and continue the ride. Side note. Online dating isn't bad. It's the mentality of those utilizing it that contribute to its partially faulty reputation. It works for some. Let's give credit where credit is due. The rest of us are riding while our heads spin off. I ride this circle a trillion times because I believe I am meant to find more, somehow, someway. I'm meant for more than what I've been given. The part of me that hopes there is just one guy out there who will walk into my world and make it a tad brighter (because the majority of the sunshine in my life is my own) refuses to give up.
I've met good dudes. I've been treated good. Far and few, though. Far and few.
Through the endless and agonizing search, I've learned that my soul is near-dead and overlooked. My lips are more important. My lips.
They mean more to most men than anything else about me. The amount of messages I receive emphasizing such features overwhelms me at times. The sexual innuendos make me want to throw up. The majority of these messages lack substance. They lack what sets my spirit soaring higher than a wild eagle. I'm of a different breed. I want to talk about my loud mind because there's a hurricane brewing in it and 4th of July fireworks going off at the same time. I want to hear what you think of my thoughts, my stories, my life. Yet, I wake up and go to bed to a dating inbox full of:
I love your lips!
Your lips are so full and sexy.
You are so beautiful.
Your eyes are amazing.
You are gorgeous.
I love your curves.
You are so sexy.
The things I would do to you.
I love bigger girls.
I want to eat you for breakfast.
Let's have some 'fun.'
I want to **** you.
I don't need to say more. You get the picture.
Most of these messages chip away at your soul. They make you feel inhumane. They make you wish someone would complement your soul and not continue to kill it. Yes, your soul. Maybe I'm an idiot for not finding such compliments flattering but I'm just deeper than what constitutes my surface. I always have been. That is why I write. I'm layered like a triple chocolate cake. There's a lot in me thus I struggle to find joy in the empty words these men send me.
Some of you may tell me to shut up for not appreciating a 'You're beautiful,' message. I will take that. I'm not ungrateful. Yes, it's nice to many but it's also not what gets me. Anyone can tell you that you're beautiful, but can anyone learn your soul? Maybe when you hear something so much, you take it less and less seriously. Maybe when you don't hear something enough (compliments about who you are, not what you are in addition to disrespectful sexual remarks) you become less and less sure that someone actually cares. Truly cares. Am I worth being cared about? Am I lovable? The questions that float above your head in a life-size captioned circle.
Granted, there are some men that go deeper (and they deserve credit) but these men are the minority. Not all guys are jerks and not all guys just want one thing. But majority usually wins. And the majority represents everything I'm ranting about which makes a soul like mine in need of a repair STAT.
Instead of embracing the idea of love, I now struggle to embrace the idea that maybe I'm meant to be alone. Maybe I'm not meant to have someone crave my soul, just my eyes and lips. And these eyes and lips that they seem to love, how meaningful are they? When I see my face, I see my mom and dad so of course I appreciate my genetic makeup. But, when it comes to dating, I could care less about the physical compliments. Some men may call me a hypocrite because I've told them they weren't my type. That statement alone may void the credibility of this whole story. I'll take that too. I'm human like you. I gravitate towards what's appealing to my eye but even when I do, I still go deeper than what meets the eye.
My gripe is that many seem to stop at what meets the eye. Physical attraction is necessary. Maybe not always. One time, I learned to love someone from the inside out and it taught me a lot about life, but I digress. Mental attraction is beyond necessary. How will these compliments make me smile when colorful, youthful beauty fades to distinguishing shades of wisdom? They won't. How will these inappropriate sexual comments make me feel like I matter? They won't. You can gravitate towards what your eye finds appealing. I do too. When you're dating online, it's hard not to. Pictures usually tell your story unless you write it. My argument is that the pictures are what represents who you are to someone and that's not how the story should go. Those pictures can be a starting point. You must then go deeper because your starting point will not be your ending point.
Last year, I wrote a story about my weight. In that story, I told readers to compliment souls instead of looks. I'll say it again. Compliment souls too. I'm a real person. I gravitate towards physical attraction, but I have to go deeper. I don't know any other way. I don't care how cute he is. If the substance is lacking, Cupid can keep his arrow because there's no shot.
You must see if the inside layers are appealing. That is where that substance lives. That is where the late-night talks live. That is where the inspiration lives. That is where the sparks sleep. That is where all that you need hibernates. The rest, the rest is just an added bonus. Figure out what sets a person's soul on fire. Make them feel like their livelihood matters because they are more than lips."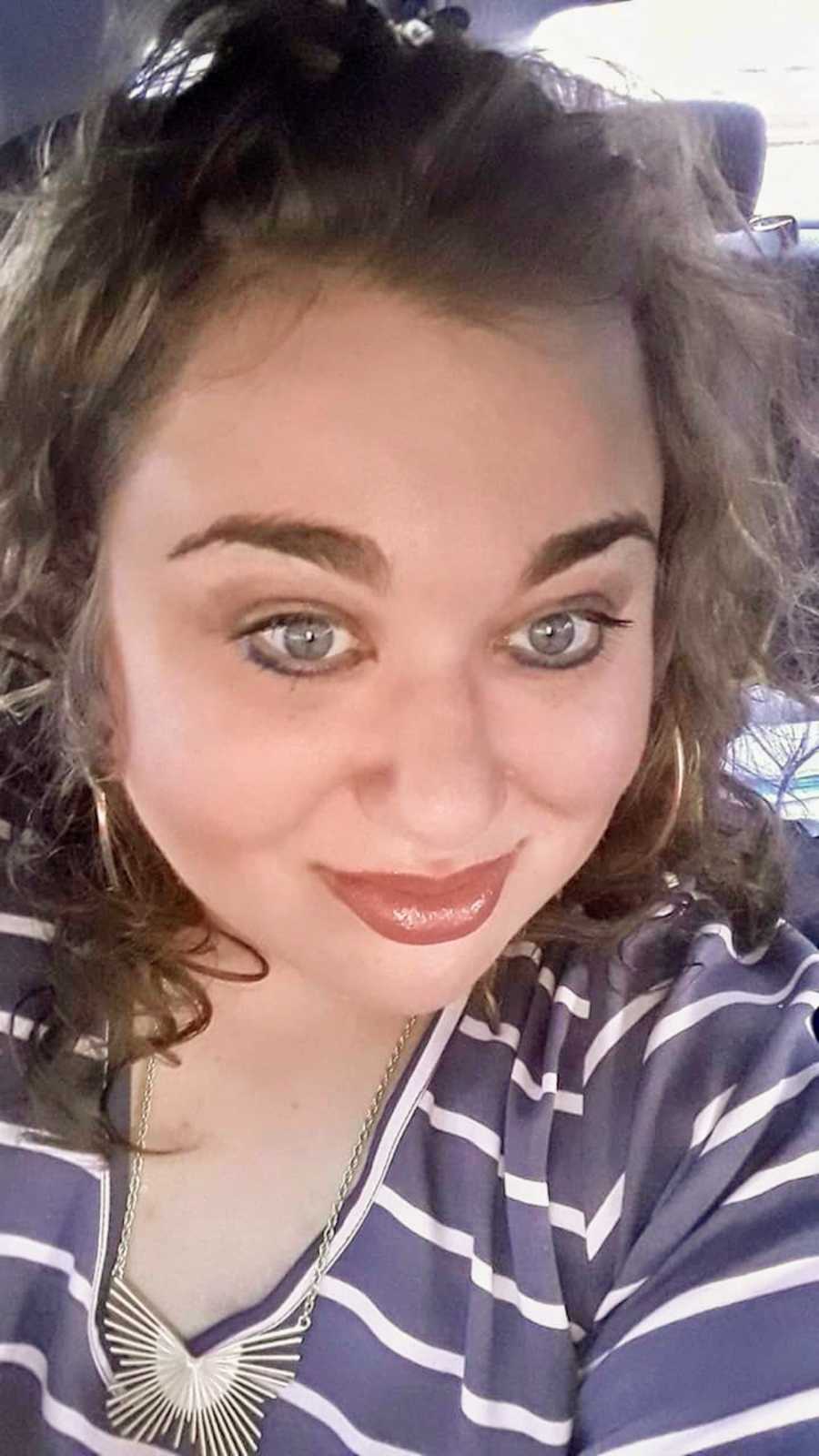 This story was submitted to Love What Matters by Felicia Naoum, 31 of Parma, Ohio. Do you have a similar experience? We'd like to hear your important journey. Submit your own story here. Be sure to subscribeto our free email newsletter for our best stories, and YouTube for our best videos.
Read more stories like this: 
'All I heard was 'buzz.' I start whispering, 'Oh no, oh no, oh no!' I was missing HALF my eyebrow.': Woman hilariously recalls drastic eyebrow trimming fail, 'It was down to the stubs!'
'Stop crying tears over the group that doesn't want you. Stop pleasing everyone. Stop thinking invitations from cool kids will make you feel complete.': Woman's encourages her younger self to 'know you create your own happiness'
Provide beauty and strength for others. SHARE this story on Facebook with your friends and family