"Approximately 14 years ago, when we were in middle school and boarding school, I met Dave in a pretty shady teen chat room. I learned through the old phrase, 'ASL?' he was English. I thought his fancy British accent was so adorable, and as it turns out, he fancied my casual American one as well. We remained 'digital' friends for years. We went from chat rooms to instant messages, and MySpace to Facebook friends. Muffled audio messages became Skype, and eventually FaceTime.
Just as technology progressed, so did the nature of our relationship, from two awkward 13 year-olds talking about Disney Channel stars to a couple of pervy college/ 'uni' kids. (I'll spare you the details of that part.) We even met each other's families and close friends over video chat.
We were never anything serious; we were both very well aware that a Transatlantic relationship would be pretty stupid for a couple of broke teenagers. For years, we were just each other's rebound after failed relationships. It was easier knowing nothing really came of it, although we both secretly hoped it would someday. We continued to follow each other's lives through new careers, a failed marriage, a few horrible breakups, and every so often, we'd pop in to make fun of each other's accents (our way of saying 'I miss you').
This past fall, we both experienced devastating heartbreak. Maybe it was a coincidence (or fate if you believe in that sort of thing) we both ended long term relationships at the same time. We leaned on each other from miles apart, and thus began the latest chapter of our digital relationship.
I found myself clung to my phone at all hours of the night, to make up for the 6 hour time difference. We would video chat while I was getting ready for work, on vacation, and we'd sing and play songs for each other. He even changed his phone settings to Fahrenheit so we could talk about the weather.
For years, we had dreamily discussed a future where I'd fly across the Atlantic and we'd spend a 'holiday' together in London. After a few years of struggling to make ends meet, I grew up to be a fairly stable 'adult' and booked my plane ticket. It was his idea to come for Valentine's Day.
I counted down the days, hours, and minutes since Thanksgiving when I purchased the ticket. This past Saturday, after 14 long years, I was greeted at Heathrow Airport by an adorable British guy, a bouquet of roses, and some rather inappropriate airport PDA.
We shared the week together, seeing all the touristy spots in London and eating fish and chips by the North Sea. He taught me how to use the tube, drive on the wrong side of the road, and is still attempting to teach me about pounds and pence coins. (There's just so many!) We celebrated Valentine's Day walking along the beach, and I only complained about the cold 9,389,272 times. He made me tea and crumpets, and I made him Southern style biscuits and gravy (American biscuits, NOT cookies.)
After 10 lovely days together, I cried through the entire hour-long train ride from his flat to Heathrow Airport. We shared a tearful goodbye, knowing this was a once in a lifetime experience.
I'm not sure what will happen next in our real life 'You've Got Mail' millennial-aged chick flick. Maybe someday I'll be the Millbrook families' very own Meghan Markle. Or maybe the 6 hour time difference and 4,527 mile distance will get the best of us. But one thing is for sure, we can live in the peace of knowing what we had this week was real. We were able to live out a fairy tale most only read about in Nicholas Sparks novels. And it was worth every emotional roller-coaster we experienced. "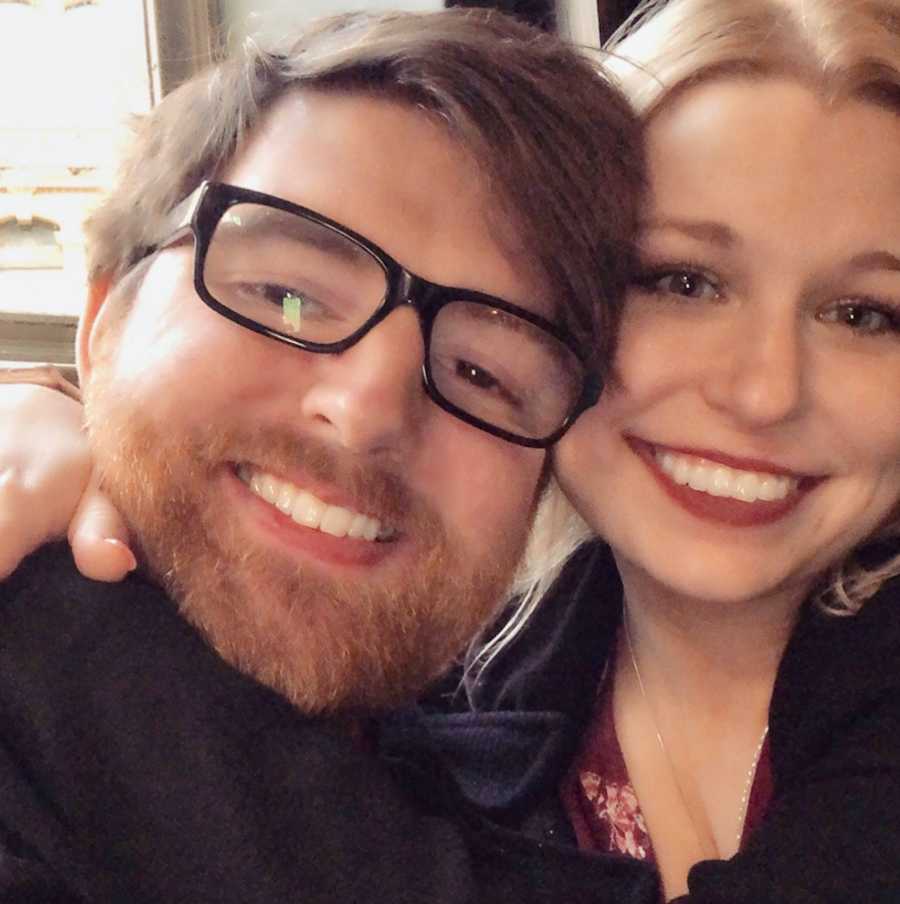 This story was submitted to Love What Matters by Katarina Venner. Did you have a whirlwind romance and would like to share your journey? Submit your own story here, and subscribe to our best stories in our free newsletter here.
Read more powerful love stories:
'We ran away and married in secret. I fell in love before I knew her name. Right then, I confessed, 'I'd marry you in a heartbeat.': Veteran recounts whirlwind romance, 'We were meant to be'
'I love you,' he mouthed. Then he was gone. I could barely see through my tears.': Woman details military whirlwind romance, 'I'm proud to stand by his side as he serves our country'
'I'd ask you out if you weren't wearing that wedding ring.' Newly single, it was the first day of the rest of my life. I had to act swiftly.': Woman divorces after 22-year marriage, finds soulmate in Kmart
Do you know someone who could benefit from reading this? SHARE this story on Facebook with family and friends.